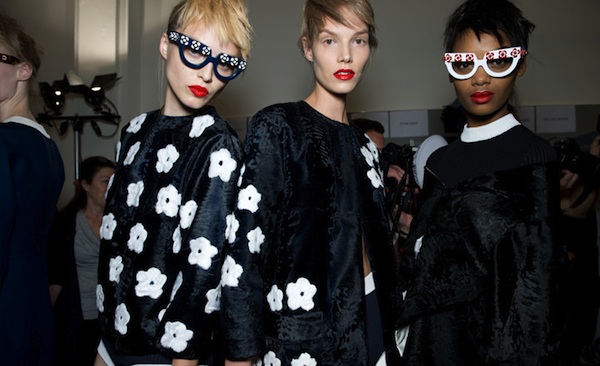 Italo Calvino Attends the Prada Spring/Summer 2013 Show.
You are about to begin reading Italo Calvino's review of Miuccia Prada's new collection for Spring/Summer 2013. Relax. Concentrate. Close out all other Internet windows. Set your Gchat status to Busy. Tell your friends right away, "No I don't want to chat with you about the UN General Assembly right now, I am reading about fashion!" Type it in all caps—they won't know that you're yelling otherwise—"I AM READING ABOUT PRADA'S SUBVERSIVE FLOWERS ON COATS!" Or if you prefer, send them a GIF; just be like: here.
Find the best "I'm reading" look: glasses and some heritage denim, anything heather gray with spots of paint on it, or a navy blue pea coat with a neon beanie. You can even work in some tweed, naturally.
So now, you're ready to see what Mrs. Prada has up her sleeve for this season. Just how exactly has she managed to intellectualize boxy dresses this time? It's not that you expect anything in particular from this particular review. You're the sort of person who, on principle, no longer expects to feel something when they look at clothes. There are plenty, younger than you or less young, who live in the expectation that H&M's Prada derivative will deliver the same extraordinary experience as the real thing. But not you. You know that the best you can expect is to find some good vintage with a similar silhouette, for Miuccia to do a collection for Target, or for the day to arrive when wardrobe credits are awarded in society based on intelligence.
But you're still following the collections and you noticed that a review of Prada's Spring/Summer 2013 collection by Italo Calvino appeared and you clicked on the link to read it. Good for you. Perhaps you wondered whether the author felt a kinship with the designer, given that they are both communist-leaning Italians. Very astute. Or maybe you thought a writer of great fiction has nothing to do with wonky coats and his voice should not be forced upon this subject. But then you go on and realize that you really, really want that wonky coat and that though you thought Prada was for Movies in Which Anne Hathaway Works at a Fashion Magazine or Shows You Forgot To See at The Met, it is beautiful nevertheless, and it's the fashion itself that arouses you; in fact, on sober reflection, you prefer it this way, confronting something new and not quite knowing yet what shoes you'll wear with it.
[tweetbutton]
[facebook_ilike]