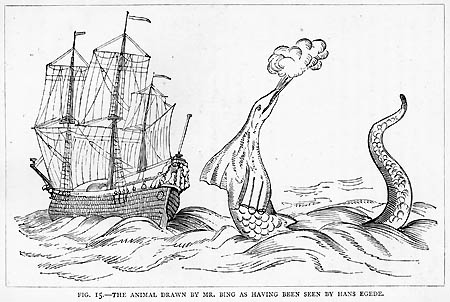 I spent a recent vacation totally engrossed by Richard Ellis's Monsters of the Sea. An accomplished marine artist and writer, Ellis examines the great sea monsters of history—from the sea serpent to the Kraken to the mermaid—and explains the sources of the myths (basking shark, giant squid, and manatee, respectively). The book is a combination of lore, history, and scientific inquiry, and a fun and accessible read. Plus, it introduced me to the Journal of Cryptozoology. —Sadie O. Stein
I tripped into a fit of digital nostalgia this week when I discovered
Stylist's compilation of opening lines from classic children
'
s books
. There are even thumbnail covers, and the combination somehow makes the
Paris Review
office smell like the library I went to when I was a kid. To prevent sentimental overdose, I recommend a mix-and-match game: combine three opening lines and begin your own canonical text for youngsters. "In a hole in the ground it was too wet to play, if you really want to hear about it"; "Once upon a time, a little girl named Laura got the dog drunk on cherry brandy so she was sent to bed without eating anything." And so on.
—Samuel Fox
Arablit.wordpress.com, a Cairo-based expat's blog about Arabic literature translated into English, is the best source of information on the Middle-Eastern literary scene I've come across. Dispatched from a country where security services have recently destroyed a historic book market, it's a great way to get behind the frightening headlines and to find out that more reassuring events are taking place, such as 100 Thousand Poets for Change. —Thea Slotover
Many may know of Henry Darger, an Illinois man who was a mild-mannered janitor by day and by night wrote the nightmarish illustrated fantasy epic The Story of the Vivian Girls. Although the book never saw the light of day during his lifetime, Darger became posthumously famous as an outsider artist for his painstakingly rendered watercolor and gouache images of the Vivian girls, child heroines perpetually fleeing predatory grown-up foes. Fewer people may know that, in one of those too-good-to-be-true artist pairings, John Ashbery wrote his own book inspired by Henry Darger's saga, called Girls on the Run. Ashbery's verse, saturated with dreamy colors and images and vacillating impishly between nonsense and pathos, complements Darger's work perfectly. A wonderful bedside table book, if you're not too frightened of strange dreams. —Emma Goldhammer
Rereading The Snows of Kilimanjaro is always a traumatic experience. The subject matter taps into fears that resonate with all of us (wasted talent, romantic failure, or suicide), but the real trauma, for me, springs from the fact that this collection of short stories makes it painfully obvious that Ernest Hemingway was cooler than I will ever be. These stories are Hemingway at his best, triumphs in brevity of language with a rat-a-tat-tat cadence that makes it feel like the prose is coming from the barrel of a machine gun. And I guess if my ego has to be caught in the crossfire, there's no person I'd rather be manning the gun than Papa. —Graham Rogers
If you loved The White Ribbon—or the trope of sinister children generally—Stefan Kiesbye's Your House Is on Fire, Your Children All Gone is essential reading. While at times the story of an isolated German village filled with macabre secrets is frankly supernatural, it is set against an equally chilling sense of quotidian normalcy that's reminiscent of Shirley Jackson. —S.O.S.
[tweetbutton]
[facebook_ilike]