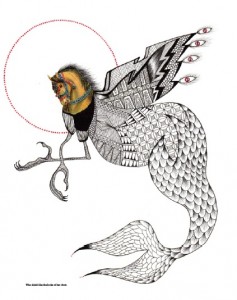 Miss Abelhart came out of the church alone. Her feet made quick, sharp, certain sounds on the cement steps—not the light tapping sounds pumps make, but harder, heavier claps. Miss Abelhart was wearing oxfords. She wore also a light tweed coat, a straight ugly coat, and an absurd little black hat. Most of her clothes were chosen for their ugliness or absurdity, and she wore them with a certain defiance, as though she proudly recognized in them a drabness closely akin to her own.

She was not ugly or absurd, in herself, only a little dried and hollowed, with straw hair tightly and tastelessly curled, and skin somewhat roughened, as if she had been for a long time facing a harsh wind. There was no blood in her cheeks, and something like dust lay over her face. People who looked at her knew that she was old, and had been old always. She was thirty-three.
That's an excerpt from "Dimensions of a Shadow," published in the college literary magazine Folio when Alice Munro (then, Laidlaw) was in her first year at the University of Western Ontario. It's now been republished in issue 12 of the arts journal Her Royal Majesty. HRM editor Harriet Alida Lye ran across the story and, after securing the rights, petitioned the author herself for her blessing to reprint it. It's the first time the story has been widely read since Munro was eighteen (and may well have thought of thirty-three as old!). "Dimensions of a Shadow" is the story of a teacher, new in town, making a lonely walk home that gradually becomes more ominous. As literary history, it's great—but it's a good story on its own merits, and as juvenalia, remarkable.
Issue 12 (which also includes poetry, fiction, art, and essays all curated around this issue's theme: The Exotic) launches on May 11, with simultaneous events in Paris, London, Berlin, New York, Toronto and Montreal. Or, of course, you can buy the magazine, print or digital. Either way, enjoy seeing the work of a writer in the making!