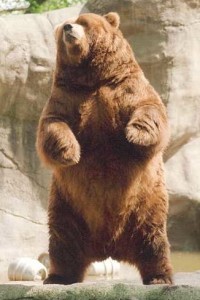 All contributors to our John Irving hypothetical-jacket-copy contest: Bravo! We asked you to incorporate the recurring themes of Irving's oeuvre into a few sentences, and you ran with it. We laughed, we cried, we cringed. This was not an easy decision. But there was one entry that stood out. And that entry was the work of one Fer O'Neil. The winning entry:
Phillip is a forty-two-year-old virgin who believes that he would become a sex-addicted pedophile once he experienced his first sexual sensation. Hating himself for that slippery slope, he devotes his life to helping restore nineteenth-century houses as an antique bullion maker. Working on the Hilton Road house south of Augusta, Maine, Philip befriends the abused daughter of his employer. Forced to flee by duty of circumstance, for the next twenty years they live together an unlikely life. Can the dysfunctions that debilitate be the very things that save us? Or are the centrifugal forces that bind us together ultimately what will tear us apart?
Honorable mention goes to the following, by JB Bruno:
Young Zeke Mackenzie is the wrestling champion at his Vermont school and patriarch of his family, despite the fact that he is only fourteen—and mute. His wishes are given telepathically through his older sister Harriet, who is disturbed by his latest request. Zeke wishes to be taken to Walden Pond, where he will find his bride—and his death.
We'd like to applaud Gisele Phipps for creative use of the run-on sentence:
After the funeral of her husband who was killed in a freak accident while tattooing bears at the zoo, a widow and her preteen son Harold leave New England to spend a year in Vienna recovering in a convent run by a contemplative order of writing nuns who are as quiet as Ellen Jamesians. While his mother takes tiny steps in her healing, Harold ventures out into Vienna befriending wrestlers, acrobats, sex workers, and a six-foot-five-inch transvestite footballer. At times Harold's adventures will make you laugh and at other times give you the shivers. You will learn that more than sorrow floats.
And a special mention goes to Wahyu Awaludin.
I think it will be interesting if John Irving writes about something exotic, such as Indonesia. Indonesia is a beautiful country, especially in Bali province. Ubud Writer's Festival is held there. He probably can also write about Aceh, Lombok, or Borneo. There are plenty of tourism objects, including the beautiful natural scenes and some well-known cultural spots that could be the topic of his writing. Other than that, John Irving can write about Jakarta, which is one of the world's metropolitan cities There are so many things that can be done over here. It's going to be nice if he can manage to write down something exotic, particularly anything related to Asia.Thus, I strongly recommend him to choose Indonesia as his major theme
Thank you to all who participated! And Fer, enjoy the interview!