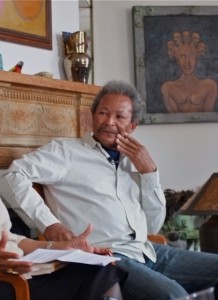 Readings take place in bookstores, bars, even laundromats, yet an old-fashioned home salon is a rare and special thing nowadays. In Harlem, especially, the living-room salon evokes a storied past of the 1920s Renaissance soirées of writers like Langston Hughes and Zora Neale Hurston. When you step into the grand, rambling Graham Court apartment of poet Quincy Troupe and his wife, writer Margaret Porter Troupe, you are immediately transported to a vibrant, sun-drenched world of creativity. One room has been turned into a gallery of contemporary artwork inspired largely by the African diaspora (together the Troupes edit the NYU journal Black Renaissance Noire); a large sitting room, where a makeshift table/bar has been set up, is crowded floor to ceiling with books; while the living room, with rearranged sofas and twenty or so folding chairs, has been transformed into an intimate space for the day's honored guest and audience. And all around, there are sweeping views across the Harlem rooftops and off into the hazy distance.
On a recent Sunday, the great Trinidadian author Earl Lovelace was in town to be feted at the Troupe's Harlem Arts Salon. The house was packed and festive, and the wine was flowing. I remember first discovering Lovelace in the late eighties—and I still have my worn copies of The Wine of Astonishment and A Brief Conversion and Other Stories to prove it. These books were wonders in themselves: sleek, colorful paperbacks published by the beloved imprints Aventura's Vintage Library of World Literature and the Heinemann Caribbean Writers series. Yes, Lovelace—his name, too, had its own special ring—evoked a whole world, a vision of Trinidad and the Caribbean that was bursting with life, with its own rhythm of dreams and vexed sorrows, its calypsonian sages and steel-pan virtuosos, its gurus and Garveyites and badjohns, or street-corner rebels. Lovelace was a revelation (as was his compatriot Sam Selvon, whose short story "My Girl and the City" still sends thrills through me), and over the years, I suppose, I've missed him without even realizing it.
So when I began reading his latest novel, Is Just a Movie, out this month from Haymarket Books, the feeling of déjà vu was overwhelming. But I'm not the only one to be swept up again by Lovelace's magic. This is his first work since the 1997 Commonwealth Prize–winning novel Salt, but as I gazed around the crowd in the Troupe's apartment I noticed several others cradling classic editions of his earlier work as well, including the groundbreaking novels While Gods Are Falling and The Dragon Can't Dance. One woman, in fact, showed me her own "rescued" copy from the sixties and scoffed at my more recent eighties vintages. "I went to University of the West Indies—I shouldn't say when, but it was a long time ago—and I graduated just as we were on the cusp of understanding that to know yourself you had to read about yourself," she told Lovelace later, after he had performed an extended, uproarious rendition from Is Just a Movie's opening section. "I bought all your books, and I've carried them with me wherever I've traveled and lived. But for me, you were someone from the distant past. So I'm happy to see you're very much alive and still with us!"
Earl Lovelace, I'm happy to report, is very much still with us, and he's writing with as much verve and rhapsodic wonder as ever. Is Just a Movie is the story of two friends, Kangkala, an out-of-fashion calypsonian, and Sonnyboy, a badjohn turned radical, who meet during Trinidad's Black Power heyday of the seventies and whose trials and tribulations over subsequent decades—including ill-fated bit parts in a foreign film—come to reflect some of the larger changes sweeping the island. But that hardly gives you a sense of the breadth of this swaggering, cheeky, joyful book, with its lively cast of walk-on characters, from the smooth-batting cricketer Franklyn, whose every stroke is a defiant statement of self-assertion ("How you going to stop we? How you go keep we down?") to Clayton Blondell, a polarizing black nationalist who arrives from the U.S. well after the movement has petered out in the Caribbean.
And there's much more—this is a full-throated medley about identity and independence; love and community; the "selling of dreams" and the "wind of sadness"; about Trinidad, steel-pan music and the towering figures of Carnival, the "stickfighters and the masquerade players, the dragon and jab molassie, the Midnight Robbers, King Sailors and moko jumbie, all those maskers who come out of nowhere to speak for who we are, the caisonian and the creators of the steelpan, the dancers of Orisha and the Shouters."
The character of Sonnyboy, in particular, represents a powerful figure in Lovelace's work, evoking the warrior spirit of stickfighters and plantation-era resisters. But it is a constant struggle for Sonnyboy to get others to see him for the man he believes he really is. "One of the things that Sonnyboy wants is to be recognized as a revolutionary," Lovelace explained. "And even though he has just taken a small part in the black power revolt, people still see him simply as a delinquent, a troublemaker. And I think that is one of the themes I'm pursuing in the novel—the idea that we need to acknowledge the resistance, the rebellion, of certain people in society who aren't generally seen as part of the movement."
"One of the problems with fiction, actually," Lovelace continued, "is that it focuses on individual lives and suggests individual solutions. The individual in the end gets married, or moves away, or something else happens to him. But it becomes quite difficult when you're dealing with changes in society. So when Sonnyboy wants to be seen as a revolutionary and not just a delinquent, he wants to feel that he is fighting against something that is real and not just doing it for kicks. And I agree with him, and think that the larger society needs to be aware of this as well."
By the novel's end, Sonnyboy, who joins the local environmentally-minded Hard Wuck Party and whose wife, Sweetie-Mary, encourages him to not let the world "make you stop loving," has undergone quite a journey. "He has moved on to become a kind of political activist," Lovelace said, in response to a question about Sonnyboy's prospects. "He has learned what it is to love and be a lover; so he is growing and he is becoming somebody. And the badjohn type, in a way, is ceasing to exist as it did in an earlier time. People have to move and change, and we have to help them see where they're going."
And what about Lovelace himself? Was he, as one audience member suggested, a sort of intellectual rebel, fighting the shallowness and divisions of the Caribbean today? "Hah," he burst out, clearly tickled. "Yeah, sure, I don't mind being considered a badjohn myself!"
In true combative style, Lovelace didn't hold back when it came to discussing certain themes and characters from the book, especially as conversation turned to Clayton Blondell and his imported vision of African identity. "One of the things I'm saying in this novel, I think, is that people have found certain harbors in their engagement with our reality," he began. "Africa is one of those harbors, the idea of a mythic Africa. Multiculturalism is one, too, in which we all—African, Indian, Syrian, and so on—separate ourselves and seek to protect our own cultural space. In fact, in Trinidad they now have a Ministry of Culture and Multiculturalism—what total foolishness! But I don't think these harbors are the end of the journey. We still have further to go. We have to come up with something—how are people going to move from these harbors? How are we as a society going to move forward? We in the Caribbean have to find a way to be a place—a place that can deal with its people, advance certain ideas in the world; that can present itself as something all its own."
And as Lovelace's words—light but tempered, like the steel-pan notes Sonnyboy compares to "sharpened steel knives" and "rain falling on a galvanized roof"—mingled with the sun streaming through the windows, the sounds from the street below, and an impromptu calypso sung by a childhood friend who hadn't seen him in forty years, the afternoon's salon slowly drew to a close. And there was Lovelace in the center of it all, with his cup of red wine and circle of admirers and fellow travelers: the author as balladeer, as national witness, as ultimate badjohn.
As for the rest of us, gradually shuttling out, happy and gratified and clutching copies of his new novel—our wait was over.
Anderson Tepper is on the staff of Vanity Fair and contributes reviews to a variety of publications. His introduction to Welcome to Paradise, a novel by Moroccan author Mahi Binebine, will be published this month by Tin House Books.