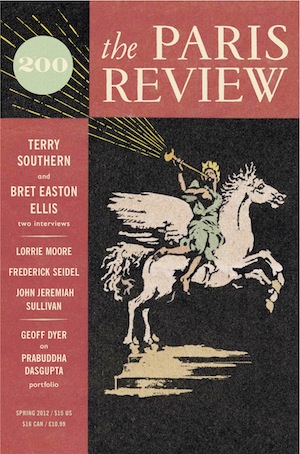 It's The Paris Review's 200th issue, and that's a big deal.
As if two hundred volumes of fiction, poetry, belles-lettres, and iconic interviews weren't reason enough to celebrate, this one is something special, including: fiction by Lorrie Moore, David Means, and Matt Sumell; poetry by Adrienne Rich, Rowan Ricardo Phillips, and Frederick Seidel; essays by David Searcy, Geoff Dyer, and John Jeremiah Sullivan; and literary paint chips by Leanne Shapton and Ben Schott.
The Spring issue also contains a blockbuster interview with Bret Easton Ellis:
American Psycho came out of a place of severe alienation and loneliness and self-loathing. I was pursuing a life—you could call it the Gentleman's Quarterly way of living—that I knew was bullshit, and yet I couldn't seem to help it. American Psycho is a book about becoming the man you feel you have to be, the man who is cool, slick, handsome, effortlessly moving through the world, modeling suits in Esquire, having babes on his arm … On the surface, like Patrick Bateman, I had everything a young man could possibly want to be 'happy' and yet I wasn't.
Plus, Maggie Paley's interview with Terry Southern—in the works since 1967. Southern, asked what he would do with unlimited financial resources, replied:
First I would engage a huge but clever and snakelike "Blowing Machine," and I would have it loaded with one ton of dog hair each Monday, Wednesday, and Friday. It would be brought up East Seventy-second Street to the very end, where it would poise itself outside George Plimpton's house like a great dragon. Then, exactly when Katherine the Char had finished one room, the powerful, darting snout of the machine would rise up to the third floor windows and send a terrific blast of dog hair into the room—a quarter ton per room. I would observe her reaction—I have friends opposite—with a spyglass, room by room. The entire place would be foot-deep in dog hair, most of which however has not yet settled and has the effect of an Arctic blizzard. Then I would drop in—casually, not really noticing her hysteria, or that anything at all was wrong, just sort of complaining in a vague way, occasionally brushing at my sleeve, et cetera, speaking with a kind of weary petulance: "Really, Katherine, I do think you might be more … uh, well, I mean to say …" voice trailing away, attention caught by something else, a picture on the wall: "I say, that is an amusing print—is it new?" fixing her with a deeply searching look, so there could be no doubt at all as to my interest in the print. If this didn't snap her mind I would give her several hundred thousand dollars—all in pennies. "Mr. Plimpton asked me to give you this, Katherine—each coin represents the dark seed of his desire for you."