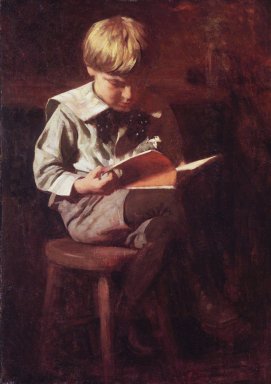 Spring is upon us! Or almost. What poems will get my mind off wintertime?
More than the other seasons, spring is a state of mind. As you know, it can strike in the dead of winter or go AWOL all April and May. It is the season of initiation, of mysteries, when the evening lengthens and spreads out before us and we are filled with irrational hope. Or not, and we feel its absence: spring is no longer for us. "I am a man of fortune greeting heirs; / For it has come that thus I greet the spring." We all know about April being the cruelest month; Rodgers and Hart put it more succinctly: "Spring is here, / I hear."
We all have our favorite greatest hits (you can't call a spring poem a chestnut): Deirdre likes William Carlos Williams's "Spring and All," e.e. cummings's poem beginning "in / Just spring," and Emily Dickinson's "A Light exists in Spring." Sadie loves Elizabeth Bishop's "In Early Spring" and the Dickinson poem that starts "A little Madness in the Spring / Is wholesome even for the King" (though she admits it gets "a little odd" as it goes along). Stephen plumps for "Fern Hill," on the sensible grounds that it concerns "the spring of life."
The poem that occurs to me is "Les Chercheuses de Poux," by Arthur Rimbaud. Here it is in Wyatt Mason's translation, which magically preserves some of the strangeness and sensuality of the original:
Lice Hunters

When the child's forehead full of red torments
Begs the white swarm of vague dreams
To take him, two charming sisters loom
Above his bed, with fragile fingers and silver nails.

They sit him before a window opened wide
Where a jumble of flowers bathes in blue air,
And then, bewitching and terrible, the delicate fingers
Walk through his heavy, dew-matted hair.

He listens to the song of their uneasy breath,
Long earthy blossoms of rose-rich honey
Interrupted now and then by a salivary sucking,
Tongues licking lips, hungry for a kiss.

He hears their black lids bat beneath
The scented silence, their gentle pulsing fingers
Kill little lice beneath royal nails crackling
Sounds resounding through his gray stupor.

But the wine of Sloth is rising in him,
A harmonica's sigh that sets you reeling;
Beneath the slowness of their caresses, the child
Feels an urge to cry, welling and dying, endlessly.
We also polled a few friends from outside the office: the aforementioned Wyatt Mason; Molly Murray, who is lecturing on Shakespeare at Columbia; Jeff Dolven, who happens to be doing the very same thing at Princeton (and has two poems in our last issue); and Kira von Eichel, whose child was falsely accused this week of having lice—and who recruited her mother, Linden von Eichel, in the cause.
Wyatt chose a poem by Frederick Seidel, from issue 194. He writes: "I hope you won't argue that it isn't a spring poem. Spring is coupling, so a spring poem must be in couplets. Spring is song, so a spring poem must rhyme. Spring is light, so a spring poem is lit from within. Spring is nice weather, so 'Nice Weather' is spring. And don't tell me I'm being tautological. I don't know what that means."
Nice Weather

This is what it's like at the end of the day.
But soon the day will go away.
Sunlight preoccupies the cross street.
It and night soon will meet.
Meanwhile, there is Central Park.
Now the park is getting dark.
Molly Murray also gravitates to the dark side of spring fever: "I always think of this Gerard Manley Hopkins sonnet in springtime, particularly the sestet—a reminder that crocuses, robins, nature's rebirth, etc. etc., can be a particularly exquisite horror to a mind sufficiently observant and sufficiently depressed."
Thou art indeed just, Lord, if I contend
With thee; but, sir, so what I plead is just.
Why do sinners' ways prosper? and why must
Disappointment all I endeavour end?

Wert thou my enemy, O thou my friend,
How wouldst thou worse, I wonder, than thou dost
Defeat, thwart me? Oh, the sots and thralls of lust
Do in spare hours more thrive than I that spend,

Sir, life upon thy cause. See, banks and brakes
Now, leavèd how thick! lacèd they are again
With fretty chervil, look, and fresh wind shakes

Them; birds build–but not I build; no, but strain,
Time's eunuch, and not breed one work that wakes.
Mine, O thou lord of life, send my roots rain.
Jeff Dolven writes, "For me, 'Forces, the Will, & the Weather,' by Wallace Stevens. Why? Till summer bakes it, spring is mire for poets to breed floures and lilacs in. But I love Stevens's spring, too, which comes to you first thing in the morning like a waiter, laying a bright blank page at your place. With a nougat on the side (new begat?), and you also get those great lines about the girl walking her dog, the rhythm of which should carry you through to lunch at least. Tip generously, reader."
Forces, the Will & the Weather

At the time of nougats, the peer yellow
Sighed in the evening that he lived
Without ideas in a land without ideas,
The pair yellow, the peer.

It was at the time, the place, of nougats.
There the dogwoods, the white ones and the pink ones,
Bloomed in sheets, as they bloom, and the girl,
A pink girl took a white dog walking.

The dog had to walk. He had to be taken.
The girl had to hold back and lean back to hold him,
At the time of the dogwoods, handfuls thrown up
To spread colors. There was not an idea

This side of Moscow. There were anti-ideas
And counter-ideas. There was nothing one had.
There were
No horses to ride and no one to ride them
In the woods of the dogwoods,

No large white horses. But there was the fluffy dog.
There were the sheets high up on older trees,
Seeming to be liquid as leaves made of cloud,
Shells under water. These were nougats.

It had to be right: nougats. It was a shift
Of realities, that, in which it could be wrong.
The weather was like a waiter with a tray.
One had come early to a crisp café.
Kira von Eichel suggests another translation from the French: "One could do worse than Wordsworth's daffodils and any of Blake's Songs of Innocence. In fact, they're great. If that's all it will take, go for it. But the true somnambulant, staring at that certain slant of light, is in need of a more powerful tonic. You don't even have to have it, just think about it, read a poem about it; think a little bit dirty, a little bit delirious. Spring fever. Emily Dickinson's flowers and bees were flirting and kissing (see "Come Slowly – Eden!") One of my personal favorites, this one from Paul Verlaine, mentions autumn, but I think it was a mistake, and I forgive him. No bug would bite a lovely's neck in autumn. It's so spring!"
Innocents We
(Translation by Norman R Shapiro)

Their long skirts and high heels battled away:
Depending on the ground's and breezes' whim,
At times some stocking shone, low on the limb—
Too soon concealed!—tickling our naïveté.

At times, as well, an envious bug would bite
Our lovelies' necks beneath the boughs, and we
Would glimpse a flash—white flash, ah! ecstasy!—
And glut our mad young eyes on sheer delight.

Evening would fall, the autumn day would draw
To its uncertain close: our belles would cling
Dreamingly to us, cooing, whispering
Lies that still set our souls trembling with awe.
"And if that's not enough and you really want to get down and dirty … well, there's my mother, who penned this, her 'Fecund Ditty' in 2008."
Boffing bunnies, flipping fishes,
Spawning salmon, juicy wishes,
Oozing mud with pushing fronds,
Brown and green by fecund ponds.

Four-leaf clover comes unfurled,
Umbrella plant, a phallus curled,
Mushrooms, orange on black log,
In this fragrant earth bog.

Spring has sprung
The grass is riz
I wonder where the birdies is?"
The birds, of course, are with the bees.

The bees are kissing throbbing stamen,
Thriving, pollinating – Amen!
Have a question for the editors of The Paris Review? E-mail us.