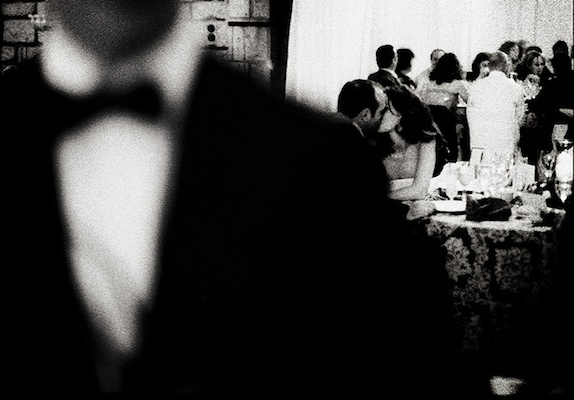 This is a story about the life and death of a Hollywood icon—much of it myth, uncorroborated hearsay, and patchwork nostalgia, but it's all how I remember it.
In its day, which is to say from around 1996 to 2003, Les Deux Cafés was the brightest starlet of the Hollywood nightlife scene, and like many of her sexy habitués, she was famously unpredictable, hauntingly seductive, and seemingly hell-bent on her own destruction.
Hidden in a nondescript parking lot, behind an unmarked steel door, the "the two cafés" girded a pair of Provençal-style gardens dotted with mosaic-top tables and dripping with night-blooming jasmine and eucalyptus. Around the old magnolia tree dropping its leaves on the slate slab floor, past the mobile garden bar (and tables 20-23), you approached the main house through the patio—an elevated porch, covered by a canopy of grapevines and three species of Japanese wisteria, and heated year-round by an outdoor fireplace. These were the most coveted tables (numbers 50-62), each of them handmade glass-tile arabesques—where Al Pacino shot double decaf espressos and Six Feet Under shot episodes, where Tim Roth and his family ate most Sunday nights, where Heath Ledger, Djimon Hounsou, Nicole Kidman, Ridley Scott, and David Lynch ate Hama Hama oysters and drank Veuve Clicquot on quiet nights, and Lenny Kravitz and Bill Murray chopped it up and table-hopped on the busy ones.
Inside the house, a two-story white clapboard Craftsman bungalow, you came to the walnut-paneled banquettes (tables 70-101), where romantic couples would be getting engaged. The House, which was placed on a trailer and moved several blocks to this site, had reportedly belonged to James Cagney in the thirties. Designer Paul Fortune—who, after his masterful work at Les Deux Cafés, would famously revamp the restaurant at the Sunset Tower—hung his own portrait of the actor over the indoor fireplace.
Behind the house was the cavernous kitchen, and down a long, poured-cement corridor, past the bathrooms where TV stars did cocaine, was the Trapeze Bar—a jazzy, high-ceilinged modernist boîte where, long after the California smoking ban, performers still puffed through their sets, and, right after the Grammys, Puffy would dance on tables and buy out the bar's collection of Krug Clos du Mesnil.
But, though the café was Siren-song beautiful, the real draw—what we lurch for with the electromagnetic descriptor vibe—was felt more than seen. The service was abysmal (infamously, and intentionally so), the food was okay, but the scene … the scene was the thing. It was lost on no one that the garden tables were arranged as an amphitheater, the better to watch everyone else. Owner and guiding spirit Michèle Lamy casted the staff more than hired them, and, consciously or not, we all performed in her play.
I auditioned in the summer of '98, when the photographer Paul Jasmin, a friend of my family and a regular of the restaurant, introduced me to Michèle thinking I might pick up a summer gig while I was home from college. I went in early one afternoon, and found her at table 52, smoking Benson & Hedges 100s and drinking Lapsang Souchong (the only things I'd see her consume by daylight in the several years I worked there). I'd already heard from several sources that she was a fantastic character—a Bedouin maybe, a vampire, ageless, ancient, witchy—and still I was awestruck in her presence. Her heavily hennaed hair was capped in a gangster-style do-rag, and little jets of kohl were purposefully drawn down over her face. Her fingers looked as if they'd been dipped in an inkwell. She broke off our conversation intermittently to answer the steadily ringing cordless house phone and write names in looping lettering in her leather-bound agenda. In French, her voice sounded hoarse and distant like a muezzin call. In her thickly accented English, it slowed to the consistency of granular mustard.
I started that night as an unpaid bus boy (all waitstaff start their employment on an unpaid, probationary basis) in a tight black T-shirt, black pants, and shoes. Even before the six o'clock staff meal, the headwaitress had claimed me as her own, and six hours later I watched her go home with a thousand dollars. On my second shift, a group of Dallas Cowboy cheerleaders invited me into a bathroom stall. Later that same week Kiefer Sutherland gave me a hundred-dollar tip, and I ate my first intoxicating bite of sweetbreads—as well as battered and fried calf brains.
I kept coming to work.
And, by the end of the summer, I'd climbed my way up to working the door. Some nights I was accompanied by Christopher Wonder, a magician who lived in Echo Park with his girlfriend and their pet pig. We chatted with celebrities as they entered, and kept out questionables as I tried in vain to get my head around the occult algorithm by which Michèle calculated desirability. I was always letting in the wrong person and keeping out the right ones. But even though Michèle made sure to remind me that any monkey could do my job—regularly, and in those words—when I did snub a powerful executive and was heartily assured by an ascending scale of assistants that I, and my delicate parts, would suffer a variety of brutal ignominies in this life and beyond, Michèle just sort of snickered, impressed.
One night, a film producer offered me five hundred dollars to join him for twenty minutes in his suite at the Mondrian. I thanked him but remained at my post, much to the consternation of my colleague R.P.—which he claimed stood for Rape and Pillage—who reminded me for the rest of the summer that I could be making fifteen hundred an hour. I found out later that R.P. was on heroin, probably even that night.
It was the most impossibly seedy and glamorous and debauched place I'd ever been. When I moved back to L.A. for grad school I showed up for another audition and was hired as a manager.
Two years had passed, but the place was much as I remembered it, only … more so. The pulse of chaos had quickened. And, though the original chef, and the one after that, and the one after that had gone, the food was being made earnestly and (usually) consistently. The filet mignon, grilled over oak coals and soaking in a smoky gravy, is still my favorite take on that cut. One of the perks of management (or, well, the only one) was that I could order from the menu every night, and almost every day for at least a year I had the loup de mer, cooked en papillote and served in an ethereal broth with scallions.
On this tour of duty I grew my hair out, picked up smoking, and changed my uniform to a thrift-store suit, sneakers, and more jewelry than I'd care to admit to. I also developed a vivid connection with Michèle, and she tended to me, gave advice and direction, as would a surrogate mother. Michèle's husband, Rick Owens, too, was much more prominent in the restaurant's cosmos now. He had worked for Michèle on her line, Lamy, and made the clothes she wore every day. Now the leading lights were coming to the café to see Rick as much as Michèle, wearing his buttery leather moto jackets. I made my first forays across Las Palmas Avenue to peek into the home he shared with Michèle. Inside their four utterly bare storefronts, connected by doorways and a back terrace, paint peeled off the walls just so, Rick's earliest brutalist furniture loomed like statuary, and a single enormous mirror leaned against a blasted plaster wall. It was La Bohème come to life.
We were all the young bohemians of course. The staff list read like a playbill and could have doubled as a circus retinue: Lily, the Yugoslavian flautist; Peter, the NEA-winning playwright who was dating Michèle's artist daughter, Scarlett; Chip, the head bartender, who later had a son with the headwaitress, Laurence, and who in a past life had done the sound mix on Star Wars and designed the logo for his buddy David Fincher's company, Propaganda; Christiaan, the actor from Amsterdam; Stephen, the Cat Stevens-y rocker from Marin, who'd started the same summer I had and subsequently broken through the famously strict sexual hierarchy—male bussers, male runners, female waitresses, male managers, and Michèle at the top—to become a waiter.
Perhaps not coincidentally, given this talent pool and our mutual relationship with das mutter, Peter and I assembled many of this tribe to make a short film based on a story I'd written about an artist with mommy issues. Peter directed and I, out of necessity more than anything, played the lead. We casted right out of the restaurant, as did most of Hollywood at the time.
This era was the sweet spot for a long-running Monday-night party frequented by much of young Hollywood—and a thousand of their closest friends. At ten o'clock sharp, the doorman Andrew and hosts Apple and Audrey would arrive, and soon two hundred people would be ashing in the plants, begging, threatening, and then screaming at me for a table. "I love chaos," Michèle would say, and then vanish for the night.
It was chaos. But after a couple of years of chain smoking and sprinting and stressing my way through it, I got the hang of it—which is to say I got over it. I could detach enough to let the place go to hell so that I could sit down to dinner with Gavin Lambert when he brought in his pal Gore Vidal.
I'd met Gavin a few times through Paul Fortune and idolized him because he'd written brilliantly about Los Angeles, which is what I hoped one day to do. He'd called me up that afternoon to say they were coming, just he and Vidal, and I blocked off table 51 for the evening—not Michèle's favorite 62 by the door where people would always be walking by, or the eight-top 52, but 51, where we could talk. Vidal's partner of fifty-three years had died the previous week, and there were moments when his eyes welled up and he seemed to hollow out, but upon meeting me he said, with all the elegant ferociousness that has made him legend, "So how did you fail as an actor?" I stuttered and lied, said I hadn't tried (see above), and told him the two of them were my living legends. He scoffed and then said one brilliant thing after another, for three hours. I refilled his martini glass four times and then almost had to carry him out to Gavin's little blue car at the end of the night.
That was a highlight, especially considering that the best thing that can happen to a restaurant on any given evening is that nothing bad happens. At the end of an evening, the energy would have worked its way into our muscles and skin, and the staff would sit down to a glass of wine. Often these bitch sessions turned into great glittering dialogues to best any Sturges script. Other times it went all Pinter. Often we would still be yammering on when the dawn came. One night I'd just gotten home, hammered, and laid my head on the pillow when there was a pounding on my door. I turned on the television in time to see a plane enter the second tower.
For most people, this era—from late 1999 through 2002, when Rick won a prestigious fashion award and was invited to move to Paris to relaunch the furrier house Revillon—will, and should, be remembered as the restaurant's golden age. It may not have been Studio 54 in the late seventies; it wasn't the Garden of Allah in the thirties, or Les Deux Magots in the twenties; but it was as close as our generation came to an athenaeum, a salon, and a watering hole.
Customers continued to show up for a while, too, but, after Michèle and Rick and their mad, magical chaos had gone, the theater went dark. The wild permissive energy that had made the place special mutated into corruption and then ebbed and then disappeared, as did the customers. One night I got a call at ten thirty that Ben Affleck and Jennifer Lopez wanted to come by with a few friends. We were already empty and I had to beg the bartender to stay. I sat down with them in the corner of the restaurant and Ben told a story about a wise old hand in the film business instructing him to shoot as many movies as possible before actors became irrelevant. He was describing the end of an era. I knew exactly what he meant.
Business slowed until finally it stopped. Our purveyors stopped shipping us goods we had long since stopped paying for. Paychecks were bouncing, tips were nonexistent—and yet we all kept showing up, out of habit, out of faith, out of some strange loyalty.
On New Year's Eve 2003—what would have been one of the busiest nights on the calendar—we met in the early afternoon. There was no food. We couldn't open, and we never did again.
Much later, after the civil-action lawsuit thirty of us filed against Les Deux Cafés LLC, claiming thousands in unpaid wages (mine alone ran to $6,900), when all we could think about was the worst of times, I forced myself to remember the best of times: I thought about these halcyon nights, after hours, drinking with the best friends I ever had; I thought about shooting scenes in the garden with Peter at five in the morning, both of us half-drunk and having the time of our lives.
I anticipate the day, not long from now, when the celebrity tell-alls and memoirs of addiction are sodden with references to the café, where I'll be able to watch through parallax viewpoints the scenes I experienced. While it lasted, it was a hell of a show.
Chris Wallace is a writer and editor in New York.