A series on what writers from around the world see from their windows.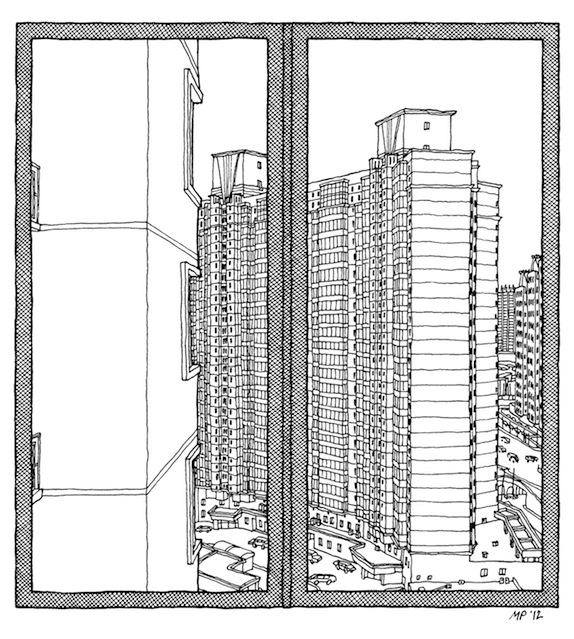 This is one of three windows in my study. The study is a one-bedroom apartment on the fifteenth floor. I don't know how many stories this building has—probably twenty-five or more—but I have never been above the seventeenth floor.
During the day, if I don't need to be at school, I stay in my study. It is crowded with books and old objects I collected from flea markets. I don't have many friends visit me. I used to have a neighbor who was the manager of a small company that installed central heating. He occasionally came to talk with me, and I discovered that he had been a lover of poetry when he was young. I am sure he didn't know who I was, though, so I told him that I was a teacher of literature, which is true.
The window faces east. When I sit at my desk in front of a wall of books, writing, the window is to my left. When I bought this apartment, which is a fifteen-minute walk from my home, in the late nineties, the building standing in front of my window was already there, as was the bridge, but the building behind the bridge was not, so there was a vast view across the city. But the whole city of Beijing was a giant construction site in the nineties and 2000s, and the view couldn't last. Once I got used to the buildings in the window, I seldom looked out of it. No trees can reach the fifteenth floor, so no birds perch at my window. When I look out, I see cars running on the bridge. Nothing else. —Xi Chuan