With Lorin in Paris, contributing editor Sadie Stein answered questions for our advice column this week.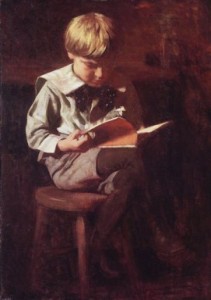 My ten-year-old daughter is going to drive my family into bankruptcy because of her obsession with everything American Girl: the dolls, the books, the furniture, everything! I'm reluctant to put a limit on her love because it has been getting her excited about reading (even if the books are well … you know). I also think it might be time for her to read something a bit more mature. Can you suggest a cheaper, and perhaps more worthy, literary obsession for my doll-loving daughter? —Marta, Los Angeles
Dear Marta,
The great thing about the American Girl books (and yes, I have fond memories of Changes for Samantha) is that they do get kids interested in history. And depending on which doll has taken her fancy, your daughter may want to explore "her" era further. You don't mention a particular obsession, but there's a terrific body of historical fiction for her age group: a few classic stories she might enjoy—all of which feature young girls, AG-style—are Island of the Blue Dolphins, The Witch of Blackbird Pond, and Sydney Taylor's "All-of-a-Kind" series. And needless to say, if she's not yet discovered Laura Ingalls Wilder, she's in for a treat!
I am constantly passing odd courtyards and doors in New York City. A part of me wants to take a walking tour, but every time I see a group in matching T-shirts I get anxious. Can you recommend a good book or Web site about the historical idiosyncrasies of the city? —Cebe
Dear Cebe,
I am a big fan of Robert Kahn's "City Secrets" series, which are composed of entries by in-the-know natives, many of them architects and historians. A wonderful free-form guide is Inside the Apple: A Streetwise History of New York City, by Michelle and James Navius. And if you're looking for something a little more idiosyncratic, the interactive WhaiWhai guides have just launched a New York edition, featuring trivia by Timothy "Speed" Levitch of The Cruise fame. All that said, for my money the one really essential text for visitor or native is still Here is New York.
Hi Sadie,
Are you related to Lorin Stein?
Sincerely,
APK
Dear APK,
No. Lorin and I are neither siblings, nor cousins, nor husband and wife. And contrary to what some may have heard, neither of us is related to MCA founder Jules Stein, either. In fact, our families come from different parts of the world. And while we're on the subject, my surname was changed from Poloiki. That's a story for another day (involving as it does the czar's army and a timely adoption), but suffice it to say, the shared surname is pure coincidence.
Have a question for The Paris Review? E-mail us.