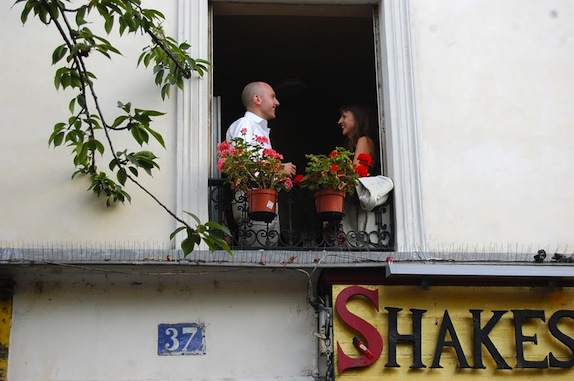 Dear Thessaly,
You're probably still in bed, or finishing up a short story, but here in Paris it's four o'clock; across the street from my hotel the bells of Nôtre Dame are playing "Three Blind Mice"; and I owe you an update from the Ville-Lumière.
It's my first time here in years, since the indoor smoking ban in fact, but no sooner did I get through customs than I started craving a cigarette. I think it must be the strain of reading airport signs in French. This craving intensified in the taxi. By the time I got through breakfast at a tourist café on Saint Germain—jambon beurre, three cafés crèmes—it was time for a Gauloise Blonde and a nap.
My hosts at Shakespeare & Co. kindly booked me a room around the corner from the famous shop. Mine is the best room the Hotel Esmeralda has to offer, and one of the highest, smelling faintly but not unpleasantly of blow-dryer and dead mouse. It is five flights up. Reaching the top of the stairs, I dropped my bag, conked out, and dreamed of Robert Silvers: he had climbed up after me to inquire about an essay he had written on the early history of The Paris Review—an essay slated to run in our last issue, but it hadn't.
This anxiety dream is easy to explain. You see, on the flight over I'd been reading a doctoral dissertation, Enterprise in the Service of Art: A Critical History of The Paris Review, 1953–1973, in preparation for my talk at the bookstore: "The Paris Review: Past, Present, Future." I had taken plenty of notes, but nothing that added up to a talk.
In fact, the more I read, the more trouble I had keeping past, present, and future apart. In the late fifties, the managing editor cut shipping costs by switching to lightweight paper—the same brainwave Nicole had three issues ago. In 1964, the editors launched a line of Paris Review ashtrays—an idea I believe Sadie floated, and nixed, last month. Everything was the same, and everything was different. Here were poetry editors tendering resignations. Here was a memo from Frederick Seidel (of all people!) on office management—and a postmortem of the original 1958 Revel ("We didn't do as well as we might have financially") that would have made Peter proud.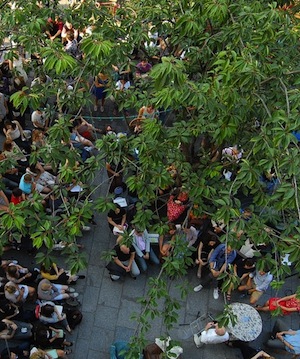 I am no traveler, Thessaly. Two hours in the Old World and already time was collapsing in my brain. I woke up in a cold sweat, late sunlight pouring through my window, with fifteen minutes to shave and run around the corner. Folding chairs were already set up on the pavement.
As fiascos go, the talk came off all right. I was supposed to talk for an hour, but after fifteen minutes I ran out of things to say. The crowd, mainly students and teachers in the NYU summer program, were forgiving. The seraphic Sylvia Whitman threw me several softballs, ditto her equally angelic manager, Jemma Birrell. Meghan O'Rourke, James Surowiecki, and Darrin Straus did what they could. Dan Chiasson fielded one thorny poetry question. One of the bookstore's regulars quizzed me on a fight between George Plimpton and Doc Humes, which somehow hadn't made it into the dissertation …
I bunted, and bunted, and bunted.
Afterward Sylvia and her companion, David, threw a party in the bookstore's upstairs rooms. It was a night to remember, at least for me. I finally got to ask Aleksander Hemon about the classic Québécois novelist Louis Hémon (no relation, alas). Deborah Landau gave a dramatic reading of the first page of The White Hotel. Joanna Yas and Adam Thirlwell led the "tumbleweeds"—the kids who live above the shop and do the shelving—in  a kind of impromptu roundtable on The Goon Squad. I wish you had been there.
The next morning a friend took me to the suburb of Malakoff to visit the painter Sam Szafran and his wife, Lilette. Here, my vertigo steepened and deepened. M. Szafran is in his late seventies. A Parisian Jew who spent his childhood in hiding and lost most of his family in the war, he was befriended as a youth by many artists of an older generation. Our talk revolved around Beckett, Giacometti, Picasso, and Cartier-Bresson. M. Szafran is an uncanny mimic and one of the best storytellers I have ever met. I may never have heard Calder speak, or Chagall, but I have heard the late James Lord talking in French—and M. Szafran's impression vouched for all the rest.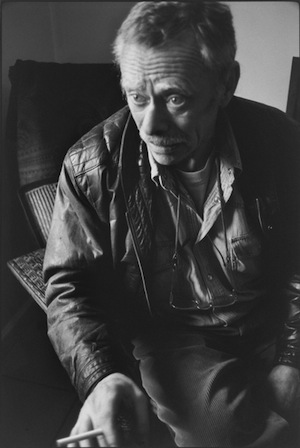 Although he claims to have lost much of his English (and has never gone to visit his painting at MoMA, because he's afraid of flying), his English—when he speaks it—is startlingly pure Australian. After the war, he explained, he and his mother and sister spent three years in Melbourne. There, he trained as a jockey, because he was malnourished and very small, but "they were always giving me the strap," so he stowed away to Jakarta. At sea he was discovered and would have been pitched overboard by the crew, only the captain intervened. When the family sailed back to France, in 1951, he kissed the ground at Marseilles.
By the mid fifties, as a teenager, he was living on the streets of Montparnasse, in the company of artists and musicians. He remains passionate about jazz. Chet Baker introduced M. Szafran to heroin; he credits Mme Szafran with getting him clean. Many of his works are portraits of her, seated on a bench by Gaudi, in the shadow of the giant vine that fills his atelier. Beneath this vine—a kind of one-plant indoor jungle—are large tables holding oil pastels, arranged by color. Half-finished tableaux stand on easels, drooping cobwebs, the labor of years. M. Szafran insists that he owns a feather duster, somewhere, "mais je travaille dans la poussière."
There was an especially funny story he told, involving Chagall, Cartier-Bresson, and Lincoln Kirstein, which I have spent the last ten minutes trying and failing to reproduce—and also I wanted to tell you how I went to buy a box of chocolates off the Place Saint Sulpice and ended up, impossibly, underneath the Eiffel Tower—but now there are fighter jets flying in formation over the cathedral, the sun is low in the sky, and I promised to send you copy before the afternoon.
As you will have guessed from all the softball metaphors above, I'm eager to hear how Stephen and the others fared against The New Yorker. In the meantime, please remember me to the team.
Amitiés a tous,
Lorin