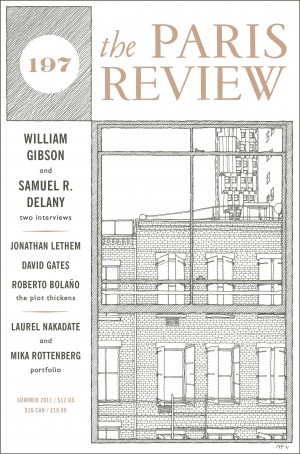 The living is easy—and it's time for our summer issue! Whether you're on the beach, in transit, or just enjoying the long days at home, this is an issue to get lost in: find fiction by Jonathan Lethem, Amie Barrodale, and David Gates and the continuing story of Roberto Bolaño's lost novel The Third Reich, with original illustrations by Leanne Shapton.
Big news: For the first time, readers can buy a digital version of The Paris Review—for easy access anytime, anywhere. TPR digital can be read on your iPad, laptop, or mobile device. It's cheap, it's easy, and it's instant gratification!
If, like us, you still enjoy a little sand between the pages of your beach-house reading, buy a subscription to the paper magazine—and get a Paris Review beach towel!* (We'd tell you to tuck it into a TPR tote, but that might sound pushy.)
From the summer issue:
An expansive interview with William Gibson:
What was more important was to name [my landscape] something cool, because it was never going to work unless it had a really good name.  So the first thing I did was sit down with a yellow pad and a Sharpie and start scribbling—infospace, dataspace. I think I got cyberspace on the third try, and I thought, Oh, that's a really weird word. I liked the way it felt in my mouth—I thought it sounded like it meant something while still being essentially hollow.
A frank interview with Samuel R. Delany:
Finding time to work is the main problem … You write a decent book, and you're hired as a creative-writing teacher. The next thing you know, you're director of the program, which basically means you get less time in class and more administration, which nobody likes, so that you can hardly write anything anymore.
Plus …
A portfolio of video art curated by Marilyn Minter. Poetry by Frederick Seidel, Cathy Park Hong, Kevin Prufer, Lia Purpura, D. Nurkse, and Iman Mersal.
*Dramatization