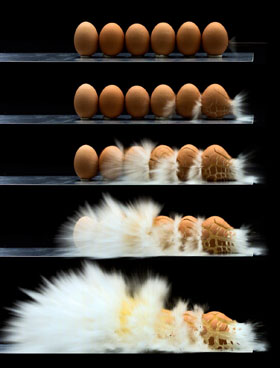 Belgian artist Brecht Evens's The Wrong Place, a graphic novel done in watercolor, is a jewel box. The formal chaos of social interaction—at a dinner party and in a crowded Moroccan-themed night club—comes alive in the book's riotous melding of clothing and decor patterns and luminous, vivid color. I read it straight through; its gorgeous pages are burned into my brain. —Nicole Rudick
This Wednesday, I attended a demonstration for the Modernist Cuisine, which could have only been written by a crazy person. Or, in this case, several crazy people. Nathan Myhrvold, Chris Young, and Maxime Bilet have written five volumes covering everything from sous vide to shit. As The New Yorker's John Lancaster puts it: "In its packed state, it weighs forty-six pounds. The scale and ambition of the project—and maybe at least one of the egos behind it—are Pharaonic." At the demonstration, I was served a striped omelette, and like Amanda Hesser, I wish that I had booked it to Myhrvold's headquarters in Bellevue, Washington, five years ago and joined the effort. —Thessaly La Force
Earlier this year, Edmund White introduced British readers to his top ten books about New York. I enjoyed the list very much—it featured the expected classics alongside neglected curiosities—but couldn't help feeling that he'd missed a trick by omitting the complete writings of Whitney Balliett, who was the jazz critic at The New Yorker for fifty years. Balliett's tastes lean a little too much toward the conservative—goodness knows what he'd make of my predilection for this kind of nonsense—but the perfectly weighted cadences of his prose are as tight and agile as the rhythm section of the slickest combo around. Check out his profiles of Big Sid Catlett, Ben Webster, and Ornette Coleman in particular. This, for me, is the sound of New York. —Jonathan Gharraie
I picked up Thisbe Nissen's The Good People of New York and hopped on the subway. When I got off the train, I kept reading and walking—almost walking into a nice-looking gentlemen with a briefcase. (Sorry!) —T. L.
At the start of Saul Bellow's Mr. Sammler Planet, "Mr. Artur Sammler with his bushy eye took in the books and papers of his West Side bedroom and suspected strongly that they were the wrong books, the wrong papers." This elderly soul, who has spent his whole life with precisely these books and these papers, seems at the brink of a moment of self-discovery. But then he continues: "In a way it did not matter much to a man of seventy-plus, and at leisure. You had to be a crank to insist on being right. Being right was largely a matter of explanations." This is Sammler's intellectual life: largely still and almost completely resigned. The book, though, is bright, strange, and more than mildly paranoid—a thoroughly intriguing read. —Rosalind Parry
A classic essay on the art of reading: Hermione Lee visits Penelope Fitzgerald's library. —J. G.