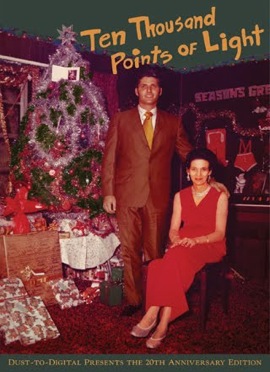 My family's annual Christmas Eve tradition of ogling holiday lights was cemented as soon as my younger sister and I were big enough to peep out of the windows of our family's Dodge Caravan. Sucking down hot chocolate and munching sugar cookies in the backseat as our parents navigated every last suburban enclave of Chattanooga, Tennessee, we oohed and aahed indiscriminately at any structure draped with flickering bulbs on strings.
We're pickier now. We avoid the subdivisions with obvious neighborhood association–enforced strictures of white lights, red ribbons, and evergreen boughs. We like gawking at failure: poorly draped, overly bright LED strands, inflatable Santas gone flaccid, blown-over flocks of animated wooden reindeer. But what we crave most is the audacious triumph of a place bold and bright and strange enough to be called a Christmas House.
This is an unofficial title, of course, and there were certainly other worthy contenders around Chattanooga, but for my family's gas mileage, the best bet was Ron and Judy McGill's. For years running, we'd cap off our Christmas Eve tour of lights with a pilgrimage across town, turning down the inconspicuous side street and joining the line of cars slowly snaking down to the end of the block. The house was inconspicuous most of the year, but shortly after Thanksgiving it would become obscured by a front and side yard densely packed with what functioned as a discombobulated catalogue of every kind of Christmas decoration made available for purchase over the past thirty years. If Christmas Homes have one thing in common, it is probably their disdain for the whole "one true God" concept as it relates to their yuletide décor. Multiple nativity scenes abounded. Electric trains zipped around inflatable Homer Simpsons and Grinches dressed in Santa suits. Gingerbread men with shit-eating grins plastered the rails of a gazebo, from under which life-size statues of Santa and Mrs. Claus peered out over the madness, flanked by two giant, pensive snowmen. Miniature blow-mold Santas, impaled Vladlike on fence posts, stood sentinel between the yard and the endless procession of passersby. Even over the grumble of idling car engines and the McGill's looping soundtrack of Christmas with the Chipmunks we could hear the whirring, the clattering, the humming of all the tiny mechanized parts and pumps and thousands of electric bulbs burning away. They emitted a palpable heat.
Ron and Judy McGill, whose proprietorship was announced on a lit-up wooden sign staked into the ditch out front, watched the reverse-parade from lawn chairs under their carport, the only bare spot on the lot. Sometimes one of them would step out to the street and hand out peppermints and humbly accept the few bucks we'd pass back to offset the power bill incurred for our pleasure. But that's as close as we ever got to them.
It's not just my family that has a Christmas House. You may have heard about the folks in Stone Mountain, Georgia, whose home was the Atlanta metro area's go-to Christmas House for upwards of two decades. Every December, beginning in 1973 and skipping only one year, the Townsends spackled nearly every inch of their white-brick rancher's interior with holiday memorabilia and then opened their doors wide to the world. On Christmas Eve in 1990, local documentarian George King was there to capture their last night of operations for what eventually became Ten Thousand Points of Light, a cult documentary that saw its twentieth-anniversary release on Dust-to-Digital last month. By the end of the Townsends's run, young family members were giving guided tours of the house like it was the Biltmore Estate, leading wide-eyed guests through the rooms of what had come to be known not only as "the Christmas House" but also "the Elvis House" for reasons that became clear only once inside. "Christmas and Elvis go together. Why? I do not know," family matriarch Granny Margaret explains over interlaced footage of blank-eyed statues and tapestries of the King, Christmas-themed only in terms of their direct proximity to a legion of holly-splattered couch cushions, several thousand glimmering light bulbs, and a crèche rendered from fudge and marshmallows. "Nothing will take the place of Christ. Christ was born on Christmas day. But Elvis was a good man—and he was always good to everybody."
The documentary is short, just over half an hour long, but it's compact and notably tender. King offers a finely rendered sketch of the Townsends themselves. There's the wiry son Raymond describing an incident where he threatened an unruly visitor with the handgun he keeps strapped on his hip. There's the granddaughter/tour guide Gloria talking about flirting with male visitors, divorcing her husband for the second time, and some conflict about a stolen ring. It's easy to wonder how the film might have fared if produced and released fifteen years later: Thanks to the wonder of the Web and docu-nerd niche hits like Spellbound and King of Kong, this family of lovers and fighters and decorators and Elvis fans could've been famous in some less-small, less-strange way. In real life, just a few days after their final Christmas House tour, the Townsends were gone—all packed up and moved out to North Carolina, where Margaret died in 1994 and the rest of the family still lives.
One cold night in mid-December, a week and a half shy of the twentieth anniversary of the Townsends's last hurrah, I drove out to find their old house in Stone Mountain. I was the only car on the road. The eaves of one neighboring house were draped with dangling icicle lights. A silver SUV was parked cockeyed in the driveway; a plain evergreen bough was tied to the mailbox with red ribbon. I was surprised but shouldn't have been.
My family may have seen our own Christmas House for the last time: Two years ago, we were recovering from a close relative's death and didn't go out that night. Then the McGills didn't decorate last year (health problems and the economy, I heard). My hopes aren't high for this year, either, though we plan on making the trip. I know full well the house looks normal eleven months out of twelve, but I don't like the prospect of seeing it bare. I've got video of the place, taken as we crept past one Christmas Eve five years ago. Watching that isn't the same. I miss the heat.
Rachael Maddux is a writer and editor living in Decatur, Georgia.