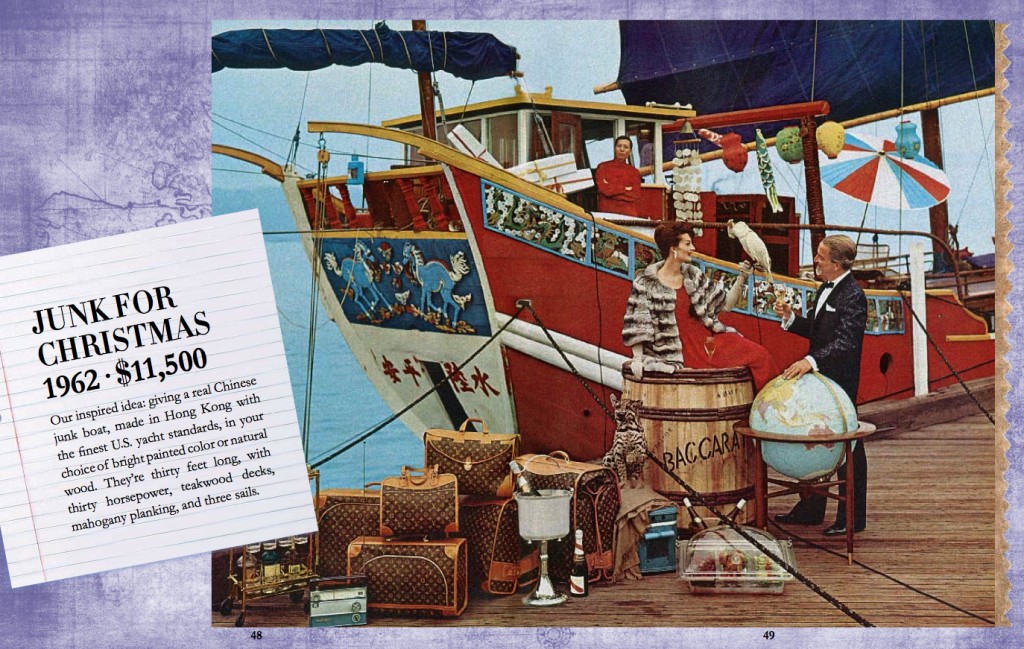 In 1939, Neiman Marcus published their first Christmas book, a catalogue of extravagant, humorous, astonishing, and often jewel-encrusted gifts. Over the Top: 50 Years of Fantasy Gifts from the Neiman Marcus Christmas Book, recently published by Assouline, celebrates the Chinese junks, minisubs, urban windmills, bags of diamonds, sailplanes, animal-shaped desks, Warhol portraits, and Jack Nicklaus custom backyard golf courses that only the top 1 percent could comfortably afford.
The first cover, in 1951, featured artwork by Saul Steinberg, with subsequent covers created by a host of notables, such as Robert Indiana, Ludwig Bemelmans, Al Hirschfeld, Victor Vassarely, Chuck Jones, and Ben Shahn. His & Hers gifts became a frequent staple of outrageous indulgence beginning in 1960 with His & Hers Beechcraft Airplanes ($176,000). Ensuing examples rivaled for the title of most ostentatious: His & Hers Camels (1967; $4,125), His & Hers Hot Air Balloons (1964; $6,850 each), His & Hers Authentic Mummy Cases (1971; $16,000), His & Hers Robots (2003; $400,000), and His & Hers Name Your Own Jewels (1985; $2,000,000).
The Texas-based company shows its roots in the Dallas Cowboys Stadium End Zone (2008), 530 square yards of sporting history built in your own backyard. Also comprising photos in the zone with Cowboys owner Jerry Jones and a tailgate party with the Dallas Cowboys cheerleaders, the $500,000 package was offered during a tumultuous and unsuccessful season for the once-glorious franchise. "Does Neiman Marcus ever sell any of those over-the-top gifts from the Christmas
Book?" asks President and CEO Burt Tansky. "Yes, some have sold; others have not. But I'll never tell which ones." Make your guesses with some of our favorites below.