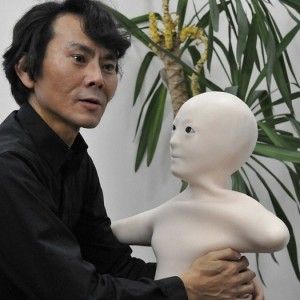 What we've been reading.
I've been fascinated by Popular Science's articles on robots. First there's Larvabot—Hiroshi Ishiguro's new telepresence robot meant to "transmit the presence" of people in other places by mimicing their voice, face, and movements. Imagining people hugging these "minimalist humans" that pretend to be their friends makes me feel weird and lonely. What would David Foster Wallace have to say about this? Then I see that another robot is updating its Twitter account. I wonder: will robots ever start writing memoirs and short fiction? —Natalie Jacoby
Over the weekend I tore through Style—a series of lectures given in 1955 by the witty English critic (and code-breaker) F. L. Lucas. The book addresses such topics as rhythm, urbanity, and brevity—and has them all. —Lorin Stein
While on vacation, I read All the Living, C. E. Morgan's début novel, in under a day. She told The New Yorker, after being named a "20 Under 40," that it took her just two weeks to write the first draft, then another two semesters (while in graduate school!) to polish it up. Fast read, fast write. But damn, what a book. —Thessaly La Force
Julia Whitty writes equally beautiful prose about the ocean and the horror of the BP oil spill. We published her dispatch from the North Atlantic in our summer issue. Her new piece in Mother Jones on the BP cover-up is a must-read. —Caitlin Roper
E.B. and Katherine White's Subtreasury of American Humor is so much better than it sounds. The stories here aren't humor pieces as such, but writing that has a sense of humor—a chapter of Gentlemen Prefer Blondes (which actually is funny) next to a chapter of Babbitt (which isn't, and isn't trying to be, but also is). Perfect for bed. —L. S.
I've been marveling over these short reflections on Jane Austen, filmed during a recent Morgan Library exhibition devoted to her work. And I can't stop sharing Robin Hanson's brief meditation on detail. —David Wallace-Wells
Ariel Dorfman's Nelson Mandela lecture (on the importance of remembering and, occasionally, the convenience of misremembering) is still the talk of South Africa. Us humble non-attendees can read it here. —Anna Hartford
S. G. Dunn, in the preface to a beautifully crafted (and tiny) collection of Coleridge's poetry, lent me these words (written in 1918) for a week's worth of reflection: "For some time there has been evident, in England as elsewhere, an increasing distrust of modern civilization. The huge frame of it, we feel, is not 'constructed right'. We have sought our happiness in material wealth; we have looked for peace from industrial prosperity; and the result of our endeavors has been not peace, but war. […] We need to remember that the soul of a nation, the true ideals of its civilization, are expressed in its poetry; that the poets are the legislators, though 'unacknowledged', of mankind." —Stephen Andrew Hiltner
Also, though it is such a meme it might be a bit futile to add it here, Christopher Hitchens's cancer announcement in Vanity Fair. A memento mori if ever there was one. —A. H.
Franzen on the cover of Time. Yes. —L. S.