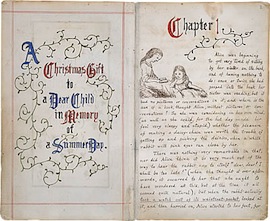 What we're reading this week.
After seeing Tim Burton's Alice in Wonderland, I've been looking through Lewis Carroll's original text. The British Library has a copy of the 1864 illuminated manuscript of Alice's Adventures Under Ground, conveniently online. The illustrations are delicate and charming. They're much like Carroll's handwriting, neat and subtle, with no trace of the macabre imagery in Burton's movie. Alice is worth returning to again and again. —Daisy Atterbury
Four middle-aged strangers, stranded late at night in a railroad station, begin speaking of love. Soon each is telling the story of his one great romance. It sounds like a lost work of Turgenev—and sometimes it reads that way too—but it's My Kind of Girl, by the mid-century Bengali poet Buddhadeva Bose. First published in 1951, out next month in a new translation by Arunava Sinha. —Lorin Stein.
At the risk of stating the obvious, wasn't that some piece about Gil Scott Heron? —L. S.
In the week that Newsweek was bought for a dollar, and Wikileaks dominated the news, I read up on the changing media landscape. I read John Koblin's article in the New York Observer about Scott Dadich, executive editor of digital development at Condé Nast, with great interest. Dadich's job is to help magazine editors develop their iPad applications. I'm fascinated by this new frontier, professionally and personally. Dadich is incredibly talented. In Koblin's piece, he's compared to Jesus, Pelé, Miles Davis, and Frank Lloyd Wright. —Caitlin Roper
Scavenged for all things Heidi Julavits after reading her story, "Multiples of Cohen," in the latest Harper's. —Anna Hartford
As a cyclist, I've been alarmed to learn from Republican electoral candidates that I am part of a vast biking conspiracy, started by the UN, to use bike lanes to take away people's freedom. Meanwhile, back in the real world, I've started Ursula K LeGuin's The Left Hand of Darkness, a story about a planet where gender roles are obscured, just in time for the California District Court's decision in Perry v. Schwarzenegger. I picked up my copy, a classic early seventies hardcover edition with wonderfully strange modernist artwork, for fifty cents on somebody's stoop near the office. —Patrick Loughran
What is an editor to do with a galley of the annotated edition of Jane Austen's Pride and Prejudice? I have yet to find a fun way to feature the book on the Daily (suggestions are welcome). It's more information than I'll ever need. When is it the hunting season for partridges? Did you know that Epsom salts derive their name from the fact that they were originally made by boiling down mineral water from Epsom? Or that Frances Burney's first novel, Evelina (1778), was perhaps the first work to explore the notion of embarrassment? Is possible to overdose on Jane Austen? —Thessaly La Force
Also loved John Bowe's piece in The New York Times Magazine about music copyright enforcers. Bowe delves into a facet of music copyright that I haven't considered, and it's a rough one—he follows a BMI licensing executive as she goes door-to-door to collect licensing fees for music that restaurants are already playing. The article gets at the question of how we feel about paying for music, a subject I never tire of. In June, I donated to Creative Commons after reading this letter from their creative director in response to ASCAP's fundraising letter decrying what they characterized as efforts to "undermine" their copyrights. —C. R.