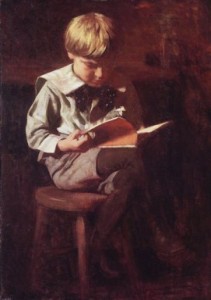 Can you recommend any books that will make interesting people approach me if I read them on the subway? During A Moveable Feast, people came up and quoted entire passages verbatim, and it really enhanced the reading experience. —Alexandra Petri
The trick is to choose books that have cult followings, and so create a sense of secret fellowship—but that large numbers of your fellow-riders have actually read. That's why it depends somewhat on your subway line. As Philip Roth is to the Seventh Avenue trains, so Jonathan Lethem is to the F. For the Q I might carry either story collection of Edward P. Jones (impress your new friend by pointing out that the two collections are linked, story by story) or anything by Lipsyte or Shteyngart. (Each of whom is also beloved on the L.) On the Lexington Avenue line, The Transit of Venus. For the G train: War and Peace, A Dance to the Music of Time, The Decline and Fall of the Roman Empire, 2666, Gravity's Rainbow, the complete works of James Michener, etc., etc., etc.
Of course, certain writers are good bets anywhere. Thanks to my bike, I have no particular subway, but I will instantly take a friendly interest in anyone I see reading Ta-Nehisi Coates's memoir The Beautiful Struggle, Norman Rush's Mortals, IJ, anything by Adam Phillips, or the essays of Charles Lamb. Possession of these books is sufficient cause for me to ask which part you're at. Maybe for others too. All of which is to say: be careful what you wish for.
My best friend is marrying a silly man. It's not my place to intervene, but unfortunately my hostility toward him hasn't been particularly well-masked. She's asked me to read something at the wedding—the usual stuff will sound too insincere and the "I'm happy you're happy" approach, I fear, is too weak a euphemism for this particular occasion. Any suggestions for something wonderful and stirring and seemingly heartfelt and yet not altogether at odds with my belief that this is all a terrible mistake? —Rebecca
Ugh. Don't you hate this business of reading at weddings? Even under the best of circumstances, I'll never understand what's wrong with a toast. I love listening to toasts! Can you persuade your friend to change the rules? Then you can just go on about her, and how lucky this guy is. You'll never find a better audience for a toast than a wedding. All the laughter and tears, people actually mean them.
The wedding toast is one of the most vital folk rituals we have—more vital than the vows. But readings? Who ever can pay attention to the Song of Songs or "Let me not to the marriage of true minds," or even "Having a Coke With You," before the first glass of champagne? It helps, somewhat, if the thing is printed in the program. (It gives you something to read during the Bach.) And I think gay weddings should get a pass, if only for the excuse to hear Whitman's beautiful, and suddenly triumphant, "When I Heard at the Close of Day." But you can't read that at your friend's wedding, it's too passionate. Everyone will think you're carrying a torch for Bozo.
The other day two friends of mine, who had just tied the knot at City Hall, had a picnic to celebrate. In that case, maybe because we'd already eaten and drunk and were sprawled around on the grass, maybe because we all were so happy to see our friends make it official, the readings hit the perfect note. I doubt there was a dry eye in that corner of Prospect Park. Someone read Whitman. Someone read Robert Frost's sonnet "The Silken Tent," and someone read this less expected one, by William Morris, "Love Is Enough." Which apart from being very pretty has the virtue of being all-purpose. I commend it to you:
Love is enough: though the World be a-waning,
And the woods have no voice but the voice of complaining,
Though the sky be too dark for dim eyes to discover
The gold-cups and daisies fair blooming thereunder,
Though the hills be held shadows, and the sea a dark wonder,
And this day draw a veil over all deeds passed over,
Yet their hands shall not tremble, their feet shall not falter;
The void shall not weary, the fear shall not alter
These lips and these eyes of the loved and the lover.
Have a question for The Paris Review? E-mail us.