Meghan O'Rourke
Issue 198, Fall 2011
Our ménage à trois by candlelight—;
the various absurdities: black lace,
pink mules, a little-bo-peep teddy.

Afterward, bad Champagne
in the kitchen of the pied-à-terre.
The mind is an unforgettable red space.
Want to keep reading?
Sign in—or sign up for a free trial…
Free Trial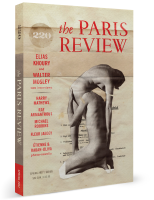 …or get your subscription now!
Subscribe