D. Nurkse
Issue 213, Summer 2015
1
Here is the world, right beside me,
a little garden with a swing,
some dirt and a red shovel,
but I have no idea how to reach it.
My brother is there, tossing a Spaldeen,
there my father dozes in the …
Want to keep reading?
Sign in—or sign up for a free trial…
Free Trial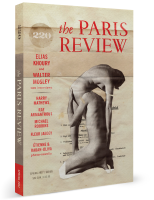 …or get your subscription now!
Subscribe