Timothy Donnelly
Issue 190, Fall 2009
1.
A pity the selfsame vehicle that spirits me away from
factories of tedium should likewise serve to drag
me backwards into panic, or that panic should erect
massive factories of its own, their v…
Want to keep reading?
Sign in—or sign up for a free trial…
Free Trial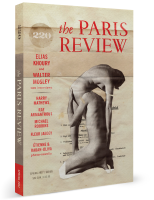 …or get your subscription now!
Subscribe