Susan Wheeler
Issue 115, Summer 1990
This is the repugnant part, where now
you covet the loss which a moment before
brought you the severed torso in the dream.
Since your friends are feasting, you must act quickly.
The child's carriage careens on the stair.
Want to keep reading?
Sign in—or sign up for a free trial…
Free Trial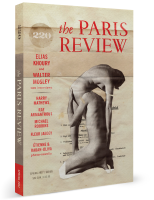 …or get your subscription now!
Subscribe