Kenneth Tynan
Issue 9, Summer 1955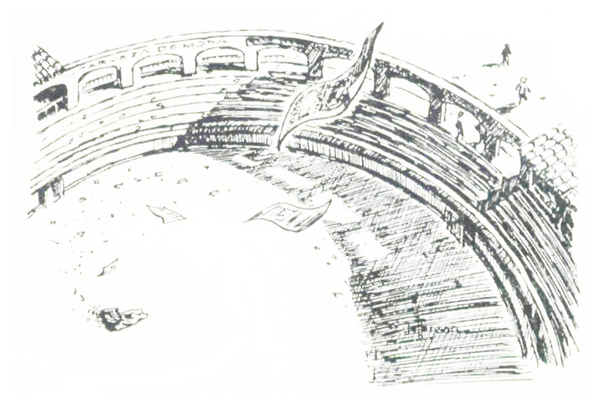 Manuel Rodriguez 'Manolete' had entered his thirty-first year on July 4th, 1947. His birthplace was Cordoba, a hundred and twenty kilometres down the Guadalquivir from Linares. Since 1939 he had been at the height of his profession; lean, hawk-nosed, and saturnine, he was dubbed 'The Monster', and the national idolatry he commanded was greater even than that accorded to Belmonte. The gossips said that the incessant strain of having to be always at his best had lately been driving him to the bottle; Camara, his agent and friend, had confessed that he often seemed a somnambulist, so badly was he weakened by late hours and deep drinking.
On July 16th, fighting unpaid in a charity corrida at Madrid, he had been gored by a Bohorquez bull and, although swaying on his feet, completed the faena and kill before consenting to be carried to the infirmary, where the bull's ears were brought to him. His convalescence took three weeks and meant the cancellation of six contracts. On August 4th, still groggy, he reappeared at Vitoria, cutting an ear. He fought again in the same town on the 5th, and travelled during the next ten days to Valdepenas, San Sebastian, Huesca, and Gijon; in all four placed he seemed ominously shaky. On the 16th he returned to San Sebastian on the same programme as Luis Miguel, his most serious rival among the younger men, and cut both ears of his first bull. As the cheers died, he was asked by a radio commentator in the callejon to say a few words. He responded laconically: "They ask of me more than I can give. I would say only one thing, and that is that I wish it were October and the season were ended." He failed in the second bull, and the crowd jeered. That evening he dined with his mother, and then departed for Toledo, where he had a spectacular success on the 17th.
A few days later he gave an interview to a journalist in which he said he had decided to retire at the end of the year. "I am out of temper," he said. "The public expects more of me every time I appear. It is impossible." Before a hostile audience in Gijon on the 24th he was lamentably bad, and two days later, at Santander, he heard only mild applause. Meanwhile, the posters were already up in Jaen and Cordoba and the villages of the Guadalsuivir valley, announcing the cartels for the feria at Linares. Two corridas had been organized in the first of which, fixed for the 28th, Gitanillo de Triana, Manolete, and Luis Miguel would meet six Miura bulls.
On the evening of Wednesday the 27th, Manolete left Madrid by car, accompanied by Camara, a bullfight journalist named Bellon, and Guillermo, his chauffeur-cum-sword-handler. They arrived in Linares soon after dawn next day, having driven all night, and Manolete went straight to his room to rest. At eleven he rose; the hubbub of a town en fête welled up from the streets. He breakfasted lightly on fruit, and received handshakes from a few friends. The fight was timed to begin at five-thirty: around four he put on the suit of lights and, after a few minutes of prayer, rose and faced Camara.
"How are the bulls, Pepe?"
"Fine. Not too big, not too little."
At five-fifteen he was driven to the bullring, looking as bleak and impassive as always.
The Plaza de Toros at Linares, officially classified as a second-category ring, holds ten thousand spectators. It was full to overflowing. The three matadors were greeted with an ovation, to acknowledge which Manolete led them out, montera in hand, to the middle of the circle. Gitanillo, a once-brilliant gypsy, two years Manolete's senior and for many years his friend, took the first Miura. It lacked power, but was frank with the capes, and Gitanillo received scattered applause. The second, Manolete's, showed even less caste; he gave it a few derechazos in a dangerous terrain and then, seeing that its will was ebbing rapidly, resorted to flashy and meaningless adornos which dismayed the purists in the crowd. He killed with a pinchazo and a forward estocada; "the bull," says Francisco Narbona in his book Manolete, "deserved no better"; and the audience gently applauded.
Luis Miguel, eager to outdo the maestro, was lucky in a fine third bull. He put in two pairs of sticks himself and brought off a neat faena based on two series of naturals; though he killed less than well, the crowd insisted that an ear be awarded. A slight misunderstanding followed, of a kind all too common in country rings; Luis Miguel's head peon presented him with both ears and the tail. The over-enthusiasm brought noisy protests, and Luis Miguel had to be content with a single trophy. With the fourth bull Gitanillo was uncertain and took no risks. Then came the fifth.
It was small and black, the number branded on its flank was 21, and its name was Islero. It was the one thousand and fourth bull of Manolete's career. During the preliminary rushes at the cape it halted menacingly, and disconcerted the banderilleros by a habit of turning suddenly in its own length. Standing in the callejoin Camara noticed this and nudged Manolete:
"Manolo, I don't like him. Keep the cloth low and finish him off quickly."
The trumpet sounded, and Manolete set about coming to terms with the Miura. After a few punishment passes, low down with the right hand, he lifted the muleta for three slow passes en redondo. It was obvious by now that the bull favoured its right horn. It was hooking towards the barrera all the time, and some of the crowd were getting restive. Icily proud, he hushed them with a sequence of his own majestic manoletinas. Guillermo, scared by this display of imprudence, hissed from the burladero:
"Take it easy, maestro!"
Manolete did not hear. He went in to kill, but not safely, running out to the left of the horns, as most toreros would have done in the circumstances. He lined the bull up in the suerte contraria, with its left horn nearer to the barrera, so that his escape would be the perilous way, out to the middle of the ring. It is said that Manolete's determination to outshine Luis Miguel was mainly responsible for the mighty volapié which followed. I prefer to think that he needed no spur to kill as he did. It was an estocada in slow motion. The bull stood twenty paces from the tunnel through which the paseo had entered the ring. Manolete drew back his shoulders and advanced inch by inch on the horns. Almost languidly, he pushed the sword home into the right place, up to the pommel. In that instant Islero raised his head, and stabbed his right horn, the bad one, into the upper part of Manolete's right thigh. He whirled up on the horn, spinning round on the point, which jabbed deeper into the wound with half a ton of Islero's weight behind it. He flew up and landed between the bull's forehoofs. David, Manolete's head peon, took the horns away with his cape. Guillermo was the first to run out to the stricken man's aid; after him Camara; and then the other peons, Cantimplas and El Sevillano. In their haste to reach the infirmary they carried Manolete, limp and etiolated, through the wrong door, and seconds passed before the buillring attendants showed them the right way.
Meanwhile Islero plodded over to the fence, and died. It was exactly forty-two minutes past six in the evening. "What happened afterwards in the bullring in Linares," says Senor Narbona, "is no concern of history's."
The cheers pursued Manolete to the infirmary, but he was already insensible, and did not hear the last ovation of his life. When the doctors were completing their examination, David burst into the room with the ears and tail of Islero, which had been won so purely. Swarms of well-meaning onlookers filled the air with cigar-smoke, and a jug of water had to be brought to moisten Manolete's lips. Blood was spurting from his leg in irregular gushes, and a transfusion was urgently required. The first volunteer was Juan Sanchez Calle, a police officer and close friend of the torero. While the operation was taking place, wooden chairs were being arranged in the bullring for the film show which had been announced for later in the evening, and a silent crowd gathered around Manolete's great blue car, which stood empty in the courtyard outside. A medical report was posted outside the infirmary. It said baldly that Manolete had been injured in the groin, and that the wound had taken three trajectories—inwards, upwards and downwards: the result of the brief moment in which he had spun on the horn. The femoral artery was badly damaged, there was extensive hemorrhage and violent traumatic shock. "Out look very grave." This was signed by Doctor Garrido and has been much commented on. Medical opinion now holds the view that Manolete was killed not by the wound itself but by the traumatic shock which it induced. Shock had unbalanced the vital triumvirate of brain, heart, and lungs by which we live; and his nervous system, already delimitated, could stand no further punishment. After a short conference, the doctors decided to summon the help of Jiménew Guinea, the Madrid bullring surgeon, who was spending the summer at El Escorial, more than two hundred miles to the north.
At eight o'clock Manolete regained consciousness. His peons were at his bedside, together with Camara, Gitanillo, and Luis Miguel. He murmured to Cantimplas:
"Ayee—but my groin hurts."
The peon mumbled a few words of comfort. Manolete turned towards Camara and asked:
"Is it in a bad place?"
It was in the worst place, but no one spoke. He then asked for water, and Luis Miguel poured a little through his arid lips. At eight-thirty a second transfusion was performed. His resistance was still very low, but he revived enough to grip the hands of those around him, saying:
"Move my leg a little. That's better. It was hurting me."
It was now agreed that he should be transferred to the municipal hospital in Linares. They carried him out of the infirmary on a stretcher. The crowd in the streets heard him utter two words. "Hurry!" he said: and again: "Hurry!" But the hospital of San José was a good distance off, and twenty minutes passed before he was on the operating table. Meantime one of his peons telephoned the diestro's mother in San Sebastian.
"What happened?" she said.
"Listen," he said, "Manolo has been caught in the leg. Yes, it's a cornada, but nothing special, nothing of any interest."
"Go on," said his mother.
"Well, he cut the ears and the tail. Pay no attention to the papers and the radio—you know what they are. All that stuff about arteries and so on! It isn't important. Don't alarm yourself."
Just after ten-thirty, one of his mother's friends, the impresario Pablo Martinez Elizondo, spoke to Camara by telephone from San Sebastian and heard the worst. As casually as he could, he suggested to the señora that she might like to be at her son's side. "Not that it's very serious, but I think he would be pleased to see you." At eleven they left together for Linares. "Of course if it was really bad," she said, "they would have taken him to Madrid."
By the time word of the goring had spread across the whole country; in Madrid, Seville, and Barcelona no one talked of anything else. At midnight a third blood transfusion was performed and Manolete was removed from the operating theatre to a hospital bed. He asked for a cigarette, but could not smoke it: after three puffs it fell to the ground. He sighed, and said to Alvaro Domecq, the equestrian bullfighter, who had joined the group at the bedside:
"This is a bad feeling."
Professional pride revived for a moment, and he asked:
"Did I kill the bull with that estocada?"
They told him he had killed it.
"And—didn't they give me an ear?"
Camara replied that they had given him both ears and the tail. He smiled. A few minutes later, he shook his head and whispered:
"How my mother will suffer!"
At 4 a.m. he began to grow terribly pale. He was able to recognize Domingo Ortega when the latter arrived, but could do no more than make a feeble gesture of apology. Shortly afterwards Gitanillo, who had driven like a madman, drew up with Doctor Guinea in the blue car. Guinea examined the dying man and discussed the situation with Doctor Tamames, whom Luis Miguel had called in. They decided not to move him.
"Don Luis," said Manolete to Doctor Guinea, whom he knew well, "what can you do for me?"
Guinea told him to close his eyes and rest. To limit the circulation he then applied tighter bandages to both legs. Minutes passed, and Manolete said faintly:
"I can't feel anything in my legs, doctor."
Guinea soothed him and again told him to rest. After a while he said:
"I can't see you, Don Luis."
His eyes were open. Guinea said:
"Close your eyes and don't worry. All is well."
There was no hope. A few minutes before five the hospital chaplain administered extreme unction. When this was done, Manolete called suddenly for his oldest peon:
"David…"
His lips went on moving, but the words were lost. At seven minutes past five, as the sky was clearing over the town, a brief convulsion took place, but with it no great agony. Then Manolete's head slumped to the right, so that it faced a picture of the Virgin of the Macarena which stood by his bed. Doctor Tamames, who was taking his pulse, announced that he had given up his soul. Antonia, his mistress, who had been kept away from the death-bed for fear of the effect her appearance might have on him, was now admitted, to weep over his body.
In the hospital chapel the first mass was celebrated in his memory. A little after ten o'clock his remains were taken in an ambulance to Cordoba, where they are now buried.
Want to keep reading?
Subscribe and save nearly 40%.
Subscribe Now
Already a subscriber? Sign in below.