Interviewed by Patricia Storace
Issue 151, Summer 1999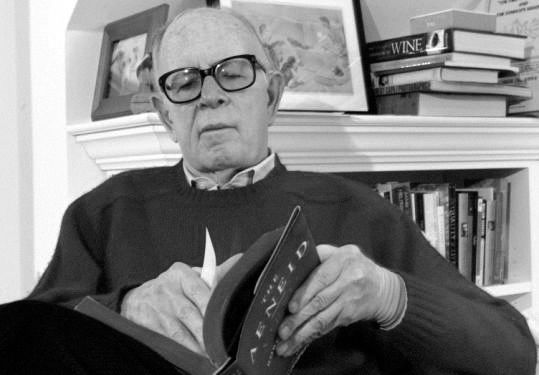 Robert Fagles and I met several times in his office at Princeton, where he is Arthur W. Marks '19 Professor of Comparative Literature, to discuss our forthcoming interview at the Unterberg Poetry Center of the 92nd Street Y. White-haired, tall and spare, he moves with the air of preparedness, flexibility and covert attentiveness of someone who, I correctly guess, has played a lot of tennis. His conversation is flecked with stanzas of poetry and quotations he values, often from W. H. Auden, whose lines he quotes as if he were reverting to a private native tongue. His manners are fine in the way that Americans, having not yet evolved a word, still inappropriately describe as courtly, a word that misses the lack of ostentation and the deliberate grace that are at the heart of democratic elegance.
His office is stark on first impression, but comes to seem increasingly peopled, in part because most of its ornaments, like the poster of a mosaic Orpheus singing the beasts into harmony, are gifts from other people—the sign of a man for whom partnerships and collaborations are cherished matters, an ideal temperament for a poet-translator. On his work table are several photographs, a sculptural valentine from his wife Lynne, and an origami bird, fashioned from her program by a blind student of his at a performance of Aristophanes's The Birds. Nearby is an open paperback version of Virgil's Aeneid, his next translation project. The poster on the far wall is of the image he submitted for the cover for his Iliad, a bronze votive offering of a fierce warrior from 500 b.c. A table opposite him holds a tape player on which he reviewed the raw tapes of the actors Derek Jacobi and Ian McKellen performing his translations of the Iliad and the Odyssey respectively, "listening for a kinship in the cadence of what they were trying to read and what I was trying to write." This must have been a task of joyful absorption for someone who never forgets that Homer was a singer and was himself an amateur singer. The tape player concentrates the atmosphere of the office, which has something of the shelllike ambience of a recording studio, a space artfully hollowed to create the best acoustics for the concert of voices Fagles is working to bring to life.
A pair of regal Gothic Revival windows, which used to remind his young daughters of a king and queen, look out on a tree-filled courtyard and on Nassau Hall, where the Continental Congress met during the American Revolution. Placed parallel with the windows, resting on a stand, is the mammoth, "inevitable" Liddell-Scott, as Fagles calls it, the standard Greek-English lexicon, the great open dictionary seeming like a stately window itself, opening onto an incalculable number of views.
INTERVIEWER
I thought we would start with the classic Homeric question, in the words of Queen Arete from the Odyssey, "Who are you? Where are you from?"
ROBERT FAGLES
Well, I'm the son of a lawyer and an architect, and I grew up outside of Philadelphia, in a household beset by my father's illness and filled with my parents' kindness. I'm an only child, and that's a curse and a blessing both according to the old wisdom, and it's true. I was educated in public schools in the Philadelphia suburbs, then I went to Amherst College for undergraduate work, and Yale for graduate work in English, and I've been teaching literature at Princeton since 1960, where I'm a "lifer," and lucky to be one too. There I live with my wife of more than forty years—the greatest luck of all—and there we've raised two daughters. They cover the real world—one's a physician and the other a businesswoman—while I've been hiding out in Homer for the last twenty years.
INTERVIEWER
Was there anything in your childhood that was a bridge to Greek?
FAGLES
Probably what I was reading and what my mother read me as a child. Many kinds of adventure stories on the one hand—Kipling, Robert Louis Stevenson, James Fenimore Cooper (when I could understand him), Jack London—and on the other, the newspapers, full of breaking news about the world at war. Adventure and violence, something like the Odyssey and the Iliad, perhaps, and so a kind of bridge-in-the-making to Homer and both his poems.
INTERVIEWER
You did graduate work with a great Alexander Pope scholar, Maynard Mack?
FAGLES
He was a superb mentor—and still is—for many reasons. He would draw my eye to the fine points of Pope's great translation of Homer and then expand into Pope's entire epic vision, his notion of what Homer's all about. Thanks to Maynard, I came to realize, early on, that Pope's Homer is really an original English poem on the order of Dryden's translation of the Aeneid and Milton's Paradise Lost. An important lesson, I think, and not only in literary history; it may have prompted in me a kind of epic ambition that I've tried to follow ever since.
INTERVIEWER
So you came to Greek really as a young adult?
FAGLES
I began the language late . . . my junior year of college. English friends will always scold me for not having come from the womb fluent in ancient Greek. So I've always felt behind and struggled to catch up. That's not false modesty. It's just a fact.
INTERVIEWER
Do you think that Greek and Latin should be taught as a matter of course in the high schools?
FAGLES
I certainly do. And if we can't do that, by all means let's teach Greek and Latin literature in translation. And if the translations are worth their salt, they just may win recruits to learn the old languages themselves.
INTERVIEWER
Your first volume of translations was Bacchylides, the choral-lyric poet. Published in 1961, followed in succession by the Oresteia, a volume of your own poems, Sophocles's Theban Plays, and then Homer. There's a natural progression from lyric to tragedy to epic.
FAGLES
Yes, by virtue of twenty-twenty hindsight, I suppose, not by some determined plan. Now that I look back on it, I see that I began with lyric poetry, moved to choral-lyric, which forms the spine of Greek tragedy, then to what we think of as our first tragedy, the Iliad, and then to its necessary sequel, the Odyssey, its comic sequel—not in the sense of something side-splittingly funny but as a commedia, a story of adversity overcome, a song of things harmonious and normal, set to rights.
INTERVIEWER
You acknowledge Robert Graves in your introduction to Bacchylides. What was your connection to him?
FAGLES
Oh, just a passing in the night—and a folly of youth. I was translating Bacchylides, and I felt kind of good about it, for no very good reason. So I sent a draft to Robert Graves on Majorca, an idiotic thing to do, chutzpah of the worst sort. And back it came, almost by return mail, with a letter from the master pointing out a lot of errors I had made, things gone wrong in tone or sense, and he signed off by saying, Excuse me for looking a gift horse in the mouth, but a bit of dentistry won't hurt. I writhe every time I think of it, but I'm grateful for it too, and so it goes.
INTERVIEWER
Have connections with other poets been important to you?
FAGLES
Very much so. I've been blessed with a lot of poet friends, privileged to eavesdrop on their sense of enterprise, vocation. Just to name a few . . . Bill Meredith—and what good news it is that Bill has won the National Book Award for his collected poems—and Ted Weiss, Carolyn Kizer, Maxine Kumin, Richard Howard, Dan Halpern, John Hollander, William Merwin, Paul Muldoon, Rachel Hadas, C. K. Williams . . . I could go on and on. Two of the poet-translators have been particularly helpful. Robert Fitzgerald was a friend, and he confirms our notion of what an epic poem might be like in modern English. The other is Edmund Keeley, a friend who is the American voice of the great modern Greek poets, especially Seferis, who owes so much to Homer. And last I'd mention Jim Dickey, whom I knew but only in the last two years of his life. There's something about the rugged daring of Dickey that I've always admired, and the few letters that passed between us mean a lot to me.
INTERVIEWER
And what was the occasion of your first translation from Homer?
FAGLES
I can practically date it for you, more than twenty years ago. My mother died in 1976, and it fell to me to fit together a kind of service for her—some readings, some sentiments, some tears. The first thing that leaped to mind is a memorable moment in the Odyssey. Odysseus hasn't seen his mother for twenty years, and he'd left her quite alive in Ithaca before he went to Troy. But after the war he goes to the underworld and finds her ghost and sees at once that she belongs to the world of the dead—a world "embraces cannot bridge"—while he, alive and breathing, is severed from her. That's the text I thought might be the best for the occasion, so I tried my hand at turning it from Greek to English.
INTERVIEWER
You've cited W.B. Stanford's work on the Odyssey as an important influence and said that he told you in County Wicklow of a path back to the roots of Homer. What was that path?
FAGLES
Stanford was a fine commentator, on Aeschylus as well as Homer, and a good friend. We worked on the Oresteia together, and we saw eye to eye about those plays. He felt that the route back to Homer, the source of tragedy, lay in trying to capture Homer's energy, momentum, performative aspect. That sounded right to me, and it was something I pursued.
INTERVIEWER
So you began your Homer project with the Iliad, which you published in 1990. I'm curious about how long it took you for each epic.
FAGLES
I think a little over ten years for the Iliad and a little under ten for the Odyssey.
INTERVIEWER
Those are good Homeric numbers. Can you talk a little bit about the role of Bernard Knox, the classicist whom you describe as your collaborator in these books?
FAGLES
I've been responsible for the translations and Bernard for the introductions and the notes, yet we've passed our writing back and forth, offering suggestions. Bernard is not only a collaborator but my former teacher and now a comrade—though I probably shouldn't use the word for my friendship with an old soldier, a very seasoned one at that. I have never known combat—lucky me—and war is only a dim, vicarious experience for me. To work with Bernard on a translation of the Iliad, to receive his comments line by line, shaped the entire poem for me. From my careless use of the word murder for what one soldier was doing to another (when Bernard caught me short and said, You know, it's really not murder) to Homer's entire vision in Bernard's eyes—the tragic vision of the Iliad, the comic vision of the Odyssey, especially as we see it in the remarriage of Odysseus and Penelope. From start to finish Bernard's help has meant the world to me. Lawrence of Arabia said that Homer was "more an aspiration than a person. I aspire most fervently in him." I feel the same way about Bernard Knox. He embodies the great classical ideal—"a man of words, and a man of action too."
INTERVIEWER
There was also an impact on your imagination, a sense of having just missed combat in a war?
FAGLES
Yes. This may sound a little far-fetched, but it's something that's been on my mind for many years. Ever since my parents read the papers to me and I could follow the European and Pacific theaters of World War II, I've hankered to be a soldier—if only in that war, a war worth fighting, and winning too—and I've been fascinated as well as repelled by the notion of mortal combat. Translating the Iliad was, in some distant, protected way, a way of entering combat, experiencing what many other friends, somewhat older than myself, have known.
INTERVIEWER
You also spoke about imagining the American Civil War as a path into Homer's song.
FAGLES
Very much so, and largely because of Shelby Foote's three-volume narrative of the Civil War. When I began translating the Iliad my friend George Garrett asked if I knew Foote's great work. No, I said, and he replied, Well, drop everything and read it! At the end of Foote's labors—a magnificent piece of writing—he credits Homer as a model for his volumes. And when I think of that "defining moment" in American history I think of a sentiment expressed by Oliver Wendell Holmes (in his Memorial Day address in Keene, New Hampshire, 1884): "Through our great good fortune, in our youth our hearts were touched with fire. It was given to us to learn at the outset that life is a profound and passionate thing." That's Homer through and through.
INTERVIEWER
Can you take us through a sample working day on one of these translations?
FAGLES
I have a merciless internal clock that wakes me up rather early and gets me to my desk by seven-thirty or so and puts me to work on Homer. The work itself? The easiest thing to say is here, on one side, I'd have the Homeric texts and commentaries and lexicons, and on the other, as much as I could manage of English and American poetry, in my head or in an open book—say, Derek Walcott's Omeros. There are about twenty-seven hundred years that separate the two traditions, and the trick (and the hard labor) is somehow to bring the two together. What I always do is read the Greek aloud until I begin to feel or find some English lurking between the Greek words, between the Greek lines, and I keep on mumbling like a maniac: Andra moi ennepe, Mousa, polutropon, hos mala polla / plangthê, epei Troiês hieron ptoliethron eperse. "Sing to me of the man, Muse, the man of twists and turns / driven time and again off course, once he had plundered / the hallowed heights of Troy." The two passages are hardly equal, obviously—Homer's infinitely greater—but trying to work from the Greek lines some English cadence of my own, trying over and over, would consume about three hours every morning. I once drove Robert Fitzgerald back to the Newark airport after he gave a reading in Princeton, and I said (fatuously, when he was halfway through his Iliad), It's an awfully long poem, isn't it, Robert? And he replied, Yes, Bob, but I wake up every morning with Homer as my companion. That's the privilege. I know exactly how that feels now. It's quite a privilege, and one you hate to leave.
INTERVIEWER
Robert Fitzgerald, your predecessor in these translations, said that his guide was to remove anything transient from the language, that the test of any given phrase would be "is it worthy to be immortal?" You have said that your aim was to bring to life as many voices as possible. Can you talk a little bit about your sense of Homer as performance?
FAGLES
I think it has a lot to do with voices. As I read Homer, he's a remarkable combination of the timeless, immortal phrase, and of the timely, too, and he's meant to be heard, not read. "Homer makes us Hearers"—in Pope's fine formulation—"and Virgil leaves us Readers." The Iliad is more than half dialogue, direct discourse; the Odyssey more than two-thirds. Both are very dramatic poems, in other words, filled with many voices. It's as if Homer were a ventriloquist, projecting his voice into the voices of dozens of people living within his poems. That's one of the most important things to capture—if you can—the dramatic sense that he conveys. Whole books (Books Nine and Twenty-four of the Iliad, Nineteen and Twenty-three of the Odyssey, the reunion of the king and queen) could be lifted out of the text and placed directly on a stage. They're plays waiting to be performed.
INTERVIEWER
Do you think it's this conception of translation as performance that differentiates your work from your predecessors' versions?
FAGLES
I can't say, or at least I'd rather not. I can't believe that any translator ever set about to write an unspeakable Homer—though I think that Chapman came quite close! But whether mine is more speakable than other translations, I'd rather leave that for others to decide.
INTERVIEWER
Until roughly the 1950s Homer in English had been a pretty British fellow.
FAGLES
That's true.
INTERVIEWER
Is he having an American incarnation now, and why is that?
FAGLES
He's still a pretty British fellow. (Any Brit will tell you!) In fact, much of Homer's currency derives from Christopher Logue's epiphanies from the Iliad, and the strong prose translations by E. V. Rieu, revised by his son, and Walter Shewring. The English tend to take their Homer straight, in prose. We tend to like our Homer in verse. That may explain, in fact, why American translations of Homer are in style these days. We don't want to subject a great ancient poem to what Fitzgerald would call "the betrayal of prose." We want our work to be in partnership with Homer's poetry—in poetry that's in some way comparable (never equivalent!) to the matchless Greek original. I think it's through that effort, trying to turn Homer into poetry, that we just may come a little closer to Matthew Arnold's unforgettable touchstones—Homer is simple, direct, swift, and above all, noble. So Homer's becoming more and more a Yank these days. At least I'd like to think so.
INTERVIEWER
One of the traditional problems for a Homer translator has been that rapid movement from the sublime to the low, from Olympus to pails of milk with flies swarming around them, which made Pope wince.
FAGLES
And he couldn't handle it very well, either . . .
INTERVIEWER
Has being an American poet given you a different perspective on that and maybe even been an advantage?
FAGLES
I think it's been an advantage. We are more agile in climbing off our high horse than some other practitioners of English. We like a full run in tone from the high to the low. Robert Frost might even be, I think, what you call a tutelary spirit. There are many things in Frost that come to an American Homerist's aid. One is his bluntness. That does well for the Iliad, I think. His kind of earthy, ironic savvy has a lot to do with the pastoral parts of the Odyssey, especially with the long powwows between Odysseus and the pigkeeper. When we're writing well and talking well, there are parts of American speech that are rough and ready on the one hand, "high, wide, and handsome" on the other—strong with a kind of burly courtesy. When I think of those American tones and turns of speech, I think they might serve Homer rather well.
INTERVIEWER
For me that's been one of the freshest and most daring elements of your translation—the refracting of Homer through American voices and, in some ways, the jettisoning of Shakespeare, whose echoes are so strong in other translations, especially Fitzgerald's.
FAGLES
I tried, in fact, to stay away from Shakespeare. The Shakespearean gesture might be too literary, stilted, too "poetic." Homer is more down-to-earth than that. I'd like to persuade a reader that Homer is not a writer, strange as that may sound. There's something paradoxical about reading Homer in a book. He's meant to be heard—performed, not savored in your brown study, where you can mull over the same passage time and again. Nothing should get in the way of Homer's immediacy, his headlong pace.
INTERVIEWER
On the other hand, has the lack of tradition in American poetry as public speech been a hindrance?
FAGLES
There's probably no tradition of public speech as poetry, but there's a lot of public speech in this country that verges on poetry. I'm thinking of Lincoln, of course, and Frederick Douglass too, and all the voices resonating throughout Ken Burns's Civil War. We're not short on a commanding kind of oratory. I think again of Oliver Wendell Holmes.
INTERVIEWER
Can you give us a metaphor for the role of a translator with regard to his poet: we have prison; we have marriage; we have ghost and medium?
FAGLES
Let me tackle them all and give each one a twist, if I may. Being a translator is to be a prisoner, all right, a prisoner of Homer, which is not such a bad thing after all. I mean, if you're a "lifer" with Homer, Homer has the gift of setting you free, on occasion, releasing you into a larger form of utterance than you'd ever imagined for yourself. Was the next metaphor a marriage?
INTERVIEWER
Yes.
FAGLES
Marriage. It is a kind of marriage, often on the rocks, I must say, when the days go hard and the work won't come and you can't hear Homer for a moment. But it can be a good marriage too, I think. I remember the line in praise of marriage that Odysseus says to Nausicaa—"two minds, two hearts that work as one." That, too, can be the relationship between a translator and his great original if you're lucky. What was the other? Ghost . . .
INTERVIEWER
Ghost and medium.
FAGLES
Ghost and medium. Indeed, you're a kind of ghostwriter. I remember George Steiner's bon mot: "when a translator looks behind him what he sees is a eunuch's shadow." I'm a little unclear about the physiology here but I surely know the feeling. You're bloodless, to some extent. A ghostwriter for the great master, it's true. Yet you're also like those ghosts in Homer's underworld. You're sipping the magic blood that can animate you, give you a voice in fact. So it's a kind of necessary dying, as Keats would put it, "dying into life."
But my favorite metaphor for the relationship is that of actor and role to play. You need to perform Homer, in your own day and age. I'm always asking myself, If Homer lived in the nineties, how would he say this or that? Well, given the limits of our language, not to mention our sensibility, he probably wouldn't have mentioned the "wine-dark sea" or "the dawn with rose-red fingers," let alone a one-eyed cannibal or a witch that turns men into swine or, most miraculous of all, a marriage that survives twenty years of separation! But, at the same time, Homer might insist on those miracles even in the nineties. And so, as an actor with a role to play, you experience a kind of contraction and a kind of release as well. And if you feel the limits and the liberation fully enough, you stand a chance, as the good cliché would have it, of "bringing Homer home."
INTERVIEWER
Is it possible to give us a little psychological portrait of Greek?
FAGLES
That's a pretty tall order. But let me try—in a few words! To begin with, Homer's Greek is paratactic. It sets things side by side. Its favorite way of joining the elements in a sentence is to say and and and and and. (Hemingway mastered the art, as you know.) And Homer's Greek is not only paratactic, it's remarkably forthright and direct, it has a terrific energy and momentum. What's more, Homer has a metric in him that's unstoppable and quite wonderful. Whether he's building a raft or hitching up a wagon or stringing a bow or winging an arrow, whatever Homer describes, however homely or humdrum, it always comes out as poetry—metrical, memorable. On the other hand, turning to English, my English at least, it's more hypotactic than paratactic. It deals in probable causes, in subordinations, and insubordinations. My English is hardly forthright and direct; it's more understated, lacking in forward drive, more phrasebound, clausebound, fragmentary. What I try to say is never poetry, whether I'm describing a long hard sail in the Mediterranean or the reunion of a king and queen. My English, and much of the English I inherit, is far from cadenced, by and large, unless a Melville or a Faulkner makes it so. Well, so much for a brief character sketch of Homer's language, all too brief.
INTERVIEWER
Can you talk about the mystery whereby translations of the same author will inevitably reflect a translator's personal preoccupations?
FAGLES
I think I had some things on my mind, even on the brain. I wanted to bring out not only the surging action and violence of the Iliad but also its gravitas, the weight and majesty of the poem, especially in its more tragic moments. When I came to a great line that Priam speaks to Achilles, I labored over it quite a while. It sounds like this in Greek: etlên d'hoi ou pô tis epichthonios brotos allos, / andros paidophonoia poti stoma cheir' oregesthai. And a far cry in English sounds like this: "I have endured what no one on earth has ever done before / I put to my lips the hands of the man who killed my son." Those lines, at least in Greek, represent the great Iliadic experience. Hermes, who escorts Priam to Achilles's tent to ransom Hector's body, never told the old king that he had to kiss Achilles's hands—it's simply Priam's impulse. But by doing so, he brings both men to tears, tears for their own losses, and from their tears flows a reconciliation, however brief, between the bereft king and the killer of his sons. It's a moving, tragic moment, and I dwelt on it, long and hard. A comparable, crucial moment in the Odyssey is when, in the next to last book, Penelope challenges Odysseus by telling the housekeeper to move his bed from the bedroom. Of course it's not movable, it's built around the trunk of an olive tree. He knows that and so should she. So, in exasperation, he goes back over the source of the bed, how he constructed it, and where the olive stood. And he concludes by telling Penelope, "This is our sêma, this is our sign." But sêma in Greek means more than sign; it's also a mark of identification, even something that stands for a person's life. So when I came to the conclusion—it sounds like this in Greek: houtô toi tode sêma piphauskomai—I expanded a little and came up with, "There's our secret sign, I tell you, our life story." I felt the bed could hold the biography of the couple, could bring them back together again, and like the olive tree could ensure the vitality of their reunion. Moments like that—if they hit you hard enough and you dwell on them long enough—begin to open up a poem as momentous as the Iliad or the Odyssey.
INTERVIEWER
Both epics contain battle scenes and love scenes. The combat is described in intense and inventive physical detail, noses are lopped off, genitals are mutilated, teeth are knocked out. But when we come to physical love, the act of erotic love, it's hardly described in any physical detail at all. What do you make of that?
FAGLES
It's true. It's hard to know what to make of it. We've talked about it before, and I like your idea that lovemaking can be described, at times, in terms of battle, and that's a cruel, savage irony. You also suggested, I remember, that it may be a question of Homeric decorum, a kind of conventionality that keeps him from being as physical about the act of love as he is about the act of killing. But if Homer is short on physical descriptions of lovemaking, he's fairly long on dramatic occasions for it, and these, I think, are really very telling. And you can find a way to bring them out, if only playfully. Homer doesn't title his books. That falls to the translator, if he wants to try his hand. I call Book Fourteen of the Iliad, where Hera seduces Zeus to keep him out of battle, "Hera Outflanks Zeus." (Perhaps for no good reason, but there it is.) I also think of some great moments that are Homer's way of making love dramatically. May I read you one?
INTERVIEWER
Please.
FAGLES
This is the simile that describes the reunion of Penelope and Odysseus in the next to last book of the Odyssey:
The more she spoke, the more a deep desire for tears welled up inside his breast—he wept as he held the wife he loved, the soul of loyalty, in his arms at last. Joy, warm as the joy that shipwrecked sailors feel when they catch sight of land—Poseidon has struck their well-rigged ship on the open sea with gale winds and crushing walls of waves, and only a few escape, swimming, struggling out of the frothing surf to reach the shore, their bodies crusted with brine but buoyed up with joy as they plant their feet on solid ground again, spared a deadly fate. So joyous now to her the sight of her husband, vivid in her gaze, that her white arms, embracing his neck would never for a moment let him go . . .
I find that very physical and, in its own way, erotic too. Watch how the simile works. The land to the shipwrecked sailor turns from Odysseus's feelings to the feelings of Penelope, and so the simile gives the couple a reciprocity, a mutuality that I find very heartening, and it presents their lovemaking, or at least the foreplay to it, in a very dramatic way.
INTERVIEWER
You've said that Odysseus is a character who has no consistency whatever, that he is as cruel as he is tender, as innocent as he is knowing, and as naive as he is experienced. Would you say this is also true of Penelope, or is she a different order of creation?
FAGLES
Let me begin by correcting myself. I never meant to say that Odysseus is inconsistent. I'd say he's remarkably complete. As Joyce put it, he's the "complete all-round" man, he's seen from every angle, seen with all his faculties intact. The best description of this kind of character comes from John Crowe Ransom, a critic whom few people read these days, unfortunately. Ransom refers to "character," not in the sense of habitual goodness, "but the Shakespearean, modern, passionately cherished, almost religious sense of the total individuality of a person who is rich in vivid yet contingent traits, even physical traits, that are not ethical at all." And as Ransom concludes, this kind of character "engages an auditor's love, and that is more than his ethical approval." That's the completeness of Odysseus. Do I think Penelope has the same sort of completeness? Absolutely. She goes from a creature of dreams to the hard-edged realist who can plan the contest of the bow that leads to the slaughter of the suitors and Odysseus's identification of himself. She's a weaver of fabrics—he's a weaver of plots. And together they complete the most natural marriage in fiction.
INTERVIEWER
Garry Wills has written that one of the great strengths of your translation of the Odyssey is its psychological subtlety in the way Homer presents women characters. I wanted to ask if you felt that the entry of women into classical scholarship has changed the way we read the classics and translate them?
FAGLES
Indeed I do. I mentioned that passage about the sêma of Odysseus's bed. I owe much of my sense of the word to one of my colleagues at Princeton, Froma Zeitlin, who, among other things, is one of the leading classicists with a feminist leaning. Feminist criticism has identified exactly what Wills is talking about. Yet remember that Wills describes the reunion of Odysseus and Penelope as "the greatest picture in all literature of a mature love demanded and bestowed on both sides equally." I think that equality is what you sense in the famous simile in Book Twenty-three, the one I just read, yet it's something as old as Homer, and it's typical of his perspective on our lives. I think, in other words, that feminist criticism offers a welcome clarification of many Homeric effects—effects that were always there.
INTERVIEWER
I'd like to propose a paradox for you to comment on. Many readers, sophisticated, unsophisticated, come to Homer and feel it's the best poetry they've ever read. Yet it takes no special intelligence or training to read Homer. If you go to Wallace Stevens or T. S. Eliot, you have to have your wits about you. They ask a different kind of collaboration from a reader. But Homer does so much work for the reader beforehand that he or she can just bring attention at the outset. I would like to ask how is it possible that this best of poets, whom you call "everything," requires the least of a reader?
FAGLES
I'm not so sure that Homer requires the least of a reader. You suggest that what he asks of us—and it's the perfect word—is attention. Our attention is riveted on Homer because Homer, thanks perhaps to the seeming simplicity of his effects, is reality incarnate. In many ways I think that, far from asking the least of us, he may just ask the most—the most direct kind of participation, line by line, that kind of attention. Ruskin said this best, in Modern Painters, when he put words in Homer's mouth and had him say, "These are the facts of the thing. I see nothing else than these. Make what you will of them." The act of making what you will of Homer requires enormous attention, the utmost mental, physical, visceral energy from a reader or a listener—the ultimate participation.
INTERVIEWER
Here's another paradox. You've spoken eloquently of Homer as the great poet of the nature of human fate. I wonder how conscious you were as you undertook this work that you, as a translator, and we, as readers, are in fact the latest turn in Homer's fate, that he is at our tender mercies?
FAGLES
He's at our mercy all right, and I hope it's tender too. At times he gets some rough treatment, but Homer's so resilient he always springs back into shape and always, I think, seems to ask for more. It's true that a great poet becomes, in some sense, the later tradition that absorbs him. To take, or twist, a leaf from Borges, the greatest influence on the Odyssey is Joyce's Ulysses. The best aid for my own reading of the Odyssey, at least, is Joyce's novel. As a translator, I turn to him again and again, episode by episode. Perhaps that's a misleading, even dangerous thing to do, but I find it helpful. Homer's fate in the twentieth century is, in large part, the fate of James Joyce. Not such a bad fate to meet up with. You could do worse! So for those who don't speak Greek, Homer may live in our own language, and that's the latest twist of fate, one that just may offer him some kindness. For Homer will always have the last word—since the duty of a translator is to live up to the vivid drama that runs through Homer's lines and song.
INTERVIEWER
Moving from the paradoxical to the impossible, is translation a comic or a tragic activity?
FAGLES
I'll fudge the question and say it's something of both. Or I'll try to answer by saying—too simply—that when you're translating the Iliad, by God it's a tragic activity. When you're translating the Odyssey, it's wonderfully comic. Not only funny, what with the poem's sneezes, puns and fools, but there's something restorative about the Odyssey, a quality that belongs to the comic vision, as I mentioned before—the return home, the reclaiming of one's roots, and the sensation of rising back to strength and health and wholeness.
INTERVIEWER
I will indulge in a Barbara Walters moment because I happen to know that you are a football fan.
FAGLES
Who's a football fan?
INTERVIEWER
You are!
FAGLES
Can't keep any secrets.
INTERVIEWER
It would be great to work a fantasy football team out of the Iliad and the Odyssey.
FAGLES
Out of the Iliad and the Odyssey? Good. I know who'd be thrown off the team as captain. Agamemnon. He's a disaster as a leader! Achilles is the best broken-field runner. And the one I'd most like as a coach is Penelope. Good at tactics, better at building morale, emotional when it counts. I don't mean to be gallant. I'm not half-kidding.
INTERVIEWER
Just shrewd.
FAGLES
But not as shrewd as she.
Author photograph by Nancy Crampton.