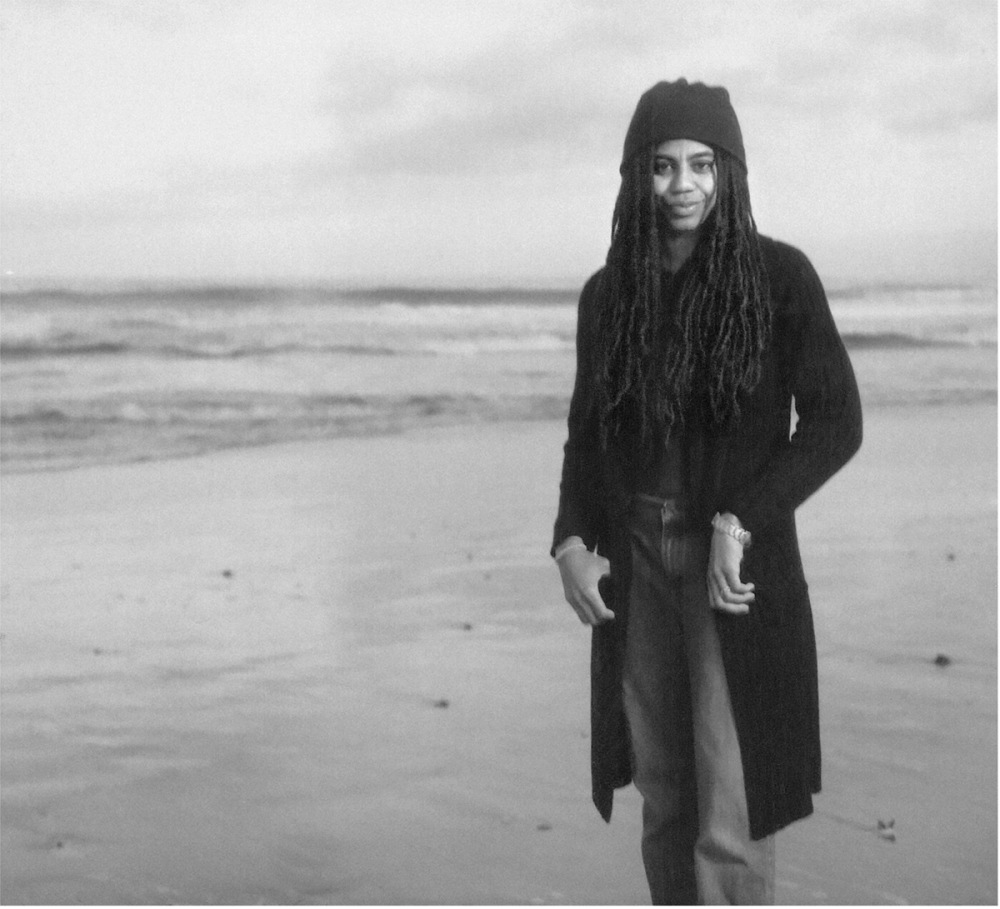 Photo courtesy of Suzan-Lori Parks.
There are few living writers—and fewer playwrights—as celebrated, cited, and studied as Suzan-Lori Parks. In three decades, Parks has become a staple of both the American theater and university syllabi, with a body of work that includes nineteen works for the stage— including a reboot of Porgy and Bess and a cycle of 365 short plays—widely read essays on style and form, three films, a novel, and a TV series inspired by the life of Aretha Franklin. She has received any number of honors and recognitions, including the MacArthur Fellowship and the Windham Campbell Prize. In 2002, she was the first African American woman to receive the Pulitzer Prize for Drama, for her play Topdog/Underdog (2001).
Parks was born in 1963 in Fort Knox, Kentucky, the second of three children. Her family, guided by her father's military career, moved frequently, perhaps most consequentially to West Germany, where she spent four formative years and became fluent in the language. This bilingualism may be why she's always lived at such an innovative and interesting remove from language itself, and perhaps also why she had a difficult time with spelling, which led a high school English teacher to dismiss her early dreams of becoming a writer. But Parks found the affirmation she needed at Mount Holyoke College, where she abandoned a major in chemistry for a life in letters at the encouragement of English scholar and critic Leah B. Glasser. Initially insecure and uncertain about the right form for her—fiction, poetry, songwriting—she was nudged toward the theater by none other than James Baldwin.
From essentially the outset of her career, Parks has been feted as a genius of the form. After a brief but interesting apprenticeship fashioning short works in "the bars and the basements" of late-eighties downtown New York, she broke onto the scene with Imperceptible Mutabilities in the Third Kingdom (1989). A wild, epic, genre-scrambling fantasia on themes of Blackness, Americanness, history, surveillance, language, and family, her first full-length play went on to win an Obie Award (she has now received four). This work, coupled with her next play, Death of the Last Black Man in the Whole Entire World (1990), heralded the arrival of a critical new voice in theater and cleared the ground for new themes and modes of expression on the stage. Parks's innovative deployments of dramatic techniques find inspiration in the Modernism of Virginia Woolf and Gertrude Stein, the jazz of Ornette Coleman and John Coltrane, and the experiments of the off-off-Broadway pioneers Sam Shepard, María Irene Fornés, and Adrienne Kennedy; with these eclectic forebears she has staked new claims for artists of all colors and shapes to embrace multiple aesthetic legacies of radical work regardless of so-called gender, racial, and ethnic boundaries.
This interview, much like a Suzan-Lori Parks play, moved through many forms across the span of years: a jovial breakfast at a French bistro near her home, only a table over from her husband, Christian, and their young son, Durham; a more formal back-and-forth at a palatial studio in the Park Avenue Armory; and finally, in the throes of the pandemic, a couple of dishy gabs over "the Zooms." Throughout it all, her generosity never waned.
A Broadway director once described Parks to me as "kind of our version of a rock star," and in person she comes across as just that—ageless, wise, confident in her gifts, and strikingly free in her sense of self. Our conversations moved pleasantly between stretches of excited playfulness and wistful revelation, when it seemed that even she was cracking open some long-neglected chest of memories for the first time in a while. Parks claims that her creative process has always been more about listening than speaking, but more often than not this interviewer found himself struck by the ease with which she could toss off a casually elaborate metaphor in the moment or the speed at which she could turn a thought or idea into a better version of itself. Her mind is ever open but always, it seems, at work.
—Branden Jacobs-Jenkins
INTERVIEWER
What's your relationship to the finished "product" when you're working? Is it—the play or whatever—a thing you're building in real time, or do you feel that the thing is already in there and your job is clearing away dirt?
SUZAN-LORI PARKS
It's like what "Michelangelo" said, right? He's working with the marble and taking away everything that's not the sculpture.
INTERVIEWER
Everything that's not David.
PARKS
Right. And let's put Michelangelo in quotes, 'cause was he really the one who actually said that? But, anyway, the idea still holds. I feel that whatever I'm writing exists already. Maybe that's because of a glitch in the space-time continuum and when I write I'm actually putting my living self behind the present moment in time. Like I'm following something through the woods. Eyes open. Ears open. Heart open. And I'm following a path that is sometimes behind me. Now I'm sounding like one of my characters. That's what the Foundling Father as Abraham Lincoln in The America Play (1993) is talking about. He's following in the footsteps of someone who is behind him. There is a strange relationship between writing and history and time, and I don't think it is what we think it is. Or how we perceive it. There's more to it.
INTERVIEWER
This talk of time and writing brings to mind your relationship with music, which people often talk about—the musicality of your language, the way your scripts sometimes read as scores, the occasional evocation by academics of something like a "jazz aesthetic." Then there's music in the literal sense. You've written songs for your novel, you write songs for some of your plays, you write songs for your band.
PARKS
Writing songs is my first thing, the first way I started being an artist. My first love. My songwriting and music have been living in the shadow of my large dramatic-writing tree, which is fine, I guess—they inform each other. Songwriting still feels like the kundalini and the Gordian knot. That energy is intense, and I think I've done more with literature because, growing up, music was not the safest thing for me to do. We'll put it this way—the library was safer than the music hall.
INTERVIEWER
Where did you learn about music?
PARKS
From listening. My mom, she's a Texan, she loves jazz, Charlie Parker and Dizzy Gillespie and then of course Billie Holiday and Sarah Vaughan and Ella Fitzgerald and Lena Horne, and Brubeck and Monk and Mingus. Dad, he's passed, he loved opera. He would walk around the house lip-synching to Puccini and Wagner. My aunts and uncles love funk and soul, Aretha and Marvin, Curtis Mayfield and Parliament, James Brown.
When I think now about my writing, the story architecture is partly from my dad, opera, it's like classical architecture—strong walls and huge, clear story lines, combined with the repetition and revision that I borrow from Mom's beloved jazz aesthetic. And the people, the characters—classical- slash-historical origins that explode into brilliant and inventive jazz people. And the vibe is all soul.
INTERVIEWER
I love that. Do you have any sense of where your dad got his love of opera from? Because it's historically a form associated with ideas of whiteness or Eurocentricity.
PARKS
It might be considered a "white" form, but there were a lot of trailblazers, people who made inroads—Marian Anderson, Paul Robeson, Jessye Norman, Leontyne Price. These icons singing the music of grand, huge, enormous things. My dad was very tall and opera is all about living large—it's big, mythic, epic. I think that's why he loved opera so much. And he loved structure. My dad was in the army, he joined back in the fifties. The army had just been integrated and it was seen as one of the few places that might give a Black man a fair shake. My dad grew up very poor, coming from Chicago, and with the ROTC he got through college, then he joined the army, and he stayed in as a career. When he retired he went back to school and got his Ph.D. Mom already had her master's. She was already a professor.
INTERVIEWER
Your dad's work with the army sent your family to Germany, right?
PARKS
We moved to Germany for my sixth, seventh, eighth, and ninth grades. My parents, thinking out of the box, sent us to Gymnasium—which is German for secondary school.
INTERVIEWER
That's prime "let me be the most insecure I can be" time.
PARKS
I know, right? German people had not seen too many African Americans in the flesh. Roots, dubbed in German, was being broadcast on TV. There were the brown-skinned Gastarbeiter, the guest workers, primarily from Turkey. But it was quite intense to be the first Black person that my German friends had seen. Actually laid eyes, and hands, on. And there was the German language, which I had to learn, and the German kids learned British English, so my American English was frowned upon.
INTERVIEWER
Where in Germany were you?
PARKS
In Frankfurt. And in Gelnhausen, in Oberursel, and in Höchst—which was a very old, very small town. It was all eye-opening and beautiful—and stressful. But coming back to the States and finishing high school was also stressful because we were not—American anymore. The white kids were like, "You don't act like a Black person." And the Black kids were like, "You don't act like a Black person." And I was like, "What do you mean?" There's a variety to the Black experience.
INTERVIEWER
So you've been fluent in German from a young age and now you're married to a German. Do you guys speak German to each other?
PARKS
Yeah, we speak German in the house. We haven't yet taught our son, because we like having a secret language.
INTERVIEWER
I bet he's picking it up and you don't even realize it.
PARKS
Oh, he certainly is! Durham's got a great ear.
Maybe I write like I do because I spent those years in the cauldron of not fluently speaking the native language of my classmates. Those several years of being told that the tongue I spoke wasn't right.
INTERVIEWER
On the page you're very interested in architecture, and that feels very German to me. When I'm writing or talking in German or listening to German, I always feel like I'm stacking bricks.
PARKS
Legos or something. In German you can stack words together and get amazing compound nouns. And the punctuation. They use dashes—Gedankenstriche—for when the speaker is thinking. Very cool.
INTERVIEWER
And with sentence structure, there's an element of improvisation that requires you to trust that the language will catch you. If you just hang on, eventually the meaning will emerge.
PARKS
There's some kind of undergirding—that is faith-based, in a way.
INTERVIEWER
So, when you finished high school, in the U.S., you went to Mount Holyoke. You famously studied with James Baldwin at nineteen. What was the content of that class? Was it a workshop?
PARKS
Yes. A creative writing workshop. Fiction. The class was held at Hampshire College, just down the road from MHC. I only went to MHC 'cause of Mom. She really championed my academic efforts.
INTERVIEWER
You started out writing stories?
PARKS
Yes, but I wasn't necessarily good. All around the table in writing class there were people who would get published in The New Yorker, or get favorable rejection letters. And they were very sophisticated and they had read all the writers in The Atlantic Monthly and it felt like they were on the onramp to the literary highway and I was just on the little access road, just driving alongside. Every time I had to present my work I was nervous, because we had to read our stories out loud to James Baldwin and the fourteen other students. I would freak out beforehand, but it was great, it was really helpful.
INTERVIEWER
Was it your first time ever doing that?
PARKS
I guess. In other classes, you wrote your story, you handed it in. And then everybody would get a copy and read it, and then maybe give you feedback. But Mr. Baldwin wanted to hear it coming from you, or maybe he didn't have time to read it himself. [laughs] Teachers, we have all kinds of methods. Any- way, when I would read mine, I was very animated, and he said one day, "Have you ever thought about writing for the theater?" I said no. I hated theater—it felt dumb, it felt fake.
INTERVIEWER
The plays themselves or theater culture? What was your first experience of theater?
PARKS
In the schools I attended, I was one of the few Black kids, and when they did a show there wasn't ever a role for a Black person, and they could only imagine me playing roles written for Black people, so I didn't get any parts. And in college, theater wasn't very appealing. I remember, everybody talks like this, dah-ling. And they were only from, like, Long Island. The kids were local, American kids, using phony British accents, wearing—
INTERVIEWER
Scarves.
PARKS
Yes. And hats with feathers in them, and they all were fabulous. The men were slightly unshaven and really interesting, and the women were very important. So the theater, to me, seemed like a lot of ridiculousness. And I thought, Mr. James Baldwin, he's sending me to the theater 'cause he's saying that I suck as a writer!
INTERVIEWER
Right, he's condemning you to the worst version of writing.
PARKS
Get thee to a theater! And be with all those oh, dah-ling people. I didn't want to be sent to a place that I thought was dishonest. I was sad, I was really sad, but I thought, Okay, let me try, 'cause why not, right? I learned later that he was pointing me in a direction where he thought I might excel. By the way, I had a very compartmentalized mind—there were plays and there was the theater. Plays, oh, plays, I loved plays. I was an English and German double major, so I'd been reading my Shakespeare, Hansberry, Beckett, Lorca, Baraka, Shange, Shepard, Soyinka, the Greeks. I was deeply into the Greeks, myths, tragedy.
INTERVIEWER
But the idea of seeing plays live made you wanna jump off a bridge.
PARKS
No. I enjoyed seeing plays. But theater culture wasn't initially very welcoming to me—I was not cast in anything, and the stage crew wasn't welcoming either, it was always very cliquish. I wasn't a theater kid. But I loved reading Shakespeare, memorizing Shakespeare.
INTERVIEWER
Were you reading plays in German as well?
PARKS
Yes. Brecht, Dürrenmatt, Goethe.
INTERVIEWER
After being midwifed by Baldwin, were you writing plays? Taking classes? Were you thinking about grad school?
PARKS
Baldwin gave me some great gifts. He taught me how to keep showing up for the craft and how to conduct myself in the presence of the Great Spirit. And, in my evaluation—that's how he gave out grades—he wrote that I might grow up to be one of the most valuable artists of our time. It was a Big Thing for a great writer to see me that way, and—I've been working hard ever since, 'cause I didn't have the heart to prove him wrong. [laughs]
After Baldwin, I was still an undergrad, I took more writing classes, but I wasn't really architecting my career at all. I've never been one of those people. But I knew I didn't want to go to grad school. I'd had James Baldwin as a writ- ing teacher! And I remember looking at a brochure from Yale and thinking, This is a domestication of the art form. Plus, everybody I knew was heading to grad school! So I figured I'd just go live in New York and see what happened.
INTERVIEWER
Where were you living?
PARKS
With a friend that I met during a summer internship. While in college I'd gotten a gig at the Sojourner Truth Players in Fort Worth, Texas. Basically my job was to clean and help the artistic director file her paperwork. That summer they were doing a production of For Colored Girls . . . They had managed to get someone from the original Broadway cast to come down and direct the show. Laurie Carlos.
INTERVIEWER
Oh my goodness.
PARKS
Yeah. So that summer, one of the actresses who was supposed to be in it got pregnant and dropped out, and Laurie asked me, "You want to be in this play?" I said, "I don't know. I'm supposed to be cleaning and filing paperwork," and she said, "Come on, you can be in the play. We need you onstage." I was Lady in Blue. The part that Laurie had played on Broadway. And of course she was really nice to me. Wink, wink, wink, not. She was so hard on me, so incredibly tough. And I hung in there. In the end I had a wonderful time, and when I got back to school that fall, I wrote her a note, "Dear Ms. Carlos, thank you so much for the opportunity." She wrote back, "If you ever come to New York, mi casa es su casa." And so when I came to New York I called her up and she allowed me to rent a room in her very spacious apartment on Riverside Drive.
INTERVIEWER
You are twenty-two, twenty-three at that time?
PARKS
Yeah. I was just a kid. Laurie was very welcoming. She introduced me around. I got to meet all her friends, the greats like Sam Jackson and Ntozake Shange, Bimbo Rivas, Ruben Santiago-Hudson, and Bob Holman—all the people from the downtown Nuyorican poetry scene. Oh my God, they would all hang out. And I was the youngster, watching from the sidelines, happy to just be in the room. Meanwhile, I went to the Betty Owen secretarial school and learned how to type.
INTERVIEWER
Skills you use to this day! I'm thinking about your Watch Me Work performances, where you invite an audience to watch you sit and work at your typewriter.
PARKS
You know it, that shit pays off. [laughs] I'd get these jobs working with bankers and lawyers, and they'd scream at me all day. That was how they showed they were the boss. And I worked in the World Trade Center. When it fell, I was horrified, 'cause I knew people who were still working there. They were good people.
INTERVIEWER
So you get sent out and you're a typist in the pool.
PARKS
For the most part, temp word processing was a good way to pay the rent. So there I was, working, and, when it's slow, I learned to work it. On my lap, I had a book, I was reading Ulysses. One day, one of the bankers comes around the corner. "What are you reading?" He's thinking, Ha, caught you, Temp Typist Girl. So I showed him Ulysses and his face totally changed and he just went, "Oh, cool," and shuffled away, looking frightened. I'd been saved by James Joyce!
So I would read while on the job. And then I'd go home and I might treat myself to a movie, go to a play or some performance art at PS 122, Franklin Furnace, or BACA Downtown. I'd see a lot of Richard Foreman, the Wooster Group. I'd see Laurie Carlos and Jessica Hagedorn and Robbie McCauley, whatever they were doing. I'd go see something at the Public, if I could afford it, but that was a pricey ticket. Shakespeare in the Park was always free, but back then you had to take a day off from work to wait in line all day.
I hung out at the Poetry Project at Saint Mark's. We read Charles Olson, we read Gertrude Stein. We read James Joyce. We dug into the Last Poets, Sekou Sundiata, Sonia Sanchez, Amiri Baraka, Ishmael Reed, and Bob Kaufman. All these great writers, all these fantastic people—Ntozake Shange, of course.
I was very low-key and quiet, but I was developing a strength inside. At parties, I wasn't one of those people who could work a room. I'd be over in the corner by the bookshelf, but I was tuning my ears, my literary ears. I would spend a lot of time working on my writing, and that gave me a quiet confidence. I wasn't distracted. I am not easily distracted. Eyes on the prize.
INTERVIEWER
What was the prize?
PARKS
Ha! Oh, that's a good question. I remember one day I was sitting at my desk in my college dorm doing an assignment. It was four o'clock in the afternoon and my desk faced a window and the light was coming in just so, and I was typing, writing a story, trying to figure out what it was about, and all of a sudden it was as if the room was populated by people and all I had to do was listen up and write down what they were saying. I felt like I was in the river, that big river, and I'm in the flow of the stream. After that, the act of writing, the prize, became the chasing of that experience.
So the prize is just the joy of writing, hearing the sounds, hearing those voices. Just being in that river, with the Spirit, having your veins hit the Vein. When these veins in my arm intersect with the Great River and the divining rod goes bzzz. You can feel that thrum. And to come back to it again and again and know that it's always there and if you work for it, it's there. The work is the prize.
INTERVIEWER
So was that the period where you shed that feeling of theater being fake?
PARKS
Not with that initial experience of hearing the Voices, but later, in New York, doing Poets Theatre. I was hanging out with performance artists and poets and painters. They welcomed me in. Wow. Oh my gosh, they're so amazing! They're not fake. They're alive. They're electric. And yeah, some of them have the dah-ling dah-ling, but for the most part they're deeply cool. I guess I got to know them. I got farther than the door.
INTERVIEWER
What was your first production?
PARKS
Betting on the Dust Commander (1987) at the Gas Station, this bar in the East Village. I had written parts of Last Black Man, but it wasn't finished, so I was just toiling along and loving writing and enjoying getting to know the people in New York. I had the classic downtown off-off-off-Broadway experience. Laurie Carlos directed. My play ran for three days. Four people attended—my mom, my dad, my sister, and, as it was cold outside, there was a homeless guy who came in. And me? I was over the moon.
INTERVIEWER
Imperceptible Mutabilities in the Third Kingdom was the next, if I recall, and that was a big coming-out for you, wasn't it? This gigantic, form-busting, pathbreaking play, almost a passion play in the medieval sense, garnered you the first of many Obie Awards. What are your memories of that production?
PARKS
Imperceptible Mutabilities took a long time to write piece by piece by piece, trying to figure out how it all fit together. I couldn't find a referent and I was very confused. I would bring pieces of it into a playmakers' workshop—a more traditional theater group on the Upper West Side where actors and writers would meet and do scenes. There was a lot of, "What is this?" And I tried to explain it, but they were all Broadway-bound types and very dismissive.
INTERVIEWER
What do you feel like that production achieved?
PARKS
I was really just glad to have a show. I had secured the venue by walking up to Alisa Solomon late one night on the uptown 1 train. I had seen her around, didn't know who she was but knew she was in the know. "Where can I get my plays done?" I asked her. She told me BACA Downtown. I went there. Greta Gundersen was the director. Mac Wellman was on staff as the dramaturge. Liz Diamond agreed to direct my play. And there were so many things that I didn't know. I knew how to put the words on the page and I knew how to make it sing in my head, but there were things I didn't know, like working with actors and set design, working with a director, producers, getting grants to finance the production. There's always so much to learn. And at BACA I was happy to have people come in and share their expertise.
INTERVIEWER
And it sounds like you came up in a specific artistic moment in New York with its own specific sense of community. Talk about that period. It's down- town New York for real, right? No boundaries?
PARKS
No, there were so many fucking boundaries. Barricades and boundaries. It was ugly.
INTERVIEWER
You mean between genres or in terms of being or professionally?
PARKS
Between genres. Between colors. Between you fucking name it. If you were doing downtown art, POCs weren't in the majority. There were greats, though, Laurie, Robbie, Jessica, those three amazing women. There were also some awesome brothers down there, Nicky Paraiso, William Pope.L, Ruben, Bimbo, Pedro Pietri. Great people.
The worst barricade I experienced was not in the downtown scene—we were all in the same mosh pit, and it was all good. The weirdest ones were— this is just in my experience, it must be different for lots of people—I was trying to break into the more traditional Black theater and getting nowhere. No traction. No luck. Folks would hint that I wasn't Black enough, I wasn't Black like them, I had not read the handbook thoroughly. August Wilson was the gold standard. His work is great, of course, but he and I are—different.
INTERVIEWER
This thing seems to happen when you are a Black artist where you're supposed to pass some mysterious Black Test. And no one knows why they have to pass the test or who even wrote the test.
PARKS
Exactly. I have been Black all my life. And, back then, I'd been very dutifully submitting my plays to various theaters and organizations. And several Black- owned, and run, and operated organizations and theaters—I couldn't get in to save my life. I thought, Of course, come on, we have a history. We have Adrienne Kennedy, we have Amiri Baraka. We got people! We got Ed Bullins. We got Bob Kaufman. We got the poets! We got the Last Poets. We got folks in these fields. We got Ntozake Shange! We do got a history of doing stuff that's not just colored, but also—
INTERVIEWER
Weird!
PARKS
Yeah, not just colored but weird! We colored folk have that rich and strange history, too! How about seeing me in that history? No luck. And then, when I got a play produced at BACA Downtown, I got sort of taken to task for working at the "white theater." And, the difficulty—the heartbreaking thing, actually—is that you've gotta pass this other test there, you've got to pass a certain number of tests with white folks and jump through lots of hoops. A part of the fine print of getting in the door, part of the presumed, agreed upon, and unspoken understanding is that you are going to be, as a person of African descent, you are going to be the Black Whisperer. That was a time when I would be in talk-backs and audiences would ask, "What do Black people think about such and such?" As if one person could speak for the whole group. We are constantly explaining to the world at large that there is no Black mono-thought, and we have to beat that fucking drum. Every fuck- ing day. Here we are, all doing our different things.
So I'm jumping through those fucking hoops and, with Black theaters, I was hoping to feel the solidarity, the joy of being with my tribe. And yet Black theaters were saying that my plays weren't "Black enough"—or that they didn't show Black people in the appropriate light.
There were plenty of boundaries downtown. I remember folks had a fit when the Wooster Group did Route 1 and 9. But in my immediate experience, downtown people welcomed me. Thank God for them. I worked my way up, like we all did, and then I was lucky to get an artistic home. BACA Downtown was my first. And then, my second home, the Public Theater, and George C. Wolfe. He is a member of the theater establishment, a brother—specifically, a king who happens to be a brother—who opened his arms and his doors to me at the Public Theater.
INTERVIEWER
George's tenure was not long compared to that of the average artistic director today, but the impact was extraordinary. I remember talking to a colleague once who said that the Public, at least at the time we were talking, was the only theater in New York where, as a person of color, you actually felt like you were supposed to be working there. And how that is absolutely the result of George C. Wolfe. It was a beacon. I was wondering if you could talk about how George even came into your life—or how you came into each other's lives. Because you were doing crazy stuff at BACA. And in, like, bars and basements!
PARKS
I know! BACA and the bars and the basements! I had been happily and proudly a downtown artist, doing stuff downtown. Not even really downtown. Gosh, mostly in Brooklyn.
INTERVIEWER
You weren't even on the island.
PARKS
I wasn't even on the rock. Anyway, I did The Death of the Last Black Man in the Whole Entire World a.k.a. the Negro Book of the Dead in 1990 at BACA and George came to see it.
And then, a few years later, maybe 1992 or 1993, there was a party. I don't know how I got invited. It was a cool party. Like a hip Black folks' party. And there I am, wearing my little trying-to-be-cute outfit, and popping around the party, and feeling happy, and seeing all the people up close! Whom I've only ever seen on the screen or on the stage! They were all there. And there was George C. Wolfe. Hanging out. And he was like, "Suzan-Lori Parks!" And I was like, Shit, he knows my name. Get out. "Hi!" He's like, in a loud voice, "One day I'm going to run a theater, and I'm going to do your plays."
INTERVIEWER
This is pre-Public George?
PARKS
Totally. This was pre-I-run-the-Public-Theater George C. Wolfe. And I smiled, of course, and said, "Hey, thanks, man." I appreciated his kindness. Didn't think anything of it. I had won an Obie for Best New American Play and—not to be cynical, just to be real—after you win the Obie, everyone wants to talk to you. Most of them, they're all just talking shit 'cause they have to say what people think they have to say. But George was speaking truth.
And when he took over the Public Theater, he did The America Play. I guess it was the '93/'94 season.
INTERVIEWER
What was it like to be in George's Public?
PARKS
I was one of the junior people, full of awe and gratitude all the time. He was very respectful of my work. His notes were always super helpful. I mean, he's a crazy character. But I never felt like he was dishonest or bullshitting me. His own work—his own writing, his directing, his producing, are so excellent and genius. He created an environment where someone like me could thrive and grow into the artist that I am.
INTERVIEWER
Do you feel like you really grew up at the Public?
PARKS
I think so, which is probably why I'm still working there. Growing up, my family moved around so much. We didn't have a hometown. So the Public Theater was the first time I felt like I had a hometown. Mount Holyoke was lovely. But at the Public—I'm a professional with an artistic home. It was huge, still is.
INTERVIEWER
Let's talk about some of your work there. I remember you referring to Death of the Last Black Man as a jazz experiment. That and Mutabilities had these kind of Gertrude Stein–y structural games, letting language do the dancing. Did something about your relationship to those elements begin to change once you got to the Public, like with The America Play specifically?
PARKS
My work changed before I got to the Public. In Mutabilities, I was sort of free, but also bound by history. In Last Black Man, there's a lot of structure. Six by six by six. The plot of the play is the grave. So there's this weird structure. And it's defying its structure. It's saying, "When I die, I won't stay dead," like Bob Kaufman's poem. And it refuses to stay dead, really. And then, with The America Play, that energetic spell that I was weaving attracted the Foundling Father as Abraham Lincoln, which was not the real historical figure, but he is someone who impersonates a historical figure. And the writing of the play, the searching for the character, mirrors the action of the play. After a lot of "digging," the character just showed up and started talking. And then it was as if that character just downloaded itself straight into my brain.
INTERVIEWER
You continued with the historical figure in Venus (1996). What did you know about Venus, how did it come to you?
PARKS
Stephen Jay Gould had written an interesting article about Saartjie Baartman, a.k.a. the Hottentot Venus, a woman with a large behind who was "exhibited" in London and Paris. Basically kidnapped from southern Africa and exhibited in Europe. Meanwhile I was commissioned to write a book review of a Josephine Baker biography. I came across this great line, Ms. Baker's phrase, "the rear end exists." I loved it. And in my childhood, I'd been called names because of my "booty"—"Ledge Butt" was a nickname I had.
INTERVIEWER
Ledge Butt?
PARKS
Well, these are mean things that kids used to yell at me. Now we say "baby got back" or "junk in the trunk" and it's very complimentary, but back in the day, the kids were mean. So I endured that throughout my growing up. And my essay about Josephine Baker was a meditation on her behind, her past, and my own. And a bell went off. I knew I had to put the woman they called the Hottentot Venus in my play. I knew that the play was about love. Love and dismemberment.
INTERVIEWER
I love those little sparks that come together and become a planet. How did The Red Letter Plays (2001) come to be? Fucking A and In the Blood, which make up this kind of diptych-but-not, are your responses to not necessarily history or historical figures but somehow American literary history, a confrontation with the canon.
PARKS
So, I was in a canoe—this is a real story—rowing, paddling, as you do. Somewhere off the coast of some New England place. And I was with Bonnie Metzgar. We were hanging out. Chicks on the lake, your typical New England Weekend Away.
And I'm paddling, and I'm talking shit. Bonnie was in the front of my canoe. So we are paddling along and I'm like, "Yeah, Bonnie! I'm going to write a riff on The Scarlet Letter and I'm going to call it 'Fucking A'!" Ha ha ha! Laughing.
INTERVIEWER
Apropos of nothing?
PARKS
That's what I'm saying. I thought it was the funniest thing. Bonnie didn't laugh because Bonnie Metzgar is sensible. Anyway, so we get back to land, we're carrying the canoe. And I'm still like, "It's a really good idea." Maybe I was being haunted by the ghost of Hawthorne.
INTERVIEWER
Well, it sounds like you were in his backyard.
PARKS
"Up through the ground come a bubblin' crude!" [laughs] That's from that TV show, The Beverly Hillbillies. The oil just comes right up through the ground.
So I read the book and got to writing. It's not an adaptation. I was very clear that it's a riff. It's very much like John Coltrane does "My Favorite Things." It's very much like Charlie Parker makes "Now's the Time" out of "You're in the Army Now." It's playing the jazz changes but making up a whole new melody to go over top of it. Like the beboppers did.
INTERVIEWER
It's like you're honoring and challenging the original or something.
PARKS
I'm bringing it into its next incarnation. It was hard going. I would write a draft and look at it and throw it away. I thought the play was called Fucking A. The title was my lighthouse. Or the lamp on top of my head. The miner's helmet. So I am padding around in the dark, inching forward, writing draft after draft of this play called Fucking A. I knew that the draft wasn't clicking. Like musicians say, it wasn't laying right.
INTERVIEWER
When you work, do you only work on one thing at a time? Or was that also cooking with some other stuff ? How much of your focus was on Fucking A?
PARKS
These days, I have five, six projects at once. Back then, it might have only been two or three projects at once. Times were simpler. Back in my youth. But I'd sit down month after month, turn out draft after draft. And Fucking A still wasn't feeling right. I finally got this idea. I pulled it up on the computer and said, "I'm going to start at the end. Like at page one hundred thirty, or one hundred fifty, whatever. And I'm going to delete everything that's not working."
INTERVIEWER
From the end to the beginning?
PARKS
Starting at the beginning and rewriting wasn't working. So I thought, Let me go backward. And just cut everything. I've got my hand on the delete button. It was great.
INTERVIEWER
Oh no.
PARKS
Start at "The End"! Okay! Delete, delete, delete, delete. Page after page after page after page. Nothing worked! I would read a page and think, This is shit! Not this! Nope, no, no. Deleting all the way to page number one. And I got to the title. And I was like, The title still works.
INTERVIEWER
Wow. So you literally physicalized the experience of cutting some cord or walking backward out of the forest.
PARKS
Ha! Yeah. What's weird is that even though I was cutting on the computer screen, digitally, I felt like I was actually physically cutting things and throwing them off to my left. It felt like I was using a scythe. Then I heard this voice—from the left—I think it was the physical energy generated by cut- ting piling up and rescrambling itself into some kind of energetic field. I have no idea. I didn't care. I didn't ask. I just listened. Someone was talking to me! It said, "I know the story of your play." I'm like, "Okay. What is it?" Not turning my head. You know, this has happened to me before, so I'm not afraid.
INTERVIEWER
You mentioned to me you had a similar experience with Death of the Last Black Man. You don't look toward the voice, right? You just listen.
PARKS
Yep. Same kind of thing with The America Play. And when it happens, I don't look. I just listen. I'm being visited, and I don't want to show disrespect by asking questions. It's not a conversation. It's a moment. And I'm very respectful. So, I'm still. I mean, I'm typing. I'm listening and writing good stuff. So, this voice said, "I know the story of your play. Let me break it down. It's a mother with five kids from five different liaisons. Five different husbands. Five different menfolk. Whatever. Five different situations. Oh, and the kids are played by adults."
And I couldn't help it, I spoke. "But that's not Fucking A." And she said, "Of course it's not Fucking A. It's In the Blood."
INTERVIEWER
Are you speaking out loud, or is this a conversation you're having with your spirit?
PARKS
It's not audible. But it's loud.
I say, "Okay, great. I'll write that play." I write In the Blood relatively quickly. Not relatively quickly considering it had taken years and years and drafts and drafts and drafts for me to get to this place of liberation. And after I finished the whole thing, In the Blood, I was like, Oh! I know what Fucking A is about! And I just wrote it. Right at the end of that year. It just came out. So there were two plays in that womb—
INTERVIEWER
In that impulse—
PARKS
And they were twins, and the birth was complicated because they were all twisted around each other. And once one was free, then the other one was fairly easy.
For Fucking A I did drafts of the songs in an early version. But when I was in rehearsal for In the Blood, I would lie down on the set and write new incarnations of the songs. And I would call out to the crew as they were hanging lights, and go, "What rhymes with wha-da-da?" I was fishing for lyrics. They'd laugh. It was fun. I'd be writing the songs for one play while lying on the set of the other play. That was pretty trippy.
INTERVIEWER
Is it true you wrote Topdog in a weekend? Or a draft?
PARKS
Well, it wasn't a weekend, but it was three days. I was really stressed. I had been invited to a theater to be their writer in residence. And then they de- cided that they didn't want to do my plays after all. I won't mention the name of the theater. They'd decided that my plays were too—who knows what the fuck, but it felt like a bait and switch. But instead of being really angry, I was like, Yeah, okay, maybe my plays aren't exactly right for this theater and maybe I'll take my free time and make friends instead. Instead of focusing on the things that weren't happening, I focused on the things that were. So I spent time at the theater showing up in all the ways that I could. Holding writing workshops, reading submitted scripts, scheduling play readings, helping them tidy up their literary office, whatever they needed. One day I was tidying up with Emily Morse, who was working there at the time, and I started laughing. She said, "What's so funny?" And I said, "Two brothers, Lincoln and Booth. Ba-dum-bum." And I was laughing really hard, Ha ha ha ha ha ha.
INTERVIEWER
You've apparently got to be very careful when Suzan-Lori Parks starts laughing, because something's about to happen.
PARKS
Well, of course. Because the Great Spirit is the fisher person. And the Great Spirit dangles lures. And I'm a fish. And when I laugh—ha ha ha—I've taken the bait. I get caught. Caught up in the mystery, right, and then I gotta speak it.
INTERVIEWER
So, you said, Lincoln and Booth, brothers. Ba-dum-bum. And you weren't thinking about The America Play? That play's specific cosmology wasn't even in mind?
PARKS
I was thinking about cleaning the literary office! And Emily looked at me, she said, "It sounds like you should go home and write." And I said yeah. I started writing Topdog on the night of the sixth of January and finished it in three days.
INTERVIEWER
The draft came out, and did you feel in the writing that it was good?
PARKS
Yeah. It lay right. It was right in the pocket. The writing experience felt like someone was holding a silver gravy boat and pouring silver liquid down the inside of my spine. I called Bonnie Metzgar when I finished. She was working as a producer at the Public. I asked her if I could have a reading. She was like, "Hell yeah!"
INTERVIEWER
Was there any sort of revision process for it?
PARKS
There was a lot of trimming. George was great at, like, "Cut that. You don't need that." There was simmering down, slimming. And some growing, too. Once in rehearsal he wanted me to write some more of Lincoln's speech where Linc talks about his day job. We were in tech. Don Cheadle and Jeffrey Wright were standing there onstage. George asked me to write more. I held up my fingers, measuring lines of text. "How much you want?" I said. Two inches of text? Three inches? I had so much of the characters' lives spooled in my head. It was just waiting to be written. I borrowed the stage manager's laptop and just sat there and typed it up and printed it out and gave it to them. That speech is one of my favorite moments in the play.
INTERVIEWER
That production is this powerhouse, a magical show. It goes to Broadway. You're the first Black woman to receive a Pulitzer Prize for Drama. I think that big fancy fellowship came for you around then.
PARKS
The MacArthur—before the Pulitzer.
INTERVIEWER
Is that when you decided you were going to write a novel?
PARKS
I decided to write a novel when I was in fifth grade, and it took me that long! I know, it's so sad.
INTERVIEWER
It's not sad.
PARKS
The novel gives me great joy. It's my people! My mother's family in Texas—they are rich and strange. And I love them. And I'm still trying to write the second novel.
I love the process of writing. Whether it's a TV script or a play, novel, song, or a film script, writing is all the same process. Just the rhythms are different. And where you have to begin and end is different. And how much you can see of a scene is different. What details you need to make a scene. In the novel, there are more words in those details. You can't just say, "She's tall and good looking." You've got to let us know how so! Give me specifics. You've got to let us know how good looking she is.
INTERVIEWER
Were you reading a lot of fiction? I'm asking because I felt a Faulkner thing happening.
PARKS
Getting Mother's Body (2003) is a reverent bow to As I Lay Dying, which is a family road trip. Growing up, my family took a lot of road trips. And so my first novel is a road trip. Faulkner's people, they're going to bury somebody, and my people, they're going to dig somebody up. Because we are diggers. Ba-dum-bum.
INTERVIEWER
There are so many moments when that Modernist canon comes into your biography. Stein on your brain. Joyce in your lap. That Eliot essay. What's it called?
PARKS
"Tradition and the Individual Talent"? That's me riffing on T. S. Eliot.
INTERVIEWER
You essentially appropriated this Eliot essay, rewrote it.
PARKS
I think my action was more like what the composer of "Meet the Flintstones" did with "I Got Rhythm."
INTERVIEWER
I remember reading somewhere that To the Lighthouse changed your life. You were definitely vibing with those Modernists. I wonder why, how this literature landed like a thud in your life, so hard that it seems you're still in some ways wrestling with it?
PARKS
Embracing it. 'Cause I'm being ferried along by the architecture. Again, there were also people like Adrienne Kennedy, Ntozake Shange, Alice Childress, James Baldwin, Ed Bullins, Zora Neale Hurston, Jacob Lawrence, August Wilson, and Toni Morrison, and my grandmothers and grandfathers, and everybody in the Movement, and Frederick Douglass, and Harriet Tubman and Amiri Baraka, Bearden, Basquiat, Faith Ringgold, and Elizabeth Catlett and others and others and so many others. These brilliant people, great artists and activists, are architects of their known worlds and also of a lost civilization. And they are giving us the blueprints to the portal that is not easy to see every day. I feel like that's what the Modernists—and the Black Modernists—do. They are dismantling the world and putting it back together again. This is the activist. The agitator.
INTERVIEWER
We've talked a lot about what New York was for you, what kind of freedom it brought you, what it meant to find community in a downtown arts scene. But then, at the height of your first wave of success, you decided to up and move to Los Angeles.
PARKS
I went out there to teach at CalArts and start up their dramatic-writing program, and ended up leaving that to go and work for Oprah. While I was living in LA we did 365 Days/365 Plays (2006) and I really got to know the theater scene there. It's very vibrant, very exciting, and yet the film and TV industry overshadows everything.
You don't brush up against people in LA. The beautiful thing about New York that I love, you sit on the subway and you look across the aisle and you see the row of people sitting across from you and there's a woman who looks like she's from this place, there's a man who looks like he's from that place, and they call it the beautiful mosaic, and it's right there in front of you. In Los Angeles, I never experienced that. There's plenty of diversity, but the city feels so isolating. Maybe 'cause there's not a lot of public transportation. I once said that, to me, Los Angeles was like the torture where they leave the lights on all the time. Not to say it's evil or anything, it's just odd. You could say New York is like the torture where they leave the sound on all the time.
INTERVIEWER
Around that time your relationship to writing for the screen seemed to deepen. Do you approach the plays and the screenplays in the same way? Or do you have a different mindset when you go into film or screen work?
PARKS
Both are character-based, and architecture comes out of character for me. But a play is alive. And a film, to me, is a memory.
INTERVIEWER
Speaking of characters—you're wrapping up production on a TV series about Aretha Franklin. As a merchant of fiction, how did you approach Aretha as a real human? How did you refashion her into a character that you could move through your imagined realities? It's an ethical question I always won- der about with these dramatizations of real lives.
PARKS
With a lot of respect and a fair dash of moxie. Those of us who put words in people's mouths for a living—we are the makers of manners, so we're accustomed to that. I respect my fictional characters, my completely totally made-up characters, as much as I would respect my historical characters.
INTERVIEWER
You've also adapted Zora Neale Hurston's Their Eyes Were Watching God (2005) and Richard Wright's Native Son (2019) and The Gershwins' Porgy and Bess (2012). How do you share those fictional people with their original authors? Do you feel a boundary between your choices and theirs? What are you negotiating that's different from when you sit down in your own work?
PARKS
All writing, for me, is a relationship. I don't feel like I can do whatever I want with whomever I want. It's call-and-response. I'm in partnership with the character. I'm in partnership with the truth. I'm in partnership with the play, the teleplay, or the original work. Some people say, "Oh, you're going to do that and you're going to put your stamp on it." I don't even know what that means. Unless my "stamp" as SLP is "the one who follows the call and works as hard as she can to get it right."
INTERVIEWER
You mentioned you were in LA when you wrote 365 Plays.
PARKS
After winning the Pulitzer in 2002, I thought, Let me say thank you to the theater. And what's the best way to say thank you? To show up every day with a play. I got up and wrote something every day, it felt so good—after I finished it, Bonnie Metzgar said, "So what about that play-a-day thing?" Looking at me like a producer does. And I said, "Oh yeah, I wrote them." She suggested that we produce them.
INTERVIEWER
I remember that year so vividly because it was like everyone I knew was in a Suzan-Lori Parks play. And I was going to random broom closets and abandoned bodegas and, like, churches.
PARKS
And Laundromats. And street corners. We got the plays done all over the world and the production lasted a whole year. At one place in LA, there was a group of friends, and everybody had these elaborate tattoos, so they decided to all be naked in their tattooed bodies and writhing together doing one or two of the plays. I showed up and I was like, Dang, this is some wild shit. It was beautiful, the range of experience.
INTERVIEWER
When it was over, how did you feel? Did you mourn?
PARKS
I'm very proud of it. If I were an athlete, I'd be an ultramarathoner. One of those people who just goes and runs in the desert. That's my kind of thing. I used to be a long-distance runner.
INTERVIEWER
And now you're a monster yoga practitioner. Do you feel a noticeable difference in terms of your writing pre- and post- your engagement with Ashtanga?
PARKS
Before I found my yoga I did karate, every morning. I was an advanced brown belt. I didn't go for my black belt—I was like, Enough, now I'm gonna do yoga. So I have these physical-slash-spiritual activities. I was never a gym rat, but I have these meditative forms. I've been doing it for a long time, the daily practice.
INTERVIEWER
Is there a relationship between the physical practice and the writing? Is writing a compulsion or discipline? Are you the kind of person who sits down every day and gets their two thousand words in?
PARKS
I believe in integration. For better or for fucking worse. I am devoted to the exploration of how we can integrate our lives on the big levels, meaning, feeling comfortable sitting next to or having love for the Other—the one we perceive as the Other, who isn't actually the Other at all, it's another version of ourselves.
I used to have a pristine routine of getting up in the morning, meditating, then going to yoga. When I became a mom, that changed. When Durham started walking, he would crawl out of the crib, walk into the living room— we have a little, tiny apartment, so it wasn't far—and then, finally, he started talking. "What are you doing?" "I'm meditating." So he'd see that. Then when he started going to school, I had to walk him to school before my yoga.
INTERVIEWER
You became a parent comparatively late. Did that take you by surprise?
PARKS
I wanted to be a parent for a while, it just didn't work out until it did. I'm on my second marriage. First husband was a lovely, lovely guy. Just didn't work out. Second husband is even more lovely and I'm over-the-moon happy, which helps my work.
Early on, I'd wanted to be a mom, but I watched so many women who, when they became moms, they laid down their artist life. Sure, there are wonderful stories about creative motherhood from Toni Morrison and Maya Angelou, these women that we look up to. But on the level of chicks I knew personally, I would watch them put their artistic impulses into their mothering. Their husbands wouldn't put their artistic careers on the shelf, but the women did. And I was watching that and going, Wow. My artist-call is so strong. How can I do both? Then I figured, Well, let me become a mom and see what happens. [laughs] And then many of my friends were like, Say goodbye to your writing career. But instead I said hello to a whole new level.
INTERVIEWER
The past nine years, since your son was born, have been such a resurgence and explosion of creativity for you! Can you talk about creating Father Comes Home from the Wars (2015)?
PARKS
FCH started out as a bunch of short plays in 365 Days. They were linked more by title than by anything else. And then I heard more. My feeling is that everybody's life is like a piece of music. It has a leitmotif, a recurring theme. For me, one of my leitmotifs is my dad, the army officer, going away to war and returning home. Or he would go and do war exercises. When I was born, my dad was out in "the field"—that's what they called it. He wasn't behind a plow, he was doing war exercises. They had to rehearse. Before they went into the "theater of war." Funny, right, how it all comes together? And so I started hearing this theme and began writing. It's a huge project. At first nine parts. And now twelve. We premiered the first three at the Public. Doing these new projects—FCH, White Noise (2020), The United States vs. Billie Holiday (2021), all these lovely projects—it's like hiking, you know? Climbing a mountain. When you've got something to carry, you get stronger. The burden is heavy but the feeling is light. For me that's what being an African-American-Woman- Creative-Person is all about. Getting things done, continuing to climb. I love the climb. This does require organization. I've written lots of things, and I've also written some great lists, working to be very organized, you know. So I wake up at six, meditate, take the kid to school, go to yoga, and then come home and write.
INTERVIEWER
And you work through the weekends?
PARKS
What is a "weekend"? Shit yeah. Weekends have become an opportunity to find out that I can write while my son is running in circles around the living room—which also happens to be my office. I've pretty much developed the ability to write while I'm having a conversation with him.
INTERVIEWER
At this point, do you feel like you can sit down and quickly get into a writing flow?
PARKS
That's interesting. To answer that question, what if one is always in the flow? We get hung up on the flow feeling a certain way, feeling good. What if everything is the flow, like, you're always on the river? I spend less time anguishing about the work these days. I spend less time getting all consternated about it.
INTERVIEWER
That reminds me of this interview with another writer that I really love. Someone asked her, Does writing get easier? And she was like, No, you just get used to the despair. [laughs]
PARKS
Right! That's it. People who are in the early years of their writing experience often figure that writing's easy for those of us who have been writing awhile. And actually I think it gets more difficult. And yet, to agree with that writer, we grow more accustomed to the difficulty.
INTERVIEWER
Do you still have that orange typewriter?
PARKS
Yeah. I have a lot of typewriters, not like Tom Hanks, but I have three or four of them. A pink one, a red one, a green one, a couple of black ones. On the red one I mostly write letters to Mr. Baldwin. Dear Mr. Baldwin. I use it for my Watch Me Work show. I talk with him. Letters to a dead poet. And within those letters I'm working out a plot or some dialogue or some lyrics or whatever.
But I write with everything. By hand, computer, typewriter. Sometimes in the notes section of my phone. Or sometimes I'm hanging out and I tell Christian, my husband, something fun, and he's like, "You better write that down!" So I turn on the voice memo.
INTERVIEWER
But there's no ritual for you about where that draft starts?
PARKS
No. I might start writing on a napkin! Last Black Man started when I "saw" some writing on a wall—I woke up from a dream and the words were hanging in the air. The writing can start anywhere. The play is always happening.
INTERVIEWER
Do you try to push through a first draft as quick as possible, or do you take your time with it?
PARKS
These days, to stay organized, I outline. Images or actions, actions or dialogue, it's all the same. In the first draft, it doesn't need to be written right, it just needs to be written down. I'm listening, I'm watching. And I'm saying, okay, sure, yes to everything, and then at a certain point there's writing. In the first draft I remind myself, Anything goes. Everything grows. I'm in the garden. Later, in the second draft, I take out my "sword of discrimination" and I put on my favorite music and I cut everything that doesn't fit.
INTERVIEWER
The things that don't "fit" are basically identified through some sort of intuitive process? Or do you have a secret math you use to decide what's in or out?
PARKS
Must be the secret math. The world revolving is based on math, isn't it?
INTERVIEWER
It's based on physics. It's like God's intuition.
PARKS
God's math! That's what it is. It's just listening. That's how I know what's working and what's not. And cutting is a joy. I love cutting.
INTERVIEWER
There seems to be such a freedom at the heart of your process, a sense of detachment and openness to change. What do you think changes in a writer over time? Or, rather, what changes a writer?
PARKS
Anything, anything can change a writer, if one is open to it. The artists I admire most go through their changes. Think about Aretha Franklin. Started out singing gospel in church, went through a change. She grew. She got into secular music, blues and jazz standards, and then pop songs that became clas- sics. Started writing her own material. At first, people had an issue with her secular side, but she had such confidence in her voice and she was able to follow it.
One could say that as a writer, my voice has changed. It's grown. And the idea that we have to be who we were when we started is bullshit. It's poppycock. Think of Bob Dylan at Newport. The famous folk singer has an electric guitar and plugs in—and he gets booed by the audience. The artists I admire go through their changes instead of clinging to what they might have started out doing. Like, we are no longer babies, right? We grow. As a human it's natural, but as an artist, you are known by your "brand," and it takes a lot of moxie to step out of your comfort zone again and again and again.
INTERVIEWER
I love Bob Dylan's seventeen-minute Kennedy song that he just released.
PARKS
He dares to keep on pushing, embracing the present instead of holding on to the past.
INTERVIEWER
What do you think is the secret to maintaining that presentness? Is it about investing in mastery of "the instrument," whatever that means?
PARKS
Looking at my own artistic journey, what gives me the ability, what gives me the courage to keep growing, keep changing up? The Call gives me courage. The idea that there is something—that the Spirit is bigger than me. That there's the little-s self, and the big-S Self. Spirit. It's not the call of the marketplace. It's the call of the Spirit. The Spirit is calling me and I'm an- swering the Call. There's that quote that I love—I must do the work that they sent me to do. It's a paraphrase of the Bible, "We must do the work of them who sent me."
INTERVIEWER
Do particular plays feel like pivot points when you look at the shape so far of your body of work? Or do they all live in the same energy field for you?
PARKS
Each piece feels like a pivot point, yet another departure. But they definitely live in the same energetic field. Sure, they look different, they sound different, play in different arenas or theatrical spaces. Even the work-for-hire stuff is an answering of a Call. Sometimes really literally. For Genius: Aretha, Brian Grazer actually called me up on the phone. Ha ha! It's such a huge endeavor. Showrunning for TV. I got an invitation to engage in a Spiritual Quest in service of the Queen of Soul. I answer the Call by saying yes. It's that simple.
Whatever the work is, for me, it all lives in the same energetic field and activates different parts of the human or universal experience on different levels. Different pieces ask different things of the audience. Or they could be asking the same thing, just in different ways. And my process says, "Now that you've digested Last Black Man, we're going to serve you up Topdog/Underdog. Now that you've digested Topdog/Underdog, we're gonna serve you Fucking A." And naysayers go, "Oh, gee, Fucking A doesn't look like Topdog/Underdog," but is that really a problem? If it's a problem, it's not the writer who is having a problem. It's that the audience member is clinging to something and they've decided who the writer is. Which is a form of slavery. The audience is holding the writer in bondage, saying, "You gotta be like you were back when I met you." It's like, if you, Branden, would hang out with your grandma, and she says, "What do you mean you've got facial hair? What do you mean your voice is like a deep, handsome-person's voice?"
INTERVIEWER
[laughs]
PARKS
Yeah, you laugh! Some artists, they have their one thing and they do it consistently and that's very beautiful. They shouldn't be chastised for remaining constant. But change is something I embrace. If I'm writing something and it doesn't look like what I wrote last year, do I throw it down and say, "Out of my house, you must be an illegitimate!" No, of course not, I welcome it. Because I have grown.