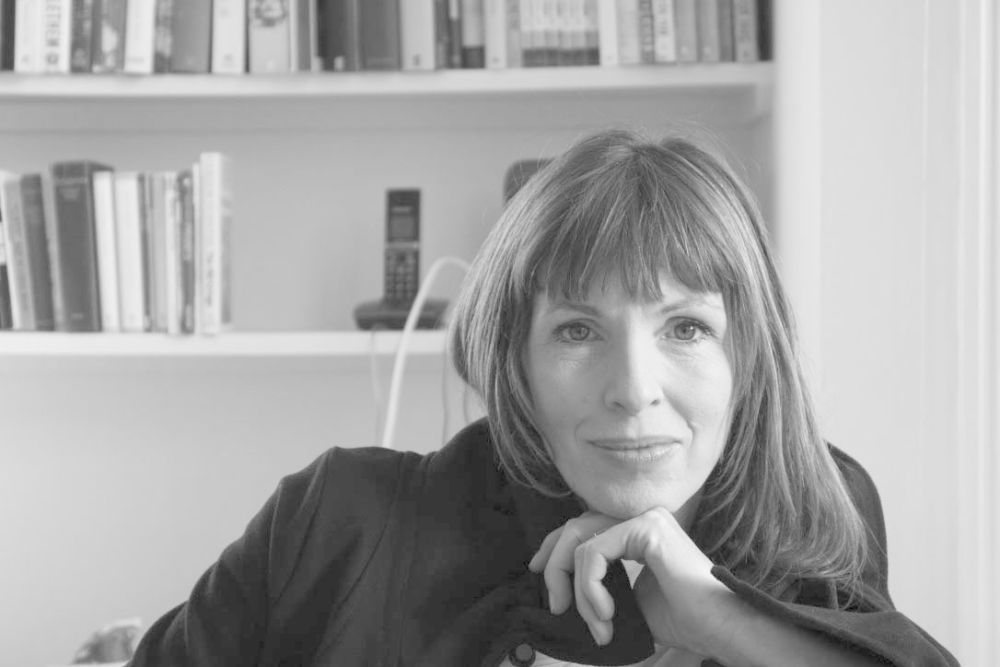 Photo courtesy of Rachel Cusk.
Rachel Cusk was born in Canada in 1967 to British parents, who moved the family to Los Angeles, then to England, where Cusk lives to this day. She began publishing in her midtwenties—clever and assured novels featuring men and women attempting, with little success, to manage their anchorless lives in a bewildering, loveless world. Then, after having two daughters in quick succession, she began writing essayistically about her life. Her memoir A Life's Work (2001) dealt directly with the existential, social, and intellectual struggles of early motherhood. The book received praise for its honesty and intelligence, and also assault for its perceived solipsism and negativity.
A Life's Work seemed to announce a new beginning for Cusk as an artist, yet it would be almost a decade before she returned to the memoir form; instead, four more novels followed. After these came The Last Supper (2009), documenting a family's travels in Italy, and a book about her divorce, Aftermath (2012), but she was beginning to see memoir's limitations, especially for the woman writer. Another form was needed. Starting in 2014, a trilogy of inventive novels—Outline, Transit (2016), and Kudos (2018)—appeared. In them Cusk created a prose that feels contemporary, swift, and "clean"; characters narrate moments from their lives rather than live them in an unfolding present. The books are both of and post psychoanalysis; the characters are shaped by a culture that has trained us to see ourselves as actors in meaningful stories. The trilogy has been universally praised for doing something thrillingly new with the novel form—a wonderful outcome, but also perhaps indicative of what Cusk suspected: that people would prefer an absent narrator to a specific, female one.
This interview was conducted on four separate occasions over a year and a half. The first conversation took place onstage at the Banff Centre, in the Canadian Rocky Mountains. The second was at the Random House flat in London. The third time was over the phone; she spoke from her home on the Norfolk coast, which she shares with her husband, the painter Siemon Scamell-Katz. Our final conversation was over iced tea on a hot summer afternoon in Denver, Colorado, where she was teaching for a week. There she sat with perfect posture, a leg tucked under her. Cusk's intelligence is bright, witty, and declarative. She is quick to flashes of criticism and self-doubt, but mostly speaks with great emphasis and authority, and appears to have already thought to the end of any question that might be posed to her.
During those eighteen months, she was first on the cusp of—and then well past—publishing Kudos, and was traveling the world to promote it. Over the course of our conversations, she spoke more and more despairingly about what happens to language as a writer ages, and about finding herself increasingly lost in her craft. Now that her daughters, Albertine and Jessye, have left home, she feels a strange freedom, but is also more bewildered than ever about what it means to live as a woman, and to give your entire life and self to people who then leave. This unease was seeping into her thoughts about creation: she was unsure whether she was approaching a period of "late work" or a period that was post-work altogether. But the energy and intensity she brought to these speculations made me feel certain that she was not "post" anything, and that another exciting, innovative formal turn would soon take place.
INTERVIEWER
I like the line in Saving Agnes (1993) in which the protagonist finds an old book and discovers something she wrote when she was six years old—"It's good to quietly hide."
RACHEL CUSK
[Laughs] Advice I have not taken in my life . . . No, it would have been good. I can't even remember Saving Agnes. I haven't read it in years and years. I don't think I could read it. It's a strange thing about having been publishing for so long. As with any memory of yourself at twenty-five, it feels like your cellular being has completely changed. It's not just photographs of me with a weird hairstyle at twenty-five—a novel is such an intricate document.
INTERVIEWER
Do you remember writing that book?
CUSK
Yes.
INTERVIEWER
What was it like? How did it start?
CUSK
Oh, it was a burning experience of molding myself. It was a totally thorough induction into a discipline. And I did something perhaps odd for a person of the age I was then, which was twenty-two or twenty-three. I effectively turned away from everybody in my world and from the things everybody else was doing. I walked away into isolation. I didn't know quite why I wanted to do that, but it was what I felt compelled to do.
INTERVIEWER
What was the world you were in?
CUSK
Well, so I was in London. Left university, gone like everybody else to London. We were all in London. I was working in the job I describe in Saving Agnes and I'd been writing a novel in the evenings, and I finished that, so that was my starter. And then I really, properly conceived of a novel and left the world that Saving Agnes describes and went and stayed in my parents' house in provincial England. I didn't get on very well with my parents, so it wasn't a comfortable place for me to be, but it was the only place available, and they said that for a period of time I could stay there, as long as it was all over and I'd given up the idea of being a writer by some particular date. And I went there and I was totally alone in this huge house—they didn't really live there, they were sort of elsewhere—and many of my memories of writing that book are of being physically frightened, being alone in the middle of nowhere and feeling quite physically frightened but just having to get on with it. So I stayed there for about nine months, and wrote and wrote and wrote and wrote and wrote. Never or hardly ever saw anybody. My parents came on weekends. I had no money. I wrote all day and I wrote all evening and I rewrote everything again, and it was all typewriters and Tipp-Ex. So yes, that was a burning experience.
INTERVIEWER
Did you like what you'd made?
CUSK
Yes. I had no opinion of myself and no confidence or self-esteem. I didn't think I was good at anything. I mean, I'd been to Oxford, so that was the first nice thing that had ever happened to me, and that was the outside world. But my life up until then had been one in which I was criticized, so I guess that experience of learning how to write—that was what I felt I was doing—it was like learning Latin or something. I really, really learned it. I think it's the only time I've ever had that feeling of what it takes to master something. Of course, you have to keep mastering it because it's organic and growing, but I definitely did it then. And what's weird is that, I guess because I was so young, I still didn't really know where a book comes from, like a child doesn't know where babies come from. So I didn't know whether or not one would ever come again, and I didn't know how to make it come. The next book I wrote felt completely different from that.
INTERVIEWER
The Temporary (1995)?
CUSK
Yes. It felt false.
INTERVIEWER
Why did it feel false?
CUSK
It's interesting, actually. I could almost divide my life on either side of this line, between the things that are real and the things that are imitating reality and are synthetic or inauthentic, and the awful pain of being in the synthetic life or the synthetic relationship, the one that is a bit like the thing you want but is not it. So that was that book. That experience was also very disillusioning, because Saving Agnes had been this extraordinary experience when it came out. It was my first experience of attention, and reams and reams were written about the book, and I couldn't believe it. Then with The Temporary, there were still lots of things written about it, but it wasn't the same. So I think then I understood that it was a relationship, and that my life and my state of being had to be offered to the writing project for the true book to come out of it. I hadn't done that the second time. I had written a mental book. I'd tried to think of a narrative or story. It hadn't come out of my insides. So then I understood. The next book I wrote, The Country Life (1997), that was a true book.
INTERVIEWER
I want to step back a moment. What was it like, reading those reviews of Saving Agnes?
CUSK
I was sent them in an envelope. There were photocopies of the reviews in every single paper, and I sat on the step in my parents' garden, and it was like therapy. It was an amazing, healing experience of reflection.
INTERVIEWER
Your self was being reflected back to you?
CUSK
Yes. And only in writing did that ever happen to me. Nowhere else in my life did that happen.
INTERVIEWER
How did you know in your childhood or in your teenage years that writing was where you were going to set off to?
CUSK
Well, I didn't know you could be a writer. I don't think I ever read contemporary books, so I didn't know that was a life you could live. But from my earliest life—even from LA, so that means I was less than eight—that was what I did.
INTERVIEWER
You wrote.
CUSK
Yes. I think it was a response to my environment—to being misunderstood and feeling that the environment of my family was promulgating a version of life that I was at odds with and that I didn't agree with. I think my earliest question was, Is my version the right one? Or am I wrong? Very early on I came to see writing as a place where truth could be gotten at, but also where the truth could be defended. The fact that it could be written down—said—where it could not be said, at least not by me, in the reality of my home, created a very powerful sense of duality in me.
INTERVIEWER
What are the memories you have of being in LA and writing?
CUSK
I won the school poetry competition when I was about five, and I really remember that. The poem I wrote was quite complicated, it was describing a sort of dreamworld in which all these strange and lovely things happened, and I had used—plagiarized—I think it was actually just one line, but I had read something similar and I loved it, and I thought it would look so lovely in my poem. I remember my anxiety that I would be found out, especially since I'd won this thing, and I sort of felt I didn't deserve to win it, and I didn't know whether to tell someone.
INTERVIEWER
Did you read a great deal as a child? Was that a part of everything?
CUSK
Well, my sister is two years older than me, and in childhood she would have nothing to do with me. But I copied her. I think copying is a really important part of becoming—it's certainly an important part of becoming an artist. Anyway, she was a big bookworm, so I sort of copied her habits. My younger brother, whom I was friends with and who was my main childhood companion, was a hopeless TV addict, and in America in those days, unlike in England, you could actually watch cartoons all day long. And he did. He was the person I spent time with, so I would be sitting next to him, incredibly bored, waiting for him to stop watching television.
INTERVIEWER
I'm interested in the feeling you had as a small child that your family was living in a way that was a simulacrum of truth. What were you seeing that was disturbing to you?
CUSK
I suppose it must have started with my unacceptability to my parents. Those are my earliest memories. There were four of us children, and my parents were young parents, so there was a roughness and a carelessness. But the question of childhood unhappiness is one I still haven't disentangled from the facts, or from how my life has turned out. It gets larger and more incomprehensible as I grow older. It always seemed to me that the oedipal situation—that you are defined and driven by things you will never know the name of, because the people who do know won't tell you—reflects a lot of how I have felt about being in the world. My childhood left me with feelings of what would now be called trauma, but I never found a forum for those feelings in living. I walked around with them and was misshapen by them, and so the old childhood writing situation—the need to establish the true version—has always re-presented itself to me.
INTERVIEWER
Are you close with your siblings?
CUSK
Yes. I have deep friendships with my brothers and sister, and we sort of tend our wounds together, but my siblings showed me a special kind of care that makes me wonder even more about my early life. The defining feature of our parental culture was a kind of domestic totalitarianism, an absolute breaking and repurposing of truth. So there's no going back to look at the history, because it's been incinerated. The function of history as a sort of ideal authority—a home for the individual—has always been interesting to me.
INTERVIEWER
When you were small, did your siblings also feel that your parents thought you to be an unacceptable child? Is that why they showed you special care?
CUSK
Well, I was badly ill from babyhood until we left LA. Then, when we got back to England, I still was a sort of unwell person. I had chronic asthma, and I was in hospital a lot. It's really annoying when you're a child to have an ill sibling, because the attention starts going funny ways, and things are derailed and disrupted, and it seems like the ill child is spoiling things. I don't really remember that, but it's definitely something they say now.
INTERVIEWER
What did your parents do?
CUSK
My dad was a businessman. My mom was at home fermenting fantasies. [Laughs] They came from solid middle-class families, but their siblings are not as cultured as them. So they ascended into culture. Later in their lives they would go to the opera, and they read. Partly it happened because they were adventurous, and they traveled and they saw new things, and had experiences that expanded their horizons.
INTERVIEWER
So you went with your family to England around the age of eight?
CUSK
To Suffolk. A small village. And we were all sent to boarding school. When I was eleven, I went to a boarding school that I stayed at until I was eighteen. Already moving from LA to this village was one loss. Then being sent away, that finished me off, basically.
INTERVIEWER
It finished you off? What does that mean?
CUSK
It broke my spirit. It was a horrible school and I didn't belong there. I hated it, every single minute of it, from day one to the last day. So that was an experience of counting. Seven years of counting till it was over.
INTERVIEWER
Where did you go after that?
CUSK
I went to Oxford. That was a complete revelation. Liberation. Suddenly, I'm with people who are like me. I'm free of my family home. I'm in the place where, for the first time, I can feel some self-esteem, because it's a high-status institution. It gave me a feeling that the world thought I was okay. That was the beginning of my life being a more normal distribution of good things and bad things.
INTERVIEWER
And what did you study there?
CUSK
English. I was obsessed with Henry James, and poetry. Yeats. It's a very old-fashioned syllabus, the Oxford syllabus. You do Middle English, you learn Anglo-Saxon, and you plow your way through Spenser and Pope. And when finally you get to Middlemarch, you feel you are in contemporary life.
INTERVIEWER
Did you love Henry James in a way that gave you an inkling of how you might write?
CUSK
Yes. It was the idea of a fortress of sensibility, and language as this impene­trable medium that could sort of stand on its own. It was language as a still, concrete structure, and that was very appealing to me. It was a satiric position that I felt I had been forced into as an outlet for my pain—a particularly English kind of pain. It wasn't just Henry James, it was Evelyn Waugh. It's laughing at the things that hurt you.
INTERVIEWER
What "particularly English kind of pain" are you referring to?
CUSK
The pain of class. Social class. And the cruelty of human relationships in that structure. One of the things that happened when we moved back from LA was that my parents were subjected to this chilling scrutiny and this laceration through language. The way people spoke to them, the put-downs, the cutting . . . I could hear it, and I could see it happening. I don't know that my parents were entirely conscious of it, but it changed them and made them unhappy. In my own experience of English children at school there was a lot of cruelty as well. So all of that was quite shocking, and it's taken me a long time to see how much my early style was dealing with the issue of cruelty. But I was possibly also being cruel to myself, which, you know, I still am. I get great relief reading Beckett, because it's the pain of these ways people talk to each other. And the pain in Beckett is so intense, and the cruelty is hallucinatory and more deconstructed, and in drama, you know, you can do that. I suppose, like with Thomas Bernhard, you can do it in fiction, too. But in a way it's a dead end, writing that kind of book. You might as well kill yourself. I think the novel has to stay attached to life somehow. It has to share the terrain of life.
INTERVIEWER
Is that what you loved about D. H. Lawrence, when you read him in your late twenties? What did the reading of Lawrence add?
CUSK
Oh, that was the English language liberated from the voice of privilege. Being on my road as a writer and suddenly seeing there was a completely different road, this completely different way of doing things, with sentences that go off in a very strange direction, miles from where they started. It's an odd thing, because I think a lot of women writers have similarly found their voice as a result of reading Lawrence, and I think it was because he was a working-class man. So hearing a voice that is not a privileged male voice makes you realize that there is another voice in you.
INTERVIEWER
You said that The Country Life and Saving Agnes felt like they came out of some real self and were a real expression, yet you also said that the form in which you were writing—satire—was something you adopted. When I think about everything you've written to date, your path seems so much about a search for form, and I'm curious to know how a form you borrowed could authentically express this real pain inside you.
CUSK
I think the answer is that my key characteristic up until the moment I wrote Saving Agnes was formlessness. I didn't know anything about my shape or identity or essence. I didn't know who I was. I realize now that I lacked something that other people get, even in a rudimentary way, which is love. Call it love. Something that enables them to know their own form. I lacked it, for whatever reason. So for me, finding those shapes gave me being. I had a shape suddenly, and I could express myself in it. I often think that if I hadn't had children, I wouldn't have been able to continue writing. It seems to be true of me that I've had to go through things and be changed by them, and be given shape and identity by them. So the search for form was a very difficult and ragged affair in the early years of being a mother. After A Life's Work, I tried to go back to my old style, but a big thing had changed in my life, which was marriage and children, and the whole thing began to malfunction.
INTERVIEWER
What began to malfunction? The novels or the life?
CUSK
The two. In the past, I had created a kind of entertainment out of satire. Then there was a kind of reversal with A Life's Work, and I didn't understand why people started saying that my books were nasty or cruel, why suddenly I was identified as a troublemaker. I didn't know whether that was the politics of femaleness and motherhood, or whether I had said things that needed to be said and that annoyed people because they wanted to live in falsehood, or . . . I don't know. There is a self-deceiving mentality of a certain area of femininity, or femininity when engaged in activities such as the raising of a family, where a surface or an appearance is being defended, and very much the easiest thing to do is to use another person as a scapegoat. Which is something that happens in ordinary life, and it also happened to my book. I've found in femininity a fascinating series of moral threats to the individual, because in femininity, the image and the role and the groupthink are so powerful. There's a lot to say about it.
INTERVIEWER
Can you talk about the shift from writing those first three novels to writing A Life's Work and how you came to write it, and in that way?
CUSK
It wasn't my idea. Reagan Arthur was my American editor, and she had published The Country Life. We're the same age, and we had children at the same time and with the same close spacing, fifteen months. We were writing emails to each other about our lives and our children, and at a certain point, she said, I keep your emails in a folder and I show them to my friends who are pregnant. I think it was she who suggested it, or my English editor, who was having children at the same moment as me and Reagan. So there I was with these two editors both doing exactly the same thing as me and wanting to talk about it and finding what I had to say about it germane in one way or another, and there was a lot of humor in those emails, and I guess that set the tone, to an extent. So Reagan suggested it, and I thought, Oh, I couldn't possibly. I can't write about this subject!
INTERVIEWER
Why not?
CUSK
Because it was beneath writing about! And because what I was building in terms of a literary career was so far from that kind of personal, domestic, nonintellectual—as it seemed to me—subject matter. But what else could I write?
A Life's Work is a funny book. I felt that I was telling a story to make people laugh—sort of, Hey, the funniest thing happened, I had a baby! But then something else happened, which I think came from motherhood itself—a new sense of responsibility, of authority. And what that authority looked like was unashamed public honesty.
INTERVIEWER
How were you impacted by the reception of the book? You were very ahead of your time, writing about motherhood in that way, and many of the reviews were scathing and personally insulting to you.
CUSK
That was one of the worst things that ever happened to me, because writing had brought me the fellowship and equality that I had never had in my life, and, suddenly, that turned into an attack on me. I couldn't bear it. But I never thought it was a mistake or that I shouldn't have written it. I never thought I was wrong. But it was horrible to lose this thing that I had only just started to be sort of helped and healed by. But I had lost it, anyway, because my husband and I had moved to Exmoor, the middle of nowhere, and I was completely out of the literary world. I was in an isolated landscape with my very small children. So the response was from this other place, and it made me feel I could never go back.
INTERVIEWER
You once said that you began to work in autobiography when the formal problems of representing female experience in the novel began to be more apparent to you. What were the formal problems, and why could the traditional novel no longer properly represent women's lives? What did you see?
CUSK
I felt that female experience needed to be directly owned. It needed to be an autobiographical "I," and that in its most constricting and oppressive moments, the moral, psychological, and artistic problem of stepping outside the self, stepping outside "I," was a place where you lost the relationship to the truth of your own experiences. Just taking motherhood as an example, how I wrote A Life's Work was by having a child and then by having another child. And it was only when I started having another child that I remembered what having a child had been like. It was only a year later, but it astonished me that the memory and the language, the ability to describe those experiences, melted away so quickly, so I knew I had to write it down. And how was I going to do that as a novel? That would have completely betrayed the basis on which I was remembering.
INTERVIEWER
Because novels are made with more of a remove?
CUSK
Well, you build a novel. You have to build it like a building so that it stays standing when you're not in it. And the memoir is a different kind of contrivance. You are the building, and you use yourself as the building, and then other people can come and be in you for a bit. Because the point about having those experiences is that you feel, for instance, that you are the only person who has ever experienced childbirth. It's completely impossible to be universal in that moment, or to feel that this is a shared cultural or female experience. I mean, I wish there had been a form other than memoir, but it seemed to me that was the only one.
INTERVIEWER
The books between A Life's Work and the trilogy mystify me in some way, because one book doesn't seem to have learned from the previous one.
CUSK
No, and partly, if you can imagine my predicament in those years, I was defending the illusion of our family life. I was defending the illusion of my marriage and how it worked. I was the sole breadwinner in a household of five people. My husband had a child from a previous marriage whom I also supported, then our two children and him. I was having to support us all by writing books. So I had to write. I didn't always want to. I didn't always have something to say. But those books, I think they're good, and when I wrote Arlington Park (2006), I thought, I'll never write anything as good as that ever again.
INTERVIEWER
Do you still feel that's your best book?
CUSK
At the time it seemed, in the life that I was living, the highest expression of myself that I would ever be capable of. In that era, I was trying to find old forms that I could use. I still didn't see how my experiences could give shape to something.
But I soon became aware that the memoir form malfunctioned—it was too easy for it to be read literally. It was very easy for the ambivalence that I described in A Life's Work to prove itself by alerting certain readers to the presence of what I was saying in themselves. And they disown it and repudiate it by saying, Well, she feels that, there must be something wrong with her because I certainly don't feel that. Aftermath was even worse. I really struggled in writing that book to create more objectivity and universality, but it didn't make any difference to how it was received. But what I learned from the memoirs was that "me" saying things interfered with the things that I was trying to say. With the trilogy, it just seemed a very big thing to do to the female persona, and something I finally wanted to do, to say, It's not there anymore. I'm just going to pretend it's not there.
INTERVIEWER
I suppose there is always a kind of pretense in writing fiction, so it's just a matter of choosing what sort of pretending you're going to engage in and what sort of pretending you're going to do away with.
CUSK
Yes. What pretense had become in contemporary fiction—that was at the heart of the problem—the shared pretense between reader and writer that what is being recounted is unknown until the moment of its recounting, a mutual fantasy that seemed very close to children's "let's pretend," or even to the pornographic situation, where a fantasy is staged as fresh reality. The problem for me—or one of the many problems, I should say—was that the "setup" for the fictional situation takes you straight into the politics of identity and the difficulty of establishing enough of a shared basis for identity for the objective disclosure of information to become possible. And where the pretense is, the self-exposure is also. By building a pretense you're revealing so much of who you are, you're showing your fantasy, your unconscious self.
With Outline, what I took away was the known "unknown"—what the novel has to pretend it doesn't know in order to stage its drama. It was interesting to see how that concealed prior knowledge occurs at a sentence level, and if you take it out of the sentences, something very different happens. A new kind of narrative comes out of eliminating the author, eliminating prior knowledge. Everything in the book could be witnessed, more or less, by a person innocent of hearing it or seeing it. I wanted to return every bit of information to its rightful owner, and the result—for me—was that I didn't feel I had expressed myself at all. I had made something that was completely separate from me, and the moral clarity of that feeling was extremely satisfying.
INTERVIEWER
One of the things that's absolutely apparent in these books is the confidence and clarity in the voice, its unwaveringness, and your certainty about what you are making and the rightness of it.
CUSK
Well, I really believed in the form. I really thought about it so much before I started. And then the sentences, if I just kept to my own rules, were delivering me faster and faster to this new place, which I guess I would describe as a truly female space. That's where I wanted to get to. Not a feminist space, and not even particularly a gendered space, but I suppose something that alludes to the Virginia Woolfian idea of there being somewhere out there a female sentence, a female paragraph, a truly female writing that is not a response to men and the ways in which women have been constructed and that isn't motivated by anger or injustice or anything else. That is spiritual in some way.
INTERVIEWER
The narrator, Faye, hears and witnesses. She's almost like a recording device. I couldn't help but wonder, did the stories that Faye hears come from interactions you had in the world, or from your imagination? What is the alchemy that created these stories that other people tell Faye about their own lives?
CUSK
I suppose I recognized that certain worlds could be almost prepared for me by other people, that other people had abilities to perceive their experiences in ways that I found really useful. That sounds a bit like I got other people to do the work for me, but I just thought, Actually you can just use that particular native gift for narrative form in speech. You begin your path as a writer thinking that it's magic or a great mystery and you don't know whether you're going to be given another book to write ever again, so you start to work out some things about how you are making life unnecessarily difficult for yourself.
I think what I was looking for in writing these books was almost a sound frequency. I'm think I'm very aware when these passages of life occur—when people are able to give voice to themselves. One of the things that is said about these books is, People don't talk like that. But I think they probably do. Maybe not all the time, but I think they do. The people that I tend to have speaking in my books have a momentary emergence, like someone getting out of the sea and standing on a rock for a minute and sort of looking around, and for whatever reason they can see where they are. They can see themselves and they can see what's around them and say what it is. The times that one can do that in life—it's probably not that many. So, I suppose I felt that there was the possibility of iconic utterance, which is something that, if you live in a particular way, becomes more and more available to you as you get older.
INTERVIEWER
What is that particular way of living?
CUSK
[Laughs] The right way. The true way.
INTERVIEWER
The books feel deeply ethical to me, and I think you're doing two of the most vital things in literature today, which is to be so close to life that we almost don't understand what the difference is between the invention and life, and at the same time you don't seem to be betraying your family or your friends or your own privacy. To do both those things feels like the holy grail. How are you able to write close to life in this trilogy, without betraying anybody?
CUSK
It took me twenty-five years to sort it out. But yes, it's an ethical situation. I think I could hew that close to the line in a sustained way because I had studied and questioned the ethics of human interaction so intensely in my own life. My lack of ego, of subjective self-regard, has been very useful in that way, even if it's made experience more painful than it perhaps ought to have been. But it meant I could use myself dispassionately as an example. It gave me a chance to find what was universal in the particular circumstances I had in front of me.
INTERVIEWER
I'm interested in why there's a kind of uniformity to the language the characters use to tell their own stories.
CUSK
That was very much what I wanted. I realized that what made Outline relatively easy to write was that a lot of it was Greeks speaking in English, and I found that I really liked that prose. They are speaking English as a second language. As everyone does in Europe. At that interface, English is the currency, and it's this very clean, excellent English that is not identified with England or indeed America or anywhere.
An earlier draft of Kudos had the same structure as the final one but it was set in England and, well, in Scotland. And I just couldn't stand it. Everything everybody said sounded so fake. And so actressy. I thought, I've got to get rid of this veneer over everything. And so I rewrote it, and now almost the whole book is written, spoken, by people who are speaking English as a second language. I don't think I will ever write anything ever again in which a person speaks it as a native speaker. I can't imagine going back to sentences in which so much has already been determined because you're speaking as a country. As a class.
INTERVIEWER
I feel like the crisis in your recent trilogy is specifically a middle-aged crisis. It comes after decades of world-building—making a family, making a career, making meaning. And then there's this crisis that interrupts it. Can you talk a little bit about this?
CUSK
I suppose if there is a reckoning in middle age, it's a tragic sense that you have been formed by things, and sent hither and thither by those things, and put in a frenzy and made to run around the place, and up and down the house in the service of those things, and they were not real. They were the product of your upbringing or conditioning or gender or social class. And I think there's a certain point where suddenly the grip of all of that on you loosens. It's like a stage set beginning to sort of crumble, and you start to see it wobbling, and I think you can get some really startling and frightening perspectives on identity once you start looking at it from there. The thought that you've wasted your entire life in the service of things that didn't really exist—that you were in a prison where the door, in fact, was open, and you've sat there all this time . . . A lot of what I was writing in these books was concerned with that.
INTERVIEWER
I think Michel Houellebecq has one of the darkest views of humanity of any contemporary novelist, even though he is funny, but I would put you close to him. There's this sense of life as an accumulation of losses, or an accumulation of recognitions of one's failures. Do you think that you have tried to capture—I wouldn't say a nihilism, but a kind of futility around what humans are able to manifest in their own lives?
CUSK
I'm surprised to hear you say that. It's definitely not what I would have thought about my worldview. I think my writing represents an elementally positive view of life. Writing, for me . . . my struggle is to make it beautiful. That is positivity. And I think it's clear that the pains that I take with it are aesthetic and moral, and those are positive values. I feel that this question of truth, and particularly of female truth, is one that I've really, really lived in and traveled in and suffered from and stayed with. And it takes a lot of time. What a woman feels when she has a six-month-old baby and is having to tell everyone that she's really enjoying it, compared to what she might feel twenty years later about the deceptions that she went in for or didn't go in for . . . I do think people accumulate some significant moral burdens in their lives, and the people that interest me are the ones who, when they get a bit of a view of themselves, are interested in finding out what the truth is. That's why I feel that my books are sort of the opposite of negative, because I am trying to capture people in moments of truth-telling.
Another crucial part of the books is that the young people, the children of the narrator, appear. And they appear in order to demonstrate that this narrator is making a concerted attempt to break the chain, as it's called. To free her children from her own prison. It isn't just middle-aged people who are allowed to talk. The children also do, and she is their witness. That's a sort of crucial aspect of what I am trying to say. Freedom, when it comes, is nothing if it leaves people unfree behind you. And the books end with that very clear idea of her children also being free, not just her.
INTERVIEWER
You have said before that one of the things you're beginning to feel free of is gender, being a woman. How do you think that will inflect the kind of writing you do next? After all, so much of what you have written is about the difficulty of being female.
CUSK
It is a huge question. I feel I lived as a woman. I lived through womanhood in the most sort of basic, and indeed arduous, ways. And now, I don't feel gendered. And I'm interested in knowing what is after gender. I think this might be where I am rewarded for having to have gone through these experiences as well as having to write about them. Which not everybody has to do. They can go through the experience and write about something else, but I've done both of those things, and I wonder whether it might be revealed to me.
One of the things about being female is the numerous iterations and transformations you go through, physically, and the numerous things you have happen to you. I think men are much more continuous than women are. A man tends to be the same thing all the way through. I always thought it was better to be a man and I wanted to be a man my entire life, and I have never seen any advantage at all to being a woman. I have absolutely never not known that the male is more valuable than the female. That is what I heard when I first turned up, and I heard it so deafeningly. So I suppose this moment, for me, is really about trying to attain that advantage of continuity.
I don't think it has been decided what happens after family life. There are various things people do to try and give that bit of life meaning, but I don't think that is the meaning of it. I suppose I'd like to know what a female spirituality looks like that does not involve a yoga mat. [Laughs] A true spirituality, in the way that men have been allowed to live and follow the full path of their spirituality. I'd like to get to the end of what being a woman is, the end of that story, whatever that is.
INTERVIEWER
And do you know yet what your way into that, formally, will be?
CUSK
Well, I haven't done very much writing this past year. But the thing I've finally understood about writing is, it has its own integrity, it has its own being, and it can seem to be lost, and it can also seem to be the thing that's dragging you out of the state of loss. And right now I can't see it, but it has proved to me time and time again that it's still there.
INTERVIEWER
When you have spells of not writing, do you try to do something else that keeps you connected to it, like making notes?
CUSK
I have notebooks, yes, but increasingly I find that I'm resistant to taking notes. I don't want that clutter, those observations. I want to distill things, and the process of distilling is a matter of giving sustained attention over time to a concept or an idea. Sometimes the idea fades and sometimes it clarifies and gains solidity. When that happens, I begin to see it, and begin to be in correspondence with it, and then the possibility of writing about it is created. By the time I'm ready to write, writing has more of the character of a performance—it's almost entirely the execution of what I've already rehearsed and prepared, and either I perform well or I don't. If I write it wrong, I have to throw it away and start again. Definitely where I'm heading to is a kind of writing that I want to be much more akin to visual art. I went through a phase where I drew myself a lot, just because I was interested in the difference between the self-portrait and the autobiography, and how for some reason when you write an autobiography people can cross its boundaries and think they know all sorts of things about you, but when a painter paints a self-portrait people navigate the act of exposure better. Why is that? If I could just work that out . . .
And I think, in the next bit of life, the visual artist has wheels and the writer can be broken down by the side of the road at any moment.
INTERVIEWER
Broken down by the side of the road?
CUSK
Yes. I think you can start to lose your power in language with age. And this is a guess, but if I have a sort of a theme at the moment, it's this idea of late work. The idea of the late work of visual artists being almost like an egg that breaks open to reveal the true visionary self. And that cannot happen in language, because with age, language betrays you. Language shows how old you are. It shows so many things about your identity in the first place, your social class. But as you get older—you see it happen, you see writers suddenly become slightly embarrassing or lose touch with the story of life. They cease to understand it properly.
INTERVIEWER
Why does that happen? Why do writers become slightly embarrassing, or why can they?
CUSK
Well, it's the medium of language. And one has experiences of that every day, of not keeping up, using the wrong word, not being able to change in language anymore. Whereas the visual world, it doesn't legislate for lived life in the way that language does. It's not the currency of lived life. An image doesn't have to be recognizable in the way that a sentence does. To tell a story is to reconstruct the conditions of reality in order to manipulate or change them. An image can be post-reality—it can start from a position in which reality is already assumed.
INTERVIEWER
Are there specific artists you're thinking about?
CUSK
I've written quite a lot about art and artists and have cultivated a pretty deep envy of them. To operate outside of language—it seems the more lasting contribution. Yet painting is, has been, so masculine. The story of women in art is brutal. There's a painter-writer I've been interested in over the years called Lovis Corinth, painting in Germany in the early twentieth century. The thing that caught my attention was that he had a stroke at fifty-three, which is what I nearly am, and he lost the ability to use his painting hand. And the thing that interested me was that this physical catastrophe broke him out of identity and freed him from his own life story and painful childhood, and he began to paint the world differently—a transfigured, non-identity-driven reality.
I think everybody interrogates their structure of self and why it was built the way it was, but I think actually to feel imprisoned in the pain of self or the trauma of self, or the fixity of self, is different, and I think that's what I felt most of my life—and I see it in this painter. And he not only painted, he wrote volumes of autobiography, but none of that altered the problem at the beginning. The only thing that altered it was this catastrophic physical experience.
INTERVIEWER
Has anything similar to this "catastrophic physical experience" happened in your life that you think is allowing, or will allow you to break through to that place of being post-identity?
CUSK
I live very physically, perhaps because, having been so ill as a child, physicality feels like my adopted country. I dread the thought of having to learn the lesson of illness again. And it becomes increasingly apparent to me that in fact some form of self-acceptance would be the transformative—the catastrophic—event, but I fear it will elude me. There is so much to be fought and corrected and defended in the world—I can't seem to care all that much about myself, unless it can be of use in shedding light on what's outside me.
INTERVIEWER
Are there any writers who you feel are also leading you forward at this moment, any whom you are inspired by or are reading with special interest?
CUSK
This is a moment for the Hannah Arendts and the Gitta Serenys, as far as I'm concerned. And Sophocles. I wish I could find the stillness to read poetry, but my moral sense is on a permanent red alert and I only seem able to do weaponized reading. I want to stay close to history and to the interrogation of evil. I want to remind myself of the unreliability of justice. And at this point culture seems so overwhelmingly white, and so generally male, that I lack the urge to revisit it. Or perhaps indeed to contribute any further to it myself. But I've enjoyed some Japanese and Korean literature lately, and often read in tandem with my daughters—a while ago we read Kawabata's The Sound of the Mountain together. These are deep pleasures!
INTERVIEWER
I wonder, now that your trilogy is done and has received so much acclaim, and your children are grown up, and you find yourself approaching later life, where are you? Where do you feel you are in relation to what you have lived and written?
CUSK
Well, if we can talk about destiny, I feel I have come out of mine. And I could be dead. I could die right now and that would be fine. I think the feelings of a person who has had children and has given to them and they've gone—I think you are left with precisely the feeling that I have, which is a feeling of nonexistence, whereas in fact it's pure existence. What you are being returned to is pure existence.
So I'm in a big snowfield. I'm in an absolutely empty space. And getting myself into an empty space has taken me this long. I envy artists who begin in a less structured condition. I am a person who began life very burdened by convention and religion and class, not to mention the strange contemporary constellation of femininity that happens in educated or ambitious households where girls are given very confusing messages about what they're meant to be—they're meant to work really hard, and then suddenly wear a white dress and have loads of children and . . . I wish I'd been freer at the beginning. What I want to find now—and it sounds ridiculous—is a blameless kind of writing. There's so much silence around the egotism of language, as there is non-being around the fact of being. So I'd like to make something where the imprint of identity is much less palpable. I am sort of bashing my head trying to work out how to do it.