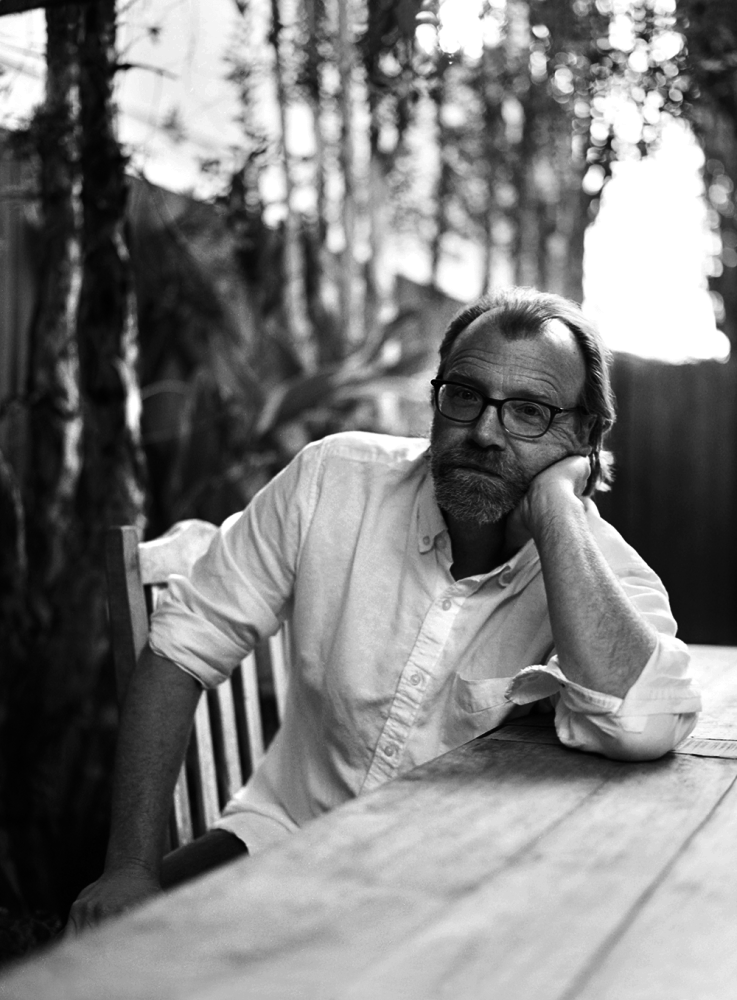 Photo by Chloe Aftel, courtesy of George Saunders

My first meeting with George Saunders took place in his home of ten years, a ranch house in the Catskills. The house stood on fifteen acres of hilly woods, crisscrossed by narrow paths that he and his wife, the novelist Paula Saunders, had cleared over many afternoons, following mornings spent writing.
The Saunderses had lived in upstate New York for three decades; they raised their two daughters in Rochester and Syracuse, two of the region's Rust Belt cities, and Saunders's first three story collections, CivilWarLand in Bad Decline (1996), Pastoralia (2000), and In Persuasion Nation (2006), are marked by the experience of bringing up children and holding down jobs in a postindustrial economy. But the stories aren't constrained by the conventions of gritty realism. There are ghosts, zombies, prosthetic foreheads, and memories uploaded onto computers straight from human brains. Many of the stories are extremely funny, many have endings of great emotional power, and most are written in a style that's spare, vernacular, and very catchy. Appearing in The New Yorker since 1992, they won Saunders a MacArthur Fellowship in 2006 and have exerted an enormous influence on contemporary American fiction. The many writers who love Saunders often complain that it takes great effort not to imitate him.
In recent years, Saunders, too, has worked to write less like Saunders. Tenth of December (2013), shortlisted for a National Book Award, found him experimenting with new voices; in one story, "Escape from Spiderhead," the narrator imbibes a drug that causes him to compose sentences in the style of Henry James. Saunders followed that book with his first novel, Lincoln in the Bardo (2017), set in nineteenth-century Washington, far from the futuristic office parks and theme parks of his early work. It debuted at the top of the New York Times best-seller list and won that year's Man Booker Prize.
Saunders and I spoke in his kitchen over mugs of strong coffee. Furniture was sparse, because he and Paula were moving. They'd decided to sell the place and live full-time in their house outside Santa Cruz, California. But the shed where he wrote Tenth of December and Lincoln was still as it had been when he was working on those books. His desk, flanked by bookshelves, faced a table displaying perhaps ten framed photos of Buddhist teachers in robes.
Our two subsequent conversations took place in Saunders's office at Syracuse University. He's been a professor of creative writing at Syracuse for twenty years, although he's taught mostly short intensive courses since his move to the West Coast. The centerpiece of the room is a scuffed wooden desk, stained with coffee rings, that once belonged to Delmore Schwartz. The window looks out on a statue of Lincoln that presents the savior of the republic as a sad young man, clean-shaven, frowning, his head bowed. It's rumored, falsely, that the sculptor intended to depict Lincoln mourning Ann Rutledge, a woman thought by some historians to be his first sweetheart, after her death from typhoid fever in 1835.
When we finished our last session, Saunders and I drove around Syracuse. It was late autumn, and the lawns were sprinkled with fallen leaves. He showed me the bucolic parkside street where he set his story "Victory Lap" and, nearby, the squalid house where David Foster Wallace wrote Infinite Jest. The door to the basement apartment where Wallace lived was bright red, peeling, marked with a crooked numeral 1, and lit from above by a harsh bulb. "Someone should have done this kind of interview with Dave," he said.
Saunders is easy to interview. He's chatty, kind, quick to shoot down any glib analysis of his work, and free with an anecdote, often casting himself as a blunderer whose illusions land him in hot water. Back in his twenties, he played guitar in a country band, and at sixty he looks like a veteran Nashville sideman, with a tight beard and long red hair combed back from his forehead. His accent is working-class Chicagoan, slightly lilting. He often substitutes ya for you. The effect is that when he does say you, as he did when he told me, "You have to let evil have broad shoulders," it commands attention.
INTERVIEWER
When you were a teenager, you worked in your dad's restaurant, Chicken Unlimited. What was that like?
GEORGE SAUNDERS
I loved it. We were this upstart franchise in competition with KFC. I was the delivery boy, and after school I'd go right over—never did any homework—and the place would be full of people I knew and loved. My parents both worked there, my sisters, aunts, friends from school. Like a party every night.
We had these tricked-out 1977 Chevy vans that were carpeted inside, even the walls and ceilings, and had stoves and mini fridges so we could cater weddings and bar mitzvahs and carnivals, and, on the sides, our sort of zen motto—chicken unlimited doesn't stop at chicken. I was sixteen and had just gotten my license, so this was a dream job. I'd drive around Midlothian, Oak Forest, Harvey, and Markham, Illinois, four or five hours a night, cranking the Allman Brothers on the eight-track—a great job for a future writer. There'd always be a few minutes in the foyer while the family went to get their money, when you were artificially part of a household that wasn't aware it was being observed. You had access to that particular house's smell and weird decor, and maybe a gaping pet would step out of the guest bathroom or you'd hear some shouting from somewhere in the house. There was this one guy who'd always greet me with, You married yet? And I'd say, I'm sixteen, sir, so . . . no.
Good! he'd say. Promise me you'll never get married. It destroys you. And then his wife would drift out from the kitchen, this sweet older woman, smiling . . .
And so on.
At that age I had a certain vision of the world, this very tidy, control-freak, Khalil Gibran–reading idea of nobility, like the way to be a good person was to hover righteously above all those weak, dopey sinners down there. Sort of a purity obsession. To go out in the Chicken Van every night was to constantly have that view undercut. Because the whole world was crazy and erratic and sinful. But the people I met were also sweet and weird and endearing. You'd get all of that in one night.
INTERVIEWER
The "Khalil Gibran–reading idea of nobility" comes up in "Sea Oak," when Angela Silveri sends the narrator a copy of The Prophet.
SAUNDERS
Right, exactly, that was me. Very, uh, high-minded. I loved Gibran, Robert Pirsig, Ayn Rand . . . I think I understood literature to be about "how to live correctly," rather than "life—it's complicated."
At that time—I started high school in '73—there was a lot of mayhem, drinking and partying and drugs and all that. And I reacted against it. I'd go to a party and see everybody wasted and think, Why would I want to do that? It's so undignified. I was sort of a young old man. Even at that age, I had this feeling that America was a fallen, decadent place, and I couldn't succumb, I had to stay above the fray or I'd get stuck in a life I didn't want. That was my form of rebellion, to try to be really, really good.
INTERVIEWER
Chicago, as it appears in your story "Isabelle," is very violent. Did you see that kind of thing?
SAUNDERS
Not really, not in person. There were probably more fistfights in our suburb than in most other suburbs. And I did a little bit of early macho-kid fighting. But "Isabelle" is more a rendering of the Chicago that came to me through family lore. My grandparents lived at Fifty-Fifth and California, in Gage Park, and my dad's stories from his childhood in that neighborhood gave me a sense of a kind of mythic Chicago—old ladies who'd had their speakeasies closed down by Al Capone, Roosevelt's motorcade passing by on Fifty-Fifth, on the way in from Midway. And just about every family was an immigrant family, within a generation or two. You really felt the old Chicago everywhere.
For example, my grandfather was in high school, and he and a friend were walking down the street. A nice, new car pulls up and the driver guy says, Hey, does either of you kids know how to drive? You want to drive this car? And my grandfather's like, Hmm, seems weird. The guy jumps out and runs off down the alley, but my grandfather's friend hops in. Then this other car comes up the street and machine-guns the car, and my grand­father's friend dies. Or, my grandfather and his brother go into their, like, gang clubhouse, in an abandoned meat warehouse. And they find that their gang pals have hung up a rival gang member on a meat hook. He's still alive and my grandfather and his brother somehow persuade the other guys to let him down. Or, my dad gets beaten unconscious by another, circa 1953 gang and spends the night knocked out in a vacant lot.
So "Isabelle" came out of that Chicago. There was a lot of racism and race paranoia in the air—this very us-versus-them mentality. One of my earliest memories is my dad driving us through a riot in Gage Park—­protests against Dr. King's visit—seeing this crazy-faced white guy up in a tree, waving a flare around. It was the sixties and all that sixties craziness felt near at hand.
INTERVIEWER
What was the transition to the suburbs like?
SAUNDERS
I was six when we moved from the city out to Oak Forest. I remember getting lost in the new house because it seemed so palatial—just rooms opening into other rooms and stairs and all that. It was actually just a nice suburban house, but coming from our apartment it seemed like a country estate, like a mod country estate. It had an intercom system and the kitchen had these globe lights that were very James Bond, I thought. I really loved living there. It was, yes, a suburb, but looked at from this distance, it was really just a small town, and it was wonderful to know so many people and be able to track the changes in their lives, and also nice to get to know that strange suburban ecosystem intimately—creeks and culverts and half-built houses and stormwater sewers you could hide out in and so on.
My mom and dad always gave us a feeling of being loved and well taken care of. My mom was, is, just this font of unconditional love. My dad hadn't finished college at that point—he went back years later—but he always had money. A very charming, flamboyant guy, great storyteller, good salesman. He would give Mom these extravagant Christmas presents. One year he gave her a new Camaro—sent her to the window and it was parked out in the driveway with a big bow on it—that kind of thing.
INTERVIEWER
In your family, did people try to be funny?
SAUNDERS
Oh yeah. Being funny was a way of being powerful. If you were an attention-needing little kid, and was I ever, you could get a lot of cred from verbal performance. If you got good grades in school, that was nice. But if you could joke at a high level, hold your own in a conversation, that was better. And this was nonstop, on both sides of my family. I just understood it as a way of being a person, like a confident person—a way of giving comfort, or demonstrating positive energy.
INTERVIEWER
Your dad's side was from Chicago, and your mom's was from Texas. They must have had different ways of joking around.
SAUNDERS
Yes. I talk the way Chicago people talk. Fast, staccato, nasal. At a Chicago family party there would be five people loudly riffing at once. Lots of teasing, wisecracks, all of that.
On the Texas side, the humor was drier. I had a couple of uncles on my mom's side who were really good mimics. They would create these funny personas and stay in character. I was fascinated by what they did to a room just by walking in—people were so happy to see them. They were doing improv, I can see now—reading the room, adjusting their performances accordingly. And that aspiration's definitely in my writing—trying to entertain an imaginary audience and lift them up a little in order to be admired by them.
I once heard someone say that writers tend to come out of families in which it is understood that language is powerful. And that was definitely the case for me, coming from both sides of the family.
INTERVIEWER
Some of the things you write about—the Civil War, slavery, places haunted by the past—are traditionally the domains of Southern literature.
SAUNDERS
I had periods as a kid during which I identified as a Texan in exile—I was born there and we'd go to Amarillo every summer to visit my grandparents. I saw myself as, like, a future cowboy who, unfortunately, lived on the South Side and had a nasal Chicago accent. So that summer trip was like returning to the motherland or something.
But I think it's mysterious, what we end up writing about. I don't have any big intellectual agenda regarding the Civil War. I just kind of switch on when I write about it. And my feeling is, if something fascinates you, you just should go there—you have to. I don't think you have to necessarily understand why. We're looking for language-rich zones, places that get us revved up, places that feel bountiful. You can dress the process up afterward, theoretically and explanatorily, but really we're looking for a place of excitement and potential, a place that feels language-rich—it takes a lot of words to write a book and a lot of words are going to have to be taken out. So you need a deep reservoir of generative interest. One of the indicators that you've chosen a good topic is that you have strong opinions about everything that's going on in the prose—the language, the form, all of it.
When you play guitar, certain keys turn out to be more productive. You can tell that Neil Young had a period during which D was a key that was really speaking to him—D minor, or a sort of modal D. Now, why was that? I doubt even he could answer that. And yet "Cowgirl in the Sand" and "Old Man" and a bunch of other great songs came out of that period during which, for some reason, his hands were naturally gravitating toward D and knew what to do once they got there.
The biggest thing I've learned about writing is that we tend to under­estimate and marginalize the irrational, intuitive aspects of it. The difference between a so-so writer and a good one, or a good one and a great one, is in the quality of the intuitive decisions she's able to make at speed.
INTERVIEWER
When did you know you wanted to be a writer?
SAUNDERS
In high school, there was a teacher named Sheri Williams who was beautiful and funny. She would show these filmstrips of famous writers and talk about them with real admiration.
Once we were studying Hawthorne and there was cartoon image of him, leaning against a barn or something, looking groovy, and she said something like, This is a person who is now dead, but when he was alive he went out and looked at the world with wide-open eyes and, in the process, changed it. That really appealed to me—this idea that our love of the world could get put into permanent form and then get shared with future generations. And it seemed to me that writing would be a way of forcing you to live a big life.
INTERVIEWER
But you weren't planning to study writing. You had a band.
SAUNDERS
Right. I'd gotten into this band during my senior year, and the plan was to skip college and just, you know, go on tour. Then, over Christmas break, I went on this Chicagoland version of a ski trip, up to Wilmot Mountain in Wisconsin—fifteen minutes on the lift, two minutes coming down—and on the way back home I was reading Atlas Shrugged. I didn't recognize that it was a stupid novel. To me, it was just, you know, a novel, and I was reading it—the first book I'd read in years. It pulled me in with the old novelistic tricks—language and settings and people moving around and talking passionately and so forth. And it was long. I was really proud to be reading such a long-ass book. And in that mood of artistic exaltation, it suddenly hit me, Hey, I could go to college. I could. I could. This corny, instantaneous fantasy image came up of me at the center of a group of kids, walking through a campus, talking philosophy, and that group included, yes, some admiring girls, and we were all wearing what I thought of as "college sweaters," with big old capital letters on the chest or something, and we were, maybe, carrying those cheerleader megaphones. I had never really thought of going to college before, and the actuality of it, the idea that I might actually be able to do it, hit me hard and, well, propelled me out of the band.
I'd failed chemistry and possibly algebra, but had pretty good ACT scores. And I asked another teacher I admired, our geology teacher, Joe Lindbloom, where he'd go to college if he could do it all over. He said the Colorado School of Mines. And then he called them on my behalf. It was a simpler time. He said something like, Smart kid, hasn't applied himself, maybe worth a shot? And they said they'd consider me if I went to community college over the summer and took, like, eighteen hours of math and chemistry and kept a 2.5 GPA. And I did it. I took over the dining room table as my study area and missed all the post-senior-year fun and . . . got into college.
INTERVIEWER
What was the band like?
SAUNDERS
Pretty good, actually. The lead guitar player, Rick Hollowell, had long hair, past his waist, and wore these fringed leather jackets. He was amazing, a really fast, rapid-fire player. Great taste, very precise. And he knew people in the business. He somehow had a connection to someone who knew the Eagles, and the idea was, if we got our shit together, we might be able to open for the opener of the opener, or something like that. It all sounds unlikely now, but I remember we went to a music store and Rick bought a PA with a $10,000 check he'd gotten from United Artists. Anyway, then I went on that ski trip and, under the unholy influence of Ayn Rand, quit the band. I knew I was letting the other guys down. But this was one of a small handful of times when this smarter part of me overruled the habitual me, as if that smarter part had a long-term plan to protect "us."
INTERVIEWER
Did you think about writing while you were attending the Colorado School of Mines?
SAUNDERS
Yes. In the same way that, when I lived in Chicago, I wasn't actually a Chicagoan but a Texan in absentia, when I was in engineering school I wasn't an engineer but a writer waiting to happen. I thought about it, a lot. I just didn't do much of it. Mostly, I thought about how cool it would be to have done it—to be a person who had a thin, beautiful book out that everyone was talking about. I was still reading Khalil Gibran and Ayn Rand, and then I found a section of the Mines library—they had this tiny, antiquated literature section upstairs that stopped around 1942. So I got into Faulkner and Hemingway and Steinbeck and Dos Passos and Thomas Wolfe. I still remember that musty smell—the smell of the thirties, I thought—and the view of the Front Range out this little window and that feeling of having a new old book in my hands and the quiet, sweet dream of someday holding my own book in my hands.
Thomas Wolfe really spoke to me at that time, because he was so poetic and epic and autobiographical—sort of a link between the Gibran and the Rand and real literature—lots of exalted feeling, expressed singingly, I guess. I remember once stealing a day from my "real" studies to read Maupassant down by Clear Creek, in this tiny, ancient edition. I was doing some very emotive writing in my journal at that time and published a Gibran knockoff or two in the school lit mag. I also remember sacrificing a whole Sunday to read For Whom the Bell Tolls and this intense desire I had, walking home that night, to quit school and just get going—find a war and get involved in some kind of tragedy, nothing too bad, wounded but not killed, please, and then come home and write about it—a feeling of wanting to see if, to use a Hem-ism, I "had what it took." But I also felt like I didn't want to let my parents down, or disappoint those two high school teachers who'd helped me get this far, and also—I wasn't writing much, really, or reading enough to have acquired any useful opinions.
There was a sort of immaturity about the whole thing. I refused to read any contemporary fiction. A writer could be comfortably great only if he or she was already dead. I couldn't get my head around the notion that someone alive right now, writing about this fallen, stupid 1978 world, might be able to do something beautiful. I didn't like irreverence, at least not in literature. Shit was earnest, shit was real. So, no jokes—in literature. Everywhere else—jokes, of course. I lived in my self-made, earnest, circa 1935 aesthetic bubble, wrote lots of poems beginning with the utterance "O"—"O mountain, how you loom / over my toilsome labors of study!" I really regret that now, that timidity. Why didn't I just read everything and throw myself into it fearlessly?
INTERVIEWER
Why did you apply to the M.F.A. at Syracuse?
SAUNDERS
Well, that was years later—I was in my late twenties, working as a groundsman at an apartment complex across from this strip club in Texas. And I got invited to one of their parties, which turned into this crazy, drunken, albeit somewhat sexy, brawl. Being me, I drifted into a corner and picked up this copy of People. And there was an article about Syracuse that mentioned Jay McInerney and Raymond Carver. I'd never heard of either one of them before, didn't even know there was such a thing as a creative writing program or that you could get paid for going to school to learn to write.
At that time, there was a general aversion to M.F.A. programs. The feeling was, if you were a real writer, you wouldn't need to stoop so low. We all said some version of that once we got to Syracuse. I'm not really an M.F.A. kind of person. I'm more authentic and real world and out of control than that. It was like, Why am I not in Paris? Why am I not on a ranch somewhere? I must be defective, to be an academic.
But once we got working, I could see how much I had to learn and was really grateful to be there.
INTERVIEWER
That was the eighties, and you studied with Tobias Wolff and Douglas Unger.
SAUNDERS
Yes, and what a privilege. I remember that Doug didn't like the first wave of stories we first-year students turned in. So, during workshop, right before the break, he said, When we come back, we're going to go around the room and you're each going to tell a story.
Horrors! I think he knew that, in that setting—among a new peer group, no time to "compose" a proper story, serious performance anxiety—the anti-flop instinct would kick in. We'd leave behind the pretentious and imitative and "edgy" stuff we'd been writing and bring our best stuff forward, in the name of survival. And he was right. We each told a story that was more compelling and more like the real "us" than anything we'd submitted for workshop.
The story that I told that night wasn't good short fiction, but it was a good, lively anecdote. It got laughs and there were a few quiet moments when everyone was really listening. And I realized—or, I should say, I started to realize—that the way you're going to be charming on the page is going to have some resemblance to the way you're charming in person. What else do you have but that? You've learned, over your life, to charm people—to seduce and persuade and get yourself out of trouble—and your writing is likely going to have some overlap with those skills. How weird would it be if the charm you had on the page had no relation to your real-life charm? They're not identical, but they are related.
INTERVIEWER
It's the cliché, have integrity, don't worry about the reception, turned on its head. You can produce something with more integrity if you let the entertainment instinct come out.
SAUNDERS
For me, that's exactly right. It's not true for everybody, but for me it's true.
When I'm writing, I'm feeling something like, I want to entertain you for twenty pages. I want you to keep reading. Actually, I want you to not be able to stop reading.
If I just concentrate on those ideas, the end result is deeper and smarter and weirder and funnier and more honest than if I'd planned it all out. The controlling part of myself drops away, thank God, the part that knows its theme and has developed a political stance and all that, and something else takes over. I don't really understand it but it has to do with instinct and iteration—­honoring the impulse of the moment, over and over.
When I finally wrote a whole story out of that instinct, it was just . . . fun. It seemed so much easier than the laborious Hemingway or Joyce imitations I'd been doing. I had strong opinions about my prose, I knew what to do. I'd always worshipped Carlin and Pryor and Steve Martin and Monty Python. I knew what entertainment felt like on the receiving end. I'd had an incredible experience with Jaws, for example. I saw it like ten times in the theater, had it pretty much memorized, and the fun was all about those big, emotional, surprising, thrilling moments. The last time I saw it, I was by myself, seated between a really old man and a pregnant woman, and just before the first time the shark appears I was thinking, We're either going to lose one or gain one.
But that's why I'd been drawn to art in the first place—to make big effects and get people riled up—but somehow I'd gotten sidetracked into thinking that there was something "higher" than that—like, being intellectual, or serious, or inscrutable was somehow more important than "kicking ass." Kicking ass, properly defined, contains all of those and you can't stop reading, and what you are reading seems to speak directly to that which is most intensely concerning you.
INTERVIEWER
You and David Foster Wallace sometimes talked about fiction. I think part of Wallace's aesthetic as a fiction writer was, entertainment is the problem. You have to control your impulse to be liked. It's interesting that the two of you wrote funny jokes and penetrating insights through opposite-sounding means.
SAUNDERS
I thought one of the ways that he was entertaining in person was that he didn't care if you liked him. Whatever he said to you, that's what he really thought. Which is entertaining and also terrifying. And clarifying. You suddenly become aware of your own shit—of the things you're slightly lying about, or stepping around, or being hyperbolic about. And he was, of course, a vastly entertaining writer, and for the same reason. You feel he's writing in pursuit of some truth and is going to say it no matter what it is or how complex his diction has to be to get him there.
But here's what I find interesting. There's something that happens in the moment of creation of a good sentence, or a good swath of sentences, that feels like the dropping away of self. Somebody else shows up and that person is better than the normal, everyday you. I'm guessing that the various approaches to writing are ultimately all about getting to that moment, that moment of spontaneity and self-negation. It's going to feel different for each writer and he or she will describe it differently, but basically there's one holy fountain and we're all trying to get to it through the same woods.
Dave felt, then, that his need to be liked caused him to write in a way he didn't like. For me, writing in a way that ignores the fact that I like to be liked causes me to write in a way I don't like. To him, being audience-aware felt like pandering, maybe—to me, it feels like the path to intimate communication.
INTERVIEWER
Your prose style is incredibly distinctive. Far more than with most writers, you can isolate a paragraph and read it aloud to an informed literary person and they can say, That's George Saunders.
SAUNDERS
Aw, thanks. That's something that's really important to me. I want to do that which only I can do. I can live with someone thinking my stuff is juvenile or . . . well, whatever they think. As long as they concede that it is distinctive or original.
My view of myself is that I came in through the basement window of literature. I'm not well educated or well read enough to do things correctly, and when I write what seems to me a "correct" story, it's got low energy and isn't true to my experience. Somehow the story and the language have to be a little messy or low. I love the idea of pushing an idea through a too-small linguistic opening—that feeling of overflow. I love the idea that the passion contained in a story is so great that it fucks up the form and makes it unseemly and impolite.
I saw a lot of that growing up in Chicago. People who were essentially speaking in poetry, by expressing great universal longings through a somewhat restricted diction.
INTERVIEWER
Was there was a moment when you said to yourself, I think I found a prose style?
SAUNDERS
The answer is a little complicated because I found it, lost it, had to find it again seven years later.
I applied to Syracuse with a story called "A Lack of Order in the Floating Object Room," which I wrote back when I was in Amarillo. I had this dream and just semi-transcribed it, and the resulting story was very strange, different from anything I'd ever done before—and it got published right away. It was a total departure for me—telegraphic and sci-fi. It could easily have gone into CivilWarLand, in terms of its tone and style.
But I didn't understand it enough or believe in it enough to duplicate it. It was just a three- or four-page stroke of beginner's luck, really. Then I went to Syracuse and somehow felt like I had to "get serious." I disavowed that story and the way I'd written it. No more funny sci-fi for me. I was going to be a real writer now. I had plenty of time, and good instruction, but I couldn't seem to write anything that had any life in it. After I got out I wrote this big realist novel, never published, set in Mexico, seven hundred pages long, La Boda de Eduardo, a.k.a. Ed's Wedding.
So, after grad school I was in this state where I was just like, Dang, I used to be good, for like three weeks, but I'm obviously too stupid to do this.
Then one day, at work, during this conference call, I wrote these seven or eight goofy, Seussian poems and illustrated them—just for fun, out of the corner of my eye. And I brought them home and Paula, my wife, really liked them. I could hear her laughing in the next room, not at them but with them. And this switch got thrown in my head. It goes back to that idea of entertainment. She didn't keep reading those poems because she had to, or in order to submit to my big intellectual plan—she just found them funny. There was more power in those poems than in anything I'd written during grad school. That was painful, but it was also liberating. There had been zero intentionality behind those poems, except maybe, Kill time until this stupid conference call is over. And yet . . . they meant something. And they didn't mean too neatly. You couldn't quite say what they meant. The meaning was in the experience of reading them and had somehow come out of a shift in my intention from "teach the world something" to "refuse to be boring."
So I went into work the next day and wrote a knockoff of "Lack of Order"—used the same story arc and tried to approximate the same voice, but set it in a different theme park and wrote it the way I'd written those poems. Try to be funny, don't let the reader tune out, don't suck. That story became "The Wavemaker Falters."
I found that I could undercut my "Hemingway boner" by setting stories in theme parks. If you're "doing" Hemingway, but in a theme park—it's auto-ironic. I turn the dial. Jefferson Davis overheats, spewing oil out his top hat. Hank will be mad. Hank hates Oil Cleanup. And the resulting tone felt right for describing the life I was actually living—that working-class American life, in which it feels like the culture dislikes you and is bent on humiliating you. I was working as a tech writer, for a company called Radian, in a complex called Corporate Woods, not making much money, had a receding hairline and a weird, semirebellious ponytail. We had two kids by then and things were beautiful and fraught and . . . scary. We were renting an apartment and the job was iffy and it wasn't entirely clear how things were going to turn out for us money-wise.
INTERVIEWER
After "The Wavemaker Falters," which story did you write next?
SAUNDERS
"Downtrodden Mary's Failed Campaign of Terror." And then "CivilWarLand in Bad Decline" was third, I think. I had a period of revising stories on the bus, on the way home. I'd print out a clean copy before I left and snag one of those really great red felt-tip pens. Bliss! There was something about revising on the bus, with nothing else to do and a limited amount of time ahead—the ride was around fifty minutes—that changed the way I edited. It was like the time constraint handed me a finer microscope, which brought my attention down to the phrase level. I was almost exclusively micro-tweaking individual phrases to taste, not thinking about plot or story or theme. It was all about the way the words looked on the page. The decisions were playful and instinctive and even self-indulgent. Kind of like, I want it that way because I want it that way. And working obsessively on the phrase level started to produce plot. Once you had micro-specified the state of affairs by revising, it became clear what might want to happen next. Something like that. Very pleasurable and fun.
And it turned out that working this way produced more sophisticated stories than I'd been able to write before—weirder things were happening, things that seemed to have political implications. I cared more about the people. Every day the theme park got more complex. The CivilWarLand I had in my mind was so big and detailed and it revealed itself . . . line by line. I can still sort of go there.
INTERVIEWER
When did that place first come to you?
SAUNDERS
My officemate and good friend asked me to play guitar at her wedding. She was getting married at the Genessee Country Museum, near Rochester. It's a beautiful nineteenth-century theme park. It's done so meticulously—no power lines, all the plants curated to be period-authentic, well-informed reenactors.
So we went there one afternoon for the rehearsal. We got to roam around—it was totally empty except for us. There were moments when we could've been back in 1862. Just us and these nineteenth-century buildings and the breeze in the trees. Magical. And that night I came home with the idea of setting a story in that place, or someplace like it. The writing of the story spanned the first Gulf War. And this idea started to leach in, from that war—a virtuous intervention loses its mooring and becomes evil. But again—not by design. It just got in there, via all those micro-changes that I was making by ear, on the bus, while concentrating, mostly, on the functional details of the theme park itself.
And I discovered that I could make a fairly ambitious story via fragments. I didn't have to have a through line or a plan, didn't have to know where it was going. I could basically write a few paragraphs a day and then micro-examine those the next day and cut parts and move things around and add a few new lines. If you trimmed all the fat out of a bit, it would start to thrum with meaning—and then, all of a sudden, it would have something it wanted to cause. So there would be these, like, vital bits on the page, not linked to anything yet. And then structure became just linking up those vital bits, looking for the simplest way to connect them.
So, if you cut all the lazy shit out of a story, what's left will tell you what structure to put in place so that none of those good bits need to be lost. And then you are trying to arrange them so that they are in causal relation to one another. Does A cause B or does B cause A? It's hard to explain. But all of these decisions were now being made intuitively and quickly and on the level of common sense, answering questions like, Does this change create more energy? What's the quickest way to get to the moment of meaningful action? How can this joke be made funnier?
It was liberating. I'd been told that you couldn't write a book while working full-time because there was no time for concentration. I was finding out that, for me, anyway, concentration was always available. I could work in small bursts. Even ten minutes was enough to improve a few sentences, which meant you had moved your story that much closer to being good. Progress! And this feeling of artistic patience came over me. Like, I can do this. It may take me ten years, but if I publish a six-page story a year, I can sell the resulting book.
INTERVIEWER
So, style grew out of circumstances, to some degree.
SAUNDERS
A hundred percent. I got an increase in attentiveness that was related to shortage of time. I'd been driving myself crazy with questions like, What do I believe about structure? and, What is my theory about character development? and, Well, what is a story, anyway? This new mode's whole idea was to put those questions aside. Just keep the reader reading, and all questions will be answered. And suddenly, as a bonus, I was blurting out things about my position in the world that I hadn't even known until I blurted them out.
INTERVIEWER
The story will accumulate if each line is surprising and funny and true.
SAUNDERS
Yes. And conversely, if a line is a honker, the reader pulls out of it, and the story . . . stops.
Bill Buford, at The New Yorker, summed up this approach perfectly, years later, when we were working on "Sea Oak." He was kind of ripping it apart—cutting scenes and proposing new ones and so on. Feeling insecure, fishing for a compliment, I said, in this whiny voice, Bill, what do you like about this story?
And there was this long thoughtful silence and he said, Well, I read a line, and I like it . . . enough to read the next.
And that was it, his entire short story aesthetic. And it's perfect. A story is a linear, temporal thing, and we have to keep being pulled into it for it to do its work.
For me, anyway, as a bear of little brain, I was, and still am, comforted by the knowledge that you don't have to have a big theory about fiction. We don't have to ask anything but, Would a reasonable person, reading line four, get a little jolt and go on to read line five?
INTERVIEWER
In a lot of your early work, like CivilWarLand, the stories are very kind and generous, but some of the particulars are very mean.
SAUNDERS
Amazingly mean. I just read CivilWarLand on audiobook, and, wow. Mean, yes. The sarcastic impulse is strong in me. I find it easier to disapprove than to approve—I'll go into a situation and what's wrong with it will strike me sooner and harder than what's right with it. I've come to see this as just a tendency. It's not right or wrong, but it's who I am or, at any rate, it's what I started with—kind of a snarky, negative mind. But then there's another side of me that's completely the opposite—more tender and hopeful and Pollyannaish, which hates hurting anyone's feelings and has warm feelings toward people and feels that the point of this life, when you boil it all down, is to become more loving—but that part will also ignore and tolerate things that are actually quite negative and evil, in the name of not making a fuss, i.e., is a little reactionary.
So I think I toggle between those two tendencies, in my writing and also in my life. That's one way of looking at craft—we develop a storytelling style that accommodates the different people who exist inside of us.
I like that Flannery O'Connor quote—a writer can choose what he writes but he can't choose what he makes live. For me, what was tending to come alive on the page in those early days was the darker stuff. So, I had a knee-jerk edgy tendency, with some insecurity behind it. When in doubt, shock. Or, When in doubt, oppose conventional thinking. A feeling that the most sophisticated take on something was the most negative, or the most skeptical, or the naughtiest. At the time I was writing CivilWarLand, I was desperately trying to get some attention from the world. I just wanted to get a story in a magazine, you know? And I could feel that when I let my mind drift over to what was wrong, and funnily wrong, about American life, more power got into the language, and the stories went lurching off in weird directions that also felt new. They were just better—more lively, more considerable.
Did I approve of what they were saying? Well, yes, actually. But they were like friends who were suddenly speaking too frankly. They kind of shocked me. I sometimes felt, Well, you're rude, but I have to, mostly, agree with your conclusions, and wow, you are pretty exciting, but also, you're embarrassing me. It was as if I'd bought a dog, for all of the usual reasons, and then the dog started preaching these very hard-edged, truthful sermons. Do you bless the dog or resent it? My moral rationalization for those stories now is that, if you're going to make a scale model of good and evil, you have to let evil have broad shoulders. It has to be real evil. Then you've got a real and valid fight going on and the results matter.
But at the time I was just standing there with my prose energy meter, measuring the output, trying to retain the bits that were giving off energy, without worrying too much what I thought of their moral-ethical content.
My goal has always been to write stories in which the beauty of life is fairly represented—the goodness in people and nature, and the love and the hope—but in which the other side is also fairly represented—the incredible cruelty of people and of the universe itself. It's all true! And all happening at once! But I think that representing positive virtues is harder, technically.
INTERVIEWER
It seems like you've always approached fiction as a moral-ethical undertaking.
SAUNDERS
Yes. My first job, unpaid, was as a reader of the Epistle, at church. It was a great job for a natural ham like me. A microphone, a great text, a captive audience. But there were these moments where the truth of what I was reading and the language in which it had been expressed and the instantaneous reaction of the audience—an increase in the quality of silence, you might call it—came together. So, that was a moral-ethical experience that was also an artistic experience.
There was a period during which I tried to engage any writer I admired—David Foster Wallace and Jonathan Franzen and Ben Marcus and Zadie Smith, to name-drop a bit—into conversations about, generally, How do we get out of Snarkville? It seemed like fiction was becoming a tool, primarily, for rejecting everything. It had lost its celebratory tonality. I certainly participated in that, and fair enough, this country can be incredibly violent and corporate and stupid. But I'd started feeling that, in my own work, certain modes had been disabled, or disqualified—could there ever be a happy marriage, or a CEO who wasn't diabolical?—that sort of thing. Our family life was so warm and caring, and the corporation where I worked was full of all sorts of people, people doing favors for one another and coming to work in the midst of real personal hardships and so on, but somehow I felt I didn't have the technical chops to get those more positive traces into my stories.
I remember going for a walk with Franzen in New York after The Corrections came out. I asked him, What is it like to have a book that is so good and so artistically daring be so successful? What is there left to do, after that? And he said, Well, I don't think that book is as kind as I feel. I thought that was really beautiful and insightful. A lovely aspiration, to be kind—which he really is—and try to write a book as kind as you are.
INTERVIEWER
Do you think you'd be a different writer if you hadn't had children?
SAUNDERS
For sure. I'm not sure I would have ever published anything. Before we had our kids, I was a decent person, kind of habitually, but nothing felt morally urgent. Then the kids came, and everything suddenly mattered. The world had a moral charge. If I love these guys so much, it stands to reason that every other person in the world has somebody who loves them just as much—or they should have someone who loves them as much. The world was full of consequence. That which helps what you love is good, that which hurts it is bad, and even a small hurt is significant. You see somebody come into the world, tiny and brand new and blameless, and you're like, That person deserves the best. So, by implication, everybody deserves the best.
It made work meaningful. I had a job as a tech writer, and it was a hard job, a combination of dull and demanding. Not exactly the life I'd dreamed of. And yet suddenly, it was an interesting place to write about, full, as it was, of people who had once been somebody's kids and were often there for the same reason I was, to provide for their families.
I know other writers might feel that kids would impede them. And, depending on how you're wired and so on, that can definitely be true. But for me, it lit the world right up. And in the stories, you can see that. If a character of mine is insufficiently motivated, I just . . . give him a kid. Suddenly, they're not working that stupid job for themselves.
INTERVIEWER
You're known to spend a great deal of time on each story.
SAUNDERS
It ranges from a day, with a story like "Sticks," which is just a few paragraphs, to fourteen years, on "The Semplica Girl Diaries." Typically it's . . . eight months? The one I'm working on now has taken over a year. I tend to get locked up at certain points. A student of mine once quoted Einstein as having said, No worthy problem is ever solved in the plane of its original conception. I can't find any proof that Einstein ever said this, exactly, but I hope he did, because it's exactly right. When a story locks up and you get stuck, that's its way of saying, Hey, dummy, you are trying to solve me in the plane of your original conception.
I learned at a certain point to stop running a timer. When I was younger, I'd think, I've been working on this story for four months. It has to be done. How can it not be? But soon enough, I found out that my stories don't work that way. Back in the day there was this wine commercial in which Orson Welles says, in that stentorian voice, "No wine before its time." I love that idea. To write a decent story is such a huge and unlikely accomplishment that we shouldn't care how long it takes. How much time would you be willing to spend to create something that lasts forever?
INTERVIEWER
When you were writing "The Semplica Girl Diaries" over fourteen years, did you leave it alone for long periods of time and go back to it?
SAUNDERS
Yes, definitely. There were times when it sat there for three or four months while I did other things. Then I'd come back, have a little burst of progress, get stuck again.
So that's another tricky thing about writing—there's no reliable method. At least I haven't found one. The tricks that you discovered writing the last story don't work for this new one, and so on. It's like being a plumber but every time you show up, the pipes are made of different materials and transport different types of liquid and you're given weird new tools. And you're drunk. Part of the job, then, is to be cool with that—with the notion that you are never going to "master" writing. The only mastery is getting increasingly comfortable with the idea that you are never going to be a master—­you are going to be a perennial clueless beginner with every new story, really, for sure. You'd better be, or you'll turn into a hack.
INTERVIEWER
How much did "Semplica" change between the earliest drafts and the final?
SAUNDERS
The first half stayed mostly the same for many years. That was one of the frustrating things. I'd read the first half and think, I know this is good. And then I'd get to a certain place—I could show you just where it is in the text—and couldn't get past it. I'd write the next ten, or twenty, or thirty pages and polish those up, but then when I reread it from the beginning, the energy would always drop at that same place. I was basically repeating beats—good text, nothing new happening. A movie producer once told me that every structural unit of a story has to do two things—be entertaining in its own right and advance the story in a nontrivial way.
So it was a period of generating and then polishing sections that I later put in the garbage. I have about two hundred pages of discards. They're all good, funny enough, polished to about the same quality as the rest of the story. But they didn't move the story forward in a significant way.
I'm having anxiety flashbacks just thinking about this.
INTERVIEWER
Do you ever wind up with nothing left from the early drafts?
SAUNDERS
No—there's usually something of the very first draft in there, if only in the shape, or a few lines. But there's a lot of changes happening from draft to draft. It usually goes something like this. I type a page or two and then start revising that—kind of adjusting the phrases to where I can live with them, cutting out stuff that feels like padding, or like the conventional way of saying something. Then, part of it . . . is good. The word that always comes to mind is undeniable. A feeling like, Any reasonable reader is going to like this. And you've made one of those "vital bits" I referred to earlier. It starts to feel like there's something happening that's nontrivial. A character wants something, or something's at stake, or there's just some obvious next thing that wants to happen, or a bit of dialogue that has power. And then I'm in it. I make a sort of declaration of faith. You are still a mess, dear story, but I believe in you. The feeling goes from, This is probably a piece of crap, to, This will have value eventually if I just persist.
It's maybe not so different from a relationship. If you're somebody who breaks up with somebody every time you have a fight, then that's as deep as you're ever going to go—you're a first-fight guy. You'll never find out what might have happened if you'd gone past that first fight, i.e., what a little faith might have gotten you. But if you say, I'm not breaking up with you, no matter what, then you're going to get through the fight, and there's going to be something on the other side that you couldn't have anticipated. So, learning to revise has an aspect of faith, I guess—you've slogged through the Field of Shit enough to believe that the, uh, Field of Not-Shit is on the other side.
INTERVIEWER
"Sea Oak" was another one where there were hundreds of pages of drafts, right?
SAUNDERS
Yes, and I can tell you exactly where I got stuck on that one, too. It's right after the funeral. I wrote scene after scene after that and "finished" the story four or five times.
I remember taking a shower and thinking to myself, Jeez, it's a really good story up to that moment right after the funeral. Why can't you finish this thing? Are you a professional or what? Very self-flagellating—I was, yes, self-flagellating in the shower. And I thought, You know, it's obvious that Aunt Bernie is the most interesting thing in the story, so she has to come back. Which I'd known for months. I had her coming back in dream sequences and flashbacks and all that. But after I thought, She has to come back, this other little voice in my head blurted out, From the grave. It literally just completed the phrase like that. And then I finished the story in, like, two weeks or something. Really easy. I'd seen a million zombie movies, so I knew how to take it from there.
So, to me, there's something really interesting about this notion that there is a below-the-surface part of the mind participating in the writing of a story, and that what we call "process" is about getting out of the way of that part of the mind, so it can assert itself more freely.
INTERVIEWER
That makes me wonder about "Bohemians." It has such a great twist, with Mrs. Hopanlitski turning out to be a fraud. Did you know that was coming, early on?
SAUNDERS
No, not at all. I'd written up to the point where she was engaging with the kids for the first time—on page 185 of the book. There's this speech that I'd written for her that always struck me, on rereading, as false—the kind of speech a youngish writer, like me, at the time, would write for an Eastern European lady. It had this mock–Isaac Babel tone. I would always feel my reading energy flag slightly at that point, at the falseness of it. But if I cut that speech, the whole story fell apart. It felt like a vital bridge to the unwritten rest of the story.
So, at one point, I was reading that passage and, self-flagellating at my desk this time, thought something like, Why are you such a bullshitter? You know this whole passage is false. And this inner voice shot back, I'm not a liar. She is. That is, the reason her speech felt false was that . . . it was. She'd been lying all along about having been a refugee.
Sometimes there's a defect in your prose. If you attribute it to yourself, well, you're just a bad writer. But if you say, Hey, I'm just a ventriloquist here, that's the character talking, which is why the prose is so shaky—well, then you're a good writer, making a character.
And for someone like me, who is spottily educated, this is a really powerful thing, because the very real defects in my way of expressing myself can be converted into assets.
Let's say you have a mailman in your story, and you have in mind that he's a good guy, the hero of the story, but in one of his speeches he's coming off as a little simple—he keeps repeating himself. And he's doing that because you, the writer, just wrote some repetitious text. Well, you could go in and fix it, cut out the repetitious bits, and most times you should definitely do that. But let's say that, on rereading, there's something you like about his particular style of repetition. You could say, Hmm, why is this guy repeating himself? And then you start working with that. What is at the heart of his urge to repeat himself? How is his repetitiousness central to who he is as a person? How does his repetitiousness affect his relationships with other people? Suddenly a "defect" in your prose has become an indicator of character.
INTERVIEWER
It's so interesting to hear you say that. Because I think so often what happens in your work is that we're in a character's stream of consciousness, and the moment it starts to sound bullshitty is the moment where things start to take off.
SAUNDERS
That's right. The character tells me something I didn't know, through his "off" diction, which is sometimes legitimately my "off" diction, or through some odd belief he suddenly blurts out, or a patch where he or she falls out of voice. That's the story saying, through the character, Don't fence me in. I appreciate your starting me off, but I have some thoughts of my own. And that's exciting, because, at some level, that means there can be no mistakes. There are only changes of plan, and our job is to be alert to changes in the plan.
My mind—my everyday mind—is predictable and mundane and reductive. If we sat here and brainstormed story ideas, all of mine would be obvious. So, this way of writing we're discussing lets me sidestep that predictable, everyday mind, via technique.
INTERVIEWER
Whom do you show new stories to first?
SAUNDERS
To Paula. But kind of late in the game—like, when I'm sure I've done all I can and feel good about it.
INTERVIEWER
Do you change your stories a lot in response to Paula's edits?
SAUNDERS
Yes. She's a great reader for me—if it doesn't move her emotionally, then there's something wrong with it. She really knows me—knows the forms of my falseness, I guess you could say. She knows my cheap tricks and isn't buying them. She can always tell when I'm phoning something in or faking it or trying to sneak a clumsy patch by her.
I really trust her first, emotional reaction. If she reads something and goes, Yeah, it's kind of good . . . that's a defeat. I usually piss and moan for a few days, like, Why did I even show it to her? And then it's back to the drawing board. It's a blessing, truly, to have someone who knows you that well.
But if she reacts genuinely and emotionally, I know I have something.
After it passes the Paula Test, I send it to Deborah Treisman, my editor at The New Yorker. Deborah and I have worked together for about fifteen years now. And again—I really trust her. She's incredibly protective of her writers. She told me once that part of her job, especially with writers who are more established, is to make sure they're not repeating themselves, to make sure that each new story represents real progress for them. That's a beautiful thing, to know that somebody's looking out for you in that way.
I love working with her. It's like an adventure we go off on together, to see how much more light we can get the story to give off through the revision process.
When I first sent Andy Ward at Random House the Lincoln book, that was a big, scary day. I had to imagine that it wasn't what he expected my next book to be. To get back a letter that was eighty percent yes, love it, let's do it—that was amazingly empowering. He has that superpower of seeing what a book could be and endorsing it with his faith. And then the book grows into it. His faith makes the close work that comes afterward much easier to do.
When I was first starting out and was working with editors from smaller magazines, I found that there could sometimes be too much ego present in the edits. Like, the editor had to prevail, had to kind of assert himself over you. These great editors, like Andy and Deborah, have much more confidence. They realize that praising what's praiseworthy is a legitimate part of editing. And that to edit precisely is a form of praise—it means the editor is inside the story with you, rooting for it just like you are, but also really in touch with its strengths and weaknesses.
INTERVIEWER
You're fairly unusual in that you didn't write a novel for a really long time. Did you feel pressure during the first twenty-five years of your career to change?
SAUNDERS
I really didn't. I felt a little pressure from me, because I'd grown up in a world that said a novel was a serious intellectual badge and stories were what you did to get ready. Once I started writing stories, I realized how wrong that is. Stories are hard, the hardest form, I think. There are a lot of sloppy novels that can't stand up to a single story by Yates. I was really lucky, because my agent, Esther Newberg, never pressured me. One thing she told me early on was if you get a story in The New Yorker, that's as difficult as publishing a first novel. She was really supportive of the idea that the short story is not an inferior form. CivilWarLand made a nice little splash and made a career possible. So I never felt any pressure at all. Except, as I say, from myself.
A couple of times, with "Jon" and "Semplica Girls," I had a moment of feeling, Ah, this could be it. This could be my novel ! But then, once I'd conceptualized the piece as a novel, I'd make the mistake of setting aside all my internalized, hard-won rules about pace and cause and effect. And the thing would sprawl, and be a mess, until I went, Ah, right, sorry, you are a story after all. So by the time I was writing Tenth of December, I was like, Okay, George, you've had a really nice life just from writing stories, so don't be an ingrate. Double down, make yourself a less talented Alice Munro. Just write stories all the time. And that was a nice feeling—it gave me permission to experiment even more, to say, This form is going to be my whole artistic life.
INTERVIEWER
And then you wrote a novel.
SAUNDERS
And then I wrote a novel.
But I'm not even sure it's a novel, really. There's a lot of white space in that baby. I don't know what that book is, other than that which I needed to tell that particular story in a way that seemed exciting.
I had to change my ideas about style a bit—had to consent to let in some language that was a little less flamboyant, more normal. And in the ghost voices, I let myself be a bit derivative, to pay stylistic homage to, let's say, Faulkner, to Joyce. The way I thought of it was, If there are going to be this many voices, I can't always sound like myself. I can't always sound like someone trying to be stylistically distinctive. Sometimes I'm going to have to sound like a regular person, speaking. I was sampling historical texts and nineteenth-century letters and then started inventing some, and it became clear pretty quickly that those invented texts were going to need to blend with the real ones, and not stand out from them, which meant that "style" was suddenly equal to "whatever is needed," even when that meant dialing back the fireworks. After all those years of priding myself on having a distinctive style—and after the long struggle to find a voice at all—it felt risky to give that up. But also exciting, to say to yourself, Okay, that's worked pretty well for you—now what else have you got? I saw somewhere that the first thing they do at Juilliard is train the young actors out of their regional accents. They teach a sort of flat American English, so that the actors can layer in dialect and accents on top of that. Writing the novel felt something like that, like, to attain the real, collective voice of the book, and become a channel for all of these disparate voices, I was going to have to sacrifice "my" voice.
INTERVIEWER
In Lincoln, and in "Mother's Day," there's a moment before someone dies, during the transition into death, in which they must willingly let go of the self before death forcibly tears the self away from them. Why is that choice important?
SAUNDERS
I'm not sure. I think, in both cases, the character is realizing, at the eleventh hour, that this thing he has been calling "himself" is, and always was, just a temporary construction—the self is a thing he has made with his thoughts. And now the time has come to say goodbye to that false construction. Those characters just have that realization shortly before it's forced on them by reality, that is, by death itself. I'm guessing I owe that move to stories like "Snows of Kilimanjaro" and, especially, some of Tolstoy's stories, like "Master and Man," and The Death of Ivan Ilyich, and "Alyosha the Pot"—in which those last moments, and then some, are narrated.
INTERVIEWER
When did you get into Tolstoy and the other Russians?
SAUNDERS
After I finished CivilWarLand, I was feeling trapped inside the voice I'd used in that book—that terse, first-person, present-tense voice. I wanted to read myself out of it. So I just read for six months, and it was mostly the Russians.
The Russians of that period were taking on the big questions and using sophisticated artistic strategies to get answers that weren't programmatic. In their work, you get the sense that good comes out of evil and vice versa—it's a continuum, not a binary. And while I felt then, and still feel, that it's important to critique the way we live, because America is a really frightening construct that's eating people every day, I also think that any sort of us-­versus-them critique is going to come up short. The ultimate form of critique is to really look at the way things are—How do they actually happen? What are the mixed impulses in a given person? and so on—to work toward a kind of holy ambiguity, a feeling of earned confusion. So, a story, at its highest level, is not saying, This is wrong, but, Thus it is. It is showing the multiplicity of reality, and with, even, a touch of affection.
Can we let a bunch of contradictory ideas resonate together, without denying the truth of any of them? What would that look like, in the context of a story? And how would exposure to that system of contradictions inform our moral positioning, and our actions?
INTERVIEWER
Has your sense of your role as a writer changed at all since the election in 2016?
SAUNDERS
Right now I'm writing an essay about Nikolai Gogol's great story "The Overcoat." There's never going to be a more beautifully political story than that. Anyone reading that story will get their affection for the underdog rejuvenated. And what's more political than that? But Gogol wasn't "taking on" the czar. He was doing something bigger and more timeless than that—he was, I guess you could say, "taking on the inner czar that we all have inside us." I have a very limited gift and the essence of that gift, as I've come to understand it, is that I can sometimes produce a moment or two of increased empathy in a reader. And I'm grateful for that gift and understand it as, fundamentally, political.
INTERVIEWER
It's a fairly rare thing for people to be as loyal to the short story form as you are. Do you worry about the torch being passed?
SAUNDERS
No. It's a beautiful form and people find it. Or it finds them. And the form will change with the times. It has to, it should. One of the things I love about teaching at Syracuse is that you meet class after class of talented young people, and it makes you an optimist. And you get to give that kind of student a sort of lineage advice—you get to pass on to them ideas like, Yes, you are responsible for every single line. You are. No one else will be.
I remember years ago, working at Radian, writing CivilWarLand, thinking, Wow, I've been working on this same paragraph for five days. Is that normal? And then that wise little voice in my head asked, Well, is it getting better? If so, then yes. It may not be normal, per se, but obviously it's what you have to do. And this light went on, like, It's going to be as hard as it needs to be, and my job is to not chicken out.
So, you're sitting there in a conference with a student and it's the moment when you get to lightly affirm a realization she is just starting to have about that. You see that she's at that point in her work. And, with writers as talented as ours, you don't have to say much. It's just lightly blessing their good instincts, subtly reassuring them. Yes, it actually does take that long, the story form does reward that level of care. Yes, it is your job to imprint every single line with your artistic view. Writers that good, when they hear that, they're relieved, because they suspected all along that it was that way.