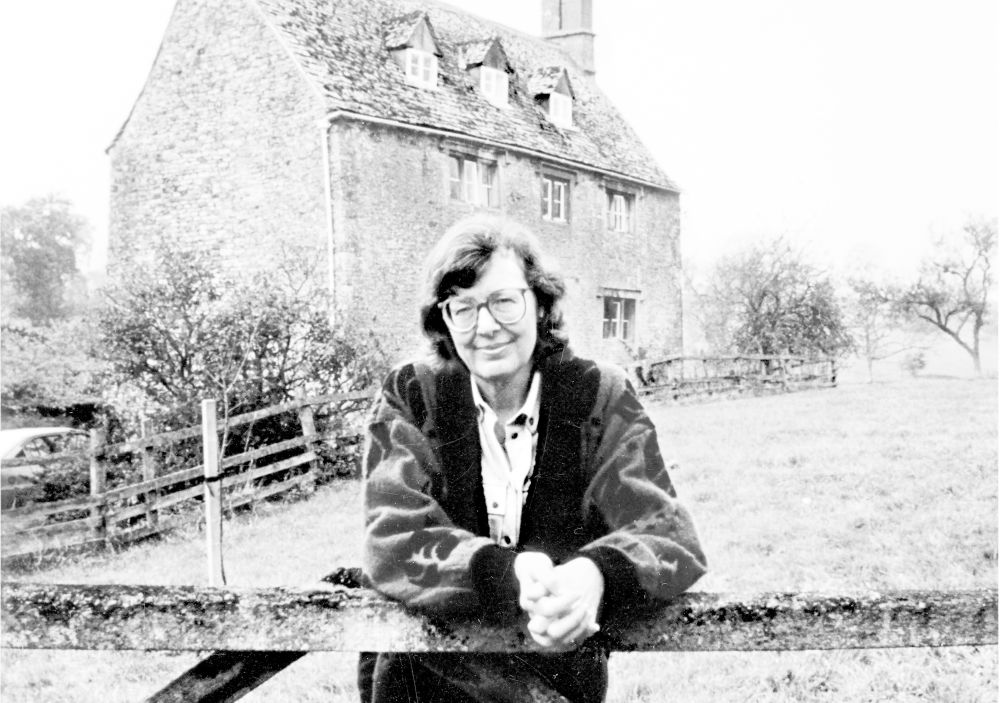 Penelope Lively was born to British parents in Cairo in 1933, where her father was assistant to the director of the National Bank of Egypt. She spent the first twelve years of her life in the Egyptian capital, a childhood "no more—or less—interesting than anyone else's," she writes in her 1994 memoir, Oleander, Jacaranda, though it was marked by the notable characteristic of being British in Egypt and "learning how to perceive the world in the ambience of a quite different culture." That childhood came to what Lively calls "an abrupt and traumatic end" in 1945, when she was taken to England and enrolled in boarding school, "a grim rite of passage." Lively has never written extensively about her adolescence. "Ah yes, that extraordinary business of the malevolence of teenage girls," she said when asked about this. "It would have been a good thing to have written about. I don't think I could recover it now, it's too far away, but I really should have."
This unwritten story is easy to imagine, especially as Lively began her career writing books for children. This was in the early seventies, when she was a young mother and married to Jack Lively, a political theorist whose academic posts took his family to various universities in Great Britain: Swansea in Wales, then Sussex, and later Warwick and Oxford. Lively's first novel for adults, The Road to Lichfield, was published in 1977. It was short-listed for the Man Booker Prize, as was her 1984 novel According to Mark. Moon Tiger, the story of an elderly woman looking back over her life, won the Booker Prize in 1987. To date, Lively is the only writer to have been awarded both the Booker Prize and the Carnegie Medal for outstanding children's fiction, which went to The Ghost of Thomas Kempe in 1973.
Along with her industrious writing career—more than twenty books for children, seventeen novels, five collections of short stories, five volumes of memoirs, and an introduction to landscape history—Lively used to travel widely with the British Council and sat on the board of the British Library. Now, at eighty-five, she lives at a slower pace. Her most recent book, Life in the Garden, guides readers through the various gardens she's loved and tended, from that of her childhood home in Cairo to the small plot behind her Islington townhouse where she's lived alone since Jack's death, in 1998.
It was in this house our interviews took place; I visited Lively twice in the spring. On the first occasion—a chilly February morning—we chatted over coffee in the bright upstairs sitting room, elegantly decorated with works by Lively's artist aunt, Rachel Reckitt. When I returned for our second conversation a couple weeks later, Lively showed me into her study on the ground floor. The room was full of evidence of ongoing work: books were stacked in front of the fireplace, and neat piles of papers sat atop a desk and on a shelf beside her chair. She was working on an introduction to a forthcoming volume of poetry for children, as well as writing a review of Warlight, by Michael Ondaatje, for the New York Times. Coincidentally, only three months later, she and Ondaatje found themselves pitted against each other for the Golden Man Booker Prize. When the short list was announced, I sent Lively a card to offer my congratulations. Her response was imbued with the same polite modesty I noted during our conversations: she was greatly surprised, she wrote, to find Moon Tiger unexpectedly "resurrected" in this way.
—Lucy Scholes
INTERVIEWER
Given that the presence of the past is an abiding theme in your work, was there anything in your family history that suggested you would grow up to become a writer?
LIVELY
Absolutely not. There had never been anyone in my family who'd written. The one thing that I do think had an effect on me was the rather curious education I had. I was educated at home by somebody who started as my nanny and then reinvented herself as my governess, though she herself had left school at sixteen. She worked from a do-it-yourself home-education kit called the Parents' National Educational Union, which actually, when I look at it now, is exemplary. It was training in comprehension and how to express oneself in writing. It might not have suited all children, but it was perfect for me. So my education was heavily dependent on reading, although—because this was Egypt during the war—a lot of the books that were sent out ended up at the bottom of the Mediterranean, along with rather more important wartime supplies, so we had to make do with what we had. Lucy, my governess, was paid-up Church of England, and we depended heavily on the Bible. It didn't turn me into a Christian—I'm an agnostic. But I still have in my head the language of the King James Bible, and I'm grateful for that. We also read Dickens to each other, in a sort of literary innocence. In a funny way it was the perfect education for someone who was going to end up a writer, although I had no idea of that at the time.
INTERVIEWER
Your parents weren't tempted to send you to England when the war broke out?
LIVELY
Interestingly, I was here in September 1939—we visited England most summers before the war—and can remember hearing Chamberlain's broadcast announcing the outbreak of war. I was sitting on the floor in the drawing room of my grandmother's house, Golsoncott, where everybody had been asked to come in to listen, and I was told that I must sit very still and keep quiet. I remember hearing this thin, dry male voice coming out of the wireless saying, We are now at war with Germany. But of course it meant nothing to me. I was six. I didn't understand why the grown-ups were all looking so solemn.
INTERVIEWER
But you and your parents returned to Egypt. Looking back, does it strike you as an odd decision for them to have made?
LIVELY
My father hadn't come over that summer, and strangely enough, my mother had already gone back by this point. My grandmother had taken a whole party of family to Chamonix, in France. I think there were almost a dozen of us, but nobody was reading the news. My aunt Rachel, who had stayed at home, was furiously wiring her mother saying, Kindly read the papers and advise you return. Meanwhile, my mother, in the move that really astonishes me, went off and joined some friends in the South of France for a bit and then went from there back to Egypt. So Lucy and I returned with my grandmother to Golsoncott. And then, after war was declared, there was a great exchange of telegrams between my grandmother and my parents. My grandmother saying, Leave her here, and my parents saying, No, no, send her back. In the end, my parents won, and they told Lucy to join a party of other expat British people heading back to Egypt. So she and I crossed Europe just ahead of the Germans. We went by train down through France and sailed from Venice.
INTERVIEWER
With hindsight, it seems like madness to have undertaken this journey.
LIVELY
Oh, it was extraordinary. The person I admire most is Lucy. She could just have said, Hang on, I'm going to spend the war in my own country. But she didn't.
INTERVIEWER
You've written very lovingly about the relationship between the two of you, explaining that you were much closer to her than to your mother, because it was Lucy who looked after you.
LIVELY
Yes. To be fair to my mother, she was just being totally conventional. Middle-class women of her day had nannies. It would have been odd not to. But she was more detached than most mothers, and I didn't see an awful lot of her really, so Lucy and I were in a happy little enclave of our own. It was a harsh system because for Lucy I was a surrogate child. When we came back to England—this is when I was twelve, after my parents' divorce—my father decided to send me to boarding school and just told her to go. I always felt he hadn't treated her very well. It made me feel that, when I had children of my own, nobody but me was ever going to look after them.
INTERVIEWER
In your memoir A House Unlocked (2001), you describe your childhood as having been spent "in a state of continuous internal story-telling." Were you aware you were doing this at the time, or was it something that only dawned on you later in life?
LIVELY
I think it was just something that came naturally. It all sprang from the fact that I was absolutely obsessed with Andrew Lang's Victorian retellings of the Iliad and the Odyssey. I identified with them because I was in there—but with the wrong part, because Penelope is described as being wise and good, which were qualities that didn't appeal to me. I wanted to be beautiful Helen, of course. I had a very solitary childhood. I was an only child, and I saw other children only about once a week, when Lucy and I would go into Cairo to meet up with the other nannies, so I think it was probably a way of peopling this solitude. I hardly realized I was doing it, but also probably assumed that everybody else did it, too.
INTERVIEWER
You mentioned that your access to books was limited. Was there no lending library in Cairo?
LIVELY
No. I do remember waiting desperately for each new Arthur Ransome that was published. I would save up my pocket money. I was absolutely fascinated by them and their exotic landscapes of lakes and greenery and so forth.
INTERVIEWER
And there was a bookshop in the city where you could buy them?
LIVELY
Yes, the Anglo-Egyptian Bookshop, I think it was called, and that was a treasured place. We used to go there quite often. I remember that I would immediately dash to the children's section and sit there reading. The proprietress was very nice—she would laugh about it. Lucy used to say, You can't read the books you're not going to buy. And the proprietress would say, Oh, leave her alone. Let her read.
INTERVIEWER
Is there a connection between the internal storytelling you indulged in as a child and your adult interest in trying to reconstruct how a child looks at things? I am thinking of your first memoir, Oleander, Jacaranda, in particular.
LIVELY
I think probably not, because the idea for the way of doing that book actually came to me rather long after it began. When my first grandchild was born—Rachel, who's now nearly thirty—I remember thinking, One day this child might be interested in my very odd childhood. And so I wanted to jot down my memories. It was just going to be something that I'd show her later on. But as I did it, I began seeing my memories with the wisdom of adult hindsight and thinking, Goodness, this could be rather interesting to write about in a completely different way. I suspect the obsessive internal storytelling does have something to do with ending up as a fiction writer, along with obsessive reading. I know lots and lots of writers, and frankly I don't know any who are not obsessive readers. The two things go together. I think there's an odd way in which reading merges into writing. It certainly did for me. But the storytelling is something else.
INTERVIEWER
This makes me think about the way you write children. They're not described from an adult's point of view, be it that of the narrator or another character, but from a unique vantage. You pay close attention to how a child perceives the world around them, as compared to an adult in the same setting. Is this related to you having written books for children?
LIVELY
I think it's just part of the expansive process of creating characters. If you're a woman writing about men, for example, you're making a kind of qualitative leap to think not so much about how a man thinks but how a man operates. I've never thought men and women were so much different in terms of attitudes or behavior, but you realize that the world is a little bit different if you're a man. I think that's the same when you're writing children—a child is a different kind of person. When creating a child character, you're trying to think both back and across. Back on what you can recall of your own childhood experience, which I think is very difficult to recover, and across in terms of observing the experience of your own children or of other children. I always used to think it was incredibly bold, in a sense, to presume that what one wrote as an adult, out of one's adult experience and way of expression, would be accessible to a child. It's so very difficult, an extraordinary change of gear. You're trying to think, How can I engage this child with what I'm writing, even though I'm writing out of an experience that the child doesn't know? It's like W. H. Auden said—"There are good books which are only for adults, because their comprehension presupposes adult experience, but there are no good books which are only for children." It always seemed to me that writing for children had a lot in common with writing short stories. When writing a short story, you've got to grab the reader in the first couple lines, and the same goes for writing for a child. If you don't grab the child on the first page, you've already lost them.
INTERVIEWER
What made you switch from children's books to fiction for adults?
LIVELY
Well, for a little bit, I suppose it was two or three years, I wrote both very actively. Then the children's books left me totally. I realized, somehow, that it was going and that if I went on with it, I was just going to repeat myself. And so I just thought, Better stop before I spoil it. I knew that there are limitations to writing for children, whole areas of experience that you can't write about, and this was going to be too restrictive.
INTERVIEWER
You've written about how, prior to writing, you were reading voraciously. You'd take your young children with you to the local library in Swansea, where you were living at the time, and fill the pram up with books to bring home. Was this an effort to educate yourself?
LIVELY
At Oxford, I chose to read history. It was a totally ignorant decision, one that would have English literature teachers up and down the country infuriated. I had thought, Well, I read fiction a lot anyway, but I don't know any history, so I should read history at university. It wasn't until decades later that I realized how crucial that choice of university subject was. I didn't read history especially well, I didn't get a good degree, and I didn't read it assiduously, but it has absolutely conditioned the way in which I've written novels. If I hadn't read history, I would have been writing novels differently—I'm quite sure of that. So yes, this was something of an education, but it was also just what I did. I gobbled fiction. My gratitude to the public library in Swansea is enormous. I read my way through twentieth-century Anglophone fiction.
INTERVIEWER
Do any particular authors still stand out from this period?
LIVELY
Henry James, Henry Green, whom I'd never read, Elizabeth Bowen, whom I've always had a huge admiration for, Evelyn Waugh, and Graham Greene. But it was more about discovering a certain kind of writing and getting really excited about it. People ask whom one's influenced by, but for me, it's more the discovery of the possibilities of the form. I have a clump of novels I go back to again and again because I admire them so much—Henry James's What Maisie Knew, William Golding's The Inheritors, and Ford Madox Ford's The Good Soldier. I know I couldn't write anything like them, but they have been pointers for me when it comes to what can be done with the novel. It wasn't so much influence as exposure.
INTERVIEWER
What was your writing life like in those early years, when your children were still young? Did you treat it like a day job?
LIVELY
Well, I wouldn't have hoped to write during the school holidays. It would've been strictly during term, and that would have meant getting to the desk as soon as I possibly could once they'd gone off to school, but it was very much what I knew I was going to do forever. I had no idea how successful it would be, but The Road to Lichfield was published, and then it was short-listed for the Booker Prize, which was encouraging.
INTERVIEWER
Did anyone read your work in progress?
LIVELY
Jack, my husband, sometimes would. Frankly, though, at that stage, all I wanted was someone to say, Oh, it's absolutely wonderful! He didn't quite say that, and he would sometimes have suggestions or criticisms, but he was a very busy man, an academic, so I didn't inflict too much on him. But I never had anyone who was advising me in the way that some writers do. In many regards, I was just writing away in the dark. I realize now how incredibly lucky I was that my first children's book immediately found an agent and a publisher—not least because I suspect I was probably the sort of person who could have been put off by rejections and given it up.
INTERVIEWER
Really?
LIVELY
I've come across amazing people who've had their books rejected a dozen times and kept going, but I don't think I could've done that. I'm quite sure I could've been put off entirely if I'd had lots of rejections or if the first two or three novels hadn't done very well. They weren't selling in vast numbers, but I got nice reviews. I've been very lucky. Also, back then publishers were much more prepared to nurse a writer along. You didn't have to have a cracking success with your first book. They were more patient. Nowadays, and my editor confirms this, if a book doesn't do well, they'll be extremely dubious about continuing the relationship, which is fairly alarming, because a lot of writers don't get into their stride until their fifth or sixth book.
INTERVIEWER
Today, after five decades of writing, you're considered very much part of the English literary establishment. But you spent your childhood in Egypt and have written about the subsequent displacement you felt when you moved to England. What is your relationship with your Englishness now? Is there a lingering sense of observing society from the outside, looking in?
LIVELY
How interesting. That's something I've never thought about. I think that particular feeling of displacement left me long ago, but for someone my age, there are aspects of society that have galloped faster, as it were, than I have, and that's quite difficult. I observe, I listen, I'm a part of it . . . but I often feel slightly on the edge. This may also have something to do with the way in which, as a writer, one inadvertently trains oneself to be an observer, to watch and to listen. It's endlessly interesting. I'm never bored observing people. One of the odd things about being very old is that you're rather comfortably on the outside because you're no longer of any great interest to others. Out and about on the street, old people are really not much looked at by the young. It's a bit like being displaced again. You can look in at what everybody else is doing.
INTERVIEWER
In Oleander, Jacaranda, you recall the death of a child your own age, the son of an acquaintance of your parents, in Egypt, who accidentally picked up a stick bomb. You say the incident was used by Olivia Manning in her Levant Trilogy in what you describe as "one of the more insensitive translations of experience into fiction." Is "translation" how you've thought about the way you've employed episodes from real life in your fiction?
LIVELY
That's a crucial question. I am translating experience into fiction. I'm using imagined experience as well, but I'm drawing on personal experience. The reason I felt that was insensitive was the way Manning did it. It was so very obvious that it was that child and that event, which must have distressed the parents. I've fallen over backward not to use incidents, or even behavior or episodes, from sources close to me. The question that writers are forever asked is, Do you base your characters on real people? No, I'd say, because the character has to be customized for the book. If I actually lifted somebody out of real life and put them in the book, it wouldn't work. But I'm using bits of people, an arm or a leg, and bits of myself as well, bits of my own behavior or reactions. It's much more a question of a writer's general awareness of how people behave and how things might happen.
INTERVIEWER
You've said that your short stories are more likely to have their origins in real-life incidents than your novels.
LIVELY
Absolutely. Yes, I've always found that. For some reason, certain things from real life will trigger a short story. Though why other things don't, I don't know. Sometimes, rather irritatingly, somebody will say, Oh, I'm sure you're going to write a short story about this. But actually, you don't. It always seems to me, though, that an experience has to steep for years before suddenly I realize that yes, it's a short story. You don't so much disguise it as re-create it, so that it ceases to have anything to do with the episode in your own life and instead becomes the prompt for the story.
INTERVIEWER
Recent years have seen something of a dissolution of the divide between memoir and fiction—notably in the rise of autofiction. But it strikes me that you've explored this slippage from the other side, as your memoirs play with what fiction can do and what it can be.
LIVELY
The sort of memoir writing I've done depends very much on the ongoing arguments around questions like, How truthful is memoir? How truthful is memory? How truthful is memoir writing? In Ammonites & Leaping Fish (2013), for example, I was trying to look at the climactic events of my own lifetime and compare what they had felt like at the time with the way they're viewed by historians with the wisdom of hindsight. It's partially because I dislike the conventional memoir that begins, I was born in such-and-such, and marches on like that. Nor do I like the setting-the-record-straight memoirs that politicians write. It also ties in with my feelings about memory. I don't think we have linear memories. We just have a whole lot of slides in the mind. It's more interesting to try to write a memoir that takes out some of these and looks at them, which is how Oleander, Jacaranda began. It was always the more maverick memoirs that I found interesting—Hilary Mantel's Giving Up the Ghost, Janice Galloway's This Is Not About Me and All Made Up. They're making a story out of it. My own Making It Up (2005) came out of thinking about the roads I didn't take rather than
those I did.
INTERVIEWER
How closely aligned do you see the historian's and the novelist's endeavors? Are they trying to do similar things, inasmuch as they're both using narrative to make sense of events?
LIVELY
I believe there's a relation, yes. Reading history at university and then having gone on reading history has made me realize the sense in which history contains so many conflicting evidences. And personal life is like that as well. There's no single truth about any event. You and I would both have completely different accounts of what happened here this morning. So that very much comes into life writing. Though I suppose the subtle and critical difference is that the novelist calls the shots. The novelist decides which evidence to use and can, of course, provide different evidences, such as with the use of the unreliable narrator. Whereas what the historian is doing is looking at all the various conflicting evidences and trying to sift out a viable account. At the moment, I'm reading something by the marvelous Margaret MacMillan. I really approve of the way she talks about history. There's absolutely nothing finite about it—it's constantly being retold and reinvented. That's what I remember discovering, because I'd been at a very bad boarding school where history was taught out of what was called The History Book. In it you learned history was a set of facts, and that was that. Then, in my first week at Oxford, I was given an essay subject that asked, Who were the Jutes? We were doing Anglo-Saxon history, and off I went to the library with a book list, where I discovered there was an endless debate going on about who these people were and where they came from. And because the nineteen-year-old mind is totally flexible, I instantly realized that I'd been mistaught for the prior ten years. History was actually a matter of debate and discussion.
INTERVIEWER
In Moon Tiger, your protagonist, Claudia, is an elderly woman looking back on her life. Is it at all interesting to return to the novel now that you're closer to her age—older than her, in fact—and see what you captured correctly and what you feel you didn't?
LIVELY
It's such a long time ago now, it feels to me as though somebody else wrote it. Which is true, of course, because a writer mutates. It was somebody else who wrote it, myself in an earlier form. I think perhaps I wasn't specific enough about her illness. I said she was dying in a hospital of cancer, something I knew nothing about then but know much more about now after having had cancer myself. If I did it again, I also think I would have made her a bit older—she was only in her seventies—and I might've dwelled a bit more on that end of things, instead of just using it as the device for looking back over her life. It's interesting because it's a book you can never find your place in, it jumps about so. I did that deliberately.
INTERVIEWER
It was a stylistic leap for you. Do you recall any influences in particular that pushed you down such an innovative path?
LIVELY
Well, the idea of showing different episodes from different points of view is not one I invented. It had been very much around, particularly in television and film. I was curious about that idea and believed it would be a good way to do things in a novel. But I was exploring different kinds of evidence, historical and personal, and that certainly influenced the project too.
INTERVIEWER
Your previous novels—although often engaged with the past in some way—had contemporary settings. That was another departure.
LIVELY
Yes, it was. I had to do quite a lot of research, especially for the central part, about the Western Desert Campaign. It was very useful to have the childhood memories of Egypt to draw on—I had certain images in my head—but I hadn't been at the front, so I used the Imperial War Museum in London. I couldn't have written the book without that museum.
INTERVIEWER
How do you use and integrate research into your fiction?
LIVELY
Some novels have required a good deal. Others, virtually none. Where much is required—as in Moon Tiger, City of the Mind (1991), and Cleopatra's Sister (1993)—the objective is always to make it the seven-eighths of the iceberg without which the thing would capsize. But it must be invisible. The card index must not show. I need to know more than I actually will use, simply to feel grounded in whatever unfamiliar material I am taking on board. I need a great swath of information from which I can pick out the essential pieces when I come to write. The mistake would be to use acquired material simply for the sake of it.
INTERVIEWER
What, if any, discernible difference did winning the Booker Prize have on your writing?
LIVELY
Well, in a sense it was the usual thing of being a hard act to follow. If you win the Booker, there's much more of a searchlight on your next book. Whereas before I didn't have to worry about the fact that there would be lots of reviews, now I knew there would be. I found it rather alarming.
INTERVIEWER
Passing On (1989), the book that followed, hasn't got the same broad canvas as Moon Tiger. I wouldn't describe it as less ambitious, but it is a quieter novel.
LIVELY
It was entirely different, yes. I think some people felt that it was a comedown after Moon Tiger, that it was less ambitious. I don't know if I like it or not. I've never reread it. I don't like that Jack didn't like it very much—he was quite candid about that. I was trying to look at the minds and the behaviors of a brother and sister in very specific circumstances.
INTERVIEWER
It's easy to regard a stylistically inventive period piece like Moon Tiger as ambitious and thus think that a novel with a narrower, more detailed focus isn't as accomplished.
LIVELY
Well, exactly. But by those standards you'd say that none of Jane Austen is ambitious.
INTERVIEWER
Did you often encounter a reluctance to take your work seriously? Were you aware of being thought of as a woman writer who concerned herself with small-scale domestic life? A woman writing for women readers?
LIVELY
There were people who said that, and it irritated me. I remember wondering what made them think that men weren't interested in domestic life. Most men lead domestic lives, too. I think that the serious literary man reads that subject matter just as much as anything else. Serious readers are going to want to read anything and everything.
INTERVIEWER
In more recent years, you've used fiction to explore the notion of contingency, often in the form of the consequences of seemingly inconsequential actions. What's drawn you to this subject?
LIVELY
I think it's only later in life that you begin to realize just how contingent life is and the extraordinary way in which one's own life has been dependent on decisions made in one direction or another. I think, when you're young, you don't quite realize that. You think your life is directed by your own will, but then you look back and realize there's been a great infrastructure grinding away. Whom you partner with during the years that people are shacking up together, for example—it's just whom you happen to meet during that important window. Later on, it becomes a question of jobs.
INTERVIEWER
This reminds me of something you wrote in Ammonites & Leaping Fish— "It is not enough to live here and now. Not enough for me, anyway. I need those imaginative leaps out of my own time frame and into other places—places where things were done differently." Does this dissatisfaction stem from something concrete in your own life—those roads not taken—or from a broader sense that a single existence, however interesting and full, is always limiting?
LIVELY
It's that one life is never enough. It's something I've thought about a lot, how it must have been for people in the past. If you were a medieval villager in Somerset, say, and knew nothing beyond your immediate circumstances and had no education. That's a cripplingly impoverished life because it doesn't give you any insights into how other people may have lived in different times and places. That's why I feel like I need to know about the past, why I think we all do. I've always read lots of archaeology because I'm fascinated by earlier societies, by people living under circumstances in which they know absolutely nothing else. It's so odd and strange to imagine living like that. You knew who everybody was. You had almost no concept of a stranger. Whereas I can walk out into the street here and not see a single face I've ever seen before.
INTERVIEWER
Are you aware of a difference, then, between expanding one's horizons by reading, versus that achieved by actually conjuring up worlds of your own when writing? Is the satisfaction different with each?
LIVELY
It's very different, though one informs the other. I can hardly imagine what it would be to write without the ballast of knowing something about how other people have lived at different times. People have done it, and wonderfully. I feel strongly, though, that everything I have written has been informed by the experience of reading, but also by personal experience, and by all the people I have known, as well as the wider world around me.
INTERVIEWER
So is writing a means of escape from your own ordinary existence?
LIVELY
It's an expansion of it. The ordinary existence is always feeding into it, so that if I'm trying to create a character, all the time I'm thinking, Would she behave like this? Is this credible behavior or speech? I'm thinking of how I've seen people I know behave or speak, which constantly informs my work.
INTERVIEWER
Do you feel any responsibility in terms of what your work is contributing to the historical record?
LIVELY
It's something that you do almost unconsciously, because yes, you reflect a time and a place if you're writing a novel. That's one of the many reasons that we read novels. We read nineteenth-century novels in part because they tell us about the nineteenth century. But I don't think I'm conscious I'm doing that. I would just hope that it's there anyway. I recall a contemporary writer saying he would never put anything into a novel that he felt wouldn't be immediately comprehensible to a reader in a completely different society. I profoundly disagree with that because that's precisely why we go to novels that come from other cultures or other places. We want to find out about how other people live or have lived. We want the writer to be writing out of their culture, out of their circumstances, so that it will be enlightening for us. A novel should reflect its society and its circumstances.
INTERVIEWER
Given your preoccupation with history, I'm surprised that you haven't written more historical fiction. Why is this?
LIVELY
I have great doubts about historical fiction—I don't actually think you can access the mind of the past, the outlooks and attitudes. It's so incredibly complex. I suppose it's possible when it comes to the Victorian mindset because there's so much nineteenth-century writing and so we know so much about the era, but the further back you go, the more complicated it becomes. Take the role of religion in the sixteenth century. Religion is not a driver in the same way today. I remember reading about medieval history at Oxford and having great difficulty with precisely this, the problem of faith in the Middle Ages. If you yourself are agnostic or atheistic, it's very difficult to access the driving force of belief, but without this force, it's impossible to understand the medieval world. I think that access to the past is an immense problem for a novelist. Lots of people would dispute this, and obviously historical writers like Hilary Mantel would disagree entirely. But I've always had a block when it comes to historical novels. There are people who can write them with extraordinary grace and insight. J. G. Farrell's The Siege of Krishnapur, or John Fowles's The French Lieutenant's Woman, say—but with both, there's an implicit admission that they're writing with the wisdom and hindsight of today. Books like these lift historical writing to entirely new heights. I admire this type of book very much without feeling as if it's something that I would be able to do, so I've never even had a shot at it.
INTERVIEWER
Readers today might well consider Moon Tiger historical fiction.
LIVELY
Well, it is, I suppose, but I didn't think of it as that at the time, perhaps because even though I was only a child, I was there. I had lived through it, so it didn't feel like writing historical fiction, despite the fact it really was a different era. If I see an old newsreel and listen to the clipped voices of the news commentators of the day, I think, Goodness, did people really talk like that? It sounds completely unfamiliar now, and yet I must have heard it all around me then.
INTERVIEWER
It's interesting you should mention that, as I'm struck by how you keep up to date with contemporary language and turns of phrase in your novels.
LIVELY
I suppose all novelists are eavesdroppers—we listen like mad. As a novelist, you tend to have an ear. You tend to notice the way people speak. I also suppose it's because you change yourself, through life. I probably speak differently now from the way I did when I was in my twenties.
INTERVIEWER
Has it been hard balancing being an observer of the world around you with the solitude that's necessary to actually write?
LIVELY
Well, it certainly used to be. I've been a diarist for, oh goodness, thirty or forty years now. I look back at old diaries from the eighties, and I'm always complaining that I haven't got enough time. That I can't get back to my book because I've agreed to go somewhere for the British Council or something. It was a total balancing act back then. It used to be a case of determinedly carving out periods of time when I would do nothing but write, during which I'd refuse to go anywhere or do anything, but I'd often still be tempted. I liked traveling. It was all experience, you never knew what was going to happen, and something might be grist in the mill, at some point. Nowadays it's different. I don't sit on a single committee. I've given everything up. I don't travel anymore either, so I've got plenty of time.
INTERVIEWER
Yet presumably you're not writing as much as you once were, either?
LIVELY
That's old age. Your capacity to concentrate goes. I can no longer imagine sitting down and writing all day. I can work or think for a couple hours, but that's it. Unfortunately, having lots of time doesn't mean you spend lots of time working. I wish it did.
INTERVIEWER
You say you've been a diarist for many years now. Does this figure into your work?
LIVELY
That was the intention at first. I was leading a very busy life and, particularly, traveling a lot on book-related trips or for the British Council. It occurred to me that I was seeing or thinking things that I might want to use in later work and would forget, and I began jotting things down—a sort of store cupboard. The trouble with this erratic diary keeping is that it has no index, so it becomes somewhat difficult to find that note you have a vague feeling you made at some point! As time went on, the diary did become rather more personal, though never confessional. I suspect that, in the end, I have not in fact used it a great deal for work, but it has become a useful record. It throws an interesting light on the nature of memory. Often, when I look at some entry from years ago, I find a passage in the diary about something of which I no longer have any memory, and, conversely, I also remember something from that time that is not referred to at all in the diary. I'm not sure what this indicates—perhaps that the operation of memory does not always agree with what was thought most important at the time.
INTERVIEWER
What did your writing day used to look like?
LIVELY
I'd come down and have breakfast, then be at my desk by about half past nine. Theoretically, I would stay there all day, till about five o'clock, with a break for lunch. That wouldn't mean writing all the time. It never does. Hours might have been spent looking out of the window. I never worked in the evening unless there was some deadline that I absolutely had to make. I've never been an evening worker. I had to juggle my time back then, and obviously, if you've got children, there are always going to be interruptions. Jack always interrupted, too. He never saw writing as a sacred activity.
INTERVIEWER
Did you have to be in your study to write?
LIVELY
No, I certainly liked to be there, but I could write anywhere. When traveling with the British Council, I remember writing in airports and in hotel bedrooms, always trying to get bits of work done. In more recent years, I've quite often gone down to the cottage in Somerset, which now belongs to my daughter, Josephine. I've always written a lot there, sitting in the garden, with people coming up and talking to me the whole time.
INTERVIEWER
And do you write longhand?
LIVELY
Yes. I've never written directly onto a typewriter or computer. The great advantage of writing longhand is that you are crossing out and revising all the time as you go. I remember when a friend of mine first showed me her word processor. She was in raptures about it. But all I could think was, The problem with this is that it looks too finished, too soon. It looks perfect when of course it isn't. There's also a sort of extraordinary intimacy in looking at work written out in longhand.
INTERVIEWER
But there's the eventual satisfaction of seeing the finished, published work?
LIVELY
Well, I hate publication, which makes me quite unusual as an author, I think. None of my close writer friends are similar. Frankly, they all live for publication.
INTERVIEWER
Why don't you care for it?
LIVELY
It's the fact that you've laid yourself open, and I know the knives will come out. I read my reviews—I can't be like Julian Barnes, who says he never reads any of his. Kingsley Amis said something wonderful like, A bad review may spoil your breakfast, but you shouldn't allow it to spoil your lunch. I could never be like that. It would spoil lunch for several days or longer. I also dislike the attendant stuff of publication, having to go out and talk about the book. I don't like the attention. The only time I can really remember enjoying publication was way, way back, with the first book. That was fantastic, so exciting. I remember thinking, Wouldn't it be lovely if somebody reviewed it somewhere? But once you know a book's going to be reviewed everywhere, that's a very different situation.
INTERVIEWER
So if not for the reward of publication, what's kept you writing all these years?
LIVELY
I remember Dennis Enright, a poet whom I was very fond of, saying once, rather gloomily in this Eeyore-like way, Well, a writer writes, don't they, Penelope? It's what I do. I find it very difficult not to be writing something. I am writing something now, but I feel rather comfortably that I may never finish it, in which case I won't have to go through the awful publication process.
INTERVIEWER
Have you started work on many novels that didn't make it to publication?
LIVELY
No. I've had ideas I later junked. But if a book's got as far as me starting to write it, then it's going to get finished. At least until now. Writing is what I do, it's what I want to do and what I enjoy doing. So here I am, at eighty-five the week after next, writing a novel without the expectation of whether I'll finish first or it'll finish first. Who knows? I'm still doing it because I can't imagine not doing it. If I hadn't got a book on the go, I don't know what I'd be doing. Even during the times I'm not actually writing, I'm going over it in my mind, when I'm gardening or the like, wondering whether I'm getting such-and-such a character right or whether there's a problem here or there. If there wasn't that to think about, I'm sure I would feel very disenfranchised.