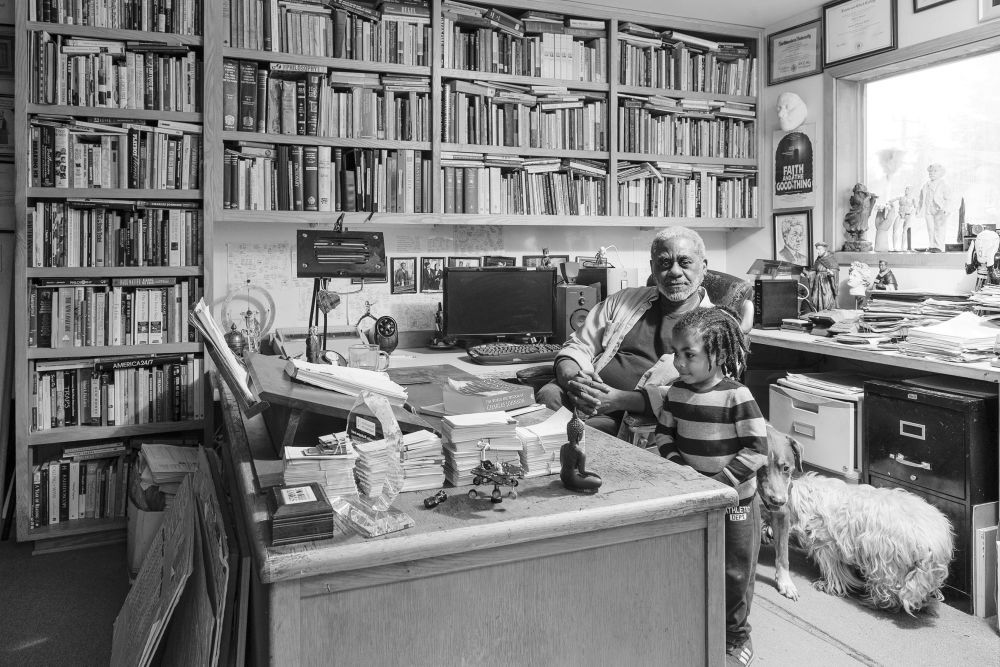 In his office, with his grandson Emery, 2016.
Charles Johnson's historical slave narrative, Middle Passage, winner of the National Book Award for Fiction in 1990, defies genre. Framed in part as a nautical epic with echoes of Conrad and Melville, there is also a Swiftian current running through it, with variations on the Sinbad stories and Vedic myths. Such transgressions of form suffuse Johnson's fiction. His four novels and three story collections incorporate fairy tale, parable, conversion narrative, picaresque, bildungsroman, and more. Johnson's balance of playfulness and philosophical rigor also energizes his screenplays for television and film, two collections of humor writing, and several volumes of essays on Buddhism and craft, including Turning the Wheel (2007), Taming the Ox (2014), and The Way of the Writer (2016).
In life, as in his writing, Johnson does not ­limit himself to a single mode of approach. Born in Evanston, Illinois, in 1948, he was raised in the African Methodist Episcopal Church; his youthful experiments with meditation led to a lifetime engagement with Buddhism and other Eastern traditions, including the study of Sanskrit and martial arts. He earned a B.S. in journalism and an M.A. in philosophy from Southern Illinois University and received a doctorate in philosophy and phenomenology from the State University of New York at Stony Brook. In 1976, Johnson was offered a position as assistant professor at the University of Washington, in Seattle, where he remained until 2009, retiring as the S. Wilson and Grace M. Pollock Professor. He has also had successful careers as a journalist and an illustrator.
In July 2016, Johnson and I spent two long afternoons together in the offices of the English department at the University of Washington. Our first conversation took place the day after an African American man opened fire on a group of police officers in Dallas, killing five and wounding nine. Johnson views race, like the distinction between forms, as an illusion, but with far greater consequences. "That young man was living out a narrative," he said. "He was living out a story, an interpretation of blacks and whites in America, today and in the past, going back to slavery. And he got caught up in an illusion filled with hate." Johnson was thorough, if professorial, in his consideration of craft, but it was in our discussion of the dharma, and meditation in particular, that he grew most animated. He was always eager to return the conversation to examples of lived experience, especially where it involved the joys and complexities of family life or the clash of cultures. "We can talk abstractly, we can talk sociologically and philosophically," he told me, "but this is ground zero. This is the way we're living."
—Cary Goldstein
INTERVIEWER
Of all your creative endeavors, which would you consider your first love?
johnson
Well, art—drawing—preceded everything. From when I was a kid in the fifties, that was my passion, still is to a certain extent. By age fourteen or so, I told my dad I had figured out what I wanted to do with my life. I wanted to be an artist, a cartoonist and illustrator.
INTERVIEWER
How did that go over?
johnson
My dad didn't know any artists, so he was very concerned about my future. He said, Chuck, they don't let black people do that. And that was pretty devastating for me because if I couldn't draw, I didn't want to live. But I saw an ad in Writer's Digest for cartooning classes with Lawrence Lariar and I wrote him a letter, just out of the clear blue. My dad says they don't let black people do this. Do you agree with that? I didn't expect to hear back, but a week later I got a fiery letter in which Lariar said, Your father's wrong, and you can do whatever you want, you just need a good teacher. I wrote back to Lariar and asked him to be my teacher. But of course, he didn't believe in free lunches, so he said, You have to pay for my course. It was a two-year course, what today we'd probably call distance learning, and my dad paid for it.
INTERVIEWER
Were you always a reader?
johnson
My family has always valued education and skill acquisition, so I was a pretty avid reader from the time I was a kid. My mother had shelves and shelves of books. That's where I discovered Richard Wright. When I was going through the public schools, they were integrated but the curriculum was not. So ­teachers—white teachers—had never put before me a book by a black author. When I found Black Boy in my mother's collection, I thought, Am I supposed to read this? My teachers never mentioned it. Is it contraband? What is it? All of that was marginalized or erased from the public-school curriculum.
I remember she also had a book on yoga with a chapter on meditation. I was a pretty smart kid, so I sat down for half an hour and practiced what I'd read, and it was a remarkable experience, the most incredible thirty minutes I've ever spent in my life. I began studying everything I could about the Buddhadharma, all the way through my undergraduate years. And I was in a book club—a science-fiction book club—in high school. I loved science fiction. As a visual artist, literature stimulated my imagination. Cartoonists get tropes and metaphors from literature. So I was always reading.
INTERVIEWER
What provoked your interest in philosophy?
johnson
I majored in journalism as an undergraduate at Southern Illinois University and took two philosophy courses. One was required—that was logic. The other was an elective about the pre-Socratics. It was ­remarkable. I'm listening to the professor and thinking, These are my questions. I have to stay close to these questions for the rest of my life. That class was seductive. In the journalism school, they told me I ­needed to stop taking those classes over there and finish up over here. So I did that. And when I graduated, I gave the degree to my dad and said, This journalism degree is for you. It proves I can make a living. Now I'm going to graduate school for philosophy, because that's for me. I worked as a journalist to support myself and my wife while I was working on my philosophy master's degree.
INTERVIEWER
How did your studies in philosophy dovetail with your interest in Buddhism?
johnson
Well, let's start with the fact that fuzzy-bunny Buddhism doesn't often talk about what it's all really about—that it's a preparation for death. Buddhism begins with that young prince leading his sheltered life and seeing the four signs. He sees an old man, he sees a sick man, he sees a dead man, and he sees a holy man. And he realizes unequivocally, categorically, That's me. I'm going to get old, I'm going to get sick, and I'm going to die. So how do I deal with this? Buddhism is about letting go of a lot of conceptual baggage, the stories we tell ourselves about ourselves—you let that go and there's a sense of liberation and clarity.
Take Marcus Aurelius—Meditations got me through Stony Brook University. I'm a Ph.D. candidate, with the pressures of teaching undergraduates, passing my own graduate classes, my qualifying exam, and living in 1975 on my four-thousand-dollar assistantship, with a first child on the way, no job yet, and a second philosophical novel to complete that had to be more expansive than the first one. Meditations got me through because Marcus Aurelius understood suffering, impermanence, and death almost as well as a Zen master. And Plato once said that philosophy is really preparation for death. I extend that wisdom to our very notion of the self as an enduring entity. You let go of the things that are simply unnecessary, almost as Occam would, if indeed Occam used this phrase, "Entia non sunt multiplicanda praeter necessitatem"—"Entities should not be multiplied ­beyond ­necessity." David Hume figured this out—the self is not necessary. And Sartre figured it out—it is not necessary to posit an enduring, substantive self when we talk about human experience, and also it's empirically unverifiable. This is an important observation long recognized by Buddhists. This is what I care about. The word philosophy does mean, after all, the love of wisdom.
INTERVIEWER
When did you begin writing fiction?
johnson
One of the challenges in my life has always been, I love this, I love that—how do I bring all the things I love together? I've had to reinvent myself about three times. First, as a cartoonist and visual artist in the sixties and early seventies. Then I hosted a TV show on PBS about drawing, Charlie's Pad, in 1970. And around that time, an idea came to me for a novel based on a kung-fu school that I went to in Chicago. I've been training in the martial arts since I was nineteen. But that first novel didn't turn out well—I wrote it very quickly over a summer.
INTERVIEWER
When you say that, you're not being humble?
johnson
No, it wasn't very good. See, I would write a novel every ten weeks. I was trained in journalism—I was a stringer for the Chicago Tribune in 1969 and interned there during the summer of 1968. A newspaper journalist on staff has to file four or five stories a week. So I could do ten pages a day, sure, and I did that for two years, beginning with that first novel, two more, and then a trilogy, which is the last thing I worked on before I met John Gardner.
INTERVIEWER
How did you meet Gardner?
johnson
I created comic strips with an English-major friend named Charles Gilpin—he would write the scripts and I would draw them. I liked his irreverent sense of humor. He had taken courses with Gardner and had started writing novels himself. Chuck, me, and another guy would sometimes collaborate on comic strips. The God Squad was one of them.
INTERVIEWER
Tell me about The God Squad.
johnson
It was religious and social satire. We had an Adam and an Eve, but Adam was black. We had a monstrous creature in the Garden of Eden, the first fuckup God made before Adam—he had feet coming out of his shoulders. We had other characters who were amoeba-looking things that were souls in hell, and the devil was a cigar-smoking snake.
It was Gilpin who recommended that I read Gardner. By that time I was working on a master's in philosophy, and working at a paper called the Southern Illinoisan, where I did everything—features, a column, editorial cartoons, obits, interviews, farm news, and proofread the Sunday edition for eight hours on Saturday night. And that work was part-time, for fifty bucks a week, in 1971. So I'm sitting there at the paper reading the day's edition, and I see this ad for Gardner's course in professional writing. I called him up and asked if I could get into his class. He said, Sure, come on over. So I went over to his farmhouse, and it was a beginning class where everybody's sitting around a big coffee urn. Afterward, I put the six manuscripts I'd written on his table and he said, Well, what do you want with me? You can write. And I said, Well, yeah, but I think I could be better with things like voice and rhythm. And his response was, Oh, I can help you with that.
INTERVIEWER
Were you a fan of Gardner's?
johnson
I had read Grendel. But a lot of the writers I liked when I was younger—John A. Williams, Richard Wright, Baldwin—were all realistic writers. And so I kind of fell into working very realistically for the first chapter of something I was fooling with, about a woman and her relationships with several men. I was bored by it and I gave it to John. I'm sitting there in his office and he's bored reading it and I was bored writing it and when I came home that night, I said to my wife—I think we were married two years by that time—I said, I need to get a rise out of this guy, and I know he's interested in philosophy. So I stayed up all night long writing twenty pages. I wanted to write not just a philosophical novel but a novel that was a celebration of storytelling itself, so it's in the form of a folktale. Before I went to bed, I went over to his office, slipped it under his door, drove back home, and went to sleep. Two o'clock in the afternoon I get a call—it's Gardner. He really likes these new pages. He said, You've got two chapters here instead of one. In other words, I needed to break it in half. And he was right. I wrote the first two chapters of the book as one chapter. So I did a rewrite, and that became Faith and the Good Thing (1974), my third book but my first novel, because it was preceded by two collections of political and racial humor, Black Humor in 1970 and Half-Past Nation Time in 1972. I wrote it over nine months, and he got me my agents, who I've been with since then.
INTERVIEWER
What did he teach you that helped you find your way into that story?
johnson
I didn't know how to revise. I would write all the way through, and then I would write all the way through again, and then all the way through a third time, ten weeks at a time. He said, You've got to stay with this paragraph and make it right before you go on. For John, it's like you've got a glass and as you're revising and revising you're filling up the glass, and at some point it's going to spill over, by which I mean that through revision you make discoveries, you find puns and oracles in the language as you cut and layer each sentence over and over again. And you might, as you focus on the revision, even discover that you need to abandon your outline. So ninety percent of good writing is rewriting. I don't think first thought is always best thought—sometimes it is—but it's the hundredth thought that strikes me as the one you're looking for sometimes.
Working with John—and reading him—also helped me better understand what voice and rhythm were. That's how I got that sense of the musicality and the possibilities of the storyteller's voice in Faith and the Good Thing.
INTERVIEWER
From the first words of the novel we understand we're being told a tale—"Listen."
johnson
Like a grandparent talking to a child. It was fun to do, but I've never done that again. John wanted me to do another, bigger book like Faith, but, well, I'd gotten my rise out of John Gardner. The next book I had to do at that point was Oxherding Tale (1982). I had to go back and deal with all of the Eastern philosophy I had been consuming since the age of fourteen. It's not a book he understood because he was very Protestant, very Western. He thought Buddhism was wrong. That was a parting of the ways we had to make.
INTERVIEWER
Some of that Eastern stuff is in Faith, though.
johnson
Some of it—classic Buddhist parables rewritten in the black American context. The character called the swamp woman is full of that kind of stuff.
INTERVIEWER
But nothing on the order of what you sought to achieve in Oxherding Tale.
johnson
I published Faith with Viking, and my editor, Alan Williams, could not ­understand what I was doing with Oxherding Tale. I think it just freaked him out. When he first signed me up for Faith, he took me and my wife to a really nice restaurant. But then, when I'm working on Oxherding Tale, I come into New York City from Long Island and he takes me to a burger joint, right? A burger joint. That's how much our relationship was deteriorating. We go back to his office afterward and I listen to this guy's indifference to Oxherding Tale. I felt kind of devilish, so I said, Alan, you know what? I don't think I'm going to do this book after all, this Oxherding Tale book. I'd like to do a multigenerational black family drama. And his eyes lit up, he said, That I can take upstairs to the publisher. I went back out to Long Island, sat at my typewriter, and wrote Alan a letter, saying, I just floated that idea of a black cross-generational novel to see what you would say. The book I have to do is Oxherding Tale. Because if I couldn't do that, I would have no interest in writing fiction at all.
That novel I often call my "platform" novel, referring to the Platform Sutra of the Sixth Patriarch of Buddhism, because it is the foundation of all the work I've published since 1982. Alex Haley's Roots appeared around this time, so publishers wanted something on slavery, or multigenerational black this or that. PBS really milked that in the seventies, and I did work on many of these projects, like Booker, which received a Writers Guild Award for the best script in the category of children's television in 1985, and ­before that an episode of Visions called "Charlie Smith and the Fritter Tree," about the oldest living American. Now, Oxherding Tale is a slave narrative, yes. It has very specific conventions from the slave narrative as a literary genre. But it's really a philosophical slave narrative anchored in the most sophisticated Eastern thought, as well as Western.
INTERVIEWER
Late in the novel, you take a kind of authorial pause to talk about something called the "first-person universal." What is that?
johnson
Oxherding Tale has two essay-ish chapters. The first one is on the nature of the slave narrative as a literary form, its conventions. The other one is called "The Manumission of First-Person Viewpoint," and in it I'm looking at the first-person narrator of the slave narrative and trying to ask questions about the "I." And it takes a kind of Buddhist turn. What is this "I"? Either the self is nothing or it's everything. That's where I introduce the term "first-person universal." In other words, it's meant to take us away from a Cartesian view of subjectivity.
INTERVIEWER
Oxherding Tale strikes me as the most complex of your novels, philosophically and structurally.
johnson
It is more complex by twenty percent than Middle Passage, which followed it. I deliberately made my third novel less complex than Ox, wanting it to simply be an exuberant, though still philosophical, entertainment—first and foremost, a rousing sea adventure story. From the very beginning, when I was studying philosophy, I wanted to write about ideas in a way that was reader friendly and didn't sound like something out of a philosophy seminar. So that was one of the things I was trying to do. And Ox took five years and twenty-four hundred pages. Then the next book, Middle Passage, six years, about three thousand pages. And then Dreamer, another seven years and three thousand pages. Because after Faith and the Good Thing, I realized what was at stake with every book. I want to produce my best thought, my best feeling, my best technique. I can produce copy—that's not a problem. I can produce books left and right. The question is, What do you want your name on? What do you want to endure?
INTERVIEWER
At what point do you have the inkling that you might have stumbled on a voice or a character or a story you're going to commit to?
johnson
Because I know I'll have to live with it for a while—five years, six years, seven years—a novel has to have, at its core, a question so central that I'm going to keep returning to it because it's very important as a question to me. Every one of my four novels has a central question at the core. For Faith and the Good Thing it's, What is the good? I'm playing around with Plato's ideas about forms. What is the Form of the Good? And black people have a phrase, "the good thing." I give that to Faith, and she spins out this Candide-like journey looking for the good thing and gets all these men to respond to her with their interpretation of "the good thing." In Oxherding Tale, I'm looking for a better understanding of the self. What is it? In Middle Passage—where is home? For Rutherford that is a primary question. For the Africans in the novel, the Allmuseri, that isn't any concern, because they just left their home. But where is his home? And in Dreamer, the question is, How do we end social evil without creating new evil by our effort to end the old evil? Those questions are philosophically perennial. I'm not looking for a final answer. I want to explore the questions through the concreteness of character and plot and all of that. So I have to have a question that is central to my existential moment in time.
INTERVIEWER
What questions are on your mind now?
johnson
When I do the next novel, the question is going to be, What does it mean to be civilized? Or, What is civility? That's the question I care most about. I've been writing about it in essays and short stories, coming at it from different angles. I think increasingly in our moment right now, it's an open question. You've got the Islamic State, which has reinstated slavery for young girls, you've got the breakdown of civility among Americans—that's one thing people have been talking about for fifteen years.
INTERVIEWER
Look at the presidential-debate stages alone.
johnson
Absolutely. The insults, the utter lack of civility from the Trump people. We've lost something. And so my question is, What does it mean to be civil? What kind of person do you have to be? That's an idea we can trace back through two thousand years of Western history, and the East as well, going back four or five thousand years. It's not a question that is going to go away. But in order to write a novel, you need a story, you need a plot. You must have the story first and foremost and then all of those ideas can come to the surface.
INTERVIEWER
Because Faith is a folktale, you get away with telling us on page one what the question is. Whereas in each of the books that follow, the characters are figuring out what the question is as the novels move along. And so the novels are, in a way, one large articulation of the question.
johnson
I think you're right. A novel is a special site where philosophy and fiction can meet, and that's what I'm interested in. I'm not interested in writing novels for the sake of writing novels. I'm not interested in writing novels for the sake of having a career—I really have a problem with careerism. I was a college professor for thirty-three years, half my life, so I didn't have to write novels for money. I could do the kind of novels I wanted to do, that I felt would maybe fill a void in the American philosophical novel in general, but also in black American literature. The perennial, universal questions we have in the Western world and the Eastern world—How shall I live? What is the good life?—are about our most basic experiences as human beings. My job has been simply to expand upon, deepen, and explore those.
INTERVIEWER
Which writers had the most direct influence on your work?
johnson
Writers who were philosophical in one way or another. Like Jean Toomer, especially in his book of aphorisms, Essentials, and in the poem "The Blue Meridian." He had an interest in Eastern thought. Richard Wright, of course, has a very strong philosophical orientation—well, he was Marxist, that's one thing, but also he was something of an existentialist. "The Man Who Lived Underground" is relentlessly existential. This comes before Ellison's Invisible Man, mind you. Whereas with Ellison you have a kind of exuberant—oh my God, very exuberant—Freudian tragicomic vision.
INTERVIEWER
In writing philosophical fiction, is there a risk of having your characters seem like mere mouthpieces for ideas?
johnson
You can't be didactic. Ideas, for me, don't exist way up there in some Platonic realm. They're not abstract entities. Rather, because my background is phenomenology and, to some extent, existential phenomenology, I think ideas begin in the muck and mud of lived, daily experience. And for the purpose of reflection, we extract them so we can analyze them and talk about them. So when I write, I want to return the ideas to their original source within our experience. You can find something philosophically interesting in the experience of slavery or the era of segregation. But even in our daily experiences, we walk around, go to the supermarket—that's where the ideas are grounded. And so my whole purpose is to bring it back to that and do what the novelist would do with it so we can see the ideas dramatized, tabernacled in flesh, and experience them on a level that's emotional as well as intellectual.
INTERVIEWER
Once you've articulated your question, how do you begin making it into a novel?
johnson
When the question is burning consistently within me, and over such a ­period of time that it won't leave me alone, I go to sleep and see characters, see scenes. I'm walking around and I'll see something and it'll immediately take me back to something I could do in the story I'm thinking about. So in other words, I have to feel it first, and then once I have what John Barth called the "ground situation"—the premise, the "conflict" is what people usually say—I've got something to work with. For a novel, it has to be a rich enough ground situation that it'll take me two hundred, three hundred pages, maybe five, six years to unpack it with all of the implications and possibilities or energeia—the potential that's inherent, as Aristotle would say—in the story. It's something I can meditate on, something I can keep coming back to, ­rewriting, discovering—discovering deeper and deeper layers of meaning in it. That's when I know I have a novel that is interesting to me.
INTERVIEWER
Do you outline?
johnson
In the beginning I make a rough outline. Take my early outline for Middle Passage—you wouldn't even recognize the story line. I wrote a first draft in two years—a little fast. And then I had to go back for another four years and rethink it from the middle of the book to the end.
INTERVIEWER
Do you keep notebooks?
johnson
Oh yeah. Notebooks and journals. The notebooks are my memory aides—I put something in them every day. I think I had three notations when I was working two nights ago. Phrases just came to me and I wrote them down and then pasted in an article with some information that I saw in the newspaper because it had some stats on educational levels for Asians and whites and blacks and Hispanics. I need to keep that as a reference. But this is not the same thing as a journal. With a journal you're actually writing your thoughts and feelings and you're dating that. I do some of that, too—a half page, a hundred words to myself on some subject that I think I've had some insight into. But the notebooks are scraps and fragments of information, descriptive stuff.
INTERVIEWER
How do you use them for your work?
johnson
Once I have a draft started—five pages, ten pages—I go through them. I start with the first notebook.
INTERVIEWER
First notebook dating back to . . . ?
johnson
They're all mixed up, but dating back to 1972. It's like thirty inches of ­material. Some of the stuff I haven't looked at in a long time. I'll start going through them and see a phrase, an image useful for the in-progress work. And it goes right into the manuscript.
INTERVIEWER
Do you cross things off to let yourself know you've used it?
johnson
No, I don't cross it off. I look at the journals I kept in '72 and '73, when I was younger, and sometimes I'm surprised to see what was interesting to me so long ago. What kind of imagery or descriptions were interesting to me at age twenty-five? What emotional things were interesting to me at age thirty-five? But also I sometimes wonder, Why was I interested in that? Or, Why did that mean so much to me? It's like examining the spirit or soul of your younger self. But I might see one thought on a page in a workbook from 1990 and think, You know, that would work here in this new story. Or it might be a character description. A little concise thing that nails a character quickly for a reader in terms of physical description or a psychological description. And every day I'm putting something in there because I have thoughts and feelings and don't want to lose them. I will lose them if I don't write them down.
INTERVIEWER
What was your approach to the workshop? And does it mirror your ­approach to your own work?
johnson
Well, I never took a creative-writing class, but I taught myself a lot about writing. In the early seventies, I read every book on the craft of writing I could get my hands on. And John sent me pages with exercises that wound up at the end of his posthumously published book The Art of Fiction. I had an idea of what a workshop should be, based on negative impressions I had of workshops I'd heard about. So when I got this job in Seattle, I made my students work, and they came out with around 140 pages by the end of a ten-week quarter. I taught with something akin to Gardneresque intensity. I threw myself into it because as I was teaching, I was learning. And that was helpful to me as I was working through Oxherding Tale and the short fiction. At Stony Brook I started the first story in The Sorcerer's Apprentice (1986), "The Education of Mingo," and I hit a wall. I couldn't finish it. I got a couple of paragraphs in, but I was cranking out seminar papers and my prospectus for my dissertation.
INTERVIEWER
You couldn't finish because you didn't know where it was going, or you didn't have time?
johnson
I didn't have time, but in philosophy papers, you don't use metaphor and figurative language, so I was used to pulling back from that. When I got to Seattle, I taught my first short-story workshops, and by the second quarter, I was ready to write that story.
INTERVIEWER
You've written that the novel welcomes all forms—the low, the high, the transcendental, and the trashy. Are there any forms you want to experiment with that you haven't?
johnson
You can have poetry in a novel. You can have many stories in a novel. You can tell tales. The novel is capacious because it doesn't have a rigid form. It's like Ishmael Reed once said, A novel can be the six o'clock news. There are rigid forms in genre fiction that you don't depart from, where you can't do everything. Like romance novels—they have very strict rules. But in a literary novel that's inventive, you can have stories within stories, like in Faith and the Good Thing, or forms within forms, as in Dreamer or Oxherding Tale. What was interesting to me about Dreamer was I could move from the third-person limited over King's shoulder—short chapters—to a first-person narrative. Once I understand the form I'm using, I can understand, in many ways, the content, where I need to go next. My notebooks are full of notations for myself on different forms that I might want to do. The one that keeps coming up for me, though, is the league novel, or Bundesroman—it's been in the back of my mind for twenty years.
INTERVIEWER
What is a league novel?
johnson
The league novel was a popular pulp form in eighteenth-century Germany that generally involves a secret order of some kind. And as Gardner once said—I think he was right to a certain extent—a good deal of great American art is elevated trash. Hermann Hesse elevated the league novel in his book Journey to the East.
INTERVIEWER
Is Hesse an important writer for you?
johnson
When I was younger I was drawn to Hesse, who was popular on college campuses in the sixties. I read his short stories and novels, and literary scholar­ship on his work, like that by Theodore Ziolkowski, who examined themes and structure in Hesse's fiction. I wanted to learn his method of composition, the way he thought. Hesse is interesting to me precisely because he works with different forms in his novels. He also has a spiritual dimension—he has us looking toward the East. A friend of mine gave me Demian when we were undergraduates. I wasn't really impressed. But it led me to Siddhartha. And then I thought, Here's a German in the 1920s writing about the Buddha and getting a good deal of it right. Man, that book so affected me. I really wanted to respond to it. And that response is, of course, Oxherding Tale. But what I did was respond from a black American perspective.
I used to give my grad students an assignment—I want a plot outline using a form that hasn't been used by a major work in a hundred years. Go to the library and research it. The way I see it, forms are our inheritance, our global inheritance.
INTERVIEWER
And each form has its own conventions.
johnson
Well, if you want to know what I really think at this point in time—it may be strange to say this—I think that black literature has reached a point where it is full of exhausted conventions. The slave narrative and slave stories, for example. You're always going to have the master, evil or benign. You're ­going to have the slave who is content, you're going to have the slave who isn't content. There are conventions and threadbare tropes that come up again and again and again. And I wonder if that's a good thing. We have a tendency to exclusively interpret the black experience in terms of victimization—­victimization and oppression. And if that's not in a story about black characters somewhere, or in a story about the black American experience, some readers will be disappointed, and ask, Where's the oppression? Where's the discrimination? It's an expectation that's drilled into us in terms of narratives about black Americans. I think it's racial and political kitsch.
My tendency is to acknowledge oppression but to also call forth ­other profiles of the black experience, because I know that black life, like all life, outstrips our perceptions, that so much of black life still remains—to invoke Ellison here—invisible, unseen. In my fiction, I have stories where you don't know what the character's race is. Or it's about a character who's black, but he's Martin Luther King Jr. and still a grad student finishing up his dissertation, like in "Dr. King's Refrigerator" (2005). He's got a new wife, and that's what the issue in the story is. He's spending too much time on his work, away from his wife, and so on. You get to the end of the story, after he's had a Buddhist epiphany about the interconnectedness of all things based on the food in his fridge, and you know within twelve months Rosa Parks is not going to give up her seat on a bus and he's going to become a "world-historical" figure, partly prepared for that role by his revelation a year earlier. Those are the human moments important to me—he's figuring out how to be married and how to deal with all the duties heaped upon a young minister. There doesn't have to be a big conflict, and there doesn't have to be a big racial conflict. I don't believe that's the totality of our experience.
INTERVIEWER
To put it another way, should a black writer have to write only for a black reader? Bellow wasn't writing for Jews, but he was writing about Jewish people.
johnson
Exactly. Ellison and Bellow—they were friends, and Bellow was an early champion of Ellison. There's a similarity between those two guys that I think is very interesting. They both formulated some response to the question, What is the American novel? And here's Bellow, as a Jewish person, asking how the particulars of his experience could open up to a universal understanding. I mean, Jews were asking the same questions in the
early twentieth century that black people were in the sixties. Should we ­assimilate or should we focus instead on our own culture and history? Well, Ellison was about the same thing—How do I talk about the American ­experience and the black experience so that you understand the American ­experience through the lens of black people? In other words, how do I achieve, in the particular, the universal in a philosophically interesting way? That's the issue for both of them. That's what makes them both great American novelists.
INTERVIEWER
How has the mission of American literature changed in the twenty-first century?
johnson
American literature was a project. When the republic was formed, writers like Emerson were asking themselves questions about what it meant to be an American. We're a new land, we're a new people, we need a new literature. That conversation continued through the nineteenth century and into the twentieth with the infusion of more immigrants. I keep wanting to use the terms aufgehoben or aufheben, which Hegel uses to explain dialectical thinking, where you take something to a different level. Basically you start with two truths, antinomies—the truths of Jewish life or black life ­versus the WASP experience—and you find a synthesis that leads to a deeper ­understanding of America. But in the last thirty or forty years, our literature, in my opinion, has become balkanized. I believe some black authors write only for other black people. I remember one saying, If you want to listen in, white people, listen in, that's okay. Or it's a woman writing for other women. Or maybe it's Hispanics writing only for Hispanics. We have lost that sense of the American novel. As a practicing, lay Buddhist, an upasaka who took vows in the Soto Zen tradition, I do not have any interest in contributing to today's polarization, division, or divisiveness.
INTERVIEWER
Are there proprietary subjects in American literature? Are there topics or perspectives that are off-limits for exploration by someone who hasn't had that experience himself?
johnson
It's tricky. The question is, Can you write outside of the cage of your race, class, gender, or cultural position? We're talking about it in terms of writing, but these are larger questions about America right now, and they're reflected in what we say about literature. Who has the right to write about, say, a black woman's experience? It's very complicated, and I don't quite know what to say. And as I said, I will write stories in which the race of the character is not important, a reader will not get any designations of that character's race, because race isn't important for the story. Or put it this way—we must, as writers, be able to empathize with the racial, class, gender, and cultural other. We must use our best research and imagination, as I try to do in a few stories in my new collection Night Hawks, to write stories about Muslim American soldiers, Japanese Zen abbots, black people, Plato and the Buddha, and ­stories that have no racial signatures at all.
INTERVIEWER
And yet, if you weren't black, you wouldn't have written the novels and stories you did.
johnson
No, I wouldn't be writing novels about the things I'm writing about. I am not blind to the illusion of race, I am not blind to American history and the history of race. But I'm not bound by these matters either.
Now, could I write about a white character? Yes, I could, and I have. Remember, I'm trained as a philosopher and a journalist—I had to learn how to take on any assignment. The reason you can't do this sometimes is because you don't know people. I've read that, overwhelmingly, white Americans live in neighborhoods or communities that are all white, so they don't have much personal contact with black Americans. They don't know us. They don't know how we talk. They don't know where we came from. They don't know our individual histories. They don't know our hearts. They have to project ideas on us that may have nothing to do with us whatsoever. This is the agony we're facing in America right now, so it's got to show up in our literature.
INTERVIEWER
Why do you write?
johnson
I had never seen a book like Oxherding Tale. I'd never seen a book like Middle Passage. I'd never seen a book like Dreamer. I'd never seen stories like some of the stories that I've written, so I wrote them. I think a young writer should ask the question I ask myself—What can I bring to the table that nobody else is bringing to the table? Why am I doing this? I'm doing this because I believe I have a contribution to make to our philosophical literature. And when I say a philosophical literature, I mean a spiritual literature as well.
INTERVIEWER
How do you know when you're done with a book?
johnson
You have to let it go, because if you didn't, you'd keep working on it, endlessly. I try to put everything I've got into a book for five, six years—it's got to be something I'm thinking about every bloody day, and it branches out to bring in other things, and when I'm done with it, I'm truly done with it. I don't go back and reread it. I don't look at it again, and there's not going to be a sequel. I guess the answer to when you know it's done is when you can't do anymore. You've gone over it until you have no more thoughts.
INTERVIEWER
Do you ever imagine a time in which you'll no longer write?
johnson
I can't imagine it. There's no more thrilling process than creating. And that's all I ever wanted to do as a kid.
INTERVIEWER
King, in Dreamer, feels that he's failed. He has a wish to live a simpler life. Is that something you have felt in some way?
johnson
I can easily relate to the need for a simpler, less cluttered life. That's how Dreamer opens—with King dreaming about going to Kerala, India. By the time Dreamer came out in 1998, I had been making a promise to myself for about ten, fifteen years that by the age of fifty all my duties, obligations, and responsibilities to everybody in my life from childhood forward would ­finally be discharged. Every bloody one. Period. I worked to serve others—family, colleagues, friends, students, the book world—as completely as possible. To stay "at my post," as Emerson put it. Then, at age fifty, I promised myself that I would be free to step back or away from these social obligations and allow my commitments to the Buddhadharma to deepen. I'm only just realizing that goal, but now I want to spend my time, this winter season of my life, in spiritual practice, creating, learning—I am a lifelong learner—and just writing about the things I love.