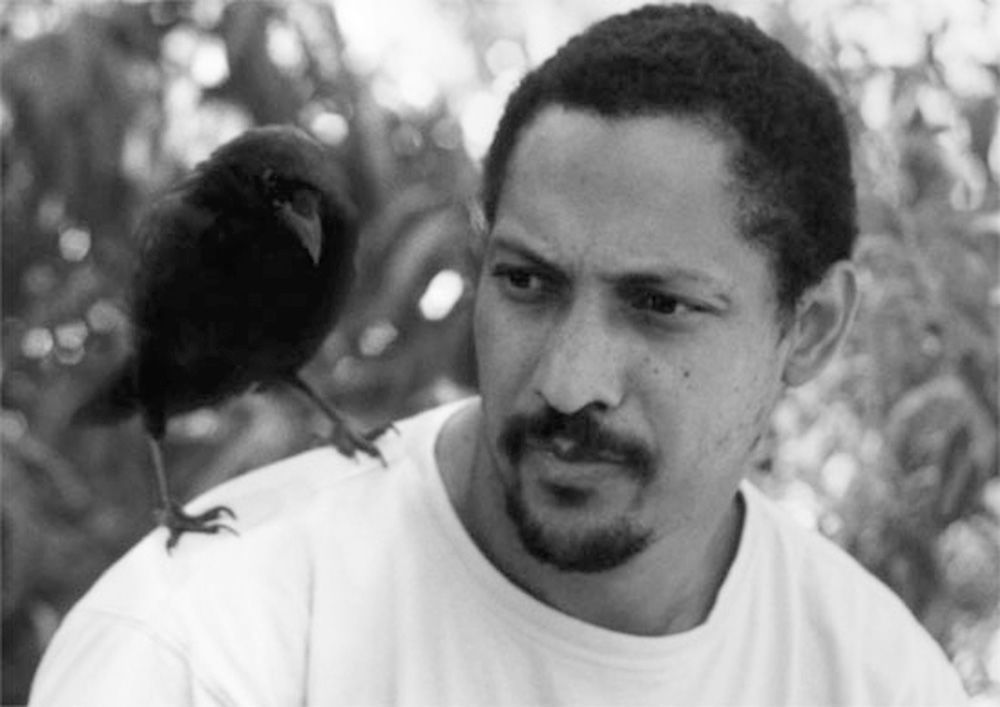 Everett with his crow, Jim, 2002.
Percival Everett was born in 1956 and grew up in Columbia, South Carolina. After graduating from the University of Miami, he began a philosophy degree at the University of Oregon, then transferred to a master's program in fiction at Brown, where he wrote his first book, Suder (1983), a comic novel about a third baseman for the Seattle Mariners whose attempts to shake a slump lead him on an odyssey across the Pacific Northwest in the company of an elephant and a young runaway.
Everett has earned a following as a master of many genres who has a taste for the absurd. His work includes crime novels (The Body of Martin Aguilera, Watershed), revisionist Westerns (God's Country, Walk Me to the Distance), retellings of Greek myth (Zulus, For Her Dark Skin, Frenzy), and the wild caper Glyph, narrated by a baby genius who has read most of Western philosophy while still in diapers. Baby Ralph is kidnapped first by a psychotic child psychologist, then by a rogue agent from the Department of Defense, all the while savaging post-structuralism and writing poems in his head. Of Everett's 2011 crime novel, Assumption, Roger Boylan wrote in the New York Times, "I haven't read anything like it since Georges Simenon."
There have also been several collections of conceptual poetry, four books of stories, and the three novels for which Everett is perhaps most admired: Erasure (2001), in which a "critically acclaimed" but commercially ­neglected black novelist stumbles into fame and fortune by writing a parody of ­so-called urban fiction; I Am Not Sidney Poitier (2009), about an orphan who unexpectedly inherits a large share in Turner Broadcasting System; and Percival Everett by Virgil Russell (2013), an impossible-to-describe-or-­summarize ouroboros about parents, death, and aging. His most recent book is So Much Blue (2017), a novel about an abstract painter haunted by regret as he attempts to finish an enormous canvas that may or may not be his masterpiece.
Since he began his writing career, Everett has abstained from nearly all aspects of "a writing career" other than actual writing. He has never ­reviewed a book, nor does he read reviews of his books. He maintains no online presence and eschews publicity and self-promotion. When Everett and I met for the first time, in the spring of 2016, at a coffee shop near his South Pasadena home, he asked that we keep our focus on his work and make as little reference as possible to his life off the page. "I hope I'm not too tough an interview," he warned me. When we met again, six months later, in that same coffee shop, Everett was gracious—not tough so much as assured. He speaks softly and slowly, choosing his words with care. He does not mind a long pause in conversation. He is quick to laugh.
As I was setting up my recorder, rock music kicked on over the coffee shop's sound system. Worried that our voices would be drowned out, I pulled a stack of books from my bag to make an ad hoc mic stand. These included a collection of poems that caught Everett's interest. He asked me if I ever wrote poems myself. It was midway through answering him that I got the recorder working and understood that we had, in fact, already begun.
INTERVIEWER
When I was younger I thought, Read poetry to publish poetry. I would read in order to write. But now one of the things I love about reading poetry is knowing I'm not going to be writing it or publishing it. That's not even a consideration.
EVERETT
Yeah, I write poetry to prove I can't write poems.
INTERVIEWER
Maybe we'll just start there. Really, what makes you want to write poetry?
EVERETT
Just that it's not fiction. It gives me a way to play with language that's remote from what consumes me all the time.
INTERVIEWER
What consumes you?
EVERETT
Writing novels. Even writing stories is a departure from writing novels. I don't really consider myself a short-story writer. I end up with stories.
INTERVIEWER
How do you end up with stories if you're not setting out to write them?
EVERETT
Through distraction. I'll be working on something long, trying to find a way to open my mind, and stories appear. Often I don't really realize I'm doing it. Some stories become the seeds of novels.
INTERVIEWER
There's a couple stories in Damned If I Do that became chapters in Assumption.
EVERETT
I think that's right. I have a terrible memory about what I've written, but I believe you.
INTERVIEWER
So an idea for a story or a poem will come while you're working on a novel? Or between books?
EVERETT
Both ways. Often the poems will come all at once. Not in a day or two, but over a period of months. The stories—sometimes I don't even know I've written them until I look at my notes. The last book of stories was unusual in that I knew I was writing a book of stories, but that's the only time that's happened.
INTERVIEWER
At what point did you know you were writing a book of stories?
EVERETT
I'd recently finished Assumption and Percival Everett by Virgil Russell, and I just knew I didn't have a novel in me right then. I was living in Paris and these stories all set in Wyoming just started to come, so I decided to go with it.
INTERVIEWER
You used to have a place in Wyoming?
EVERETT
I never had a place there. I lived on the Wind River Indian Reservation.
INTERVIEWER
When was that?
EVERETT
Ninety-one, ninety-two. In all, maybe eighteen months, but not consecutively.
INTERVIEWER
What brought you out there?
EVERETT
I was offered a visiting chair at the University of Wyoming, and for some reason I said, I'll go if I can live on the reservation. I don't know why. I had no special interest in it. I'd had no contact with anyone on the reservation. It just came out. And they said sure.
It was a great experience. I showed up there and I knew no one. The campus is two hundred and fifty miles from the reservation. They would fly me back and forth.
INTERVIEWER
Had you spent time in that part of the country before?
EVERETT
Just a little. I went cross-country when I was nineteen and saw the Western landscape—especially the Canyonlands of the Southwest, which I still ­remember, though the trip was more than forty years ago—and I kind of realized then that I was a Westerner. Then I spent time in Oregon and in Montana, but not specifically Wyoming.
INTERVIEWER
You realized you were a Westerner, but you grew up in South Carolina. You don't consider yourself a Southern writer?
EVERETT
I get called a lot of things. I'm a writer from the South, so I guess that makes me a Southern writer. I don't really know what that means. I try to resist labels, but I get called a Western writer, an experimental novelist, an African American novelist. I'm sure they're all fine.
INTERVIEWER
A fair amount of your work is set in the South or thinks about the South, but even some of your earliest books—Suder and Cutting Lisa—involve the Pacific Northwest. Nearly all of your books, it seems to me, show a special interest in place.
EVERETT
You always add an element to a story once you locate it someplace. It might shape the characters. It might also shape the expectations of the readers, and that's as much fun to play with as the characters. As soon as I set something in the rural South, any American reader has certain preconceptions about what the story's going to be. I set things in the West because I know it very well. I have a level of comfort that gives me freedom. It's a place that's known for the self-sufficiency of its inhabitants but where people actually depend on each other profoundly. You can live in your apartment in New York and never see anybody for years and survive. You can live on a ranch in Wyoming, but you're gonna need somebody sometime, and the people who live around you are there. That's part of the landscape.
INTERVIEWER
I think of the veterinarian in "Little Faith" who stops what he's doing on a moment's notice to drive halfway across the county.
EVERETT
I'll tell you a story. There was a fire near Redlands twelve or thirteen years ago, back when I ranched out there. We'd all gotten together and we had our trailers to help the people who were in danger. And there was this woman who had gotten most of her animals out, but she had one horse left in its paddock at the stables, and she refused to leave. Then through the smoke and haze she heard this . . . clanging, and up the road came this eighty-five-year-old man with a single horse trailer to get her horse out of there. To me that is beautiful.
INTERVIEWER
Wow. Where was this?
EVERETT
Out east of LA, in the Banning area, about halfway to Palm Springs.
INTERVIEWER
And you had a ranch there?
EVERETT
I did, for ten or twelve years. I trained horses out there.
INTERVIEWER
What got you started training horses?
EVERETT
I worked ranches when I was younger. Then, when I moved out here, I bought and rebuilt a place. Seemed like a good thing to do.
INTERVIEWER
How many horses did you have?
EVERETT
I only had a few, but there would always be horses that people would bring to me. It sounds more romantic than it was. I just liked working with my animals.
INTERVIEWER
There's horse training in a number of your books, but Wounded deals with it most directly, I think. The main character is a horse trainer, and he spends a lot of time rehabilitating a traumatized horse. There's also a mule he works with.
EVERETT
Yes.
INTERVIEWER
Can you tell me about—
EVERETT
Making up a story like that?
INTERVIEWER
I think I'd rather hear about training the mule, actually.
EVERETT
I especially like mules, but in real life that mule was a donkey on an Arapaho ranch in Wyoming, on the Wind River reservation, and I had nothing to do with training it. This donkey was an escape artist. People were always trying to keep it in its enclosure and they would try all sorts of things. No one knew how it was getting out. I would go out to the ranch to go riding, and one day I came back from a ride and found the donkey halfway out of its enclosure. It would lie on its side and just sort of scoot, crawl really, on its side, under the bottom rail. And there's the difference between a donkey and a horse. If it had been a horse doing that, it would have panicked and tried to stand up and hurt itself badly. But when I came up, the donkey just lay there. Didn't move a muscle. I sat on a bale of hay not far away and finally it went back into its enclosure and stayed inside.
INTERVIEWER
You won that round.
EVERETT
I didn't win. Animals are great. I've learned a lot from them.
INTERVIEWER
Like what?
EVERETT
Simple things, like if plan A isn't working, you stop. That's what I learned from mules and donkeys.
INTERVIEWER
Is that applicable to your writing? To the way you work?
EVERETT
I don't know. Every work comes differently. I've probably published things when I should have stopped and probably abandoned some things when I should have kept going. I'm not always smart enough to know.
INTERVIEWER
What does a book look like in its earliest stages? I know you just told me that every one is different . . .
EVERETT
Well, I can't start until I have two things. One is a feel for the shape of the work. I wish I could tell you what I mean by that. It's this feeling that I know what the page is and what the book will look like, what it will feel like—not the cover or anything like that, just the flow of it. The black-and-white space. And then, a first sentence. I can't start anything until I have a first sentence. That doesn't mean I'll keep it, but until I have a sentence that I think is the right one, I can't write another word.
INTERVIEWER
And that first sentence is being worked over and revised in your head until you're ready to put it down on paper?
EVERETT
I don't even know if it's being worked over and revised, it just comes to me. I'm not a natural storyteller. I start with something that bugs me, some philosophical problem, and then I look for a way to explore it.
INTERVIEWER
I don't want to ask you to explain or interpret your own work, but are there one or two of your novels where you can say, This was the thing that brought this book about, this was the thing I was working through?
EVERETT
You're right to say it has nothing to do with what the novel means, even to me. The working title for Percival Everett by Virgil Russell was "Frege's Puzzle." The novel is in three sections—"Phosphorus," "Hesperus," and "Venus," in other words, the evening star, the morning star, and the ­planet Venus. These are all the same thing, but are different things. That was Frege's puzzle—how is it that we have these referents for different things that are the same thing? It's one way of approaching a problem of identity, and that's often what drives me and a lot of my work—the notion of logic and identity.
INTERVIEWER
Earlier you mentioned a list of identities you get tagged with—Southern writer, Western writer, African American writer, experimental writer. Are any of those terms useful to you? Would you be rid of all of them if you could?
EVERETT
I don't really care. They're certainly not useful to me as an artist. They might be useful to a publisher who is trying to sell a book, which I couldn't care less about, much to my publisher's dismay.
INTERVIEWER
Though you've been with Graywolf for a while now, and with your editor, Fiona McCrae, even longer than that.
EVERETT
We've been together for twenty-three years.
INTERVIEWER
How did you find each other? What's your writer-editor relationship like?
EVERETT
The first book she bought, when she was at Faber & Faber, was my novel God's Country. Then she went to Graywolf, and I followed her. She's my Maxwell Perkins. We talk about the work. We don't talk about marketing. We don't talk about anything except books, and that makes me comfortable and happy. And she gets me. I can't think of any other house that would have allowed me to write such varied work, from a retelling of Greek myth to a parody of literary theory to naturalistic novels set in the contemporary West, to things like The Water Cure or the last one, Percival Everett by Virgil Russell. It's just been, for me, as an artist, so freeing. I never take for granted that they will take my next book, but I know there's an openness to what I'm trying to do. And they don't run from the fact that they might not make any money on me.
INTERVIEWER
Your work is quite varied.
EVERETT
I get bored easily. Plus I think every story brings with it its own style. I go back and forth with novels. Some appear to be mimetic, others much less so. I love abstract art and I think I should be able to make an abstract novel. The problem, of course, is that the constituent parts of my art are representational. So how do I make something abstract out of representational pieces? For some reason, I believe it should be possible, so I keep trying to do it, and every time I think I've gotten a little closer, I step back and realize that I've failed. And I have to admit I kind of like the failure.
INTERVIEWER
You're talking about, I would assume, Percival Everett by Virgil Russell and, to a certain extent, Erasure.
EVERETT
Oh, there are several. The Water Cure, Glyph, I Am Not Sidney Poitier.
INTERVIEWER
But I don't think any of those books have failed. If they don't get quite to the point you're describing, I wonder if that failure is part of the experience of the project.
EVERETT
Oh, I don't mind failure. I can't grow and find that thing I'm looking for if I don't miss a few jump shots. It's not that I dislike what I've made, but I accept that it's not where I want to be.
INTERVIEWER
Are you consciously attempting to broaden the parameters or limits of the novel? Or would it be more correct to say that the novel is inherently loose enough, as a form, to accommodate what you're doing?
EVERETT
I'm not smart enough to know about the limits and parameters of the form of the novel, but I do know that fiction is not limited by rules. If I write a villanelle, you can look at all those draconian rules that apply to the villanelle and say, That's not a villanelle. And if I write sixteen lines, you can say, That's not a sonnet, it has more than fourteen lines. Same with a limerick. But I cannot give you fifteen pages of a story and have you tell me why it's not a story. There simply are no rules in that way, and since there are not, I can feel completely free to make it do anything I want it to do as long as it works.
INTERVIEWER
Are there particular artists or media you would cite as having influenced your work or that you see your work as being in conversation with?
EVERETT
Painting. I don't know if my work is in conversation with it. I wish that it were, but I can't say that it is. What I like about abstract painting is that you cannot say what the painting is about, except maybe color. I like that. I like the idea that perhaps I can make a novel that is about language. Then if somebody asks what it's about, I can say, Words. This is why I'm so interested in nonsense. In order to function, nonsense has to comply very rigidly to the rules of grammar and syntax. That's why we think it should mean something, because it seems like it should mean something even though it doesn't mean anything. What I want to do is write something that seems like it means something and doesn't. I want to write a novel that even I don't understand.
INTERVIEWER
This reminds me a bit of Sid Willis in Suder—"Fella named Gödel ­proved that ain't no logical system complete. He had to prove it. I could have told him if he'd asked. You need a dash of illogicalness to make your life complete."
EVERETT
Yeah, well. Gödel's proof is beautiful. If I could write something like Gödel's proof, I'd be happy.
INTERVIEWER
You studied philosophy when you were an undergraduate and a graduate student.
EVERETT
Logic. I did mathematical logic. And then continued to study Wittgenstein. A terrible mistake, but I did.
INTERVIEWER
Why was it a terrible mistake?
EVERETT
I say that half joking. Wittgenstein is interesting because the work leads nowhere. With most philosophy and theory, the fun is in the doing. You're not going to uncover any truth doing it, but it is a lot of fun to think about. I come back again and again to the work of J. L. Austin, who not only intrigues me but entertains me and calls into question what I think about language. And I probably would have continued to do philosophy if I had been a little more mature when I graduated. And thank God I wasn't, because then I'd be doing philosophy now instead of making fiction.
INTERVIEWER
You told me earlier you don't think of yourself as a natural storyteller. So how did you come to the idea of studying and writing fiction?
EVERETT
In ordinary-language philosophy, much of the work consists in creating scenes in which people speak about things we would consider philosophical concepts. So I was writing scenes anyway, and since I had always been a reader, I decided that writing fiction was a better way to explore some of the questions that bothered me.
INTERVIEWER
What is ordinary-language philosophy?
EVERETT
Merely an appeal to the way we use language ordinarily to understand the problems that Wittgenstein would claim philosophers create for ­themselves. Instead of using philosophical jargon to understand what beauty means, we would appeal to instances in ordinary discourse where we would describe something as beautiful and try to determine what it is we mean by that.
INTERVIEWER
This seems like the reverse of what we were talking about before. This is taking abstractions and trying to find instances of their representation, or at least of their appearance.
EVERETT
And in fairness, a lot of the complaint that an ordinary-language philosopher would face is not that they're going to uncover the truth but that they want to uncover the fact that the philosopher has created the problem her- or himself by attempting to find necessary and sufficient conditions for something to be the case of a particular concept.
INTERVIEWER
That sounds Wittgensteinian.
EVERETT
Yeah.
INTERVIEWER
So just to clarify, ordinary-language philosophy is a subset of Wittgenstein—
EVERETT
I would say that's what Wittgenstein practiced. And a lot of the work is wonder­ful to read. If you put Wittgenstein's Philosophical Investigations on your desk, you need to put another book on top of it or it will float to the ceiling.
INTERVIEWER
When I was an undergraduate, I caught the tail end of the critical-­theory vogue. We were assigned, and I remember greatly enjoying, Deleuze, Baudrillard, Barthes. It wasn't ordinary language, certainly, but there was something genuinely pleasurable about it.
EVERETT
It's fun. It should be fun.
INTERVIEWER
Everything should be fun. But what makes it fun?
EVERETT
The thinking. The whole thing about literary theory, Barthes and Derrida, is when American and British academics get ahold of it, they're so damn earnest. They stop having fun with it and actually think they're going to uncover some truth.
INTERVIEWER
This is a major theme in Glyph, in which Roland Barthes features as a character. Did you have any hesitation about writing a real historical figure into that fiction? The same thing happens in Suder, with Bud Powell.
EVERETT
They were both dead, so there was that, but I don't remember having any reservations. Bud Powell was so instrumental in my understanding of art that it just seemed natural that he be there. What I love about jazz is that, within fairly defined parameters, one can do anything—again, you can do anything you want to do as long as it works.
I was just having fun with Barthes.
INTERVIEWER
You've mentioned that you saw a lot of art at a very young age, that you went to galleries or museums with your father.
EVERETT
I did see a lot of art, but it was when I was thirteen that we visited the National Gallery together. That was the first time I got to see a Pollock. This very long Pollock, long and narrow. It was a very meaningful experience for me, and I think that shaped the way I think. I wasn't a writer then. At thirteen, I'd never thought about writing. But the experience of understanding that you cannot take the entire work in at once, yet that there are places you can enter—I still hold onto that.
INTERVIEWER
This was a family trip to D.C., or just you and your father?
EVERETT
Had to have been a family trip.
INTERVIEWER
You have brothers and sisters?
EVERETT
I have a younger sister.
INTERVIEWER
How much younger?
EVERETT
Just less than two years. She's a physician.
INTERVIEWER
And your father was a physician?
EVERETT
A dentist. My grandfather was a physician, and my father's brothers were physicians.
INTERVIEWER
A lot of medicine in your family.
EVERETT
Yeah.
INTERVIEWER
Were you close with your sister growing up?
EVERETT
Oh yeah. We're still close. We get along.
INTERVIEWER
I have a handful of these childhood and youth questions—
EVERETT
I don't want to talk about myself too much. You probably know that.
INTERVIEWER
I do know that, actually. Okay, I'll set these aside. I am curious what drew you to the University of Miami, what Miami was like when you were there. I'm asking in part because I'm from Miami.
EVERETT
I went there because of Howard Pospesel. He was a logician and I studied with him. He was great. I played jazz to pay for school—guitar.
INTERVIEWER
Have you always played?
EVERETT
I started when I was a teenager, made a fool of myself in jazz clubs.
INTERVIEWER
Enough to pay for school. Do you still play?
EVERETT
Guitars are out and around, but I wouldn't say that I really play. I pick it up and doodle, or play for the kids or play blues or something.
INTERVIEWER
What do you like to play?
EVERETT
I like old-timey slide. I like Ry Cooder. I like the songs he makes his own, even if he didn't write them—"Tamp 'Em Up Solid," "Red Cat Till I Die," "Strike!" Mid-twentieth-century union songs, that kind of thing.
INTERVIEWER
Another reason I'm curious about Miami is that I don't know that I've ever seen you write about it.
EVERETT
I don't think I have.
INTERVIEWER
Why do you think that is?
EVERETT
Because I don't really write about myself.
INTERVIEWER
But you've written about every other place you've spent time.
EVERETT
It's just those years. A chunk of time there I just don't visit. I don't know why.
INTERVIEWER
Getting back to this idea of a greater and greater freedom in the work, would you tell me about The Trusted Story, this project you're working on now?
EVERETT
I wish that I could, but I can't.
INTERVIEWER
Because you're working on it?
EVERETT
Yeah.
INTERVIEWER
We were talking before about mimesis. Work that appears at first to be mimetic, then troubles that idea or moves beyond it. It occurs to me that Blazing Saddles, which you've mentioned you teach, works in exactly that way. It relies on your expectation of a Western and then proceeds to add ­layers of satire as you get deeper into it.
EVERETT
It is a great burlesque, and it does this thing at the end that is unexpected and beautiful—it breaks the fourth wall. You have the fight in the town, then they cut to Dom DeLuise teaching people a dance step in this Broadway musical and the Western breaks through the wall of the studio. So you're not only ­reminded that they've been shooting a Western but also that they've been shooting it at a studio. None of it's real—yet the story continues, and it leads to that beautiful part where Harvey Korman, "Hedley Lamarr," goes into the theater and sits down and sees the very movie he has just exited. That's just great stuff.
INTERVIEWER
It reminds me of Alejandro Jodorowsky and the end of The Holy Mountain. It's funny that those films make similar gestures and came out around the same time, in the early seventies, but one is regarded as such high art and the other as . . . not.
EVERETT
I think most serious film people consider Blazing Saddles to be a classic in some measure.
What's interesting about Blazing Saddles is that no one could make it now. It reminds me that in some ways we were a lot smarter talking about race in the seventies than we are talking about race now. My students look to me for permission to laugh.
INTERVIEWER
In a particular scene?
EVERETT
The use of the word nigger in the film is one that—and this is sweet in its way—gives them trepidation. They don't know what to do. I tell them, It's a word. They'd be ill-advised to go use it in the neighborhood of USC, but in the context of the film and the understanding of the problems that the film is addressing, it's every bit as valid as the use of nigger in Huckleberry Finn.
INTERVIEWER
My favorite scene is when Bart first gets to town as the new, black sheriff and everyone pulls their guns on him and he escapes by holding himself hostage.
EVERETT
It's crazy. It's wonderful nonsense.
INTERVIEWER
But the amazing thing is how intelligible it is to Bart's audience. Since they can't accept the idea of a black lawman, he simultaneously performs the roles of the black criminal and the black victim, and then it's completely intelligible to them. They can accept him in both roles at once, even though they cancel each other out. I don't want to ask a reductive question, "What is the role of race in your work?" or something like that. I'm hesitating because I don't want to sound dumb . . .
EVERETT
That's never stopped me.
INTERVIEWER
So I'm going to go ahead and risk it.
EVERETT
There are two ways to approach the race thing. One is the unfortunate marginalization of American writers who happen to be black by calling them "black writers," which tacitly acknowledges the existence of something else that would be mainstream, and so ghettoizes the work immediately. That is the unfortunate part. If one allows that, one fails to acknowledge the truth that there is no such thing as a "black American experience." There are ­experiences of black Americans, and those experiences are as wide and varied as those of white Americans. If it were the case that one would go into the bookstore and see the White Male American Books section, there would be a problem with that, but even as I say it you can see how idiotic that would be. That said, every novel has in it the people who experience the world that's depicted. Some of those characters will be white and some will be black, and that will inform not only what they experience but how the reader experiences the novel. And that shouldn't have anything to do with any label placed on the book.
INTERVIEWER
Did the time you spent on the reservation in Wyoming shape the way you think about race?
EVERETT
Not really. I think my understanding of that ghettoization of artists came as a kid, walking through the bookstore and realizing that in the section called Black American Lit, there were two depictions of me—one was rural South, and the other was urban North. I was neither. So where did I fit in? I realized that was a bogus picture. The same is true of watching movies, television, whatever. When I became a writer, I realized that the best way of combating that was to ignore it. I found it to be a symptom of a sickness in our culture, a symptom of a virus that had to run its course. I think the range of works by black writers is much broader than it once was. If you look at movies and television, you'd be hard-pressed to believe that was true.
INTERVIEWER
How do you mean?
EVERETT
How many roles are there for black actors? And when you do have them, what are they doing? Except for when Morgan Freeman gets to be president.
INTERVIEWER
So the best solution to this double bind is to ignore it.
EVERETT
It is to make one's art. I just got an email that Paul Beatty won the Man Booker for The Sellout, which is terrific. That's what American letters needs.
INTERVIEWER
We spoke earlier about the "thing that bugs you" turning into a book. This, what we're talking about now, would seem to be the bug that became Erasure.
EVERETT
I think that's fair to say. It's something that's bugged me most of my career. I had a review of my second novel, Walk Me to the Distance, in which the last paragraph was one sentence that said, By the way the author is black. Because they couldn't find any way to reference my race in the review.
INTERVIEWER
But they couldn't bear to leave it out.
EVERETT
They couldn't leave it out.
INTERVIEWER
Was that around the time you stopped reading your reviews?
EVERETT
That was sent to me. I never found much reason to read reviews. I have no interest in it.
INTERVIEWER
Reviews of your own work or in general?
EVERETT
Reviews in general.
INTERVIEWER
That surprises me, only because you're so interested in philosophy and criticism.
EVERETT
Oh, I'll read scholarship. I often know a lot about what I "must have meant" from that. I suppose there probably are some review essays out there that are in-depth and that I might find interesting, but the typical review is not.
INTERVIEWER
In an interview you gave a number of years ago, in Bomb magazine, the interviewer asked you if your work "protests in any way," and went on to describe Erasure as "a big protest." You said, "Erasure is like describing a rattlesnake's bite. Am I protesting rattlesnakes?"
EVERETT
That's what I said?
INTERVIEWER
That's what you said. It really stuck with me.
EVERETT
I don't remember saying it, but that's pretty good.
INTERVIEWER
Can I get you to talk about the writing of Erasure and its curious publication history?
EVERETT
I don't really remember the writing of it. I was told that the editors at one of the S's—Simon & Schuster or Scribner, one of those—had wanted to publish the book. It used to be that editors could decide whether they wanted a book or not, and now they have to get it vetted by the marketing people, and ­apparently someone at one of the S's said, If we publish this book, we'll never have another book with Oprah. And that was the reason it was turned down. And then, curiously, an editor at the University Press of New England liked it. And since I never much think about money, stupidly, I said, You know what, let's let 'em do it. They did a very nice job with the book. After it did well, Random House tried to buy the paperback rights. They wanted Erasure to be the ­inaugural book in a new imprint they were starting called Harlem Moon. My agent told me this, and I said, Have they read this book? I was tempted to let them do it only because I kind of liked the idea that an imprint might be ­invalidated by its very first publication—but I couldn't do that to my work. They were offering quite a bit of money, more money than I usually get for a book, but I said no. The sad part was I had several books backed up at Graywolf and so we'd agreed I'd just take this book someplace else. Graywolf ended up republishing Erasure, but I wish I had gone with them in the first place.
INTERVIEWER
Given what you said before about Fiona, I have to admit I was curious why it wasn't a Graywolf book originally.
EVERETT
We're all curious about that now, but we don't remember exactly how that happened.
INTERVIEWER
This was in the late nineties, after you'd published Watershed. I find that book fascinating for a number of reasons. One is the way that Native American and African American experiences resonate with each other, but also the ways in which they diverge. It's something you've come back to in a number of books, but it seems to be most clearly "the subject" in that one.
EVERETT
Being a black American youth or an American Indian youth, you're faced with many of the same things, for example with law enforcement. By the time you're eighteen, you've probably been picked up or thrown on the hood of a car, for some reason you don't know, that you may never know. Or that you do know. They're vastly different histories but strangely similar experiences.
INTERVIEWER
Did spending time on the reservation bring that into sharper focus?
EVERETT
It was a very welcoming place. A lot of poverty, a lot of sadness. Native sense of humor and a lot of the sense of humor of black—well, I shouldn't say that. I should say that a lot of the senses of humor I experienced on the reservation were not so different from my own, and that was part of what made me comfortable. I made some very good friends there.
INTERVIEWER
Watershed also suggests that nonviolence isn't necessarily the best strategy for progressive politics.
EVERETT
I suppose. I was thinking about American Indian Movement, that stuff. But you know, if you actually think about the novel, it's not about a Native American. It's the experience of this black guy.
INTERVIEWER
An African American experience of Native American culture and people. The more Robert Hawks learns about the FBI agents murdered on the reservation, and what seems like a conspiracy to divert contaminated water to the reservation, the more time he spends thinking about his own history, personal and political, which for him are the same thing, because both his father and grandfather were civil rights activists, but his father was a pacifist while his grandfather was a militant.
EVERETT
It's an American experience. I think that's the thing to underscore. Not Native American, not African American—it's an American experience.
One thing that interested me, working on Watershed, was the notion of ownership of the land. Not just ownership, but how you achieve a connection with the land. This hydrologist that I had as my character—well, I'm not a hydrologist. I went out and did fieldwork and read some twenty-odd books on geomorphology and hydrology, but that did not make me a ­hydrologist. But I needed to know more about a particular place than anyone else, and there was no way I was going to do that, so I had to create it. I made topographic maps of a watershed and proceeded to write hydrologic reports about it, so that I would know more about this place, albeit fictitious, than anyone else. That gave me a sense of ownership of the place and some kind of authority about where things were happening.
INTERVIEWER
You did a lot of research.
EVERETT
Most of my work is research.
INTERVIEWER
How does that square with what you were telling me before—that you get the beginning of an idea, you get a sentence. Where does the research fit into that?
EVERETT
The research is ongoing. Take Wounded, for example. First, I'd been researching it my entire adult life, working with horses—research that doesn't always find its way into the work—then suddenly I was going into caves everywhere. I was going into undeveloped caves, developed caves, any hole I could find, until a friend said, You're working on a novel. I didn't realize it. And there is a cave in this novel. Caves are important to this novel. But what was ­important was not my knowledge of caves or my knowledge of speleology, it was the ­relationship with the cave that we all have on a primal level. When you go into a cave, you're afraid of it in some way. We all are—except for spelunkers, who are not afraid of anything. But you go in, and the safety is that light ­behind you, and as you become more familiar with the space, you can go deeper until you reach this space that I call the spirit of interstitial tension, and all of a sudden it turns around. It's not the light that's drawing you back to safety, it's the darkness that makes you want to go deeper. That was the kernel of the novel for me, though it's hard to say what about the novel ­addresses that.
INTERVIEWER
It makes sense at a gut level.
EVERETT
In that Lewis Carroll way.
INTERVIEWER
When you speak about this shift from the allure of the light to the allure of the darkness, you're not speaking metaphorically, right? You're telling me something about caving?
EVERETT
I'm speaking both ways.
INTERVIEWER
But I'm just trying to be clear here. This is, like, a documented part of the experience—
EVERETT
It was part of my experience, and I wouldn't have figured the book out if I hadn't had it. It's interesting, I was just reading this essay by a philosopher named David Lewis about experience and whether experience is the best teacher. It's philosophy of mind. It's always funny to me how things come back, that I should have been reading that this morning and now it comes back around.
INTERVIEWER
I don't want to insist on a political discussion, but can we go back to what you were saying about watching Blazing Saddles—how it reminds us that there are things we can no longer say, jokes we can no longer tell? Reading Watershed feels that way to me, like there was a stream of left-wing
thought that has been stamped out, or maybe is just now starting to peek its head back out. There's a bit in Ta-Nehisi Coates's Between the World and Me where he questions the idea that oppressed people "owe" the state nonviolence.
EVERETT
You can find that expressed far more intelligently and intellectually in Baldwin. Notes of a Native Son addresses that fully without being so super­ficial. I don't think it's disappeared, I just don't think there's that much money in it. This is America. [Laughs.] As we reach the end of this election, we can see how wrong we are with, say, gender issues. We've been operating under the idea that we'd gained some ground, that things are better, and yet, when we talk about racism and America, we reduce it to getting shot. Because that's sensational. As awful as that is, it's a symptom of larger issues. I have two sons, I worry about them in this world, but I don't want them to collapse their problems into one solitary fear.
INTERVIEWER
Have your sons changed the way you write or think about writing?
EVERETT
There might be things that I can't write now, things I might have written in the past, because now I'm maybe tenderer. Things in the world might scare me in different ways. I'm not sure I could write The Water Cure now. But kids are just so much smarter than we are. I'm always learning something about imagination, about being open to the world and how to see things. In that way, yeah, they've made me a better artist.
INTERVIEWER
What is your own earliest memory of reading? Did you have a favorite book or writer as a kid?
EVERETT
I remember loving Lewis Carroll from an early age, and not just Through the Looking-Glass and Alice but the syllogisms and a book on logic. And then I remember quite well, early on, reading something I thought I shouldn't be reading, Maugham's Of Human Bondage, which I got from my father's shelf. I think I was nine. It was fun because I didn't think I was supposed to read it. As I look back, I think that it's reading, probably even more than writing, that I find important. Reading is subversive because you necessarily do it by yourself. Which is why books scare people like Donald Trump. What's interesting to me is that the poor people who identify with Donald Trump, they think of themselves as unlucky rich people. If things had just gone differently, they would be rich, too. The system has worked against them. It's the same reason people play the lottery. Overnight you could wake up rich, and that's an exciting thing. What you can't do overnight is become educated. That requires a lot of work, so that's not a goal. It's something to fear. But that's exactly why I find books so important. I don't care what people read. If they read anything, then they might read something else. I just want to participate in making a different culture. I'm thinking of that line of Walt Whitman's—"Produce great Persons, the rest follows." It sounds flip when you just say it, but it's true. That's not to say that people are bad, but I want a readership that wants to read things because the work is difficult, not because it's only fun. I want the fun to be in figuring it out. That's what reading is all about, and to me writing is really just an extension of reading. But there, enough of my soapbox.