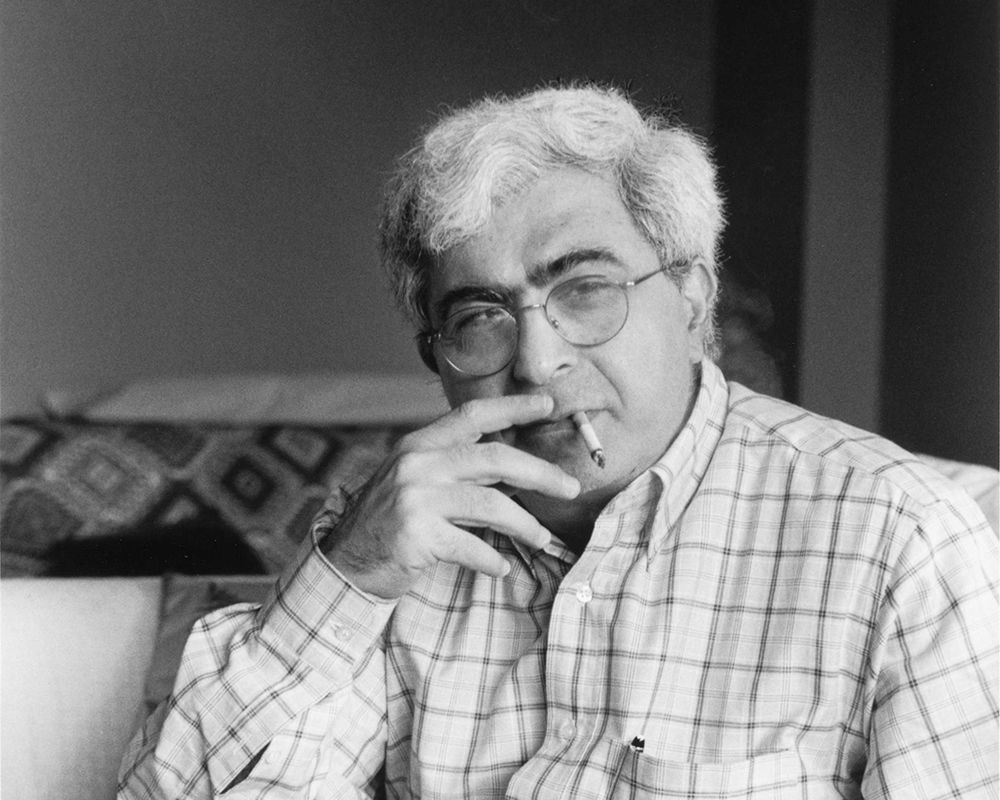 Elias Khoury, in 2007.
Elias Khoury is the foremost novelist writing in Arabic today. Born in Beirut in the fateful year of 1948, he published his second novel, Little Mountain (1977), during the opening phase of the long Lebanese civil war, in which he fought with pro-Palestinian forces against his Christian coreligionists of the Phalange. Khoury's early work is fearlessly contemporary, ­addressing itself to Lebanon's conflict even as events were ­unfolding. In novels such as White Masks (1981) and The Journey of Little Gandhi (1989), Khoury held up the broken mirror of his fiction to a country on the verge of falling apart.
Khoury's best-known novel is Gate of the Sun (1998), which the New York Times labeled "a genuine masterwork." It is the fruit of Khoury's many years spent in the Palestinian camps of Lebanon, where he listened to refugees' stories about the fall of Galilean villages during the 1948 Nakba. The novel is an epic patchwork of such tales, "worth reading twice," wrote Claudia Roth Pierpont in The New Yorker, "because it is so hard to see whole the first time, and because it is so insidiously rich." At its heart, the novel is the story of a Palestinian couple separated by the 1948 Arab-Israeli War: the guerrilla Yunes and his wife, Nahilah, who secretly meet and make love in a cave—called "gate of the sun"—in a Galilean village near the Lebanese border. It is, Khoury said to me, one of the very few love stories in literature about a married couple.
Khoury is also among the most respected critics and editors in the Arab world. He began writing essays for the monthly Palestinian Affairs in the early seventies (collections of his critical work fill several volumes in Arabic), and he edited Al-Mulhaq, the cultural supplement of Beirut's Al-Nahar newspaper, throughout the nineties, turning it into a forum for debate over Lebanon's postwar reconstruction. For Khoury, the razing and rebuilding of central Beirut was a missed opportunity for the country to come to terms with its recent past. In place of the sober recognition of responsibility, the Lebanese elite imposed a form of national amnesia. Under Khoury's editorship, which lasted until 2009, Al-Mulhaq also became a platform for dissident intellectuals from Syria during the reign of Bashar al-Assad. Today, Khoury writes a weekly column on culture and politics for the pan-Arab daily Al-Quds al-Arabi and is editor in chief of the Journal of Palestinian Studies in Beirut.
In person, Khoury is animated, funny, and attentive. He will repeatedly stop dead in the middle of the street to listen to what you are saying or to make his own point more emphatically. His conversation is full of stories—told in a low rumble, textured by decades of smoking Marlboros—which frequently end with him slapping the table and laughing. His anecdotes, often about fellow Arab writers, show his love of the mildly scandalous or seriously blasphemous. Khoury also enjoys an argument. When posed with a question, his impulse is often to correct or disagree with its premises. He has firm political views and states them bluntly, regardless of his audience. He also has several tics, such as always referring to Israelis as "our cousins" and reciting the Arabic bismallah—"In the name of God, the most compassionate and most merciful"—with faux formality before drinking an espresso or taking a phone call he'd rather not answer.
This interview took place over two days in an office at New York University, where Khoury was a popular professor in the Middle Eastern and Islamic Studies department for many years (he now lives year-round in Beirut). The office was plainly unused, its bookshelves bare, the only decoration a New York City subway map taped on the wall next to the door. A sliver of Washington Square Park was visible from the window. Our conversation was in Arabic. The translation is mine.
INTERVIEWER
Arabic literature is often read in this country for its relevance to current events. It's read as ethnography or journalism. You're known here as someone who has written about Palestine and also the Lebanese civil war. Do you find that reputation limiting?
KHOURY
It's true that, most of the time, American reviewers read Arabic literature as if they're reading the newspaper. Even Naguib Mahfouz is treated as if he wrote reportage from Cairo. What made me happy about the American reception of Gate of the Sun was that reviewers—some of them, anyway—actually treated my novel as a work of literature. They wrote a lot about its political aspects, of course, but they also wrote about its narrative technique, the love story, things like that. This was very gratifying for me.
And of course your reputation is never entirely under your control. In Beirut, after Gate of the Sun was published, people assumed I was actually Palestinian. Even the people in my own neighborhood thought so—and this is the place where I grew up, where my father and grandfather lived their whole lives! But I was honored by my compatriots' mistake.
INTERVIEWER
You have a long history with the Palestinian national movement. When and why did you decide to join?
KHOURY
It was a matter of my environment. I grew up in Achrafieh, in East Beirut, in a deeply Christian milieu. Christian in the sense that it took love for the other and care for the poor very seriously. When I was a student at the Lebanese University in the sixties, I got involved with Christian groups, although of course we called ourselves Maoists and Guevarists and supported the Vietcong. Then in 1966, Lebanese security services killed a Palestinian guerrilla named Jalal Ka'ush—there's an episode in White Masks that references this—and students organized a demo. It was the first protest of my life. The army shot at us and several people were killed. Still, at the time I would say my feelings of solidarity with Palestinians were primarily moral ones, and were a little bit abstract.
After the defeat in 1967, I felt we had to do more. The war created a wave of refugees fleeing the West Bank. Most went to Jordan and one group set up a camp outside Amman, in a place called Baqa'a. A group of us Christian students from Lebanon went to visit the camp. The conditions there were unspeakable, enough to make you weep. So we ended up staying to help—cooking meals, building homes, cleaning. When we returned to Beirut, I argued that the only ethical thing to do was to join Fatah. Some of us did.
INTERVIEWER
How did one go about joining Fatah at that time?
KHOURY
I took a taxi to Amman and stayed in a hotel where you could sleep on the roof for one dinar. The next morning, I got in a taxi and told the driver, Take me to the fedayeen! The driver thought this was very funny, because most cabbies in Amman worked for the Jordanian security services. Any one of them would have taken me straight to the interrogators. But I got lucky—this cabbie was a Palestinian. He took me to Salt, where the PLO leadership was. I knocked on a door and the man who opened it was Abu Jihad, the cofounder of Fatah along with Arafat. Abu Jihad took one look at me and told me to go home. But I was stubborn and I stayed.
INTERVIEWER
Where did you train?
KHOURY
We trained in Syria, in the camps at Hama and Maysaloun, just off the Beirut-Damascus highway. This is where the fedayeen had their camps. Later on, we worked in the south of Lebanon as well as around Beirut.
INTERVIEWER
You went back to Jordan a third time, after Black September, when the ­regime expelled the PLO.
KHOURY
We arrived just as the Jordanian army was chasing the fedayeen into the mountains at Jerash and Ajloun, in November. We didn't go into the mountains. We went back to Lebanon, and the guerrillas were massacred. At the time, I felt we had acted too soon. We believed we were the vanguard of a wider Arab revolution. None of us were so stupid as to think we could liberate Palestine while the whole Arab world was ruled by dictators, but the extreme leftists created a conflict with Jordan before the wider movement had matured. These were the leftists who created the slogan "All power to the resistance!" They started setting up soviets in Irbid, in northern Jordan, and other places, too. Our actions in Jordan were very premature. It was lunacy.
INTERVIEWER
Jean Genet lived among the fedayeen in Jordan at just this time. In Prisoner of Love, he writes that there was something essentially theatrical about the Palestinian camps. He even called them "Potemkin camps." Did you feel there was something theatrical about your own experience with the guerrillas?
KHOURY
I met Genet in Beirut in the early seventies, and I remember being amazed by his ability to look at himself from the outside—to study himself pitilessly, cynically, as if he were someone else. I now think this ability to divide oneself in two, which all actors have, is also a condition for writing and even for living. The roles you play end up being the story of your life. But this doesn't take anything away from the political and existential importance of those moments. My experience with the fedayeen was a kind of training for life, and for death. It required the utmost ethical commitment and the ability to see things critically, even at times ironically. I think this experience—you can call it theatrical if you like—is common to most people who are caught up in trying to make a revolution.
INTERVIEWER
Were you involved with the internal politics of the Palestinian movement?
KHOURY
No, I never was. And looking back, I think my real motives in joining the ­resistance were what I would call human rather than political. I've never taken a side within Palestinian politics, though many of my friends did—­supporting the Popular Front against Fatah or the Maoist faction against the Soviet faction, or whatever. I didn't get into those controversies because for me the issue was straightforward—Palestinians have a right to their country and the refugees have a right to return to their land. The conflict is still ­essentially an ethical issue for me. When you have a victim in front of you, you must identify yourself with the victim, not just show solidarity.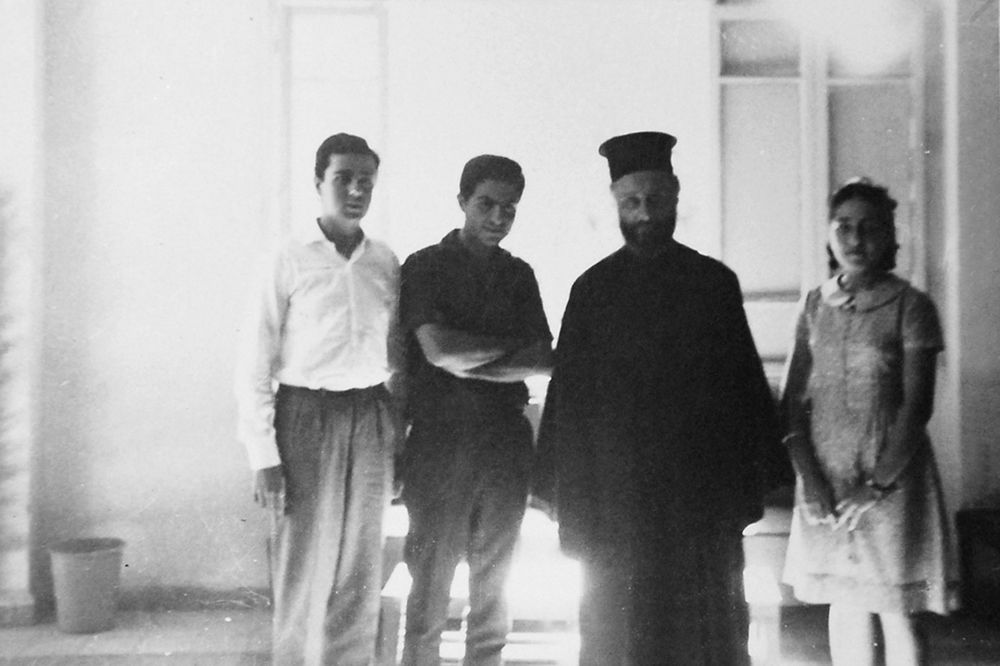 Khoury (second from left), in 1966, with the priest Georges Khodr, who became the Orthodox archbishop of Mount Lebanon.
INTERVIEWER
Did your own experience as a minority have anything to do with that feeling?
KHOURY
First, I don't feel that I'm from a minority community. According to the myth Christian Arabs tell themselves—a nineteenth-century myth, which I grew up with—they were Arabs before the Muslims were. In other words, they're not a minority in Lebanon, they're the rightful owners of the country. Second, in the house I grew up in, there was no animosity toward Muslims. We had a Quran in the home, we celebrated the Eid on Ramadan, even though we lived in a totally Christian neighborhood. So I had no sense of belonging to a minority, then or now. I'm part of the fabric of the country, which doesn't mean that I avoid the subject of sectarianism in my novels. But for me, one's religious heritage is essentially a literary heritage. I think that if I were raised a Muslim, I would've written my books in exactly the same way as I have.
INTERVIEWER
When the PLO came to Beirut, after being kicked out of Jordan, you left for France.
KHOURY
After Black September, I thought it might be time for me to become an intellectual.
INTERVIEWER
What did you study in Paris?
KHOURY
I studied social history with Alain Touraine at the École Pratique des Hautes Études. I wrote my thesis on the Mount Lebanon civil war, the conflict ­between the Maronites and the Druze from 1840 to 1860.
INTERVIEWER
What led you to that subject?
KHOURY
I discovered, to my surprise, that there were basically no written accounts of the war. There was no archive to consult, there were only the whispers you might hear at home—the Druze killed your grandfather, the Christians murdered your uncle, that kind of thing. To me, this lack of a specifically written past meant that we Lebanese had no present, either. I'm not interested in memory as such, I'm interested in the present. But to have a present, you have to know which things to forget and which things to remember. Our lack of written history made me feel that I didn't even know the country I grew up in. I didn't know my place in it. I don't think I made any great discoveries as a historian, but when I began writing novels, a few years later, I found that I wanted to write the present—the present of our own civil war.
INTERVIEWER
What does that mean, "to write the present"?
KHOURY
It means you have to name things as they really are. I remember Emile Habibi, the great Palestinian novelist, once said to me, How dare you give the characters of your novels Christian or Muslim names? Habibi was a Christian like me, of course. I said to him, But that's the way our society is. You know that we can often tell a person by their name. And he said, You should give them neutral names. It's what I do. So I said, Your own name isn't neutral, it's Emile! Are you going to change that?
INTERVIEWER
The early seventies must have been an interesting time to be a student in Paris.
KHOURY
I remember going to some of Michel Foucault's lectures at the Collège de France. They were very popular. The Collège had to open several auditoriums just to fit the crowds. We'd arrive three or four hours early with our ­sandwiches and get a good seat. Foucault was like a wizard, so erudite. No one dared to ask him a question after he finished lecturing. At that time, I was also writing theater criticism for Mawaqif in Beirut. The poet Adonis, who was the editor in chief of the magazine, asked me to float the idea of collaborating with the Tel Quel group. So I met Philippe Sollers and Julia Kristeva and the whole gang, but I thought they were bourgeois Maoist phonies. Nothing came of it.
INTERVIEWER
At university you studied history and sociology, so what gave you the idea of writing a novel?
KHOURY
To be honest, I started to think of myself as a writer when I read Albert Camus's The Stranger as a schoolboy and discovered that I knew the book by heart. I read it in Arabic first, French later. I used to memorize huge amounts of modern poetry in Arabic—Adonis, al-Sayyab, Khalil Hawi. I didn't study them, I memorized them. And after I memorized The Stranger, I felt like I was actually the author. The book became a part of me, it was inside me. This happened every time I read a book I really loved. My sense wasn't that I wanted to write something similar to what I'd read—no, my sense was that the book had entered me and that I was its author. I became obsessed with literature. Even when I was training in Syria, I brought novels with me to read.
INTERVIEWER
Which novels?
KHOURY
Bags full of novels! But Ghassan Kanafani most of all. I read Men in the Sun as soon as it was published in 1963. It was hugely important to me. I titled my own novel Gate of the Sun as a kind of homage to his.
INTERVIEWER
You met Kanafani later?
KHOURY
Yes, I met him in Beirut after I returned from Paris. I was working at the Palestine Research Center and its journal, Palestinian Affairs, while he was writing for the newspaper Al-Hadaf, which was linked to the Popular Front for the Liberation of Palestine. Kanafani was an impressive person. He had very bad diabetes and he knew he was going to die, but he still never took care of himself. He smoked nonstop and drank coffee and whiskey and was always writing something—journalism, novels, essays, children's books, plays. He wrote as fast as he did, I think, because he knew he didn't have much time. He was going to die even if Mossad hadn't assassinated him with a car bomb in 1972. His body was blown apart. His friends gathered the limbs off the sidewalk.
INTERVIEWER
You have an essay about Kanafani in which you write that his novels "encapsulate rather than narrate, condense rather than draw out." You also praise their "economy and austerity of expression." Pretty much the opposite of your own writing, no?
KHOURY
Completely the opposite. I used to think that he wrote the way he did ­because he didn't have the time to write otherwise. He wanted to get to the end as soon as possible. I mean, look at Returning to Haifa—it's more like a playscript than a novel. The outlines I write for my novels are longer than that. But now I think differently about Kanafani. He spent his whole life in political ­institutions, and I think in his novels he wanted to get to the essential as quickly as possible. He doesn't feel the need to build up his characters. Half the time, we don't even know where they're from. Right from the first sentence, you're in the middle of things. For me, it's the other way around. For me, it's the marginal detail or side story that we have to come to recognize as central.
INTERVIEWER
You published Little Mountain in 1977, two years after the Lebanese civil war started. Is it a disguised memoir?
KHOURY
It isn't a memoir. It's true that during the first two years of the war, I fought with the fedayeen, but the stories in Little Mountain are imaginary. Some of the places—the church in the opening section, for example—are real, but the events are made up. And honestly, after I finished writing it, I was afraid because I didn't know what I'd done. I didn't know what to call it. I still have that feeling whenever I sit down to write that I don't know how to do it, that I have to learn to write all over again. All I knew at the time was that we had to do the opposite of what Arab writers did in the nineteenth century. Instead of historical novels, we needed to write things as they happened, to tell the story of the present.
INTERVIEWER
How did you find time to write during the war?
KHOURY
I wrote in spurts. For example, I finished the first draft of White Masks in three weeks. I wrote so fast my hand hurt. I've never written in that way again. There were times when I was fighting, in Beirut or outside the city, and times when I was working at the Research Center. So it wasn't a matter of sitting down to write for three hours every morning like I do now. I wrote whenever I could, mostly in the evenings. Like I said, I was obsessed, or possessed. Do you know the story of al-Akhtal, the Umayyad poet? He was a Christian in the time of Caliph Muawiya. They say that when al-Akhtal stood to recite his poems in front of the caliph, his enemies would try to embarrass him by asking whether he prayed when he heard the muezzin call the faithful. So al-Akhtal told them, I pray whenever I'm visited by prayer. I'm the same way with writing.
INTERVIEWER
How was Little Mountain received?
KHOURY
Adonis and Mahmoud Darwish, the great Palestinian poet who was my friend and colleague at the Research Center, both liked it. That was important to me. And I think that helped the novel get some good reviews. I was even more surprised by the attention it got abroad. A few years after it came out, a small French publisher named Éditions Arléa called me up and asked if they could translate it. At the time, there was very little Arabic literature in translation—almost nothing aside from Mahfouz. And then Edward Said, who had been coming to Beirut since the beginning of the seventies, told me that he would find an American publisher for Little Mountain, for which he wrote a very nice foreword.
INTERVIEWER
A foreword in which he famously compared you to Mahfouz. He ­suggested that your "fragmented" style of writing was a kind of postmodern leap ­beyond Mahfouz's more straightforward, old-fashioned style of storytelling.
KHOURY
I never want to disagree with Edward. I loved him. I would just say that I didn't have much of an idea of what was going on in experimental or postmodern literature. In any case, my own experiments were different. Take the poets at Shi'r magazine, for example—Adonis and the rest of the Beiruti avant-garde. In the fifties and sixties, they would translate difficult poets like Saint-John Perse and then write their own poems in the same manner. They experimented, but they had a model. Sometimes it was contemporary, sometimes it was classical. Whereas I had no model. I wrote like a blind man.
INTERVIEWER
Edward Said invited you to teach at Columbia around this time.
KHOURY
I taught a course at Columbia in 1980 and '81 on Arabic literature. That was my first visit to New York. I was very nervous because I hardly spoke any English at the time. I actually went to the department chair and asked how I could possibly teach, since my English was so bad. He said, Don't worry, nobody here speaks English! The important thing is that you have ideas. Do you have ideas? I told him I had a few. Fine! I found that New York worked the same way. You don't really need English to get along.
INTERVIEWER
Did Said show you around the city?
KHOURY
Yes, he was my guide. We went downtown a lot. We went to jazz bars in the Village and saw a lot of theater. I remember seeing Al Pacino, though I don't remember what the play was. Said also introduced me to the Village Voice, which was an intelligent newspaper at the time. I remember there were basically no cafés uptown. You would drink an espresso at the same place you ate a hamburger, which seemed crazy to me. The university gave me a little apartment on Riverside Drive that was next to a fairly dangerous little park. But I was coming from Beirut, so that didn't bother me too much.
My real welcoming committee in the city was the Jews. Not just in the universities but also in publishing. It's the little reviews and independent houses that have welcomed me here and supported my work. This experience of Jewish New York is something that shows up in my latest novel, Awlad al-ghetto.
INTERVIEWER
Did you ever teach with Said?
KHOURY
Just once. He gave a seminar on Frantz Fanon and asked me to teach the second hour, on Tayeb Salih's Season of Migration to the North. Said talked for an hour without looking at his notes. He was like a juggler—Fanon, Aimé Césaire, Lukács and the dialectic, I don't know what else. He was as good as Foucault. After he was done, the class took a break and the two of us went outside so I could smoke. He asked if I was ready and I told him no, I was going home. How was I supposed to teach after that? He had to drag me back inside. But everything went fine. The students saw that I was young and scared and they were very nice to me.
INTERVIEWER
At the same time, you were writing White Masks, a novel that is often understood as a national allegory for Lebanon during the war. Do you see it that way?
KHOURY
I'm not sure it's an allegory, though I can see how one might want to read it that way. A national allegory is about the construction of a new nation, narrated through the stories of representative individuals. That's how I ­understand the term. But White Masks is a novel about social fragmentation. It's about disintegration rather than construction. And the mode of storytelling isn't symbolic, it's realistic. White Masks is the story of an ordinary man—Khalil Ahmad Jaber, a mailman—who's murdered for no apparent reason and then thrown on top of a garbage heap. You could give his story a symbolic interpretation, but it's also a story that resists any attempt to make meaning out of it. The protagonist is killed for no reason that we know.
INTERVIEWER
The novel seems to mimic, in formal terms, the fragmentation it represents. That seems like a risky choice.
KHOURY
Let's put things in context. We're talking about the phase of the civil war—which was really a number of small wars—following the Syrian invasion of 1976 and before the Israeli invasion of 1982. The Syrian army had destroyed the National Movement, and the Lebanese left. It had pushed a society that already had fragmentary tendencies into complete disintegration. The country had become a slaughterhouse. To say so requires a certain kind of cynicism, I suppose. I don't see any way to avoid that. The war no longer had any meaning—it was just repeating itself. This was the reality. But that's a very hard thing to tell people who are, some of them anyway, still fighting the war. I was still fighting it myself.
INTERVIEWER
The PLO, in particular, didn't like your novel.
KHOURY
They didn't, but that was no surprise. Arafat had pushed me to resign from the Research Center two years earlier.
INTERVIEWER
Why?
KHOURY
If you don't know this story, then it's important I give you the facts. At the time, I was the managing editor of Palestinian Affairs at the Research Center, and Mahmoud Darwish was the editor in chief. One day, some Palestinian security guys come in and say they've been sent to interrogate us, on orders from Arafat. The reason we were given was silly. We'd published an article by Hadi al-'Alawi, an Iraqi communist who didn't take Fatah's line, and the leadership didn't approve. But this was a pretext. The real reason was that Arafat didn't like how we ran the magazine. It wasn't a party organ—we published things that were critical of the leader­ship. Their position was that you can't criticize the revolution. Our position was that you had to criticize it—otherwise, it wasn't a revolution! Anyway, Mahmoud and I refused to be interrogated, so we resigned from the center. When White Masks was published in 1981, the PLO's reaction was very severe.
INTERVIEWER
What did they do?
KHOURY
They spread rumors about me, saying that I was anti-Palestinian and things like that. But they also made sure you couldn't find the book in stores. When I noticed this, I called the publisher, a man named Suleiman Subh. I asked him what was up and he told me the book had sold out its print run. Then print another, I said. We'll see, he said. So I guessed that the novel had been banned. I couldn't be sure, because there was no official pronouncement, which was almost worse than being banned. Then, just before he died, I talked to Suleiman in Tunis. He followed the PLO there in 1982, after the expulsion from Lebanon. He was practically on his deathbed, but he found out that I was in town and he telephoned me. He says, I'm going to tell you the truth before I die. So he says that one day, Arafat's security guys—Force 17—showed up and ordered him to take the books out of the stores and destroy all the copies, which is exactly what Suleiman did. I didn't blame him. My novel is the only book ever banned by the resistance, even though they never admitted it.
INTERVIEWER
Did you ever think you might leave Beirut and go to Tunis, along with the PLO?
KHOURY
Some of my Palestinian friends urged me to go with them. In their view, the situation in Lebanon was very bad, even dangerous for me. But I couldn't leave.
INTERVIEWER
Why not?
KHOURY
Beirut is where I'm from. The Israelis were occupying my country. What else am I going to do? If they occupy your country, you resist.
INTERVIEWER
Did you begin to collect stories about the Palestinian Nakba while you were working for the Research Center?
KHOURY
No, but that's when the idea came to me. The director of the center was a historian named Anis Sayigh, a very imposing thinker. At one of my first editorial meetings, Sayigh gathered everyone together and asked us to propose some project ideas that the center could work on in the future. I was young and new, so I didn't say anything. But at the end of the meeting, Sayigh turned to me and asked what I thought. So I said I thought there was an important gap in Palestinian history, which was the story of 1948 itself. The Palestinians hadn't really written anything about it. I suggested we put together a team and go to the camps and record their stories.
INTERVIEWER
You were still thinking of your thesis on the Druze-Maronite war.
KHOURY
Yes, here again there was this whole history that hadn't been written down. Sayigh listened to my idea very politely and asked me what we would do with all these stories. I said they would make an important archive. Then, I said, we could give the archive to a great novelist, who would make a Palestinian War and Peace out of it. Ah, Sayigh said, and which novelist do you have in mind? So of course I said, Me! Everyone laughed and nothing came of it, but I didn't let go of the idea. That was the beginning of Gate of the Sun.
INTERVIEWER
Were you always interested in oral stories?
KHOURY
Folktales and popular stories were really my introduction to literature. I heard them from my maternal grandmother, the most important person in my life. She was our neighbor in Achrafieh, and I visited her almost every day when I was a kid. She would ask me to read to her from the Psalms or the Song of Songs. She was very devout. But she was also a cultured woman. She knew pre-Islamic poetry by heart. We would stay up late together, talking about the lives of the old poets and their poems, the Mu'allaqat.
INTERVIEWER
The tales you heard in the camps are a different sort of story. In Gate of the Sun, Khalil says, "My grandmother used to tell me stories as though she were tearing them into shreds; instead of gathering them together, she'd rip them apart."
KHOURY
Because these were stories of trauma. The Nakba is a deep, deep trauma for Palestinians. These are stories that were never told. Most of them still haven't been told. In my novel Majma' al-asrar, which hasn't been translated into English, there's an episode about a massacre that happened during the 1860s civil war. I asked a student of mine to go to one of the villages in the Chouf, south of Beirut, and ask the old people there what they remembered about it. They remembered nothing, of course, because their grandfathers were the ones who had committed the massacre, one of the worst in the entire war. My student came back to Beirut two days later with his hand in a sling because the villagers had beaten him and broken it. These are things you don't talk about.
INTERVIEWER
How did you get Palestinians in the camps to tell you their stories?
KHOURY
With patience. I went to the camps almost every day. I went by myself, and I never brought a tape recorder, a notebook, or even a pen. I wrote down what I heard afterward, at home. Fortunately, I enjoy listening to stories. I think that listening is an expression of love and that telling someone your story is an act of generosity. Literature is maybe where the two things meet.
INTERVIEWER
Which camps did you go to?
KHOURY
Mostly the camps around Beirut and Sidon. Shatila, Bourj al-Barajneh, 'Ain el-Hilweh.
INTERVIEWER
So you went every day and eventually the people in the camps trusted you?
KHOURY
No, I went every day and every day they refused to talk. For a long time, no one said anything to me. They just couldn't—it was as if there were a physical obstacle. Eventually, an old woman, who had seen me come day after day, took pity on me. She asked what I wanted, and I told her, I'm writing a novel about 1948 and I need to know how things happened in the villages, how they fell. I was honest about why I was there. I didn't pretend I was there to make friends. So she began inviting people to her house to talk with me. And it worked because we were in her house. She also guided my questions—Ask this person about that village, ask this person about the other. If people didn't come or they didn't talk, she would say, Don't you want to know your own history?
But the number of stories that I heard and used in the novel was very small. Because it was hard for them. The people I talked to would rather give me the official version—the Jews were cowards and we were heroes. What else can you say, after all? That you ran away? That you left your baby in a field? That story—the story of Naji, in the novel—is one I did hear in the camps. A woman told me that she was running away with a large number of children, including a baby. They were in the fields around her village and the bullets were flying over their heads. Finally, she just couldn't go any farther, so she placed the baby under an olive tree. Later on, another woman found the baby. She returned it to the woman, who was telling me this story almost fifty years later. She couldn't stop crying.
INTERVIEWER
Was there ever any suspicion directed at you because you weren't Palestinian?
KHOURY
Never, because they knew I was with them. In their eyes, I was a Palestinian. When it came to political work, of course, things were trickier. Whenever I criticized the leadership during the time I worked at the Research Center, they would accuse me of not being a Palestinian. You know, Why is this Lebanese guy working with us? He obviously isn't with the revolution. At the same time, the Lebanese assumed I was Palestinian, and the Christians assumed I was Muslim, and the Muslims assumed I was Christian.
INTERVIEWER
Do you feel that you're Palestinian?
KHOURY
I feel that I'm all those things.
INTERVIEWER
That must be difficult, to feel that you're all of those things.
KHOURY
Why? I think anyone can make a tragic identification with Palestinians—to identify with them on the basis of the tragedy they've suffered. I don't think geography, including the neighborhood you grow up in, determines your identity. While I was fighting with the National Movement on the side of the Palestinians, many Christians thought I must be a Muslim. Fine, I'm a Muslim. We're all Muslims, in the sense that the Islamic element is essential to Arabic culture. You can't understand Arabic culture without knowing about Islam. And I do feel that I belong to that culture. But of course I'm also a Christian, in sociological terms.
I'll tell you a story. At the beginning of 2013, about 250 young Palestinians occupied some land near Jerusalem that was slated for settlement building. It was a kind of reverse occupation. The protest village was located on what's called the E1 corridor, between Jerusalem and the big settlement of Ma'ale Adumim. The Palestinians called their village Bab al-Shams, "Gate of the Sun," and they encouraged others to immigrate. I was honored, of course, and totally surprised. I didn't know any of these young people, who took the name for their village from my novel. But I wrote them a letter asking for citizenship. The village stood for two or three days—they even elected a council—until the Israeli army came in and razed it. So now I have a destroyed village in Palestine, too.
INTERVIEWER
One distinctive feature of your writing style is the use of repetition—of words, phrases, or even entire stories. Gate of the Sun keeps returning to the fall of certain villages in 1948. Is this interest in repetition partly the result of your interest in oral literature?
KHOURY
I think of repetition as a rhythmic element. Gate of the Sun was supposed to come out in 1997, but the publication was postponed until the following year. Some people assumed it was timed to commemorate the fiftieth anniversary of the Nakba, but in fact it was because I found, while reading the proofs out loud, that the book had certain musical flaws, certain defects of rhythm, which I spent a whole year trying to correct.
INTERVIEWER
But repetition also seems like a structural principle in your novels. It affects the way you think about beginnings, middles, and ends.
KHOURY
You're right, and this is actually central to the way I think about literature. Repetition is, I might say, a way of insisting that every story contains many stories inside it. The same story can be told in any number of different ways, of course. My novels try to suggest this richness, even though I can tell only a limited number of versions. In other words, I'm a student of Scheherazade—I don't tell the story, I tell how the story has been told. There's an important difference here. The whole tradition of Arabic literature teaches us how ­important it is. All classical texts tell us that there's a prior authority or source for the story about to be told. There's always a chain of transmitters, or translators, even though each version differs. And in Arabic, the word for "novel," riwaya, also means "version." In this sense, there's no such thing as pure repetition. To write multiple versions of the same story is to suggest that every story is a form of potential, an opening onto other stories.
INTERVIEWER
In writing Gate of the Sun, which has so many overlapping and interweaving stories, did you map out the narrative beforehand? Did you use some kind of storyboard?
KHOURY
No, I began almost at random, writing the easy parts first. A piece of roof here, a bit of wall there, until I had the basic frame. The frame was built around the five main characters—Umm Hassan, Yunes, Nahilah, Khalil, and Shams. After that, I worked on establishing the geography, the villages of Galilee, one by one. This required a lot of reading. Benny Morris and the Israeli New Historians, Walid Khalidi's All That Remains, Arif al-Arif's book on the Nakba, which is very important and not as well-known as it should be. Then I started writing the stories that belonged to each village.
INTERVIEWER
Several of your books deal with stories that haven't been told or histories that have been intentionally erased. Do you think literature can compensate for history? Can fiction fill a gap in the archives?
KHOURY
Literature cannot be a compensation for history, but it can point to an ­absence. It's a form of accusation, if you like. Gate of the Sun is not a history of the Nakba, but because of all the details and stories it includes, the novel asserts the necessity of writing that history, from the Palestinian side. The novel indicates what isn't there. And of course Gate of the Sun isn't a historical novel—it's set in the 1990s, not 1948. But even historical novels aren't history, they're present-day interpretations. An older generation of intellectuals, people like Constantine Zurayk, argued that the Nakba was caused by Arab backwardness. He thought Arabs had to modernize, had to turn their backs on a past—however glorious—that failed them. My novel says something else. Gate of the Sun is about the lives of everyday people and the stories they told and continue to tell about this event. In other words, the Nakba is still happening. We can't write its history because it hasn't ended.
INTERVIEWER
About twenty years ago, you published an essay in Grand Street about literature and memory in the aftermath of the Lebanese civil war. You wrote, "In this city [Beirut], systematically ravaged by civil war, the only space left for memory is literature." What is the relation between literature and memory in Lebanon?
KHOURY
After the civil war, the ruling class in Lebanon—I mean the ruling class of all sects—made a decision to erase our memory of the conflict. They gave a general amnesty, even for war crimes, and refused to investigate cases of the disappeared. Seventeen thousand people disappeared during the war, and we still don't know what happened to them. After this enforced amnesia, politics and social life have become more sectarian than ever. Even our media has sects—we have Sunni newspapers and Shia newspapers, Sunni and Shia television channels, et cetera. And with the devastation of the Lebanese University during the war, there is hardly any place for scholarship or scientific research. The American University and Université Saint-Joseph haven't stepped into the breach. So it fell to literature to ­memorialize the war somehow. I'm not sure this is a good thing, to tell the truth. In other societies, this is not the role literature is called on to fulfill.
INTERVIEWER
Why wasn't literature sectarianized in the same way as everything else in Lebanon?
KHOURY
That's a good question. I suspect that it has to do with the origins of our modern literature, in the nineteenth century. Writers like Ahmad Faris al-Shidyaq and Shibli Shumayyil had a strong secular, scientific tendency, and they left their mark on what came later. I think literature has also been saved by its marginality. Lebanon's novelists and poets disagree about politics, but none of us actually belong to the country's sectarian apparatus. Our marginality is what allows us to be critical of that apparatus.
INTERVIEWER
After the civil war ended, you were very outspoken in your opposition to the plans for rebuilding downtown Beirut. What were you worried about?
KHOURY
Well, there were a number of problems. First, the plan submitted by Solidere—which is a private real-estate company, of course—forced the ­prewar landowners of the area, mostly middle- and lower-middle-class people, to sell their property for nothing. It was a land grab with a legal facade. Second, the plan preserved all those districts where the architecture was French colonial. As for the rest, the Ottoman-era districts like Martyrs' Square—these were torn down. Show me another city in the world where they tear down a three-hundred- or four-hundred-year-old building! I'm not nostalgic, but these are buildings you have to keep—they belong to the country's patrimony. Finally, the new downtown was not made for Lebanese, but for people from the Gulf—the only ones who could afford the rents. The idea was to make Beirut into a whorehouse for the Gulf, frankly. I would say that plan has failed. Not because of anything we did, but ­because Solidere's financial projections assumed there would be some kind of regional peace, as well as a deal between Israel and Palestine. And of course neither of those things has happened. So the downtown is mostly dead. It's like a stage set.
INTERVIEWER
You say you aren't nostalgic, but you obviously feel that the city and its history have been betrayed. What is it you love about the place?
KHOURY
Let's be honest, Beirut is not a beautiful city—it is probably the ugliest big city in the whole region. The architecture is, for the most part, a disgrace. Even Tripoli is a much prettier city. And let's not even talk about Damascus or Aleppo, which were magical places before Bashar destroyed them. Or think of Jerusalem and Haifa. All those cities are much more beautiful than Beirut.
And yet, Beirut is a city of immigrants. This is important. In the early nineteenth century, it was a village of six thousand people. It wasn't a vital place in any respect—not commercially, definitely not intellectually. Then, in the 1830s, Ibrahim Pasha began construction of the port, and the wars of 1840 and 1860 brought a lot of Christians down from Mount Lebanon. At the beginning of last century, Beirut was a major refuge for Armenians fleeing the Turks. Many Palestinians came to Beirut after 1948, of course, and they continued to come for years afterward. In the sixties and seventies, Shia came from the south. Beirut is a city built by strangers—economically, intellectually, culturally—and this makes it an open place. That's its real distinction in the region. Living there is like living in many different cities at once. You can walk from Manhattan to Paris passing by way of Qum and Colombo. Everyone can be a Beiruti. No one can say you're not.
INTERVIEWER
It also has a great nightlife.
KHOURY
It's a lively place, even at the worst of times. I remember in the eighties, during the first intifada, our Palestinian friends would come to see us. It was a tough time, a time of many martyrs. But still we would go out and drink and tell jokes. Our Palestinian friends were surprised, but that's how we are—it isn't that we avoid death, it's that we almost can't help but turn tragedy into farce. Which is a dangerous habit. Not everything should be made into a comedy. But you also have to live.
INTERVIEWER
The most recent wave of immigrants is Syrians fleeing the civil war next door. How has the city coped with this influx?
KHOURY
Even before the Syrian war, there were a large number of Syrians living in Lebanon, mostly working in construction or agriculture. But the arrival of more than a million refugees has provoked the worst kind of sectarian ­reactions from our elite. Sunni and Shia leaders stoke hatred of the other, Christian leaders play on their community's fear of Muslims. My worry is that the refugees, who now make up roughly a sixth of Lebanon's population, will be used as grist for the country's sectarian mill, and push us into the abyss.
INTERVIEWER
What happened to the Arab Spring? Was it a real revolution in the first place?
KHOURY
Of course it was. What's a revolution? It's when a regime can no longer control the populace, when the regime is brought down to the ground. The surprising thing, at least in Tunisia and Egypt, was how easily this happened. But even in Syria, I think the regime is finished. It was finished as soon as the army started firing on demonstrators, because the regime acted not like a state but like an armed gang. It showed its true nature, and now things cannot go back to being the way they were. The problem is that after these regimes fell, we had nothing to put in their place.
INTERVIEWER
How do you explain that failure?
KHOURY
In retrospect, I think there are two main reasons. One is the absence of Arab liberals and the other is the absence of the left. The liberals—I mean people committed to a separation of powers, a system of checks and balances, ­individual rights—never showed up. Maybe because they never really existed. The absence of the left is another matter. The Arab left exists, but it has been repressed for decades. And since the Soviet collapse, it hasn't had a model to look up to. You could see this with the young people in the squares. There were huge numbers of them, from all levels of society, but they had no organization, no encompassing political vision. There was a vocabulary—democracy, social justice, et cetera—but what did these things mean? No one could say. And this was because there were no parties, no organizing institutions.
INTERVIEWER
Wasn't part of their point that those institutions belonged to the past? That they hadn't worked?
KHOURY
I don't want to give lessons to any of the people who were in the squares. We should be studying, with humility, what they accomplished. But if parties are things of the past, we need an idea of what will replace them. One thing the protesters definitely accomplished is to make it impossible now to return to the dictatorships of old. El-Sisi, the president of Egypt, is a clown dictator. He's a bad parody of Nasser. Even in Syria, the dictatorship is finished. It has no more legitimacy. For the moment, the war makes that fact hard to see, but it's true nevertheless.
INTERVIEWER
Tell me about your most recent novel, Awlad al-ghetto, "Children of the Ghetto."
KHOURY
The book is set in Israel, especially in Lydda, though there are also portions that take place here in New York—a first for me. The main character is an emigrant to this city. The book is in some ways a complement to Gate of the Sun. Not a sequel exactly, but some of the characters in that novel live on in the new one.
INTERVIEWER
I don't imagine you've ever been to Israel, so what sort of research was involved?
KHOURY
I've never been to Israel, just as I've never been to Palestine. But one enjoyable part of researching this book was studying Hebrew, which I've been doing for seven years or so. The novel's main characters are Arabs who live in Israel and often speak in Hebrew, so I felt that I had to learn some of the language. I did the same thing when writing Yalo. Its main character grows up in a Syriac-speaking home, so I decided to learn some Syriac. I can't claim to speak Hebrew, but I don't feel it's a totally foreign language to me now.
INTERVIEWER
What did you learn from studying it?
KHOURY
I learned that Arabic and Hebrew and Syriac are similar to an almost frightening degree. First of all, there are many cognates—as well as faux amis—and the syntax is basically the same. All three languages build their words on trilateral roots, so the morphologies are quite close, too. I also learned from Yehouda Shenhav, my Hebrew translator, that ever since the founding of the state, Israel has tried to expunge all traces of Arabic from their language. A kind of linguistic cleansing. I find this extremely interesting.
INTERVIEWER
Have you studied Hebrew literature?
KHOURY
Yes, but this is a much longer story. The first work of modern Hebrew literature I read was S. Yizhar's novella Khirbet Khizeh. A young Palestinian novelist named Tawfiq Fayyad came to my office at the Research Center in 1978 and told me about it. At the time, Khirbet Khizeh hadn't been translated into English or even French. I asked Fayyad to translate it, and we published the Arabic version in Palestinian Affairs. It caused a small scandal. People were confused because Yizhar was no lover of Arabs. He was a committed Zionist and a member of the Knesset. But his novella is amazing. It's the story of a troop of Israeli soldiers ordered to clear a Palestinian village called Khirbet Khizeh during the 1948 war. Yizhar describes the Palestinians forced out of their village in the language of Exodus. His narrator talks about looking among them for the Palestinians' own Jeremiah, the angry prophet. Yizhar's point is that in 1948 the Jews created Jews of their own. Palestinians are the new Jews. After that, I decided I had to read more Israeli literature, because there were obviously things in the literature that went deeper than everyday politics. I read everything that had been translated, Amos Oz, A. B. Yehoshua, David Grossman. I learned a lot, though I never found anything quite like Yizhar's novella.
INTERVIEWER
Your own works have now been translated into Hebrew, for which you were criticized.
KHOURY
When Gate of the Sun was published by my friend Yael Lerer at Andalus Publishing, in 2002, I was attacked quite savagely, mostly by Egyptians, ­including my friend Sonallah Ibrahim. Their argument was that having one's books translated into Hebrew was a form of normalization. This is—how shall I put it?—total bullshit. The Egyptians have a complex about normalization, of course, because of Camp David. Everything in Egypt is "normalized," but they're the first to point fingers. Edward Said wrote a piece about the whole affair in Al-Ahram, which said everything that needed to be said. He wrote that "getting into a foreign language is always a victory for the writer," and this is exactly right. I read Israeli authors, why shouldn't they read me? That position doesn't oblige me to take any political stance other than the ones I've taken my whole life. Normalization is a matter of economic relations between states, not literary exchanges between individuals. Translation isn't normalization.
INTERVIEWER
How do you continue to write novels when every day seems to bring news of some new atrocity or human calamity in your backyard?
KHOURY
I've lived my life under a state of near permanent war. I was born in 1948 and have vivid memories of the "small" civil war of 1958. The defeat of 1967 brought me to political consciousness. And I began writing novels during the first years of our major civil war. I try not to write about war, but to write from within it. One has to write through these calamities and atrocities. I think it's good practice—for writing and for living—but it isn't ever easy. On the other hand, I suppose that writing is always a mixture of torture and delight. This was something I tried to explore in Yalo, whose protagonist is tortured and then forced by his inquisitors to write a confession. So writing is both a torturer's technique and a means of liberation—a way of understanding yourself. By writing, you transform reality into material for the imagination.