Interviewed by Lucas Wittmann
Issue 217, Summer 2016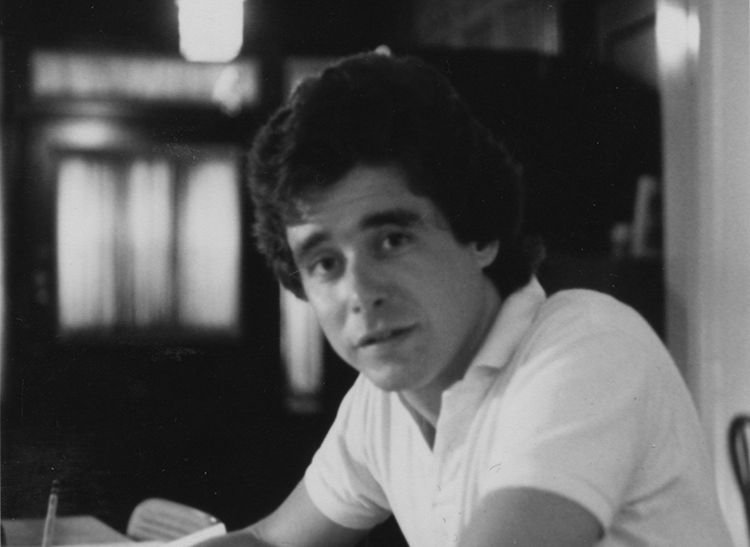 Jay McInerney at work on Bright Lights, Big City, 1983.
Few novels stand for a place and time the way Bright Lights, Big City stands for downtown Manhattan in the 1980s. Narrated in the second person, Jay McInerney's first novel tells the story of a young fact-checker, at a magazine very much like The New Yorker, who loses his way in the cocaine-fueled nightclub scene. From the ­moment it appeared as a paperback original, in 1984, Bright Lights established McInerney as a chronicler of New York's bright young things. In his six subsequent novels and numerous short stories, he has broadened his scope and his canvas, but he has never taken his eye off his adoptive city or the intersection of the literary world and that city's flashier precincts. His recently completed novel, Bright, Precious Days, is the third in a trilogy that follows the fortunes of book editor Russell Calloway and his wife, Corrine, as they struggle and thrive from the late 1980s through the 2008 recession.
Born in 1955, McInerney spent his childhood moving from suburb to suburb in the U.S., Canada, and England. His father was an executive for a New England paper company and, in McInerney's words, a "Nixon guy." His mother, a housewife, was active in liberal charities. (There is a children's center in Pittsfield, Massachusetts, named in her honor.) Sharing her ­political passions, her son, a "would-be hippie," was drawn toward social activism at Williams College, then as now filled with investment bankers in training. In 1977, after a stint as a local reporter in New Jersey, McInerney received a fellowship to teach in Japan, where he hoped to write the Great American Expat Novel in the style of Robert Stone or Graham Greene. Notes in hand, he returned to the U.S. three years later with his first wife and took a short-lived job as a fact-­checker at The New Yorker. But he made his first mark on the literary world with a story in the Winter 1982 issue of The Paris Review, which would become the first chapter of Bright Lights.
I spoke with McInerney three times in February and March of this year. We met in the Greenwich Village apartment he shares with his fourth wife, Anne Hearst McInerney. Their art collection dates from the moment they each arrived in New York: works by Cindy Sherman, Keith Haring, and Caio Fonseca share wall space with photographs of McInerney's literary ­heroes Faulkner, Joyce, and Kerouac. Once we turned off the recorder, our conversations continued over a meal in the neighborhood and a bottle or two of very good wine (since 1996, McInerney has moonlighted as a wine critic for House & Garden, the Wall Street Journal, and Town & Country). He is known, and much appreciated, for bringing his own hamper of bottles to black-tie benefits around New York.
Now sixty-one, McInerney has lost none of the energetic volubility that made him one of the most quoted writers of the mideighties, when he, Bret Easton Ellis, and Tama Janowitz were collectively known, by critics and gossip columnists alike, as the "Brat Pack." Although he enjoys telling a good story—especially if it shows him in a slightly comical light—it is ­notable how often our talk turned to other people's fiction, either the classics that formed his sensibility or new novels that piqued his interest. (Janice Y. K. Lee's The Expatriates was on the breakfast table.)
—Lucas Wittmann
INTERVIEWER
When did you decide you wanted to be a writer?
MCINERNEY
In eighth grade, when I first read Dylan Thomas. His is a kind of poetry designed to appeal to the adolescent mind more than T. S. Eliot's, perhaps. I found him intoxicating. I quickly devoured all of his poetry, and then I started looking elsewhere for something like it. In high school, I found my way back to the modernists—Eliot and Pound—and forward to the Robert Lowell and John Berryman generation. At some point, I started telling ­people that I was going to be a poet, which of course broke my father's heart, and my grandfather's as well. They didn't think it was a manly profession. Or a lucrative one. But I didn't really think of writing fiction until I was in my junior year at Williams College. I took a course on Ulysses. We read Portrait of the Artist and Dubliners as well. I realized that prose could be linguistically as intricate and challenging as poetry.
INTERVIEWER
After college you got a fellowship in Japan. What were you doing there?
MCINERNEY
I wanted to write the Great Expatriate Novel, and it didn't seem like Paris was the place to go anymore. I decided that perhaps Japan was. And Woodward and Bernstein had made it almost impossible to find a good newspaper gig. My roommate at Williams was already there and I managed to land this Princeton teaching fellowship. So off I went. Then I ended up getting ­excited about Japanese culture. I studied the language. I studied karate. I studied Zen. After the fellowship, which was six months teaching English in a place called Fujinomiya, I moved to Kyoto, the ancient capital, the center of Japanese culture.
INTERVIEWER
What was your life there like?
MCINERNEY
I was alone for the first year, and then I met my future wife. In a bar, ­actually. She had come over from Seattle to model. There was a big market for American models at the time, though actually she was half Japanese. Her ­father was a soldier who'd been stationed in Tokyo and had married a Japanese woman. So she was returning to her roots, in a way. We lived ­together and eventually moved to New York at the end of '79.
INTERVIEWER
Why did you want to live in New York?
MCINERNEY
It was an interesting time to arrive here, that moment where it still seemed as if the city could go either way. It had almost gone bankrupt in '77. White people were still fleeing to the suburbs. There was a heroin epidemic. The city was still dirty and dangerous. At the same time, there was this interesting cultural scene, the music coming out of the Lower East Side, CBGB, and Max's Kansas City. I felt like there should be a literary equivalent to all of that. A literary equivalent to punk music. And a generation of older writers whom I admired were based here—Norman Mailer, Don DeLillo, Truman Capote. New York had a literary center at that time, which I eventually discovered at George Plimpton's house, on East Seventy-Second Street, the same apartment that housed The Paris Review. That's where I met a lot of the writers I'd read in college. But I was also attracted to what was happening downtown, worlds away. I spent a lot of time exploring the nightclubs and music clubs, places that were not yet chronicled in any general-interest publication. It was a word-of-mouth, underground scene—drug fueled, pansexual, and spontaneous. When I arrived in the city, it was still possible to hear the Ramones play at CBGB and Iggy Pop at the Peppermint Lounge, and the Talking Heads were the reigning downtown savants. You could stay up all night at AM:PM and bump into John Belushi in the bathroom. The Mudd Club was this incredible scene. On any given night you'd see Jim Carroll and Lou Reed and Andy Warhol and Basquiat. I was just a fly on the wall, I could barely get into the cool places before Bright Lights, but I found it all very inspiring and I wanted to capture that energy and to create some kind of literary equivalent to the art and music scenes. It was a great time to be young and restless in New York. I wasn't getting much writing done, but I like to think I witnessed a great moment and I internalized it.
INTERVIEWER
How did you pay the rent?
MCINERNEY
First I read slush at Random House. My best friend from Williams, Gary Fisketjon, was an editorial assistant there, working for Jason Epstein. I read unsolicited manuscripts all day. I also wrote freelance book reviews, mainly for the Village Voice. Then I did some research for Jane Kramer, The New Yorker's European correspondent, and she eventually recommended me when a job opened up at the magazine. So I became a fact-checker at The New Yorker.
INTERVIEWER
Famously. What was that experience like?
MCINERNEY
I felt like I had really arrived because—well, it was The New Yorker. But it was the fact-checking department. I wanted to be in the fiction pages, but still. It actually paid pretty well, and I was seeing great writers like John McPhee and John Updike coming to visit William Shawn. J. D. Salinger was still calling on the phone. There was a terrific buzz about the place. But it was also a little depressing. There were all these unwritten rules. Like, for instance, if you were a fact-checker, you didn't speak to an editor or writer in the hall—it just wasn't done. Also, it turned out I wasn't very good at it. And ten months after I got there, I was fired, and left ingloriously with my tail between my legs.
INTERVIEWER
How bad were you?
MCINERNEY
My biggest mistake was to have lied on my résumé and said that I was fluent in French, which I wasn't. So when the time came to check a Jane Kramer piece on the French elections, it was assigned to me, and I had to call France and talk to a lot of people who didn't speak English. That was really my downfall. And of course I couldn't admit to anyone that I had this problem. Jane Kramer discovered factual errors just before publication. Nothing earth shattering, but you would think that I had . . .
INTERVIEWER
Murdered Shawn's wife?
MCINERNEY
Or at least slept with her. I was summarily called into the office of the head of the fact-checking department, and my offenses were listed. And I think at one point Shawn even walked past and looked in the office and shook his head, and I realized that my disgrace was general. And publicized. Even though I didn't really like the job, it was humiliating and shaming to be fired. What was worse was that, soon after, my wife left me for a fashion pho­tographer. She went off to Italy and never returned. And my mother was dying of cancer. So, basically, my whole life fell apart in the space of about three months.
INTERVIEWER
Ten months after you thought you had arrived and made it in the shiny city.
MCINERNEY
I guess it was Hemingway who said that the best thing that can happen to you as a writer is the worst thing that can happen, so long as it doesn't kill you. But I was despondent. I was an absolute mess. And I think Bright Lights would have been a less interesting and more superficial book if I hadn't had that triple catastrophe to inform me. I feel like I probably owe my ex-wife at least a thank-you note for breaking my heart and seemingly ruining my young life. The final blow, and of course the most significant, was my mother dying, and what made it worse was that she had to watch me go through these other two things. It certainly didn't make her last days on earth any happier. At the time, I was still struggling to write this novel about Japan.
INTERVIEWER
You had been writing it this whole time?
MCINERNEY
Well, between my duties at The New Yorker and my nightlife and everything else, I wasn't getting much writing done. But one morning, shortly after I got fired from The New Yorker, I was home, sleeping late, when I got a phone call from Gary Fisketjon saying that Raymond Carver was coming in to ­visit me. And I thought it was a joke, and I hung up. About twenty minutes ­later, my buzzer buzzed, and there was Raymond Carver at my doorstep. It turned out he was in town for a meeting with his editor, Gordon Lish, and didn't have anything to do until his reading at Columbia that night, so Gary and Gordon sent him down to see me—because they had work to do and I didn't. And because they knew I was a big fan. Oddly enough, it was the morning John Lennon was killed. I'd just heard the news on the radio. So it was a strange day. We just started talking and really hit it off.
INTERVIEWER
What was your conversation like?
MCINERNEY
We talked for hours, mostly about books, about fiction. The cocaine I brought out to help break the ice certainly lubricated the conversation. We ended up being hugely late for his reading at Columbia that night, and he read the story "Put Yourself in My Shoes" exceptionally fast. I think eventually he determined that there was something in me that might be worth . . . saving. And also that I better get out of New York if I intended to become a fiction writer. Afterward, he wrote me a letter suggesting that I apply to the graduate program at Syracuse University, where he was teaching.
INTERVIEWER
What was he like at this time?
MCINERNEY
He was a big, bearish man but soft-spoken. And he spoke in a very hesitant kind of way, as if you could just hear him thinking out loud. There was a fragility about Ray then, because he had recently stopped drinking, after almost a lifetime of abusing alcohol.
INTERVIEWER
What did you learn from him?
MCINERNEY
He said you have to write every day.
INTERVIEWER
Even when he was at the height of his drinking, he was trying to do that?
MCINERNEY
He was relentless about that. And I think he was right. You can't always write well, and sometimes you can't write at all, but if you're not there at your desk trying, then you won't succeed. Before then, I had thought of writing as something akin to divine inspiration. I would wait for the muse. Turns out you have to be dressed and ready for the muse or she will never come.
I think he felt writing was like any skill, requiring constant practice. In Syracuse, for the first time in my life, I did write every day. There was the usual workshop situation, which I suppose may have been helpful, but what was certainly helpful was Carver going over my stuff page by page in his office. Likewise Tobias Wolff, the other fiction writer there at the time. I was lucky to get both of them. They had very different approaches. Carver tended to treat a short story like a living creature, whereas to Toby it was a mechanism that could be adjusted and tinkered with and taken apart and reassembled.
INTERVIEWER
Which approach did you find yourself drawn to?
MCINERNEY
I found them both useful. For many years, whenever I would reach for an overly pretentious word or phrase, I would hear Carver questioning it. He would say, Why did you use the word earth when what you really meant was dirt? Carver worked at that level, the level of the sentence. He was relent­lessly economical. He felt that if you couldn't justify verbiage or descriptions, they had to go. There had to be a reason for everything that was in the story. Wolff taught me much more about construction, structure, pacing.
INTERVIEWER
How did you first get published?
MCINERNEY
I sent a short story to The Paris Review. It was called "In the North-West Frontier Province." And lo and behold, I was home one night in Syracuse and I got a phone call from George Plimpton, of all people. It was amazing to hear this extraordinarily recognizable, but implausible, voice coming over the phone into my shitty apartment in Syracuse.
INTERVIEWER
Had you and he met?
MCINERNEY
I'm not sure whether I had met him, but I knew all about him. And after my life had fallen apart, I was friends with Mona Simpson, who was then working at The Paris Review. I must have sent the story to Mona, who must have given it to George. And George called me up. He said, I liked your story, I think you're talented, let me know if you have anything else. So I went to my drawer that night and reread everything I had written up to that point. And I realized that mostly it was derivative and not very good. This novel I was writing, one chapter would sound like Don DeLillo because I had been reading DeLillo, and the next chapter would sound like Robert Stone because I had been reading Stone. Same with the stories. One would sound Ann Beattie–ish, the next Raymond Carver–ish, and so on. Then when I got near the bottom of the pile, I came across this piece of paper with one paragraph, in a nearly illegible scrawl, which read, "You are not the kind of guy who would be at a place like this at this time of the morning. But you are here . . . " et cetera. Three or four sentences long.
INTERVIEWER
That was it.
MCINERNEY
I remembered that I had written it the previous summer, between terms at Syracuse. I'd been in New York City living with Gary Fisketjon, working as a slush-pile reader, and staying out all night at nightclubs. And I had come home at about four in the morning and scrawled this passage on a piece of paper. Partly because, in my addled state, I heard myself talking to myself in the second person, as we often do. As we probably usually do, only it's very seldom that you're in the dissociative state where you actually notice it. And I had noticed it. This is what I had been saying to myself as closing time was coming. The cocaine was gone, my money was gone, the girl I thought I'd been pursuing was gone, and Gary had disappeared, and I just sort of thought, What the fuck? You're not the kind of guy who would be at a place like this at this time of the morning. So when I got back to Gary's apartment that night, I wrote down these three or four sentences and forgot about them. But now, when I read through everything, this was the only thing that struck me as being remotely original or interesting, and so that night I started continuing the story. I think I finished it the next day.
George published the story, almost as I wrote it.
INTERVIEWER
What led you to turn that story into Bright Lights, Big City?
MCINERNEY
I always realized that this story was the start of something longer. That summer, as soon as I finished classes, I sat down and started writing. I wrote the first draft in about six weeks, there in Syracuse. I remember telling Gary Fisketjon I was writing what might be a novel, and he said, I just sure as hell hope it isn't in the second person. It almost stopped me cold. I thought, Yeah, this is stupid. You can't write a whole novel in the second person. Every day I told myself, The moment that it seems artificial and hard to sustain, I will stop and go back and rewrite it in first or third. And I actually tried—I rewrote passages in first and third, but they seemed to be drained of energy. Something went slack. So I said fuck it and sent it to Gary by the end of the summer. Fortunately, he forgot his comment about the second person. I think he probably denies it these days. Anyway, he was pretty enthusiastic, and he showed it to his boss, Jason Epstein, who gave it the thumbs-up.
Jason was enthusiastic, but he was also a little bit . . . I don't want to say patronizing. He basically said, Look, you've written a really good book here. However, number one, people of your generation don't read. Number two, nobody's interested in fiction anymore. Number three, there's never been a successful novel about New York. I'm not sure where he'd put Catcher in the Rye there.
INTERVIEWER
Or Edith Wharton.
MCINERNEY
Maybe he said there'd hardly ever been a successful novel about New York. It was true that the popular appetite for literary fiction was in a bit of a slump. There had been a few serious novelists in the previous decade who'd caught the attention of a general audience—Mary Gordon, John Irving, and Richard Price come to mind—but fiction was definitely a bear market. I ­remember the publicity director calling me up at one point, and the only thing she could manage to find was that Cosmopolitan had a slot for "Bachelor of the Month." Unfortunately, I had gotten married a few months before to my second wife, Merry Reymond, who was a philosophy graduate student at Syracuse. I couldn't be "Bachelor of the Month," and they couldn't come up with anything else. So the book was published without any real fanfare.
INTERVIEWER
But then the novel quickly became a big hit. You must have been overwhelmed by the reaction.
MCINERNEY
A novel about New York that encompassed downtown nightclubs and publishing just didn't seem like a prospect for any kind of mass-market success. I thought it was a pretty peculiar little literary exercise, you know? Second-person homage to some of the writers I loved the most—Hemingway, Hunter Thompson, Evelyn Waugh, J. P. Donleavy, Thomas McGuane. And an homage to the city I fell in love with.
INTERVIEWER
Did you ever try to write in the second person again?
MCINERNEY
I've thought many times about doing it again. I just haven't found another story, another situation that could lend itself to the second person. I loved writing in that voice. I wish I'd hear a voice like that again.
INTERVIEWER
Your third novel, Story of My Life, about party girl Alison Poole, isn't in the second person, but it has a similar focus and intimacy.
MCINERNEY
There, too, I don't want to get mystical, but I heard a voice, a voice in my head, and it propelled the writing. Both books had a sense of rhythm and music that made them a pleasure to write and that I hope is the reason people like to read them. And it was really fun to put on a pair of high heels, as it were, and a black cocktail dress and step out in a completely different persona. None of my subsequent novels has been so effortless. The others felt like work.
INTERVIEWER
Is that because you couldn't find a voice to carry you through?
MCINERNEY
It was also because I became more ambitious. I wanted a bigger canvas. So of necessity, a lot of my subsequent novels were written in the third person—the creation was more self-conscious, more cerebral, less visceral somehow. And there are things you can do in your twenties that you can't do later. There is a music of the spheres that you only hear in your twenties. I don't necessarily think Bright Lights and Story of My Life are my best books, but they were the most fun to write. They may be the most fun to read, I don't know.
INTERVIEWER
They're fun to read. In Story of My Life, you have this distinctive voice that seems to be a harbinger of a certain pop-culture moment to come—­unself-conscious but performative. Almost the reality-TV voice.
MCINERNEY
I think that book ended up being fairly influential. I don't want to name names, but I've heard certain female writers say that book kind of opened them up. But it also raised questions about men appropriating female subject matter, female voices. I sometimes wish I had been smart enough to publish it under a pseudonym.
INTERVIEWER
A female pseudonym?
MCINERNEY
Yeah. It's not that the book had a terrible reception, but it certainly didn't have anything like the reception of Bright Lights, Big City. I suppose it ­requires more than the usual suspension of disbelief, at least for a page or so. A book by Jay McInerney in the voice of a twenty-one-year-old woman? But if fiction is anything other than journalism, it is a leap of imagination into the minds and the hearts of characters who are not the author. Otherwise it's just memoir. I mean, if novels can't range freely among the different genders and even races of the world, then the enterprise fails.
Story of My Life has had a strange afterlife. A woman I dated for a while, named Rielle Hunter, subsequently gave an interview to Vanity Fair about how she had inspired the character of Alison Poole, and Bret Easton Ellis used Alison as a minor character in American Psycho and a major character in Glamorama. Rielle herself reappeared in the press some years later as John Edwards's mistress. At that point, I decided to revisit Alison as the mistress of a famous politician hiding out from the press, and wrote a short story called "Penelope on the Pond." Appropriation, reappropriation. Touché, Bret.
INTERVIEWER
After Bright Lights, which obviously was based in part on your own experiences, did you feel the pressure to prove that you could do something different?
MCINERNEY
The trouble with Bright Lights, Big City, like many first novels, is that I used up an awful lot of the good stuff from my own biography. I had mined twenty-­five years of my life for nuggets. So out of necessity I had to look elsewhere. Also, when I wrote Bright Lights, Big City, I was anonymous. Once it was published, unfortunately I became kind of a public figure. I felt like I was under the microscope. I wanted to move away from the subject of myself.
INTERVIEWER
Your second novel, Ransom—that was the Japan novel you had been working on?
MCINERNEY
It's not a book I think about much anymore, but it has its proponents. I hear from them. But I think of it as something of an apprentice work.
INTERVIEWER
Do you go back and revisit other books of yours?
MCINERNEY
A few years back I read every short story I'd ever written—or at least those I could still find—to select the best for my collection How It Ended. Most recently I've gone back and reread Brightness Falls and The Good Life because I needed to reacquaint myself with the main characters in the trilogy, Russell and Corrine Calloway. Or not reacquaint myself exactly, because I feel like they've always been with me, but I needed to remember things like birthdays and nicknames. I figured the books all have to be consistent in certain basic details.
INTERVIEWER
Let's talk about your trilogy. It's been twenty-four years since Brightness Falls, where you first introduced the Calloways. You then picked them up in The Good Life, and again in your forthcoming novel, Bright, Precious Days. Why do you keep returning to them?
MCINERNEY
Philip Roth has that great phrase "the counterlife," which is the title of one of his books. It expresses something I've been thinking about for a long time. Russell Calloway is my counterpart, and he's living a kind of counterlife to mine. He is an editor and publisher, which is the only career I ever considered besides writing. If I couldn't have been a novelist, that's what I'd have done. And also, unlike me, Russell married his college sweetheart and stuck with her. Russell's life was, for me, the road not taken. We diverged a long time ago, but I still think of these characters as a way to continue ­exploring the life of this city. And of not writing three novels about a relatively successful novelist who gets married four times.
INTERVIEWER
Maybe that can be the next book.
MCINERNEY
I couldn't write that novel, the novel about the character in Bright Lights ­becoming wildly successful and continuing to live his implausible, unrepresentative life in New York City. I think Russell is more of an everyman, not in the sense that Rabbit Angstrom is, although Rabbit Angstrom certainly influenced the birth and the continued existence of Russell Calloway. Russell is a little more refined, more educated, more upper middle class than middle middle class. His dad's a midlevel GM exec in Detroit. But I always loved those Rabbit books, and I loved the idea of following characters through time. And likewise, I wanted a way to write a more panoramic novel of New York City than I had found in the narrow lens of Bright Lights, Big City. I wanted to write something on a bigger scale, something that encompassed a much broader picture of contemporary life in New York City. One day I was standing on Fifth Avenue, somewhere in the Fifties, waiting to cross the street. Across the street from me, I saw this short, balding man flanked by two bodyguards, and right next to him was a homeless guy with bags and cans and everything—right next to the man and the bodyguards. The short man was Ronald Perelman, whom I recognized from—I don't know—the cover of Fortune magazine or something like that. I thought, I want to write a book that has a billionaire and a homeless guy in it, and everything in between.
I already had Russell and Corrine in my mind. They had appeared in the very first thing I wrote after Bright Lights, a short story called "Smoke." For some reason they stuck with me. I put them together with this notion of a Balzacian comédie humaine. They seemed like a good center because they were right in between. You had Ace, the homeless guy, and then you had Melman, the financier inspired by Perelman, and right in the middle you had Russell and Corrine and their orbit. I always thought of them as that terrible phrase, "the perfect couple."
INTERVIEWER
Within about forty pages, it's clear they're not quite perfect.
MCINERNEY
Of course. I wouldn't want to write about them if they were. But every social circle has that couple who everybody thinks is the perfect couple. They're good-looking, they're smart, they throw cocktail parties, and that was them. And I guess it was not just Russell's career I was thinking about. I was also thinking about monogamy, because I'd already been married twice by the time I conceived them. I idealized that a little bit, too. I wanted to create the monogamous marriage I didn't have and never would. And as I say, they had their literary antecedents. I wanted to do something like Lost Illusions and Vanity Fair and The Way We Live Now. I wasn't thinking of the Rabbit books or Anthony Powell's A Dance to the Music of Time when I started out, since I didn't set out to write a series of novels, but I was eventually inspired by those novel cycles to follow these characters in subsequent novels.
INTERVIEWER
What made you come back to Russell and Corrine again in your new book, Bright, Precious Days?
MCINERNEY
These characters are simply with me now. They've become the instruments through which I register the history of New York in my time. I've become fond of them. I've come to believe in them more than in some of my own friends, although their lives are in some sense derived from my life and the lives of my friends. Over the years, I've never stopped imagining what Russell and Corrine were up to. But this book started with the idea that the affair ­between Corrine and this retired investment banker, Luke McGavock, whom she met at the soup kitchen, wasn't really over. It seemed to be dangling, like a loose end. Certainly some of my readers felt that way. Also, there came a point—2008 and 2009—when it seemed to me there was a real shift in the zeitgeist. Coinciding with the economic downturn, there was a momentary psychological upturn with the election of President Obama in 2008. I had a vision of writing about election night. This group of friends in a loft around a television set, watching the election. By the time I started writing in 2012 or so, it was possible to look back and feel the shape of what had happened.
INTERVIEWER
So you had these characters and that moment in history, but how do you begin to construct the narrative? When you start writing a book like this, do you know what's going to happen?
MCINERNEY
Not entirely. When I started the book I wasn't really certain whether the marriage was going to survive. Certainly, if I were drawing from my own personal experiences, the marriage probably wouldn't have survived. It seems to me, almost, that the odds are against any marriage surviving Manhattan for twenty-five or thirty years. Manhattan is not, in my view, conducive to ­monogamy. I knew there was going to be a resumption of the affair, and I knew that I wanted to register the events around the crash—or whatever we call it—of 2008 and the election. I wish I could say that I write from a master plan. Writers as diverse as F. Scott Fitzgerald and Bret Easton Ellis have said that they outline their novels. John Irving once told me that he writes his last chapter first. I find that extraordinary. I, unfortunately, can't do it that way. I just find that an awful lot of what's most interesting takes place at the level of language. I end up improvising. Often I don't know what I'm going to do when I sit down at the desk in the morning. It can be a frustrating way to work, because sometimes days will go by and I just can't figure out which direction to push a chapter.
Years ago, I had the opportunity to interview E. L. Doctorow, and I asked him the question you're asking me. He said writing a novel is like driving cross-country at night—you can only see as far as the headlights, but you can make the whole trip that way. I like that. Of course, the metaphor falls apart if you examine it too closely, because there are maps and highways and GPS, but I think the basic principle is authentic. I may see a chapter or two ahead, but I can't usually see clear to the end. I was well over halfway through the first draft when I got the sense that I wanted to figure out a way to keep Russell and Corrine together.
INTERVIEWER
The novels in your trilogy are complicated and multilayered. Do you find it harder to write this way now than, say, when you wrote Brightness Falls?
MCINERNEY
Brightness Falls actually took me quite a while to write. Not least because I'd never written a long novel before. Until then, I'd only written novels from a single point of view, with a relatively limited time frame. So it took me a long time to figure out what I was doing. For one thing, I decided on this multiple-point-of-view, third-person strategy, which serves me well because it allows me to move around in time and place and to represent action through the eyes of different characters, which obviously suited my goal of creating a Manhattan social panorama. The whole point being that Manhattan is a million-headed beast. Not long before I wrote The Good Life, I read Mailer's Harlot's Ghost, which is written in first person, and thought, God, what a pain in the ass, trying to do this from one character's point of view, this sprawling novel of intrigue and multiple continents over a twenty-year time span.
INTERVIEWER
You say you get physical when you have a book underway. You sleep less, you spend more hours at your desk.
MCINERNEY
As I'm approaching the end of a novel, I get really cranked up. Because as you're getting to the end, you've got to try to get everything uploaded to your brain and have it all present. To do that, you end up dreaming about it. Obviously you can't work that way for three or four years at a time. In the early stages of the novel, it's more like a job. You punch out in the afternoon and you go to dinner. If you're lucky, maybe you think about it. Maybe something happens at dinner and you say, Holy shit, that reminds me of something. As much as I love writing in Manhattan, toward the end I really can't be here, because I'm working twelve or fourteen hours a day and I don't want social distractions. So for years I would borrow a house or go to Yaddo. George Plimpton lent me his house for several months, James Salter lent me his house for several months, out east in the winter, when there was nobody in the Hamptons. Now I have my own house on Long Island that I can retreat to.
INTERVIEWER
What has been your focus in writing about New York? You seem to aim to capture parts of the city—the financial world, say—that aren't written about as much.
MCINERNEY
It has always been a conscious part of the aesthetic—the program—to capture as much of the life of the city as I can. You have such a vast panorama here, such a huge cast of idiosyncratic characters. But my New Yorkers are the transplants, really, the ones who are drawn here by the bright lights and by the notion, as Dick Whittington suspected of London, that the streets were lined with gold. And to me, they were lined with gold. The love ­affairs, the tragedies, the comedies—against this great heroic backdrop of New York, everything was more significant. I sometimes wonder whether that second-person voice in Bright Lights might have come from some noir movie about New York City that I've now forgotten. "Here you are in New York City, walking down the street . . . "
I'm a little more jaded now, but I honestly can't see changing my subject matter anytime in the future. I just don't feel like writing about anything else. It's amazing to me how many writers of my generation, and subsequent generations, chose the suburbs as their subject matter. I grew up in the suburbs, and I despised everything about the places where I grew up. I'm not saying that suburban fiction can't be good—I love Cheever and Updike—but I wanted to get as far away from there as I could, I wanted to reinvent myself, I wanted to be an urban sophisticate. Of course I wasn't, but I desperately wanted to be.
INTERVIEWER
You are now.
MCINERNEY
You have to be careful what you wish for, yes. But I like to think that in some important way, I'm still that wide-eyed kid who just arrived in the city. Preserving a sense of wonder is crucial for a novelist.
INTERVIEWER
Your attitude toward New York is not all dewy-eyed romanticism. Most of your books have a satirical streak.
MCINERNEY
In the Calloway books, there are characters and chapters that are almost purely satirical. On the one hand, I've always wanted to write about contemporary New York in the manner that Waugh wrote about London ­between the wars. New York is too absurd and too extreme to take entirely seriously. But my sensibility oscillates between the satiric and the romantic. Ultimately, at the center of the book is a realistic portrait of a marriage and, I hope, an era. Sounds a little bit grand, perhaps. I would lose interest myself if I were just making fun of everybody. In the case of a character like Luke McGavock, I know that I've set myself a difficult task because I clearly see this guy as an interesting and, in many ways, decent human being. It is not entirely acceptable to humanize the rich. Generally, they're figures of either ludicrous, wishful fantasy or brutal satire. But the fact is, people like Luke run the world that we all inhabit. And there's a lot of them here in New York. They're worth our scrutiny. And they aren't all cartoon characters.
INTERVIEWER
You think you want to keep painting on that big canvas?
MCINERNEY
I wish I knew what I was going to do next. I want to write another set of short stories now, set all over New York. But I don't have a vision for the next book. I may go back to a novel that I shelved in 2011. I completed it, ­actually, and showed it to Gary and to Binky Urban, my agent. Their ­response was muted. And I have to admit, I felt none of the usual exhilaration when I finished the book. I wrote the last page and went and fixed myself a drink and . . . nothing. That should have been the tip-off. Gary said, I'm not sure you've got the ending right.
INTERVIEWER
I can't think of another relationship like yours with your editor, one that has lasted so long, over so many books.
MCINERNEY
It started in college. Gary transferred to Williams in his junior year from the University of San Francisco. I was the guy at Williams who ­edited the literary magazine and wrote poems and short stories. And then Gary came along. People kept saying, You should meet this guy, he likes the same books you do. So of course I hated him right away. And we ended up courting the same girl, for a while, from Wellesley. But at some point our suspicion of each other turned to friendship. We started trading our creative efforts back and forth, and also our books. Here, read Denis Johnson. Read Céline. He got me to read Faulkner. And I remember the day I handed him Raymond Carver's first book, Will You Please Be Quiet, Please?, one of the first hard­covers I ever bought that wasn't a textbook. And we became best friends, I guess. When we graduated, we traveled cross-country together for several months, in my 1966 Volkswagen. Sometimes sleeping in the Volkswagen. We made it to San Francisco, where we failed to get newspaper jobs and eventually went our separate ways. He went to the Radcliffe publishing program maybe six months later, and I went to New Jersey for a low-level journalism job. But when I went to Japan, we corresponded regularly and never lost touch.
INTERVIEWER
Could you ever imagine working with a different editor?
MCINERNEY
This is not going to help my negotiating position when the next contract comes up, but I would hate to publish a book without him. We have this shared history, in particular this shared history of reading. There are certain things I don't have to explain to him because we share an aesthetic. And when he questions something, I give him a serious listen. Even if he sometimes couches a comment in a sarcastic form, I know the intention is sincere.
INTERVIEWER
Why bright in all these titles?
MCINERNEY
I don't know. I just think my characters are always seeking the light, and all of my characters are drawn to Manhattan like the proverbial moths to the flame.