Interviewed by Ane Farsethås
Issue 217, Summer 2016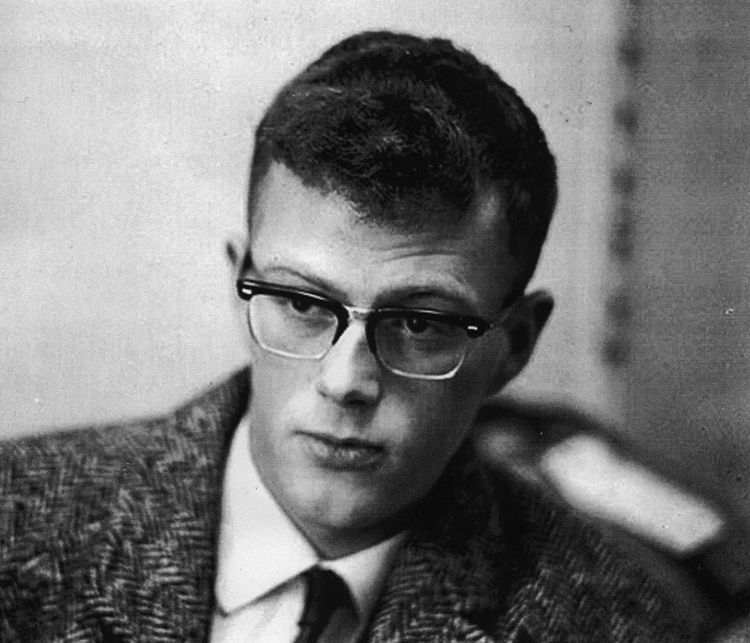 Dag Solstad in 1965.
Since he published his first book of stories in 1965, Dag Solstad has been to Scandinavian literature what Philip Roth has been to American letters or Günter Grass to German writing: an unavoidable voice. Over the years, his stature has only grown. When he published a novel dealing with the war in Afghanistan, in 2006, it was reviewed by none other than Norway's foreign minister. When he published a novel based on his family history, in 2013, it provoked a major critical ­debate on the borders between fiction and nonfiction.
Solstad started his career as a journalist for a ­local newspaper, before joining the Maoist Arbeidernes Kommunistparti (marxist-leninistene) (AKP) in 1970. Combining political perspectives with existentialist concerns, Solstad has written eighteen novels as well as stories, plays, essays, and nonfiction, ­including the official history of one of Norway's largest industrial companies and five books about the World Cup.
In Scandinavia, Solstad's unique style—long meandering sentences, bursting with imaginative digressions and rife with a peculiar dry ­humor—has served as inspiration for generations of ­writers. "His language," writes Karl Ove Knausgaard in My Struggle, "sparkles with its new old-fashioned ­elegance, and radiates a unique luster, inimitable and full of élan." In ­recent years, he has gathered a following abroad, including Peter Handke; Haruki Murakami, who has translated Solstad into Japanese; and Lydia Davis, who taught herself Norwegian by reading his four-hundred-page novel Telemark.
Our interview took place in two sessions last year and was conducted in Norwegian. The first was at his summer residence on Veierland, an idyllic island famed as a getaway for writers and artists since the painter Edvard Munch spent summers there in the 1880s. Our second conversation took place in Solstad's home in Oslo, a large, bright, book-filled apartment with high ceilings in an elegant nineteenth-­century town house. Solstad has an eye for how social change manifests itself in everyday activities; he began our second session by directing my gaze to a scene outside his window. "Look," he said, pointing to a road worker eating his lunch inside his truck: in his sturdy, greasy overalls, the man precision-picked a beautifully decorated plate of sushi.
Once known as a highly uncooperative interviewee—he famously snubbed a journalist with one-word answers for the length of a TV interview—Solstad has, in later years, opened up, saying he has no remaining fears of what people may think of him. At seventy-four, his presence is a friendly and welcoming one. Serving tea and cookies, he frequently paused to reflect on questions and just as frequently laughed at his own answers.
—Ane Farsethås
INTERVIEWER
What made you want to write?
SOLSTAD
Oh, reading Knut Hamsun at sixteen. I doubt I would have become a writer if I hadn't. I think that has been my goal—to write books that could do what Knut Hamsun's books did to me. I was introduced to Hamsun by a schoolmate, a boy from a working-class family who quit before graduation. I never saw him again, but I've remained thankful for his recommendation.
Once I started, I read everything in one go. I went to the library several times a week to borrow more books, and I cleverly wrapped them in the paper we used for schoolbooks so it would look like I was doing my homework, studying like hell!
INTERVIEWER
What in Hamsun appealed to you?
SOLSTAD
The stories about unrequited love—Pan and Victoria. I can admit that now. Today, like any grown-up, I prefer Hunger and Mysteries, the modernist ­novels. But as a young man, that kind of desperate romanticism was something I could really identify with. And his wonderful prose, of course. I was actually quite good at imitating it. I wrote some editorials in the school paper that were very good—but pure Hamsun. In hindsight, it is obvious that many writers have been overly influenced by Hamsun. His work is not always well structured, his ideas not always well thought through, and yet as time went on, his style became a sort of literary ideal. He is one of those writers who sits there, pondering his sentences, his sounds and rhythms, and then actually nails it, in one lucky shot. It's like football—a good team is always lucky. A good writer is always lucky. Very lucky.
INTERVIEWER
Have you been lucky?
SOLSTAD
Oh yes. For example, some passages I've written have made me doubt—Can I publish this, can I live with this being out there? And I've thought, I really can't, but I'll keep it anyhow. Generally it has worked out well. That's luck, because I could just as easily have deleted those passages. I have deleted a lot.
INTERVIEWER
Your writing gives the opposite impression—that you don't edit much.
SOLSTAD
It may look that way, but I have actually been very concerned with what to keep or not. I have also, for almost every single book, toyed with the idea of writing a diary on how that book came to be. I've always wanted to record the process, but it's nearly impossible to be a hundred percent immersed in a book and have the distance necessary for that at the same time. But in one of my novels, Armand V. Fotnoter til en uutgravd roman, I included some reflections on how that book came about. It describes how sometimes you have this feeling that the novel already exists and that your job is to excavate until you uncover that which is, on some level, already written.
INTERVIEWER
Have you always felt that way, that you are excavating something already there?
SOLSTAD
Oh no. When I started writing, at twenty-three, I began with short stories. A novel just seemed too daunting—I didn't know where to begin. I couldn't start a novel of four hundred pages and then realize at page 250 that it was hopeless. I have too much common sense, so I went for something smaller. I moved to a remote village in the north of Norway to work as a teacher. I told people I would earn money to continue my university studies, but in reality I had decided I would write.
INTERVIEWER
Who were your early influences, besides Hamsun?
SOLSTAD
My first two books of stories were certainly influenced by Kafka, The Castle and The Trial. I tried reading Dostoyevsky, but I didn't get him until I was in my late twenties. All the writers I have learned from, except Hamsun, I found after I became an adult, after I became a free human being, freed from the prison house of childhood.
INTERVIEWER
You've said that you do not see childhood as a literary subject.
SOLSTAD
And I have written almost nothing about childhood. There simply is nothing you can do about it. It is too determined, the positions are too fixed. I prefer placing my characters in situations where they have a reasonable chance of escape.
INTERVIEWER
Despite your reluctance to write about childhood, the semiautobiographical novel 16.07.41—the title derives from the date of your birth—ends with a story about your father trying his luck as an inventor, how he ends up filing for bankruptcy and dies shortly after. And you write, "Since my father died I have not been myself. I have been the writer Dag Solstad."
SOLSTAD
I had strong doubts about publishing that passage. Is it a little too grand, a little too clever? Is it a statement I can stand by? But I decided I had to leave it in. Is it true? Well, it's there. That's really all I can say. It's there and it's meant to be there.
INTERVIEWER
Is it a true statement about your writing?
SOLSTAD
I don't know. But my father dying when I was eleven has obviously had an enormous impact on me. Had he lived longer, I might have become a more conventional person. I have trouble imagining any kind of rebellion against my father. If I had become a writer while he was alive, I think I would have had to go through some critical reevaluations of his Christian beliefs. If it had come to a confrontation, it would have been a disastrous, very painful kind, and I would probably have ended up a rigid, principled atheist, of the almost unbearable sort. Or I would have become a Christian myself, perhaps even a priest.
INTERVIEWER
In the same passage you write, "I have had a task to complete, and I still haven't completed it. I think of only one thing: my future." Is the task you took on to become a writer?
SOLSTAD
I think I mean it in a slightly more personal sense as well. Remember, my father experienced quite a few disappointments near the end of his life. The context for that passage is a description of how his business failed, how he tried his luck as a toy manufacturer by making a sort of parachute toy that didn't work. The book describes a scene where all of these parachute men are released and how the parachutes fail to open. In the end, my father tried to make a perpetuum mobile, a strong expression of a kind of last hope, an intense ambition to create something that would last forever. So it's obvious I see it as a task to create something with which to rehabilitate and avenge him—even to the point where people say books have eternal life. Of course they don't, but we can imagine it being so.
That's another passage I wanted to delete.
INTERVIEWER
May we go back to your first novel? How did you manage to get started after all?
SOLSTAD
It had to do with the company I was fortunate enough to keep. After my first book of stories came out, I became involved in a literary journal called Profil. That was an extreme case of luck. I have no idea how my writing would have turned out without it. I had some talent, but it was only a talent in the rough. I lacked direction and could have wound up taking an interest in almost anything, getting hooked on some odd idea that I would have had trouble untangling myself from. There are many dangers out there for a poor inexperienced little fish!
Norway is a small country, and I was part of the so-called student explosion in the sixties, when universities started recruiting from different backgrounds, not just the urban bourgeoisie. I was fortunate enough to meet people in Profil who were so young and from the most remote places but who had still read everything, or so it seemed to me. One friend was on his way to becoming a doctor—I also admired the fact that he had seduced his French teacher—but had already, from his remote valley, subscribed to every avant-garde journal in Northern Europe. Another had a full career going in literature by the time he was nineteen. We all needed some kind of arena where we could develop, but I would say I was the one who gained the most. Some of the others were intellectuals who lacked an outlet, someone to ­argue with. I, on the other hand, lacked everything. And gained everything.
INTERVIEWER
What did you lack?
SOLSTAD
For the first time, I met people who were not only gifted but who had achieved something. I had mainly fooled around on my own and hadn't achieved very much. I graduated with terrible grades and, although I liked to read, had no system or plan to my reading. The only thing I didn't enjoy during my years in the journal were the debates—I was incredibly bad at debating and lost every argument. So I chose the role of the observer. For the first time in my life I was in an environment where I could simply listen and soak up knowledge. For example, I read the Polish writer Witold Gombrowicz, and that was a revelation. In my first novel, I referred to him explicitly. I wasn't afraid of his style the way I had been afraid of being overly influenced by Hamsun.
INTERVIEWER
What was it about Gombrowicz?
SOLSTAD
I wrote an essay about Gombrowicz in 1968 in which I outlined my preoccupation with his ideas at the time, especially on the questions of freedom and authenticity. But really, I think it must have been his prose even more than his ideas that appealed to me—the way he uses language. I'm not terribly interested in storytelling, and few books appeal to me on the grounds of their subject matter. What I remember is scenes, constellations, how the characters are arranged in relation to each other. In my scenes, all the characters are of equal importance. I'm really trying to play a supporting role in my own life as well.
INTERVIEWER
Does Gombrowicz still matter to you?
SOLSTAD
In Novel 11, Book 18, the protagonist, Bjørn Hansen, a tax collector, receives a letter from his adult son, informing him that his son is coming to town to study. Bjørn Hansen answers that his son can stay with him. That's where I, the writer, think, This opens up a lot of new possibilities. The first thing I do in preparation for the son's arrival is I hire a maid, a young girl, to wash the apartment once a week. That's a good move now that the son is coming, I think.
INTERVIEWER
That's your impulse, to hire a maid?
SOLSTAD
That is my impulse as a writer. Because then I have a situation with two young people under the same roof, and I envision the elder constructing a game where he tries to get his son interested in the maid. The idea of the old man orchestrating the love affairs of the young—that's very Gombrowiczian. I guess there is also something about his stubbornness as a writer. He is very stubborn, willful, and assertive.
INTERVIEWER
Are you stubborn?
SOLSTAD
I don't know. People claim that I am. I suppose I am. But not to the point where I entertain the illusion that my insights are the one and only truth. I've always thought of the statements I make more as proposals than truths. That's why I've never taken it as personal loss if anything I've said has been proven wrong. It's about trying out a position.
I am the son of a chess player, after all. Not the best chess player in the world, but a chess player nonetheless. And I was quite good myself, but my father didn't want me to pursue it. He liked to believe he could invent a perpetuum mobile, but he was enough of a realist to see his son would never be a grand master.
INTERVIEWER
Are there any similarities between playing chess and how you position your characters in a novel?
SOLSTAD
When I played chess, I knew all the variations by heart, and I was able to calculate all the different possibilities in my head, two or three moves ahead. I would lie awake at night pondering those variations. That is very much how I work when I write a novel.
INTERVIEWER
Do you map characters and story development in your head?
SOLSTAD
I'm not quite that square. But I do have a feeling for where they are and how they are positioned, without defining positions more precisely. When I write, there's this large machine I have to restart every morning. I begin by repeating to myself everything I've written up to that point, making a sketch in my mind of the possible developments. Then I sketch new possible positions. So, yes, there's a lot of chess in that.
INTERVIEWER
In chess, your moves are directed at an opponent. Who or what are you playing when you write a novel?
SOLSTAD
It's the novel as a whole, pure and simple. That's what I'm up against. It's all about solving the novel, finding the right series of moves.
INTERVIEWER
Do you ever doubt there is a solution?
SOLSTAD
I do. It's never obvious when I begin. Still, I do have this sense that I have somehow already written the novel, I just don't know it yet.
INTERVIEWER
You've sometimes spoken of the "insoluble epic quality" of a novel. What do you mean by that?
SOLSTAD
I have used that term a lot and have often been asked to define it, but I'm afraid I cannot put it any other way. That doesn't mean I think it's some mystic quality. I don't. I guess what I really think is that there is an element, in any good novel, of something that cannot be taken away without dissolving the whole book. If you remove everything else, that's what remains. But what that core quality is, is hard to say. You can talk about it in negative terms. It's not that the novel is so terribly exciting from a psychological point of view. It's not that it has such unusually interesting or original insights into structures of contemporary society. It's not that it's so fascinating to get to know the characters, however eccentric or unique or typical. It is something else entirely, and it's that insoluble quality that has to be there. That's really all I can say.
INTERVIEWER
In an essay, you once used Umberto Eco's The Name of the Rose as an example of the exact opposite, a novel that has everything—an exciting plot, historical insights, interesting characters—except that insoluble element. Yet, with its structural perfection, you claim The Name of the Rose represents an enormous challenge to the sort of novel you want to write.
SOLSTAD
Of course—who can beat Umberto Eco on those terms? As a writer, you have to ask yourself, What does the novel really have to offer when it is measured against such a perfect story by Umberto Eco? Yet when I read Umberto Eco, I feel there is simply something missing. A voice maybe. Let me give you an example that just occurred to me, from Ibsen's play Brand. When the priest, Brand, is roaming around in the mountains, struggling with his existential qualms, all of a sudden he exclaims, "My God . . . is young, like Hercules." Who would ever say something like that? And here is Ibsen, of all people, already cultivating his image as an old sage at thirty-five, with that silly beard. You really can't sit there writing such nonsense, can you? Still, it is a fantastic sentence. Umberto Eco could never write a sentence like that.
INTERVIEWER
Was Ibsen an influence?
SOLSTAD
Yes, but I didn't read him until I was in my fifties—luckily. I don't think I would have gotten anything from him earlier, it all seemed so remote, so dusty. All that talk about "the great Ibsen."
INTERVIEWER
You weren't the least bit curious about the most famous writer Norway has ever produced?
SOLSTAD
I never read him until I needed him for a novel. In Novel 11, Book 18 the protagonist joins an amateur theater company, led by his new wife. Since I remembered enjoying a production of The Wild Duck when I was fifteen, I chose to have them stage that one. Then in Shyness and Dignity, the one thing I knew was that the protagonist, a teacher, would burst into a fit of rage and that it would start with him not being able to fold his umbrella. But I needed something that would happen earlier, that would serve as the pretext for his rage. So I went back to Ibsen. The idea was to have him teach The Wild Duck to a class of students who could not possibly understand it. I'm not the sort of person who likes to make things more complicated than necessary, so I continued with The Wild Duck. Rereading the play in order to write Shyness and Dignity was the first time I really understood how good Ibsen is. I realized how one scene, one object, one line of dialogue connects to everything else, I saw the clockwork structure that everyone always talks about with Ibsen.
When you are learning how to write, there are more important things than reading writers you admire. Having said that, I have been inspired by Thomas Mann. What exactly I have learned from him is difficult to pinpoint, but there are some scenes and sentences that have stayed with me.
INTERVIEWER
Any particular sentences?
SOLSTAD
Well, I like writers to finish their sentences quite simply. I don't like people who try to impress me with the complexity of their style. It's not that important to me anymore, but when I was younger I had a real aversion to writers who tried to ingratiate themselves with the reader by using the language of the young, who try to show that they're up on the latest thing. That always struck me as bullshit.
INTERVIEWER
In Norwegian, the adjective Solstadian is used to refer to an unusually long sentence, often with several subordinate clauses and a pattern of stylized, highly recognizable repetitions. Though many others have, you yourself have never said much about your own style.
SOLSTAD
Some things I do not wish to reflect upon or analyze. Nothing good comes of it.
INTERVIEWER
You are also often praised as a funny writer, even an ironic one—a view you have frequently opposed.
SOLSTAD
Yes, I've often argued against being called a funny writer. Of course, when a teacher has a nervous breakdown because he cannot unfold his umbrella, I realize that's a funny scene. But the thing is, I'm not trying to be funny. If there is any humor in that, that's just what the novel is about. That's life. It's life that is comical, funny, ironic, and so on. Not me.
The reason I wrote that novel in the first place was basically that I had this image in my head—a teacher who loses it when he cannot unfold his umbrella. It seemed a silly image, but it wouldn't leave me alone. Really it's not much of an idea for a novel—a teacher wrestling with his umbrella. But since it remained stuck in my head after I had rejected what were, on paper, much better ideas, I thought, Perhaps I should take that one seriously. So I started writing, without thinking there would be any humor there at all. Today, I can see it is a funny scene.
INTERVIEWER
Do most of your novels start with a singular image like that?
SOLSTAD
Since the 1990s, a single image has often been a basis. Of equal importance is the first sentence. If I didn't nail the first sentence of Shyness and Dignity, I don't think I could have written the book. Before you have the assumptions implicit in the first sentence, anything could happen. But once you have that sentence, you've narrowed your options down to a point where there really isn't that much left to write.
INTERVIEWER
When I reread your books for this interview, I was surprised to discover that only two of your novels are told in the first person.
SOLSTAD
To me, being able to see someone from the outside has been of the utmost importance. If you have an "I," you've limited yourself to that perspective, but if you write in the third person, you are much freer to mobilize other perspectives and positions. Of course, writing in the first person intuitively seems much easier. I think almost everyone who sets out to write a novel starts with the idea of telling it in the first person. Given how easy it is, it's almost surprising I have only written two novels in the first person.
If you write about an "I" and what happens to it, it's easy to feel that you don't even have to compose, that you're free to write about almost anything. You just write from A to Z. Most bad novels are written in the first person.
INTERVIEWER
Your first-person novels tell stories of men who have things in common with you. The main character of Roman 1987 grows up in your hometown, Sandefjord, and the protagonist of Gymnaslærer Pedersen joins the AKP, as you did. Are the autobiographical connections the reason you chose the first person?
SOLSTAD
I don't think so. In Gymnaslærer Pedersen, I took great pains to include things that were not autobiographical at all. I didn't want actual people in the movement to feel they were portrayed as recognizable characters in the book—and I don't think anyone did. In that respect, I would have made things easier for myself if I had written it in the third person.
With Gymnaslærer Pedersen, I was inspired by Thomas Mann and the way Doctor Faustus's story is told by Zeitblom, although I chose to have the personal and the impersonal voice in the same character. I think the use of the personal pronoun here has a different effect than in most first-person novels, in part because I use it so rarely. I exploit that.
INTERVIEWER
How?
SOLSTAD
I allow myself to tell the story in a solemn, almost formal voice. We're not dealing with a first-person narrator trying to be cute.
INTERVIEWER
When did you become a member of the Communist Party, and how did that affect your writing?
SOLSTAD
In 1970. We were a group of young people who had become fascinated with the Cultural Revolution in China. Maoism felt like a breath of fresh air at a time when Soviet Communism had become stale and bureaucratic. It was highly controversial, even on the Left, but to us the utopian idea behind the Cultural Revolution, trying to create a new kind of people, seemed to address problems in a radical way. This was when the U.S. was stuck in the quagmire of Vietnam, and among young radicals there was a lot of optimism around the idea of the Third World leading the way into the future. Many of the most prominent young writers in Norway joined the Maoist party. I never held a political position, but since secrecy was a top priority and my name was already well-known enough to be compromised, my local branch of the party chose me as their spokesperson. They signed letters with my name—I didn't even read them—and I was okay with that. If you're a member of a political party, that's the least you can do. In literary terms, I sincerely wanted to further our cause by writing books for the working class, a project I found genuinely interesting. With a father who owned a store, I belonged to the petite bourgeoisie, but I really wanted to get to know the working class. I remember thinking, If Shakespeare was able to imagine what it's like being a Tudor king, I must be able to imagine what it's like being a worker, it can't be that hard. And it wasn't!
INTERVIEWER
In Gymnaslærer Pedersen, your best-known novel about this era, the protagonist says he hopes the reader understands that a Communist Party can be a dangerous thing, but that he has written his account in a state of "inner jubilation" at having been part of something so fundamental. What are the pleasures of being a communist?
SOLSTAD
Like my protagonist, I look back on these years with a lot of joy, in spite of all the madness. I am at heart an outsider, with a strong hint of the typical outsider mentality. So it meant a lot to me to find my place within such a grand system, fighting for one of the greatest, most ambitious ideas mankind has ever produced. Then it just crumbled, both the idea and the party supporting it. That's a historical fact, whether I like it or not, but I probably do feel some grief over it. Ideas on that scale seldom disappear completely, though, so maybe it will reemerge in some form. Although I haven't written about communism since 1987, I do believe I will support it in any form it may make its comeback.
INTERVIEWER
Many were surprised when you, the former communist, agreed to write the official history of Aker, one of Norway's largest industrial companies, and, in 1990, published the work as a novel. Why did you want to do this?
SOLSTAD
The constraints of writing on assignment interested me. I had noticed that ­people who write this kind of industrial history always stress how much freedom they have been given and how much liberty they have taken vis-à-vis the paying company. I, on the other hand, write in my introduction that I specifically did not want to offend the company. If I had wanted to offend them, I wouldn't have taken the assignment. As it turned out, the company wasn't very happy with the book. I gather they had hired me because they wanted to see colorful descriptions of workers in action. Whereas I wanted to write about those who actually lead the development—the board of directors. I described a capitalist system and tried to do it as well as I could for the people who were paying me. To be honest, my inspiration was Velázquez. My idea was that the criticism implicit in the book wouldn't show up for another two hundred years. Like the painting in which Velázquez shows citizens of a conquered town giving the keys to the city to the conquering Spanish king. Today it's not difficult to see where his sympathy lies. But the painting was accepted at the Spanish court. It's incredible what kinds of ­insults you could actually get away with.
INTERVIEWER
At various times you have spent long periods living in Berlin. Has German culture been an important influence on you?
SOLSTAD
I speak only one language, and in that sense I have to regard myself as a ­writer closely tied to a specific culture. I don't know how to think outside the Norwegian language. At the same time, it is obvious that Central European literature has had the biggest impact on me. I don't really think about whether the writers I read are German, French, Polish, or of any other nationality, since I read them all in translation. But it's a fact that I identify with writers within the belt of what I call Central Europe. The great novelists of Central Europe in the 1920s—those are the ones who have taken the novel to the highest level.
INTERVIEWER
Critics outside of Norway often liken your tone to that of Thomas Bernhard. Is your tone of voice close to German in any way?
SOLSTAD
As I say, I read German writers mostly in translation, so it's not something I've thought much about. I use some archaic phrases and I like to use old-fashioned terms, for example biblical terms, for contrast. It's not necessarily flaunted in the text, but I do think of it as a subtle way of playing against expectations of everyday language.
INTERVIEWER
Did you find your style from the beginning or develop it along the way?
SOLSTAD
When I look at my first novel, I don't see much difference from my style today, except that it has shorter sentences. That's because I was more dependent on whomever the publisher used as consulting editors at the time. I remember I did not have the authority to stand up to the consultants, who were, by the way, excellent. But I do remember them reacting negatively to sentences they thought were way too long, winding paragraphs without end, that sort of thing.
I guess Roman 1987 is where I really maximized the effect of the long sentence. At the time, it felt like a breakthrough. That was the first time I could actually use Proust. I had been reading Proust since the 1970s, but
I had never even contemplated using anything inspired by him before that. I just thought it suited that novel. After that, I was really afraid it would become a mannerism. I came to a point where I thought, Watch out or this will turn into boilerplate.
INTERVIEWER
You have said one has to choose—Joyce or Proust.
SOLSTAD
I say that from my own experience. And I am a little surprised to see that some people are able to contain both in their universe. I am also a little surprised by the fact that I myself have chosen Proust over Joyce, because I probably have more in common with Joyce, as regards lifestyle and background, probably also temperament, than with the French aristocrat. In Shyness and Dignity, I have my protagonist imagine auditioning to be a minor character in a novel by Thomas Mann. But I would never even think of sending him to audition for Proust—I wouldn't dare.
INTERVIEWER
And to let him audition for Joyce wasn't an option?
SOLSTAD
No. If I experimented with stream of consciousness, I think it would quickly come to a halt. If I tried, I would quickly ask myself, Why are you doing this? Just cut that out right there.
INTERVIEWER
What is it about stream of consciousness that does not appeal to you?
SOLSTAD
I think it's the feeling of being world champion that I don't like. My goal is to write no more than five pages a day. Past that, I write in what I would call a state of intoxication. When you have become the world champion of writing, you feel you can write anything. That could easily have happened with stream of consciousness because it's not very difficult—you simply open the floodgates and let it all pour out.
I know that if I've written more than five pages I need to read very critically from page 3. The pages from 3 to 5 may possibly have something. Anything after page 5 you can just as well throw away without even reading.
INTERVIEWER
As you mentioned, the protagonist of Shyness and Dignity imagines himself auditioning for Thomas Mann. Why Mann?
SOLSTAD
To the protagonist of Shyness and Dignity it comes down to being a huge admirer of Mann. It's also a way for me to give his daydreams a relevant content. These are the sorts of things a person with his education would think about while sipping beer at night. He thinks about Proust as well, but with less hope. What Proust and Mann have in common is they are both quite snobbish and would probably look down on him. But Mann less so than Proust. Whereas Joyce would probably be friendly, jovial even.
INTERVIEWER
Surely his interest in Thomas Mann mirrors your own?
SOLSTAD
Very much so. That's one of the pleasures of writing. You're allowed to let your protagonists partake of so many of your own prejudices and opinions.
INTERVIEWER
I gather you don't always believe it when writers try to avoid the question of their opinions being found in literary characters.
SOLSTAD
There's absolutely no reason to take writers' self-defense strategies at face value, no. On the other hand, you cannot trust the opposite to be true either. As a writer, it is not only your right but almost your duty to give your protagonists opinions you do not share. The point for me is I do not go around debunking my protagonists. I have no interest in debunking the people I write about, I see no point in that. I do not write about people to prove I am better than they are. I feel sympathy toward my characters and often share their opinions to a large degree. If I want to meet people who are against everything I stand for, I can do that in real life. The last place I want to meet my opponents is in my own books!
INTERVIEWER
There is an ongoing struggle about the public perception of your work. Where critics praise your multilayered irony, you proclaim that you are not ironic and that you are tired of being interpreted that way. Is there really nothing ironic in your work? Or does your reaction stem from the fact that this favoring of ironic reading has made other aspects of your work harder to see?
SOLSTAD
I think it's the latter. Sure, irony is part of the picture, but there are many other aspects that work against an ironic reading or expand it in some other direction. It's when people take irony and say that's the essence—that's when I feel the need to protest.
INTERVIEWER
You scolded the reviewers of one of your novels, Professor Andersen's Night, for not having seen that the concept of God is central to the novel. Are those the sorts of things that get lost when critics focus too much on irony?
SOLSTAD
It was hard for the critics to relate to the concept of God because it was so unexpected from a writer like me. If you use the word God, they immediately think you must be a religious writer, and they had no idea what to do with that. Instead of talking about God, they praised me for how I satirize the power elite of my own generation, the baby boomers, simply because I describe a Christmas party where some public officials and other well-educated ­people get ­together. I had no intention of satirizing anything. What the Christmas party shows is that it's a party filled with people from the sunny side of life, but as well adapted as they are in terms of their position, they are still unable to identify themselves as having power. They identify with still being in opposition. I am trying to give a precise description of a certain stratum of society. I do not view this fact satirically, I simply describe it. It's ridiculous—if I describe a group of psychologists, doctors, and professors who get together for dinner, I have to ­describe what they eat, and all of a sudden the fact that they eat grouse and drink a good Rioja wine is supposed to be funny? It's not funny. It's ridiculous to say that something is funny just because it happens to be mentioned in a novel.
That said, I think one does well to separate how one is actually read and how people express themselves about what they have read. I really do believe people read my books more or less the way I hope to be read. It can be hard, when you review a book, to find the words for what you've experienced. But of course I have often thought to myself, This time I have really shown ­myself as naked as one possibly can. I worry—What will people say? But it all ends well. It is quite incredible what you can tell people! I have become more open over the years. I think it's because I discovered you can say almost anything in a novel. From having experienced that, I've lost many of my fears.
INTERVIEWER
Because what you published turned out not to hurt you?
SOLSTAD
Right. Of course if you identify deeply with people like my protagonists, you can hardly blame me for being nervous. Who voluntarily places himself in a wheelchair for life when he can actually walk! Who takes on the responsibility for another man's child when it is not necessary, simply to avoid an embarrassing situation? When you read something like that, the obvious question is, What more embarrassing situations are hidden in this writer's life? So I've had very good reasons for this fear of exposure. But it turns out literature doesn't work that way. It's a relief when you discover that. You can actually read the most incredible things without their sticking to the author himself.
INTERVIEWER
You once declared that what you count as your real body of work ends with T. Singer, published in 1999. Since that, you have published four novels and a collection of essays. For someone who has declared his "real" work to be over, you're pretty active.
SOLSTAD
When I published T. Singer, I had written four books that shared a number of formal and thematic traits. By then, I felt I'd perfected this form so well I could've kept on going. I was very happy with those books. At the same time, I felt there wasn't much to add, that I wanted to do something new. Then I thought, Why not declare my work to be complete? If I were to write more books afterward, it would be a bonus. Declaring that I was finished made me feel like I could do whatever I damn well pleased, which again opened up ­entirely new ways of thinking. So all the later books are, in a way, surprises—things that would never have occurred to me before. It was important to me to be able to do anything. Apparently it was also important to me to signal this to others.
INTERVIEWER
If you are now free, what are you free from?
SOLSTAD
I can never free myself from the idea of quality. But to relax your shoulders in general makes it easier to write. One of my great joys has been writing books about the World Cup. And I admit, those books are not up to my standards. My cowriter and I have only a few weeks to write the book between us. There's no time for contemplation. Naturally, there is something freeing in that.
INTERVIEWER
You say T. Singer is the book where you feel you have reached a kind of formal perfection. What makes you so happy with this novel?
SOLSTAD
I don't know. I suspect it's quite personal. I know there is a lot of my voice in that book. But I feel just as close to Elias Rukla, the protagonist of Shyness and Dignity. Rukla is almost named after me. Rukla is the name of a small river where I grew up, Elias is the name of my father's favorite prophet. With Singer it was somewhat the same, the voice being so close to mine.
INTERVIEWER
In the final pages of the novel, there's a statement to that effect—"I wish I could say something that Singer could not think. There is something I would have said, but I do not have the words. My language ends where Singer's ­reflections end."
SOLSTAD
It's rare for me to point something like that out in a novel. So it must have been important to me.
INTERVIEWER
You rarely write about childhood, yet this books opens with a memory from Singer's childhood, an episode that fills him with great shame. Why did you use a childhood memory here?
SOLSTAD
I still remember things like that myself. If feeling shame is the subject of your novel, then you have to acknowledge how much easier it is to forget embarrassing episodes that happen later in life. The early shameful memories are the ones that really stick in your mind, and cause reactions like Singer's. I didn't feel compelled to write about childhood, but it was logical here. Worst of all, this is a real memory. I took this episode directly from my own childhood, and recall very well when it happened.
INTERVIEWER
That small episode opens up into a book-length meditation on shame and embarrassment. Singer has different strategies to avoid the embarrassment of being seen, most profoundly his project to "become an enigma, to himself and to others." The need to control how we are seen seems an important theme to you.
SOLSTAD
It must be. The big mystery of the book is that when his wife dies in a car accident, he tells no one they had recently agreed to divorce. Her family does not expect the stepfather to adopt her six-year-old daughter, yet he does. Why? A man who makes the drastic choice to cut himself off from all other ­options in life, when he doesn't feel more than a mild sympathy for the girl. His stated reason is that he doesn't want to be exposed. He would rather make a life choice that has no meaning for him. That's his thinking—it's worth it, to spare himself the embarrassment of admitting to their estrangement. Maybe I'm an unusual person, but to me that is a choice I can fully understand.
The whole question of how we are seen has obviously become even more central to the culture as a whole in the almost twenty years that have passed since I wrote the novel. To be honest, I don't know whether I could have written that book now, with everyone talking about the importance of how things are seen. But one didn't talk that way in the culture I was shaped by. I had a feeling of having discovered something.
INTERVIEWER
This shame at being seen may be quite difficult for young people to understand now, when to be seen is considered a positive thing, or at least a necessity.
SOLSTAD
I'm not sure that the book would be interesting to write now. Put it this way, I am not ashamed of my feelings of shame. I am actually very pleased that I can feel shame. I also am not ashamed of my own shyness. It can be a nuisance, but I wouldn't have wanted to be without it. Sometimes I get the impression that in our culture, life is supposed to be so sanitary, so cosmetic, not only in the body but in matters of the soul as well. I have never been to a psychologist. I see psychologists as people who are there to improve you, and I don't want to be improved. I would probably feel a lot better if I were improved, but the novels might be worse for it.
INTERVIEWER
Bjørn Hansen makes another seemingly meaningless choice, to place himself in a wheelchair although his legs are fully functional.
SOLSTAD
With Bjørn Hansen there is an element of protest. No such thing with Singer. But such is the freedom of characters in a novel. If a character in a novel cannot differ from people in real life, there is no point in writing ­novels. That's their freedom. Of course, the writer's duty is to make that freedom plausible. When you write about a man who voluntarily places himself in a wheelchair, you have to ask yourself, Will readers buy this? I knew when I started the novel that he would end up in a wheelchair. The whole novel is constructed with that purpose in mind—to write a novel that makes that ending plausible.
INTERVIEWER
Psychological realism has never been your thing. But for a novel to be plausible, it must be psychologically plausible in some way.
SOLSTAD
That may be what ties me to the reader, actually—the need to make my own stories believable, so that what happens there could form a plausible world. I could say, This is my fantasy, but then it would be easy for the reader to say, Okay, sure, why should I care? And I'd have my answer right there.
But plausibility is what happens in the play between the writer and his imagined reader. I think the reader probably means more to me than I ­generally let on. I don't care about the reader as a commercial entity—that is perhaps why I've said I don't care how many readers I have. But of course the reader is an essential entity to me. It is the entity to which I address my thoughts.
INTERVIEWER
Does that mean you imagine a reader when you write?
SOLSTAD
Not directly. But there is someone I feel myself turning to and it's not a hundred thousand anonymous people. I sit and talk with myself all day. On some level, I'm just continuing real conversations I've had for days afterward, in my mind. But I also have discussions with what you might call an imagined reader, an entity I turn to with my concerns. I do not discuss literary matters or questions of form with this reader—only the misery of life and similarly gloomy subjects.
INTERVIEWER
You have said about Armand V., in which the protagonist is Norway's ­ambassador to London during the war in Afghanistan, that it is a novel about two things—the lack of freedom for the ambassador and the abundance of freedom for the writer.
SOLSTAD
Many seem to believe there's an implicit criticism of the ambassador in the novel because he remains on the job even though his son goes blind from participating in the war. But that's really not what the novel is about. Writing about an ambassador and how unfree he is made me realize how free I am as a writer. That's the most important thing in the book.
INTERVIEWER
A lot of debate followed from the fact that you described the American ­ambassador as having a pig's head.
SOLSTAD
I think of that as realism, plain and simple. When I wrote it, I thought of it as a political novel, but in hindsight I am not so sure. The great theme of the novel—it's a very introverted novel—is that I have come to face the fact that I am one of very few people who can be said to be free in a real sense. The question is, What do I do about that?
INTERVIEWER
Is Armand V. a self-critical novel?
SOLSTAD
It's open for self-criticism, but it's more about exploring the freedom that writers in the West have. It's a simple fact that we are exempt from the ­normal sanctions that apply to the rest of society. Everyone knows that. If you're an artist, you can behave badly, make a scandal—it will only add to your reputation.
The great privilege of being a writer is that you're not up for election. There is also no need to speak as if you have to be your own publicist. You can speak freely. That's my position today. The freedom of the writer is primarily the freedom not to have to speak within a language others have ­created for you. From that perspective, I am still surprised by how little the writers in our privileged societies use their freedom. I often think people use their artistic freedom in silly, even ridiculous ways. What people talk about when they talk about provocative art today I often see as ­completely worthless, even as a provocation. Transgressing borders that have to do with depicting sexual or violent situations—those are pretend taboos, not real taboos.
INTERVIEWER
You use the word privilege and you use the word freedom. Does all of this privileged freedom come with any responsibilities?
SOLSTAD
Not if we're talking about good art. Lots of people make very good art, take Knut Hamsun for example, even though you wish he'd adopted a completely different attitude toward a whole bunch of things. And if you are a writer, being able to make a good piece of art is of the utmost importance—that's your primary responsibility. I say that not only as a writer but also as a reader.
INTERVIEWER
Journalists would say, With freedom comes responsibility. That is why they call to ask writers and artists—those who have the luxury of seeing things from a "free" perspective—their opinion on wars, the government, et cetera. Isn't there an obligation to provide some answers for the democracy that has given you these freedoms?
SOLSTAD
Journalists used to call with questions like that all the time, but they don't call me anymore. Not after Michael Jackson died. A journalist called me to ask what I thought of Michael Jackson. I just laughed. Call me if Paul Anka dies!
INTERVIEWER
Have your editors influenced your books?
SOLSTAD
They have, of course, but I don't think I have ever been asked to make major changes. I rewrite a lot while I'm working, but that's only for me to see. I do remember one of my editors told me she hadn't slept because she had suggested changing some small detail that I had rejected. Then I said, All right, if you can't sleep, I'll change it, it's not worth losing sleep over.
I don't even care about typos, don't even change them in new editions. And I don't bother with checking facts. In one of my novels, Roman 1987, I list a lot of world records for speed skating. I wrote them down from memory. The story is being told by a man recalling the events in his life. And a man who is trying to remember isn't a man you can trust.
INTERVIEWER
Do you let anyone read your books before they are finished?
SOLSTAD
No. I'm very happy to read a manuscript to my wife once it's finished, but before that there is nothing to talk about. Before it's finished I have no words for what I am writing.
INTERVIEWER
Until very recently you used a typewriter. What did you do when you wrote something you weren't pleased with?
SOLSTAD
Very often I would write the whole page from scratch. Often it's the rhythm that's not quite right. When I have nailed the rhythm, I leave it like that.
INTERVIEWER
Do you write every day?
SOLSTAD
For a long time I had a system, I call it the 3-1-3 system. Three days of work. On the afternoon of the third day—drinking. Then you can get as drunk as you want. On the fourth day, you rest. Then you're ready for three new days of work. I drink less now—age takes its toll. But when I was physically in better shape, I did that all the time. And it worked very well. It gives you a lot of work days, only one day off a week.
INTERVIEWER
Do you always begin at the beginning? Do you know where to start?
SOLSTAD
No. What I write first often ends up being the beginning. But I don't think that when I start—it would place too much pressure on that sentence, so I simply begin. And very often I let the beginning stand. In the meantime I kid myself that it's only a temporary beginning.
In general, I write more by intuition than by systematic thought. I don't think of myself as a great thinker, although I would say I have a good head on my shoulders.
But then, in a novel, ideas are only a small part of how the novel thinks. I said at one point I would write no more novels, but I've changed my mind. I am a novelist at heart. I tried to write short stories but was no good. Tried a play, no good. Poetry—definitely not. Essays, I've done that, but you can do more things in a novel.
I actually have an idea for a new one. I have this [produces a yellow notebook], where I have written what I hope may be the first sentence. I can't tell you—I don't even remember what it is!—but I'm keeping it for the right occasion.