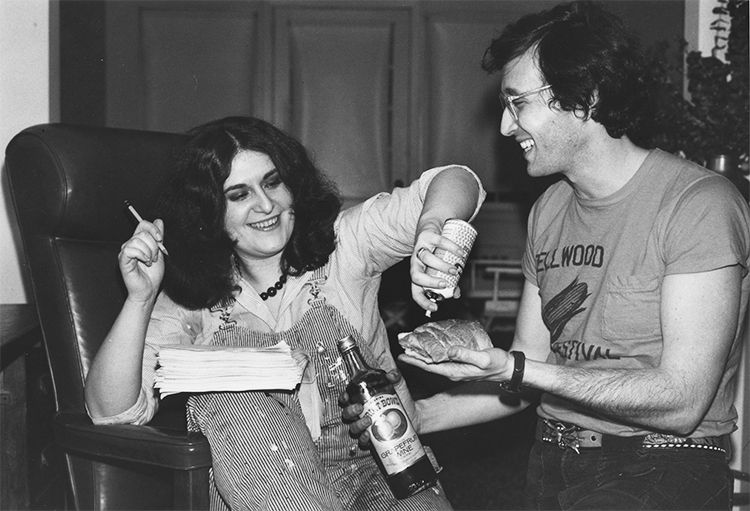 At home in Connecticut in 1975, with the manuscript of the first edition of Roadfood.
Inside your white cardboard box, inscribed with a Sally Bell silhouette, you will find a single sandwich on thinly sliced bread; a cup of tomato aspic or potato salad; a half a deviled egg, wrapped in wax paper; a crisp cheese ­wafer (no bigger than a quarter) with a pecan exactly in its center; and a cupcake or fruit tart . . . We love the potato salad with its cucumber and onion crunch, and the sweet deviled egg that ineluctably conjures images of picnics long ago, but the cheese wafer makes us cry. So delicate, sadly out of fashion, with no place in the world outside this outré bakery, two little bites and it is gone; and you get only one in a box—a souvenir token of your visit to another era.

—"Sally Bell," Roadfood (1980 edition)
JANE STERN—neé Grossman—and Michael Stern were born, respectively, in New York City and Winnetka, Illinois. They met and married while doing graduate work at Yale, having had their first date at Frank Pepe Pizzeria Napoletana; soon after, they published the first edition of their landmark American travel guide, Roadfood. The book was among the first to treat ­regional American cuisine as worthy of serious study and serious writing. And yet the Sterns were never remote or overly pedagogical; writing in her introduction to their 1984 cookbook, Square Meals, M. F. K. Fisher described their attitude as one of "love and respect" for homegrown food and tradition.
Although they have received several James Beard Foundation Awards and publish a new edition of Roadfood every three years (there is also a popular Web site), their thirty-plus joint titles cover all facets of what they like to call cultural anthropology: truckers, Elvis worship, "sixties people," Roy Rogers and Dale Evans, and Hummel figurines. TheirEncyclopedia of Bad Taste (1990) manages to combine several of the above, along with fuzzy dice, Russ Meyer, and leopard print. For The New Yorker, the couple has written about bull riding, novelty toys, and Iowa radio homemakers. Michael has also written on Douglas Sirk, and Jane has published accounts of her life as an EMT and tarot reader. In 2007, they released the memoir Two for the Road: Our Love Affair with American Food. There's also the 1979 novel, Friendly Relations; both groan when it is mentioned.
Although the Sterns divorced in 2008, they continue to work ­together and publish under their joint byline. Until two months ago, they lived in neighboring towns in Connecticut. (Michael has since moved to South Carolina.) For this interview, I met with them individually, at each one's home, then together, at Jane's house in Ridgefield. We enjoyed white-clam pizza, ice cream, and a cruller they had recently discovered at a nearby doughnut shop. Both are animal lovers—they have written on bird ­owners, dog shows, and horses—and on each occasion we were joined by several pets, including Jane's French bulldogs and Michael's parrot.
INTERVIEWER
How did you two first meet?
JANE STERN
We were both at Yale, and Michael was getting his Ph.D. in art history.
MICHAEL STERN
Hoping to get—I never got it.
JANE STERN
You were in the process of getting it. See, we're already editing each other. He was in art history, and I had arrived at Yale to study art, been ­accepted, shown up, and when I got there and went to register the first day, they said, Oh, we don't have any space for you. It was the height of the Vietnam War, and they said, We accepted all these men students, and we assumed that many of them would have been drafted, and none of them were. And I said, Have you ever met an art student? They'd sooner, like, shoot off their penis than go to Vietnam. So I found a temporary job at the slides and photo­graphs collection—
MICHAEL STERN
On High Street.
JANE STERN
They assumed that, being a painter, I knew art history. Whereas I was like, An Etruscan slide, all right, that goes with Jackson Pollock. I'd just throw them in anywhere. Anyway, I was sitting at my desk eating an orange snail—remember that good pastry shop—
MICHAEL STERN
The Danish pastry shop.
JANE STERN
—across the street, and looking pissed off, which I was, a lot. All the art history students looked like pear-shaped nerds, and Michael walked in.
MICHAEL STERN
I had my leather jacket. I was looking real badass in those days—
JANE STERN
And your Wayfarer sunglasses, and you were tall. And I looked up from my orange snail, and I said—you know what I said, my first words?
MICHAEL STERN
Yes.
JANE STERN
I said, Are you a Scorpio? And he is.
MICHAEL STERN
And I am.
JANE STERN
But this is 1968 and that was the coolest pickup line in the world.
MICHAEL STERN
Then I said—I was very involved with the film society at Yale, so I said, There's a documentary about—
JANE STERN
Hawks.
MICHAEL STERN
—Hawks, do you want to go see it? And Jane thought it was about birds, because she knew nothing about film.
JANE STERN
Howard Hawks.
MICHAEL STERN
And then we just started dating, pretty quickly.
JANE STERN
Yeah. Or fucking or eating or doing something in the realm of dating.
MICHAEL STERN
I don't remember—what did we do then?
JANE STERN
Well, you were living on Edwards Street.
MICHAEL STERN
Oh my God, yes. In that horrible apartment.
JANE STERN
All I remember you doing, basically, is smoking dope and watching movies.
MICHAEL STERN
And remember, I painted the windows black, so I could watch movies all day?
JANE STERN
Yeah. And I remember you had a cardboard toilet-paper roll that you wrapped in foil.
MICHAEL STERN
To make a pipe. Well, I didn't have a regular pipe. I did a lot of dope in those days. Lots of dope.
JANE STERN
Oh yes. I remember one of our first dates we drove to Lincoln Center. It was some movie—
MICHAEL STERN
It was the New York Film Festival.
JANE STERN
Right. And I'm sure you were high on something but you were just talking nonstop, and I thought, My God, this guy is like Brendan Behan—nonstop poetry. And it turned out you were quoting verbatim the script from Valley of the Dolls.
MICHAEL STERN
Yes, because I once had a very interesting acid trip where I dropped some acid that was way stronger than I thought it was going to be in the subway in Chicago, and by the time I got out of the subway I realized, I'm not capable of doing anything, so I just walked into a movie theater where Valley of the Dolls was playing. And I saw it like six times in a row. And to this day, lines from that movie—
JANE STERN
Do you remember any of the lines?
MICHAEL STERN
"French subtitles over a bare bottom don't make it art."
JANE STERN
I had no idea what he was talking about. But you opened many new worlds for me, because I thought movies were Ingmar Bergman and Fellini. And I realized John Wayne movies could be worth my time. Michael was from the Midwest, and I didn't know anybody who was. Everybody I knew was a Jew from New York who went to a progressive prep school and sang Woody Guthrie songs.
MICHAEL STERN
I had a driver's license.
JANE STERN
You had a car.
MICHAEL STERN
And a car.
INTERVIEWER
Which would become such an important part of your lives!
JANE STERN
Yes! And you had money because you were on a Woodrow Wilson Fellowship. They actually paid you to go to school, unlike the rest of us, who paid them. And you wore a black leather jacket and you had tattoos—again, this is 1968—and you were just very badass . . . for somebody who was getting a Ph.D.
MICHAEL STERN
In art history.
INTERVIEWER
Neither of you had a "writing" background then.
MICHAEL STERN
My first significant bunch of writing was in Russian, because I was studying Russian in high school, and I was editor of our Russian magazine—I don't know if anyone wrote for it other than me! But when I went to college, I ­started writing film criticism. There are two authors who have influenced my writing the most. One of them is Andrew Sarris, The American Cinema. In fact, he became my adviser when I finally left Yale for the film history Ph.D. program at Columbia. His way of evaluating film—even though it's way different than evaluating food—really set the gears in my mind in the right way. And then Seymour Britchky, similarly, with food.
JANE STERN
I didn't grow up writing formally. But, actually, the first book either of us wrote was by me—the truck-driver book, Trucker: A Portrait of the Last American Cowboy. Why I thought I could write a book I have no idea, but in those days, you could just say, I'm a writer, and be a writer. Unlike now, when it's virtually impossible to get anything done. Michael had left Yale and gone to Columbia, and I had stuck it out at Yale and graduated, in 1971, with a master's degree in art. For my mother, as for every Jewish mother of her era, the greatest thing her daughter could do was either marry a doctor or become an elementary-school teacher—and then marry a doctor. But I never liked children and I never wanted to be an elementary-school teacher.
Anyway, Michael and I had already married, and my mother was at her wit's end about the fact that she had just paid for eight years of school and I was doing virtually nothing. Our agreement was that I would drive into New Haven once a week and go to the jobs department where they had three-by-five index cards with jobs for graduates. I went and I went and nothing, nothing, nothing. I was unmotivated, I didn't want to do anything except hang around with Michael and eat and play volleyball. But between New Haven and Guilford, where we were living, which was about twenty miles away, I'd stop at a truck stop and have a cup of coffee, just to unwind from the great labor of looking at index cards. And while I was there, I was looking at these truck drivers, and I thought, Jesus Christ—these are cowboys! Because back then especially, truckers really had that cowboy thing going. So I would sit in the truckers-only section, and I'd talk to them. Every single one of them thought I was a hooker, but that was all right, I didn't care what they thought I was. And I became fascinated with them and just kept talking about them to Michael. And then, coincidentally, there was an early version of Kmart, called Mammoth Mart, in Guilford, a store with cheap crap in it, and they had cheap crap LPs, and there was an LP called "I'm a Truck," written by Red Simpson, where he sings as an anthropomorphized truck. It was like, Aw, look at that cute little pink truck next to me with the mud flaps, you know? And I just loved it.
So a friend sent me to her editor in New York, and I said, I want to do a book about truck drivers. And they said okay! They gave me an advance, and Michael and I went on the road following truckers all the hell over the place. Trucker was very heavy on photography, which Michael did three-­quarters of.
INTERVIEWER
Was it out of your comfort zone?
JANE STERN
Oh, yes. I was terrified of the truckers, I was terrified of the trucks, I was terrified of the truck stops, but there's a real attraction-repulsion when you're phobic. I always loved bad boys, even though I was the world's biggest goody-goody. I mean, I never smoked a joint in my entire life, I was always scared of my own shadow, but I think that's one of the things that appealed to me about Michael. He was fearless. Too fearless, really.
INTERVIEWER
I imagine you've wandered into some dicey situations.
JANE STERN
Oh, yes. Let me tell you one story. It was early on, and Michael and I were on the road, going from one bizarre situation to another, and our hobby was visiting prison gift shops. We used to collect a lot of folk art and outsider art, and back in the day, some of the prisons would actually give prisoners free rein to craft their own things. They would make lamps and sculptures and all kinds of things, and some of them were brilliant. They were absolutely fabulous! Although, we lost some friends giving them prisoner art as a wedding gift. And prisons terrify me—but again there's that attraction-repulsion, and something voyeuristic, too. Whenever we would pass a prison, we'd say, Let's go to the gift shop, and back then, there literally were gift shops.
So one day we were driving through Kansas, and there's a sign for Leavenworth penitentiary. Michael says, Oh my God, it's the mother ship! It's going to be the gift shop of all gift shops. So we follow the signs, and we drive up to a huge complex with those barbed-wire loops—a very ­unpleasant-looking place. We pull up to a gatehouse and sit there for a while until we realize nobody's there. So we drive around and there's another gatehouse, and this time the arm is up, but again there's nobody there! Finally, we come upon a parking lot where we see a couple of cars, so we assume the gift shop must be ­nearby, and park, and there is a metal door in a big brick wall. We walk up to it, and we open the door . . . and it's the yard—filled with prisoners! Staring at us. Michael kind of hangs back at the door, but I say, Excuse me, but could you tell me where the gift shop is? There's dead silence, and finally this prisoner says, There ain't no fucking gift shop, lady! And I say, Oh, thank you. And we leave, and we close the door, and we drive away, and to this day, it's like, What? And I still have no explanation for it. I know it's like saying aliens stuck an anal probe in my ass and took me up to the spaceship. But, I swear to you, that happened.
INTERVIEWER
When you went to the gift shops, and, as you say, a lot of the things they made were genuinely beautiful, or at least interesting—
JANE STERN
Not the Leavenworth gift shop.
INTERVIEWER
Well, no. But did it make you sad? As you say, a part of it is voyeuristic, and a part of it is truly enjoying the beauty of it, but does a part of you feel the pain of it? Is it hard to be in the gift shop, is it hard to handle the items?
JANE STERN
It was a mixed thing because I thought, God bless them, they're in a crafts shop making something, instead of in lockdown, slowly going crazy. Basically, every artist is nuts. I think that's kind of a safe blanket statement. I know as an artist or writer—whatever creative thing I am—and for other friends of mine who work in similar fields, the only time we ever get a hundred percent out of our heads is when we're creating. So I like to hope that in the ­moments these guys are creating, they're not in prison anymore.
INTERVIEWER
When you started writing about road food, did you think it was of a piece with the folkways movement that was going on then?
MICHAEL STERN
If we didn't at the start, we very quickly did. The year after Roadfood was published, we published Amazing America. And in Amazing America there are lots of folk-art environments and stuff like that. I think when we absolutely started, when Roadfood was called Truck Stoppin', we weren't thinking that it had anything to do with pop culture or folk art, but as soon as we got on the road and started finding guys like Howard Finster and that guy in Wisconsin—
JANE STERN
—the guy who collected—
JANE AND MICHAEL STERN
—the oil rags—
MICHAEL STERN
—not only did we very quickly realize that that was our passion, but I think it really helped us, in some way, to get a perspective on the food we were writing about. It wasn't just truck-stop food. It was food that was a cultural phenomenon as well.
INTERVIEWER
And that led to Roadfood?
JANE STERN
Well, in doing that, we were eating in all these road-food places, which didn't have a name then. There wasn't the concept of "road food"—there were just these little mom-and-pop cafés, and we kept a little notebook of these places. So after the trucker book came out, and did very well, there came the usual publisher question of what was next. And I said, I think we should do a book called Truck Stoppin', and I remember the editor said, What's that? And I said, Places truckers eat. So we got a contract to do that. Then our grand idea was to review every restaurant in America, which seemed like a really easy thing to do, considering neither of us had ever been anywhere. Michael had been to Chicago, and I had been to New Haven! We just opened a Rand McNally map, and said, Piece of cake. Three years later, we were still on the road finding these places. We were so sloppy. The main thing is that we ­wanted to be together.
INTERVIEWER
You've written on such a wide range of topics—classic American gourmet and comfort food but also the West, the sixties, music. How do you choose?
MICHAEL STERN
You should see the ones we don't write! We have a file an inch thick of ­rejected ideas. And that was one of the great things about writing for Bob Gottlieb—he encouraged that. He wasn't like, Is this mainstream enough to put in a book? The more offbeat and wacky we could get, the happier he would be.
INTERVIEWER
Do you have favorites?
MICHAEL STERN
Someone asked Otto Preminger which of his movies was his favorite, and he said, One always likes one's sickly children best. And I feel that way—both Sixties People and American Gourmet sold terribly, so I have a real soft spot for them.
INTERVIEWER
Did you read Susan Sontag's "Notes on 'Camp' "? It seems like, directly or otherwise, you two are dealing with the idea of camp.
MICHAEL STERN
I hardly even knew what Sontag was talking about when I first read it. But I went back to it over the years, and it made more and more sense to me as I became somewhat more worldly. But I've never thought of what we do as campy.
INTERVIEWER
How do you make the distinction?
MICHAEL STERN
As I look at our writing career, one of the seminal books in terms of understanding our sensibility is Elvis World. Because what we were able to do with that book—and it wasn't hard, it just came naturally—was to write a book that loves and respects Elvis, and yet has lots of fun with all the silliness of the Elvis world. And what was amazing about that book was that intellectuals liked it and Elvis fans liked it, too.
INTERVIEWER
But that's hard to do—to get the tone right, to convey warmth and affection and, at the same time, to write from a remove that isn't patronizing. The number of people who fail at that is testament to the difficulty.
MICHAEL STERN
And there were reviewers who looked at Elvis World or The Encyclopedia of Bad Taste and assumed that we were being patronizing. It's a fair assumption, since that's the way most of that stuff is looked at.
INTERVIEWER
Judging from your books, you seem to like people.
JANE STERN
I've always been fascinated by people, and good at talking to them.
MICHAEL STERN
I'm not the most social character, normally. But what we have to be able to do is to walk into any restaurant—a deluxe restaurant or the town café or a diner or a truck stop—and talk with people in a way that shows we respect them. But I have to go find the other part of myself—the social, talkative, interested part. A lot of me would like to just sit around and read a book and not talk to anyone, ever.
INTERVIEWER
I was most struck by the wholly respectful, straight approach to Happy Trails, the Roy Rogers and Dale Evans biography.
MICHAEL STERN
The Roy and Dale book was unique and wonderful. Sometimes when you meet your heroes, you wish you hadn't. But they were such good people, such decent people, and they tried to live such good lives, and did, really, as much as they could.
JANE STERN
They were true Christians—and I say that as only a secular urban Jew can. Also, Roy Rogers was the single worst driver I've ever met.
MICHAEL STERN
He was terrible! He drove like he was riding Trigger in a chase.
INTERVIEWER
When you write about food, it's always been pretty clear that the food isn't entirely the point.
MICHAEL STERN
The thing you eat is just part of the big picture. This is why, while we've done cookbooks, the cookbooks always have something else—they're not just recipes.
JANE STERN
Cultural anthropology.
INTERVIEWER
They're very much armchair cookbooks for me.
MICHAEL STERN
Occasionally we get assignments from magazines to do stories that have none of that cultural context—just recipes. I find that the most boring thing in the world. So far as I'm concerned, we could have blank space where the recipes are—although that probably wouldn't sell so well.
JANE STERN
See, that's why I hate celebrity chefs. Because there's no cultural context. The cultural context is just—
MICHAEL STERN
Them.
JANE STERN
—that they made a lot of money and a name for themselves. There's no looking beyond that. That's why I like cooks—flattop cooks, real grill guys, pit masters.
MICHAEL STERN
Well, of course.
INTERVIEWER
That said, are there any food people writing now you think are good, or do you not keep up with it?
MICHAEL STERN
Honestly, even when we wrote for Gourmet and Saveur, I never read them.
JANE STERN
I don't think I've read the New York Times in fifty years. I find so much of the writing—in magazines and the papers, wherever—just regurgitation of what somebody else said. That's why I can't stand going to conferences! Just tell me something that somebody in the Times wrote five years ago, it's like, Where's the fresh thought? And I don't see a lot of that.
MICHAEL STERN
Yeah, that's an interesting question, because it's bizarre—I guess it's bizarre—for somebody who makes a living writing about food to pay no attention to anyone else who writes about food!
INTERVIEWER
And yet you were involved in the early form of the Beard awards.
MICHAEL STERN
Actually, we gave out the first, when they were the Cook's awards. We gave an award to James Beard and one to Julia Child.
INTERVIEWER
How did you get to know Beard?
MICHAEL STERN
When the first Roadfood came out, he wrote a really nice review of it. He had a syndicated column at the time for Universal Press Syndicate.
JANE STERN
And he called us and said, I love your work. Because back then, nobody was writing about regional American food. And Beard grew up in Oregon and was one of the first people to write about real American food.
MICHAEL STERN
He took us out to restaurants, which was great.
JANE STERN
Because we were such rubes. It turned out he'd played with me when I was a baby, and he knew my cousin Wally, an opera singer. M. F. K. Fisher was our other really big fan from that generation.
MICHAEL STERN
We got to know her because we asked her to write the introduction to Square Meals, which she did. Then we were heading to California, and we called her.
JANE STERN
I have all my correspondence with her, which is so great. M. F. K. Fisher, Beard—those are writers. Those are original people.
MICHAEL STERN
That's for sure. But the others? Julia we were never friends with.
JANE STERN
Julia liked to throw back a martini.
MICHAEL STERN
And she once felt up my knee.
JANE STERN
I remember she said, It's so refreshing to see a man who isn't gay in the food world! While she was grabbing your crotch!
MICHAEL STERN
But in general, the food world . . . it's just so against our nature. We occasionally were invited to dinner. We went to a fabulous dinner at Judith and Evan Jones', with a bunch of significant food people, and we were sitting at the table and they were all talking about how you can't get good caul anymore. We had no idea what they were talking about.
INTERVIEWER
Given that you've sometimes had to do recipe books, which of you develops recipes and tests them?
JANE STERN
Well, basically neither of us.
MICHAEL STERN
When we do those stories for magazines, they test the recipes. Which is great.
JANE STERN
We usually get our recipes from someone. Like, for Square Meals, those were all vintage recipes.
MICHAEL STERN
We rarely, if ever, invent recipes. But a lot of the recipes you get from cooks around the country are terrible and need to be tweaked. At one point, we hired recipe testers.
JANE STERN
We had actual cooks, and they would make the recipe and then come over and show us the corrections.
MICHAEL STERN
I think that was when we were writing our syndicated column for Universal Press Syndicate. It made life easy, but when you don't do it yourself, it's not exactly the way you would do it.
JANE STERN
I'm not a chef. I'm a home cook at best.
MICHAEL STERN
No, neither of us is the type of person who cooks just for the pleasure of cooking.
INTERVIEWER
Yet the food books have been such a constant between other topics, and the Roadfood book is in perpetual flux, since new editions come out every few years.
MICHAEL STERN
Luckily, I love writing! For me, it is the one surefire tranquilizer. If I'm really stressed with tons of stuff to do, the one thing that makes me relax is if I can sit down and write something.
INTERVIEWER
How do you keep a deathwatch on a lot of these older independent places?
MICHAEL STERN
It's so inevitably frustrating, because we write the book, and we always ask the publisher what's the last day we can take something out or make a change. Then maybe three or four weeks prior to that, I'll either call or do some kind of a Web search, to just make sure things seem to be as we wrote they were months earlier. But always, when a book comes out, there are three, four, five, maybe even ten places that either don't exist anymore or, worse, still exist but have totally changed their menu or gotten horrible in some way or another. But that's print.
INTERVIEWER
When you do the Roadfood reviews, you mention, for instance, that you, Jane, don't care for shad roe. Whereas you, Michael . . .
MICHAEL STERN
I'm pretty omnivorous.
JANE STERN
Omnivorous! You'll try anything—like pig's ears.
INTERVIEWER
And yet the "we" tries everything.
MICHAEL STERN
There are a few occasions where we do make mention of the fact that, for example, Jane won't put a condiment on a hot dog.
JANE STERN
I hate ninety percent of everything that's served. Here's a short list of things I won't eat—oysters, raw oysters, salmon, any offal, any organ meats—
MICHAEL STERN
You like liver.
JANE STERN
—game, I can't stand game, anything bitter like broccoli rabe or a cocktail with bitters in it. Basically my main food groups are—
MICHAEL STERN
Cheese.
JANE STERN
—hot turkey sandwich, cheese, and cake.
MICHAEL STERN
I do everything else.
JANE STERN
I don't like cold cuts, I don't like sandwiches, you know, when they're this big—
MICHAEL STERN
There are sandwiches you like.
JANE STERN
—it's like I can't open my mouth wide enough to eat the thing.
MICHAEL STERN
You're not really a sandwich person.
JANE STERN
No, I hate sandwiches, basically.
MICHAEL STERN
Hot sandwiches with gravy are a different story.
JANE STERN
And I like grilled cheese and steak.
INTERVIEWER
You must have known going in that there'd be a lot you wouldn't like to eat.
MICHAEL STERN
When I first met Jane, she ate cheese pizza. She wouldn't add any ingredients, she just ate plain cheese pizza, or macaroni and cheese. Then you started experimenting with cooking. You used to make that horrible shrimp curry. Well, it wasn't horrible—
JANE STERN
No, it wasn't.
MICHAEL STERN
It was kind of suburban shrimp curry.
JANE STERN
Well, maybe it was pretty horrible, because I didn't know that you were supposed to put flour or cornstarch in cold water, and then add it gradually to the liquid—so instead I would just throw in a cup of flour, and then spend hours mushing the lumps out of the thing.
MICHAEL STERN
But you spent a lot of time teaching yourself to cook.
JANE STERN
I did.
MICHAEL STERN
Because you never cooked, nor did your mother.
JANE STERN
No, we had a housekeeper. And my mother was the most hideous cook. When I moved to New Haven and I lived at that communal place—
MICHAEL STERN
Rochdale Co-op.
JANE STERN
—everybody took turns cooking the dinner for all of us once a week, and when it was my turn, and I had no idea how to cook anything, I called my mother, and she said, I'll call the pizzeria and use my charge card, and they'll bring twenty pizzas over.
I also did fake cooking when I was trying to get you to woo me.
MICHAEL STERN
When you claimed you had made the baklava?
JANE STERN
He said once that he liked baklava, and I remember walking all over New Haven until I found baklava, and then I put it in a pan. I pretended I had made it.
INTERVIEWER
How about the more research-based books, like American Gourmet? That must have required some time in the archives. Which of you likes to do research?
JANE STERN
I would say both of us. And I do have to footnote that by saying when we did a lot of our books that required a tremendous amount of research, like the Encyclopedia of Pop Culture, Way Out West—
MICHAEL STERN
Bad Taste—
JANE STERN
—it was all precomputer. We actually hired folklorists at Bowling Green State University to do research for us. Because we could only do so much.
MICHAEL STERN
We went to libraries and went through microfiche and all that kind of stuff. But for a lot of those big encyclopedic books we had researchers and photo researchers. I don't remember specifically, but there were probably many subjects, especially for Bad Taste, that we just couldn't get anything on.
JANE STERN
Now it's just so laughably easy. You put leopard-print fabric in Google, and twenty thousand articles come back at you. Then, it was like mining for diamonds. I think I may love researching a little more than you do. Like, I would literally thumb books and yellow pages—
MICHAEL STERN
You may love it more, but you also have a fine-tuned vision. You see stuff I would gloss over.
JANE STERN
That's true.
MICHAEL STERN
Even traveling through a town, Jane will see the littlest sign in the window that says butter burgers that I would miss.
JANE STERN
Or pick up some weird thing that somebody's wearing. Like clues.
INTERVIEWER
You have a good eye.
JANE STERN
I have a very good eye.
INTERVIEWER
And what's your particular strength, Michael?
MICHAEL STERN
I don't know. Do I have one?
JANE STERN
I think you are a hundred times better than I am at describing food.
MICHAEL STERN
Yes. I'm pretty good at describing food. This is way oversimplifying it, but you get me the material and I can describe it.
JANE STERN
But I'll say, It's got a lot of rosemary in it, and you don't notice that.
MICHAEL STERN
Yeah, I can identify like three flavors. I could tell you if it's salty or it's peppery.
JANE STERN
Right. But you're a better food writer than I am.
INTERVIEWER
Do you feel that when you started writing, you were part of a counterculture?
MICHAEL STERN
Yes, and that's been, in many ways, characteristic of our career from the ­beginning. We have always written best when we're writing against something.
JANE STERN
As contrarians.
MICHAEL STERN
As contrarians. Like, when we first did Roadfood—this is putting it too strongly—but our enemy was Gourmet magazine. Everything that Gourmet stood for, we were against.
JANE STERN
Just the word gourmet.
MICHAEL STERN
Yeah, the very word.
JANE STERN
The idea of elevated, fine cuisine.
MICHAEL STERN
I love The Encyclopedia of Bad Taste because it's épater le bourgeois. I think we thrive in that situation.
JANE STERN
That's why we're not part of foundations, boards, committees—
MICHAEL STERN
We're very comfortable as outsiders. And even if we're not actually, if we can feel that way, we're more productive and happier. There's a story about Douglas Sirk, that after Imitation of Life, which was the most successful film in the history of Universal Studios up to that time, he got carte blanche. He was finally free of those crappy melodramatic scripts, he was free of Rock Hudson, he was free of Universal Studios—and he had a nervous breakdown and never made another movie. Because he thrived on working against the material. That's not exactly what we're doing, but I can relate to it.
INTERVIEWER
Is it still exciting? Do you think there are still places to be discovered?
MICHAEL STERN
Without a doubt.
JANE STERN
Oh my God, without a doubt.
MICHAEL STERN
There are whole regions, or types of food, that we're still learning about. What did we know about creemees? We used to drive past creemee stands in Northern Vermont and pay no attention to them. I had no idea there was a whole culture of creemees out there. And this was something we just found two months ago.
INTERVIEWER
What percentage of the places you go to are duds?
MICHAEL STERN
Our radar's gotten better, tips have gotten better—our percentage now is way better than fifty percent. I think, out of three restaurants we go to, two are going to pan out.
INTERVIEWER
And you probably know what to order once you're there?
MICHAEL STERN
Yes. Either because we've gotten a tip or just because we know more about regional cuisine. And so, if we're in Northern Minnesota and we see hot beef on the menu, we'll know it's not just hot beef, it's hot beef, which in that part of the world means roast beef, gravy, white bread, and mashed potatoes. Or, for example, the first time we went to the Eastern Shore of Virginia, I remember paying no attention whatsoever to the fact that there were sweet potatoes on the menu. And only a couple of years ago, we did another story about it, did some research, and realized that that's the most fertile sweet-­potato-growing area in the country, and in fact there are six or seven ­different kinds, and if a restaurant is offering sweet potatoes, it's probably well worth ordering. Back when we started, if you had asked me what the future of American food would be, I would have said it's going to be deluxe chefs and McDonald's. But in fact, there has been sort of a ­culinary ­renaissance in this country and, especially, of American food, which, when we started our book, was not so well recognized, was not given much ­respect. We had to convince our editor that there was enough food in this country to fill a guidebook. Which sounds preposterous right now.
INTERVIEWER
In many ways, you were progenitors of that genre, which is now packaged in shows like, say, Guy Fieri's. You must have a certain ambivalence.
MICHAEL STERN
Of course! In fact I gave a talk at the Greater Midwest Foodways Alliance, and the title of it was "Will Success Spoil Regional Food?" Fortunately for us, we've never been so popular that we can have that level of influence. The most glowing review dramatically changes business, yes. We've heard from places that a lot of people come through in the summer with the guidebook in hand, and they're very grateful, and that's nice. But it's not the same as a restaurant being on Guy Fieri's show, in which case it's suddenly overwhelmed, they hire new chefs, they streamline the menu, and it's not the same place anymore. On the other hand, they're being recognized. They're making money.
Food, on television in particular, has become almost like what professional wrestling used to be. It's so vulgar and disgusting—people pigging out on the biggest hamburger ever! I just heard the statistic that half of all millennials consider themselves foodies.
INTERVIEWER
And what does that mean to them?
MICHAEL STERN
Exactly. It means they love to eat a lot of ribs. And maybe that they fetishize the "authentic." That's one of the things I take the most pride in, of what we've done. I think we're really respectful of what we write about because we love it. When The Encyclopedia of Bad Taste came out, we had to explain that we love this stuff! We're not saying this is bad—it's that bad taste is so wonder­ful. And once we explained that, most people got it. The Encyclopedia of Bad Taste is not about things that are horrible.
JANE STERN
Remember "A for Amish"?
MICHAEL STERN
Yes.
JANE STERN
We wanted to give an entry to the souvenirs of Amish country—
MICHAEL STERN
Because there's so much Amish kitsch.
JANE STERN
—but we realized we hated it so much, it wasn't fun to write about. There was nothing charming about it. And it just came out ugly and angry! We had to cut it.
About two weeks before The Encyclopedia of Bad Taste came out I had a meltdown, where I said, We have to withdraw it from publication. It's just so mean. Most people saw—thank God—that it was more of a celebration of outsider culture, not New York tastemaker culture, but I remember the publisher threw this huge party for it in Las Vegas. This is when publishers were very lavish—you cannot imagine how much money they spent. It was at Caesars Palace, and they had hired bodybuilders, accordion players, cheerleaders, bikers, Elvis impersonators to cruise around the party. And the accordion player was this sweet little old man, and he had been so proud to be hired, and he didn't know that it was in bad taste until he got to the ­party. And he was ripped. He said, I love the accordion. I love Lawrence Welk. It's not bad taste. I just wanted to die. So there were people who, I think, did get hurt, and that was not pretty. And then there was the converse, where Michael and I were sued for ten million dollars by a disgruntled biker. Thank God that got dismissed, or Michael and I would be in Leavenworth making crafts!
INTERVIEWER
You wrote a novel, Friendly Relations.
MICHAEL STERN
Oh, God.
JANE STERN
Remember, you had pneumonia.
MICHAEL STERN
Yes. It was the winter of 1978.
JANE STERN
Right, and there was a huge blizzard, and we could hardly afford the oil. It was like Oliver Twist. We were covered in blankets and shivering and had no money. The phone rang and it was our publisher, the devil incarnate. He said, This is David. Do you want to make a million dollars? Michael's dying of pneumonia, so we said, Yeah! What do we have to do? And he said . . . What were they called—"boovies"?
MICHAEL STERN
Boovies, yes. Somebody would have a movie idea, and then they hired someone to write the book, so that would come out first.
JANE STERN
It was ridiculous. David said, You have to write the book, we're going to pay you a million dollars, then as soon as we make the movie, we'll make a million dollars off that. So we said, Where do we sign up? And he said, Here's the situation. Well, you know the plot, the idiotic plot, the secretary of state—
MICHAEL STERN
The secretary of state's son and the daughter of the premier of China.
JANE STERN
Right, basically go on a road trip. And they see the world's biggest ball of string. It was just hideous. And David kept saying—I think this was when Scruples was being made—Put in name brands of watches. So there is a scene where they're shopping in Bendel's and they look at Patek Philippes.
MICHAEL STERN
Oh, and remember Linda?
JANE STERN
And the mother-in-law?
MICHAEL STERN
While we were sending in chapters, we got calls from the beach in Hawaii where David's wife, Linda, would have editorial suggestions for us. And then Linda's mother would get on and say what we had to do to change this part or that part.
INTERVIEWER
Was the process at all fun and absurd, or merely horrible?
JANE STERN
It was horrible. But the thought of all the money we were getting—
MICHAEL STERN
In the end, we got nine thousand dollars.
JANE STERN
Which was great!
MICHAEL STERN
It was more than we had to start with.
JANE STERN
Yeah, but it was not the big check we'd expected. And then Jason Epstein said it was so bad they wouldn't publish it!
MICHAEL STERN
But they did. There were a couple of those books, those boovies. Who's that guy, what's-his-name . . . the editor at Knopf.
JANE STERN
Gordon Lish. I think he did it pseudonymously, because he was smart.
INTERVIEWER
At some point you settled on the royal we, the Stern we. Who does the actual writing? What's the process?
JANE STERN
Whoever doesn't have writer's block, whoever isn't lying on the couch, saying, I don't feel well, writes. There were inevitably some things that one of us was more passionate about. There are whole articles, and probably even some books, by Jane and Michael Stern that only one of us wrote. One of us said, I'll do it. Or, You do it, I can't stand it. Or I'd start it and it was incredibly shitful and then Michael would take over and it was better. I mean, there was a time I started stabbing the manuscript. We used to fight like cats and dogs about it.
MICHAEL STERN
Yeah, it took a while to get . . . harmonious. Because one has to subjugate a lot of ego when one works with another person.
JANE STERN
I don't know if we went to marriage therapy, or how we decided at some point to be polite with each other.
MICHAEL STERN
I think we just figured that one out, that you couldn't scream or say, You idiot, this is the stupidest thing I ever read!
JANE STERN
Yeah, I couldn't take a knife and stab the manuscript. Instead, I would say, You know, I think maybe the first paragraph is a little weak.
INTERVIEWER
There's such a consistent tone. Does one of you read over or rewrite the other, or do you just have a similar enough sensibility?
JANE STERN
When we wrote for The New Yorker, the editors would always try to figure out who wrote what. It was very seamless.
MICHAEL STERN
I think we've been doing it so long that in some ways it has become an entity.
JANE STERN
For Roadfood, we would spend so much time in the car that we would talk everything out.
MICHAEL STERN
So it was almost prewritten.
JANE STERN
Because what the hell else are you going to do in the car for twelve hours a day?
INTERVIEWER
And you must have a similar sense of humor.
JANE STERN
And sense of everything.
MICHAEL STERN
We often used to say that we kind of raised each other, because both of us had pretty crappy childhoods in terms of being taught how to live and what to do and how to see things, and we really started figuring that stuff out, to the degree that we have, when we got together. We developed a perspective, a sensibility, together.
JANE STERN
Blank slates. Even yesterday, we were at this fucked-up recording studio ­doing a radio spot, and we were there five times longer than we needed to be, and I had this horrible lobster roll, and Michael texts me in the middle of it, Was that the worst lobster roll you've ever had in your life?
MICHAEL STERN
You fell out of your chair laughing.
JANE STERN
I did. I can't tell you how many situations we have been in over the years—
MICHAEL STERN
Like that time in Tennessee?
JANE STERN
When we went to see that Elvis fan. We were writing Elvis World. And we figured, Okay, let's just get a clichéd lazy Southern vignette. And when we were leaving, the guy handed me something and said, very courtly, Thank you for coming. It was a doll, and when you touched its shoulder, its penis would come out. So in situations like that, we would fall out of the house laughing together.
MICHAEL STERN
We see humor in things that nobody else does. Once we were in Cincinnati doing Good Morning Cincinnati, and the pope had died—
JANE STERN
We were supposed to have the first spot.
MICHAEL STERN
—we were supposed to have the first segment, but the pope had died, and Cincinnati's a very Catholic city, so we'd been bumped.
JANE STERN
We were in the green room grousing about how the pope had knocked us off our lead spot in Cincinnati. You told a pope joke, and it wasn't even that funny, but . . . Well, have you ever had hysterical laughter?
MICHAEL STERN
In situations where you're not supposed to?
JANE STERN
They could hear us, on the set. I could not stop laughing, and the producer came in and said, Get out! And as I was leaving, I was leaning against the walls laughing, and he came and actually shoved me into the elevator.
INTERVIEWER
In everything you do, there's this sense of complicity.
JANE STERN
Yeah, absolutely.
MICHAEL STERN
I think that's what it feels like.
JANE STERN
We were, and I think still are—it doesn't matter what our marital status is—soul mates. At least, aesthetically.
INTERVIEWER
Did people flip out when you got divorced?
MICHAEL STERN
It's hard to say—
JANE STERN
I flipped out.
MICHAEL STERN
Other than yourself.
JANE STERN
I mean, it's not like we're Brad Pitt and Angelina Jolie. It's not like what we do makes the top of the gossip pages.
MICHAEL STERN
My sense is that for people who like our work, as long as we are still doing what we do, it's okay. It wasn't as though, suddenly, I was going to start writing about sports cars and you were going to start writing about perfume.
JANE STERN
Exactly. They didn't love us, they loved our work.
MICHAEL STERN
Which is nice.
INTERVIEWER
I think people do think of you two as a friendly presence, a reliable presence that has been their guide on so many trips.
JANE STERN
And hopefully we still will be.
MICHAEL STERN
We didn't have kids, so our work is like our kids. When people get divorced, they aren't going to love their kids any less. It might be sad, et cetera, et ­cetera, but the kids are still there, the work is still there.
JANE STERN
And in the same way people see each other after they divorce, so they can keep a certain sense of an intact family, it's not a hardship for us to work together. It's still the good vibe.
MICHAEL STERN
Because we do still have that connection.
INTERVIEWER
How do you keep your hearts from getting broken, when places you love are constantly closing?
MICHAEL STERN
Oh, it's terrible. There are places that you just feel are going to go on forever, that have gone on forever, and then suddenly they're not there anymore. There was a place in Marshalltown, Iowa, called Stone's. It was the home of the "mile-high" lemon chiffon pie. Somewhere in my file, somewhere in one of those boxes, I have a picture, it's a postcard of their pie. That place had been there since the late nineteenth century, and they were starting to have troubles, and then they went out of business. I don't know if I'm so much invested in it that I would cry over the loss of a place, but it's terrible when that happens, and it does.