Interviewed by Nicole Rudick
Issue 214, Fall 2015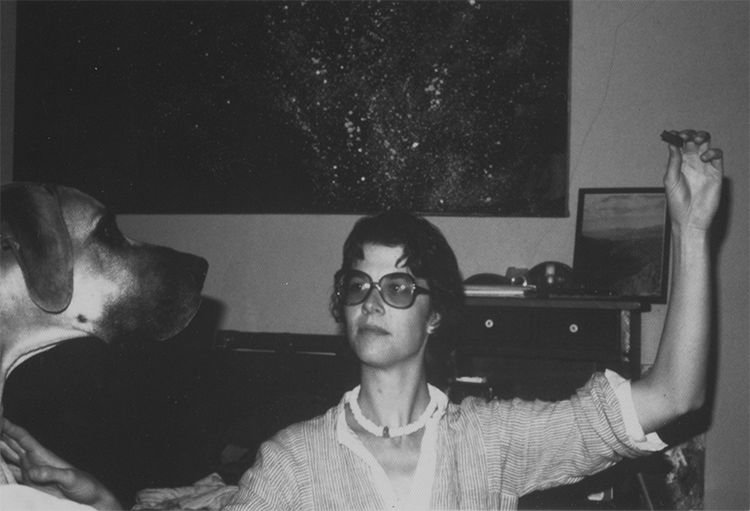 In 1976, with Canute.
Jane Smiley grew up in Webster Groves, Missouri, in a family of storytellers—and it shows. During the two afternoons I spent ­interviewing her, I heard about how her great-­grandmother, a Norwegian immigrant, met her husband while going door-to-door as a dressmaker in Saint Paul, Minnesota; how her grandfather nearly froze to death during a blizzard on an Idaho ranch; how her grandmother lost the diamond ring her husband had won in a poker game. One anecdote led to another, and she frequently interrupted herself to ask, "Did I tell you about . . . " before launching into a story within a story, a pattern that continued as she made scones, cooked dinner, fed her horses, and drove.
Smiley is equally prolific on the page: since 1980 she has published two story collections and fourteen novels, including a murder mystery, a ­medieval epic, a college satire, a nineteenth-century picaresque, and reworkings of Shakespeare and Boccaccio. In 1992, Smiley won the Pulitzer Prize for A Thousand Acres, a modern-dress King Lear set in Iowa farm ­country. Her most recent novels make up the Last Hundred Years trilogy, a year-by-year, multigenerational account of a Midwestern family between 1920 and 2020. Smiley's intimate evocations of American life have been compared to John Updike's Rabbit Angstrom tetralogy; Updike himself praised Smiley for working on what he called "the edge of acceptable novel writing," where she had replaced "plot and suspense with something freer and more lifelike—casual talk, generally inconsequential but creating a lattice of cross-purpose in which emotions and attractions extend their tendrils."
In addition to her fiction, Smiley has written a wide-ranging critical study, Thirteen Ways of Looking at the Novel, as well as short biographies of Charles Dickens and the physicist John Vincent Atanasoff. She is a regular contributor to the New York Times Book Review and is the author of the Horses of Oak Valley Ranch series of books for young adults.
This interview was conducted last September at the mountainside house in Carmel Valley, California, that Smiley shares with her husband, Jack Canning (Smiley has dedicated the Last Hundred Years trilogy to her four husbands—John, Bill, Steve, and Jack), and their three dogs, Frida, Fallon, and Abby Rose.
—Nicole Rudick
INTERVIEWER
When did you get your first horse?
SMILEY
At the end of ninth grade. She was a seven-year-old thoroughbred, off the racetrack. Sometimes she would take the bit and run away, but I didn't care. I was happy. But that horse was killed in a foxhunting accident. We were galloping, and I turned, and she slipped in some mud, fell, and broke her stifle, and the vet said she couldn't be saved. About six months later, I talked my parents into another one.
INTERVIEWER
Why did you stop riding when you went to college?
SMILEY
I thought I'd go to a place like Sweet Briar College and pursue my equestrian career, but my mother said no, I had to go to one of the Seven Sisters. So I went to Vassar, and they didn't have a riding program. She wanted me to be an intellectual. I was her eldest child, and she thought that being a writer was the best thing you could be.
INTERVIEWER
Did your mother write?
SMILEY
My mother joined the wac toward the end of the Second World War and worked for the newspaper the army put out. She's never talked too much about it, but there are all these pictures of her from the war doing various modeling bits for the army.
INTERVIEWER
Why did she join the army?
SMILEY
To get out of town. Her family could afford one year of college, so after high school, she went to Illinois State for a year. After that, she worked in a factory for a while, then thought, I'll join the wac and see the world. And it succeeded, because she did see a lot of the world.
She was stationed in Paris for about three years, and then came home and worked for the Memphis Press-Scimitar and then, when she moved back to Saint Louis, for the Globe-Democrat. She was the women's-page editor, starting in about 1951, for eight or ten years, writing about fashion shows and ­interviewing people. She interviewed Katharine Hepburn when she came to town. She also tried to write a couple of novels about the war. I've read a bit of them, and they're sort of light.
INTERVIEWER
Did you go to college thinking you were going to write?
SMILEY
At first I thought I was going to be a jockey, but that was evidently not going to happen—I was already too tall. In seventh grade I thought I was going to be a nuclear physicist. And when I got really tall, there was a moment I thought I might be a model, but when I went to see an agent, she announced that my hips were too narrow. Then, in my senior year of high school, I was able to go to England for spring vacation. My stepfather had some friends who lived in London, right by Marble Arch, and I stayed with them. It was a fabulous visit, because I ranged around and explored the neighborhood and they took me to a lot of places around England. One of the oddest things I did there was, I went to Speakers' Corner and got up on the podium and started talking.
INTERVIEWER
Do you remember what you said?
SMILEY
I do not remember what I said, but I thought, This is totally bizarre, a ­seventeen-year-old girl getting on the podium at Speakers' Corner. But that's what a novelist would do—say, Oh, I have an opinion about something.
INTERVIEWER
Were you generally precocious?
SMILEY
Freshman year, my roommate, Barbara Blatner—who is now a playwright in New York—was way, way ahead of me in every conceivable way. On the second or third night of orientation, we file into the auditorium, and a ­gynecologist, a psychiatrist, and a chaplain give us the sex talk—how to be careful and what to do—and I didn't understand a word of it. When we got back to the room, I said, Barbara, you know when they were talking about that stuff? What is that? And she spent three nights answering questions. I was blown away. The one question I remember asking was, So what is sixty-nine? When she told me, I nearly fell out of bed in amazement. I could not believe what that was.
INTERVIEWER
To what extent were you aware of the sexual revolution?
SMILEY
We were aware of it—the boys were telling us about it all the time.
INTERVIEWER
What did you think of it?
SMILEY
Well, this is what I call the blessings of ADD. You aren't paying attention, most of time, when they're telling you what to do, and so, when the time comes, you never learned the rules, so you just do whatever you want.
INTERVIEWER
And that's what you did with regard to boys?
SMILEY
At the end of freshman year, I met a guy at a mixer who was six foot nine. I was six two. He was really good-looking, a nice guy, and I had a crush on him—but he graduated and that was that. Then, in the fall of my sophomore year, I discovered another guy, also six nine, at Yale. His name was John Whiston, and he was the starting center of the basketball team. I found out which door was his, and I knocked and he opened the door. I said, Hi, I'm one of your millions of screaming fans. And he said, Well, come on in. So I chatted him up and decided that this guy was going to be my boyfriend. We spent the weekend together, and when I came home on Monday, I said to a friend, I'm going to marry this guy. So I was the engineer of the relationship because he didn't know what to do with girls, and that was fine with me, because all I wanted was to have a relationship.
Also, he was a Marxist. He was a six-nine Marxist medievalist basketball player from Casper, Wyoming.
INTERVIEWER
Was it through John that you became political?
SMILEY
Absolutely, because the nature of our relationship was to talk and analyze, and I would go with him to meetings. In the beginning of the summer of '69, I decided to stay in New Haven with him, and we both got jobs in factories—he got a job at the Bilco basement-door factory, and I got a job in an electronics factory. It was an enlightening experience. My first job that summer was to sort diodes according to which end was positive and which was negative. We were supposed to do a little educating of our fellow factory workers, and I'll never forget sitting next to one woman, also sorting diodes, and the owner of the factory comes in and she says, Ah, he's such a nice man. And I thought, Okay, the time has come. So I said, Yeah, he seems nice, but wouldn't it be better if we owned the factory? And she turned to me and said, That would be communism. And I thought, Okay, she knows what she's talking about, and I shut up.
INTERVIEWER
Where were you living?
SMILEY
That summer, we lived in a commune. And we had constant discussions about what was going on in the commune.
INTERVIEWER
You didn't like living there?
SMILEY
I liked some of my fellow communards. There was one guy whose parents were Jewish Russian émigrés, and they were enraged that he was living in a Marxist commune because they had fled Russia to get away from all of that. Also, it was 1969, so Americans were landing on the moon—and here we are, watching the moon landing, and instead of being impressed, everyone around me is talking about how this money should be spent on social things.
INTERVIEWER
What did you think?
SMILEY
I was always for doing what you want, but then I was reprimanded because it wasn't what was good for the group. I can't say that, at the time, I ­enjoyed the conflicts, but my stepfather had been a member of the John Birch Society, so to go from living with a family where that literature was lying around to living in a commune where we talked about the working class—it was interesting. Later in the year, there was a conversation about whether one of the guys who was graduating should join the army in order to do antiwar work, and I was the only one who said, Well, does he want to join the army? That was not considered an appropriate question.
INTERVIEWER
Where did your attitude come from, do you think?
SMILEY
That's how I grew up. We did what we wanted to do. My mom was the ­example—she did what she wanted to do, she told you to do what you ­wanted to do. And I also had grown up reading a lot, and I truly believe that reading novels is a freeing experience.
INTERVIEWER
When did you start writing fiction?
SMILEY
In 1970, John and I went to live with two of his best friends in a place on the Esopus Creek, in Saugerties, in a commune situation with no political implications. I was still a senior, and everybody else had graduated. John got a job with a Greek guy who dug swimming pools. Tom, who was a kind of zen type, went to work at the food co-op in Woodstock. And then Steve, whose whole aim in life was to model himself on noir pulp-fiction writers of the thirties and forties, was in his room writing stories under pseudonyms for romance magazines.
INTERVIEWER
And you?
SMILEY
I was writing a novel. That was my senior thesis.
INTERVIEWER
What was it about?
SMILEY
It was about the extremely dramatic lives of college students.
INTERVIEWER
Was it any good?
SMILEY
I don't think so, but I passed. Then John and I decided to hitchhike around Europe. We went all around England, France, Italy, Greece. We worked for a summer on an archaeological dig. After the first couple of weeks, I started rewriting my novel, and continued to work on it as we hitchhiked through France and Italy. John carried the typewriter. While we were living on Crete we decided we were going to go to graduate school. John was going to go for history, and I was going to go for creative writing. So we applied to two graduate schools—the University of Virginia and the University of Iowa. He got into both and I didn't get into either one. We decided we'd go to Iowa. We found an old farmhouse about thirty miles out of town that was really cheap, and we got his grandmother's car. I got a job in a teddy-bear factory, but I knew this was not going to be my life.
INTERVIEWER
How did you make your way into the writing program there?
SMILEY
One night, we went to a party at one of John's teachers' houses, and it was all medievalists. I met a guy, a fairly famous medieval scholar, named John McGalliard. I asked if I could sit in on his class in Old Norse and he said I could. And within a week, I had caught up, because I really wanted to participate. I stayed in the class the rest of that semester, and then in the winter I applied for admission—not to the creative-writing program but into the English department as a master's student. I was going to specialize in medieval languages. I had a full load of classes in the spring semester—Old Norse, Old English, Gothic, Germanic linguistics.
Now, since the English department was on the third floor, and the ­writers' workshop was on the fourth floor, and the faculty offices were on the fifth floor, I would go to the fourth floor and sneak out stories that were ­being workshopped. The only one I remember was one by T. C. Boyle. He was about a year ahead of me. He'd written a story about a hippie commune that endures a series of plagues, like a rain of blood, and I'd never read anything like that. That somebody would have taken something like that and joked around—it was striking to me.
INTERVIEWER
Was John encouraging about your writing?
SMILEY
Well, we'd made friends with a boy named Charlie, and he and John really got along. He was an avid Marxist, and his girlfriend was an avid feminist. It became evident that Charlie, to a great degree, and John, to some degree, did not believe in the novel or self-expression or art or anything like that. They thought it was a waste of time.
INTERVIEWER
Did it have anything to do with your being a woman?
SMILEY
I don't know, because the most avid feminists in Iowa City were the women who were hanging out with the Marxist men. They were doing things like giving birth at home, having openly lesbian relationships. These two groups were sleeping with each other and had made their ideas conform. So the idea of being in the workshop and being a novelist wasn't important to any of them. I retained my lifelong belief in doing what I wanted to do and not giving in to what everybody else thought should be done.
We'd moved to Iowa City in August, and by February John was pretty dissatisfied—he didn't really want to be in Iowa City and he didn't really want to be in graduate school. In March, he went to stay in town for a few nights at Charlie's. As payback, I stayed in town for a couple of nights the following weekend. One night I walked into a restaurant called the Mill—there was always a line of motorcycles parked outside. As I was going in, the guy carding everybody said, I think you're incredibly beautiful. I got really excited because John wasn't into giving compliments. When this guy got off work, I offered to let him walk me home. He was a local who worked as a bartender, he was a Vietnam vet, he was about five or six months older than John, and he had a list of ex-girlfriends as long as your arm. But I let him woo me, and then on Monday, when I saw John, I said, I think I'm going to leave you. He was upset for about a day and then said, You know, that's probably a good idea. And he was out of there two weeks later. So I got the dog and the cats and took up with this bartender, whose name was Steve.
Steve thought this whole Marxist thing was ridiculous. Ours was a very scraped-together but fun life. We went everywhere on his motorcycle. He was a smoker and more than once, as we were going down the road at a pretty good clip, I'd see him lean down and light his cigarette on the exhaust pipe of the motorcycle. He was really observant. That's what I say about my four husbands, that each one of them had a different area of expertise. John's area of expertise was all intellectual. But Steve's area of expertise was the world we live in.
INTERVIEWER
By then you'd reapplied to the writing program there and been accepted. How did you like it once you were finally in?
SMILEY
I started in the workshop in '74. Somehow I got introduced on the first day to Allan Gurganus. He wore a white suit, and he was very elegant looking. I met Barbara Grossman then, too, and she became my best friend within days. Everybody was completely dedicated—we would even do extra workshops on our own—and it was totally nonpolitical. My fellow students were very supportive of each other.
INTERVIEWER
Did you have any good teachers?
SMILEY
No, but I had teachers who became friends. For example, Leonard Michaels—he was there for about a month. He would pick up a story and just sort of talk about it, say what he thought about it, and he didn't engage with anybody in the class. Lenny was very charismatic, and he gave me a piece of good advice, which was to change my name. My married name was Jane Whiston. And he said, No one's ever going to remember that name. What's your maiden name? I said, Jane Smiley. And he said, That's the one. People will remember that one.
Lots of times the big guys would come from New York and figure out who they thought was the star and then they'd pluck you out of the group. I was never one of the plucked. But I came to realize that I didn't want to be. And now I tell kids who are in workshops, It's not your teachers you want to please, it's your peers—they're the ones who are going to be your readers. Your teachers are all going to die off within the next fifteen years, forget them.
INTERVIEWER
You were sort of a late bloomer.
SMILEY
Yes, and I think you have to fiddle around, fiddle around, fiddle around. You don't want them to pick on some particular thing and say, This is you! Because it might not be you. Allan published his first story in The New Yorker right around then, and it made him a star. But I think it also gave him pause, didn't give him enough time to fiddle around.
INTERVIEWER
What did you learn from your fellow students?
SMILEY
I wrote a story called "Jeffrey, Believe Me" in my second year. It was my fantasy story about Allan where the girl persuades her gay friend to come to dinner and then gets him to get her pregnant. Somebody had come to give a reading and was in front of the class turning pages, and we were ­being very quiet and respectful because he was extremely serious. But I was bored. So I handed Barbara this story, and she laid it on her desk and began to read it. Then the guy fell silent . . . and Barbara suddenly burst out laughing at something in my story. That was my best compliment. That was the compliment that said, You're going to make it.
INTERVIEWER
You went to Iceland before you published your first book. How did you end up traveling there?
SMILEY
Steve really wanted to move to California, but I wanted to finish my degree. So we broke up, and he moved to Santa Barbara and I applied for a Fulbright to Iceland.
INTERVIEWER
Why Iceland?
SMILEY
Because of the Old Norse, but also because you could get one to Iceland—nobody wanted to go there. I thought my dissertation was going to be applying modern critical methods to the Norse sagas, which nobody had done at that point. People had considered the sagas from all kinds of linguistic points of view, but nobody had really considered them as works of art. So I thought I'd go to Iceland, learn modern Icelandic, and work on my dissertation.
There was another girl on a Fulbright there. I don't know what she planned to do, but the only thing she did the whole time was read Catherine Cookson. She had gone to Radcliffe and was really smart. She had read War and Peace by the time she was eleven. You name it, she'd read it and she'd read it early.
INTERVIEWER
And now all she wanted to read was trashy stuff.
SMILEY
It was funny because I'd spent my youth reading the Bobbsey Twins, and there were so many other things I'd never read, so I read them in Iceland because they had a wonderful library at the American embassy. I read War and Peace. I was introduced to Icelandic and Scandinavian writers, too, like Sigrid Undset and Halldór Laxness. I loved Halldór Laxness. One of my favorite books is Independent People. I don't remember what I wrote in Iceland, but I got into the habit of writing every day and sticking with it. So when I got home, I was in the habit and that was that.
INTERVIEWER
You've described writing as a source of relaxation.
SMILEY
Do you know the writer Mihaly Csikszentmihalyi? He's a Hungarian psychologist who writes about the state of flow. If you're in a creative state, then essentially things sort of coagulate and you enter a state of hyper­consciousness—you can write for an hour or so, but it only seems like a few minutes because you're so concentrated on it. I've experienced that a lot, which doesn't mean there's no frustration, but I don't really remember the frustration very well. I remember more when the writing comes together. And I'm willing to seek out that coming together. If I get frustrated, I'll go eat something, I'll go open another Diet Coke, I'll go the barn, I'll distract myself, and then the parts in my brain that were working click and I get an idea. I read an article about how to learn to play a musical instrument. You practice, practice, practice on Friday, then you walk away. And then when you sit down on Saturday, you're better. Not only because of all the practice, but also because of the walking away. I'm a firm believer in walking away.
INTERVIEWER
Have you always worked that way?
SMILEY
Yeah. But when I was younger, when I was starting out, I was distracted by the kids. I had my two hours of allotted time while they were with the babysitter, and most of the time I tried to make it productive. But I also recognized that maybe it wasn't going to be productive, so I'd take a nap instead. But having the kids as a distraction, having to do my time and then go pick the kids up at school or go to the grocery store or whatever—that was always good because something might happen out on the street that would be an idea.
INTERVIEWER
Can you think of an example of when this happened?
SMILEY
One of the ones that sticks in my mind was when I went to the daycare and saw all the four-year-olds crossing the street in front of the church in two lines. My inner mom says, Oh my God, what if a car comes screaming down the street right over the kids? And my inner author says, Wow, that's an idea. So my inner author was always sucking dry the inner mom or the inner girlfriend or the inner life or the inner horse owner and trying to make something of whatever that thought might be.
INTERVIEWER
Now, you're not interested in organized religion, but you've found the lessons in A Course in Miracles useful. How does it work?
SMILEY
A Course in Miracles is a volume of one hundred percent bullshit, but it's extremely logical and interesting bullshit.
INTERVIEWER
Did Jack introduce you to it? Does he think it's a bunch of bullshit, too?
SMILEY
Yes, and such effective bullshit. It's this weird combination of Zen Buddhism and Christianity. The idea is that everything is an illusion, like Buddhism, and one of the essential premises is "I have given what I see all the meaning it has for me"—which is a novelist's premise extraordinaire. This is how ­novelists think—I look around, I write it down. I give everything in the world all the meaning that it has for me. It doesn't have any inherent meaning. So that means you can do mental exercises that change the meaning you give to things. Or you're worrying about something and you say to yourself, I give everything all the meaning it has to me, and you withdraw from worry­ing about it and think about it in a different way. What I also liked about the Course was, it's a book, and all you have to do is read it! If you can read it, you can interpret it as you wish. The ideas were helpful for me because they're philosophical and impersonal. And they were also in a book. You didn't have to go to church, you didn't have to put money in the collection plate, you didn't have to receive the truth from some asshole behind a podium.
INTERVIEWER
Did this way of thinking make its way into your writing?
SMILEY
It got into Horse Heaven. I was playing around with a lot of philosophical ideas in Horse Heaven, and I thought it was funny to set them at the racetrack.
INTERVIEWER
Good Faith involves that other high-stakes game—real estate. Jack sold real estate, didn't he?
SMILEY
Yes. Jack had been telling me for several years all these stories from his life as a real-estate guy in the eighties. I found the stories interesting, and I ­remembered that principle about the nature of the novel—that every novel is either about someone who comes to town or someone who leaves town. Jack's story was clearly about someone who came to town.
INTERVIEWER
Did the big real-estate con in the novel actually happen? Did it happen to Jack?
SMILEY
Yep. So the sexy stuff didn't happen, just the conning and being conned. I had thought that the savings-and-loan crisis of the eighties was quite ­interesting in and of itself, as an example of the American way and also an example of the Reagan era. There was one house that was built in New Hope, Pennsylvania, during the bubble that I remember Jack telling me about, a beautiful house, except they had laid the shingles the wrong direction. And I thought, You've got to put that in. There are so many things that people do that get lost in the shuffle, like building a beautiful house with the shingles going the wrong direction.
One of the things I love about novels is that, in addition to offering good stories and having ideas about how the world works, they're also ­artifacts about the details of the time in which the author lived. And so weird little things get in that maybe were only present in that day. So I would put weird little things in if I came across them just because I would imagine somebody in a hundred years reading one of my novels and going, Are you shitting me? The shingles were going the wrong direction? Or, What are shingles?
INTERVIEWER
How do you know when you've put in too much of that kind of detail?
SMILEY
When I reread it and it seems slow. And then I just cut it. I always think it's better to put too much into the first and second drafts and then you can cut it back. But your first draft is partly you talking to yourself about a subject. And maybe you can't get through that first draft without talking to yourself about that subject. You can always go back in the second draft and cut out the blibber-blabber and make it just the narrator talking about the story. One of the signals for me that I'm just talking to myself is when I use the word just. I don't know why that is, but it's a tic. And so, if I go into my file and I search for the word just, most every case will take me to a place where I'm sort of blithering on.
INTERVIEWER
How do you work on your drafts? Do you print them out and mark them up by hand, or do you revise on the computer?
SMILEY
I have one of those Kindles. Not a Kindle Fire, but a black-and-white one. I make a PDF and put it on the Kindle and read it as if it were the book. On the Kindle, you can mark or highlight places that need to be fixed. It's a good way to see how it's working as a book—and where it isn't working as a book.
INTERVIEWER
How did you do it before the Kindle?
SMILEY
I printed it out and marked it up. But I don't want it to be typescript. I want it to look as close to something like a book as it can because I feel like the problems, the mistakes pop out at me better.
INTERVIEWER
How many drafts do you typically go through?
SMILEY
It depends on the book. Some have required two or three, some have only required one. The Greenlanders was basically one draft. Private Life required the most. Moo I think was three. With Moo, I first made a chart with the chapter numbers across the top and the character names down the side. And whenever a character appeared in a chapter I would put a check. I could see who was getting lost because they wouldn't have gotten a check mark for a while. I wrote the first draft and printed it out and then took the sections in which the top ten characters appeared and put all those together. Then I read through that set of chapters to see if each character was making sense in a line of his or her own and rewrote it when they didn't make sense. Then I put it back together as a whole novel and read it through again to see if everything read smoothly. And I rewrote it a little bit more so that it read smoothly from beginning to end.
INTERVIEWER
Did you use the same method with Horse Heaven? There are a lot of characters in that novel.
SMILEY
I didn't do that exact thing. Each geographical section of Horse Heaven is organized around a different horse, so as those horses move from place to place, the characters change.
INTERVIEWER
The movements of the horses plot the novel?
SMILEY
Exactly. When I wrote the first draft, the horses started as foals, and we followed them for that first year and a half. But my editor said, No way can I read this. The first draft was like nine hundred pages long, and my editor's not horsey at all. So then I started them as two-year-olds, just before they get to the track, so that the book is only about their racing careers. But having thought of them as foals, I had a really good sense of who they were. I could go on from that point and fill in whatever I needed to. The same was true in the Last Hundred Years, where I started so many of the characters as babies.
INTERVIEWER
When you won the Pulitzer for A Thousand Acres, did it distract from your writing?
SMILEY
I was four months pregnant with Axel, so I wasn't going to be traveling anywhere. Subsequently I ran into Michael Cunningham, and he told me he had let them tempt him. The Pulitzer people asked him to come to all kinds of things, all over the world, and he told me he lost track of what he was writing. But I got the Pulitzer, said, Oh, isn't that nice, enjoyed the flowers and the attention, and then kept going with Moo.
INTERVIEWER
Does it bother you that it occurred early in your career?
SMILEY
No. This is the quote I gave to the Ames Tribune, and I still believe it's true. Several things happen if you win the Pulitzer. In your obituary, the first thing they will always say about you is "Pulitzer Prize–Winner Jane Smiley Dies at Ninety-Six." But also, once you win the Pulitzer, you're not cool. Before you win the Pulitzer you're a wannabe, after you win the Pulitzer you're a has-been.
INTERVIEWER
So you're cool for a moment and then—
SMILEY
Cool people don't win the Pulitzer.
INTERVIEWER
So you're not cool one way or the other?
SMILEY
Never. I would never have been cool.
INTERVIEWER
Marriage, in one form or another, is a frequent subject in your novels.
SMILEY
Well, I'm interested in marriage—I've been married four times.
INTERVIEWER
In Some Luck, the paterfamilias, Walter, thinks, "Maybe the measure of what, over the years, he had held back for himself was the measure of what saved him." This tension between self and family is a hallmark of your work.
SMILEY
I think that's just realistic. I've investigated marriage a lot, I'm a gossipy person—I like looking at people and how they get along with one another. And I think marriage is a complex topic. Is that only true of women writers? Or are male writers interested in it, too? I guess Tolstoy was interested in it. But the problem with Anna Karenina is that he couldn't have a sex scene. So he had to go from Anna meeting Vronsky to their passion without showing us the path. And that was the era, but there were other authors who managed to make the passion more believable. He explored marriage a little more in War and Peace, and I think that's because he was more involved in his own marriage at that point and was curious about how it worked. Maybe one of the best explorations of marriage is Anthony Trollope's He Knew He Was Right.
The idea of what marriage is has been at the center of the novel from the beginning—from the days of Marguerite of Navarre. And yet, this notion, in the seventeenth, eighteenth, nineteenth centuries, that there can't be any flirting, that two people have to just connect and be married—how is that going to work? How can you have a serious connection with somebody you only just met or barely know? This is the unbelievable thing at the heart of the novel, at the heart of the nature of the novel—if you're going to have that happy ending, somehow they have to get to know one another. That's why I love Our Mutual Friend, because Dickens talks about how John Harmon and Bella Wilfer get to know each other, and how they get married, and then how they get along after they get married. I think that grows out of Dickens's own extramarital affair. When he decided to take up with Ellen Ternan, and that it had to be secret, I think he learned more about women and their lives than he had before he took up with her. His portraits of women in Great Expectations and Our Mutual Friend and his later books are much more empathetic to their concerns.
But to me, the best male novelist of women of the nineteenth century was Trollope. In He Knew He Was Right, his version of Othello, the counter­point to the male protagonist is an older woman who is very opinionated. You spend the eight hundred pages of the novel watching the two of them—the woman learns, and the man doesn't. The man cannot unlearn this idea that his wife is sleeping with someone else and that it is a dishonor to him. But the woman, bit by bit, unlearns her prejudices and becomes a different person by the end. It's a wonderful book, partly for this portrayal of the obsessive guy, but also for the panorama of women in midcentury England trying to figure out how to live. Trollope didn't like it, because he thought the guy was going to change. He didn't realize that he had tapped into a deep form of masculine obsessiveness. He was a great portrayer of ambivalence, and I think he wanted the guy to come to his senses, but his observational powers outweighed his desire for the guy to get sane.
INTERVIEWER
In Thirteen Ways, you write, "A novelist has two lives—a reading and a writing life, and a lived life. He or she cannot be understood at all apart from this." Can you explain the distinction?
SMILEY
Your lived life is your relationships with your spouse, your kids, your family, and what you do during the day—making dinner or having a job. Your reading and writing life is the books you're reading and the books you're writing, into which you pour a lot of energy. Readers have a similar life, because they want to be lost in a book, and they have feelings about the characters, feelings about the plot. A writer has the same experiences as a reader, but she also has the project she's working on. So while I'm standing over the stove cooking, I might be thinking about what I'm going to do tomorrow with one of the horses, but I might also be thinking about the book I'm writing and how I'm going to fiddle with it. The section that comes before that one in Thirteen Ways is about children growing up reading. And it says that we were reading for all the wrong reasons—we were reading to avoid going outside to play, we were reading to avoid doing tasks. So as we read and love books, the characters in the books seem to us to be more closely related to us than our own family. David Copperfield is more a friend to me than an elementary-school classmate is. He's opening himself up to me. I find that a lot of times when I'm reading something, I have no reason to feel depressed, and yet the thing I'm reading is very sad, so, yeah, I'm depressed.
INTERVIEWER
You've written in many different genres. Have you found one more difficult than the other?
SMILEY
Every form has its own set of difficulties. That's why I write in a lot of different forms, because each one is imperfectible. In a comic novel, the language has to stay perky so the reader will keep laughing. And yet it sort of defies making it deep, so it's hard to make it both funny and profound, comic and deep, all at the same time. When I've written the comic form, sometimes I feel like it's a little too on the surface. When you're writing in the tragic form—who wants to be sad all the time? Who wants to know that doom is at hand all the time?
When I was writing A Thousand Acres, somewhere in what is essentially act 4, I realized I had veered offtrack, so I had to go back and reread the play, then go back thirty pages in the novel and put myself on track again. That was my main technical problem. But at the same time, it was so depressing to be writing it. I loved feeling an affinity with Shakespeare, in struggling with the same material—where he had tried to make it work in certain ways, and how he in certain ways had given up. But at the same time, because I paid so much attention to the play, I found that it was cruel in a way that modern literature wasn't typically cruel.
INTERVIEWER
What do you mean?
SMILEY
Shakespeare's source was a play or a story called Leir, which was of Nordic origin. One of my justifications for A Thousand Acres was that if you traced the theories of where his material came from, there was incest there, as there had been in so many early mythological stories. With that kind of ­material, you struggle to make these people, whom you disapprove of—either the ­father or the daughters, whoever you feel is the bigger betrayer—worth reading about. Since I had read so much Shakespeare over the years and was so familiar with his works, I thought he was my friend. Then I began working with it, and I empathized with his struggle working with difficult material, but I also saw that, no, he wasn't my friend, he was a man of the Renaissance and his tolerance of violence and betrayal was greater than mine. He and I have different expectations of the world. I enjoyed that aspect of writing the book, but by the time I was finished with it, I had to do a comedy.
INTERVIEWER
Was writing in the epic form challenging?
SMILEY
I had no problem with the epic form. I put on my bearskin rug, turned on the engine, and headed out. There are rules to the Norse epic, though, and one of them is that the characters have no inner lives. But I had to give Gunnar an inner life, so I taught him to write and gave him a reason to be introspective. I was satisfied with the result. But I'll never forget a letter I got after Greenlanders was published. At the end of the novel, Gunnar has regrets, and this guy who wrote me was enraged that Gunnar would have regrets.
INTERVIEWER
Why?
SMILEY
Because a Scandinavian Nordic hero has no regrets.
INTERVIEWER
But this is a novel.
SMILEY
But this is a novel. And I also felt that Gunnar had to understand how his people had destroyed themselves. At the end of Greenlanders—five hundred and fifty pages of Greenlandic history—one person could have a moment of regret.
INTERVIEWER
Horse Heaven is the book in which you seem able to combine different ­aspects of the novel form.
SMILEY
I thought I could do anything I wanted in Horse Heaven—I could kill ­people and animals, I could make you cry, I could make you laugh, I could talk about moments of transcendence. Maybe that's why it's my favorite.
INTERVIEWER
In Thirteen Ways, you say that novels can be either broad or deep, but never both.
SMILEY
I still feel that's true. If a novel is too complex, then the reader loses track of what's going on. I think Ulysses is a good example of that. But let's say there are five possible types of complexity—there's complexity of language, of theme, of character, of plot, and of setting. Ulysses has an incredible complexity of language, but it does not have complexity of plot or setting. In Search of Lost Time has complexity of character, a certain amount of complexity of plot, but what's really complex is the relationship of the characters to one another and the complexity of language. We could not read seven volumes of In Search of Lost Time if it was complex in every way. Though it stands apart as the most complex set of books that any of us can manage to read.
When I began the Last Hundred Years, I knew there was going to be complexity of theme and complexity of character and decided not to have complexity of language. The language is very straightforward. I took Alice Munro as my language model and tried to work the complexity in through character, theme, and setting. If I had also decided to make the language extremely interior and hard to understand, it wouldn't have worked, because people wouldn't have had the patience to read it. Now, people did have the patience for Greenlanders. I don't know why, but I think it's because once you get used to the language, it doesn't seem so complex anymore. As long as you know the dialect, you can follow it. But if you have a book like In Search of Lost Time, which is constantly changing the terms of what the language is referring to, then you have to pay lots more attention and it becomes mentally exhausting. Some people stick with it and do it over and over again, and some people try it and walk away.
INTERVIEWER
Did you think about publishing the Last Hundred Years as a single volume?
SMILEY
Well, one of the models was Murakami's 1Q84. I thought if it were one volume it would be too unwieldy and also very difficult for the reader to process, so I decided it should be published in three volumes. But I also thought those three volumes should come out quickly. My experience with kids' books—where the five volumes came out over five years—was bad because the kids had to wait too long. A kid who was in sixth grade for volume one would be in eleventh grade for volume five. Would she still be interested? There's no guarantee of that.
INTERVIEWER
When you started the trilogy, did you know how it would end?
SMILEY
No. I started writing volume one in 2010 and didn't even know who was going to be elected in 2012. But that was the point—to just go with it. Who do you think is going to be elected president in 2016? I'm not saying what the book wants. Maybe the book wants Ted Cruz.
INTERVIEWER
The book has already decided who wins?
SMILEY
No, because I can change it. In the last four chapters, there are a lot of asterisks. I can fiddle with those chapters for the next few months. But before the election I'll have to decide. It will inform the future in the novel.
INTERVIEWER
Why did you choose that particular time period in American life?
SMILEY
The country was essentially settled and people were, by the 1920s, moving around on trains and beginning to move around in cars, so the kind of openness of moving from one place to another—not necessarily only west, say—was now present. That epitomizes my grandparents' life. First they're in Missouri, then they're in Idaho, then they're in Texas, then they're in Illinois, and then they're back in Saint Louis. And the problems of each place ­present themselves as a problem of that place, not as a problem of getting there, ­because it's easy to get there now. The modern era had begun.
One of the books I found very useful was a book about Henry Ford, about his effect on the world around him by making cars available and fairly simple to use. You could see how that transformed American life. But part of my reason for starting at 1920 was simply because my mother was born in 1921, her siblings were born in the twenties and the thirties, and my cousins and I were born in the late forties. These are the people I know, and the cycles of their lives are lived out in the cycles of history that I'm already ­familiar with. If I had chosen Jack's parents, for example, who were about fourteen, fifteen years older than mine, that's half a generation, and the rhythm would have been different.
INTERVIEWER
And you wanted to write into the future?
SMILEY
I did want to write into the future. There's a lot of science fiction that's written about the future in which they talk about how the past looks from that future. It's all discussed retrospectively. I wanted to show cause and effect.
INTERVIEWER
Is that what the novel is for you—looking at cause and effect?
SMILEY
Oh, absolutely. Because of his weird childhood, Dickens was interested in the things that had created him. When it came to writing David Copperfield, he was having a crisis in his marriage and in his life. He had kept his childhood very secret because it was not respectable, and when he showed his wife a little autobiography he wrote, she told him he didn't want the scandalous familial stuff out there. Dickens often said that everything was ­present to him, and that was part of his problem in processing things—because things were so vividly present to him all the time. I think his experiences as a child were very present to him, but not even his kids knew about it. He was practiced, for a novelist especially, at keeping secrets. Dickens used David Copperfield to process his childhood trauma, even though the novel is not precisely autobiographical.
When Freud was young, he read Dickens. And he was very taken with that idea of cause and effect in how children develop into adults. He saw that Dickens was batshit crazy, but that there was something informative in his batshit craziness. My generation grew up with Freud—we thought this was the truth. When we had troubles, we would be taken to a Freudian psychoanalyst who would stumble us through whatever our traumatic childhood experiences had been. So I grew up being interested in cause and ­effect. The three books that were most central to my adolescent development were David Copperfield, Giants in the Earth, and The Web of Life, which is about ecology. Giants in the Earth is about emigrants from Norway to the Dakotas—it's the first part of a trilogy, actually, by Ole Rölvaag. Everything that happens is horrible—locusts, blizzards, Mom goes crazy because of the constant wind and the constant flatness of the landscapes. And what finally happens to Dad, who is the hero, is that he gets caught in a blizzard and he takes refuge on the lee side of a haystack and freezes to death.
INTERVIEWER
Were there other books from those years that had a lasting effect on you?
SMILEY
In seventh grade, we read Oliver Twist, and I raised my hand and asked why they wouldn't give him any more porridge, because I just didn't understand. The teacher was astounded that I was such an idiot. And then in eighth grade we read Great Expectations. I couldn't stand it. In ninth grade, we were supposed to read David Copperfield, and I put it off and put it off. Finally, on the Saturday before it was due, I went down to the basement and read it in two days. And I loved it. Now I think it's okay if kids can't understand something—if they just force themselves to read it, then they get used to a way of looking at things, a way of expressing things, and if they're forced to keep at it, something will click. It's important to read difficult things. We read our first Shakespeare play in seventh grade—I think it was Twelfth Night. What in the world did we make of Twelfth Night? I have no idea. But by junior or senior year, we were reading Hamlet and King Lear. It was good for us to have had the practice, even though we had no idea what in the world was going on.
INTERVIEWER
King Lear certainly stuck with you.
SMILEY
When I read the play in college, my teacher was a young woman named Harriet Hawkins. She wasn't overtly feminist, but she'd cultivate our sense of ourselves as thinkers. She taught us the standard view of King Lear, but she was open to other interpretations. I always saw the point of view of the daughters, and I always thought that Lear was a jerk. It's a play, so he has to keep talking, but I hadn't grown up with men who complained all the time, so I thought, Come on, get with it—who cares?
INTERVIEWER
Many of your influences are nineteenth-century novelists. Do you think of yourself as writing in that tradition?
SMILEY
I think that no matter what your influences are, whenever you're writing, you're writing in your own time. But I would say that since I grew up reading Dickens and novels influenced by Dickens that it wasn't just nineteenth century, it was nineteenth-century English novels. And that's why I was such an Anglophile. That's why, when I got to college, I wanted to learn about Old English and Middle English and read works from that period. When I read the great American novels by the generation around Fitzgerald—and I did read The Great Gatsby at some point, which I didn't like—they seemed hypermasculine to me, so I didn't take anything from them. Let's not forget there was also Jane Austen, which we didn't read in school but I read on my own, all six by the time I was fourteen, and Middlemarch, which we didn't read in school but I read at least twice by the time I was sixteen. There weren't too many books by women that were taught in school, so I read those on my own, and the books I read were as accessible as the ones we were reading in school. But the masculine, big-boy American authors—they just whizzed past me on the road.
INTERVIEWER
Do you feel that way about more contemporary male writers, like Updike and Roth?
SMILEY
Yes and no. I was quite fond of Updike, both personally and of his work. When Ten Days in the Hills came out, I picked up a copy of The New Yorker and opened it up and saw that it was being reviewed by John Updike. And I burst into a sweat. I read the review and was really excited. It was a good review and it was Updike. He was the perfect reader because by the end he had been drawn in and wanted to keep relating to the characters.
I read Goodbye, Columbus and Portnoy's Complaint in college and did not understand them. In 2008, I think, someone recommended American Pastoral. I got to the point where he's driving along with his daughter, who's thirteen, and she asks him to give her a kiss, a romantic kiss. And he does it. And I threw the book out the window. Not necessarily because it was disgusting—though it was vaguely disgusting—but because I can't imagine the father ever doing that, ever yielding to that. It was unbelievable. I was not willing to suspend disbelief.
INTERVIEWER
So the bigger sin was that it wasn't believable?
SMILEY
Yes, it wasn't believable and it showed me that he didn't know shit about having daughters. So why would I believe him about anything else? If Levov had been portrayed not as an American ideal, but as just a guy, and if Roth had explored the implications of him giving a passionate kiss to his thirteen-year-old daughter, maybe I would have forgiven him. But he seemed blind to the implications of that.
INTERVIEWER
Do you think about your books as being in any way representative of literature in the period in which you're writing them?
SMILEY
I hope they are, but I have no way of knowing. That's for some person in the future who's reading literature from our period to decide. But then that person who decides is also just one person. So every reader gets to make up his or her own anatomy of literature from what he or she has read. The best any writer can hope for is that somebody will pick him up at some time in the future.
INTERVIEWER
You're very zen about the whole writing process.
SMILEY
Writing is only one word at a time. It's not a whole bunch of things happening at once. Various things can present themselves, but when you face the page, it's a couple of words, and then a couple more words, and, if you're lucky, a sentence or a paragraph. Because writing is linear, it must organize itself into this thin little stream that moves forward, which, if your mind is full of chaos, is quite reassuring. When I listen to music, especially symphonic music, there's a huge number of sounds and resonances that come to me at the same time, and they must organize themselves and go into my head in an orderly way. For me to pick them apart is to turn them back into chaos. But when I look at writing, it's all just one word at a time.