Interviewed by Joshua Cohen
Issue 213, Summer 2015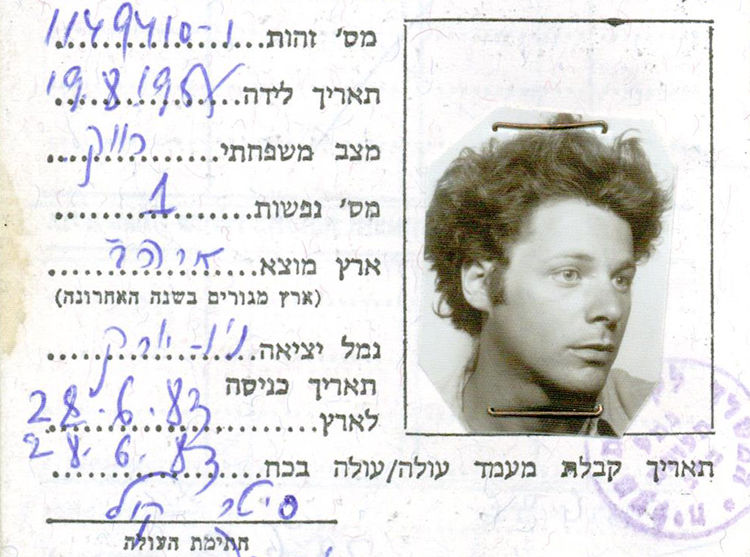 Detail of Cole's temporary Israeli identification card, from 1983
Peter Cole is "a modern / poet of a medieval kind," one whose work defies traditional distinctions—between old and new, foreign and familiar, translation and original. His vivid, sonorous English translations of secular and mystical Hebrew verse that was previously ­neglected or regarded as esoteric, parochial, or simply too difficult have remade the American Jewish canon. His renderings of vanguard writers from the contemporary Levant have redrawn the borders between and ­within Hebrew and Arabic literatures. And then there is Cole's own poetry, whose rigor, vigor, joy, and wit have expanded the imaginative capacities of what the unimaginative might call his "target language."
Born in Paterson, New Jersey, in 1957, Cole attended college in the United States—first at Williams and then at Hampshire—before leaving for Jerusalem in 1981. Three decades, two dozen books, and a MacArthur Fellowship later, Cole's journeying continues: in life, between Israel and the States; and on the page, between ­al-Andalus and Ashkenaz, Babylon and the Maghreb, the kibbutz and the bulldozed Galilean village. His verse anthology The Dream of the Poem (2007) stirs up the saffron melting pot that was Jewish-Muslim-Christian Spain ­between 950 and 1492. Another anthology, The Poetry of Kabbalah (2012), braids together nearly two millennia of the lyric, homiletic, and apocalyptic verse of more than thirty Jewish poets, most of them from Arab lands. Other collections are single-author affairs, by such singular writers as the tenebrous Polish-born, Vienna-bred Avraham Ben Yitzhak; the Palestinian maverick Taha Muhammad Ali; the radically self-reinventing Israeli firebrand Aharon Shabtai; his sphinxlike compatriot, the novelist Yoel Hoffmann; and ­another American-born Jerusalemite, Harold Schimmel, who brought New York School instruction to ancient Hebraic and Arabic forms and just might have inspired Cole to recalibrate the influence in the opposite direction.
Which brings us to the books that bear Cole's name and only his—Rift (1989), Hymns & Qualms (1998), Things on Which I've Stumbled (2008), and, above all, The Invention of Influence (2014). They, too, are made of
That abstract revelation
and slippery duration
to which, it seems, I'm given
and because of which I'm never
finished with anything, as though living
itself were an endless translation
This interview was begun over four days last September in the Ottoman-era house that Cole shares with his wife, the writer Adina Hoffman, in the Musrara neighborhood, on the tense seam between East and West Jerusalem, and was finished, on a cold November night, within the starker walls of the couple's teaching-term apartment in that other holy city, New Haven.
—Joshua Cohen
INTERVIEWER
We're in Jerusalem, up on your balcony amid branches of the olive and jacaranda trees, and I can't help but wonder how it is that an ostensibly secular American poet from New Jersey gets from there to here.
COLE
How else? Through Athens.
INTERVIEWER
Literally or figuratively?
COLE
Both. It was 1979—I was twenty-one years old and had struck up a correspondence with the poet Jack Gilbert, whose early work mattered a great deal to me. He invited me to come to the Aegean island of Paros to study with him, informally. I doubt he used the word study, but that was the ­upshot. So there I was, having left college for the second time, thrilled and utterly disoriented at the start of what turned into an old-fashioned literary apprenticeship. I lived in a stone hut and built a bed and makeshift kitchen table with scrap wood and a very thick Swiss Army knife. There was no plumbing, no electricity, just a primitive well, which soon went dry. I'd brought almost nothing with me except, idiotically, most of Dante and the complete works of Shakespeare—
INTERVIEWER
And a change of underwear.
COLE
Exactly. One day we were walking into the mountains to visit someone. It was a long hike up through winding trails, we were talking about a little of everything—poets and books, food, plants, childhood, girlfriends—and as he disappeared around a bend while holding forth about something or other, I stopped. It was a little like Balaam's ass and the angel. I was the ass, of course, and the angel was just an intuition. Jack eventually turned around, saw me standing there, and asked if I was okay. I realize it sounds ridiculous now, and maybe it did then, too—the Big Vision on the Little Mount, or halfway up it—but I said, I think I just saw something about the way I'm going to write . . . I'm not sure I should talk about it. He seemed to think that was a good thing—that I'd seen something grand, or that I'd decided not to bring it into our conversation. But I understood, in a bizarre sort of flash, that, if I was going to be anything as a poet, I was going to be a Jewish poet.
INTERVIEWER
With a name like Peter Cole?
COLE
I'm afraid so. My father was Murray Cohen. My mother was Miriam Levinsohn. Cohen was changed to Cole by all the men on my father's side of the family. This was Paterson in the thirties and forties. My parents named their children Jon, Peter, and Matthew.
The whole situation was slightly ­ludicrous. All I understood was the visceral quality of the intuition—in the way that, when I'm beginning a poem of my own or a translation, I often have a sense of the speed and shape and density of the work without knowing anything about its real subject. And it's clear to me now, as it wasn't then, that this was a translational situation. It was all about being on the cusp.
INTERVIEWER
Between?
COLE
Well, between Athens and Jerusalem! Which is where I was actually standing at the time, on an island in the Mediterranean. More to the point, I suppose I was suspended between the tradition of American poetry I'd begun training myself in and a nagging but distinctly uninformed experience of Jewishness and Jewish literary history.
INTERVIEWER
Why "nagging"?
COLE
I went to modern Orthodox Jewish day school until I was ten—I was there almost entirely because my more or less assimilated parents wanted to keep me out of the Paterson public-school system. But outside school, I had no connection to that religious world whatsoever. It was all baseball, the world of our father's law practice, and my mother's squelched bohemia—she was, and in some senses remained to her dying day, a Martha Graham dancer. My mother's parents maintained a richer sense of an old-world Jewish home, albeit a secular one. My grandfather on her side was the first pediatrician in Paterson. My father's father ran a Chevy dealership there.
In any case, within the modern Orthodox biosphere of Jewish day school, I was a mole. I burrowed. For whatever reason, the experience of reading in Hebrew—especially of prayer, and perhaps above all the confusion between reading and prayer—stayed with me powerfully all through childhood. It's with me still, though I no longer go to synagogue.
INTERVIEWER
Follow that line into the present—what has Hebrew come to mean for you as a writer in American English?
COLE
Hebrew tapped some secret place in me and provided an alternative kind of experience in language. There was also a certain dread that came with that—of my aloneness with those weird, charged letters on the wall, and later on at my twice-weekly suburban Hebrew school, when the rabbi basically just gave me a student's edition of the book of Genesis and had me translate to keep busy. I have the classic Kittel Bible on my desk now, and the instant I see those large, lickable Hebrew letters cutting into the page or flying off of it—when I'm in that force field, I'm happy as a poet. There's a kind of . . . what do they call it, not origami . . . umami, a literary umami that the classical Hebrew page releases in me. I think it's also what I came to want from the English page, and certainly from the ones I write. A certain tang.
I felt it in prayer as well, especially in the disconcerting back and forth across the facing pages of the Hebrew-English prayer book. The opaque but luscious Hebrew on the right-facing page and the inert English translation on the left. It's as though the English side were blank, and that's what I've been writing into all my life.
INTERVIEWER
When did you pass from one page to the other?
COLE
When I went to Jerusalem in 1981. I'd been poking around the intuition I'd had in Greece, enough to know that I didn't want to go to an M.F.A. program, which is what my teachers were telling me to do and what many of my friends were doing. What I really wanted was to find out what the possibilities were for me as a Jewish poet in English, to see what the evidence of Hebrew literary history would tell me. I've always had a serious love for the "Christian" part of the Judeo-Christian compound that English poetry is, from Eliot's "Ash Wednesday" and Hopkins back through the Scottish Chaucerians and the anonymous Middle English lyric—"Wynter wakeneth al my care, / Nou this leves waxeth bare." I wanted to know what was on the "Judeo" side of that hyphenation. I wasn't trying to become a Jew, I was trying to become a poet.
INTERVIEWER
And what did you find in Jerusalem? How did the imagination change with the surroundings?
COLE
Two days after I arrived in Jerusalem, my younger brother, Matt, was killed in a car accident on his way to Boston. He was a year behind me in college and had just graduated. I flew home for the funeral and shivah, but my family and I decided that I should return to Jerusalem and go ahead with my plans to study Hebrew. I'd forgotten almost all of my childhood Hebrew, and reentering the language was like coming into a new life. The old one had been shattered, and it became clearer than ever to me that this was it—Deuteronomy, choose life. You've been given this gift, and you'd better live it, intensely, and on your own terms. And my terms were now raised to the power of his. Or his were folded into mine, as a kind of incorporation.
INTERVIEWER
So you were cut off from a personal past, and to deal with that you delved into a poetic past.
COLE
His death was devastating for my family, and it left me nearly aphasic in English for the year and then some. But it also released me to what turned out to be myself. Obviously this was about an impulse or sensibility that had begun taking shape in me long before, and my brother's death only confirmed it. I think that's one of the reasons I'd felt distant from the American poetry I'd studied and imitated in college, which seemed limited in its conception of craft and its narrow mining of the personal. Much as I admired some of it, I felt early on that the conversation around this poetry was foreign to me, that it wasn't me, and that, in a way, me wasn't me either. So I started from scratch with Modern Hebrew and began tunneling my way through it toward its poetry—and, it turned out, toward my own.
INTERVIEWER
It's strange that studying Hebrew should lead to the discovery of your own poetry, in English, no?
COLE
That's sort of what an old Paterson shop-teacher childhood friend of my father's said to me before I left. So you're going to study Hebrew to improve your English?
INTERVIEWER
What were you reading in Hebrew that showed you the way toward English?
COLE
I was living in one of the older parts of West Jerusalem, in a dirt-cheap, vaulted, nineteenth-century room with an outhouse across the courtyard. My neighbors and daily companions were a Polish tailor who was a Holocaust survivor and a young Moroccan prostitute whose three kids were taken away by social services—I was called in to court as a character witness for her. They were good neighbors, company of a kind, but I certainly didn't talk to them about literature. I did, though, make a couple of friends, and one who'd just started studying literature at the university and knew about my brother told me that I should read the eleventh-century Andalusian Hebrew poet Shmuel HaNagid's elegies for his brother. They're some of the most powerful poems in the language, and the possibility of reading them became my great motivator. Before long, I was sitting in on a couple of classes on medieval Hebrew poetry at the Hebrew University. Those were the first and last classes I ever took on the subject. I completely misunderstood a lot of what was going on—but I was hooked.
INTERVIEWER
In your prose poem "One to Bet: A Jerusalem Pamphlet," in your second book of poems, Hymns & Qualms, you refer to another kind of Hebrew ­poetry you discovered at this time—baqashot. Could you explain what that is?
COLE
An older Iraqi Jewish friend sized me up as someone who didn't just want to go through the motions of being a young American Jew in Jerusalem, and he took me with him one Saturday at three in the morning to an all-night Eastern Jewish sort of gospel session. It was and remains one of the most profound experiences I've ever had of language and of poetry.
INTERVIEWER
And these Eastern Jews weren't poets, correct? Or maybe they didn't know they were poets?
COLE
They were ordinary people. Some weren't particularly "observant" or religious—many of them would drive in from the surrounding neighborhoods to the Bukharan Quarter of Jerusalem for these sessions, in the middle of the night, every Friday from the fall holiday of Sukkoth to the spring festival of Passover. This is in a country with a six-day workweek, mind you, so Saturday, Shabbat, was their only full day off.
There'd be two groups or choruses of men, not trained singers, facing each other in the unheated synagogue, with the bimah in the middle, and each would select a number of soloists, among whom there might be a ringer or two, a visiting soloist to add a little luster and Levantine pizzazz. Someone would bang the table loudly at three a.m. precisely and they'd be off into the Eastern modes. I've never been more acutely aware of the physical force and qualities of language in poetry. The words of these hymns, or poems—­baqasha means "petition," baqashot is the plural—were stretched, twisted, tossed up into the air, and then turned every which way, and it felt as though I was being stretched and tossed up with them, all while everyone was having shots of whiskey, a little snuff, boiled potatoes with fenugreek dip, ­cardamom tea and Turkish coffee. It was a combination of things I never could have imagined together—seriousness of occasion, complete lack of pretense, elaborate joy and investment in poetry, delight in the food and the drink, subtle assertion and submersion of individuality, an occasional fistfight, and, overall, a feeling of total groundedness and utter sublimity. In a synagogue!
INTERVIEWER
Did you know what you were singing?
COLE
Not really. I asked and was told, It's mostly Kabbalistic, you wouldn't understand.
INTERVIEWER
I'm sure that most of the other people there had grown up in traditional Jewish homes, among observant or believing families, and that what you're calling poetry they might have called prayer. What was going through your mind as you sang not just about but also nominally to a god you didn't quite believe in?
COLE
First of all, I have no idea what most of those people believe. I barely know what I myself believe. Pound says somewhere that centuries of use have worn out a lot of the key words of early poetries, and that's certainly the case with some of the "big" small words here—soul, spirit, angels, et cetera. Maybe even god. The poet or translator has to bring them and everything that comes with them back to life, to reanimate the occasion that gives rise to them. That's what these sessions were doing for these poems, and for me.
So it's a bit like my translating some of this material—which, over twenty years later, I did, in both The Dream of the Poem and in The Poetry of Kabbalah. While I'm there, inside the hymn, singing or translating, yes, disbelief has been suspended.
INTERVIEWER
Was this a literary experience or something closer to a spiritual one?
COLE
As a poet, I'm with the letter, not the spirit—a classic Jewish position. And a classic Jewish spiritual position. Both these hymns and a lot of the Kabbalistic poetry I've translated embody the view that what's beyond language is somehow already in language, that language is revelation, or that it's all we'll ever know of revelation. In any case, it precipitates what matters most for me.
INTERVIEWER
So this wasn't really about ritual.
COLE
Basically, no. It was about following out a line of interest, of curiosity, of fascination. All of which goes into building a world, which Pound says is the essential thing for a poet. Religious ritual doesn't have to be dead, but it isn't what draws me, and I've never been very comfortable with it. Then again, I'm also not entirely comfortable without it. When it comes to the making of art and constructing a life, I want a kind of minimally notated or scored ritual—a ritual in which one writes outward from the structures of tradition and into the unknown. Otherwise, you just get bad religious art. Not the live tradition, just "Tradition!" I'm interested in what happens when sound, rather than image or voice or even message, becomes a dominant element of the poem. What kinds of information can that or any poetry carry? How can the metaphysical be accounted for in tactile terms? What happens when you take up derivative modes, like quotation or interpretation, to express primary processes and feeling? What are the aesthetic and ethical implications of that? And where is translation in all of this?
INTERVIEWER
Everywhere?
COLE
Just about. These late-night gatherings around the baqashot were a kind of Kabbalistic translation of an Ottoman Sufi practice, and many of the hymns grew out of an Arabic root. The singing and the songs themselves were in fact all about the mobility of texts—their being transported in order to transport. And that's translation—being moved, from one place or state or mode or time or language to another. From one understanding to another. Smart people say such dumb and disappointing things about it.
INTERVIEWER
Such as?
COLE
Such as that, unlike so-called original composition, it's always a matter of compromise, of negotiation—that translation is inevitably a failed approximation, or like a black-and-white photograph rather than color. But what in life that's valuable over time doesn't involve negotiation or intelligent compromise? Where does friendship come from? Or marriage? Education? Commerce? A culture? Would you colorize Stieglitz? And who says that original composition is fundamentally different from translation? "Ever tried. Ever failed. No ­matter. Try again. Fail again. Fail better." Beckett isn't talking about translation there, he's talking about life, or writing, period. Poetry isn't lost in translation, it is translation. It's lost only in bad or gray translation—and in the mindless repetition of the thin figures of speech we use to talk about it.
I'm a little tired of all the apologies and qualifications that hover around translation. Sure, it requires an inordinate supply of humility. The job and the world will remind you of that all the time. But less acknowledged is that translation also requires a great deal of presumption.
INTERVIEWER
And also a kind of desperation?
COLE
You have to be desperate, at some level, to write anything, no? To move the magic of consciousness and language from one state or place to another. From an itch or an instinct to a line of poetry, and from that line of poetry to the next one, and from these two in combination to a third, and then to a reader. Translation as we normally think of it only raises all that to a higher exponential power. So, yes, there's desperation, but even more so, at least for me, there's desire—for nourishment and for pleasure. Translation isn't some weakly technical craft. It's a deeply human activity, an essential part of the art of our lives, whether we're aware of it as such or not. Of course it exists in relation to something, not on its own, and so we think of it as secondary, but hey, so do we exist only in relation to something, as inheritors and animators or deadeners of traditions of all sorts. But that's my stump speech—deep translation.
INTERVIEWER
How did that influence your own writing? How comfortable do you feel about my calling books like Rift and Hymns & Qualms your own poetry?
COLE
What poet-translator doesn't want to talk about his own work?
INTERVIEWER
And the word itself—"own"?
COLE
Especially in the last two books, The Invention of Influence and Things on Which I've Stumbled, I've been interested in just that—owning and owing and knowing, and the slippery dynamic between them. But these preoccupations really go back to the start of my writing life. "Rift," the long poem that I wrote that first year in Jerusalem, and the first poem of mine to get any kind of real-world attention, was a semiconscious translation of everything I was absorbing—the blurring of secular and sacred planes, heightened attention to the auditory, gender bending in the Hebrew verse and its grammar, the experience of those medieval poems we talked about, and, maybe above all, the Jewish tradition's celebration of givenness. Not the world as a given, but the gift of it.
INTERVIEWER
Which is an answer that seems to me just as Hebraic as it does Objectivist. In your early poems, style compresses sense, and the result is an almost biblical terseness. This points to a recurring dialectic in your work—an American modernism seems to weigh on you, until it finds a corollary in Hebraic practice, at which point the modernism becomes alive again. I assume you read Zukofsky, Oppen, and Reznikoff, but did you read them at all as Jewish?
COLE
It's hard for me to put together all the pieces now, but I was drawn early on to what felt like an ethically compelling approach to language and representation in the Objectivist poets—an approach that did feel Jewish, but elusively so. Certainly that emphasis on givenness in Rift comes out of my encounter with their starkness. Their willingness—in the cases of Zukofsky and Oppen—to trust abstraction to such an extent that it becomes tactile. And in Reznikoff's case, to be so literal in relation to experience that the work becomes conceptual. In all their poetry I felt a bottom-line respect for the particulars of language and for the things of the world—including the documentary or found materials out of which Reznikoff made poetry. They were, I felt, giving me a kind of permission to go where my sensibility was already leading me.
As I moved into and through that influence, it became clear to me not that their work was limited—it's remarkable on its own terms—but that those terms only partly overlapped with mine. The minimalism of their ­poetry, in combination with a number of other serious influences—Dunbar, Dickinson, and Delmore Schwartz, Crane and Celan, Williams and also Pound most definitely, and, in another direction altogether, John Wieners—gave me a vehicle for the lyrical impulse, which is strong in me. But there was much more that wanted out—more in the way of movement and devotion and sensuousness, and a certain pitch of wit, or talk. The confluence of Objectivism and Judaism produced poems that I still feel close to—"Rift" and "Leviticus," some of the shorter poems in that first volume, and the woof and warp of Hymns & Qualms, where commentary was insinuating itself into the poetry and ornament was rewiring my poetics. By then I was already up to my lyric ears in the Andalusians.
INTERVIEWER
How did you come to that material? And how did you come to a voice for its translation?
COLE
It'll sound a little far-fetched and Laurentian—"Not I, but the wind that blows through me!" That's what it was—"strange angels." As Lawrence says, "Admit them." I'm not sure why, but I did.
INTERVIEWER
And did they behave themselves? Angels are notoriously the worst guests.
COLE
They moved in, began rearranging the bookshelves, fiddling with the circuity of the poems on my desk, and wouldn't leave. I'd tried my hand at translating a few short eleventh-century Hebrew poems that first year in Jerusalem. But the same friend who'd told me about HaNagid's work very gently suggested that I put them in a drawer and never show them to anyone else. I listened. There was just too much I didn't know at the time—in terms of Hebrew and maybe above all about the cultural matrix the poetry emerged from. I thought my poetic intuition could compensate for all of that, but I really didn't have a clue. And it showed.
INTERVIEWER
But you kept at it anyway?
COLE
No. I don't think I looked at the medieval poetry again for another nine or ten years. I was writing my own poems and translating some modern work. In 1989, I moved to San Francisco to live with a woman I'd met on a blind date in Padua, Italy. That didn't last very long, and soon after that I started working as an editor and met Adina. One Sunday morning, I was sitting in a diner watching the East Coast football games—I was on the West Coast, but my team was in the East . . . and my heart was still in Jerusalem. In any event, I was sitting at a table by myself and having my coffee when one of Shmuel HaNagid's poems, about a market in Granada, just bubbled up in me. My Hebrew was much more developed by then, and so was my sense of English poetry. I grabbed a pen from my coat pocket, reached for a napkin, and started writing. Somehow I felt that I could do it now, that I could hear the English that might emerge from the encounter with the Hebrew. It had nothing to do with "voice" per se, which I rarely think about, in translation or otherwise. On the contrary, I think about the other end of that continuum—listening. I scribbled for a while, then charged up Sutter Street back to my apartment to open the standard-edition four-volume ­anthology of medieval Hebrew poetry from Spain and Provence. I was off and running. Not that there wasn't also a lot of stumbling and getting banged up to come, but I was pretty much on fire with it and have been ever since.
INTERVIEWER
Can you remember exactly what sparked that fire?
COLE
I was completely overwhelmed by the Eros of its language, of its poetics. Its sophistication and range and power. Its refinement and wit and vigor. Its artistry. Its combination of worldly and religious desire. And in the way that this medieval poetry is already a kind of double dip, or doubly deep, translation—of Arabic poetries and poetics, and of a biblical mythopoetic vocabulary—and yet emerges as the most vibrant poetry in the history of postbiblical Hebrew. Maybe in the history of Hebrew at all.
Regardless of how audacious and irreverent some of those poems might end up being, nearly every word in them is, in a sense, a quotation from the Bible, and full-fledged biblical phrases are regularly turned on their heads or tilted in startling directions. Let's face it, more often than not the Bible itself is a royal pain in the desk chair. The Andalusian approach refracts it into a world of ten thousand ancient things made new. So there was that. And then, alongside this vast corpus of secular poems, there's also a large body of liturgical work—poems written for the synagogue and as part of the prayer service, which can be surprisingly sensuous, rebellious, fierce, and gorgeous. I was also powerfully drawn to the music of this poetry. In a way, this was what I'd been looking for, without knowing it, all along. And I think we're always trying to write—or translate—the poetry that we want to read but can't find in our own language.
One other important thing that struck me was the way in which poets who had generally been lumped together as all being of a certain "ornamental" or even just "decorative" school were in fact entirely distinct from one another and interesting in just about every way. And that their poems, while self-consciously derived, were anything but derivative.
INTERVIEWER
What do you mean by "ornamental" and "decorative"?
COLE
For someone like the Viennese architect Adolf Loos, and for a lot of other modernists, including Pound, ornament was a crime, an evasion of the real. Ornamental is still a pejorative for most writers and readers. And decorative of course makes one think of decor, art as interior design or a kind of dressing up—making something plain look less plain. But there's a difference between decoration and ornament, at least in this Islamic context. In ornament there's a figure of completion. It's not a concealer of plainness, but an intensifier of attention. It's what makes a thing more fully itself. Harness and weapons ornament the soldier. The vessels and utensils of the sacred rites are the ornaments of the temple. In the Andalusian Hebrew poetry, ornament is employed actively—it's like a turbine spinning in a flow of verse. The flow is changed as the turbine generates and transforms it into a current, or currency. It's functional, in the service of the poem and what the poem does to the reader.
Learning how to account for the action of ornament in the medieval Hebrew took me a long time. Most of the scholars would turn to the available English tradition and think, Ornament—let's have something Elizabethan, or with the enameled quality of early James Merrill, if they're even aware of twentieth-century American poetry, or a FitzGeraldian Rubáiyát gauzy sort of thing. But that line of thinking involves Orientalist projection of a classic sort and a fundamental underestimation of what's really going on in these Hebrew Iberian poems.
INTERVIEWER
So you're saying that writing within a tradition has a lot to do with how the work will be received? That a translator has to recognize a common contemporary language that an audience usually reads in, before venturing to change it?
COLE
Yes. A translator has to be alert to a whole swarm of factors that determine how a given translation will be accepted into, for instance, American or English literary culture in the year 1996 or 2015. But there's an even more critical reception that precedes that—the translator's absorption of the poem as Hebrew. The quality of that reception, that Kabbalah—the Hebrew word means just that, "reception"—will go a long way toward determining how the details he has absorbed will find their way into another consciousness, another culture, another language . . . or language, period. That transfer to the other language is crucial, too, of course. Unfortunately, that tends to be all people talk about when they talk about translation—what word in English is "just right" for that specific word in Italian, et cetera. When I teach translation, the hardest and maybe also the most exciting thing is to get students to slow down and account for their absorption of a text, in any language—not just for the themes and big ideas, but for the language bobbing there on the work's surface, and what that feels like coming into one's nervous system. It's painful, at first, to slow things down like that. But it's the heart of the whole quasi-miraculous enterprise. The rest is also a matter of listening—listening to the English as it takes shape and letting the words come together in constellations.
INTERVIEWER
Can translation be taught by anyone, or by anything besides the language itself?
COLE
You can help students undo a lot of the damage caused by ambient attitudes toward translation. And you can show them where to look and listen. Where the problems and, above all, the pleasures are. When I was in college, I had a few wonderful teachers, but on the whole the approach was all-American, as it were. Translation was seen as a diluter of one's English. Which is too bad, because translation is the great school. It makes you hear English differently. It takes you into the operations of language like nothing else I know. Beyond that, it extends your range, forces you into situations you might never place yourself in—technically and subjectively. It leads you into other worlds—worlds that, in my case, I hadn't imagined even existed. And then I found them and gradually came to understand that I needed, and wanted, to ­immerse myself in those worlds, at the risk of disappearing as a poet into them.
INTERVIEWER
So you were afraid for what we're calling your own work?
COLE
I was terrified. I don't think a day passed while I was working on The Dream of the Poem that I didn't come out of my study either thinking to myself or saying to Adina that I felt like I was building my tomb or digging my grave, which was getting deeper and deeper, even if it did have incredibly interesting things on its walls.
INTERVIEWER
But you didn't bury yourself, in the end.
COLE
In the end, no. But I banked myself, like a fire. There's also the fact that I got quite sick at a certain point—a kind of arthritis that made it difficult for me to walk, as I used to when composing poems. Translating my way into the world of medieval Andalusia made me feel that I was getting out and about. Paradoxically, as I moved further and further into the work of other poets and back in time, as I disappeared, I somehow became more and more ­present to myself as a writer. Happier, in the Aristotelian sense. Or at least a little less insufferable around the house. Everything in and around me became larger and more fully alive, including my sense of what originality was and might be, of how pattern works, and how surface and depth interact, ­everywhere. My criterion for good poetry, increasingly, is pretty simple—does it make the world more interesting or less? My immersion in Andalusian Hebrew poetry was making the world much more interesting—the world of my present, in San Francisco, and then again in Jerusalem, which Adina and I had come back to in 1992, just after we got married. The poetry seemed to contain everything—the full range of human experience, and in fact a much fuller range of experience than I was finding in contemporary American poetry. And it was also enlarging my sense of Jewish possibility. Of political possibility.
INTERVIEWER
You've also translated from modern Hebrew and Arabic literature—often work that's seriously engaged with the Israel-Palestine conflict. I'm curious how you've found the difference between working with older material and newer material.
COLE
I don't really find any significant difference. The basic pleasures and challenges are similar, and, again, it all comes down to listening and to what I call "making sense"—not just making common sense or emotional and dramatic sense, but reactivating the sensuous, bodily dimension in English, allowing a new music to emerge from the old. It's a lot harder to work your way through the medieval material. There's something archaeological about it. You have to establish the fiction of that world and its plausible poet for the reader, even as you're gathering all the Andalusian information you can get your hands and ears and eyes on. With contemporary poets, you have to do that, too, but it's a more straightforward sort of transfer. In both cases, the ­re-created poet and poetry are a fiction. This is another one of those things a writer can learn from translation—the power of the mask.
INTERVIEWER
And the politics?
COLE
There's an awful lot of politically correct and sentimental blather around ­literature from the Middle East. My own position on the Israel-Palestine conflict is quite far to the left—Israeli Jewish society has, I think, lost its moral mind—but I'd rather translate or read a masterful poem by a right-wing poet than a mediocre poem by a poet who holds a position that's close to my own.
INTERVIEWER
Have you ever translated a poet whose politics you've found disagreeable?
COLE
Within five minutes of first meeting Aharon Shabtai, he sat me and Harold Schimmel down on the stairs in front of his house in Jerusalem and read us half of the book-length midrashic paean to former right-wing prime minister and Jewish terrorist-underground leader Menachem Begin. He'd finished the poem the night before we showed up at his door, on our way back from the market to Schimmel's apartment for lunch. It's a powerful tribute and an implicit critique of the Israeli Left, which in the mideighties Shabtai felt lacked a certain "Jewish" warmth. Granted, Shabtai moved on to write ferociously "left-wing" poetry that I do identify with, but Begin remains an inspired and sui generis poem, and one I stand by as a translator. Yoel Hoffmann's Holocaust-haunted politics are by no means clear and, I suspect, not mine. I've also translated, and been fed by, the work of Hebrew's first great modern­ist poet, Hayyim Nahman Bialik, who I doubt would have much patience with my take on the local situation. There are others, including two explosive ­twentieth-century poets—Yonatan Ratosh and Uri Zvi Greenberg—whose political views are often characterized as fascistic. It's all about finding the right work to translate—electing the affinity that will electrify you. And sometimes the "right" work shocks you out of your political skin.
Which brings us back to Pound, the part-time anti-Semite.
INTERVIEWER
What about the differences between translating the living and the dead?
COLE
The dead don't fight back. At least not directly.
INTERVIEWER
Then how?
COLE
They have their ways. If you want to produce a vital translation, at some point in the translation process you have to forget the original. Some would say you have to kill it. Ideally by eating it alive. Let's say that you do manage to produce a translation that has a life of its own. Lo and behold, the original poem, which, after all, has survived perhaps for a thousand plus years and is still speaking powerfully to the likes of you, reasserts itself. It returns with a vengeance and begins to haunt the difference between it and your version of it. Sometimes it feels as though it's unraveling your translation while you sleep. And then you don't sleep! Still, as Kenneth Rexroth sort of said, that's a high-class conversation.
INTERVIEWER
And the living?
COLE
For the most part, I've had very gratifying relationships with the living ­writers I've translated. All happen to have translation at the heart of their work, in one way or another. Shabtai, for instance, is Hebrew's leading translator of Greek drama—he just published a Hebrew version of the Odyssey and is at work on the Iliad. His own poems are emphatically Hebraic but infused with Greek myth like no one's I've ever encountered. I learned a tremendous amount from him, as I did from Harold Schimmel and Yoel Hoffmann, about economy and coloration and counterpoint, about independence and presence, indirection and the throwing of voice.
But there are always bumps in the road. Sometimes the relationships survive them, and sometimes they don't.
INTERVIEWER
Because the translator is at once the outer face to the world and the most intimate inner face to the writer—it's a bit like being a parent, I'd assume.
COLE
And a child. The translator knows too much but also not enough. So there's a tug-of-war going on all the time. For all of the generosity at the heart of translation, there's always something more complex involved. And while there's a dimension of soul making in translation, there's also an aspect of soul snatching—in both directions. Living writers will snatch back at some point. Grateful as they might be, there's always going to be a kind of undertow, a residue of resentment, which will out. And that's when it's going well! When it isn't, there aren't any souls involved at all.
INTERVIEWER
Let's talk about your experience translating Palestinian poetry.
COLE
There's an obvious link between the Arabized poetry of the Hebrew poets of Spain and the Arabic I was hearing, or, more importantly—and politically, until the midnineties—not hearing every day outside my window and on the street in Jerusalem. And between all that and the very rich, living Arabic literary culture that goes with it—which is distinctly not part of contemporary Jewish Israeli literary culture. In fact, most Jewish writers in Israel either don't have a clue about Arabic and Palestinian literature, or condescend to it. And that's just the tip of the Occupational iceberg.
My Arabic came much later than my Hebrew—too late, in fact. And though it was quite good at one point, it's gotten very rusty. I've edited several translations of first-rate Palestinian poetry and fiction—by Samih al-Qasim and Emile Habiby, for starters—and that's mattered a great deal to me as a writer and as a Jew. But mostly I've translated the work of Taha Muhammad Ali. When I started translating Taha, I worked with a Palestinian friend, Yahya Hijazi, who has an excellent ear for poetry and whose wife's family is from the destroyed Galilean village where Taha was born and raised, near Nazareth. And the poet Gabriel Levin was also an essential part of that ­project—in fact he got it all going to begin with. But it's fair to say I was the primary translator and lived Taha's poems daily for a long time. Taha used to say, when people would ask about the process of translation, that he didn't understand how it happened, "this man"—he'd point to me with one of his huge farmer's fingers—"who is so different . . . somehow got into my blood." But of course he'd gotten into mine. And getting into the blood means getting under the skin, and that's uncomfortable. So we're back to Dryden's ­notion of translation as a dis-ease. Which is true. Even at its best translation is going to be a little destabilizing, for both parties. And for the reader as well.
INTERVIEWER
Which reminds me of your interest in Freud's use of the term translation—
COLE
For Freud, translation equals health. In his early letters to Fliess, Freud talks about the way in which a person has to translate the "registrations" from one "epoch" of his life to another. The failure to translate that "psychic ­material" results in repression and, potentially, neurosis. A person fails in that translation when he's unwilling to take on the discomfort—Freud calls it the "displeasure"—that the labor of translation entails.
INTERVIEWER
Your most recent book of poems, The Invention of Influence, is saturated with ideas of unconscious reception, especially in the long title poem. It's a book haunted by the idea of an influence machine. Can you say what that is?
COLE
An influence machine is a mechanism that a schizophrenic feels is controlling his or her thoughts from beyond. In the title poem, which is a case ­history of susceptibility, it also becomes a figure for literary tradition. The poem's central character, Victor Tausk, was a maverick disciple of Freud who was blessed and cursed with an excessive sympathy and receptivity, a ­tendency to overidentify. Actual translations or adaptations are folded in throughout—pieces of Tausk's letters and early poems, his writings about psychotic war deserters, and correspondence between Freud and Lou Andreas-Salomé, who was Tausk's lover but in love with Freud. I also use key passages from Tausk's classic study of a schizophrenic patient who felt she was being controlled by one of these machines. These various strands are woven into a narrative that lays bare the influences that drove Tausk at times to pioneering insight but in the end to suicide. The poem is really about how so much of what's within comes from without, and how what's without often comes from within. All of this happens under the sign of translation.
INTERVIEWER
Maybe that's why, even though the poem is steeped in pre- and interwar Vienna, I sense some autobiography lurking at the margins?
COLE
Yes, "lurking" is the operative word here. I started writing most of the poems in this book around the time my mother began demonstrating symptoms of dementia. She was a very classy and proud woman in her way—she'd ­appeared in the original production of Graham's Appalachian Spring, and A Dancer's World, a documentary film about the Graham company, shows her dancing in the studio, when she's pregnant with me, early in 1957. She was also high-strung and prone to paranoia. It was, by and large, the ­neurotic, artistic garden variety, but it most definitely got the better of her, and it put a serious dent in the ­family as well. Then, when her dementia developed, the paranoia went haywire. For a year or so—this was a little while after my ­father died—I had something of an open line to her, emotionally and actually. We were on the phone with each other several, often quite mad times a day. She'd become overly suscep­tible, overly influenced—everything was echoing and mirrored for her. She actually thought she'd been tricked and was ­being shuttled back and forth between replica apartments in her assisted-living ­facility. At times she'd admire the ingenuity and perfection of the doubling, but mostly it left her enraged or in pain or in tears. At other times, she was convinced that the Mossad was holding her hostage. But in a strange way the connection between us then was warmer and more transparent than it had ever been, because, well, I'm not completely sure why, but I felt I could somehow relate to the paranoia and also not rush to straighten it out and correct it. Mostly, I felt for her, had real sympathy for her, possibly for the first time in my life. And above all I wanted to help her to the extent that I could, and to understand what was going on. So I began reading all sorts of things about paranoia, something I'm not exactly immune to either.
INTERVIEWER
But of all the ways to get to influence, why paranoia?
COLE
Paranoia is influence run amok. For years I'd been trying to make sense of the fact that I experience translation and original composition as, at heart, the same activity, carried out at different points along a spectrum. And with this book of poems I also wanted to explore the ways in which the unapologetic embrace of influence can be a source of power in writing and not necessarily the weakness conventional literary wisdom says it is.
The individual sections of "The Invention of Influence," and many of the other poems in the book, take up a wide variety of forms and modes—open and closed, documentary and lyric, received and ad hoc, symmetrical and not—because different occasions call for different sorts of work, different devices or mechanisms. In a sense, all of the forms are "received," in that ­aspects of them come down to us and through us from beyond or without. But I try not to use the more obviously inherited forms to confirm a tradition or to lend the authority of tradition. On the contrary.
INTERVIEWER
Are you saying that these machines, like an influence machine, can work against you as much as for you in a poem?
COLE
Absolutely. Like translations, they can extend you beyond yourself for better and worse, make you who you are or destroy you. The wrong form or a form wrongly engaged can certainly kill a poem and wreak serious havoc with a poet. But that's the risk that a poem is.
INTERVIEWER
That the machines you create could turn on their creator, golem-style.
COLE
Yes. But when you're lucky, you discover or "invent" a subject that gives rise to a form that satisfies you as an object. As a mechanism that can channel chance. When that happens, something larger begins speaking through you—the tradition, the unconscious, another literature. You're in that receptive and then transformational mode, which is where translation and composition begin. One of the most beautiful and useful things Adina ever said, and this comes out of a quarter century of conversation and life together and work together, was when I was arranging three flowers in a vase one day, and she said, It's amazing what a difference a receptacle makes. That might just be etched over our grave.
At the time, I think we were working on Sacred Trash, the book we wrote together about the discovery of the Cairo Geniza, which is perhaps the ultimate Jewish receptacle—a room into which one Egyptian Jewish community dumped its papers for roughly a millennium. The idea behind the practice was, it seems, that the Hebrew letter itself was sacred and couldn't simply be thrown away. Finding or inventing the right receptacle, the right form, is huge.
INTERVIEWER
For your poetry, yes. But for your translations?
COLE
At this point, when I'm writing a poem, I feel like I'm translating. And when I'm translating, I feel like I'm writing.
INTERVIEWER
It's that simple?
COLE
Yes, and that complicated.