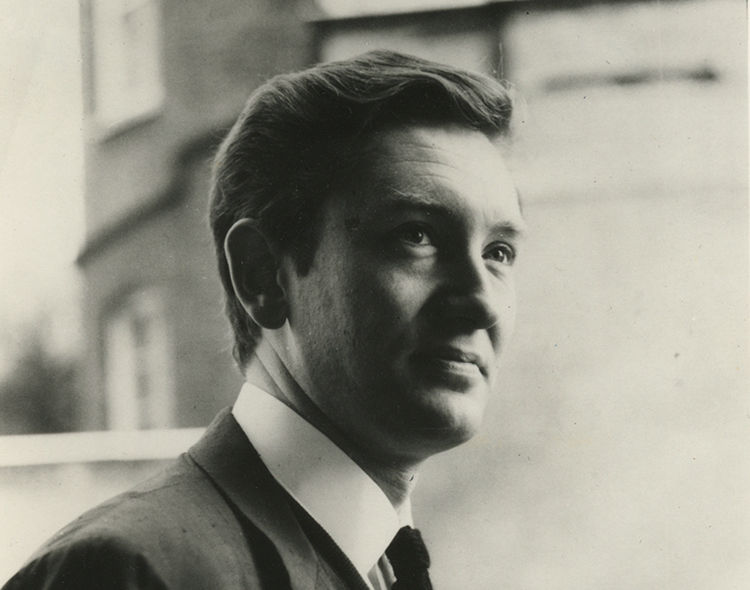 Holroyd, ca. 1965.
In an e-mail giving directions to his house, Michael Holroyd joked, "To help you I have arranged to have the front door painted red." In fact, I knew I had reached the right house when I looked through the narrow window beside that vivid front door and saw a stack of books by Holroyd and by his wife, Margaret Drabble.
Michael de Courcy Fraser Holroyd was born in 1935 to an Anglo-Irish father and Swedish mother. He lived, after their divorce, with his paternal grandparents and an unmarried aunt in Maidenhead, outside London. In his memoir Basil Street Blues, which he has called a "prequel" to his biographies, he describes his solitary childhood and the atmosphere of eccentricity, acrimony, instability, and disappointment in which he grew up. He attended Eton College, was briefly and unhappily articled as a clerk in a law firm, and did his National Service. He and Drabble married in 1982.
Holroyd published his first book, a life of the novelist and biographer Hugh Kingsmill, in 1964, but it was his two-volume biography of Lytton Strachey (1967–68) that launched his career. In its frank and sympathetic treatment of Strachey's love life, it also advanced the genre—much as Strachey's compression and irreverent irony in Eminent Victorians had sixty years earlier. The book also benefited, as Holroyd has noted, from good timing: male homosexuality was decriminalized in England and Wales in 1967. And it was one of the first major studies of the Bloomsbury circle—indeed it helped to refocus interest on Strachey, Virginia Woolf, and their friends.
Two volumes on Augustus John followed, in 1974 and 1975, then the fifteen-year project that was his four-volume study of Bernard Shaw. His group portrait of the actors Henry Irving and Ellen Terry and their families, A Strange Eventful History, appeared in 2008. Holroyd has also published three autobiographical works, which he sees as a kind of trilogy—Basil Street Blues, Mosaic, and A Book of Secrets—and which are also meditations on biographical research and writing. There have been one-volume versions of each of his three major biographies; various edited books; and two collections of essays. He continues to write for the book section of the Guardian. Among many other honors, Holroyd was made a CBE in 1989 and was knighted in 2007 for "services to English literature." In 2005 he received the David Cohen Prize for Literature, the first (and still only) time it has been given to a biographer.
Another e-mail before our first meeting suggested that we might "talk about you and not me." Holroyd was witty and skilled at deflecting questions, but he was also generous and open. Our conversations took place over two extended afternoons in the summer of 2012.
INTERVIEWER
How do you choose your subjects?
HOLROYD
My very first subject, Hugh Kingsmill, was an accidental subject. I came across his writings and his books in a public library, which in a sense was my university. One reason he appealed to me is that he believed life was divided not between men and women, Tory and Labour, or one nationality and another, but between people of will and of imagination, all of whom sought a sort of unity. People of will often did so by force. Those of imagination detected a harmony underlying the discord of our lives. And that latter idea was very pleasant to me, because it appealed to my laziness. It meant I didn't have to go out and fight, and, after having done National Service in the army, this was an attractive alternative. So I wrote about Kingsmill. I particularly liked his little book on the writer and editor Frank Harris, which seemed to me a wonderful mixture of irony and lyricism. And a minor subject in that book was Lytton Strachey, because Kingsmill was considered a follower of Strachey, who evolved into my next subject. That happened again with Augustus John, who appeared in Strachey, and then with Shaw, who appeared in Augustus John. And so it has gone on. It gives me the illusion of them choosing me, rather than me choosing them.
INTERVIEWER
What does it mean to you to be a biographer?
HOLROYD
I've always believed that there's no such thing as a definitive biography and, particularly if you write about writers, that you are offering your subject the opportunity to write one more book, posthumously, of course, and in collaboration with you. Even if you and I were writing about the same subject, and even if our research were identical, we would produce different books. The dates and so on would be the same, but some themes would seem important to you and insignificant to me.
INTERVIEWER
You have written that you have "traded somewhat in invisibility as a biographer."
HOLROYD
I believe that we are there between the lines, but most readers are not particularly aware of us.
INTERVIEWER
Are there subjects you considered but didn't pursue?
HOLROYD
I thought a long time ago that Katherine Mansfield was a good subject. And I was asked to do one or two other books—Pamela Hansford Johnson, Stephen Spender—but I was always in the middle of something else. I was also asked to do a life of Jacqueline du Pré, whom I met, but I wasn't competent to do it.
INTERVIEWER
Because you felt you didn't know enough about music?
HOLROYD
Yes. It would have been interesting—in a way my subjects have been the tutors I never had, because I didn't go to university. So I would have learned a lot. But it was difficult, too, because she was alive, and she suggested how I should do it, and I thought, This won't work. I think it's important to keep a distance from the person you're trying to get close to.
INTERVIEWER
How do you negotiate that paradox?
HOLROYD
I don't plot it. I do it instinctively, I enter the life. I do a lot of research and I believe in the magical as well as the meaningful—in seeing the actual documents, in one's hand actually touching the paper. I can't prove that it does something, but I hope that it gives one an extra sense of intimacy.
But I'm not the barrister for that person. Indeed, it's not a courtroom case at all. Writing a biography has to do with trying to let the person live again, in a different time, for the reader. In a way, I don't know what I do. It may also be connected to a wish to see what one has in common with someone who is completely different and of another time, but not completely out of reach. The person lives, in a sense, and you are involved with somebody you never knew. You haven't had that life, but you know about it and are in it. That's wonderful, to me.
INTERVIEWER
It strikes me that your earlier books were about men, whereas your focus has turned lately to women.
HOLROYD
In fact, quite often women have been my subjects. Even if the book has a single man on the title page, women have taken over the narrative for a long time. Carrington took over half of Lytton Strachey, and in translations they call it Carrington and not Strachey. And of course Christopher Hampton's film based on it was called Carrington.
INTERVIEWER
Why do you think that women have come forward in these narratives?
HOLROYD
Because of the dramatic changes they have made to the lives of the men whose names appear on the title pages of my books, and also because I have learned much about human nature from reading their letters and journals and from attempting to re-create them on the page. They presented me with many stimulating questions and extraordinary problems. For example, why did Dora Carrington fall so deeply in love with the homosexual Lytton Strachey? She disliked her mother but loved her father, who had a stroke which left him partly paralyzed at the time of Carrington's puberty. Was that relevant? In my life of Augustus John, I asked why Dorelia, who was neither an intellectual nor an artist, became such a career-long inspiration to him as a painter and draftsman. I was told by people who knew her about the magical quality of her "presence." Did this presence make up for the absence of Augustus's mother, who died when he was a boy?
As for Bernard Shaw, he first had sex with a woman on his twenty-ninth birthday. Was there any significance in the fact that it was his birthday, that the woman was his mother's closest friend, and that Shaw arrived at her house wearing a new suit bought with the money left to him after his father's recent death? And why was Shaw so careful not to become vulnerable to women—until, that is, his mother died and he fell passionately and unhappily in love with Stella Campbell? Are there, somewhere in this situation, the origins of Pygmalion?
INTERVIEWER
Can you say more about what each of your subjects has taught you?
HOLROYD
With Strachey, I learned a bit about how to write biography. Of course there is a difference between the lengths of our books, but while mine are long in comparison, they are quite succinct in some places, and I learned gradually how to put things together. My books have always gone through several drafts, and the last draft, thank God, has always been shorter than the first, and maybe that was due to his influence. I didn't copy Strachey's style, and unlike him I worked mainly from unpublished sources. But I began to learn precision from his writing and the delicate art of irony as a legitimate form of criticism. I also acquired a taste for drama. When writing Augustus John I went to the galleries that he had gone to in order to see the pictures he had looked at. I went through Europe in his footsteps and in London to the National Gallery. And then I looked at his own pictures. I began to learn how to look.
As for Shaw, he taught me about politics. He suggested how much was due to the money motive. I hadn't believed that at all, and he completely changed my mind. As a young writer I wanted money to buy time in which to write. What Shaw taught me was that in a capitalist society money is not a means to an end, it is an end in itself. Under capitalism, the world becomes a gambling house, and no money, as it circulates round a country, is wholly untainted. In Shaw's early "unpleasant plays" he peered behind the respectable face of business and revealed all sorts of hidden enterprise, from prostitution to slum landlordism. He also warned us that if we continued borrowing from the future, we would arrive one day in a barren and bankrupt land. And then I found myself in the theater a great deal. I'd been, but not so often, and not looking at it in such a focused way. I was better able to judge what was happening on stage—how the director and the actors responded to what the playwright had written. I learned a great deal from him, and so I should have, because it took me about fifteen years to write his life.
What emerged from A Strange Eventful History was how difficult it is to be a parent and how difficult to be a child, as evidenced by the story of Ellen Terry and her son, Edward Gordon Craig.
INTERVIEWER
You knew that already—how difficult it is to be a child.
HOLROYD
I knew it, but these lives focused it in a way I hadn't realized. The book started as a small essay on Ellen Terry. And then I couldn't leave out Henry Irving. And then I realized I had to go further, because neither Irving nor Terry really died until their children died. And so, to my horror, it became a book about two theatrical dynasties—a large and extremely challenging book. I didn't know how I would find the right form for it. But it gripped me.
INTERVIEWER
So it didn't begin as a group portrait?
HOLROYD
No, but all biographies are in a sense group biographies. I mentioned Carrington, but in Lytton Strachey there's also the whole Bloomsbury crowd, and there are all of those bohemian characters in John, and of course the Fabians in Shaw—even though there's only one name on the title page.
INTERVIEWER
But it seems to me that something shifted with A Strange Eventful History. Did writing your memoirs change the way you think about biography?
HOLROYD
It could well be. But I was unaware of that, because I try not to analyze what I'm doing. I think something has to be subconscious or even unconscious, otherwise it curdles, it goes wrong. Mosaic in particular is more experimental. With Basil Street Blues I was seeing what I could remember of my early days and making a number of characters—a stepfather, a stepmother, and others—come on, as if it were a play, and say a few words, so that you think, Oh, that's going to be an interesting character, but then because of another divorce or separation, they don't return, so you never really catch them. That was my experience growing up. The question was, could I put loose ends together without falsifying things? And so I had a theme, rather than an absolute narrative, leading the characters through the book. In A Strange Eventful History, I sometimes felt like a miniaturist who has been asked to do a great mural—I was doing lots of characters and then seeing if I could place them. I like minor characters, especially if they change gender, as Christopher St John, née Christabel Marshall did, in a sense.
INTERVIEWER
The metaphors of stagecraft are interesting. It also strikes me that your focus has moved toward people who are caught up in performance and self-transformation.
HOLROYD
I think I've always had some submerged dramatic instinct. Hesketh Pearson, the writer who encouraged me so much at the beginning, had been an actor, and I saw when I read his work how he "pearsonified" the characters and how he was very good with a character that he liked, and not so good with someone he had difficulty with.
INTERVIEWER
Richard Holmes uses metaphors of the chase—pursuit, footsteps—to describe his work and the biographical enterprise more generally, whereas you've talked about your books as collaborations with your subjects, an "intimacy between strangers."
HOLROYD
Well, Holmes is the great master of the quest, of the search. But there is the moment in Footsteps, when he is following Stevenson and finds himself on the bridge he thought Stevenson crossed, and then sees another bridge a few hundred yards away and realizes it was the other one. The point is that you can do a parallel journey, but however close you feel to the person—you've held his or her letters, seen what's been crossed out, got the journals, you've been in touch, as it were—you've got to be careful of not putting on the same clothes your subject did, of not eating the same thing. A good day's work, I think, is when at the end of the day I've written something I didn't know at the beginning. And that has to do partly with developing that closeness but not going too far with it, not pretending that you are on the actual bridge he went across.
INTERVIEWER
What makes you feel that you're authorized to collaborate? I mean psychically or intellectually, not legally or in relation to an estate.
HOLROYD
I suppose results. If you think of biography, as some people do, as an information-retrieval volume, perhaps it would be better just to list things. But if you want the reader to come in contact with someone he or she has never met, then I think other techniques are justified. What readers mind is when you say, He did this, but I would have done it that way. Or when you award marks like a schoolmaster. That's what you must avoid. That doesn't mean you can't criticize, but there are many ways of criticizing, one of which is parody, which makes use of someone's vocabulary. Another way, which is so important—if your main character has enemies, make sure you let those enemies have good words, strong words.
INTERVIEWER
Are there other approaches you try to avoid?
HOLROYD
I'm saying no to the academic who might argue that making a connection between the writer and what's written reduces the work to autobiography. I believe that if it's done with subtlety and imagination, you can show an additional aspect to the origin of a book. I'm not saying it's the only one, but if you wrote a page because of who you are, the question is, who are you? That's what I try to answer. Perhaps the closest I've gotten was really understanding the connections among Shaw's Pygmalion, the death of his mother, and what had happened in his relationship with Mrs. Patrick Campbell. I thought that while his characters were on stage, there were these shadows behind them. I suddenly saw the play in an additional light.
INTERVIEWER
Biography as a means of amplification rather than reduction.
HOLROYD
Yes.
INTERVIEWER
You mentioned biographical quest narratives—books where the biographer appears as a character—but until Basil Street Blues, that was not the form you chose.
HOLROYD
What's healthy and stimulating is that there are many more experiments these days. It means that although people are saying that biography's going out of fashion, the whole thing is actually fizzing with life. There was a golden period in literary biography, starting in the late 1950s with George Painter's Proust and Richard Ellmann's Joyce and going right up to Richard Holmes in the nineties. It was a wonderful time for all of us to be writing. During those decades, there was a group of people who were saying that the scholarship and research is just the first stage, and then the writing has to be very good. We all thought, My God, the standard's gone up. I've really got to do the best I can. You always think that, but you learn from your predecessors and contemporaries.
INTERVIEWER
Why do you suppose the emphasis shifted at that particular moment?
HOLROYD
I imagine that books written after we'd come through the war were responding to a need for stories about individuals, rather than history writ large. And there were suddenly a number of genuine writers—not civil servants with a First in classics who were writing something in their retirement years, but real writers—interested in biography. Now things are changing again, which is painful in a way, but good, because that golden age could easily change to fool's gold if it goes on too long. You begin to parody the old thing. Now the idea of a book of five, six, seven hundred pages about—apparently—a single person is no longer as attractive to booksellers. Also the word literary, as in literary biography, is not to be used. One doesn't know why things change and why group histories seem more popular now. One thing is certain, I've never known so many crowd activities. This impulse was quite foreign in the fifties and sixties. When I see crowds waving the Union Jack and shouting the same things—of course, I was alive in the Second World War and I feel it's…
INTERVIEWER
Ominous. To do with fascism.
HOLROYD
That's right. Maggie's first husband, Clive, is a great football fan, but for a long time he used to go to see Arsenal with earplugs. He watched the game, but he didn't hear the abuse. I would like to do a radio program with just a little bit of narrative, presenting the sounds of football, cricket, and tennis audiences in 1960, 1970, 1980, to show how we have changed through the noises crowds make.
INTERVIEWER
Have you grown more confident in your work, or does it feel like the same process every time you begin?
HOLROYD
I probably have got more confident, but I wouldn't describe myself as a confident writer. I usually start writing when I'm about seventy-five percent of the way through research, when I wonder, Oh my God, can I ever do this? And will I have the material I need? By that stage, everything I do seems to add to the complexity of it, and I feel that if I can only start writing it will give me the energy and guidance to finish the archival work. Starting to write is very difficult. And you don't always have to start at the beginning. With Shaw, I begin with his death. Is that just me being paradoxical, as he was? It is, in a way, but it's also my interest in juxtaposing the enormous media coverage of his death, and the lights on Broadway being dimmed, with the beginning of his life, which was so unprepossessing, so difficult. It's a structure that makes the reader curious about how on earth he got from one to the other. It's also a dramatic gesture, and we're talking about a dramatist.
INTERVIEWER
How do you move from research to writing?
HOLROYD
I think I'm two people—the researcher and the writer. The researcher spends quite a lot of time going abroad, working in libraries, seeing letters. I sometimes turn to the writer, who is doing nothing at that point—who is sleeping!—and I say, Do you want this bit about Shaw bicycling? And the writer doesn't know. He says, You're the researcher, you decide. So the researcher thinks, Well, that's really not important. And the researcher is always longing to be writing, getting on with the actual problem we created. Then the writer takes over, shuts the door to the world, and kicks back on this researcher who was traveling the world, meeting people, making discoveries, and he says, Why the hell is there no documentation here about Shaw and the bicycle? This part of Shaw's life is exactly about how things were happening more quickly, whereas before he was on foot. That's what I find so funny.
INTERVIEWER
What would you be doing at this time of day if I weren't bothering you?
HOLROYD
When I am working at a book, I tend to write in the mornings and do secondary work and ponder on the writing later in the day. That was not the case when I was younger and had more cumulative energy and concentration.
INTERVIEWER
Could you describe your writing process?
HOLROYD
For most of my career, I've written with a pen on paper, lengthwise, on unlined A4 paper. I have a wastepaper basket close by, in which to file quite a number of these pages. I go through six or more whole drafts by the end. I wish I could do it more quickly. In the past, I would type it and revise again. Of course, I alter it more after I see my editor. It's a long process. Now it's slightly different—I still do the beginnings of pages with a pen on A4 paper, but then I move to the computer screen. The only danger of a screen is that it flatters you—it makes what you've done look better than it is.
INTERVIEWER
Are there people to whom you show your work first?
HOLROYD
I never show it to anybody. It goes straight to the editor. With the exception that if there are more than a couple of lines about living people in it, I send it to them. In the past, I did encounter differences of opinion with some of them, but I learned that it wasn't so much the facts they objected to, but the tone, which I could improve. I have in the odd case asked whether someone would like a pseudonym, and the answer was always no. Almost the only case of suppression I can think of is not having included the fact that Augustus John and Dorelia were not married, because it would have affected what happened with Dorelia's will. So I changed it, and as a result I told a feebler story. After Dorelia had died, and the money had been settled, I did a new edition, and there I could tell the truth.
INTERVIEWER
Is there a kind of sentence you think characterizes your writing?
HOLROYD
There was something like this, in the last book—"Her first marriage, a distressing experience involving an umbrella, had to be annulled." I thought I could hardly improve on that. I quite like inviting the reader to fill in the gaps, which is strange for somebody who is sometimes considered very comprehensive.
INTERVIEWER
Do you think your writing changes with each subject? When I think about Strachey, I think about being immersed in the mindset and rhetoric of infatuation. And in Shaw, there is a persistent use of paradox and of sudden dramatic reversals in the shape of the sentences themselves.
HOLROYD
That's completely right. I am inevitably affected by the tone and style and outlook of my subject. But I also noticed that after I'd written Strachey people said, Oh, do you see how he's been influenced by Strachey? And then reading the same passage later on they said, You can see Shaw's very much there.
INTERVIEWER
You use free indirect discourse to great effect, sometimes in the form of questions.
HOLROYD
I think that gives a certain directness you can't otherwise have except by cheating—inventing dialogue—which you really mustn't do unless you're writing a historical novel. But what you can do is suggest, speculate, and get down something of the voice of the person—and put his or her opinion in that voice. Also, it is useful, if you have letters or diaries, to use short quotations, which work almost like dialogue and give it that immediacy that novelists benefit from whenever it suits their story and that sometimes is lacking in what we for some reason call "nonfiction."
INTERVIEWER
You've said that you wish that critics and other readers didn't draw such a distinction between fiction and nonfiction, and you've suggested the terms "creative" and "re-creative" writing.
HOLROYD
I have. "Nonfiction"—what a way to begin, to invite people in.
INTERVIEWER
To begin with a negation.
HOLROYD
Exactly.
INTERVIEWER
In Mosaic you use the phrase "nonfiction stories."
HOLROYD
When people say "stories," they immediately think of fiction. But I think we're all in it.
INTERVIEWER
In narrative?
HOLROYD
Yes. That's what fascinates me. It's what I try to do and it's what I like reading. I'm reading a book at the moment that has no narrative. It doesn't know how to put the material together. There's real original research, and yet it hasn't been shaped. It just shows you how very difficult it is to find the right form. I could be a bad reader for this book—there are no absolutes in this matter. But take Stuart: A Life Backwards. It was an extraordinary book and a genuinely new way of writing a biography. It was an experiment that came off, not a trick. And I think there will be more of that, of writers saying, for example, I'm going to begin with this person at the age of thirty-five, because between thirty-five and fifty is when she did this extraordinary thing. Of course, I'll have an introduction, I'll have an epilogue, but that's the book, it's not the whole life. There will still be very good traditional biographies. But things change, and it's always a bit of a shock, and then a bit of a challenge, and that's good.
INTERVIEWER
What are your antidotes to the anxiety of working on such long projects?
HOLROYD
I used to walk. I don't as much now. I used to drink, and still manage to do that. I do read a lot of fiction, to get out of my world and into another person's. We have a place in the country, in Somerset, and I like to go there and not take any work with me, to escape. Even so, something in the back of your head is still working. The same is true with sleep. If I have a problem I can't solve and I go to bed, often something will happen in the night, so that I wake up knowing what to do. I rather like that magical thing. I don't often interrupt a book to write an essay or book review, because it takes so much energy. When I was younger I did, but I got a lot of money from Shaw, in installments over ten years or so, and that meant that I didn't have to review and lecture to keep alive. It was my middle-age pension.
INTERVIEWER
Did you ever think about dropping any of these books, along the way?
HOLROYD
No, I didn't. But I'll use a metaphor. I felt that I was jogging along—Augustus John took me about seven years, and Shaw, which was originally in three volumes, plus one of notes, for God's sake, took fifteen years—but I wondered whether I was on the right course, or simply making progress on something that wasn't there. Was the real course somewhere else? There's no one to tell you. You've just got to go on with it. And in the case of Shaw, I'd finished two volumes and couldn't do the last one without getting a proper contract. I was held up for difficult reasons.
INTERVIEWER
To do with Dan Laurence?
HOLROYD
Yes. There was the late publication of his bibliography and of the last volume of his Collected Letters of Shaw, both essential for my biography. Dan Laurence was the greatest Shaw scholar there ever has been and ever will be—a wonderful bibliographer, a superb editor of the essays—and was upset at not being asked to write the biography, and so wasn't very cooperative. He had great power. Probably I didn't respond well, but I had never come across this situation before. In his anger and indignation, he resigned as the editor of Shaw's Collected Letters, and the Shaw estate asked me to mark time while they negotiated with him and eventually persuaded him to resume work as editor. Eventually, after a couple of years, I was able to go on, but it was difficult to have to stop like that midcourse. The third volume took more time than it should have done, as a result. Of course I was also worried that I couldn't do it. I mean, Shaw wrote so much—twenty letters a day, every day, and he used shorthand and secretaries—and I wondered how I could keep up. I like to read pretty well everything, otherwise you're caught out so easily, by your own laziness, or lack of stamina. So there were times at the beginning when I thought I might not be up to it, I might not be the right person, maybe Dan Laurence was right. But the estate wanted a new voice, they needed a slightly different generation, and they had got advice from George Painter, who put my name forward, on the basis of Strachey, I think.
INTERVIEWER
There is something painfully public about this work, despite all the years of working alone. People know that one is working on these books in ways they don't tend to when one is writing a novel.
HOLROYD
This is why one has to polish up one's elusiveness, to not be a complete target. You have to write out of some privacy—do the research, then shut yourself away. But the estate felt they had to make those announcements because others might have wanted to write Shaw's biography.
INTERVIEWER
You've written shorter versions of all of your multivolume biographies, which begs the question, Why the longer versions? Or why condense them later?
HOLROYD
I wrote Strachey in the 1960s, published it in 1967 and 1968, and twenty years later a whole lot of new material was available. I had gone to see people who had his letters but were not able to find them, for example, and two decades later those letters were in a library. So I felt that I was able to make a shorter book that had more in it. The same was true for Augustus John. There were a number of papers, some of which had gone out of the country illegally, that now I was able to consult. As for my life of Shaw, it was in my contract from the beginning. It was a lot of work, but in every case I enjoyed doing it. I was also able to correct some mistakes.
INTERVIEWER
You've handled the documentation of your sources differently over the years. I know that illness had something to do with it.
HOLROYD
It did. Strachey and John were absolutely orthodox. Shaw had more than nine thousand notes published in a separate volume that went with the three-volume edition. I was criticized for doing that, particularly by Shaw scholars, because they couldn't tell whether certain things I'd found were new or not. I don't blame them, but I didn't think it mattered that much. If you didn't know it, then it was new to you. And I had lots of Shavian reasons for doing it that way. Not everybody wants two hundred pages of notes. A scholar, yes. But the scholar can buy this extra volume. And the general reader can buy a book that doesn't cost two pounds more. It also gave me time to get the notes together without holding up the book any longer. And I added an appendix about what happened to Shaw's money in the years after his death, which is quite an interesting story.
With A Strange Eventful History, I started out writing on the A4 paper and putting a note on the back. I took some of those papers, very unwisely, into hospital and mislaid them. I did have another rough version, so I could get hold of the narrative again, but I couldn't get hold of the notes. And I suddenly said, I cannot do it. I had had the illness and that awful loss of my work. Also papers were changing hands and being catalogued while I was writing it. So I thought, I'm just going to write it, and at the end I will describe where the papers are. It's a falling off, but I haven't been criticized much for it. In due course, these things will be done electronically. And of course books themselves may not exist.
INTERVIEWER
What made this genre the right one for you? You have written one novel, A Dog's Life. Why did you stop writing fiction?
HOLROYD
I had planned to write biggish nonfiction books, and then shorter, novella-length books of fiction. I thought it might be rather interesting to alternate. My father's reaction to A Dog's Life stopped me in my tracks. Believing my novel to be almost wholly autobiographical, which is to say, a family biography, he threatened to take legal action against the publisher and myself if it was published. So I withdrew it from publication in Britain—though it did appear in the United States in 1969—and we all survived. So I thought I could transfer to my nonfiction something of the storytelling that pleases me when I read novels.
Writing a biography is like a chess game—you can't just move the pieces where you want, because you are bound to the facts of the life, but you can make the life story move. And so a lot of what I wanted to do as a novelist I have tried to use to change biographical storytelling—to tell the truth in a way that goes into the very system of the person who is reading it. You can get so much pleasure making a story from biography, even though it's not famous for that. Look at Boswell's Johnson—the second part is extremely readable, and it's because Boswell is there, and suddenly it comes alive. Whereas the first part is old-fashioned biography, or looks like it now, although it's beautiful and pretty accurate. So in one way the biographer does come into it, but as I say he's got to be elusive, because otherwise you have something like Norman Sherry's book on Graham Greene, which includes pictures of Norman Sherry, bless his soul. People don't see biography as quite as significant, or contemporary, as fiction. It's not that I see these works as "definitive," because the past is always changing, depending on the angle from which one looks at it. But a biography does therefore tell us something about our own times. What Maggie does in her work is to say, Where are we? And what I'm saying is, How did we get here?
INTERVIEWER
You've written about various acts of violence against the past, the famous examples of writers destroying or sealing their papers—Hardy, James, and others—the vandalism committed by your grandmother on her own historical record, the moment when you arrived at the home of a writer whose literary executor you were, just as you saw his widow tossing his letters into the flames.
HOLROYD
I think that as one gets older there is perhaps more to regret, sometimes more to hide, sometimes a sense of disappointment. That is the difficulty with having high self-esteem. Whatever happens to you is not quite good enough. That kind of destruction is not exactly a form of suicide, but it is an attempt to destroy some of the past. There is a desire to not let it get into other hands and be—they would say misinterpreted, but I would say interpreted. I am a great believer in private life, which is quite unfashionable now—to be a celebrity is the thing, or you are nothing. But I believe in private life for the living, and I think that when one is dead one should be a little bit bolder, so that the rest of us may have some record of how things actually were. Otherwise we will be left with well-meant lies, which add to the difficulties of life and lead to real misunderstanding.
INTERVIEWER
Biography seems valuable partly because it can say something about the lies we all tell.
HOLROYD
And it can say it without ticking people off and knowing better. It can say, This is how we are, and how we get through things sometimes. One must be more courageous and not destroy things like Dickens and Hardy and the rest of them did. Hardy's view of writing his own biography was genius really— there was no length to which he wouldn't go. But having said that, when I came to look at my own papers not long ago, some tremors went through me. I read in ten minutes a series of postcards and odd letters sent to me over a decade, and I suddenly said, Christ! Now I know what was being said. At the time, I didn't. Also, it's amazing what we remember and how we forget. The point is that if I'm saying this about one of my subjects, I'm saying it about myself, too. It's part of the human condition.
INTERVIEWER
It has to do with the tension between fact and fantasy in our lives. Your last few books are really tracking the place of the imagination in factual stories.
HOLROYD
I think that is absolutely right. That is very gradually what I've come to do. In the beginning I was more traditional, except for my subject matter. Now it's something else, it's the imaginative focus. Certainly some of the "minor" characters in A Strange Eventful History lived in fantasy worlds. It's a fact that they did. So you have to find out how to think about it, how to treat it, how to present it. I do see some types of fantasy as prevalent in all of our lives. I think that I myself have had a fantasy of power, or of a type of self-esteem, because I was brought up with too little, which made things very difficult at times in my life. But it means that everything that happens to me is a good surprise. It never occurred to me that I'd drive a car, or own a house. My family was really going down all the way. So the fact that I, by doing everything my father warned me against, ended up with a house that I actually own is wonderful. After Doris Lessing had been given the Nobel Prize, she gave a speech in which she said that she had had a dream in which she wondered what could possibly come next. Would she be made into a saint? And then she imagined herself telling her father, I've just won the Nobel Prize, and him saying, Now Doris, for goodness' sake don't be ridiculous, pull yourself together. Of course, fantasies can be very dangerous. You could say that Hitler had a fantasy when he decided that it was a clever idea to fight on the eastern front as well as the western. When I asked Eric Hobsbawm whether he had had any surprises writing his book about the twentieth century—particularly because he had lived through it—he said, Yes, the surprise was the extraordinarily wrong decisions that people make.
INTERVIEWER
This has something to do with what we consider failure and success.
HOLROYD
I think that one can turn to the other very quickly. And I think that there are various ways of judging them. For some people, making a lot of money is success. Success for me is not good reviews. It's doing something that I can look back on and think, That's what I wanted to do. One is in need of good reviews—to endorse the book, to make one feel that one hasn't gone mad— but the success is in the work itself, and in the feeling of some calm, even some moderate satisfaction. If somebody reads it and says something apropos, that's nice, but one has to depend on one's own judgment. And we can all make mistakes. As I say, redoing my books has been a very interesting exercise. Those passages I took such trouble with, where are they now? I cut them.
INTERVIEWER
How do you think about your own life, in light of the ways you've written about others?
HOLROYD
I've always tried to say that the relationships between my character and his lovers are vitally important. So I would judge my own life by the same token—by what I've felt, and what others may have felt for me. With Strachey I got criticized a lot. There was a certain disdain about taking that material—his love life—seriously. In the 1960s people still considered him to be a joke. But his life wasn't a joke, for him. And jokes are serious, or can be.
INTERVIEWER
You show how Shaw's humor was such an effective yet destructive defense.
HOLROYD
I suppose that I look at the sadness in people's lives. The drunkenness around Shaw in his early years, not knowing if he was legitimate or illegitimate, his belief that if he was illegitimate, his ideas might be considered illegitimate—all of that marked him.
INTERVIEWER
There is a melancholy in all of your work.
HOLROYD
I am a writer of comic tragedies. I was interviewed at the British Library, and when I came to talk about my grandfather, I had to stop. Thinking about his life was too sad. He had believed in a kindly god in the skies. But the awful slowness and increasing pain of his dying eventually unnerved him. He grew frightened of everything—the uniformed nurses in the hospital, the threatening medical instruments, the oblivion that awaited him. He needed to escape from himself, but not like this. Writing has become my escape. I have found in biography a holiday from myself. When I meet people, I ask them questions. This seems unselfish and even charming, but people do me a great service if they provide a story that I can enter into.
INTERVIEWER
Is there one biographical subject with whom you identified the most? Or is it the person you're writing about at the time?
HOLROYD
The one I'm working on. Augustus John was quite a good corrective to Lytton Strachey. And Shaw was a completely different character. And then my mother and father were different again. Writers might think that Augustus John had less of an effect on me, but in fact I met all of his family and was drawn into that extraordinary bohemian world, an outdoor world—as opposed to Strachey, who was very indoor, as it were.
With all of my subjects, I have learned about the world I live in and about myself. Never at the beginning of any book do I know what I'm going to uncover, or think, or learn. And it's both a public and a private thing.
INTERVIEWER
Why do you think this genre sometimes arouses such strong negative feeling? You mentioned the disdain of other writers for biographers and biographical writing. And you have noted the poststructuralist critique of biography—the charge that it presents an unsophisticated version of the human subject. You have also written that biographers as a group seem to at once thrive on their outcast state and greatly exaggerate their power and significance.
HOLROYD
That's the point. We've assumed a certain authority over people's lives—and this is always the phrase used—when those people "cannot defend themselves." They're dead, mind you. There is also a struggle for power between the academic critic and the biographer. One mocks the other. The other thinks the one is absolutely inessential. There's been an interesting takeover bid in universities for biography under different headings: "life-writing," "auto/biography," the sociological approach of taking an individual who represents a whole category, usually a category that has been ill-treated in the past, and giving him or her retrospective justice. That's using a person for his representative status. Of course, nobody lives in a vacuum, but I do not begin a book by saying what my thesis is.
Today when people say biography, nobody quite knows what it is. Also, biography exists in England in a slightly different way from the way it does in the United States, and it hardly exists at all in Europe. Very often, if one wanted a book on Strindberg or Ibsen or even Proust, one would find oneself reading a book by an English or American writer.
INTERVIEWER
Why is that?
HOLROYD
I think it is because if you belong to Europe, you see things more collectively, and if you belong to an island, you tend to see things more individually, which is why for a time we also excelled at the single portrait. We had a good tradition of portrait painters.
INTERVIEWER
What are you working on now?
HOLROYD
I've just finished a short book about bicycles, motorbikes, and cars. It's called On Wheels. I realized that I had used these vehicles in my books as magnified or exaggerated versions of my subjects. Shaw saw the bicycle as part of his socialist argument, an invention that enabled people to see more and learn more. When Augustus John left his car, after several years of treating it terribly, upside down near the West End of London, it meant that he had a new gallery and was doing portraits for money, and that the real talent of his youth—the lyrical quality—had absolutely vanished.
INTERVIEWER
So there's nothing that's not useful material.
HOLROYD
If one finds a use for it—and doesn't misuse it—everything is. But one has to choose. That's why, before you get down to the writing, you cannot tell what you will need. I gave the bicycle as an example. There, suddenly, I realized that showing Shaw falling off his bike and turning this sort of accident into an advantage, as he did his other failures, would advance the story. It's quite a different way of doing a narrative. In the same way, when you look through his diaries, you see the amount of time and energy he spent on committee work. And then when you go on to read Man and Superman, you recognize at once that the brigands in the play are the members of the vestry committee he sat on.
INTERVIEWER
Do you believe there are people about whom one can't write a biography? Hilary Spurling has said that she'd love to try opening the telephone book, pointing to a name, and getting to work on that person's life.
HOLROYD
I think the point is that people in the telephone book would long not to have my pen descending on them, being subjected to this terrible sympathy.
INTERVIEWER
Which is a form of aggression?
HOLROYD
I'm not saying it's that, but I think it's difficult to launch an appeal against it. We are all part of the comedy of life. Some people don't have that sense of humor and wouldn't like it focused on them.
INTERVIEWER
All of your subjects have been voluminous self-recorders. Could you imagine working on a subject who didn't leave certain kinds of traces?
HOLROYD
No. But I think Shaw, for example, is leaving false traces and is a difficult person to find in all the Shavian fireworks and displays. You have to seek out that other Shaw. His love affairs were all rhetoric and drama, except with Mrs. Patrick Campbell. I am quite interested in taking an unsympathetic person and seeing how he or she fights off this attack of sympathy. It's a challenge to do an unpopular subject legitimately.
INTERVIEWER
Your comment about being too sad to talk about your grandfather made me want to ask you whether you feel a connection between writing a biography and grieving.
HOLROYD
I was invited to a literary festival in Chicago that had the theme of birth and death, and I thought I would give an account of Shaw's death. When I was reading, suddenly I couldn't go on for about twenty seconds. I was overcome and had to get a hold of myself, and I thought how ashamed Shaw would have been for me to have shown emotion like that. But afterward, I thought it was rather effective. If the work is a living work and you've been in it, and it's evolved around you, and you've longed for it to end, but then you do finish it, and your occupation's gone, suddenly you are bereft, and there is a sort of grief—and so there bloody well should be.