Interviewed by Sam Lipsyte
Issue 204, Spring 2013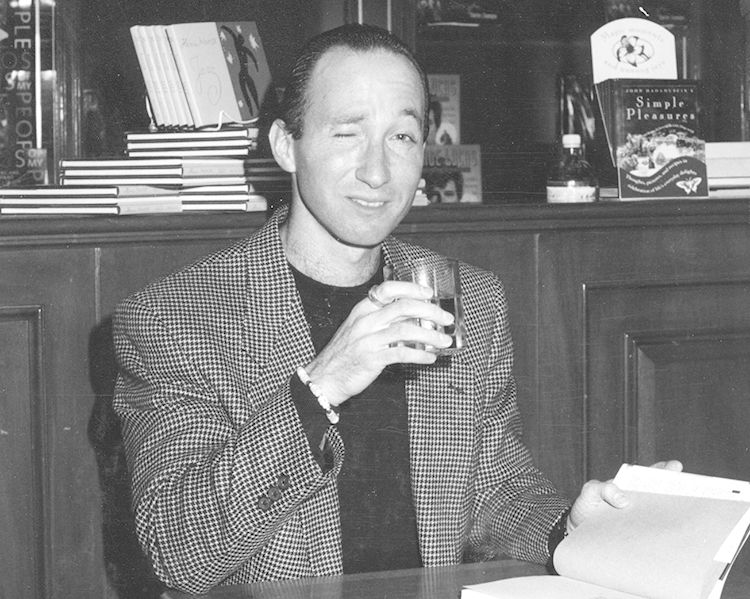 At a signing in New York in 1993.
Mark Leyner's name has been familiar to readers of experimental fiction since 1995, when he published his first story collection, I Smell Esther Williams, but it was his second collection, My Cousin, My Gastroenterologist (with its memorable opening riff: "I was an infinitely hot and dense dot" raised by "huge and lurid puppets"), followed by the novel Et Tu, Babe, that made him one of the most acclaimed and publicized writers of that decade. Profiled in major magazines, Leyner also appeared on late-night talk shows and in a contentious segment of Charlie Rose alongside David Foster Wallace and Jonathan Franzen.
After a second novel, The Tetherballs of Bougainville, was published in 1998, Leyner dropped away from the literary world. He worked in Hollywood, where one of his cowritten scripts, War, Inc., was made into a movie starring John Cusack. Leyner also coauthored a series of best-selling medical humor books beginning with Why Do Men Have Nipples? Hundreds of Questions You'd Only Ask a Doctor After Your Third Martini.
Fourteen years after Tetherballs, Leyner returned with The Sugar Frosted Nutsack, both an epic and the exegesis of an epic. It begins when a claque of gods (with names like Fast-Cooking Ali and XOXO) return from "spring break" to create a universe whose mortal hero is an unemployed butcher in Jersey City. Reviewing The Sugar Frosted Nutsack in the New York Times Book Review, Ben Marcus wrote that Leyner "demonstrates how much is still possible for the novel when tradition is left behind, proving that fiction can be robust, provocative and staggeringly inventive, without for a moment forfeiting entertainment."
The bulk of this interview took place at the Elysian Cafe, a bistro across the street from Leyner's home in Hoboken, New Jersey. Born in 1956, Leyner, a self-described "gym rat," is handsome, smallish, and very fit, with muscular arms that in many lifting circles would qualify as "guns." He seemed both proud and sheepish about them, the type of contradiction that, as the conversation developed, Leyner revealed as a central tension in his life and his writing.
—Sam Lipsyte
LEYNER
Let me tell you about my morning.
INTERVIEWER
Let me ask. How was your morning?
LEYNER
Funny you ask. I had a meeting this morning with my editor, Michael Pietsch. I really like having a breakfast meeting. First of all, it's caffeine and not alcohol. It's more what a businessman would do. Otherwise, I just basically wander around in my pajamas.
INTERVIEWER
So you've been to Manhattan and back today, back for your lunch meeting.
LEYNER
Yeah. I'm just a dynamo. I've done fifty critically important things already today, including this terrific meeting this morning about what my next book should be. I've just decided—and this is a huge scoop for The Paris Review, because Michael Pietsch and I just made this decision—I've just decided that I'm going to write a book about Mussolini.
INTERVIEWER
About Mussolini.
LEYNER
Yeah. The web of my own life and the web of his life.
INTERVIEWER
Why Mussolini? Have you been thinking about him since you were a kid?
LEYNER
No, that would be too weird. Mom, read me that manifesto. Dad, put on the black shirt again. Sing me that song. But I'm fascinated by demagogues. I've seen some of Fidel's speeches where he'd harangue crowds of people in the blazing Havana sun for seven hours. He'd speak extemporaneously about very technical agricultural issues for hours.
INTERVIEWER
I think of that footage of Mussolini skiing shirtless in the Alps.
LEYNER
You know who has a similar theatrics of masculinity is Putin. He's always shirtless, hunting in Siberia shirtless or something—Boy, I'm hot!
INTERVIEWER
So this book will be about masculinity, or models of masculinity?
LEYNER
Something like that. I think I have a particular interest in dictators—generally, in worlds of violence and physical prowess, because that's all so much what I feel I'm not. Then again, there were enormous shelves of books in the houses of my parents and my grandparents, and that, too, seemed completely unattainable, such an exotic, unattainable endeavor, writing a book. Almost everything I do can be analyzed on this grid, as a response to this ambivalence about the sort of man I'm supposed to be. I'll die with this not reconciled.
INTERVIEWER
You were made to feel not tough enough?
LEYNER
I think I was, for perfectly good reasons. I was a small, sensitive kid close to his mom. This is all textbook, the first child in the extended family, le petit prince.
INTERVIEWER
Sorry, this Richie Sambora solo is getting to me.
LEYNER
Should I ask her to turn it down a little? She could. Wait, here she comes. [To waitress] Can you do me a tiny favor?
WAITRESS
Sure.
LEYNER
We're doing this interview. Do you think you could turn that down a tiny bit?
WAITRESS
Yeah.
INTERVIEWER
Do you always have one project in mind? Or a steady stream of possibilities?
LEYNER
The steady stream doesn't work for me. I do write all the time. Some of it is connected thematically to what I did the day before—often not. It's just what I always have, an accumulation of material to rummage through.
INTERVIEWER
So there are troves of it.
LEYNER
There's one trove. Some artists—Cornell, Rauschenberg—used to find things in the street or in flea markets, some kind of cultural detritus to bring back and look at and juxtapose with other things. I do something similar. But I have to make my own garbage to sift through. Things I overhear, things I've overheard that I've misremembered.
But you used a good word that I responded to. I said, "That doesn't work for me." What was that?
INTERVIEWER
A stream? A steady stream?
LEYNER
A forceful stream, I think they say in urology. In response to what you were saying about the forceful, steady stream, I think there has to be some kind of crisis before I really feel there's a book I should write. When I started, I wanted to see if a certain kind of line, shaded with poetry, could sustain itself in prose. Not out of idle curiosity—I thought it would be a wonderful thing. The poetry I read and the music I listened to had an immersive, unmodulated intensity to them, and I wanted to do that in prose. After several books, I felt that I had explored this notion.
INTERVIEWER
Had you proven to yourself you could do it?
LEYNER
At a certain point after I wrote The Tetherballs of Bougainville, I wasn't feeling the urgency anymore. That had something to do with why I stopped. I had been doing a little movie stuff, a lot of magazine work. In fact there was a whole collection of magazine work, Tooth Imprints on a Corn Dog. I think out of everything I've done, that book gives me qualms. I don't know why.
INTERVIEWER
Can you speculate?
LEYNER
Because it exists under the sign of an American magazine culture.
INTERVIEWER
I've always wondered about your magazine writing. I understand why every magazine wanted you, but I wondered if you felt constrained by your assignments.
LEYNER
I had to think of myself as an architect who had a client and the client had certain requirements, but they had hired me because there was something unique about my work and they wanted that inflection. So whether that's "Shouts & Murmurs" or back pages for Time, that's what I did. I don't know if this is true for every writer, but my writing and the way I configure myself, my pride in myself and my identity—those things are very interwoven.
At some point I didn't like being some go-to funny magazine guy. It didn't comport with how I felt as an artist, as a writer. But I wasn't bad at it. I'm a good guy, first of all. I'm sort of responsible. If someone needed a "Shouts & Murmurs" or a Time magazine back page or something for Esquire, I wouldn't just send them a bunch of my stuff and say, Put that on the back page or don't bother me. I'd try to do it for them. Using that architect analogy, if a woman comes and says, My husband is nonambulatory, so we need ramps in the house and things like that, you have to say, Okay. You can't be—well, you could be sadistic and perverse and make a house that's even harder to navigate, but . . .
INTERVIEWER
To stretch that metaphor, a lot of architects make work that fits the specifications of the client, and then they also design, perhaps, buildings that might never be built. But your fiction gets to be published and shown so it's not quite the same. Or is it?
LEYNER
I was always completely divided and somewhat confounded by the fact that I was getting opportunities to write for these magazines or to go on television based on this work of mine. I thought that was the most amazing thing. Now I think it was really kind of aberrant. That doesn't usually happen to writers who are adventurous in a formal way, who aren't just straight-up realistic, denotative writers.
INTERVIEWER
I don't think anybody's going on television anymore.
LEYNER
No, no one is. And it used to be fairly common. If you wrote a novel, at the very least you could be on the Today show for five, ten minutes.
INTERVIEWER
You made the rounds.
LEYNER
It was an enormous rush to be asked to do all of these things. And it was happening in this fast and furious way. It took me a while to sit back and think about it.
INTERVIEWER
It all shows up in transformed ways in your books. Tetherballs took those forms you were working in—magazines, scripts—and worked them brilliantly from a fictional standpoint.
LEYNER
That's much better said than I could ever say it. You don't even need me for this.
I would add that some of the first commercial work I did had nothing to do with magazines at all—it was advertising.
INTERVIEWER
Do you see a similarity between poetry and advertising? In both cases you're working in a limited amount of space and trying to get the most bang for your buck, in a sense, from language.
LEYNER
That's an idealized version of advertising. I like Mad Men as much as the next guy, but when Don Draper sits back smugly and delivers what's supposed to be a devastatingly brilliant campaign and insights into consumer psychology, I'm not that impressed by it. I think what I liked best about those years was maneuvering through office politics. It gave me an opportunity to act out—and get out of my system—this notion of what a man does. As I started to say before, I grew up with a very clear, almost Lévi-Straussian idea that there were two kinds of men, two archetypes, a paired opposition. And I think I've tried in some way or another to be both.
You know this Yiddish word luftmensch?
INTERVIEWER
A dreamer?
LEYNER
A dreamer, a kind of intellectual, someone who just sits at home and reads the Yiddish papers and for whom any kind of practical endeavor is impossible. Fixing anything in the house impossible. Making any kind of money—impossible. Which was very appealing. It seemed like a beautiful life to me. Then on the other hand, and completely polar to that, was the shtarker, tougher, a sort of businessperson who had a strange, murky, unidentifiable business. If you look at a book like My Cousin, it's got all the aggressiveness and impertinence of the quasi–mob guy sitting on his stoop at the end of the day in a wifebeater and the lyrical musings of the luftmensch model, mashed up together.
INTERVIEWER
Not just in Cousin.
LEYNER
In everything I do. And I think in The Sugar Frosted Nutsack I actually made a character who represents, who embodies, both those things for the first time.
INTERVIEWER
Then the gods are kind of tough guys. And the drug-addled bards are maybe more luftmenschen?
LEYNER
It's a big, ongoing problem for me. I think being short led me toward the question of how I could be tough, how I could have a forceful kind of physicality. And yet that's all very alien to my predilections, which are just to keep to myself and be a sweet, sensitive Proustian boy with his mom. Trailing along behind his mom at Saks Fifth Avenue, tugging at her skirts, asking, Can we go home now?
INTERVIEWER
Did your parents grow up here?
LEYNER
My parents did, and their parents did not. And men like my father—young, ambitious, virile men—were aspiring to the white-collar nomenklatura, which would have been unheard-of in previous generations. Also, my father had been a musician earlier in his life, and my mother had wanted to be an artist, so I was aware of Pollock and de Kooning and certain kinds of jazz. My parents seemed to me like Rob and Laura Petrie. When I watch The Dick Van Dyke Show, it seemed like it was about them. They were dashing figures to me—not glamorous in terms of being wealthy, but hip, youthful, intellectually and culturally inquisitive people.
INTERVIEWER
They were young?
LEYNER
They were young for parents. When I was in high school, they were in their thirties. Everyone would come over and say, Oh, you have such cool parents. I had the least tortured upbringing I can imagine. It was really sort of paradise for me.
[A man familiar to Leyner enters the Elysian Cafe. Leyner hails him from our table, nodding toward his bandaged wrist.]
LEYNER
Hey, dude, what happened? What's on your wrist?
MAN
I just dropped a...
LEYNER
This is Sam Lipsyte. We're doing an interview, a conversation. You want to say something?
MAN
I have a herpetic lesion on my—
LEYNER
Show us. Sam's an amateur dermatological proctologist. He specializes in lesions on the buttocks.
INTERVIEWER
In fact, I just started today, so . . .
MAN
Excellent!
INTERVIEWER
So, if you don't mind I could—
LEYNER
Can you warm up a knife so it's blazing hot and we'll take a look?
MAN
Notice how you put yourself in, too. "We'll take a look." You're not a proctologist.
LEYNER
No, but he needs an assistant.
MAN
Anyway, we listened to you on the way home yesterday, on audiobook.
LEYNER
Oh, you bought that? Is it any good?
MAN
It's really good.
LEYNER
[To interviewer] Have you recorded your books?
INTERVIEWER
Yes, my last one.
LEYNER
It's such a grueling thing to do, right? Because it's not a real audience. The right way to do it, I think, would be with a live audience.
INTERVIEWER
Like Castro.
LEYNER
Exactly. You have to force them to stay.
MAN
They did Great Gatsby.
LEYNER
In its entirety?
MAN
Yes. They read it and acted it at the same time. It was fantastic.
LEYNER
Who did? Various celebrities?
MAN
Uh, yeah.
LEYNER
The Kardashians?
INTERVIEWER
They're still doing it.
LEYNER
They're still doing it meaning they still haven't finished . . . as we speak?
MAN
[To interviewer] Nice to meet you.
LEYNER
Talk to you later. Where were we?
[Distracted, Leyner points to a man in a postal uniform who is taking a stool at the bar.] Hey, there's my mailman, right there! He's going to sit down, have some drinks. That's why we never get our mail!
INTERVIEWER
It'll get there eventually.
LEYNER
No one uses mail anymore anyway.
INTERVIEWER
I remember first coming across your work in the late eighties, in Fiction International.
LEYNER
There was a time when I thought that if I could have anything in Fiction International, I'd be happy. I'd make a pact with God. It seemed like one of these unattainable things, to be in there with Raymond Federman or Russell Edson—remember how he wrote those gnomic little paragraphs?—and Gilbert Sorrentino, Ronald Sukenick. Those guys.
INTERVIEWER
That's a whole world. Or a few worlds.
LEYNER
I thought, Ah, wouldn't it be nice someday to get a nod from these guys?
INTERVIEWER
There are many moments like that when you're young and starting out.
LEYNER
When I started this book, The Sugar Frosted Nutsack, I was feeling very much back in that time. I had no idea what interest there would be in a book of mine, or if there'd be some hostility to me, or if I could even do this.
INTERVIEWER
Was that invigorating?
LEYNER
It was fantastic. This last book is a very pure, very true example of my work at its most forceful. And what the work also means to me as a person. I backed myself into this corner, from which I then felt comfortable fighting myself out. Did I tell you this story about the giant cockroach in Jamaica?
INTERVIEWER
I don't think so.
LEYNER
When I was at Brandeis, I met this girl named Rachel Horowitz, and we really loved reggae music. This was in 1970. We decided, Why don't we go to Jamaica? So we went and we got some really nifty little bungalow place in Montego Bay—very cheap, because we couldn't afford much then. And it had a little pool for the couple of bungalows and a little kitchen. And I'd never really stayed in place like this on my own, with a girlfriend. I mean, nothing quite like that. I had been away the year before with another girl, took a trip to Israel and in Europe and things, but I'd never been in a groovy tropical place like this. And we had a car, so one day we drove into town and got some stuff, because we had a refrigerator and a pantry. We also got some Red Stripe. And this guy at Brandeis had given me some acid to bring to Jamaica. This guy was like the Johnny Appleseed of acid. He would take a load of acid and explain an album cover to you for just hours. He would take a Hot Tuna album that you had seen a trillion times and he would begin to examine it with these long lectures that were like Fidel Castro giving a lecture at the Sorbonne. He also once set his hand on fire and watched it for quite a while because he was so high. That really impressed me. Anyway, this guy had given me some acid and one night, when Rachel and I were just hanging out in the hotel, I said, You wanna take some? She said no. I said, Okay, I think I'm going to. So I took it, and it comes on, and then I want a beer and I go into the little kitchen, and by now the acid's full on and this guy, this big flying cockroach, like a palmetto bug—you know those things?—it crawls out of the six pack, and to me, at the time, it was like a pterodactyl, in some Raquel Welch movie set in prehistoric times. According to Rachel, I batted this thing in the little kitchen for, like, five hours. She heard pans and things breaking and she said I emerged with a torn shirt, sweaty—and victorious. That's what my experience of writing The Sugar Frosted Nutsack was like. Battling this pterodactyl in the closet with a pan. At a certain point, of course, the book attained a mind of its own, a subjectivity or an autocatalytic machinelike quality.
INTERVIEWER
Then you just have to feed it.
LEYNER
Yeah, but don't get your arm caught! Because it'll take it right off.
INTERVIEWER
It'll eat anything.
LEYNER
As I was saying, before the book was really underway, it felt like being back in the day, like being young. Me against the world. Because when I started the book I was at wit's end. My back was against the wall. I needed to use my purest and most deadly kung fu.
INTERVIEWER
Your secret style. It seems like you experienced a different literary culture back when your earlier books were coming out.
LEYNER
When My Cousin and Et Tu, Babe came out, I was on Letterman. I read from one of my books on Conan. I almost lost my place, thinking, How fucking great is this? You're reading from one of your books on television. But I would also think, Why did I ever even want this? I'd just rather be home. We wouldn't do what we do if we loved being with people. We like to be by ourselves.
INTERVIEWER
I've always said I became a writer so that I wouldn't have to speak to people in person.
LEYNER
Exactly. But you teach now.
INTERVIEWER
I teach, yes. Did you ever do any teaching?
LEYNER
Very little. I did it in graduate school because I had a teaching fellowship. When I first moved to Hoboken, I was an adjunct at Brooklyn College. Students love me the first time around, because I'm entertaining, but then they get wise to me. I don't really have any interest in reading their stuff. I did this thing for a while in Toronto, where they put us up in a really nice hotel and paid for everything, and then paid us a bunch of money. I would just have students read what they wrote, out loud in class, which I thought was brilliant because then I didn't have to actually read it in the hotel. People seem okay with that kind of thing for a while. But ultimately they turn on me.
INTERVIEWER
Complaints?
LEYNER
They turn on me. I have to leave town in the middle of the night, or they'll string me up by my feet like Mussolini.
INTERVIEWER
Tie you up with your mistress.
LEYNER
Exactly. I have multilevel affinities with Mussolini, actually—fear of being run out of town with my mistress and being strung up by my feet.
INTERVIEWER
Recently I saw the movie War, Inc., which you cowrote. In the first few minutes John Cusack says he feels like a "character from a Céline novel." Was that your line?
LEYNER
That's something Cusack might have improvised. I think Cusack and I had a conversation once about Céline. It always surprises people that some artist they like is a Fascist. It's always unpleasant news you have to deliver to somebody. And I think I had to tell him.
INTERVIEWER
"Sorry, man."
LEYNER
"I think you should sit down." But wait—doesn't that line also mention The Island of Dr. Moreau? It does. I remember. I think that must be me. If not, it's a Leyner plagiarist.
INTERVIEWER
There were a lot of projects that never got made, right?
LEYNER
There was this one thing, about a guy sort of based on John Lydon, Johnny Rotten, only he was a virtuoso surgeon who did his surgeries in an actual theater, transposing the idea of a medical theater into a real theater. It was called Iggy Vile M.D. That was the first script I wrote. MTV bought it and made a pilot, then it sort of died. Although one of the executives at MTV said it was the most revolting thing he'd ever seen.
INTERVIEWER
Do you have a copy?
LEYNER
Yeah. And actually, it's not that revolting. It was just prescient in its revoltingness. It had a great scene, which I'm still proud of. There's a club or restaurant that Iggy Vile would go to, and at the club there's a ring, and two martial arts guys fight, and then the loser is slaughtered and served. That's the fare of the restaurant. And that's where Iggy Vile would go. He's there with a friend, drinking and talking, and a woman, a fat woman, comes up and says, "You're Iggy Vile, the great surgeon! Iggy Vile, M.D." And he says, "Fuck off, I'm drinking with my mate here." And she comes back and says, "Oh please, please, Iggy, I've spent my whole adult life trying to slim down in every possible way. I've done the grapefruit diet and the Beverly Hills Diet, and I've had the gastric surgery and staples and nothing's worked. You're the last hope for me." And she bothers him until finally he turns her around and bends her over, and he takes a straw from his friend's drink, and he jabs it into her ass, and he sucks the fat out of her, and he spits it into a pitcher in the middle of the table. And we made the stuff! We made the stuff that looked like fat! It's pretty wonderful to watch. That's the scene I admire. I take a certain amount of childlike sadistic pleasure in thinking I've caused all of these people to spend their time and money making a thing like that. It's like de Sade in prison getting all the other inmates to perform his plays.
INTERVIEWER
That might be the real seduction in film and television. But I wanted to ask you about literary influences.
LEYNER
I used to have this little pen. It was a Yankees pen—I was a Yankees fanatic as a little boy—and I had a game I would play endlessly in my room. My right hand was the pitcher—I used it to flick a marble—and my left hand was the batter. And I would announce the whole game. Three batters an inning, both sides, it could take two hours. And I'd do this little thing at the beginning of the game where I'd talk about injuries and what to expect and how people are feeling. I'd do the whole thing myself, for my own delectation. I think these are the things that are the precursors to writing. People ask, What writers inspired you? But it happens deeper and earlier than that. The important things antecede reading. Growing up in houses where, at dinner, people are asked, Do you have any good stories? And people trade elaborate jokes back and forth. That's the world I come from.
For a while, I would decapitate my sister's dolls. That was a little French Revolution period. I'm still in that period.
INTERVIEWER
So you don't have any influences?
LEYNER
I have some. What was that stuff that Dennis Hopper would inhale in Blue Velvet? Amyl nitrite? If I need something like the literary equivalent of poppers it tends to be Wallace Stevens. I started with poetry—a concentrated, brilliantly titrated dose of very compressed language.
INTERVIEWER
What were you writing before I Smell Esther Williams—straight narrative stuff, or poetry?
LEYNER
I wrote poems. I don't think I could recover from the embarrassment of reading those. And then I wrote a column for my high-school paper that was a half-fictionalized, half-journalistic, fragmented account of what my friends and I would do. I had an interest then—I still do, you can see it in almost everything I've written—in what happens if you use certain forms from public discourse in the world of intimacy, or intimate discourse in public. When I was in junior high school, I would read these big interviews in Rolling Stone. They would always be called "The Pete Townshend Interview" or "The Keith Richards Interview." I used to think, What if you just picked someone, some kid in high school, and did a massive interview with him, just about things in his life? Today, because of reality TV, that doesn't seem so mind-boggling. But it was an interesting idea then, and one that I've played with. Et Tu, Babe is really just an involuted elaboration of that idea.
INTERVIEWER
The Sugar Frosted Nutsack strikes me as different from your earlier books. While it certainly partakes of pop-cultural allusions and the like, it doesn't play as fast and loose with them as earlier works do. It seems more interested in accruing its own distinct set of resonances with the constant recursion of its storytelling. It's not that you are avoiding naming the things and the brands of the world, so much as you don't seem as concerned about precisely which associations we can all agree on.
LEYNER
When I started writing this book, I realized that, for the first time, I was going to have to forget the notion of a consensual canon of imagery and allusion and citations. Instead, I was going to just write the book using what I use and not worry about it.
INTERVIEWER
What happened in the culture in those fourteen years between Tetherballs and Nutsack?
LEYNER
A couple of things. When I first started publishing my work, I had a very definite feeling of surfing the zeitgeist, of being fluent in all the prevailing memes. This might have been completely delusory, but it's how I felt—that I was, in some very essential way, plugged into the culture. And it also seemed to me a time when people my age, people "in my grade," as we used to say, had ascended to significant positions at magazines and publishing houses. So I felt as if there were a very specific and kindred and somewhat influential audience out there for me. And this audience and I were very much in sync. These were people who'd watched the same TV shows as I did as a kid, read the same comics, listened to the same music. There were all of these shared allusions and references I felt I could count on. But this audience has become more diffuse as we all age, and various strata of younger people enter into the mix. More to the point, the culture has become balkanized, so there's no possibility of surfing the zeitgeist because there is no one zeitgeist, there's a plurality of zeitgeists. There's no real question now of cultural fluency—that notion seems completely quaint and archaic today. So my feelings about writing from some privileged cultural perspective for an identifiable, kindred, and optimally receptive audience have changed completely. Now I feel like a completely alienated and marginalized person who traffics in some form of discredited esoterica. But I'm much happier!
There's another issue people sometimes bring up with me, which is the ascendance of the Internet and how somehow I was prescient about the phenomenon of Google, hypertext, and so on. The idea being that the kinds of radical tangentiality and manic eclecticism that you could say characterize my "style" are now available to anyone who goes online, that anyone can now cobble together a lyrical sentence comprising references to Jivaro tribesmen, stigmata, male lactation, Julius Evola, the hair-plucking ceremonies of Jain nuns, Don Kirshner's Rock Concert, or what have you. I have my doubts about all this. I've always been after a methodology that was about evading my own taste and escaping from my own predilections and cultivating mutations and maximizing accidents. The search engine, it seems to me, is all about goal-orientated efficiency, rote procedures, and the reinforcement of habit. I would much rather depend on the serendipity offered by the chance physical proximity of disparate volumes in an old library, of basically lurching in the dark. It's all about getting lost for me. Efficacy is the mortal enemy of my style.
INTERVIEWER
So you don't think the world's become Leynerized?
LEYNER
We're living in a world in which we're all surveilled, targeted, herded, and indoctrinated to an unprecedented degree. Our fallen, debased state is ghastly. Our bodies have been transformed into profit-optimized enterprise zones, our minds have been hacked and neutered, our social milieus have been completely leached of authenticity. Leynerized? I fucking hope not.
INTERVIEWER
I take it you're not delighted with the state of things.
LEYNER
Bro, we're living in the Kali Yuga, a Dark Age of petite bourgeoisie ideology, a petite bourgeoisie ideology whose resources and ruses are infinite and which ubiquitously permeates the world—high culture, low culture, bienpensant media, prestige literature, pop music, commerce, sports, academia, you name it. The only reasonable response to this situation is to maintain an implacable antipathy toward everything. Denounce everyone. Make war against yourself. Guillotine all groveling intellectuals. That said, I think it's important to maintain a cheery disposition. This will hasten the restoration of Paradise. I've memorized this line from André Breton's magnificent homage to Antonin Artaud—"I salute Antonin Artaud for his passionate, heroic negation of everything that causes us to be dead while alive." Given the state of things, that's what we need to be doing, all the time—negating everything that causes us to be dead while alive.
INTERVIEWER
What about the stuff that just causes us to be dead?
LEYNER
Exactly. The Sugar Frosted Nutsack is the only book where I thoroughly integrate a personal crisis and an aesthetic crisis. On the one hand, there are the societal catastrophes I just mentioned, and, on the other, the stuff I've been undergoing in my own life. Just getting older, health things, losing people you love.
INTERVIEWER
My grandfather always told me, "Don't get old."
LEYNER
Because it ain't good. But then, superimposed and grafted onto that stuff is my enormous trepidation about what audience there might be for what I'm doing, what my relationship to that audience might be, and who I am as a writer.
A certain kind of writer will say, I needed to discover the narrative voice of this book before I could do anything. My problem was prior to that. I felt like I had to discover, invent, concoct, configure the writer.
INTERVIEWER
Your earlier books have a certain amount of swagger. If you tried to simulate it now, I don't think it would work in quite the same way.
LEYNER
My memory of writing those earlier books was not that they'd been effortless but that I could do no wrong. I had such a feel for the sort of line I was writing—whatever the sensibility was that was producing that language. It was very sensitive and impeccable. Or you can think it's a lot of dreck. But I had a feeling that I was producing an impeccable version of that dreck, whatever it was. And I didn't feel that way going into this book. It's not that I had "lost it," as an athlete would say.
INTERVIEWER
You're a different person.
LEYNER
I'm a different person. And it meant I had to jettison some things that once seemed fundamental to me. The whole stage-diving thing I used to do. I used to say to people, We're all in this together. I'm making books out of a consensual world. Whereas Nutsack comes from an isolated, alienated place. This is something I probably would have bristled at years ago, but I think it gives this book a kind of humanity that wasn't in anything else I'd written.
WAITER
How is everything, guys?
LEYNER
I think we're good.
INTERVIEWER
What about the influence of your family?
LEYNER
One of my grandmothers was a great book lover and an enormous admirer, in sort of a religious way, of writers. She also did a great impression from the movie Pride of the Marines. John Garfield is in it. This is one of those funny things that haunted me that's part of the store of haunting things I constantly reach for when I think I've nothing to type. There's a scene in the movie where the Marines are fighting the Japanese, and they're hunkered down in some jungle, and there's a woman's voice, I don't know if it was Tokyo Rose or an actual flesh-and-blood woman somewhere near them. She'd say, "Marines, tonight you die. Marines, tonight you die." My grandmother could do a great impersonation of that woman, and sometimes she'd be feeding me oatmeal in the morning or putting me to bed, and I'd say, Nanna, do the tonight-you-die thing, and she'd do it for me. I'd fall asleep to her beautiful little voice, "Marines, tonight you die." Oh thanks, Nanna. Then, I'd just fall off to sleep.
INTERVIEWER
That could be at the core of everything. Were there other family members who fired your imagination that way?
LEYNER
Each and every one. Both of my grandfathers were dandies. One of them had gone to law school but was a kind of entrepreneur. He was always very well dressed. Even when he was casual, he would wear a polo shirt with a very nice jacket and slacks, as you called nice pants. He had a cane he'd walk with sometimes. Like Bat Masterson, I thought. My other grandfather, for a lot of my childhood, had a men's clothing store in Jersey City. It was called Ricky's of Hollywood. Now, there's no Ricky in my family, and this was as far from Hollywood as you could possibly get. If you ask me to list my progenitors, Ricky's of Hollywood is more literarily progenerative than literature to me. The patently absurd fiction-making—and no one ever questioned it! Because it was axiomatically brilliant—that's a great name for a men's store in Jersey City, Ricky's of Hollywood.
INTERVIEWER
Did that come from a need for reinvention?
LEYNER
I think the need for reinvention was an ongoing, ubiquitous maneuver on the part of almost everyone in my family, because no man I knew was particularly interested in recapitulating the shtetl life or any version of that. They wanted to be successful American guys. That other grandfather, the lawyer, was a militant Anglophile. When I first started shaving, he was very curious about what blades I used. He said the only kind of blades I should use were Wilkinson. He was like that about everything. Shoes had to be a special sort of English shoes. And he would rolls his r's. This was the time when you could get on the phone and talk to an operator and ask for a certain exchange, which I think he just did to browbeat other people. He would get on and he would say, Madame, I'd like Henderson 3-3563. This is just some Estonian guy who basically lived in Jersey City all his life. There's no geographical justification for any of this Anglophile r rolling at all. So I loved it.
INTERVIEWER
Did your family have literary opinions?
LEYNER
My parents were aware of things like the Beats and writers like Burroughs and Henry Miller. I think my grandparents were proud that I had a column in the school paper and that I was writing poetry. I had a poem published in Rolling Stone when I was eighteen. It was a poem about Tina Turner.
INTERVIEWER
You published a poem about Tina Turner in Rolling Stone?
LEYNER
What I wrote would have been fairly inconsequential to my grandparents, but they were very proud of me. Still, they didn't think that writing was a particularly good life, and they turned out to be right. They were right. I never had any practical, vocational aspirations. They were only obsessional. I wanted to be a Beatle. I wanted to be a baseball player. That was really the main one. For many years, I'd come home from school and get my baseball glove and a tennis ball. At this point, we lived in West Orange, so we had a driveway, and the garage door was sectioned off into squares. Let's say there were nine squares. The middle square would be the strike zone. I would pitch until it was dark. I would eat dinner and then come out and do it more, always with this chatter in my head of the game, but it got more and more complicated. I would start pitching a game, and a story would emerge of whomever I was being.
I've always had a very fluid, multiple sense of who I am. It never felt like a clearly unitary person was in charge. It's not completely up for grabs. I have some control over it.
INTERVIEWER
And is there a particular sense of who you are that you require to write?
LEYNER
Feeling beleaguered and heretical and persecuted and embattled is where I'm comfortable starting.
INTERVIEWER
Your work certainly makes fun of some sacred cows, but it makes people uncomfortable also because it dismantles certain clichés concerning literature, how books should be approached, how we ought to talk about novels.
LEYNER
I'm really after keeping the reader in a heightened state of vigilance, like some kind of animal in a field who senses a hawk, where all the senses are really keyed, most hyperacute, because I think that's a condition that will make that reader most—I was going to say vulnerable, but again that's just my fascistic, aggressive personality—most wonderfully susceptible to what I'm going to do. That's what I want as a reader, or watching a movie or hearing music. Now, it seems to me the best way to do this is to ensure that the reader doesn't know quite what they're confronting.
INTERVIEWER
You mean, you don't want to write prose that's not full-on—
LEYNER
That's not full-on, full-on . . . I was going to use my name but that's horrible. Full-on Leyner. "Leyner stuff."
INTERVIEWER
You write a lot of Leyner stuff.
LEYNER
If you look over my work, over my lifetime, there's a lot of Leyner there. You know that movie where Keith Richards is making a Chuck Berry birthday concert, Hail! Hail! Rock 'n' Roll? There's actually this funny story that Bruce Springsteen tells. Springsteen's one of these guys, kind of like Jonathan Franzen, that normally you think wouldn't be that funny. Feel however you feel about that. But Springsteen tells this story about how Chuck Berry travels around and will just show up at a venue expecting that there'll be a backing band for him. He doesn't have one of his own. He just has his guitar, he goes to the place, he gets his check first—which he said was key—and so Chuck Berry arrives in College Park, Maryland, and Springsteen, who I guess was head honcho of the few guys who were the backup band, says to him, Chuck, man, what are we playing tonight? And Chuck says, Chuck Berry songs.
I just want to write Mark Leyner books, you know?
INTERVIEWER
Here's one. [Shows Leyner an old copy of My Cousin, My Gastroenterologist.] Nice author photo.
LEYNER
Look at that, before the ravages of modern life.
INTERVIEWER
You still look younger than your age. You're one of those people.
LEYNER
Yeah, but I'll just drop dead suddenly. And they're going to say, But he looked great!
INTERVIEWER
Great blurbs, too. There's a fantastic one from David Foster Wallace—"My Cousin, My Gastroenterologist will blow away your expectation of what late-model literature has to be. Unified by obsessions too eerie not to be real, this gorgeous rearrangement of our century's mental furniture is testimony to a new talent of Burroughs/Coover/Acker scale."
LEYNER
Oh, look! If you hadn't shown me that I wouldn't have remembered that he did that.
INTERVIEWER
Later, in "E Unibus Pluram," he wrote at length about My Cousin, My Gastroenterologist. He quoted you extensively and, it seemed, with grudging admiration, but emerged with the verdict that your work was "amazing" but "forgettable," calling the book "extremely witty, erudite, extremely high-quality prose television." I heard he apologized for what he wrote in the essay.
LEYNER
He apologized, but not for the essay. David wanted to have a kind of epistolary exchange about these issues, about the objections he had to what I was writing. And I didn't. I demurred. I said I would rather just do my work. This was an amicable conversation. I just told him that this—my writing—was the most precise and thorough way I could respond to him. And he sort of accepted that, I think. What he apologized for was calling me the Antichrist [laughs]. In the Times Magazine.
INTERVIEWER
But what about all the stuff he says in the essay?
LEYNER
Well, I don't know. He's not here to ask. When he apologized for the Antichrist thing, I said, Don't be silly. When the day comes that I mind being called the Antichrist, I'll pack it up.
INTERVIEWER
And yet you claim you're the best father in the world. I remember that someone once asked me, Do you think having kids will change your writing? And I said, Boy I hope so. Mostly because if it didn't then what kind of desensitized human am I?
WAITRESS
You guys need a dessert menu or anything?
LEYNER
No.
INTERVIEWER
I'm okay.
LEYNER
I would say it invariably makes you a more generous person when you have a child. Whom you love in a way that you've never experienced before. That changes you, or distills, magnifies whatever is dormant in you that's loving. To what degree that changes your work I don't know.
INTERVIEWER
I don't know, either. There was some kind of shift, from feeling only like a son to this other thing.
LEYNER
Yes, but I would say—not that you're asking such a dumbass, simplistic question—
INTERVIEWER
I didn't ask a question!
LEYNER
Listen, you haven't asked one single dumbass, simplistic question this entire lunch. I would say that getting older has probably been the more significant thing than having a kid. Having a kid in a way feels like what all the other kids are doing. Everybody's having kids. And you love this person more than you could have thought you could love anything. But you have loved things before, it's not a completely alien feeling. There are other things that happen to you as you get older that are stunning, that shake you up. All the rude, shuddering intimations of mortality. Seeing people get sick, dealing with certain kinds of illnesses or accidents, or just the tension of being a certain age and being wary about the results of tests, and your parents getting much older, and naturally losing friends to various things along the way. I think the impact of those things appears in The Sugar Frosted Nutsack. I think, for the first time in my books, a certain range of common human tribulations appears. In a very honest way, for the first time.
INTERVIEWER
I would agree with that.
LEYNER
Having a kid was a wonderful thing, and it does make you feel like an adult. I thought when I was younger that fucking would make me feel like an adult. And it did, to a degree. But not really. And having a child does. You've then done something, pretty much everything, that your parents have done. They don't have anything on you. That's what you think, but then they do. Which is getting older and facing death. I mean, I'm not a man of honor yet. I haven't faced my own death yet with that proximity. But those things begin to seep into your—not seep, really, just kind of rupture your life, and they do affect your work as an artist. How old are you?
INTERVIEWER
I'm forty-four.
LEYNER
So, what ... oh, I was going to ask you a question. What are you thinking?
INTERVIEWER
What am I thinking? I was waiting for your question.
LEYNER
We were like family for a minute there. It was like, I wonder what he's thinking.
INTERVIEWER
What's up with him?
LEYNER
I wonder what's up with this guy.
INTERVIEWER
I can't take it when he does this.
LEYNER
I was just talking.
INTERVIEWER
That's all he does, he just does that.
LEYNER
He just sits there, doing that. What does he expect me to do? And then he gets mad when I ask him, What's up with you?
INTERVIEWER
Being a father, did that affect your decision to write for Hollywood?
LEYNER
I was trying to make money. Whenever I went to Los Angeles, I'd feel like one of these guys who has to go work on one of those deep-sea things so he can send money back. I missed my family terribly. I still miss Gaby. She's eighteen now. And when she was a little girl I really didn't like being away. But when I'm gone I want her to have that feeling like John Gotti's daughter, who said, "My father is the last of the Mohicans." When John Gotti's daughter said that, I said, You know, Gabs—that's how I want you to feel about me. There's nothing like having a daughter, to love everything you do. The way I behave, the way I maneuver myself in the world, I think Gaby sees it as unique. And it is.
But this leads back into the question of why I haven't done things that would have been easier, like teaching, because it hasn't been easy for me with money. Writing the sort of work that I write, it's been hard to make a living.
INTERVIEWER
No, you can't expect to make a living that way.
LEYNER
I've been protected in a lot of ways by some kind of naïveté, but it's complicated.
INTERVIEWER
This goes back to the luftmensch/tough-guy divide.
LEYNER
The interview is over, and I feel as if we've just started. We should try some different ways of doing this. We can just go to a quiet place sometime. We can go out and drink drinks. Or whatever else you like to do. We can do that. You can give me different drugs.
INTERVIEWER
I have no hobbies, so . . .
LEYNER
Give me sodium pentothal.
INTERVIEWER
Tie you down.
LEYNER
Waterboard me. You know, you're funny. I read that recent story. Your shit is funny. Here, turn that off, I was going to say—
INTERVIEWER
I want to record your praise.
LEYNER
No, you— [Leyner reaches across table, turns off tape recorder.]
[There were plans for another in-person session, but certain events, including Hurricane Sandy, which hit Hoboken particularly hard, interrupted them. The interview was concluded by e-mail.]
INTERVIEWER
I take it the Mussolini idea is no longer a go. What happened?
LEYNER
First of all, I think I was really enamored of the whole breakfast thing, meeting Michael Pietsch for breakfast at a swanky, corporate place near Grand Central Station. It was so totally incongruous for me, because I really do live in my own little world and wander around my house like some Indian sadhu in a wifebeater and plaid sweat pants, so a breakfast meeting, a "power meeting" near Grand Central Station to decide the "subject matter" of one of my books, just seemed so wonderful, so ludicrously uncharacteristic of how I actually go about things, that I was entranced by the whole process for a little while. And Michael's a dear friend and there was some genuine validity to the idea. And I did, for quite a while, wallow in all sorts of Fascist material and make notes, which I added to the mass of notes that I'm always accumulating, which becomes this great festering heap, like some vast garbage dump on the outskirts of Lagos. Anyway, I've always been fascinated by this image of standing on a balcony, gesticulating, and spellbinding a crowd in the piazza below. I've really coveted this image of myself since I was a little boy. It's an abiding fantasy of mine. So I started out being manically enthusiastic about the book and e-mailing people about it and talking it up at bars, et cetera. Then, as is invariable, I started to sour on it with equal fervor. It began to feel too facile, like a sort of one-note épater le bourgeois. And it would involve a considerable political contortion on my part because my animating political impulse is a pure, murderous, Jacobin hatred of aristocrats. I really think that the apogee of political rhetoric was Robespierre and Saint-Just. The Mussolini book was simply too constraining, it made me feel claustrophobic, it was insufficiently carnivalesque. And my shit has to be sufficiently carnivalesque. I needed that balcony to somehow detach itself from the building and rise over the piazza and then zoom off to parts unknown. I had a sense of the kinetics of a new book. I wanted something that would hurtle the reader forward or barrage the reader with such a torrent of language that there'd be the sensation of hurtling forward, even though the reader is, of course, perfectly sedentary. If you're a real artist (and not just some sycophantic careerist), your writing should be at all times a phenomenology of reading. Writing is, literally, brain surgery. It helps me a lot to think of my readers as shaved, intubated, and catheterized. Anyway, writing a new book involves a whole series of difficult decisions for me. Who's writing it, first of all? I have to invent the writer of the book anew each time. Not the narrator. The writer. This machine needs to be engineered, something that, with all its alien hydraulics and algorithms, can think itself into existence. It needs to mangle me like a piece of farm machinery. It eats me alive. I'm a lump in the snake. I love doing this more than anything in the world, but it's a sort of ghastly war waged against myself. This is how it's done: I bring myself to a pitch of crisis and hysteria, then perfect clarity and resolve about how to proceed, which is accompanied by the most exquisite euphoria and grandiosity, and which is then almost immediately followed by total abject disillusionment and self-loathing. And then it's on to the next sentence! So the ideal book is an index of this whole tumultuous illness, this whole garish nightmare of being digested by a machine and then excreted on the side of the highway. So, I abandoned the Mussolini idea and renounced it at bars, et cetera, and then one Sunday morning I had an epiphany (actually an epiphany which was long in gestation) and I decided to write Gone with the Mind. Gone with the Mind is my autobiography in the form of a first-person-shooter game—well, a sort of hybrid of a first-person-shooter game, racing game, and flight simulation. Because the reader-player is hurtling back through my life as he simultaneously hurtles forward in his, he's buffeted by temporal trajectories coming from every possible direction. It reminds me a bit of that climactic scene in Throne of Blood where Toshiro Mifune is impaled by a shitstorm of arrows, except that in Gone with the Mind, you're traversed by vectors of time.
The true identity of a book remains incognito to me for a long, long while. So who knows what this will eventually be? Perhaps it will go backward, begining at that breakfast meeting with Pietsch and culminate in utero. You'll have to blast your way back into my mother's womb. Perhaps along the way an incarnation of Mussolini will appear after all. I guarantee that the book (the game) will be mined with leaking implants and secret cysts that confer power. And I think I understand the meaning of the title at least. It means that, borne aloft on my mind, I've "left the building." "Gone fishing." That I'm "out of here." And it may turn out to mean that by the inversion of a single letter—simply by turning one letter upside-down!—a 1939 historical epic starring Clark Gable and Vivien Leigh can be transformed into the story of a little demagogue on a flying balcony.
INTERVIEWER
Last question. At lunch you talked about music with an "immersive, unmodulated intensity" that inspired you as a writer. What music were you referring to?
LEYNER
Off the top of my head: the Rolling Stones' version of "Around and Around" from 12 x 5, Led Zeppelin's "Black Dog," that amazing Junior Walker song "Shotgun." I'll always remember a particular night in Waltham, Massachusetts, in this little house I lived in with my girlfriend and a couple of other people during my senior year in college, pretty high on weed, so enthralled the first time I seriously heard Thelonious Monk, and then again the first time I saw a video of him playing—the way he hit the keys, the attitude of his body, that whole arcane, sorcerer's dance. Or we could even be talking about a moment when I was just driving around some mall parking lot and Lou Christie's "Lightnin' Strikes" came on the radio. "Lightnin' Strikes" is a terrific example, actually, because it's insanely modulated!
Really, in a certain crucial sense, I was undiscerning. I was always more interested in the impact of the total sound as opposed to particular instruments or melody or vocals or solos. And pretty much indifferent to something like virtuosity. I was inspired by music that was about the impact of its gestalt, as they say. As I got older, I started deliberately seeking out music that had that quality for me—Fletcher Henderson, Charles Ives, Moroccan music like the Master Musicians of Jajouka. I took out albums from the library—composers like Karlheinz Stockhausen, La Monte Young, Cecil Taylor. And of course, I was very enthusiastic about punk—the Sex Pistols, the Voidoids, Mars, DNA, all the New York noise and no-wave stuff, and people like John Cale and Glenn Branca. I've always been a huge My Bloody Valentine fan, a huge Sonic Youth fan. And I definitely still have a strong predilection for this whole immersive, total-impact thing. I love hip-hop for the same reason—the amalgamated sound of it, the sum torque of that sound. I'm really keen on Sunn O))) and the Japanese band Boris, and all the original Norwegian black metal, like Burzum and Darkthrone and Mayhem. I love this doom-metal band from Florida called Dark Castle. I've been into Indian classical music lately and Pakistani Sufi music—Abida Parveen, Saieen Zahoor.
Here's something funny, though. Last night, I was listening to the Beatles song "You Can't Do That" and it brought tears to my eyes. I mean, big fat tears rolling down my cheeks. Because I have (and have always had) this helpless, completely homoerotic affinity for the voices of John and Paul. Maybe it's not such a tangent from what I've been talking about. It's the unified quality of that sound that gets to me. Their voices evoke for me this ever-receding paradise, the impossibility of holding on to things you love most, the evanescence of everything, all that—and it's just heartbreakingly beautiful. I remember how people used to bitch about those crazy tapes of the Beatles at Shea Stadium, about how you couldn't hear the music, that all you could hear was the screaming, the screaming of all those thousands of girls. But I've always loved that din especially—that vast, unrelenting din of screaming girls that almost completely overwhelms the sad, beautiful voices of John and Paul. That's great. That whole thing for me is the real music.