Interviewed by Catherine Steindler
Issue 204, Spring 2013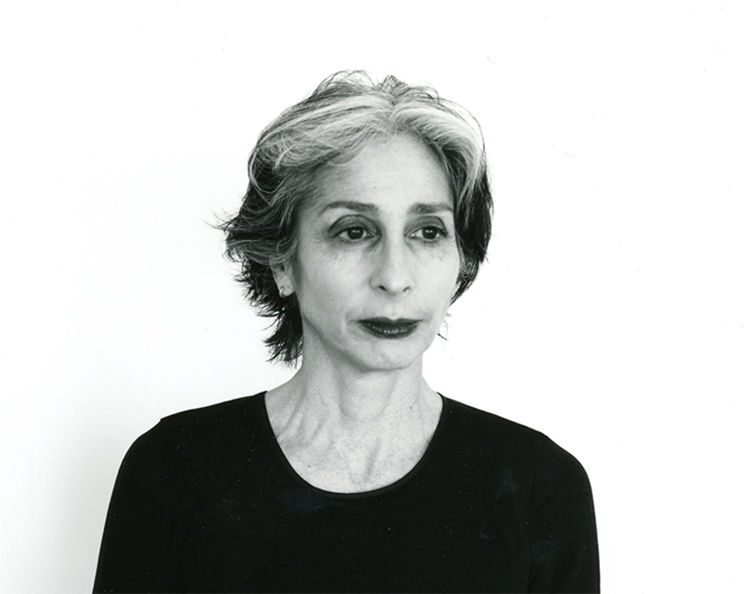 Deborah Eisenberg, ca. 2009. Photograph courtesy of the John D. and Catherine T. MacArthur Foundation
Over the past three decades, Deborah Eisenberg has produced four short-story collections: Transactions in a Foreign Currency (1986), Under the 82nd Airborne (1992), All Around Atlantis (1997), and Twilight of the Superheroes (2006). She has also written a play, Pastorale(1982), a monograph on the artist Jennifer Bartlett (1994), and criticism, much of it for The New York Review of Books. Her preeminence as a short-story writer has been recognized by countless critics and a host of awards, including a DAAD residency, the American Academy of Arts and Letters Award for Literature, many O. Henry prizes, the pen/Faulkner Award for Fiction, a Lannan Literary Fellowship, and a MacArthur "genius grant."
The adult narrator of Eisenberg's story "All Around Atlantis" recalls, "Yes, I had nightmares—children do. After all, it takes some time to get used to being alive. And how else, except in the clarity of dreams, are you supposed to see the world all around you that's hidden by the light of day?" Learning how to live is difficult work for Eisenberg's characters. Her first three collections are largely populated by people whose efforts to piece together what things mean are hobbled; they are youths, travelers, immigrants, and people recovering from trauma—abuse, war, the death of a beloved. In her more recent stories, she also writes about outwardly settled people who, although they may live with spouses and own good china, lead provisional existences laden with perplexity. What mystifies her older characters is not so much how life works but that it is passing.
Our interview took place over three fiercely hot summer days, in the Chelsea apartment that Eisenberg shares with her partner, the writer and actor Wallace Shawn. She works in a small, light-swept garret, flanked by gorgeously planted terraces. On her writing table, next to her laptop, she keeps a little painting of a brick wall to remind her of the air-shaft view from a previous apartment.
Eisenberg speaks slowly, pausing often to find exactly the right words, and makes no effort to conceal her strong emotional responses, whether she is moved to laughter or tears. She is physically slight, but, dressed all in black, perched on a faded divan, and set off by the high, white walls of her living room, she has the arresting elegance of an eighteenth-century silhouette portrait.
—Catherine Steindler
INTERVIEWER
Am I right that your first story was published when you were almost forty?
DEBORAH EISENBERG
That would be about right. A story called "Flotsam" was the first to be published, though it was not the first to be written. The first story I wrote was called "Days," and I have very little affection for it.
INTERVIEWER
Why?
EISENBERG
I find it ingratiating. That's something one has to watch with first-person narrative, that special pleading for an "I" who is automatically in the right, or is even automatically lovable—whom the reader can snuggle up with and whose plight the reader can sniffle over. Because snuggling and sniffling can derail a more complex relationship between the reader and the material.
"Days" is also by far the most autobiographical piece of fiction I've ever written. I avoid using real people, including myself, in my fiction, but that piece started out as nonfiction—an account of going to the local YMCA and trying to run around the little track there as a way to endure the horrible ordeal of stopping smoking.
I had had no idea how deep the addiction went—it had essentially replaced me. I was a human being who had structured herself around the narcotic and the prop, who had melded with the narcotic and the prop. Once the narcotic and prop were no longer available, the human being simply died. I was left in a kind of mourning. I was grief stricken. I had murdered someone, and it was me. But as it turned out, that was the only way to allow a less restricted human being to take shape and live.
INTERVIEWER
In what way was your smoking self different?
EISENBERG
As a smoker, I was very brittle, very inelastic, rather reckless but not in any way adventurous. I could only sort of topple into one situation or another. I couldn't breathe, I couldn't move, I couldn't change, but I was safe—in the sense of being preserved. It was like being embalmed, like being smoked, I suppose.
When I decided to stop smoking, I didn't realize I would be dissolving the glue that held me together. But by the time you think you need to make a decision, that decision has already been made. The person I was leaving behind to die on the road was already half dead. Still, there wasn't anybody ready to take the place of that dying person for quite some time.
INTERVIEWER
Did writing start to take the place of that dying person?
EISENBERG
I'm not sure writing started to take that place, but I wouldn't have been able to write if I'd been smoking. I don't think of writing as therapeutic, but I don't know how I could have managed the despair if I hadn't started to write then.
INTERVIEWER
Of course art-making isn't therapy, but I often think artists don't need to be quite so loath to admit some relationship between art-making and therapy.
EISENBERG
Well, I understand that reluctance. If you think you're going to be late for a movie and you walk briskly to the theater, it might be good for you, but that's not why you're walking briskly. Writing does change you, and of course it feels good to do things, so you could say writing is de facto therapeutic. But really, one writes to write.
Of course, there are ancillary advantages to writing fiction. You get to leave your body, for instance, so you can have experiences that a person with your physical characteristics couldn't actually have.
I find it endlessly interesting, endlessly funny, the fact that we're rather arbitrarily divided up into these discrete humans and that your physical self, your physical attributes, your moment of history and the place where you were born determine who you are as much as all that indefinable stuff that's inside of you. It seems so ridiculous. Why can't I just buckle on my sword and leap on my horse and go charging through the forests?
But the real fun of writing, for me at least, is the experience of making a set of givens yield. There's an incredibly inflexible set of instruments—our vocabulary, our grammar, the abstract symbols on paper, the limitations of your own powers of expression. You write something down and it's awkward, trivial, artificial, approximate. But with effort you can get it to become a little flexible, a little transparent. You can get it to open up, and expose something lurking there beyond the clumsy thing you first put down. When you add a comma or add or subtract a word, and the thing reacts and changes, it's so exciting that you forget how absolutely terrible writing feels a lot of the time.
INTERVIEWER
In "Days," the narrator, as she withdraws from her addiction, discovers agency and causality. The experience of knowing what she wants and then doing something to make it happen is revelatory for her. It sounds like agency and causality are a part of the pleasure of writing for you.
EISENBERG
Until I stopped smoking, I was committed to inaction. So, yes, the pleasures of making something were new and intense for me when I started writing, and they remain intense.
INTERVIEWER
Many of your female characters are committed to passivity, attached to powerlessness. There's even the little five-year-old in "Mermaids" who comforts herself by imagining her five-year-old male friend tying her up. What do you make of this phenomenon?
EISENBERG
Are women attached to powerlessness, either in reality or in my stories? I don't know. But I do know that women haven't chosen powerlessness for themselves. Powerlessness has been thrust upon them, by other people. In any case, passivity can be very powerful. It's an efficient way of shifting responsibility—and blame—onto other people. And instead of having to do anything, you get to be angry all the time.
Want to keep reading?
Subscribe and save nearly 40%.
Subscribe Now
Already a subscriber? Sign in below.