Interviewed by Kelly Zinkowski
Issue 156, Fall 2000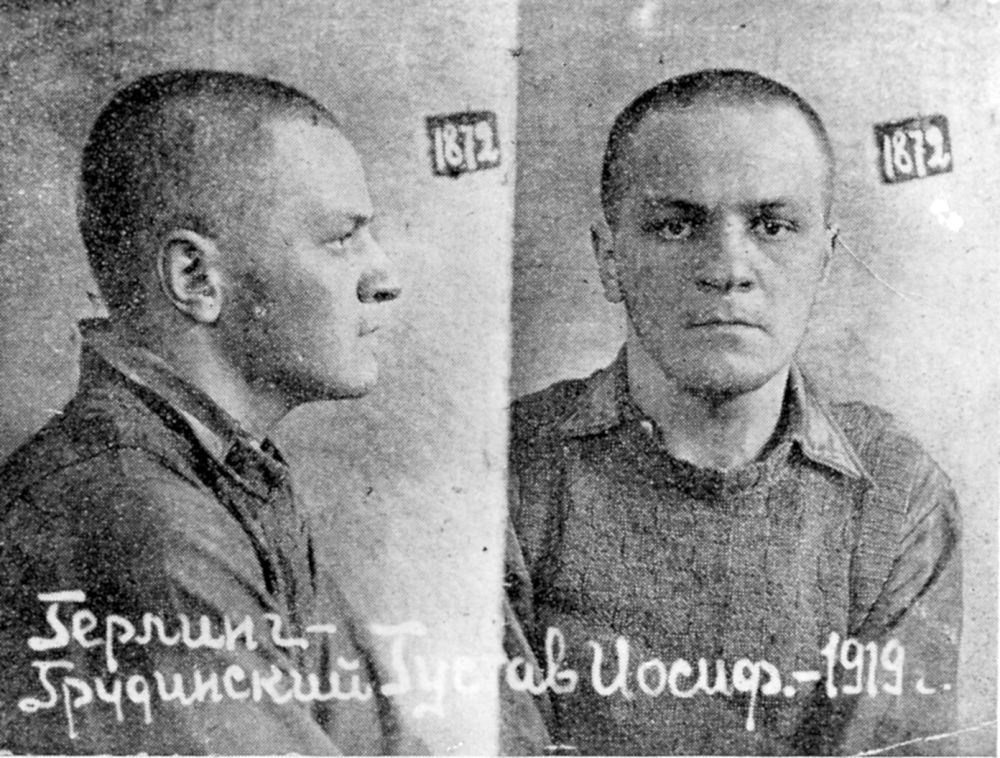 Gustaw Herling, ca. 1940. Mugshot from Hrodna's Jail
Most mornings for the better part of the last fifty years, until his death in July at the age of eighty-one, Gustaw Herling rose in the shadow of Vesuvius and went to his desk to continue what had long since become one of the great ongoing journeys in contemporary literature. A hero in his native Poland and a well-known if occasionally controversial figure in his adoptive Italy, Herling was for decades the object of quiet but intense admiration among readers and writers throughout Europe. Although a perennial candidate for the Nobel Prize, it wasn't until the recent and widely acclaimed republication of several of his books in the U.S. that he was brought to the attention of a broader American readership.
Herling was born in Kielce, in eastern Poland, in 1919. The son of a miller, he went on to attend the University of Warsaw, where he was an active figure in the extraordinary Polish literary renaissance that flourished between the wars. His precocious career as a literary scholar, marked by pioneering assessments of Witold Gombrowicz and Czeslaw Milosz, was interrupted by the Nazi invasion of Poland in 1939. After helping to establish his country's first anti-Nazi resistance cell, Herling fled east to join the Free Polish Army, but was arrested by the NKVD (People's Commissariat of Internal Affairs) crossing into Soviet-occupied Poland, and imprisoned in a labor camp on the shores of the White Sea. His experiences there were recalled in his classic memoir A World Apart: The Journal of a Gulag Survivor, published in 1951. Praised by Albert Camus and Bertrand Russell, and distinguished no less for its artistry than for its unflinching depiction of Stalin's camps, it was one of the first Gulag memoirs to appear in the West, and has since attained the status of a masterpiece.
Herling was released from the labor camp in 1942. Soon after, he made contact with the Free Polish Army assembling behind Soviet lines and set out with them on an epic anabasis overland to the Middle East. Eventually joining Allied forces, they took part in the Battle of Monte Cassino, where Herling was wounded and for which he was subsequently awarded the Virtuti Militari, the highest Polish military honor.
Herling never returned to live in Poland, seeing no future for himself in a Soviet-dominated country; and his books remained strictly banned there until the fall of Communism. After the war, together with Jerzy Giedroyc, Herling co-founded the influential journal Kultura, the flagship of the Polish intelligentsia in exile. In its pages he began to publish his celebrated "Journal Written at Night." Written over the course of thirty-odd years, it is a vast and elegantly written contemplation of the human condition, encompassing an astonishing range of cultural, political and historical reflection. Volcano and Miracle: A Selection from the Journal Written at Night was published in 1996.
Following a period of wandering in Europe that included extended stays in Britain and Germany, where he worked for the Voice of America, Herling returned to Italy. He married Lidia Croce, a Mallarmé scholar and daughter of the philosopher Benedetto Croce, and they settled in Naples, in the historic Villa Ruffo, once said by a covetous James Fenimore Cooper to command the finest views of the Bay of Naples. There he began to write the darkly imaginative stories and novellas upon which his reputation rests. A collection of three tales, The Island, appeared in English in 1967.
The interview was conducted on two sweltering August afternoons in 1999, in a sprawling study overflowing with books in Polish, Russian, Italian, German, Spanish, French, and English. Despite the gravity of his experience and the seriousness of his concerns, Herling was a man of robust good humor whose conversation was frequently punctuated by bursts of explosive laughter. He concluded the interview with a display of the manual typewriter on which he wrote his life's work. "I bought this in Rome, after the war, when I became a writer," he said. "And I intend to be buried with it."
INTERVIEWER
You came of age in a particularly vibrant period in Poland. Could you describe it?
GUSTAW HERLING
1938. My ambition was to study Polish literature and become a professor at the University of Warsaw. I didn't have any aspirations as a writer. My interest was in Polish literature, and foreign literature, of course; I was very interested in literary criticism. I belonged to a group of Polish students gathered around Ludwig Fryde, an excellent literary critic. I considered him my teacher. Even as a young man I had begun to do literary criticism and to publish. Very immature things, but still interesting enough to be published. I am very proud that among the first articles I published were reviews of two Polish writers, now very well-known and famous, but not so very well-known and famous then—Witold Gombrowicz and Czeslaw Milosz. I wrote a long essay on Milosz, and one of the very first essays on Gombrowicz. I knew Gombrowicz personally, as a student. He used to frequent the Café Zodiac in Warsaw. A lot of people used to come there to listen to him; he was a kind of mentor for younger writers. He was a teacher by temperament, interrogating, lecturing us, and so forth. This characteristic remained with him when he went into exile in Argentina. He had a lot of money problems, so he started a kind of philosophical school. Whoever wanted to could come and listen to him, but they had to pay, just a little, but they had to pay. It became in a way his profession, the origins of which you might say were in those long sessions at the café.
INTERVIEWER
And Milosz?
HERLING
I knew instantly that he was going to be a great poet. I liked his first volume very much—Three Winters. I remember we had a student debate in which each of us chose and defended a particular young contemporary Polish poet, and I chose Milosz. I gave a speech arguing his merits, which he heard and seemed to like very much. It was before the war; after the war we met in Paris, in the offices of Kultura, after he decided to remain abroad.
INTERVIEWER
Since your criticisms of Milosz's The Captive Mind condense a great many of your concerns about his work, perhaps you'd care to elaborate on them.
HERLING
I was and I am very critical of The Captive Mind. It is the one thing on which we truly differ, and I don't hide it. It is an excellently written book, but it is not true, as I said then and still insist. The substance of my criticism is that he makes what happened in Poland too simplistic—the intellectuals chose Ketman, the New Faith, and so forth.
INTERVIEWER
The New Faith being communism, seen as a response to Western spiritual and cultural bankruptcy, and Ketman being the heuristic method cultivated in medieval Persia for concealing one's true thoughts in the face of an oppressive system, which he got from Gobineau, of all people.
HERLING
Yes. But in Poland's case it wasn't true; it was a false analogy. The regime was very brutal. Those who wanted to live, to make money, to gain a post, had to subordinate themselves. Two things motivated writers to collaborate with the Communist regime—money and careerism. The writer who was . . . accommodating, let us say, was looked out for by the regime. This is my opinion.
Milosz disliked my remarks very much when I wrote about his book, but when he won the Nobel Prize he gave a long interview to a Polish journalist, which has been published as a book, and a very interesting one. What is funny is that, at a certain point the interviewer asks, What about Herling's criticisms? And Milosz responds, Maybe he's right. This is the most he's ever conceded, that maybe he overrated this business of Ketman and the New Faith and so on. He then tells of a visitor from Poland, a schoolteacher who said, Mr. Milosz, how could you write such nonsense, you're such an intelligent man. And Milosz again conceded the possibility that he had been wrong, that he had exaggerated things. In any case, that is the problem between us.
INTERVIEWER
What was so captivating about The Captive Mind, apart from it being so beautifully written?
HERLING
Intellectuals, particularly foreign intellectuals, were happy finally to have a book that explained things, and explained them in such a way that didn't criticize or indict or offend writers and intellectuals, people of their own milieu.
INTERVIEWER
Strange that people whose business it is to think should be so eager to have someone else think for them.
HERLING
The behavior of the intellectuals before the war, during the war and after the war with respect to fascism, communism, and other forms of totalitarianism of various descriptions was not very respectable. So they were happy to have Milosz's book, to have their behavior absolved, if not validated. Because to have something like Ketman or the New Faith is certainly preferable to listening to me telling them that they had betrayed themselves for career and family. Not that the Poles were alone in this. The behavior of writers and intellectuals in Italy during the Fascist reign was the same thing. They should be ashamed of what they wrote, especially because they weren't writing out of any genuine conviction of fascism's merits. They were merely trying to advance their respective careers. To some extent it was the same with German writers under the Nazis. Thomas Mann wasn't sure about what choice to make.
INTERVIEWER
Unlike Robert Musil, who in his exile liked to say that he was merely following his readers.
HERLING
Yes. Mann was in a way negotiating with the Nazis. He wanted to know if the Nazis would publish his books, if they would guarantee the safety of his great library in Munich, and so on. We have to be extremely conscious of this problem. I remember the great Italian writer, my friend Ignazio Silone; his intransigence against Italian Fascism was very badly looked upon by his colleagues. They called him a fanatic, which is a terrible word—
INTERVIEWER
Implying that he'd lost his reason.
HERLING
And so on. I don't mean to reopen this discussion with Milosz. He's a great writer. I recognize his greatness, in his poetry especially, his beautiful novel The Issa Valley, and in other things. I was very pleased by, and contributed to his getting—because they're not so easy to get!—the Nobel Prize. But I remain adamant where our dispute is concerned.
[Milosz, when asked to respond to Herling's criticism, sent the following comment.]
Gustaw Herling was one of the most important witnesses of the twentieth century, a heroic man and truly worthy writer. Our friendly relations were not affected by his negative opinion of my book, The Captive Mind, though I was never able to grasp his argument. He seemed to reproach me for ascribing ideological motives to intellectuals who had collaborated with communism. According to him they acted mostly out of fear or a desire for a career.
My book deals with an intellectual milieu and concentrates, for the purpose of analysis, upon certain lines of reasoning. I do not exclude fear and sheer opportunism as motives for siding with totalitarian systems. He just wanted to ascribe to those motives more importance.
Herling had valid reasons to judge severely the intellectuals of the twentieth century. Those in the West closed their ears to his report on Soviet Gulags. In Italy, where he lived for many years, the intellectual establishment, which was controlled by Communists, changed him into a nonperson only to discover him suddenly after the fall of the Soviet empire. My Captive Mind had hardly fared better with leftist readers than his World Apart.
—Czeslaw Milosz
INTERVIEWER
Could you talk a bit more about your position vis-à-vis those who compromised, either with communism or fascism?
HERLING
Let us divide these intellectuals, as far as Poland is concerned, into two categories, the first being single-minded Communist careerists who didn't want to allow any anti-Communist voices. I remember a very well-known writer who visited me during the time of Poland's Communist regime. I told him, You're writing trash, absolute trash. He reached into his jacket pocket, took out a photograph of his wife and family and said, This is my answer. So just stop with all your anti-Communist moralizing.
INTERVIEWER
A difficult point to argue, under the circumstances.
HERLING
But we are marked by what we do. This is the first category. The second category is much more dignified, that of writers and intellectuals in totalitarian regimes, like fascism or Nazism, good writers with Nazi sympathies . . . If you could interrogate Heidegger, for example, you would get all of his explanations for why he did what he did, why he accepted the position of university rector, why he wrote all that trash. There was always a reason—he wasn't stupid. So the second category is this: those who tried to invent good and intelligent reasons. When Milosz says they are using the technique of Ketman—claiming to believe everything they were supposed to believe, just to live, to work—it was a kind of lie.
INTERVIEWER
Albeit a historically sanctioned lie—a flamboyantly erudite example of Emerson's maxim that once a particular point of view is taken, all of history can be made to prove it.
HERLING
Yes.
INTERVIEWER
In A World Apart, you wrote very eloquently, not to say harshly, against any form of compromise with or capitulation to a corrupted system of power relations—a political and moral stance maintained in both your life and work that seems to stem not just from an ethical position but from a metaphysical view of things in which evil plays a very real and important role.
HERLING
I was absolutely convinced, and remain convinced to the present day, that when my country, Poland, had been conquered by the Germans and the Soviets, my duty as an intellectual—and not only as an intellectual—was to fight this slavery, this evil. I and my friends, two months after the Nazi victory in Poland, founded the first Polish underground resistance movement. We printed anti-Nazi leaflets and pasted bulletins and posters on the walls. We were the first. After that was the birth of Armia Krajowa, the Polish Army.
I don't want to flatter myself, but I spent two years in the Soviet labor camp, and then, after I was released, I joined the Free Polish Army; I fought the Nazis and I was decorated with the highest Polish military decoration at Monte Cassino. I did my duty and I am very proud of it, which is why I refuse to be silenced on the matters we've been discussing. I prefer, like Silone and others, being called a fanatic to collaborating in any way with this or any other regime. My answer is this: ten years ago, Communism was defeated in Poland. Before then my books were prohibited and it was forbidden to mention my name in the press. Now my complete works are available there, in ten volumes, and A World Apart is a best-selling book in Poland, with over four hundred thousand copies sold. That is my reply.
INTERVIEWER
When did you decide to write about your experiences in the camps?
HERLING
As I mentioned at the start, my early ambition was to be a professor and a literary critic. I was born as a writer in the concentration camp. What does this mean? It means that when I was observing what was happening with people in the camp, I decided that it was my duty to write about it. Not only to tell the West—that wasn't my idea—but also because I saw some human situations that I felt absolutely had to be described. My book is not a report to the West about how the Soviet camps functioned. My book is an absolutely independent book, like Dostoyevsky's House of the Dead, in which he attempted to describe the human situation under the Czarist regime.
INTERVIEWER
Do you remember the moment you were seized by this, shall we say, revelation of your destiny?
HERLING
Yes, I remember. I had begun to observe people, my mates, people of all nationalities, much more intently, knowing that I would write a book about them. When I was freed in 1942, after the Polish-Soviet pact, my friends saw me off at the gate and told me, You must tell our story. I said I would and, much as Primo Levi felt compelled to describe his experiences in Auschwitz, I had to write the book.
INTERVIEWER
That's an enormous burden of trust to have placed in you, and suggests a powerful recognition on their part of who you were and what you were capable of.
HERLING
Yes, that's quite true.
INTERVIEWER
A World Apart was among the earliest of Gulag memoirs, predating even Solzhenitsyn; were there any literary precedents, apart from Dostoyevsky, or stylistic models you had in mind?
HERLING
I wrote the book, with some financial help from my friends, in London after the war, where I lived from 1947 to 1952 with my first wife. Two books were on my worktable—House of the Dead in Russian and Defoe's Journal of the Plague Year.
INTERVIEWER
What did you find in Defoe that was useful?
HERLING
Something extremely important. Having been only four or five at the time, he necessarily had a very limited experience of the London plague. But by researching the documentary evidence relating to the epidemic, he managed the extraordinary feat of being able to write an absolutely vivid and objective report without having really lived through the events he described. He only read about them in the London registers, and so on. His story is extremely clear and honest; every phrase is a kind of statement. He was, in this last respect, my model.
INTERVIEWER
How was A World Apart received?
HERLING
It was very well-received in England, where it was first published. In France, however, things were rather different. In 1952 the French house Plon contracted for the first French edition, arranged for the publication of two chapters in Le Figaro Littéraire and then everything stopped. They pleaded new editorial priorities. I tried to find another publisher, without success. It was quite clear that the unflattering portrait of Communism presented in the book—so offensive to the amour propre of the intelligentsia—was responsible for this. As Sartre put it, maybe it's true, but we mustn't discourage the workers of Billancourt. Finally, I gave it to Gallimard, knowing that Albert Camus was a reader there. He liked the book very much, and did everything he could to publish it, again without success. Some months later I got a witty letter from him saying how much he loved the book and that it should be published worldwide, etcetera. But, unfortunately, Pour raisons financières, je crois . . . the chief of Gallimard declined to publish it. Thirty years went by until my friend Jorge Semprun, a fine writer who was to become a minister in the Spanish government, prevailed upon his publisher, Denoel, to bring it out. Times had changed, so much so that I was invited to appear on Apostrophes. Bernard Pivot, the host, kept repeating, It's a shame for France, a shame that it took thirty years for this book to be published here. I couldn't help but agree!
INTERVIEWER
One of the most satisfying responses must have been that of Bertrand Russell.
HERLING
Yes. Very interesting and sympathetic. I didn't know him at the time, but we had a mutual friend, a Russian woman, a mistress of Russell's, I'm sure—you know of his appetites. Anyway, she read the book in manuscript and said, I'd like to give it to Bertrand, to "Bertie," rather. Three or four days later I got the manuscript back from "Bertie," with a letter and an unsolicited preface. I was so impressed by the book, he wrote, that I decided to write a preface. A very nice gesture. After the book was published I decided to pay him a visit in London to thank him. It was an extremely pleasant visit, for one because he was in love—really in love—with Conrad, and talked at length about their friendship, which delighted me. He was very nice and extremely witty, full of erotic stories and dirty jokes—he liked this sort of thing very much. He had devised an intelligence test, which he administered to me. He said, I'm going to test your intelligence. There is a colony of nudists outside London. A man arrives, nude. His friends point out a beautiful girl and tell him that she likes to do it, but for money. Not much, though, just sixpence. So the man goes to her to agree on terms. But she spoke in a way he couldn't understand, as if she had a speech defect. Question: Why does she have this speech defect?
INTERVIEWER
Beats me.
HERLING
I thought about it for about ten minutes and finally said, I'm terribly sorry, but I don't know. Russell said, So this is your intelligence . . . Her mouth was full of sixpence! He was an extremely nice man and, needless to say, extremely intelligent.
INTERVIEWER
What are your feelings about Conrad?
HERLING
From the beginning I loved him very much. The only book I don't like is Under Western Eyes. He was terribly anti-Russian, as Poles so often are. The book was very hard, almost inhuman. But I admire him as a novelist and understand his sense of the world we're living in. Russell wrote about Conrad's sense of the world being a perilously thin sheet of ice upon which we tread in constant danger of falling through, and the only way we can survive is by being brave and truthful to our ideals. He was a man of rock.
INTERVIEWER
But he doesn't appear to have had any discernible influence on your style.
HERLING
None at all.
INTERVIEWER
A World Apart asserts itself as literature from the very first page and is a remarkable book in any terms—all the more so given your relative youth when you wrote it. What had you written before, apart from the literary essays you mentioned earlier?
HERLING
Only some essays, and a little book in Rome in 1944 and 1945 called The Living and the Dead—a small volume describing friends who had been killed, friends who were living—a personal volume. My first real book was A World Apart, which I began in English before switching over to Polish.
INTERVIEWER
Were you ever tempted to cast it as a work of fiction?
HERLING
No. As a work of art, perhaps, but not as a work of fiction. I used certain literary techniques to shape the material. It is not a simple report. Each chapter is a story; a true story, but composed.
INTERVIEWER
Which has caused some confusion.
HERLING
As will happen. I'll give you a good example. Take the three volumes of Solzhenitsyn's The Gulag Archipelago. Although it goes under his name, he is not the only one who wrote it. It was compiled from the memoirs of some two hundred Gulag veterans to whom he had written and asked to recount their experiences. So it's not really his book; it's a kind of encyclopedia of the camps. It is true, it is good, it is interesting, it made a profound impression in the West. In my opinion it utterly transformed the position of the French intelligentsia vis-à-vis the Soviet Union; it eradicated communism as a viable position among the intellectual classes there. But it is not Solzhenitsyn's book in the same way that One Day in the Life of Ivan Denisovich is. I didn't plan to write the story of my two years in Kargopol near the White Sea. But, as I've said, it was there that I was awakened as a writer, so I approached my subject as a writer, not as a rapporteur. In some respects it is a book of fiction, but not as conventionally understood.
INTERVIEWER
It is a kind of transfiguration of real people, places, and events into a story by virtue of artistic intent.
HERLING
I'll tell you a story. After the book was published in Russia—something I'd wanted very much to happen—I received a letter from a woman in Moscow that said, My mother was in the camp you describe. I read the chapter about the beautiful woman who was in love with the camp doctor. The woman's name is that of my mother. When my mother came back from the camp she refused to speak of her experiences. You are the first person to describe where my mother was held. Since you referred to this woman by my mother's name, I ask you to tell me more about her, because she is dead and I have no one else to ask.
INTERVIEWER
But of course you had changed everyone's name.
HERLING
And that is precisely what I couldn't tell her. So I wrote her a letter that amounted to a kind of lie.
INTERVIEWER
You wrote another story for her.
HERLING
Yes. I didn't tell her that I changed everyone's name, with the exception of the Armenian who betrayed me. It was impossible for me to tell her this. So I pleaded time and memory: It's been so many years, maybe I met her, but I can't remember any details, all I can tell you is what is in the book. It wasn't true, but I could see no alternative.
INTERVIEWER
How have your experiences in the camps shaped your notions of art and literature? Leaving aside that you might not have become a writer but for the camps, did it change your notions of what art should be?
HERLING
Only insofar as it confirmed in me the opinion that literature has to be very close to so-called reality. There are many ways it can do this, but that is what must be done. I don't believe in, say, the roman nouveau because after some years it ceases to exist, it is impossible for it to last. The novel or a book of prose must mirror reality.
INTERVIEWER
Stendhal's "mirror walking down the road."
HERLING
Yes. Even in my stories, in which the point of departure is often an obscure archival reference, or something overheard, or something invented, the kernel of the story is true. My elaboration of the story always conforms to the reality at its source. It is always close to the world, the life, the reality it describes. No matter where I go, I'm still holding up a mirror.
INTERVIEWER
That's interesting in light of what you pointed out earlier about Defoe's Journal of the Plague Year, which was the result of an imaginative engagement with an experience of a place and time that he had inhabited but not, because a child, apprehended. Might not the insistence on the mimetic function of fiction limit the possibility of a more imaginative engagement with the world?
HERLING
He was simply a great writer. Having, for instance, read in some register of a quarrel in a tavern, he wrote a story about it. He may have changed it in some way, but it was still representative of life in the plague year. I am absolutely sure that when he describes the tavern, the behavior of the people, and so on, he is absolutely accurate in the essentials. Maybe three people were killed and not four, but that doesn't alter the essential truth of his description.
INTERVIEWER
What about another treatment of the plague, Boccaccio's Decameron? Does it still have the ring of truth even though worked up in a much more structurally inventive way?
HERLING
Yes, certainly. This is also true of Stendhal, who often worked from archival material.
INTERVIEWER
Or Shakespeare, if you're looking for a really solid imprimatur.
HERLING
Yes. And I love to work this way. The difference between me and Stendhal—whom I adore—in terms of method is his tendency to emphasize the erotic aspects of a story. Take his story about a deaf man who presents himself at the gates of a convent looking for work and subsequently becomes, shall we say, lover to the sisterhood, as his burgeoning reputation as a skilled lover, after a few initial conquests, hardens into a duty to satisfy a different nun every day! Stendhal had heard of something along these lines, but then added the element of deafness, his masterstroke.
INTERVIEWER
What do you think accounts for the richness of Polish literature in the twentieth century? Gombrowicz, Milosz, Aleksander Wat, Adolf Schulz, Wislawa Szymborska . . .
HERLING
There was a remarkable period in Polish letters in the twenty or so years between the wars. All the writers you mentioned were first published before World War II. Wat, for example, published his first book, a volume of stories, in Warsaw before the war. His great book, Our Age, was, by the way, written thanks to Milosz. Wat didn't feel capable of writing anymore, so Milosz sat him down and interrogated him for months until the book took shape. The book wouldn't exist but for Milosz. Schultz is a very, very great writer, but again, prewar. The best writers we have, more or less, have been formed before the war, and for a reason—you had a people who had been enslaved for hundreds of years. You can't imagine what the atmosphere must have been like in 1918 when Poland got her independence and freedom. It was exhilarating. All the poets and writers couldn't wait to do something, to say something. Until then people could only be free in their minds; now they could say their piece, write what they wanted to write.
INTERVIEWER
That's interesting because it situates your ideas about the connection between liberty and "the tongue set free," to borrow a phrase, in the context of a longue durée. One hundred and fifty years of oppression comes to an end and suddenly a literature is born.
HERLING
The Russians, the Prussians, the Austrians permitted some works, but it wasn't what you would call a free literary culture. There was Sienkiewicz, another of our Nobelists, who wrote during the partition of Poland, but the full expression of our literary culture only began after independence.
INTERVIEWER
Where would you place yourself in the context of Polish literature? It would seem that even though you didn't publish your most substantial work before the war you nevertheless belong very much to that generation of writers.
HERLING
Well, I came into awareness during that period. But even though I knew Gombrowicz and others, I was at the time just a young man writing literary reviews, no more. My first book, after all, was published in 1950–1951—in English, because at that time there were no publishing houses publishing Polish literature in Poland.
INTERVIEWER
Any thoughts on Zbigniew Herbert and Szymborska?
HERLING
Herbert was more or less my contemporary, though he's dead now. He was writing as a poet during the Communist regime in Poland. He was not only a great and esteemed poet, but a fierce anti-Communist. He didn't make concessions; he had no use for Ketman and so forth—so relations between Herbert and Milosz were always rather cool. He was one of the few writers in Poland who was, shall we say, Conradian in his refusal to compromise with the regime. He was a very great poet. As much as I like Szymborska personally—she's an extremely nice woman—I was very sorry that she, rather than Herbert, got the Nobel prize.
INTERVIEWER
What were the origins of Kultura?
HERLING
In 1946 a group of Polish military men exiled in Rome, myself among them, decided to start a literary organization called the Institute Littéraire. The director, Jerzy Giedroyc, who is still running the show at ninety-three from Paris, initially only wanted to publish books that, among other things, might be smuggled into Poland. I insisted, however, that we also found a review, and came up with the name. He was reluctant at first, but I was determined to persuade him because I knew it could not succeed without him. The first issue was published in Rome, and had the two of us listed as codirectors, which was my way of attaching him to the project. For all of our subsequent differences in 1989, when we parted company, I have to say that the magazine is his work, his monument. It has had an enormous influence in Poland, both during the regime and in the present day. Mary McCarthy wisely said that the magazine bore the same relationship to Poland and its time as Aleksandr Herzen's Kolokol did to Russia during that magazine's heyday. What was so unusual about the magazine was that it had this influence from a position of exile, in Paris. Incredible! It's all due to Giedroyc; it's his accomplishment.
INTERVIEWER
In spite of the traditional Polish antipathy to all things Russian, which you explore in your essay on Conrad, "Under Conrad's Eyes," Russian literature is very important to you.
HERLING
It is, as are the two years I spent there. I made a lot of friends, not just among the Jews, the Ukrainians, the Germans, but also among the Russians. Your question reminds me of a funny story. After I had written A World Apart, I met a man in London, a commander in the Polish Army, General Anders. He said, Oh, I'm so glad to know you. Your book is excellent, absolutely excellent. I have only one reproach: you're too easy on the Russians!
INTERVIEWER
What are your thoughts on Mandlestam and Andrei Platonov?
HERLING
Mandlestam was a very great poet and an extremely intelligent man, a wise man. He didn't respect any of the restrictions imposed by the regime. Unfortunately for him, Stalin was a great reader, who loved books and poetry. This, by the way, is my reply to Joseph Brodsky, who suggested we'd be much better served by well-read lovers of poetry. Mandlestam was very rigid in his intentions. He wrote a terribly damning poem about Stalin, not published but repeated many times over by others. This poem was the cause of his misfortune. He was sentenced to internal exile and forbidden to live within one hundred miles of Moscow. But he traveled with his Nadezhda, a very great woman, whose own book is excellent and of absolute importance. At some point someone said to him, Look, it's ridiculous for you to suffer like this, write a nice little poem for Stalin. And he did, and it's a terrible poem. But I don't blame him. Given the situation he was right to do as he did, as was Akhmatova, who did the same thing in order to free her son from the camps. The two of them, Mandlestam and Ahkmatova, along with Tsvetayevna were the greatest poets of the time.
INTERVIEWER
Mandlestam and Akhmatova trying to improve their lot by means of a direct address to Stalin reminds me in a different way of Platonov. But where Mandlestam and Akhmatova's poems were both plainly awful if understandable attempts to improve their situation, Platonov often does much the same and gets away with it. No matter what, he always seems to be writing in good artistic faith. He'll be in the midst of the most poignant, lyrical description and then break off, as he does somewhere in "Dzhan," to praise the tender mercies of the Soviet—a remark as out of place in terms of the narrative as a station break or "a word from our sponsors"—without rupturing the heartbreaking texture of his prose.
HERLING
But he was true and sincere, because as a young man he believed in communism. His books are the books of a man who has been deluded; it's one of the reasons they're so beautiful.
INTERVIEWER
Suffering the calamity that befell his dreams, hence the great earnestness.
HERLING
Exactly; also his great popularity in Russia. People like him because they can sense that he was sincere. Like many people, he was at first in love with the regime, or rather with the notion of a new society. He believed in the possibility of a poor and honest life lived according to the precepts of the collectivity. He wrote with that hope in mind. For himself he chose poverty, and wanted nothing more than to be able to write. But he wrote a story that caught Stalin's eye and greatly irritated him, so much so that Stalin wrote something damning in the margins.
INTERVIEWER
"Rubbish."
HERLING
Excuse me?
INTERVIEWER
"Rubbish." Stalin wrote "rubbish" in the margins.
HERLING
Oh, I see. Yes. "Rubbish," that was it. Anyway, that got him into some trouble. But still he believed.
INTERVIEWER
And Varlam Shalamov?
HERLING
Shalamov is far and away the greatest writer of the concentration camps, much greater than Solzhenitsyn. Kolyma Tales is an absolute masterpiece, greater than my book, greater than them all. This book will last; it will be a kind of monument of the epoch, a monument to the memory of the camps, and he knew it. I was commissioned to write an introduction, which was rejected, to the Italian edition by Enaudi, in which I asserted that Nazism and Communism were two versions of the same thing, totalitarianism. The methods used were different, but the abiding principle was the same, just as it is in Milosevic's Yugoslavia. That principle resides in the power to decide who shall live and who shall die. The Nazis found it expedient to send people directly into the gas chambers; the Soviets preferred to extract the maximum possible value from their victims—to work them to death. It's unbelievable that Shalamov was in the camps for seventeen years. As someone who was in a camp for two years, it's inconceivable to me how he managed to survive. He was being killed little by little, day after day, for seventeen years, and he knew it. There are moments in his stories when he longs to die, to be freed. So how, in any meaningful sense, are these regimes fundamentally different? They both exercised the brute, arbitrary power to dispense with people as they saw fit, and it is that power, in whatever guise, that I am against.
INTERVIEWER
George Steiner has tried to distinguish the two by contrasting their attitudes to literature, asserting that communism, because it was in love with and felt threatened by words, managed in a way to foster literature, whereas there was no great work of Fascist literature—though Ernst Jünger is worth considering in this regard, and I'd maybe plump for Albert Speer's Spandau Diaries as a great, definitive, postmodern Fascist novel. But with the possible exception of Platonov, all of the great Soviet writers were writing against the grain, and could hardly be considered Communist.
HERLING
Yes, and yes. Of course. You're quite right. Interesting. There's a book about fascism that is interesting—Alberto Moravia's best book, The Time of Indifference, which he wrote as a boy of nineteen over the course of a year spent in bed due to polio. It is the best portrait of fascism that I have ever read; it is a book that will last. And as regards fascism, at least here in Italy, the only great writer during that period was Ignazio Silone, and he was in exile.
INTERVIEWER
What was the bridge between A World Apart and your later work?
HERLING
During my two years in the concentration camp, I saw an accumulation of evil that left a very deep trace. Even after I was released and reacquired some sense of normality, I never stopped thinking about the evil I had seen. Then, observing the world, reading the papers, listening to stories, it became absolutely apparent that evil exists and is spreading every day. This became my obsession, and it is a constant theme in my stories. My idea of evil differs from the one shared by the church, Plotinus, and Thomas Aquinas, which maintains that evil is merely the absence of goodness. This is the official theory, and I don't believe it. I think evil is utterly autonomous. What I see every day, in this terrible procession of events, disgusts me and confirms me in my belief; I am almost desperate. And the germ of this notion was formed in the camps. I saw a lot of things there, some of which I wrote about, some of which I didn't. For a man of my age then, it was a terrible experience to see how the world really is. And this is the reason I decided to abandon my plans for a university career and to become a writer.
INTERVIEWER
A striking characteristic of your work is the way in which you bring great formal innovation to bear on certain traditional moral themes. Your narrative technique brings to mind someone as remote from you in his concerns as Borges, while at the same time recalling someone like Sciascia.
HERLING
It's very clever of you to mention Sciascia, who I think is the best Italian writer of our time. I was terribly impressed by one of his early books, Death of the Inquisitor, in which he employs the same technique we were discussing earlier. He found something in the archives and wrote a story around it. A true story, but a story nonetheless. I like Borges, but he is, as you say, remote from my concerns. But maybe you are right. Perhaps I have found a special way of telling a story.
INTERVIEWER
You deal with historical subjects with a distinctly modern, sometimes postmodern, battery of narrative techniques—adopting other compositional forms, inserting yourself as a character.
HERLING
Yes, that's something I'm quite attached to, writing in the first person. But it can create problems for the reader, who is often inclined to take the authorial presence at face value and think that the author has indeed been a living presence in the events he describes. I very often get letters from readers: I went to the bar you mentioned in your story about Venice, but the bartender said he's never seen you, and so forth. More seriously, I wrote a story about a young Polish girl who is raped in Serbia. Being extremely religious, she heeds the pope's appeal to women raped in the Bosnian war not to abort, and gives birth to the child. I even gave an interview to The New York Times about this because the Vatican denied the pope had made such a statement.
INTERVIEWER
Although it's plainly on record. Like they say, is the pope Catholic?
HERLING
Anyway, some readers found the story—which, again, was invented, though the circumstances were not—so moving that I got a letter from a group of Poles in Switzerland who wanted to go to the cemetery where the girl in the story is buried after having died giving birth. They wanted to lay flowers on her grave. It's one of the nice things about the third person; you avoid that sort of misunderstanding. Can you imagine the sort of letters Henry James, whom I revere, would have gotten had he written The Turn of the Screw in the first person?
INTERVIEWER
I suppose it's the price you pay for the immediacy you gain.
HERLING
Exactly, but it creates some problems! Writers generally refrain from the first person, but I like it for the moral assurance it gives and for the sense it gives that I'm being honest in my narration. I'm simply more comfortable in that voice.
INTERVIEWER
Italy, and Naples more specifically, has obviously been a locus for your work, providing a rich field for your particular brand of historical speculation.
HERLING
Yes, history is often my source of inspiration, and Italy has plenty of it. For example, Michelangelo Schipa, a fine nineteenth-century historian, wrote a very long book about Masaniello, the leader of the Neapolitan revolt in the seventeenth century, the subject of my story "The Miracle." Halfway through writing the story I realized that I was describing the story of Walesa and Solidarnosc in Poland. Nevertheless, I finished the story as I had intended, faithful to its historical setting. But in Poland it was read as an allegory about events there. In general, Italy has been a rich source of inspiration. I'm very fortunate in having access to Croce's library, which is full of chronicles and histories—a tremendous resource I couldn't hope to exhaust had I five lifetimes.
INTERVIEWER
You've generally limited yourself to writing short stories and novellas. Any plans for a novel?
HERLING
In fact I've just completed a short novel told in the third person. But I'm not sure about it. To be sincere, my misfortune is that my wife is not a Pole, so I can't ask her to read it, so I'm never sure. It can be extremely important. Milosz once told me that his first wife was Polish and that she read everything he wrote, and that he had once burned a long work of which she hadn't approved. But my Polish publisher is coming later in the month, so we'll see what he has to say about it.
INTERVIEWER
You've obviously paid some attention to the Bosnian war, having written the story you discussed earlier. It was an unusual conflict both in having been essentially authored by writers and intellectuals (Slobodan Draskovic, Sanja Cosic, Pavle Karadzic, et alia) and in terms of the contrary responses it has evoked from them—Susan Sontag staging Godot in Sarajevo, Bernard Henri-Levy striking Byronic poses in the rubble, the Italian writer Erri di Luca driving aid convoys, Peter Handke journeying to Serbia, not to mention the bizarre fifth-column antics of the Russian writer Eddie Limonov, who went to Bosnia during the war to express his solidarity with the Serbs and was subsequently filmed, along with his fellow writer Radovan Karadzic, on a mountain above Sarajevo making an expansive gesture of pan-Slavic fellowship by shooting gleefully at the civilians below. This wish to take part in events rather than merely write about them seems fraught with peril, not least the risk of making a total ass of oneself.
HERLING
I don't know Limonov, but I know that he's a kind of adventurer. Fascism seems to be the fashion in Russia these days. But it's not just the Russians; there's Peter Handke, of course, trying to say that the Serbs are in the right. I refuse to enter into the issue of whether the Serbs are right or not. I knew Yugoslavia, and was friends with Djilas. The Serbs wanted to assert their power throughout Yugoslavia, and that was simply impossible. But I know one thing: Milosevic is a terrible fascist. He was a communist and now he's a fascist; or to be quite exact, he's a Stalinist fascist gathered in one person. Nevertheless Handke defends him, accepts awards from his regime. What can one say to that?
INTERVIEWER
You place great emphasis on writers as moral arbiters, while remaining deeply suspicious of any attempt on their part to assert themselves politically.
HERLING
Writers can be moral arbiters, just as they can and have assumed certain political functions, but they mustn't overstep their role. It is a problem of engagement. I am a writer who is engaged, though I certainly never had any ambition to be a politician.
INTERVIEWER
You seem to take your role as a moral agent very seriously.
HERLING
Exactly. I have a reputation in Poland for being terribly inflexible, which isn't exactly true. It's simply that I refuse to compromise on certain issues. This has been the case in certain recurrent issues in Poland, as it was with Kultura. But that was the basis of my friendship with Jerzy Giedroyc, who was the same way.
INTERVIEWER
I mentioned the breakup of Yugoslavia for another reason—it's a particularly tragic and telling example of a recurrent theme of yours, that of the risks posed by an investitured elite of artists or intellectuals when they presume to dictate policy. The dangers, one imagines, are policies molded to fanciful intellectual conceits rather than political practicalities, and the inherently undemocratic tendencies of a group that considers itself superior and unaccountable by virtue of its allegedly superior wisdom. You've made a few sharp remarks in the direction of Thomas Mann and Joseph Brodsky on this score.
HERLING
Yes, I have. But one only has to look at the record of intellectuals in various communist regimes to understand my point. They were certain not only of their ability to think politically, but to act politically—a very rare combination. An interesting example of this is the Cambridge spies. They were absolutely convinced that they were fit to take part in the governing of the country. But an intellectual is an intellectual and a writer is a writer. His duty is to think about politics, but not to take part in it. I was very close to the Polish Socialist party in exile, Adam Ciolkosz's party, a party with a long tradition. One of the leaders of the party in London was a dear friend, and he was intelligent enough to say, Gustaw, I'm proud that you're with us, but don't enter the party. Never. I don't know if you've ever intended to, but the mere fact that you support us as an independent writer is enough.
INTERVIEWER
What do you make of Havel, then?
HERLING
I admire Havel enormously. He was a writer, an artist; he wrote a great deal. Like many dissidents, he came to the conclusion that he had to do something. Adam Michnik is another who also decided that he had to do something, though I'm very happy that he didn't aspire to be minister and settled for merely directing a daily paper. Havel is an extremely honest man; he decided that he had to do something. The Czechs trust him implicitly because they know he is an honest man. He doesn't want to be president; he does it because he believes he can do it better than others, but it's not that he wants to be in power in perpetuity—he's always ready to resign.
INTERVIEWER
A great neglected writer, a great neglected book?
HERLING
Things are different nowadays, and there are enough publishing houses that if a writer is determined to get something published, he can. Still, I witnessed two tragic instances of neglect here in Italy in the fifties. One, Guido Morselli, a very good writer who sent his books off for years to publishers, who in turn sent them back by return post. Finally he had enough, and shot himself. Now he's considered a classic Italian author. The other person I would mention is Tomasi di Lampedusa, the author of The Leopard. It was published thanks to Giorgio Bassani, an intelligent man who directed Feltrinelli's offices in Rome. He read the first fifteen to twenty pages and said to himself, as I have always said, This is an extraordinary book. There were any number of previous editorial readers—who in many cases hadn't even read the book—who regarded di Lampedusa as some sort of spinster.
INTERVIEWER
A Sicilian Emily Dickinson who tired of weaving and decided to write a book.
HERLING
Yes. Thanks to Bassani, a fine writer himself, who understood at once what he had in his hands, the book was published. It immediately sold something like a half-million copies. Still, we have to remember that di Lampedusa, after all his failures, died in a hospital without knowing he had written a masterpiece. The idea is terrible for me. He didn't know that the book had been accepted. He only knew that he had written a book he was proud of, a book he'd contemplated for twenty-five years. When he decided to write the book, in Palermo, he wrote it in a series of school tablets, which I've seen. There are no erasures; it's as if the book had been imprinted on his mind and merely awaited the task of transcription.
INTERVIEWER
I was wondering if maybe there wasn't something more obscure that you might like to call wider attention to, say a neglected Polish classic.
HERLING
Well, of course, there used to be the problem of translation; it was terribly difficult to find an able translator, especially from Polish. When I came to Naples in 1955, having been invited by Nicola Chiaromonte to write for Tempo Presente, they knew that I had written a story called "The Tower," which they were keen to publish. But I couldn't find a translator. I ended up doing it myself with a student from Naples who knew Russian. But then a young American man named Ronald Strom appeared at my door who, in addition to Italian, knew Polish, and this for no other reason than the Monterey Language School had been his only alternative to Korea, and the only language on offer to him had been Polish. A remarkable occurrence for me in many respects, especially since he is an extraordinary translator. Had he gone to Korea, I wouldn't have had a translator. But things are different now. Young people seem to be much more interested in studying languages out of the mainstream, exotic languages. But to answer your question, there is a Polish novel called The Doll, by Boleslaw Prus that deserves wider attention.
INTERVIEWER
Any work plans?
HERLING
Apart from the novella I mentioned, no. I'm eighty years old; I can't make extensive plans. I'm just amazed that I've been able to write this novella. I want to get through the summer, which will be rather terrible for me. The anticyclone is on its way.