Interviewed by Lila Azam Zanganeh
Issue 202, Fall 2012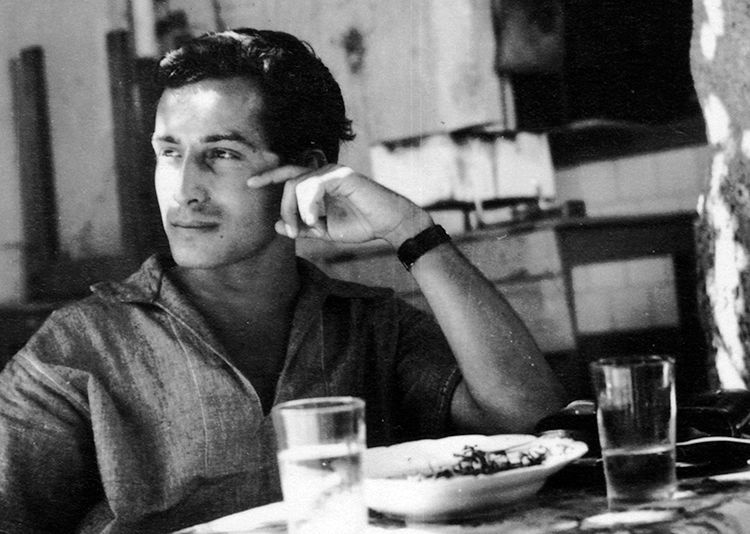 In Pyrgos, Greece, 1960.
Roberto Calasso is a literary institution of one. He has directed Adelphi, Italy's most prestigious publishing house, for forty years, while publishing twelve books of his own, including an international best seller on Greek myth titled The Marriage of Cadmus and Harmony. In a country where intellectuals like to complain, perhaps more than elsewhere, that literary culture has fallen by the wayside, Calasso has come to stand for a lost ideal: a writer on esoteric topics, a book collector, a translator of Nietzsche and Karl Kraus, and an editor who oversees the publication of some ninety books a year, in every domain from the scientific to the poetic, with a fiction list that ranges from Nabokov and Borges to Kundera and Bolaño.
Last January, despite a transportation strike and an early-morning earthquake, I found Calasso sitting behind his desk at the Adelphi headquarters in Milan, studiously ignoring an old telephone, which he lets ring a dozen times before he picks up. On the first afternoon, we drew a conversation chart for the days to come. The next morning, we began the interview proper at his home, a sober and elegant apartment in the city's historical center that houses a part of his famous book collection, including first editions of Spinoza and Giordano Bruno and the 922 issues of Kraus's magazine, Die Fackel.
Calasso expresses himself, in both Italian and English, with extreme precision and touching generosity. Although he has a reputation for being remote and forbiddingly intelligent, he comes off as approachable, affable, even funny. He reads novels and essays quickly for work and slowly for pleasure, takes very tidy notes on nearly everything (at any given time he may extract a notebook from his jacket and jot something down), and his prodigious memory in matters great and small is almost discernible in the swift movement of his eyes.
There was some discussion over how to classify this interview, as Calasso's productions do not fall easily into traditional categories. His one novel, L'impuro folle (The Impure Fool, 1974), is also a work of erudition, a haunting vision of the famous Schreber case, on which Freud based his theory of paranoia. In 1983 came the still less classifiable The Ruin of Kasch. In a glowing review of the book, Italo Calvino wrote that it dealt with two things: first, Talleyrand; second, everything else. Notably, Calasso's "everything else" covered the structures of storytelling and the origins of the modern world. In 1988, he published The Marriage of Cadmus and Harmony, which draws a pluralistic and polyphonic vision of Greek myth and is still his most popular work. Gore Vidal said of The Marriage, "I have no idea whether or not Roberto Calasso is a genius but I do know that The Marriage of Cadmus and Harmony is a perfect work like no other." Eight years later, Calasso published Ka, a personal summation of Indian myth.
His next three books were, ostensibly, on modern subjects: Franz Kafka (K.), Tiepolo (Tiepolo Pink), and, most recently, La folie Baudelaire, a meditation on mid-nineteenth-century Paris and modernity. In 2010, he published L'ardore, about Vedic civilization and sacrifice. He has also published a series of essays, The Forty-Nine Steps; Literature and the Gods, his Oxford Weidenfeld Lectures on pagan imagery; and La follia che viene dalle Ninfe (The Madness That Comes from the Nymphs), a collection of variegated essays ranging from nymphets to Rita Hayworth.
Both critics and admirers have called Calasso a "neo-gnostic," a master of secret knowledge. By his own admission, he has a fascination with the "unknown" and our dealings with it, or lack thereof. We may no longer eye the world in mystical or mythical terms, but, Calasso writes in The Marriage of Cadmus and Harmony, "the truth is it is the myths that are still out there waiting to wake us and be seen by us, like a tree waiting to greet our newly opened eyes."
—Lila Azam Zanganeh
INTERVIEWER
Did you want to become a writer when you were young?
CALASSO
I started writing my memoirs when I was twelve. The first line was about the sound of a tramway, which changed with the onset of summer. It read, "L'estate la sentivo arrivare dal viale." Viale means "avenue." We were living on this wide avenue. Now it's a highway of sorts, but back then there were marvelous linden trees, and through the middle ran the tramway. At night I heard it race toward us—number 19. The book covered my years between four and seven.
INTERVIEWER
You were born in Florence.
CALASSO
Yes, in 1941, in the middle of the war. Probably the most desperate year in the history of Europe, with the Nazis in Paris still thinking they were going to win.
INTERVIEWER
What did your father do during the war?
CALASSO
My father was a professor of the history of law at the University of Florence, and he was known as an anti-Fascist. In 1944, the philosopher Giovanni Gentile was assassinated. Gentile was an important philosopher, but unfortunately he was very much involved with the Fascists. He was killed in front of a villa near Florence by two partisans. In reprisal, three professors on a special list of anti-Fascists wanted by the government were arrested and condemned to death immediately afterward. One of them was my father. Florence was under the grip of one of the most ferocious chiefs of the Fascist militias—Carità was his name. As it happened, my family, especially the family on my mother's side, was connected with Gentile. They were close friends. So two sons of Gentile immediately went to the police to talk them out of killing these three men. It was an act of great generosity.
INTERVIEWER
Did it work?
CALASSO
The Fascists warned that if anything else happened at the hands of the partisans, the three prisoners would be shot. They remained in jail for a month, every night thinking they might be executed the next day. In the end they were freed thanks to the consul of Germany, an exceptional man named Gerhard Wolf. He knew one my father's fellow prisoners well—Bianchi Bandinelli, an eminent scholar of Greek and Roman art. And Wolf remembered that when Hitler visited Florence in 1938, he saw the Uffizi. The man who was chosen to accompany him was Bianchi Bandinelli. Hitler was enthusiastic about this guide and remembered him. So Wolf told Berlin that Bandinelli was going to be killed, and that was decisive. The Fascists liberated all three men.
Following their liberation, my father of course had to disappear, and so did we. The danger was that we might be taken hostage. For a while we were hidden by a very brave woman in her attic on Via Cavour, right in the center of Florence. My haziest, very first recollections are from around that time. I was three. I was sleeping on a mattress on the floor, and I remember trying to climb up to a window because we heard people shooting in the street. But my first precise memories are from a villa in San Domenico Fiesole, near Florence, where we stayed later on in the war. I remember where the limonaia was, and the wisteria on a crumbling balcony.
INTERVIEWER
After the war, you went back to Florence?
CALASSO
Yes, we stayed in Florence until 1954. Then we moved to Rome because my father took a position teaching there and later became dean of his faculty. My mother had written her Ph.D. on one of Plutarch's Moralia and later worked on the translations of Pindar by Hölderlin. But although she was very talented in her field, she preferred to care for her three children.
INTERVIEWER
What are some of your fondest memories of Florence?
CALASSO
My best friend was the son of a doctor who had a great passion for Wagner. We were able to go to the Teatro Comunale every Sunday because he had three orchestra places, and he would take us boys. It was the time when all the great ones were conducting. I remember at my first concert the conductor was Hermann Scherchen, a legend. Later on, Bruno Walter, Mitropoulos, Fricsay, so many others. The great pianists as well, Benedetti Michelangeli, Backhaus, Fischer, Kempff, Gieseking.
INTERVIEWER
Did you have access to books?
CALASSO
The house was lined with books, mainly the primary sources on which my father used to work—texts in the theory of law published between the sixteenth and eighteenth centuries. Rather impressive folios, many of them, and mostly in Latin. Just to see them around, with their obscure titles and authors, was far more useful to me than reading so many other books later on. On the weekends I used to go to my grandfather's house. He was a professor of philosophy at the University of Florence. He was also the founder of a publishing house, La Nuova Italia, which still exists. On its backlist you can find a lot of Hegel and some of the greatest classical scholars.
INTERVIEWER
Did you enjoy living in Rome?
CALASSO
I loved Rome. I had a sort of mania for the cinema at that time—I went once or twice a day instead of doing schoolwork. It was exciting going to these big, dark, smoky halls in the city center. I had a real passion for Marlon Brando. He fascinated me as an actor and a sort of mutant—when he first appeared he looked like a new anthropological specimen. The films, too, I loved. I knew all of them by heart. It sounds comical today, but I saw On the Waterfront at least seven times. I found all Hollywood genres alluring in their own ways.
Around this time, I also wrote a screenplay based on Lord Jim, which I loved.
INTERVIEWER
What are your memories of high school?
CALASSO
I had a superb professor of Greek and Latin. A terribly lively, intelligent, quick woman named Maria Di Porto.
INTERVIEWER
Were you already interested in ancient Greece?
CALASSO
Among many other things. When I was twelve I met the man who was to become the great friend of my life. Alas, he died some time ago. He was the most remarkable reader I have ever met—his judgment on books was perfect. His name was Enzo Turolla. The Folie Baudelaire is inscribed to him. He was a marvelous man, and I met him, of all places, on a soccer field in the Dolomites during a vacation. He was ten years older than me, but we hit it off right away. He heard me say that what Croce wrote on Baudelaire was not so great, and we started talking and never stopped.
INTERVIEWER
Was he a professional intellectual?
CALASSO
A bit in the way of those Oxford dons who publish half a dozen articles in their lives. He taught for years at the University of Padua. His family had a very charming house in Venice, and I used to go there often for long stays. We would go around talking until four in the morning. When we met, he was plunged into Proust.
INTERVIEWER
A passion he transferred to you?
CALASSO
Yes, the Recherche had just been published in three volumes in the French Pléiade, so I asked for it as a Christmas gift. Proust became a great love, and he is still one of the writers I return to often.
INTERVIEWER
What was your Ph.D. about?
CALASSO
The theory of hieroglyphs in Sir Thomas Browne—to my mind, the best English prose of the seventeenth century. Borges loved him—he was one of his favorite authors. And he was also a favorite of my supervisor, Mario Praz.
INTERVIEWER
What attracted you to Browne to begin with?
CALASSO
Everything. He was a great writer. A sort of lesser English parallel to Montaigne, but esoteric. Hieroglyphs—the idea of a language made up of images—are connected with all my work. For a long time, this language was considered more important than the language of words. Certain writers or scholars, like Thomas Browne, believed that they were a secret language. That was the beginning of many things for me. The doctorate was also a good pretext for going to London. Mornings in the British Library and afternoons in the Warburg Institute. Or the opposite. An ideal life. It was the sixties, the beginning of the Beatles and so much else. Naturally I postponed the end of my dissertation as long as I could. In the end I wrote it in less than a month, smoking hashish every night. I had some American friends in Rome back then, experts in all sorts of drugs. Rather astonishing when I think about it now.
INTERVIEWER
And you were already working with Adelphi?
CALASSO
Yes, the first books by Adelphi appeared at the end of '63. Roberto Bazlen, the man who originally conceived Adelphi's program, was staying in Rome as well, so I saw him a lot.
INTERVIEWER
Then you worked at Adelphi from the beginning?
CALASSO
Since my twenty-first birthday, in 1962. That was the day on which Bazlen told me that a publishing house was going to start where we might publish the books we truly liked. It didn't even have a name yet. The books in my room at the publishing house are what remains of the large and precious library he had—it was the library of a man who bought the novels of Kafka and Joyce when they appeared because they were the young writers around. He is the one who really discovered Svevo, for instance. He ordered his friend Montale to read this totally obscure writer.
INTERVIEWER
Bazlen helped you navigate the world of letters in your youth?
CALASSO
Bazlen was a great Taoist master. He taught me more than anyone else, without teaching anything. He was rather against writing, he didn't think one should necessarily write. He thought one ought to try to be in some way, without necessarily writing about it. He had a stupendous line, which is published in his posthumous writings—"Once people were born alive and slowly they died. Now one is born dead and slowly has to come to life." In 1965 Bazlen died, and Adelphi had its first big financial crisis. But we managed to survive. In 1968, I realized I had to come to Milan, and I officially became the editorial director in '71. From then on, I always did the same things—reading, choosing, and preparing books.
INTERVIEWER
You had a passion for it.
CALASSO
Always. For me, it was absolutely natural. As natural as writing.
INTERVIEWER
Do you write on a computer?
CALASSO
I write with this pen. I have always written with a fountain pen. Always in longhand. For many years I used to copy the final text on a Lettera 22. By now I have three Lettera 22s. One is mine, one Bazlen's, and the other one is Brodsky's, with a Cyrillic keyboard. We were the closest friends. I treasure it.
INTERVIEWER
What color is your ink?
CALASSO
Usually it's black. Red for corrections. Then I hand the pages to my assistant, Federica, and she transcribes them on the computer.
INTERVIEWER
Do you recorrect?
CALASSO
There may be no further corrections, or endless ones. I have never written a book, except maybe L'impuro folle, from beginning to end. It is always a mosaic, if you will, in which I write page 80, 30, 315 in any given order. And I never know where the final place of what I am writing in the book will be. It's the same with every book. I also have thousands of Bristol cards. I use them for detailed notes on the books I read, and more general notes as well. I call this "the material." It's whatever may be useful one day. Sometimes these cards contain fragments of my future books.
INTERVIEWER
You never compose on a computer.
CALASSO
Never. The computer I use for other things—the Internet, reading. There is a huge number of books Google has digitized, a treasure of which I take advantage every day.
INTERVIEWER
Do you have a daily ritual?
CALASSO
In the morning I try not to have much to do with the publishing house. I prefer to simply write, to work on my books. Then, around three thirty, I go to Adelphi and I stay there until seven. Well, in truth, that is how things should be, but they are disrupted practically every day. Every morning I am called, I have to call, there are e-mails coming, so I never feel totally separated from the publishing house. Thankfully I have such bright collaborators, people with whom I get on very well, and we don't have those endless meetings that are the torture of publishing life. So I can't complain. I am very happy it works this way. For a house that publishes by now eighty to ninety new titles a year, it is indispensable.
On Friday, before you came, we had one of those rituals called a "sales conference," and I had to talk about twenty-eight books, giving each roughly three minutes, so that our eighty salespeople would go off and speak for thirty seconds to the booksellers about each of the same books. It is rather harrowing.
INTERVIEWER
Has e-mail disrupted your writing and your intellectual life?
CALASSO
It disrupted my life as a publisher very much because I used to rely on delays of the post and I can't anymore. Agents now torture you by sending a PDF and giving you thirty-six hours to decide. In the past, you could easily take two or three months. Now you have multiple submissions, dozens of things to read all at once, manuscripts often by virtually unknown authors. And sometimes the very best things are there.
INTERVIEWER
How did you come to write your first—and, so far, only—novel, L'impuro folle, whose protagonist is Schreber, a German judge on whose case Freud founded his theory of paranoia?
CALASSO
I had always been interested in psychoanalysis. One day I was in London in a secondhand bookshop, and I noticed a copy of Schreber's memoirs, in an English translation. I was curious because I'd read the essay by Freud on Schreber, which Freud had based on these memoirs. So I started reading, and it was one of the great shocks, a phenomenally powerful book. Schreber, a former judge, was sent to the lunatic asylum and published, at his own expense, his nightmarish memoir of his visions and his treatment there at the hands of renowned psychiatrists. The book was obviously a shame for the relatives, so they destroyed all the copies they could lay their hands on.
INTERVIEWER
But you have a copy right here, in your library.
CALASSO
It's one of the very few surviving copies. If we continue down this part of my library, it could last for hours, because every book here has a story. There are some works you really don't expect. Take a look at this for instance—does it remind you of the Adelphi books? It's a design by Aubrey Beardsley, a publicity brochure for an English publisher in 1896, and we borrowed it for our most acclaimed series, the Biblioteca Adelphi. And this is the first book that Kafka ever published, Betrachtung. There were eight hundred copies. In one of his letters, he mentions having gone to a bookshop to see if anyone had bought the book and realizing that, of the eleven copies sold, only one had been bought by someone other than him.
INTERVIEWER
You were thirty-three when you published L'impuro folle. That was your first book?
CALASSO
Yes. I had already translated Ecce Homo, followed by a very long essay on Nietzsche, a book of sorts, which is now part of The Forty-Nine Steps. I was writing in magazines as well. Then I introduced Karl Kraus and translated three books of aphorisms by him. Kraus was the first great mind on the media. But it was terribly difficult to translate him. Ah, look, here are the complete issues of Die Fackel, the magazine he wrote practically alone for thirty-seven years.
INTERVIEWER
Your very first essay was on Adorno, whom you knew. How did you meet him?
CALASSO
It was at the house of Elena Croce, the daughter of the philosopher. In her house one could meet many of the important writers of the time. Adorno was invited for a lecture in Rome. I went to Elena's for a party, and of course Adorno was there, and I started talking with him.
INTERVIEWER
Was it then he said, "Remarkable, this young man. He knows all my books, even those I haven't written yet"?
CALASSO
It's an anecdote people like to tell.
INTERVIEWER
What do you suppose you told him in the conversation that impressed him so much?
CALASSO
I think he understood that I knew his work. There was a rumor that he was writing a book that was to become Negative Dialectics, his last important work. So I inquired about that, and he was likely extremely surprised that I even knew.
INTERVIEWER
How did you find the drive to decipher Adorno while learning German, without falling asleep in the process?
CALASSO
Oh, it was highly exciting. I was dying to read the Dialectic of Enlightenment, which was not available at that time, not even in Germany. My dear friend who was teaching me German—she was an East Germany lady—followed line after line with me.
INTERVIEWER
How many languages do you speak?
CALASSO
Italian, French, English, Spanish, German. Latin and Greek I learned in school. Sanskrit I studied on my own.
INTERVIEWER
When was the first time you tried to publish something?
CALASSO
It was when Lolita appeared in the States, in 1958. I was immediately attracted by it, by the turmoil it had already provoked in Europe. So I read it and loved it. And wrote what I suspect might have been the first Italian review about it. It described Lolita as a great work on passion, connected with the notion of eternal obstacle in the literature of love. My father knew Arnaldo Bocelli, the official critic of Il Mondo, the liberal weekly magazine. I went there and said, There is a novel that has just been published in the States, and there is a certain amount of discussion about it, and I wrote a review. He was very kind, he took it and said, We will let you know. After some days he said to my father, No, we can't do it, the book and its author are totally unknown, and we can't afford to publish something about an author we'll never hear of again.
INTERVIEWER
It's quite rare, the enormous success enjoyed by The Marriage of Cadmus and Harmony, your book on Greek myth.
CALASSO
On the day the book came out there was a rave review on the front page of Repubblica. That was the beginning.
INTERVIEWER
It's rather unusual for such a serious book to take off immediately. Do you think it helped you that you were the publisher of Adelphi?
CALASSO
It's a disadvantage in the end. The publisher is considered, especially in Anglo-Saxon countries, a rather eccentric entrepreneur or impresario—a businessman in a very improbable field. But if he is successful, then he is a good businessman. The author is the successor of the saint, everyone respects the author. So to put the two elements together is highly suspicious in a way, especially in the rather moralistic Protestant countries. In the Latin countries, less so.
INTERVIEWER
Has anyone ever given you a hard time for publishing yourself?
CALASSO
Not much, in fact. But the proof of the pudding is in the eating. If the book is good and you publish it yourself or with another house, no difference. If the book is bad and you publish it with another house, it is a shame anyway.
INTERVIEWER
Do you ever get negative reviews in Italy?
CALASSO
Of course I do. Some critics are like affectionate friends who never waste an occasion to write against me.
INTERVIEWER
It's what Lacan used to call "la haine amourée."
CALASSO
Possibly. Some cannot bear my books, while others cannot bear Adelphi, and I'm afraid some confuse the two.
INTERVIEWER
Why can some not bear Adelphi?
CALASSO
Because we have gone against many things here. Because we have said no too many times. In the beginning, the publishing house was considered elitist, aristocratic, which was a big insult at the end of the sixties and the onset of the seventies. Then—publishing the same authors—we were accused of being too commercial. So it went from one extreme to the other. There has been no dearth of arguments against us.
INTERVIEWER
Are you yourself considered by some Italians as a reactionary?
CALASSO
It's almost impossible not to be considered a reactionary by someone. Originally, the word referred to those who, after the French Revolution, wanted to go back to the ancien régime. But I do not wish to revert to anything. At the same time, I can't say I feel a particular kinship to what I have around me. Like Groucho Marx, I would not want to be a member of a club that would include myself.
INTERVIEWER
Do you consider yourself a man of the Left?
CALASSO
I wonder what that means today. Certainly the success of Adelphi began, among other things, with the extreme Left. For instance, Joseph Roth, who was one of our great authors, was embraced by the people who were in the movements of the seventies. Yet Nietzsche was never considered terribly orthodox by anybody. Evidently we have managed to upset lots of people, from the Red Brigades to the Opus Dei. I'll give you just one rather surreal example. In 1979, the Red Brigades published in their magazine, Controinformazione, which was available at the time at all kiosks, a long and detailed article in which Adelphi was presented as the spearhead of a powerful multinational organization whose first aim was to annihilate all hopes of a proletarian revolution. The proof was that we had just published a large selection of prose and poems by Pessoa.
INTERVIEWER
It's strange, this desire to turn Adelphi—and yourself—into a political machine. In fact, you are far more interested in transcendence than in politics.
CALASSO
Not so much transcendence, but the perception of the powers in us and around us. People talk a lot about religion, but they might as well be talking about huge political parties. The most delicate point to grasp is that society itself has become the major superstition of our times. This is the pivot of the last section of L'ardore. What I mean is that the belief in society as the ultimate crucible of progress creates a vast amount of bigotry even in the so-called secular world. So in actual fact it's difficult to find an intellectually rigorous atheist. Though I have met many secular bigots.
INTERVIEWER
The notion of sacrifice lies behind almost everything in your work. The other striking theme is ebbrezza, which seems difficult to translate, as the word is polysemous in Italian.
CALASSO
All of my books have to do with possession. Ebbrezza, rapture, is a word connected with possession. In Greek the word is mania, madness. For Plato it was the main path to knowledge. For us it's become the main path to the lunatic asylum. So you see that from Schreber up to La folie Baudelaire, the theme runs through my work. Even in my last book, L'ardore, of course. The Vedic people developed the most rivetingly complex theories and rituals about soma, the mysterious plant that provoked rapture.
INTERVIEWER
After the paranoid peregrinations of Schreber in L'impuro folle, did you ever have the desire to write another "conventional" novel?
CALASSO
Not so much. I like telling the stories of people or beings who already exist somewhere—as gods or men or historical characters. In The Ruin of Kasch there is a mixture—the protagonist is Talleyrand, but some of the characters are invented. In certain cases I didn't even mention their real identities. For instance, there is someone called the Senator from Saint Petersburg. That's Joseph de Maistre. I think a good reader will grasp it, even though he talks like a fictional character. There is also a letter by Talleyrand to a certain Lucien, who is the Lucien Leuwen of Stendhal. There are many such games. But that doesn't apply to The Marriage of Cadmus and Harmony, where the material all comes from Greek mythology.
INTERVIEWER
Did people receive The Marriage as fiction or as nonfiction?
CALASSO
Half and half. Half of the best-seller lists were in fiction and half were in nonfiction. Likewise, half of the review sections were in fiction and half in nonfiction. This was true both in Italy and America.
INTERVIEWER
Is one classification more correct than the other?
CALASSO
I think fiction is more correct, especially for The Marriage, because it's a book made of mythical stories. Of course, the book tells a story, then stops and reflects on it, but this happens in novels, too. Tolstoy, one of the great masters of the form, stops sometimes and thinks about what a war is, what history is. That is part of the physiology of the novel. There is nothing that cannot be part of a novel. What's more, I prefer the essay to be hidden somewhere between the lines of a narrative.
INTERVIEWER
But leaving aside L'impuro folle, your books aren't novels, are they?
CALASSO
No, I would never use the word novel, except for L'impuro folle, but I would use narrative. They are narratives. What is decisive is the pace of a book, il passo—pace and the fact that what dominates is the story, not the theory about the story. The story is the most important element and it implies all the theory. Take, for instance, the story of the ruin of Kasch, which is a legend I borrowed from an African camel driver, who recounted it to the anthropologist Leo Frobenius. If you try to understand the elements of it, you wind up writing The Ruin of Kasch—an entire book that weaves in many wider themes connected with the legend of Kasch in all its details. You have the priests of Kasch, you have the king, you have the storyteller. And in various ways, the stories he tells eventually morphed into a whole new book, which is The Marriage of Cadmus and Harmony.
INTERVIEWER
It feels as though your work grows organically, like a live creature.
CALASSO
When I started writing The Ruin of Kasch, I had conceived a work in three parts. I foresaw even the dimensions of these books—two rather long, about five hundred pages, and the third one rather short. In the end, the third one was never written. Maybe I will never write it. It was supposed to be on "the unnamable present," something that seems to have eluded, up to now, the claws of literature.
INTERVIEWER
And in this imaginary trilogy, the first volume was The Ruin of Kasch?
CALASSO
Yes, and the second one was The Marriage of Cadmus and Harmony. Then it all changed because I wrote Ka. When I was writing Ka I had no idea that the next one would be K. When I was writing K., I had no idea that the next one would be the Folie Baudelaire, although both Kafka and Baudelaire had already appeared in The Ruin of Kasch. Then, the book on Tiepolo was a part of La folie Baudelaire—was extracted from it, in fact.
INTERVIEWER
What drew you to Baudelaire?
CALASSO
Baudelaire is the first non-Italian poet I truly read. In my grandfather's house, there was a very large library and a beautiful studio. Before the studio, there was a room lined with books, and in the center was a big table with papers. As a kid I was there very often, looking at things I didn't know anything about, and there I found a copy of Les fleurs du mal, in a fine edition done by Crès in the twenties. Crès was a very elegant publisher from a typographical point of view. I stole the book from my grandfather. It is the first and only book I have ever stolen. My grandmother noticed it because she had an eagle eye—besides, the book was inscribed to her by my grandfather. So she did something slightly perverse. She gave it as a gift, not to me, but to my mother. My mother, in her very last years, gave it to me. So there are three inscriptions in the book, and the last one is rather recent.
When I stole it, I must have been twelve. I was starting to learn French and, of course, I was attracted by the title—it was irresistible. I always had a special sense for Baudelaire, which I never had for any other poet—something more direct, more intimate. And I have to admit that the Folie Baudelaire was the book I wrote with the most ease.
INTERVIEWER
How long did it take you?
CALASSO
It took some time, because what you read now is only a part of the whole—I took out so many things. The book is not only about Baudelaire, but about the wave that, influenced by him, ran through France in the nineteenth century, both in literature and in art. Baudelaire was far more than a great poet. He established the keyboard of a sensibility that still lives within us, if we are not total brutes. The Tiepolo book was a big branch of this tree, and the branch detached itself because I felt it was a book and it had to be alone. So Tiepolo Pink was published before the Folie. I can't judge exactly how long it took, perhaps around five years.
INTERVIEWER
That's not exactly a rush.
CALASSO
Consider that L'ardore, my latest book, is something that has gone on with me since Ka, so more or less fifteen years. No other book of mine has taken so much time.
INTERVIEWER
You constructed the Folie Baudelaire around the dream of the "brothel-museum"?
CALASSO
Yes, the whole book converges toward that story—this strange creature, if you will, which is the brothel-museum dream, and where one finds all the strands of Baudelaire. But here's an important point—that dream corresponds to a real and rather magical place in Paris, the Palais-Royal eighteenth-century garden and colonnade. At the end of The Ruin of Kasch, there is a part called "Voices from the Palais-Royal," where the Palais-Royal is presented as an ultimate image of our world—where everything concentrates and anything can happen. At once paradise and hell. The Palais-Royal notoriously housed prostitutes but also coffee houses, political meetings, science laboratories, and gambling parlors. And it was the place where Diderot used to sit on a bench and fantasize. It is an outside space, and the brothel-museum functions like a Baudelairian mirror world inside.
INTERVIEWER
Imagine if you had written all these books without narrative—it might have amounted to a sum of forbidding theories.
CALASSO
Maybe I'm inclined to what Nietzsche called "impure thought," that is to say, a kind of thought where abstractions are so mixed with the facts of life that you can't disentangle them. I feel thought in general, and in particular what is unfortunately called "philosophy," should lead a sort of clandestine life for a while, just to renew itself. By clandestine I mean concealed in stories, in anecdotes, in numerous forms that are not the form of the treatise. Then thought can biologically renew itself, as it were.
INTERVIEWER
We are sitting in your study in Milan. Will you describe it?
CALASSO
This room where we are sitting is for me a tolerable approximation to paradise. You need to have a very big table first of all. A friend of mine designed this one. You must have many things on it. All the books you see here are what I need for the work I'm doing right now. In one corner there are papers connected with the publishing house. And here are many dictionaries. On the wall in front, it's all Greece and Rome. On the wall behind, all India. It's good to feel that you are in a room that contains a substantial part of the Loeb Classical Library and the Belles Lettres.
INTERVIEWER
How do you organize your library?
CALASSO
A proper answer would imply writing an autobiography. It reminds me of a delightful work by a seventeenth-century French scholar, Gabriel Naudé, Advis pour dresser une bibliothèque. For me there are several criteria—practical, aesthetic, capricious. The essential thing is to obey what Aby Warburg called the "law of the good neighbor." When looking for a book, you may discover that you were in fact looking for the book next to it. It's the principle on which the marvelous Warburg Library in London is based. And of course the positions of books change in the course of time. They become like a geologic system of layers. In my case, alas, the books are in different places—around twenty thousand in the basement of the publishing house, and more yet in another apartment.
INTERVIEWER
Your own books are, in a way, tributes to great poets and storytellers. Are there a few writers who accompany you always?
CALASSO
Proust. Kafka for sure. Baudelaire absolutely. Nietzsche. John Donne. And I wouldn't want to limit myself to the West, so Yajnavalkya, Chuang Tzu. Yet I feel so unjust to so many if I start drawing lists.
INTERVIEWER
Here is a photo of you and your late friend Brodsky. He wrote a wonderful essay on The Marriage where he talks about self-projection. He draws a parallel between mythology and television. The scales and parameters are different, but myth and TV are both ultimately about self-projection. The seat of both is one's mind. The altar in both cases is a box. Sacrifice is the remote control.
CALASSO
That's highly Brodskian. The point is, man has a surplus of energy which he has to dispose of. That surplus is simply life. There is no life without surplus. Whatever one does with that surplus, that decides the shape of a culture, of a life, of a mind. There were certain cultures that decided they had to offer it in some way. It is not clear to whom, why, and how, but that was the idea. There are other cultures, like ours, where all this is considered entirely useless and obsolete. In the secular world, sacrifice shouldn't have any meaning at all. At the same time, you realize that it does, because the word has remained very much in use. In discussions of the economy, analysts speak all the time of sacrifices, without realizing what is inside the word. Even in psychological terms, sacrifice is a most usual word. It is considered illegal—for instance, if one celebrated a sacrificial ritual in the middle of London or New York, he would do something illegal, he would be put in jail. Sacrifice is connected to destruction—that is an important thing and the most mysterious one. Why, in order to offer something, you must destroy it. These are the themes of the last part of L'ardore.
INTERVIEWER
You have said that Lévi-Strauss was afraid of the notion.
CALASSO
He couldn't deal with sacrifice, it destroyed his whole theory. I have much admiration for Lévi-Strauss, and I learned a lot from him. But there are certain things, like ritual and sacrifice, that made him nervous, because they disrupted the architecture of his thought.
INTERVIEWER
But Bataille tackled it.
CALASSO
Bataille is the opposite. Bataille wrote of sacrifice all his life. His best book on that was La part maudite, a very audacious work. But Bataille was not a rigorous thinker. He wrote too much and had a terrible habit—ressassement, endless repetitions. Yet in a way, he put the question at the center of everything.
INTERVIEWER
I think it is also central for you. Why is sacrifice so important?
CALASSO
Maybe it's simply because sacrifice brings us into dealings with the unknown. In the act of sacrifice, you establish a relation with something that you recognize as enigmatic and powerful. Our collective psyche seems to have lost touch with it, although science is providing countless motives for being overwhelmed by the unknown. The unknown itself is in our own mind as well—our mind is in its largest part totally unknown to us. Therefore, it is not only a relation to the exterior world, it is a relation to ourselves. We establish a connection with the unknown through the act of giving something and, paradoxically, the act of destroying something. That is what is behind sacrifice. What you offer and what you destroy, it is that surplus which is life itself.
INTERVIEWER
Descartes speaks of man as "maître et possesseur de la nature."
CALASSO
Well, you find that notion already in Genesis. But that has its own consequence—guilt. Guilt lies at the root of sacrifice. Sacrifice is not a way to avoid guilt or to excuse guilt, it is a repetition of guilt. In a sense, it's a reinforcement of guilt. The first guilt is the very fact of making things disappear. Killing is only one of the ways of achieving that. Eating is another.
These actions are all very closely connected and they reach very far back into prehistory. They have gone on for hundreds of thousands of years and have thus left their traces in our minds. You can take them into account or ignore them. Our world attempts to ignore them, it considers all of these things as very remote. In my books, I try to unearth them.
INTERVIEWER
Have you seen Cave of Forgotten Dreams by Werner Herzog?
CALASSO
Yes. The things we are talking about are simply a way to come near the mystery implied in the Chauvet cave. One great dividing line between our world and theirs is our relation to animals. Going from hunted to hunter. The other is metamorphosis. In one world, metamorphosis is taken for granted, as a sort of basic experience. In the other, it is taken for granted that it doesn't happen, that it's a pathological phenomenon, as, for example, the werewolf. But we were all wolves in a sense. Or rather, we became wolves, that was part of the metamorphosis.
INTERVIEWER
You mean predators?
CALASSO
Predators. The wolf is an animal who kills and is a danger to men. But Apollo was, among other things, a wolf. Then you had the girls who in Athens were trained in the temple of Artemis to become little bears. You see how the Chauvet themes mingle with mythology. You cannot understand mythology without this notion of metamorphosis. Ovid is, I think, the last great tragic and epic poet of that era because he tells the story of a world where metamorphoses happen all the time—but then stop. The stories he tells are stories of a girl becoming, for instance, a tree or a plant, but not reverting to being a girl. She remains a tree, and that, of course, is tragic.
INTERVIEWER
You write in The Marriage, "We enter the mythical when we enter the realm of risk, and myth is the enchantment we generate in ourselves at such moments." What does this mean?
CALASSO
This comes from Plato, from the Phaedo. Socrates says that precisely. Within the realm of myth, you wander into this danger zone, and that is the zone of the unknown. What you can do there is, first of all, utter or sing a carmen, a word that is usually translated as "poem" but primarily means "enchantment." That is the best weapon at our disposal.
INTERVIEWER
But when do we enter the realm of myth?
CALASSO
We are already there. As Sallustius the Neoplatonist wrote, the world itself is a myth. So no matter what we are doing, we are in the midst of a fable. And fables are by definition what enchant us. The only question is whether we perceive it or not.
INTERVIEWER
After The Marriage, with Ka, you moved from Western myth to Indian thought. How did this come about?
CALASSO
To me, very early on, the Vedic texts seemed to go beyond whatever else one may read on certain points. If you want to have an inkling about two essential words like consciousness and mind, you must look into these texts. You never find anything as enlightening anywhere else. And in The Ruin of Kasch, you already find the Sanskrit word .rta, which means "order of the world." The entire book is about that, although at first glance it appears more like a book on the French Revolution and what happened afterward. But at the center are the stories of Far-li-mas, a mysterious storyteller who made the priests of Kasch forget about their duties and cause the ruin of their kingdom.
Now, to me, there are no stories as enchanting as the stories of Greek mythology, of which only a tiny section is known in our literary tradition. So I plunged into that forest of stories, and after Kasch came Cadmus and Harmony. But that turned out to be only a prelude, because then I felt the need to leave the forest and step into a jungle. The jungle was the Indian stories, which are even more maddeningly complicated. It lasted seven years—that move—and I had to learn a bit of Sanskrit. At the end, there was Ka, which, in a way, is a parallel book to The Marriage of Cadmus and Harmony.
INTERVIEWER
In Ka you wrote that you agree with the Indians who say that whatever is there in the world is in the Mahabharata, and if you don't find it, it is nowhere else.
CALASSO
And just as you get lost in the world, you need to get lost in the Mahabharata. So I got lost, and I took some strands of the stories and brought them together in Ka. Everything hinges on consciousness. They brought consciousness to the center way before our scientists thirty years ago hailed it as a great new scientific theme.
The connections are obvious and very fascinating between Indian stories and Greek stories, but I didn't want to produce a comparative study. The Greek stories speak for themselves and the Indian stories speak for themselves. But if you look at the stories of Helen in Greece and Saranyu in India, the affinities are blatant, and you can go very far into them.
INTERVIEWER
Do you think these stories came from the East and were slowly retold and rewritten, or is the fact that various civilizations come up with similar narratives an epistemological mystery?
CALASSO
I tend to think we simply don't know and will never know. And it shouldn't be so important. I think they belong to the fabric of the world, these stories. Myths are not invented, they are there. You cannot say a myth starts at a certain moment.
And myth is never a single story. It is always a tree with many branches. Unless you take into account all possible variants, you don't truly understand it. What I tried to do in The Marriage was conjure a sense of that from the very beginning, with the story of Ariadne. You realize after a while that you must keep all these stories together in your mind, like a constellation, because the story where she is seduced by Theseus, where she is abandoned, where she becomes a star in the sky, where she is killed—they all belong together. The novel, unfortunately, doesn't have that power. It is a great thing, but it is one single story.
INTERVIEWER
There are themes and variations running through your own work, as in a series of concentric circles. The Ruin of Kasch, for instance, is already about sacrifice.
CALASSO
I am, in a way, compelled—it is not a choice, I cannot avoid it. Even the concentric circles happen naturally, so to speak. In La folie Baudelaire the center is Baudelaire's dream of the brothel that is also a museum, which opens onto all the rest. In The Ruin of Kasch, the center, which doesn't necessarily appear in the middle of the book, is the African legend about the end of the kingdom called Kasch. In the Marriage you have the story of Europa and Cadmus, which appears at the beginning and reappears at the end.
INTERVIEWER
Are you aware of any other writer who uses that technique?
CALASSO
Not in that compulsive, manic way. Of course I find affinities in all directions, but the pattern of all my books is always a surprise, even to myself.
INTERVIEWER
Do you consider yourself religious? Surely you cannot write about these themes without being somehow connected to the unknown yourself.
CALASSO
Having mentioned so many gods in my books, whatever I might say could hurt a few of them, so it is better to keep silent. What is certain is that I would never say they are a cultural phenomenon. They are there more than we are. The point is to ascertain whether we are something, which is not so simple.
INTERVIEWER
Do you think it might be possible to say that we and the gods are the same thing?
CALASSO
No, definitely not. But we partake of something, which is the divine. The divine is that mysterious thing that you can totally ignore or that can more or less lead your life—what Plato called tò theÄ«on. The gods come afterward. In India the gods are latecomers. First there is Prajapati, and we just don't know who he is—and he doesn't know either, which is the disquieting point. Then come the rishis, the seers. Then finally come the gods—and they are not taken so seriously. Indra, who is the king of the gods, is made a fool of very often in Indian myths. This happens far more often in Indian lore than for his equivalent in Greek myth. At the end of all are animals and men.
INTERVIEWER
You likely feel just as comfortable in a church as in a temple in India.
CALASSO
I feel perhaps more comfortable in India than here, but I have a singular sensation: one of the great things in Greece is that you have Orthodox chapels, very often closed, in the most remote places, usually the most beautiful ones. It is good to feel that in such places they have a little chapel with an image of a saint or the Virgin. I like that.
INTERVIEWER
Do you fear death?
CALASSO
Yes, why not? I suppose we don't know much about what it is, and fear is part of everything.
INTERVIEWER
Jung had a near death experience—he went all the way up in the air, saw India, and entered a Buddhist temple. It is rather weird and wonderful. Have you ever meditated?
CALASSO
It's embarrassing, because I think I've done something of that kind throughout my life without fully knowing it. Though of course I wrote L'ardore and Ka based on stories and texts that have much to do with meditation. But that doesn't mean I practice anything. Or likely, I have developed a very personal way of doing it.
INTERVIEWER
We talked about a possible definition of happiness, and there is so much ecstasy in your Tiepolo book. Is a Tiepolo painting a possible definition of happiness?
CALASSO
He definitely emanates happiness from his characters—and that is his real secret. If you compare him to the other great painters of his time who were working on expressing that same emotion—Fragonard, Watteau—Tiepolo moves beyond them still. The reason is mysterious, but even when he draws a farm or a lady walking, there is something astonishing about it.
INTERVIEWER
What is happiness for you, as a writer and creator?
CALASSO
Happiness? I try not to speak of it. I feel it should belong subterraneously to life. It doesn't want to be talked about too much, I think.
INTERVIEWER
Perhaps there are two species of creators and writers—the ones who are essentially tortured and unhappy as they are doing it, and the others. And it seems as though your entire life's work is a form of meditation, it nourishes you enormously.
CALASSO
Certainly it keeps me going. It's tied to that word we were talking about this morning—ebbrezza. There is a sort of wondrous fever that can go on, and that is very near a feeling of happiness. The Sanskrit word tapas, "ardor," is deeply connected with this.
INTERVIEWER
Which part of your work do you think will be remembered?
CALASSO
I see this body of work in seven parts—the eighth one I'm writing now—as a whole. So it might be nothing or everything.