Interviewed by Lila Azam Zanganeh
Issue 202, Fall 2012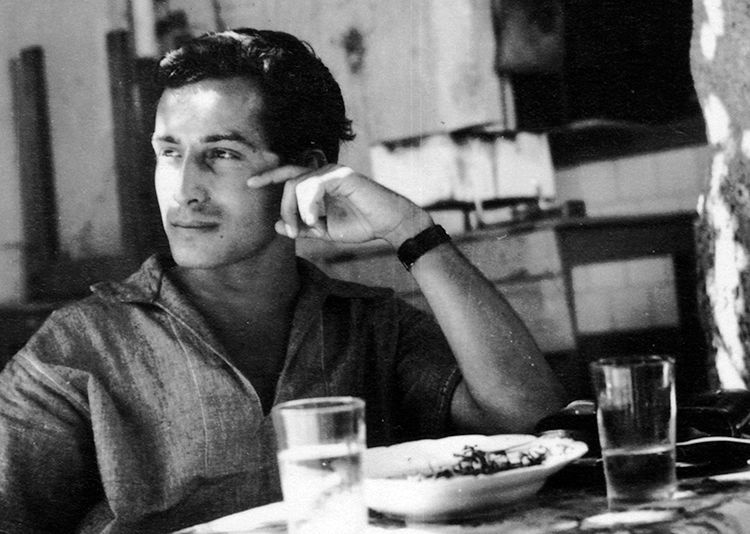 In Pyrgos, Greece, 1960.
Roberto Calasso is a literary institution of one. He has directed Adelphi, Italy's most prestigious publishing house, for forty years, while publishing twelve books of his own, including an international best seller on Greek myth titled The Marriage of Cadmus and Harmony. In a country where intellectuals like to complain, perhaps more than elsewhere, that literary culture has fallen by the wayside, Calasso has come to stand for a lost ideal: a writer on esoteric topics, a book collector, a translator of Nietzsche and Karl Kraus, and an editor who oversees the publication of some ninety books a year, in every domain from the scientific to the poetic, with a fiction list that ranges from Nabokov and Borges to Kundera and Bolaño.
Last January, despite a transportation strike and an early-morning earthquake, I found Calasso sitting behind his desk at the Adelphi headquarters in Milan, studiously ignoring an old telephone, which he lets ring a dozen times before he picks up. On the first afternoon, we drew a conversation chart for the days to come. The next morning, we began the interview proper at his home, a sober and elegant apartment in the city's historical center that houses a part of his famous book collection, including first editions of Spinoza and Giordano Bruno and the 922 issues of Kraus's magazine, Die Fackel.
Calasso expresses himself, in both Italian and English, with extreme precision and touching generosity. Although he has a reputation for being remote and forbiddingly intelligent, he comes off as approachable, affable, even funny. He reads novels and essays quickly for work and slowly for pleasure, takes very tidy notes on nearly everything (at any given time he may extract a notebook from his jacket and jot something down), and his prodigious memory in matters great and small is almost discernible in the swift movement of his eyes.
There was some discussion over how to classify this interview, as Calasso's productions do not fall easily into traditional categories. His one novel, L'impuro folle (The Impure Fool, 1974), is also a work of erudition, a haunting vision of the famous Schreber case, on which Freud based his theory of paranoia. In 1983 came the still less classifiable The Ruin of Kasch. In a glowing review of the book, Italo Calvino wrote that it dealt with two things: first, Talleyrand; second, everything else. Notably, Calasso's "everything else" covered the structures of storytelling and the origins of the modern world. In 1988, he published The Marriage of Cadmus and Harmony, which draws a pluralistic and polyphonic vision of Greek myth and is still his most popular work. Gore Vidal said of The Marriage, "I have no idea whether or not Roberto Calasso is a genius but I do know that The Marriage of Cadmus and Harmony is a perfect work like no other." Eight years later, Calasso published Ka, a personal summation of Indian myth.
His next three books were, ostensibly, on modern subjects: Franz Kafka (K.), Tiepolo (Tiepolo Pink), and, most recently, La folie Baudelaire, a meditation on mid-nineteenth-century Paris and modernity. In 2010, he published L'ardore, about Vedic civilization and sacrifice. He has also published a series of essays, The Forty-Nine Steps; Literature and the Gods, his Oxford Weidenfeld Lectures on pagan imagery; and La follia che viene dalle Ninfe(The Madness That Comes from the Nymphs), a collection of variegated essays ranging from nymphets to Rita Hayworth.
Both critics and admirers have called Calasso a "neo-gnostic," a master of secret knowledge. By his own admission, he has a fascination with the "unknown" and our dealings with it, or lack thereof. We may no longer eye the world in mystical or mythical terms, but, Calasso writes in The Marriage of Cadmus and Harmony, "the truth is it is the myths that are still out there waiting to wake us and be seen by us, like a tree waiting to greet our newly opened eyes."
—Lila Azam Zanganeh
INTERVIEWER
Did you want to become a writer when you were young?
CALASSO
I started writing my memoirs when I was twelve. The first line was about the sound of a tramway, which changed with the onset of summer. It read, "L'estate la sentivo arrivare dal viale." Viale means "avenue." We were living on this wide avenue. Now it's a highway of sorts, but back then there were marvelous linden trees, and through the middle ran the tramway. At night I heard it race toward us—number 19. The book covered my years between four and seven.
INTERVIEWER
You were born in Florence.
CALASSO
Yes, in 1941, in the middle of the war. Probably the most desperate year in the history of Europe, with the Nazis in Paris still thinking they were going to win.
INTERVIEWER
What did your father do during the war?
CALASSO
My father was a professor of the history of law at the University of Florence, and he was known as an anti-Fascist. In 1944, the philosopher Giovanni Gentile was assassinated. Gentile was an important philosopher, but unfortunately he was very much involved with the Fascists. He was killed in front of a villa near Florence by two partisans. In reprisal, three professors on a special list of anti-Fascists wanted by the government were arrested and condemned to death immediately afterward. One of them was my father. Florence was under the grip of one of the most ferocious chiefs of the Fascist militias—Carità was his name. As it happened, my family, especially the family on my mother's side, was connected with Gentile. They were close friends. So two sons of Gentile immediately went to the police to talk them out of killing these three men. It was an act of great generosity.
INTERVIEWER
Did it work?
CALASSO
The Fascists warned that if anything else happened at the hands of the partisans, the three prisoners would be shot. They remained in jail for a month, every night thinking they might be executed the next day. In the end they were freed thanks to the consul of Germany, an exceptional man named Gerhard Wolf. He knew one my father's fellow prisoners well—Bianchi Bandinelli, an eminent scholar of Greek and Roman art. And Wolf remembered that when Hitler visited Florence in 1938, he saw the Uffizi. The man who was chosen to accompany him was Bianchi Bandinelli. Hitler was enthusiastic about this guide and remembered him. So Wolf told Berlin that Bandinelli was going to be killed, and that was decisive. The Fascists liberated all three men.
Following their liberation, my father of course had to disappear, and so did we. The danger was that we might be taken hostage. For a while we were hidden by a very brave woman in her attic on Via Cavour, right in the center of Florence. My haziest, very first recollections are from around that time. I was three. I was sleeping on a mattress on the floor, and I remember trying to climb up to a window because we heard people shooting in the street. But my first precise memories are from a villa in San Domenico Fiesole, near Florence, where we stayed later on in the war. I remember where the limonaia was, and the wisteria on a crumbling balcony.
INTERVIEWER
After the war, you went back to Florence?
CALASSO
Yes, we stayed in Florence until 1954. Then we moved to Rome because my father took a position teaching there and later became dean of his faculty. My mother had written her Ph.D. on one of Plutarch's Moralia and later worked on the translations of Pindar by Hölderlin. But although she was very talented in her field, she preferred to care for her three children.
INTERVIEWER
What are some of your fondest memories of Florence?
CALASSO
My best friend was the son of a doctor who had a great passion for Wagner. We were able to go to the Teatro Comunale every Sunday because he had three orchestra places, and he would take us boys. It was the time when all the great ones were conducting. I remember at my first concert the conductor was Hermann Scherchen, a legend. Later on, Bruno Walter, Mitropoulos, Fricsay, so many others. The great pianists as well, Benedetti Michelangeli, Backhaus, Fischer, Kempff, Gieseking.
INTERVIEWER
Did you have access to books?
CALASSO
The house was lined with books, mainly the primary sources on which my father used to work—texts in the theory of law published between the sixteenth and eighteenth centuries. Rather impressive folios, many of them, and mostly in Latin. Just to see them around, with their obscure titles and authors, was far more useful to me than reading so many other books later on. On the weekends I used to go to my grandfather's house. He was a professor of philosophy at the University of Florence. He was also the founder of a publishing house, La Nuova Italia, which still exists. On its backlist you can find a lot of Hegel and some of the greatest classical scholars.
Want to keep reading?
Subscribe and save nearly 40%.
Subscribe Now
Already a subscriber? Sign in below.