For thirty-three years, beginning in 1921, an Italian tile setter named Sabato Rodia labored over seventeen structures in South Los Angeles using only scavenged materials—scrap rebar and wire mesh, fragments of ceramic and glass, pottery shards and seashells. His heroes were Marco Polo, Copernicus, and Galileo—mighty figures of sciences and exploration, adventurers in cosmic and terrestrial mysteries.
As a boy, Jess—born Burgess Collins in 1923—saw the Watts Tower under construction and "filed this salient experience away for later sustenance." It wouldn't stay filed for long. After a stint as a radiochemist for the Manhattan Project, he exchanged the laboratory of science for one of art, producing paintings, paste-ups (his preferred term for collages), and assemblages full of unlikely juxtapositions. "If it's unexpected," Jess advised the viewer, "expect it." By 1951, he had become an integral member of the Bay Area's underground art scene and had embarked on an artistic and romantic partnership with the poet Robert Duncan that would last four decades.
Duncan, too, was awed by the towers, which were "built up," he wrote, "from bits of beauty sorted out." Like Rodia, Jess and Duncan were masters of bricolage. In Jess's Nance strip, from a book made for poet and filmmaker James Broughton, a series of bursts—explosions, plants, and clouds of smoke—punctuates the landscape, producing a rhythm that mirrors the altered text: "'Get to Dodge ... Dodge ... Dodge...' he is mumbling. 'I'll git t'Dodge gotta get to Dodge! ... I'll git t'Dodge got to ... get ... to Dodge...!'" Jess and Duncan shared a lifelong interest in salvaging esoteric bits of culture past—in Jess's case, Goodwill cast-offs, Dick Tracy and Krazy Kat comics, advertisements for Tabu, and Life magazine, but also tarot cards, Renaissance chapbooks, Greek mythology, Victorian engravings, and Arthurian legend. As he worked, he would choose from among thousands of carefully cut-out images, painstakingly organized by subject. His recollection of an abandoned prospector's shack, which he discovered as child, aptly describes his own studio: "a little palace assembled from ... almost any type of found object you can imagine."
—Nicole Rudick
These images are excerpted from Jess: O! Tricky Cad & Other Jessoterica.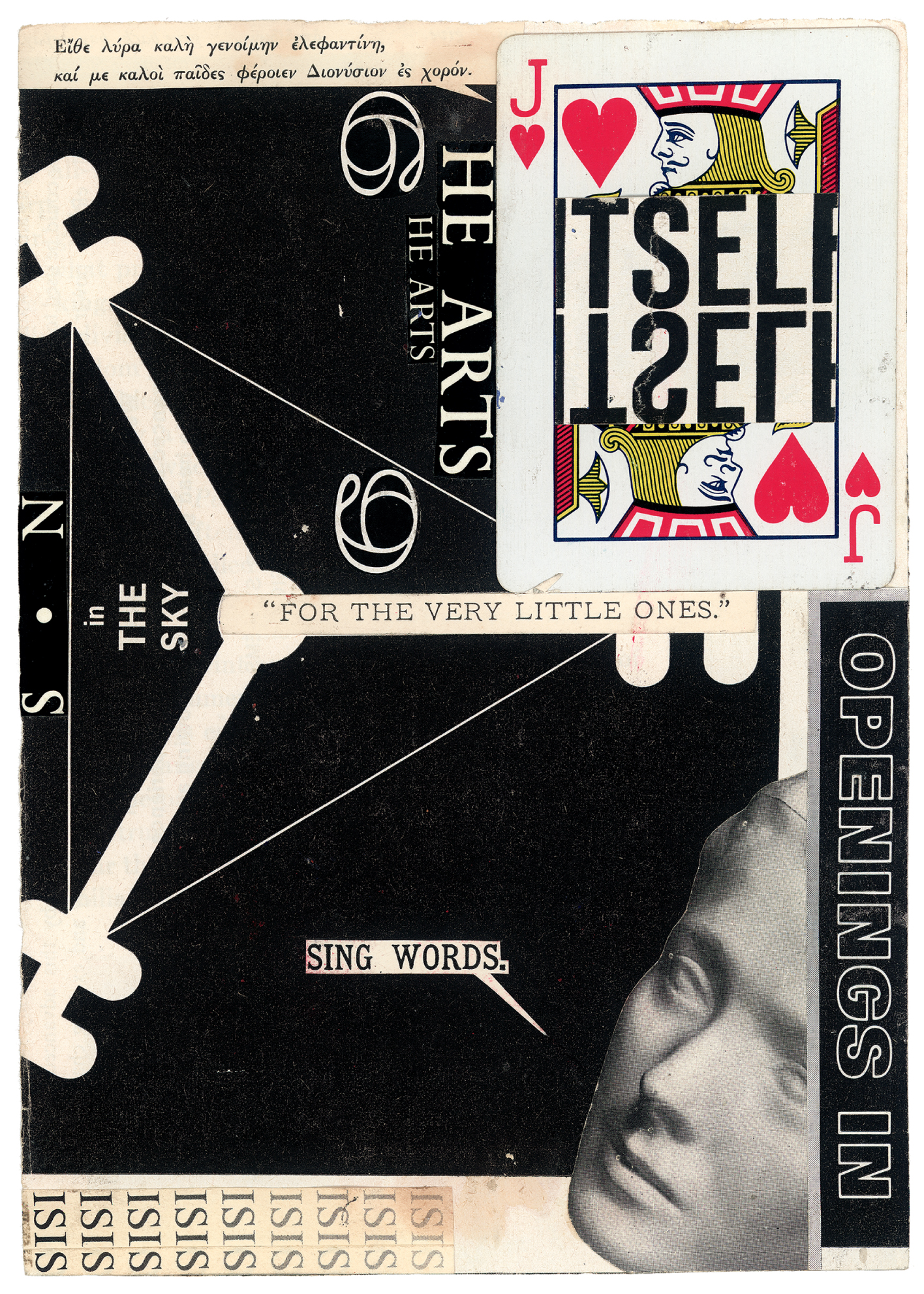 Interior page from From Force of Habit, 1966, collage book, approx. 8" x 5 ¾ ". Courtesy of the Odyssia Gallery, New York, NY.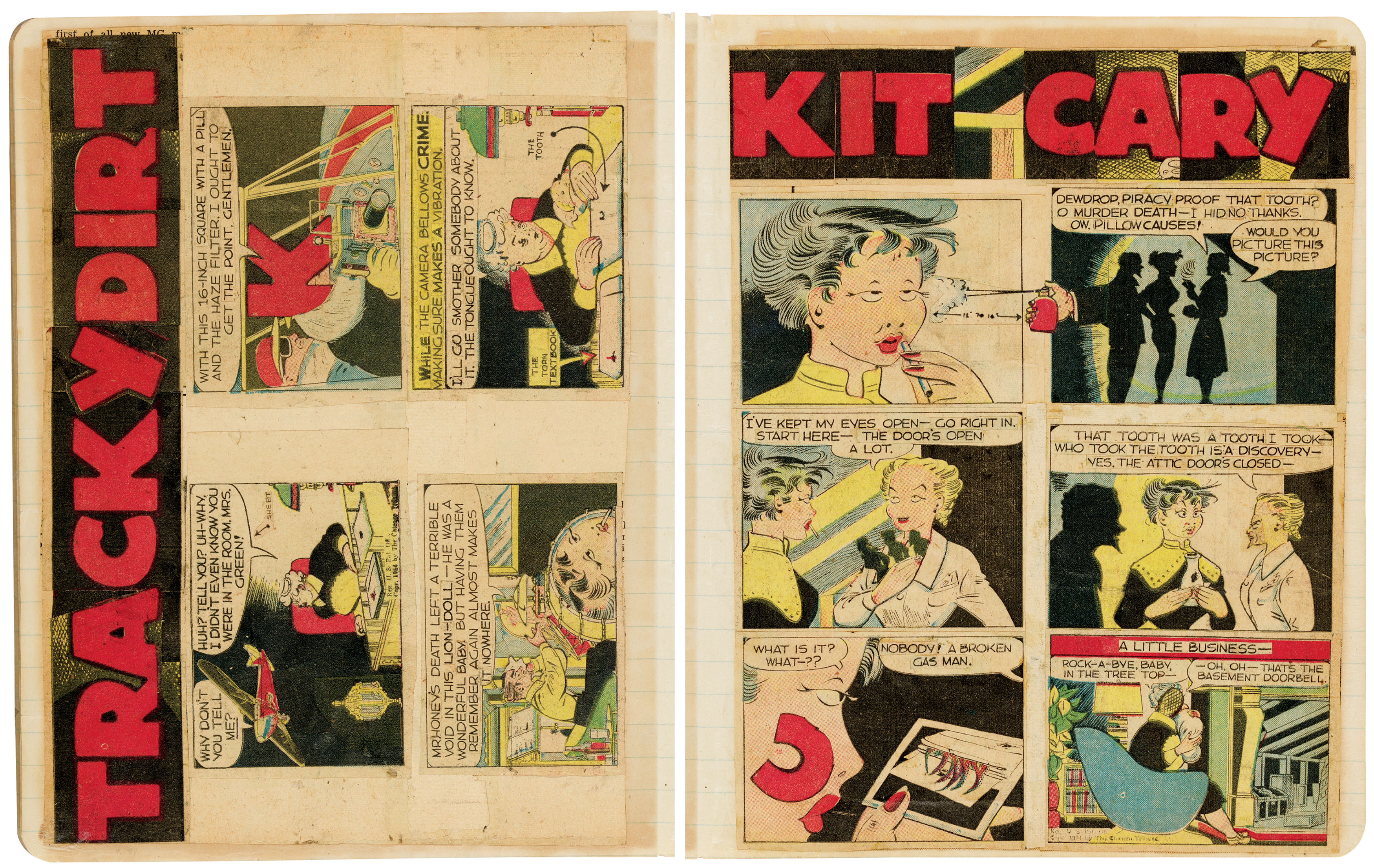 Two pages from Tricky Cad, Case I, 1954, twelve-page collage, each 9 ½ " x 7 ½ ". Courtesy of the Whitney Museum of American Art, New York, NY. Purchased with funds from the Contemporary Painting and Sculpture Committee, the Drawing Committee, and Tom Armstrong Purchase Fund. Photography by Robert Gerhardt.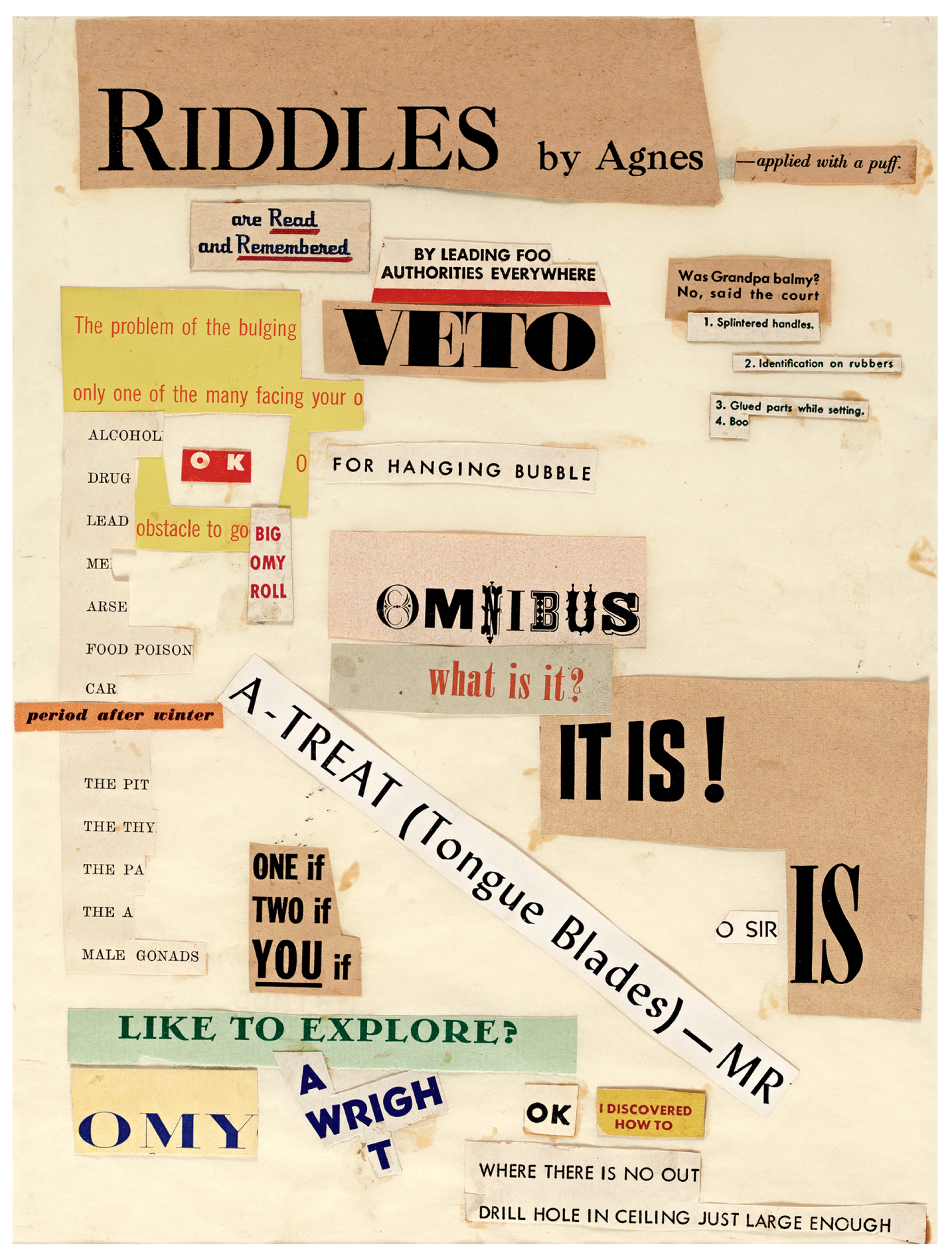 Riddles by Agnes, 1953, collage, approx. 18 ½ " x 14 ½ ". Courtesy of the Iris and B. Gerald Cantor Center for the Visual Arts at Stanford University, Palo Alto, CA. Given in honor of Jennifer Marie Koll by Gregory Koll.
All images copyrighted by the Jess Collins Trust.
Want to keep reading?
Subscribe and save 33%.
Subscribe Now
Already a subscriber? Sign in below.