Interviewed by Sam Anderson
Issue 198, Fall 2011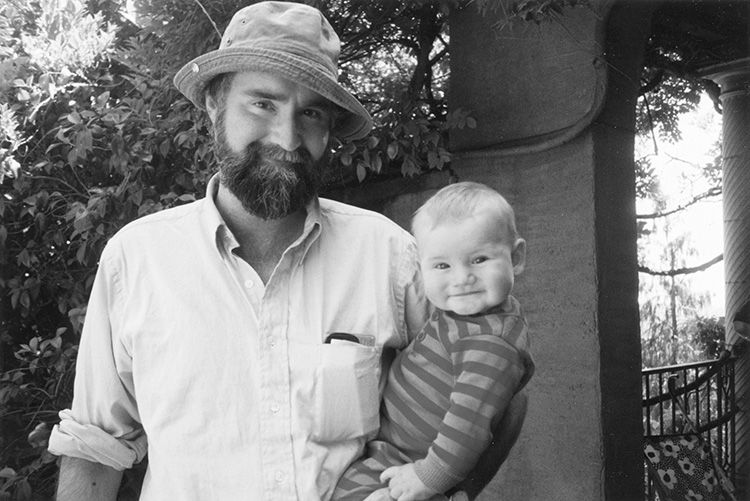 Nicholson Baker with his son, Elias, in Berkeley in 1994.
Nicholson Baker loves artificial constraints: the clarity they bring to a project, the odd angles and tones they inspire. The entirety of his first novel, The Mezzanine, takes place during a single escalator ride; his most recent work of nonfiction, Human Smoke, pieces together a history of World War II almost exclusively from snippets of contemporary accounts (newspapers, magazines, and diaries). So it was no surprise when Baker—sitting at his kitchen table, eating a tomato-and-cheese-and-cucumber sandwich—proposed a constraint for our interview. He asked—shyly, apologetically, but ­seriously—if we could somehow manage to conduct the ­entire thing without ever mentioning any of his books. Talking about them, he said, gives him a "cringe-y" feeling.
That constraint, fortunately, turned out to be impossible. To talk about Baker's life is, inevitably, to talk about his work; the membrane separating the two is unusually thin. If Baker is not exactly one of his own protagonists, he is a close cousin, or a fraternal twin. He and they inhabit the same world—one of odd enthusiasms (Wikipedia, singing poems), microscopically observed mechanisms (pencil sharpeners, windshield wipers), onomatopoeic noises (clonk, kashoonk), and quotidian anthropology (few other authors would notice, as Baker did in The Mezzanine, that late-twentieth-century American men trying to pass through a door at the same time always say "oop" to each other instead of "oops"). Occasionally during our conversations, Baker would recall a specific memory from his childhood—say, the pleasure of listening to music through headphones in the dark—and end up describing, exactly, a scene he'd already described as the childhood memory of one of his characters.
Baker's thirteen books divide roughly into three disparate categories: slim novels filled with idle thoughts about the trivia of daily life (The Mezzanine, Room Temperature, A Box of Matches); nonfictional polemics (Double Fold, Human Smoke); and wild sex fantasies (Vox, The Fermata, and, most recently, House of Holes). The books that don't fit into those categories often manage to combine them. Checkpoint, a novel-in-dialogue about a man who wants to assassinate the president, is a wild polemical fantasy. In The Anthologist, a novel about a poet struggling to write the introduction to a poetry anthology, the trivia of daily life competes with a polemic for the hero's attention and our own.
After some twenty-five years of writing, Baker's reputation is as unusual as his work. He has been praised, widely and enthusiastically, for his style, humor, originality, and empathy. (As Martin Amis once put it, "Throughout his corpus there is barely an ordinary sentence or an ungenerous thought.") At the same time, some critics have very publicly loathed a handful of his books, most vociferously Vox ("tedious"), The Fermata ("repellent"), Checkpoint ("scummy"), and Human Smoke ("childish"). Many of Baker's talents are self-consciously small: meticulously inventive phrasemaking, a masterfully intimate tone, and a superhuman gift for observation. He has a Dutch-painterly reverence for everyday rituals and objects—a belief that they will start to glow with significance if we only pay close enough attention. This has left Baker open to the charge that the work itself is trivial, quaint—a bubble of old-fashioned belletrism floating through a harsh ­modern world. (Leon Wieseltier, writing in The New York Times, once called Baker's novels "creepy hermeneutical toys.")
What's disguised by Baker's cheerful tone, however, is his passionately sustained conviction that we should honor the details of our lives rather than getting carried away by projections and abstractions. In this quest, Baker has seemed continually willing to risk puzzling his fans and inflaming critics; he has shown an indifference to publishing fashions that few authors could have sustained. One index of this independence is that, although Baker has been published for his entire career in magazines such as The New Yorker and The Atlantic, he has never held a staff position. "I felt I had to be someone who would leap in from outside," he told me, "and do some nutty thing and then run away cackling."
Baker is fifty-four years old, but you can still see the teenager in him: he is self-consciously tall and shy, and his face turned red, often, when we talked about his books. He lives in a rambling eighteenth-century house on the border of Maine and New Hampshire. We spoke there for several hours, first in the kitchen and then in the living room, next to the fireplace in front of which he wrote A Box of Matches. Later, Baker drove me to a restaurant in Portsmouth, New Hampshire, where, as we entered, a man exiting at the same time very distinctly said, "Oop!"
—Sam Anderson
INTERVIEWER
Let's start with a very basic question. How do you write? With a pen? A pencil?
BAKER
I edit with a pen, I write on a computer. I've always had trouble with pencils because they get dull so quickly, or they just break, and then there's that ­awful shuddery feeling when you're trying to write with a couple of scraps of wood poking out.
INTERVIEWER
What about a mechanical pencil?
BAKER
Sure, but the leads in mechanical pencils have the problem of bending. They give and then they snap. And they don't offer the pleasures of sharpening. That was always a big moment for me in grade school, to walk to the side of the classroom where the pencil sharpener was mounted on the wall and imagine the two-geared cylinders going around, gnashing away at the cone of wood. The pencil sharpener was probably the best thing about school back then, actually—a little chrome invention under your control. It had a ­thundering sound, a throat-clearing sound, that I especially liked—Ticonderoga is almost onomatopoetic. And of course I oversharpened and broke the point, so I got to stand there for a while making that sound, ticonderoga … oga … oga.
Then there was a while, when I was starting out as a writer, when I really needed to have a certain kind of pen. It was before the golden age of roller­ball pens and gel pens and pens with rubber grips—there's such a bewildering array now. It had a red barrel and I can't remember the name of the manufacturer, which troubles me. It had an unusually smooth, fine-point roller.
INTERVIEWER
So you would use that.
BAKER
That's what I wrote with. And then I decided that a real writer typed his drafts. My mother had a Sears typewriter. Starting in seventh grade, I tried typing once in a while on that. I memorized the keys by taping over them with black electrician's tape. Later, when my father dropped me off at college, he bought me this postmodern-looking, low to the ground, Italian-designed, beautifully minimalist typewriter, a black Olivetti electric, that had a deep hum. I took it to Paris with me, and I wrote a couple pieces on it that ended up being published. Once I'd been published, I thought, Okay, let's get serious now, you're going to have to write on a manual typewriter. So I bought a hundred-twenty-five-dollar green Olivetti manual, which was very light, and I carried that around with me in a zippered case.
When I moved to Boston, in 1983, I typed at night on my green Olivetti manual, and during the day I made a living as a word-processing operator. Somewhere along the way—I think it was 1985—I got a Kaypro, one of the first portable computers. You clamped the keyboard to the front and these little simple clips went clonk. It had two floppy drives and looked like a small, portable piece of medical equipment. It was really a lovely machine. Every so often it would make a little grinding sound, like worn brake pads. I wrote my first novel on it, The Mezzanine. I love typing, actually—the sensation of typing on a keyboard or on an old-fashioned typewriter.
INTERVIEWER
How did The Mezzanine come about?
BAKER
My twenties weren't terribly productive. I wasted a lot of time. I had a mental deadline that I would finish a book by the time I turned thirty. I blew the deadline. I had a job doing technical writing, which was really consuming me. I wasn't sleeping. So my wife and I figured out that we could live for six months, mostly with the money she had saved up. I quit the job and wrote as hard as I've ever written. I would get up at eight in the morning and write until seven at night.
My wife was working two days a week, so I would take care of our daughter, Alice, on those days, and she took care of Alice on the other days. When you have a child, you get a surge of ambition, or a surge of hormonal urgency, to get something done, something worthy of your new station in life. I gave myself a new deadline: Finish the novel while you're still thirty. Do something your child might be able to read when she grows up.
My code name for the book was "Desperation."
INTERVIEWER
What was the writing process like?
BAKER
It was totally absorbing, the feeling of being sunk in the midst of a big, warm, almost unmanageable pond. I could sense all these notes I had, all these observations I'd saved up to use, finally arranging themselves in relation to one other. Somewhere in chapter three, I thought, my God, it's a genuine chapter! And then later I got to chapter eight and a few things had happened—not much had happened, but something had happened.
I retyped the whole book. I was always a believer, even with word processing, that there's something useful about having to retrace your steps from the beginning. And you have to print it out, too—you only get so far if you work by staring at a screen, because the resolution of the paper page is much higher. Your eye actually takes in things on paper more efficiently. I can fiddle around with something on a screen for days and think I'm getting somewhere, and it won't be right. Then I'll print it out and take it to bed, and instantly it's obvious what's bad about it, and I'll cross out, cross out, cross out.
INTERVIEWER
It's an unusual book—especially for a debut. Was it easy to find a publisher?
BAKER
Publishers didn't really get it. It was rejected a lot of times, by nine or ten publishers. They all said they thought it wasn't a novel. They didn't get the footnotes—nobody was doing footnotes back then.
INTERVIEWER
That must have been heartbreaking.
BAKER
Not really. I knew it was a book that was a little bit different from what was going on at the time—I had De Quincey's Confessions of an English Opium-Eater in mind as I wrote, because of the way it swirls around and revels in its digressions. A piece of my book had already appeared in The New Yorker. I figured that at some point someone would publish it. Once it came out in hardcover, a paperback editor at Vintage, Marty Asher, read it and liked it. He brought it out as a Vintage Contemporary, and that was tremendously exciting. I felt like I had been accepted into some strange club. Bright Lights, Big City was a Vintage Contemporary at that same time, and A Fan's Notes and The Sportswriter.
INTERVIEWER
Have you ever been tempted to write books that are a little more orthodox?
BAKER
Oh, absolutely. Before I wrote The Mezzanine I tried to write a murder mystery. I've always wanted to write a spy novel. I read a lot of Len Deighton at one time, and a lot of John Dickson Carr.
INTERVIEWER
What happened?
BAKER
Something comes over me in trying to write the opening paragraphs—it's actually a physical sensation of unhappiness. It physically hurts me to plan out a series of reversals, things that will go wrong. It just doesn't come naturally. My murder-mystery plot was extremely elaborate, with lots of strange clues involving balsa wood, and that was going to be fun, I thought. But then there was the dead body. The dead-body part was the thing I just didn't go for. You have to start with it. If you don't have the dead body, you do not have the murder mystery.
INTERVIEWER
Isn't The Mezzanine, in a way, just a giant, overcompact mystery novel?
BAKER
It's a novel about the mystery of what life actually is—life when there is no corpse to propel people along and make them lock the door and say, We'll all stay here until we figure it out!
There are all kinds of books I'd like to write that seem to be out of my grasp. I'd love to write books like P. G. Wodehouse, for instance. That guy's a genius.
INTERVIEWER
I can hear a little P. G. Wodehouse in your narrative voice—the cheerful amiability.
BAKER
Most of the time, what I want from a book is for it to be funny.
INTERVIEWER
Was your family a funny family?
BAKER
We joked around and we did imitations of TV commercials, deodorant commercials, that kind of thing. My father is a punster, and I inherited a tiny bit of that, but I try to keep it in check. I think I was unintentionally funny. I can't tell jokes. I remember one time being very happy because some friends laughed at something I said.
INTERVIEWER
Do you remember what you said?
BAKER
We were at a lunch counter at high school, and we were ordering food, and I said, "We could order a glass of grease." And they all laughed. I thought, Wow, this is a breakthrough.
INTERVIEWER
Your books are often built around hyperobservant narrators. Do you think your childhood turned you into an observer?
BAKER
My mother was an art teacher in Rochester, and she would give my sister and me drawing lessons. I remember learning perspective and the ­vanishing point, and she also taught us contour drawing, which is really quite helpful to the act of concentration. That's when you look at a plant or, say, a ­crumpled-up shirt on the table, and you try to record all of its surfaces and edges and convolutions and not look down at your hand. You follow everything with your eye and you never take your pencil off the paper.
INTERVIEWER
Is your family originally from Rochester?
BAKER
No, my father came to Rochester because he got a job as a designer at a place called Great Lakes Press, and then he got involved in the advertising business in Rochester. But I was born in New York City, and my mother and my father both met at Parsons School of Design. My father grew up in the South—his father taught pathology and medicine at Duke. My mother grew up in Moorestown, New Jersey. She came from a Quaker family, although my grandfather was in revolt against that.
INTERVIEWER
What exactly was he rebelling against?
BAKER
Against the severity of old-line Quakerism. It was opposed to ornament, and, traditionally, to music, to art. My grandfather was something of an aesthete and a poet, and he wanted to breathe in all the artistic glories of Europe. Then the Depression happened, and there was much less money. Their money came from glassmaking. They made the insulators that went on telegraph poles and electrical wires. We still have some of them around our house. They say "Whitall Tatum Company" and they're pale green and heavy. The Quakers were good businessmen, but they were also pacifists—an interesting combination. When I was growing up, I didn't feel any kinship with them. I didn't think of myself as a pacifist. I came up with the idea of going to Haverford College after I read a book called Stop-Time by Frank Conroy. Then my mother said, You know, your grandfather went there, and a bunch of other relatives—it's a Quaker college. It was pure coincidence. But the Quakerism of the place, and of my own family, has had a slow, time-release effect.
INTERVIEWER
How so?
BAKER
I think of myself now as an outright, self-proclaimed pacifist in the basic Quaker way. I'm inspired by the Quakers. I like what they were up to in the Civil Rights movement. Before that they were the earliest opponents of slavery. Even though I'm not a theistic person, I'm glad to be descended in a small way from those people.
INTERVIEWER
When I was looking back through your work, the unifying element I noticed is an instinct for preservation.
BAKER
Absolutely. With The Mezzanine, I was trying to preserve the things we think about when we're thinking about something else. I've always had an urge to try to hold on to places and documents and buildings. If a store went out of business when I was a kid, I'd have a horrified, grieving feeling. How could it be gone? What was the shopkeeper going to do now? I don't like when precious things slip through people's fingers—especially things that seem defenseless or undercelebrated, like old newspapers, but also unheralded people who may have said sensible things at a certain time in history, but who were completely drowned out by other people. Or minor poets whose lives were instructive. Sometimes I'm astounded by the absence of sentimentality in other people. How can you not become attached to the poignant scraps that flow through life? I tried to put the date on all my kids' drawings, thinking, That'll help. But of course you're trying to save something that's evolving. It isn't savable.
INTERVIEWER
Where do you think that urge to preserve things came from?
BAKER
I think maybe it was the elm blight. Rochester was a city of elms. Beautiful wine-dark elms down every street. And every year another tree would come down. The street I lived on, Strathallan Park, had several elm trees on it. They had enormous wounds in them, and this soft, dark brown dust would come out of them. Occasionally, some limbs would be lopped off here and there. That was one of the immense experiences of my childhood. Also, my father was really interested in keeping bits of buildings that were torn down as part of urban renewal. He took me to the huge Rochester train station while it was being torn down. It was designed by the same architect, Claude Bragdon, who had designed the house I grew up in. It was an impossibly great train station. When I saw it, it was half destroyed and had giant cracked arches and litter all over the floor. My father saved some of the ­encaustic tiles from this station. We still have them. Rochester had been a very rich city ­because of the flour-milling operation, and then Eastman Kodak and Bausch & Lomb. But then all through the sixties and early seventies, one great building after another got torn down.
INTERVIEWER
Before you were a writer, you wanted to be a composer. How did that happen?
BAKER
My father listened to a lot of classical music. He was a graphic designer, and he used to work to a deadline, so he would stay up all night doing some logo or sales brochure. He had a radio in the basement, with the wire ­antenna wrapped around a blue pipe, and he would play the classical-music station. I'd come down in the early morning, and he'd still be there, with some vast symphony by Bruckner or Sibelius going. We'd lie around on the carpet, listening to FM radio or to a record that I'd bought. So it was something we did together.
A little later I started playing the bassoon, and I thought, Well, this is obviously the greatest art form that human beings have ever cooked up, and I'd like to try to become a composer. My ambition was to become the greatest composer since Johannes Brahms.
INTERVIEWER
How did that work out?
BAKER
Not very well!
INTERVIEWER
When was this?
BAKER
When I was in high school. I went to an experimental place called School Without Walls. It was very flexible. If I wanted to listen to music all day, I could. There were teachers who monitored our progress, and we were supposed to write up some kind of plan. So if you were interested in music, you would say, I'm planning to go to the Eastman School of Music to study style change in music, and here are some books I'm going to read. I took a chemistry class one time at a lab at the University of Rochester Medical School. The teacher was a volunteer, and there were two people in the class. I'd bought a textbook that had a good-looking cover design—because that's important—and started reading. With any of these little self-motivated, self-teaching projects, I never really got past chapter two. I learned about the close packing of spheres and maybe vapor pressure and a hint of Boyle's law. And then I played the bassoon in the lab—the acoustics in that lab were perfect. It just echoed, and you could really make the pipettes jingle. I bicycled all over the city with my bassoon bungee-corded to my back. I always had it with me. It was a very strange life.
INTERVIEWER
Were you any good?
BAKER
I was in different youth orchestras and bands, and there were concerts where it came together and some where it didn't. I remember a disastrous performance of Carmen, the opera, where I missed my cue, and Maurice Abravanel, the conductor, gave me a look of utter hatred. I'm a little too shy to be an orchestral musician. But technically, my fingers did what I wanted them to do. When I decided to become a writer, I thought I would support myself as a bassoon player, so I auditioned for the Syracuse Symphony—­unsuccessfully. I also got a few jobs as the fourth bassoonist of the Rochester Philharmonic, and I bought a tuxedo. That was a big moment. I had a kind of Solzhenitsyn beard with no mustache, because the mustache would have interfered with my playing. It was really not a good look for me. This all happened when I was at the Eastman School and a little later, when I'd transferred to Haverford College.
INTERVIEWER
Did you and your wife, Margaret, meet in college?
BAKER
Yes, I was at Haverford and had just come back from a year in Paris, and she was just starting as a freshman at Bryn Mawr. I was twenty-one, and she was eighteen. I had not been terribly happy on the Haverford campus before I'd taken the year off. When I came back, a friend of mine said, The thing you've got to do is live on the Bryn Mawr campus—which is right down the road. And he basically got me a dorm room. I was at one end of the hall, and Margaret and her roommate were at the other end. Everyone on that hall got to know each other really well. It was just paradise, everything that coed dorms should be. We had an ironing board and set up a little Friday happy hour with gin bottles and ice and Schweppes tonic water, and that seemed extremely sophisticated to me, because I didn't really know my way around a gin bottle.
INTERVIEWER
Why were you so unhappy for your first couple years at Haverford?
BAKER
All I did was read seventeenth-century poetry and books of criticism and try to figure out how to write papers. I hadn't done enough writing in high school, so it didn't come naturally. It was lonely. But then coming back from France was a new beginning. I was older, an upperclassman. I'd grown the mustache in by then. I tried to position myself as something of a character. I had a purple velvet bowler hat that I thought would be really great to wear to parties. I was slow to mature, slow to figure out how to talk to people in a relaxed way until I knew them very well. Even now, I'm not particularly good at the public-person side of things.
INTERVIEWER
After college you seemed to work all kinds of jobs, including Wall Street. How did you end up there?
BAKER
It is kind of a chaotic résumé. Wall Street happened because I read a history of Lehman Brothers and a couple of other books about investing, and that world seemed refreshingly unlike anything I knew. It interested me that you could put a price on an idea. So I talked my way into a job at a little brokerage firm. I wanted to follow technology stocks, but they had a pretty good person doing that, so they made me assistant to a guy who was covering the oil industry. This was before spreadsheets, so I spent a lot of time with a calculator, making manual charts that predicted the prices of various stocks assuming certain high and low prices of oil. I was hired because I supposedly had some writing talent, but it didn't emerge. The things I wrote were very clumsy.
When I quit the Wall Street job I had a burst of energy, and I wrote a short story and finished a draft of another story and went to Berkeley to live in Margaret's parents' house. I signed up for a two-week writing class with Donald Barthelme. I started reading like mad and got back into practice. It was such a release to be away from business. I wrote one story about a trombonist, and another story about a guy who could charge sleep—other people would do his sleeping for him. I showed them both to Barthelme. He read the sleep piece and kind of liked it, and I wanted him to read the huge trombone piece, which was around eighty pages. He said, "This is hellishly long." But he read it. And then he said, "I think you should send it to Veronica Geng at The New Yorker." She rejected it but told me to send it to Bill Whitworth at The Atlantic, and he took it. And The New Yorker took the other story, about the guy who charged sleep. I got both acceptance letters in the mailbox on the same day. I was twenty-three. I thought I was home free as a writer.
INTERVIEWER
But that wasn't the case?
BAKER
I'd exhausted the whole musical side of myself with the trombone story, and charging sleep kind of summed up my time in New York. I tried to write a Talk of the Town piece for The New Yorker and it wasn't quite right. Then I wrote something else they rejected. Roger Angell sent a nice letter saying, in an encouraging way, that the story was no good, which was true. It's devastating to get a rejection. Always. This friend of mine had really good pot, and he'd given me some that I kept in my sock drawer for probably two years. I hardly ever smoked pot—I thought, I don't want to scramble my mind, ­because I might need it to write things for The New Yorker. But when I got this terrible rejection, I smoked about a hundred dollars' worth of pot right there at the Olivetti and typed steadily and got something like twelve pages of lyrical nonsense. There's always a way to turn things to good account, I guess.
INTERVIEWER
What was Barthelme like as a teacher?
BAKER
He was a genuinely nice guy. He didn't necessarily want to be there. I mean, he had his own demons. He was always on the lookout for a Bloody Mary. But he said something I've never forgotten—that when you get to be over fifty, you start counting. He was much more serious and less funny than you might expect. A beautiful reader—there was no patter, he just came up to the podium and said, in his low voice, "I want to read you a story."
INTERVIEWER
Did you actually write A Box of Matches in front of the fireplace in the early morning, like the narrator of A Box of Matches?
BAKER
Yes, because I had a lot to do during the day then. Margaret and I had opened the American Newspaper Repository in the next town, in an old mill ­building, and people were coming in to look at the newspaper volumes. I was a sort of cultural administrator during the day. I found that starting and nurturing this tiny early flame helped me to concentrate—there's ­something simple and pleasantly meditative about building a fire at four in the morning. I started writing disconnected passages, and the writing came easily. I wrote a big pile of pages, way too many, and it wasn't very finished. So I put it away for a year, then went back and cut it down and rewrote it all. I didn't know that it was going to be a book about a guy sitting at a fireplace. But in the end it didn't seem as if that was the wrong way to do it. I was so delighted to be able to start every chapter with "Good morning."
INTERVIEWER
Were you actually typing in the dark?
BAKER
Yes. I had a couple different laptops because they were not all that dependable, and one of them had a slider bar. I could slide the screen brightness down to almost nothing, so I was sitting in complete darkness. The screen would have just the tiniest hint of phosphorescence and a faint crackle of static electricity. I thought, This is an option Dickens did not have.
INTERVIEWER
What did writing in the dark do for you?
BAKER
I've always been helped by sensory deprivation. I used to wear earplugs a lot. Sometimes I would write with my eyes closed. But writing in the early morning is different because you haven't been able to see anything for hours. I would get up and feel my way around. The only help was the moonlight, if it was a moonlit night. You think differently if you can't see.
INTERVIEWER
In that case, why not just make A Box of Matches a memoir? With The Mezzanine, too—if the fiction is so deeply autobiographical, why make that genre displacement?
BAKER
I couldn't do that because A Box of Matches isn't entirely true to my life. If you call something a memoir, it really has to be true everywhere. You change genres the moment you change one fact. If you claim that something ­happened a week later, and it really didn't happen a week later, you've left memoir and entered the realm of fiction. In U and I, which is nonfiction, everything is as true as I can make it. Same with the essays in The Size of Thoughts and the later, more reportorial books, Double Fold and Human Smoke. But in The Mezzanine, I had accumulated observations from several different jobs—they were a sort of euphoric distillation of the idea of lunch hour. It's true that I worked at a job on a mezzanine in New York, at 55 Water Street, but some of the thoughts I put in the book were from jobs I worked at in Boston. Not a huge stretch, but a stretch.
I'm a pretty autobiographical writer. I like a high ratio of true events to made-up events or rearranged events. I've always felt that if you think you can find a way to tell the truth and keep the fictional flux going, it's at least a good idea to try, because very often the truth is more interesting than the posed picture, the tableau. The messiness of truth is a useful corrective. But of course you have to tinker a little, sometimes to avoid hurting someone's feelings, and the little touches of necessary fictionalizing make it possible to feel that you're offering a character who is not exactly you. You give a different name to him—that helps a little—and you exclude certain ­moments. For instance, the guy who's making a fire in the morning in A Box of Matches doesn't have to have gone to the experimental school I went to. A little fiction helps me build a temporary moat around one part of life, and that prevents other parts of my life from rushing the gates.
INTERVIEWER
It gets complicated, though, because your fictional characters often make those gestures of correction, too. The narrator of The Mezzanine, for instance, makes these kinds of observations fairly frequently: "Under microscopy, even insignificant perceptions . . . are almost always revealed to be more incremental than you later are tempted to present them as being."
BAKER
Our interior lives include many moments of revision. We loop back and reexamine. And all of those little half notions you have, that you can't quite remember, those tentative theories—they're all part of the idle froth of consciousness. There's so much excess interior energy that surrounds ­inaction, especially when you're stuck in a day job you're not doing very well, and most of it is not terribly unhappy. In The Mezzanine, I thought of myself as writing a book that was in some ways light. It was making a point that truth was light. I was puzzled when people would say, This guy's obsessed. I don't think of it that way. The book is Howie's personal anthology of idle thinking. Obsessive is the opposite of what he is.
INTERVIEWER
Did you write those thoughts down during work? Or did it all come to you later when you sat down and started writing?
BAKER
On lunch hours and after work, I wrote notes in the back of my paperbacks. For instance, there's a passage in the book about straws floating. That started out with the note "straws that float," written in the back of a Penguin paperback of Gissing's New Grub Street. I was infatuated with Penguin paperbacks then, reading the diaries of the Goncourt brothers in English translation and Olivia Manning and Frank Norris's McTeague—a whole bunch of books that didn't fit together. I read the Penguins at lunch hours, wrote things down in the back, and then expanded my notes at night on my manual Olivetti. Then I got married and got a job as a technical writer for a company that made modems, south of Boston. I drove to work while dictating some of the book into a machine and transcribed the dictations. So there were all of these rivulets feeding into it.
INTERVIEWER
Did your other books also come together from many different rivulets?
BAKER
When I started The Anthologist in 2003, I dictated notes into a digital recorder and transcribed some of them and set that aside. And then in 2007, I did a lot of videotaping of myself talking in the character of Paul Chowder. I set up a camera and grew quite a huge beard and tried to be a poet. I had this old fisherman's hat that I wore. I shot about forty hours of me in various places, outside, down in the creek. You know the scene where Paul is sitting in a white plastic chair at the creek eating a Meals on Wheels meal? I have all that on film. I'd often have a pile of books next to me, and I'd pretend that I was explaining, as a working poet, what I really loved about poetry. Or I would have some books and a presentation easel and some Sharpies and film myself explaining scansion. It's helpful to try things over and over again, like writing multiple drafts. At the beginning, my explanations were orthodox and simple, but by the fifth time through I was a little bored with what I wanted to say about iambic pentameter, and instead I'd fling something in about clothespins. So then I stripped out the audio from the video and transcribed it all, which was really time-consuming. At some point I just hit the wall with transcription. That's when I reached phase three.
INTERVIEWER
What was phase three?
BAKER
Speak-typing. Once again I'd put the hat on and go out in the white plastic chair somewhere, sometimes in the middle of the night. And I would speak but also type at the same time. Some of the better parts of the book were written as speak-typing. Then came the next phase, which was to come up with a massive draft of all of that and then smooth it out.
There was also the random-number stage. That took a few months. I had all these pieces—probably five hundred, six hundred pages of writing—and I got very constricted. What do I start with? So I decided that each chunklet should be assigned a random number from a random-number generator at a Web site called Random.org. Immediately I could see that the new artificial order was totally wrong. The rational side of me revolted against this horrendous scrambling. I fought back and hacked and slashed and crawled my way back to the order the book needed to be in. But sometimes the randomization forced some good conjunctions—there were some sequences that survived. And then I had a draft and did what I always do with my books—I showed it to my wife. Then I sent it to my editor. It's not a book about a blocked poet. In fact there is a superabundance of words and the legitimate doubt that the words are worthwhile.
INTERVIEWER
What are the benefits of speak-typing?
BAKER
I have a tendency to get too fancy, to get myself tied up in torturous sentence fragments that would never be sayable. If I think to myself, Now I'm really going to lay it on the line and explain why people get excited about free verse, or who Algernon Swinburne is, and if I silently begin writing a paragraph about it, all these odd belletristic flights start happening that may or may not be helpful. But if I speak it, I'm surprised how everything I have to say obediently gets in line, like people waiting for a bus.
It's a symptom of a larger change. When I was starting out as a writer, I felt an overriding lyrical urge. I had an ideal of ornament, not Victorian but really baroque or art nouveau ornament—printer's dingbats, Gaudí, the Watts Towers—that I wanted to try to get close to in reaction to the prose style of the day, which I felt was Raymond Carverish and flat. I thought, My sentences are going to be long and striped and snakey, and they're going to be full of complex subordinations, because that's the writing that really gets me excited, De Quincey and Jeremy Taylor and Sir Thomas Browne and all the rest of them. But now I think, Well, I did that. There are other ways to go.
INTERVIEWER
Your earliest published stories were written in a magic realist style, but you abandoned that for something like its opposite—extreme realism. How did that happen?
BAKER
Maybe it was that my early experiments were failures. I think I felt some of the terrifying arbitrariness that someone who's writing a folktale feels—"Once upon a time, the old miller climbed a tree. No he didn't, he dug a well. No, actually he swam out in the middle of a pond and met a genie." It doesn't matter. Who cares? Anything can happen. There are a hundred possibilities. But if you bring it very close to something you know, then the number of possibilities drops way down. And it becomes interesting to come up with words that wrap around reality's utility pole.
INTERVIEWER
Can we talk a little about the perils of sex writing?
BAKER
Yes. There aren't any.
INTERVIEWER
No?
BAKER
It's just too darn fun. I recommend it to everyone. I guess the perils are that sometimes you get perplexed or worried reviews. Poor Baker, has he gone off? Have we lost him to wankery and shame? But my basic feeling is that if a novel can offer some entertainment, and maybe a few observations and also, as a kind of bonus, a little arousal here and there, that's probably not a bad thing.
INTERVIEWER
So it's fun to write about sex?
BAKER
Of course it is. First of all, there's the challenge. People have done it over many centuries in many different ways. There's A Thousand and One Nights and Fanny Hill. It's a grand theme. I thought I'd done everything I wanted to do on the subject with Vox and The Fermata, but many years have gone by since those books, and it turns out that if you assume that things like interplasmic-crotchal transfers are possible, there's more to be said.
INTERVIEWER
Is writing about sex arousing for you as you're writing it?
BAKER
There's no point in doing it if it isn't arousing to some degree. Erotic-romance novelists talk about, after certain chapters, taking a "fun break." You're imagining all these wild, explicit things. I think it would be really perverse to sit there completely unmoved.
The interesting problem for me in House of Holes was that I was writing some of the vignettes from a woman's point of view and some from a man's point of view. It got confusing there for a bit—almost hermaphroditic. I suppose it's the way Henry James felt in writing Portrait of a Lady. That was what led me to have people swapping genitalia. Because, well, I'm basically a boringly heterosexual guy. But in order to imagine a woman in a sex scene, in order to tell that story to myself, I have to become the woman for that moment. And that's surprisingly okay.
The questions I wanted to answer with a "yes" as I wrote were, Is this surprising? Does it make me laugh? Does it submit totally to the horny madness? Is it strange? I like strangeness. When something feels strange but doesn't feel off-putting or unpleasant, that's a sign that you're on the right track. So I was hoping for a certain amount of that. I thought the part where she ends up in the guy's urethra was good and weird.
INTERVIEWER
How do you get yourself into the mental space to write that kind of wild sex fantasy?
BAKER
It doesn't always happen, but sexual arousal itself is a kind of drug. It has also turned out to be one of the few plots I can actually handle. If I imagine a man and a woman talking, and I know that later on they're going to be taking some of their clothes off, that pulls me merrily along. So it's both arousing and it entices me to write the next paragraph. I really like knowing what comes next. The basic boy-meets-girl plot in which they talk a little bit and then they have some kind of slightly bizarre sex—that plot I can do. Other plots are harder.
INTERVIEWER
Did you do research for House of Holes?
BAKER
Here and there I did. For instance, one guy is in quest of a special bathing suit that will give him a healthy abundance of jism, to use the scientific term. I thought, I know there's got to be a home remedy. Turns out it's lecithin, a food emulsifier—so I put that in. In Yahoo Answers, people ask very intimate questions, and other people chime in. The online world sometimes pushed me in odd directions.
As far as porn itself is concerned, of course I've seen a lot of it. I think I'm really from the first porn-saturated generation. No generation before mine had been able to ride a bike down to the local movie theater and see ­every imaginable thing. There were usually five or six good minutes in a three-hour double feature. Sometimes I'd wait, bored out of my gourd, for the part I liked to cycle around again. So I grew up on this visual incredibleness. All that seventies pornography is in a heavy sodden layer in my brain, like the layer of phone books in a landfill. It's changed a little bit over time, but all I have to do is drill down to it.
INTERVIEWER
Do you watch pornography now to work yourself up for sex writing?
BAKER
That doesn't work. McLuhan was right—there is a difference between these mediums. Actual Internet porn is too immediate, too distracting when you're engaged in direct competition with it. It's way too hot a medium. Writing a fictional scene is a slower burn. Better, but slower. You never want to be asking yourself, My God, why would anyone read a bunch of squiggly black words when they could look at real nakedness? That's the great doubt. In fact, that is one of the questions House of Holes is trying to answer. Is there still a point to writing words about sex when you can see anything you want, and a lot of things you don't want to see, on the Web?
INTERVIEWER
Did you answer that for yourself in writing the book?
BAKER
I think the answer is yes. There's the basic delight of the visual collaboration between reader and writer—the teamwork. But the main advantage to written sex as opposed to video clips is that it keeps alive the possibility of humor. Comedy and immersive sexual excitement can coexist comfortably in a book, whereas the nudity in a porn video is so overwhelming to the hindbrain that you stop laughing. Bare breasts are almost never funny.
I've always tried to write unfilmable books, starting with The Mezzanine. Maybe this little black-and-white word mound can still be imposing in a world in which we have macro lenses and all kinds of lush cinematography. Maybe prose can be more visual than film. House of Holes was another try, like John Henry and his hammer keeping up with a steam drill. I was trying to see if a written sex scene—even at this late date, with more lifetimes of porn clips available for free than anyone could ever imagine—could still find a new way to convey something true about this wonderful, fumbly thing that people do together.
INTERVIEWER
Do you brace yourself for controversy when you write books like this?
BAKER
When I wrote Vox and The Fermata I was braced a little bit. But we're in a different world now. Then again, I'm not a good predictor of controversy. It always startles me when people are distressed. I think House of Holes is a fundamentally good-natured book. What would the controversy be about—whether it can be called a novel and not a work of pornography? Because I don't mind what it's called.
Some of the nonsexual books, for instance Double Fold and Human Smoke, have been much more controversial, in a painful way. I think I'm still in the comet's tail of Human Smoke. Some people misread the book's motives and were upset by it.
INTERVIEWER
Did Human Smoke turn out like you wanted it to?
BAKER
The book did what I hoped it would, which was to feel its way through a terrible time by offering discrete strobe flashes of life. It wasn't craftily making some claim of moral equivalence. In fact it was doing the reverse of that. It was saying, Don't pile every act on one side or another of a single enormous scale. Don't treat countries as people. Treat every murder in a war as a separate event. The book grew gradually out of a primitive experience. I was driving around with all these sad books in the back seat of my car, and I would read them and take notes, and when I closed the books I would ask myself, What in all those pages do I remember? I thought, Well, if that's the thing I actually remember, that's probably what I'll want to write about. Some details in newspaper articles—like the exploding cans of soup in the ashes of Coventry—insisted on being included.
Each of the moments I recorded had a date, but when I was in the midst of research I wasn't proceeding chronologically. When I wrote up one of those entries, those moments, those fragments, I didn't know where it would end up. There was no deliberate juxtaposition. The point was to allow the moments to remain disconnected, one from another, so you could look at war as an infinite, particulate series of decisions and moments of pain or futility. Remove the grand narrative and suffer through it slowly.
INTERVIEWER
How do you keep yourself inspired? Do you have a private canon of authors you go back and reread?
BAKER
It depends if I'm working on nonfiction or fiction. When I'm trying to write fiction, I sometimes like to read romance novels or genre fiction or poetry. Sometimes I take a peek at Anna Karenina, which is the best novel I've read.
When I'm writing nonfiction, I'll check in on E. B. White, John Updike, and Maeve Brennan, also known as the Long-Winded Lady. And George Saintsbury, I always love going back to him. He's a critic with a fluent style. He's willing to read anything and to think about the most inconceivably ­minor writers. Nowadays I read Saintsbury in the middle of the night, without turning on the bedside light.
INTERVIEWER
Is this on an iPhone?
BAKER
An iPod. When I wake up and it's too early to get up, I'll read a little of his history of French literature or of Elizabethan literature or of the ­novel. Saintsbury wrote three volumes—I don't know if it's a masterwork or a horrendous mistake—on the history of English prosody, in which he goes poet by poet and talks about their rhythm and their stanzaic forms. It really doesn't help much in understanding how the poetry works, but he moves smoothly from one writer to another. He's a great praiser, and that's a very hard thing to be because you run out of words so quickly. There's only a small store of "that was good" kinds of words, and yet Saintsbury seems always to have a new one or a new combination.
INTERVIEWER
Is Nabokov important to you?
BAKER
Yes, absolutely. Nabokov was the beginning of my wanting to be a writer. I read his description of telegraph wires seen from a train, and it matched my memory of telephone wires from a car. I thought it was a miracle that somebody could put down in words an image that would exactly correspond to something I'd seen more than half a century after he'd seen it. I was about sixteen, and I was still in the whole bassoon-playing groove, but that was the beginning of the shift. Nabokov has his awkward ways, because he's not a ­native speaker—all those twelve-dollar words, his crazy fixation on butterflies, too many parentheses—but that's all part of what he's giving us. You forgive one part because you get so much from the other parts.
G. K. Chesterton, too—not Chesterton of The Man Who Was Thursday, but the one who wrote hundreds of essays. The essay that was really important to me was "A Piece of Chalk," about a man sitting on a hill looking out over a valley who wants to draw but doesn't have a piece of white chalk. And then he realizes he's sitting on a giant mound of white chalk.
INTERVIEWER
With Chesterton, there's a fixation on being minor—he's almost aggressively minor, which I think applies to your work, too.
BAKER
Minor, major—those words have never done much for me. I don't understand them. The question any novel is really trying to answer is, Is life worth living? That's a major question, a huge question, but the best way to ­answer it might not be to crank the novelistic universe into a crude, lurching ­motion by employing a big inciting incident. Sometimes life provides only the tiniest of inciting incidents—that your left shoelace snaps within a day of your right one. That's enough for me. When something is beautiful, it can't be minor. Also I think it's neat when a novel offers you miscellaneous helpful tips or tricks or facts. When it's a friendly companion, when it does you good on various levels. A lot of novels bully us into assenting to their importance. I'm tired of that.
INTERVIEWER
Another note I pick up in your writing is William James. Is he important to you?
BAKER
Elizabeth Hardwick edited a collection of William James's letters that I carried around in my briefcase for months. He's full of affection—such a genial, loving man. Depressed, I think, not entirely happy, but sunny as anything in those letters. And he was a brilliant introspector. He taught me that introspection was not only fun but that it could lead to discoveries about other people's minds. That was his amazing gift—he introspected so intently that he discovered generalizable mental truths.
INTERVIEWER
Are you happier in your writing than you are walking around in life?
BAKER
It's complicated, because if my writing isn't going well, then of course I'm dejected about that. My family makes me happy, my yard makes me happy. I really like talking to my wife and my children. I like making coffee milkshakes without a blender—all you have to do is squash the coffee and the ice cream together in the glass using a tablespoon. I think I probably have the normal number of states of elation and despair. Several years ago I went through what I guess was a minor midlife crisis, a feeling that I was done with writing chapter books and that I needed to move on to other things. That was after Checkpoint. The Iraq war and the drones in Afghanistan made me miserable, deeply disappointed in the United States. They still do. Wars trivialize every small-scale concern you have, like saving newspapers or saving a train station. They call into question ever minor joy. Why are you making that coffee shake after mowing the lawn? Why are you taking that picture of a scrolled leaf? Wars are bad for the novel, because suddenly all of our precious mundanity is justifiably marginalizable.
INTERVIEWER
Did Human Smoke come out of that feeling?
BAKER
It did. Checkpoint was a work of fiction, but it didn't really work. I don't know what it was—a cry of pain perhaps. It was an argument for nonviolence that people took to be an assassination fantasy. Nonviolence wins in that book. But it was a total mistake. I wish I hadn't published it. On the other hand, when I glance at a random page, I think, Hell, I'm glad that bit is in there. But Checkpoint was a failure. Human Smoke was an attempt to back up and do it right and to find a new way of writing about gigantic events, by taking them apart. After that, I started to pull my fiction-writing self together with The Anthologist, which is a slightly displaced version of the despair I'd been through—despair at the whole craft of phrasemaking. I was happy enough with that book that I finished House of Holes. There's a lot of crazy joy in House of Holes, and I'm proud of it.
The last book in the old way is A Box of Matches, which is already much simpler. I thought at the time that it actually did things better than some of the earlier ones, although it's not as flashy. It was the end for me of fictionalized autobiography. Or was it? I'm fundamentally a first-person guy who yearns to be a third-person guy. I can't help it.