Interviewed by Sam Weller
Issue 192, Spring 2010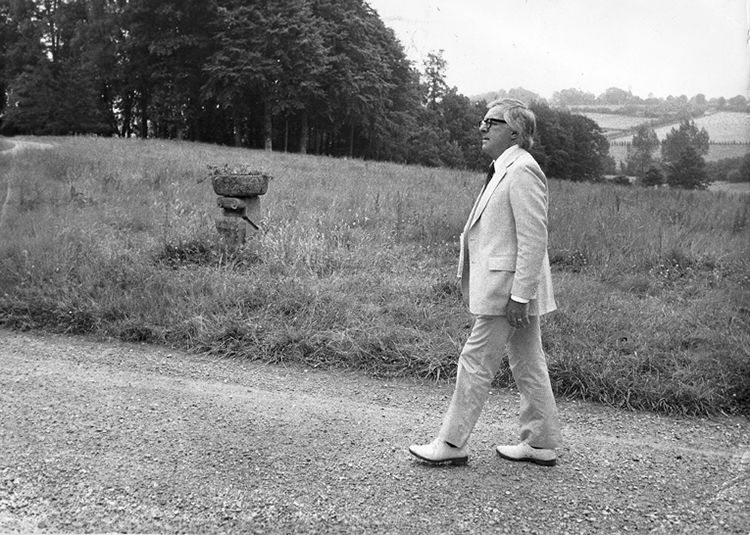 Bradbury in 1978.
Ray Bradbury has a vacation house in Palm Springs, California, in the desert at the base of the Santa Rosa mountains. It's a Rat Pack–era affair, with a chrome-and-turquoise kitchen and a small swimming pool in back. A few years ago, Bradbury let me look through some files stored in his garage as part of my research for a biography. Inside a tiny storage closet I found a compact filing cabinet covered in dust and fallen ceiling plaster, which contained, amid a flurry of tear sheets and yellowing book contracts, a folder marked paris review. In the folder was the manuscript of a remarkable unpublished interview that this magazine had conducted with the author in the late 1970s.
It's unclear why the interview was abandoned, but according to an attached editorial memo, editor George Plimpton found the first draft "a bit informal in places, maybe overly enthusiastic." Bradbury, who will turn ninety in August, cannot recall why he never finished the interview; he figures that when he was asked to revisit it, he had moved on to other projects. But with the rediscovery of the manuscript, he agreed to give it another go and bring it up to date. Since the original interviewer, William Plummer, a Paris Review contributing editor, died in 2001, we supplemented the original sessions with new conversations.
Bradbury was born in 1920 in Waukegan, Illinois, the son of a lineman for the local power company. As a child, he developed a passion for the books of L. Frank Baum and Edgar Allan Poe and immersed himself in popular culture, from cinema to comic strips to traveling circuses. Because Bradbury's father was often out of work during the twenties and thirties, the family repeatedly moved between Illinois and Tucson, Arizona. His sense of uprootedness and dislocation was compounded by the death of his beloved grandfather when he was five, and his baby sister's death from pneumonia two years later. The experience of great loss appears frequently in his work.
By the spring of 1934, lured by the prospects of sunshine and steady employment, the Bradbury family moved to California, where Bradbury has lived ever since. As a teenager, he roller-skated all over Hollywood, collecting autographs and taking photos with stars like Jean Harlow, Marlene Dietrich, and George Burns. After he graduated from Los Angeles High School in 1938, he joined the Los Angeles Science Fiction League, befriending writers Robert Heinlein and Leigh Brackett. In 1940, with the help of Heinlein, he made his first professional sale, to a West Coast literary magazine called Script. Bradbury's poor eyesight kept him out of the Second World War, and it was during those years that he established himself in the pages of pulp-fiction magazines like Weird Tales and Astounding Science Fiction. The Martian Chronicles, his second book, was embraced by the science-fiction community as well as critics, a rare achievement for the genre. Christopher Isherwood hailed Bradbury as "truly original" and a "very great and unusual talent." Three years later Bradbury published the novel for which he is best known, Fahrenheit 451.
In all, Bradbury has written more than fifty books, including The Illustrated Man, Dandelion Wine, Something Wicked This Way Comes, and his 2009 story collection, We'll Always Have Paris. He has worked often in television and film, writing teleplays for Alfred Hitchcock Presents and the screenplay for John Huston's 1956 adaptation of Moby-Dick. In 1964, he established the Pandemonium Theatre Company, where he started producing his own plays—he is still actively involved with the theater today. He has also published several poetry collections, including When Elephants Last in the Dooryard Bloomed. He has even worked in architecture, contributing to the design of San Diego's Westfield Horton Plaza and the interior of Spaceship Earth at Disney's EPCOT Center. For his life's achievements, he was awarded the Medal for Distinguished Contribution to American Letters from the National Book Foundation in 2000 and, in 2004, the National Medal of Arts.
Despite recent setbacks—a stroke in 1999 and the death of Marguerite, his wife of fifty-six years, in 2003—Bradbury has remained extraordinarily active. He continues to write and he remains charming and filled with boyish jubilation. When dining out he regularly orders vanilla ice cream with chocolate sauce for dessert. He has just completed a new collection of short stories, tentatively titled "Juggernaut." He recently told me he still lives by his lifelong credo, "Jump off the cliff and build your wings on the way down."
INTERVIEWER
Why do you write science fiction?
BRADBURY
Science fiction is the fiction of ideas. Ideas excite me, and as soon as I get excited, the adrenaline gets going and the next thing I know I'm borrowing energy from the ideas themselves. Science fiction is any idea that occurs in the head and doesn't exist yet, but soon will, and will change everything for everybody, and nothing will ever be the same again. As soon as you have an idea that changes some small part of the world you are writing science fiction. It is always the art of the possible, never the impossible.
Imagine if sixty years ago, at the start of my writing career, I had thought to write a story about a woman who swallowed a pill and destroyed the Catholic Church, causing the advent of women's liberation. That story probably would have been laughed at, but it was within the realm of the possible and would have made great science fiction. If I'd lived in the late eighteen hundreds I might have written a story predicting that strange vehicles would soon move across the landscape of the United States and would kill two million people in a period of seventy years. Science fiction is not just the art of the possible, but of the obvious. Once the automobile appeared you could have predicted that it would destroy as many people as it did.
INTERVIEWER
Does science fiction satisfy something that mainstream writing does not?
BRADBURY
Yes, it does, because the mainstream hasn't been paying attention to all the changes in our culture during the last fifty years. The major ideas of our time—developments in medicine, the importance of space exploration to advance our species—have been neglected. The critics are generally wrong, or they're fifteen, twenty years late. It's a great shame. They miss out on a lot. Why the fiction of ideas should be so neglected is beyond me. I can't explain it, except in terms of intellectual snobbery.
INTERVIEWER
There was a time, though, wasn't there, when you wanted recognition across the board from critics and intellectuals?
BRADBURY
Of course. But not anymore. If I'd found out that Norman Mailer liked me, I'd have killed myself. I think he was too hung up. I'm glad Kurt Vonnegut didn't like me either. He had problems, terrible problems. He couldn't see the world the way I see it. I suppose I'm too much Pollyanna, he was too much Cassandra. Actually I prefer to see myself as the Janus, the two-faced god who is half Pollyanna and half Cassandra, warning of the future and perhaps living too much in the past—a combination of both. But I don't think I'm too overoptimistic.
INTERVIEWER
Vonnegut was written off as a science-fiction writer for a long time. Then it was decided that he wasn't ever a science-fiction writer in the first place, and he was redeemed for the mainstream. So Vonnegut became "literature," and you're still on the verge. Do you think Vonnegut made it because he was a Cassandra?
BRADBURY
Yes, that's part of it. It's the terrible creative negativism, admired by New York critics, that caused his celebrity. New Yorkers love to dupe themselves, as well as doom themselves. I haven't had to live like that. I'm a California boy. I don't tell anyone how to write and no one tells me.
INTERVIEWER
Yet you did receive the Medal for Distinguished Contribution to American Letters. How important was that for you?
BRADBURY
It was a fantastic evening. There was a real problem getting back to my hotel room, though. The hotel where they held the ceremony in New York was so huge, it filled me with despair. Since my stroke, I walk very slowly. I saw a sign that night that said, next restroom: two hundred and eighty miles. The registration desk was on the eighth floor. You have to wait ten minutes for an elevator just to go up and register! That night some of the women were taking me back to my room and I said, For God's sake, where's the men's room? We couldn't find one. One of the girls said, There's a potted palm over there, why don't you go use it? So I went over. Nobody saw me. At least I don't think so.
INTERVIEWER
Was that award a signal that science fiction had become respectable?
BRADBURY
To some extent. It took a long time for people simply to allow us out in the open and stop making fun of us. When I was a young writer if you went to a party and told somebody you were a science-fiction writer you would be insulted. They would call you Flash Gordon all evening, or Buck Rogers. Of course sixty years ago hardly any books were being published in the field. Back in 1946, as I remember, there were only two science-fiction anthologies published. We couldn't afford to buy them anyway, since we were all too poor. That's how bereft we were, that's how sparse the field was, that's how unimportant it all was. And when the first books finally began to be published, lots of them in the early fifties, they weren't reviewed by good literary magazines. We were all closet science-fiction writers.
INTERVIEWER
Does science fiction offer the writer an easier way to explore a conceptual premise?
BRADBURY
Take Fahrenheit 451. You're dealing with book burning, a very serious subject. You've got to be careful you don't start lecturing people. So you put your story a few years into the future and you invent a fireman who has been burning books instead of putting out fires—which is a grand idea in itself—and you start him on the adventure of discovering that maybe books shouldn't be burned. He reads his first book. He falls in love. And then you send him out into the world to change his life. It's a great suspense story, and locked into it is this great truth you want to tell, without pontificating.
I often use the metaphor of Perseus and the head of Medusa when I speak of science fiction. Instead of looking into the face of truth, you look over your shoulder into the bronze surface of a reflecting shield. Then you reach back with your sword and cut off the head of Medusa. Science fiction pretends to look into the future but it's really looking at a reflection of what is already in front of us. So you have a ricochet vision, a ricochet that enables you to have fun with it, instead of being self-conscious and superintellectual.
Want to keep reading?
Subscribe and save nearly 40%.
Subscribe Now
Already a subscriber? Sign in below.