Interviewed by Belinda McKeon
Issue 188, Spring 2009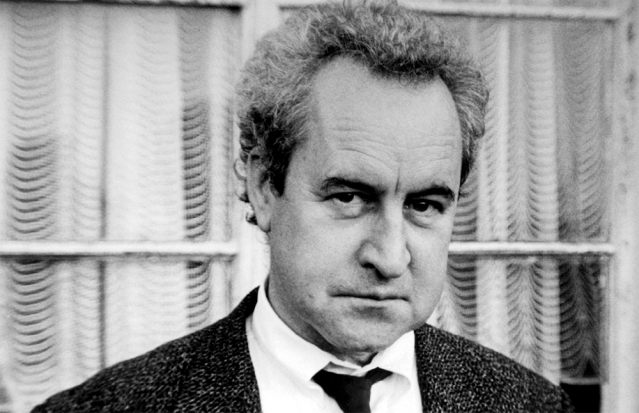 John Banville in 1998.
When I first arrived at his Dublin city-center apartment, John Banville was working at his writing desk. The apartment, with its neatly aligned furniture and its orderly piles of books, is not Banville's home but his office, in which he works every day. Banville rarely gives interviews in his office, and after our first session he decided that meeting in local bars and cafés might be less "intense." During the next three interview sessions he was more relaxed and more forthcoming. As he surveyed the surroundings, he gave vent to the dry wit that at all times underlies his dour bearing. This black humor threatened to overtake the conversation completely during a meeting held just before Christmas. Amid the bustle of shoppers, Banville's brow stood acutely arched. He is a merciless observer and his narrators are the same way: cold-eyed, callous, caustic.
Banville is now sixty-three. He was born in Wexford, in southeast Ireland, to a father who worked as a garage clerk and a mother who worked in the home. He published his first book, the short-story collection Long Lankin, at the age of twenty-five and has since published a novel every three years or so: thirteen under his own name and, more recently, three under the pen name Benjamin Black. Following the early novels, he wrote two acclaimed trilogies: the first, consisting of Doctor Copernicus (1976), Kepler (1981), and The Newton Letter (1982), focused on men of science; the second, with The Book of Evidence (1989), Ghosts (1993), and Athena (1995), took the world of art as its touchstone. Doctor Copernicus won the James Tait Black Memorial Prize, Kepler the Guardian Fiction Prize, and The Book of Evidence the Guinness Peat Aviation Award. The Book of Evidence was also short-listed for the Booker Prize, an award that Banville won in 2005 for his novel of childhood and memory, The Sea. Banville has worked as a journalist since the late 1960s, when he became a sub-editor at the Irish Press. He later worked as a sub-
editor and then as literary editor at The Irish Times. He remains a prolific book reviewer for publications including the Guardian and The New York Review of Books.
As a novelist, he is famous for his difficulty. In their architecture and in their style, his books are like baroque cathedrals, filled with elaborate passages and sometimes overwhelming to the casual tourist. For this, Banville makes no apologies—he says he is committed to language and to rhythm above plot, characterization, or pacing. Being Benjamin Black, however, allows him to play more loosely with character and storytelling; in interviews and in correspondence, he refers to Black ("the rogue") fondly and mischievously, delightedly playing this identity against his own. As Black he has written three novels in as many years: Christine Falls (2006), The Silver Swan (2007), and The Lemur (2008). Although the company of Black diverted him awhile from the agony of producing what he calls "a Banville book," a new novel under his own name, The Infinities, is forthcoming.
INTERVIEWER
When did you first know that you wanted to write?
BANVILLE
It must have been in my early teens. My brother was living in Africa at the time, and although he has no memory of this he would occasionally send me books, one of which was James Joyce's Dubliners. The book was a revelation to me—the idea that literature could be very elevated but still be about life as I knew it, about the rather grim, gray, mundane life I was living as a boy in Wexford in the fifties. When I finished Dubliners, I started writing terrible pastiches of Joyce on an enormous black Remington typewriter borrowed from my Aunt Sadie. I threw them all away many years later, of course, but I remember the opening of one of them: "The white May blossom swooned slowly into the open mouth of the grave."
A boy in his teens! What did I know about death? This is a problem for Irish writers—our literary forebears are enormous. They stand behind us like Easter Island statues, and we keep trying to measure up to them, leaping towards heights we can't possibly reach. I suppose that's a good thing, but it makes for a painful early life for the writer. Anyway, hunched there over my Aunt Sadie's Remington, I was starting to learn how to write. Now, fifty years later, I'm still learning.
INTERVIEWER
Was Wexford a good place for a writer to grow up?
BANVILLE
Auden said that children should be loaded with as much trauma as they can bear, because it's good for them. I think that's certainly true of children who are going to turn out to be artists. My traumas were Wexford, Ireland, the fifties, and especially the Catholic Church. The first thing the Catholic Church does to a child is instill guilt in his little soul, and guilt is a good thing for an artist. As for Wexford, I never even bothered to learn the street names, because I knew I was going to be out of there as soon as I possibly could. I hated it because it was boring and provincial. Of course now I feed on it—The Sea is a direct return to my childhood, to when I was ten or so. The book is set in a fictionalized Rosslare, the seaside village where we went every summer as children. Looking back now it seems idyllic, though I'm sure ninety-five percent of the experience was absolute, grinding boredom. I feel a kind of intellectual regret, not an emotional regret, at having left my parents and that world behind. But it's not a great weight on my soul. In a way I wish it were. To leave one's background without guilt is an indication of shallowness of character, I suspect.
INTERVIEWER
Did your parents read books?
BANVILLE
My parents were good, decent people, intelligent but not well educated. My father read cowboy books. My mother was afraid of the books I wrote, afraid of what she would discover if she read them. My father didn't care what I wrote about. He read some of my early work and quite liked it, I think.
INTERVIEWER
You painted in your teens. What did you paint?
BANVILLE
Oh, hideous pictures, hideous pictures. I was in my mid-teens and I was really into Dylan Thomas, and therefore I painted scenes from Dylan Thomas. It makes the hair stand up on the back of my neck in embarrassment as I think about them. Dreadful pictures. But trying to be a painter did teach me to look at the world in a very particular way—looking very closely at things, at colors, at how things form themselves in space—and I've always been grateful for that. You have all this space, and you have a figure: what do you do with it? And in a way that's what all art is. How do we find a place for our creatures, or inventions, in this incoherent space into which we're thrown?
INTERVIEWER
What attracted you to novel writing?
BANVILLE
Language. Words. The world is not real for me until it has been pushed through the mesh of language, and this was as true then as it is now. I also had that wonderful conviction that writers have at the beginning that the possibilities are infinite. I didn't realize just how difficult it was going to be. I thought that within five or six years I would be a fully fledged writer. Here I am now, at the age of sixty-two, still diligently practicing. But I loved, and still love, the craft. I am a graphomaniac. I cannot not write. If I find myself with a spare forty-five minutes at the end of my working day, I will turn to adding a few sentences to something. One of the reasons I love doing journalism—that is, reviews and literary articles—is that I can do it quickly. It gives me a craftsman's pleasure. Fiction doesn't do that. Fiction is just a constant torment, and an embarrassment. I loathe my fiction. I have a fantasy when I'm passing a bookstore that I could click my fingers and all my books would go blank, so that I could start again and get them right.
INTERVIEWER
Do you really hate your own novels?
BANVILLE
Yes! I hate them. I mean that. Nobody believes me, but it's true. They're an embarrassment and a deep source of shame. They're better than everybody else's, of course, but not good enough for me. There is a great deal more pain than pleasure in writing fiction. It's only now and then, maybe once every three or four days, that I manage to write a sentence in which I hear that wonderful harmonic chime that you get when, say, you flick the edge of a wine glass with a fingernail. That's what keeps me going. When I read the proofs of a new novel—which is the last time I will read or even glance at it—I approach it with one eye closed, so to speak, thinking, God, what am I going to find here? And I find horrors, horrors that can't be fixed. Everything in the text now seems hopelessly flat and deadened. Where I imagined a dancing rhythm, I find clumping and stumbling.
INTERVIEWER
Your first book, Long Lankin, was a collection of stories and a novella. Why haven't you returned to the short-story form?
BANVILLE
Nowadays everybody wants to have a rock band or write a film script, but back then our sole desire was to have a short story published in a little magazine. A beautifully produced journal, The Kilkenny Magazine, published my first short story. Following Joyce's example with Dubliners—of course I was and still am fascinated by Dubliners—I put together a collection of connected short stories. Not that they had the same characters, but they were connected by theme and by chronology—one set was about childhood, another about adolescence, another about maturity. The novella was mortifyingly bad and I've since suppressed it. I knew nothing about life but I was writing it as if I were fifty years old—world-weary and cosmopolitan. But you know, I was learning to write. I was learning my capabilities and my limitations.
INTERVIEWER
Were you in school when you were writing these early stories?
BANVILLE
Yes, in school—you can image what a pain I was to my English teachers—then later I moved to Dublin. I never went to university. I'm self-educated. I didn't go because I was too impatient, too arrogant. I managed to fail my matriculation exam because I didn't want to go to college and be an architect, which was my mother's ambition for me. I thought I could do it all for myself. If I could have gone to Oxford or Cambridge I would have gone in a shot. In those days in Catholic Ireland you had to get permission from your archbishop even to go to Trinity College, Dublin's "Protestant" university.
Looking back, I don't think I would have learned much more, and I don't think I would have had the nerve to tackle some of the things I tackled as a young writer if I had been to university—I would have been beaten into 
submission by my lecturers. But I think I would have been a little more relaxed. After high school, instead of attending university I took a job as a clerk at Aer Lingus, the Irish airline. I wanted to be free, and working for an airline allowed me to travel. I didn't socialize with literary people. Instead I would work every day and I would write every night. I've been doing that ever since. I've only very recently become what's known as a full-time writer. I was a working journalist for thirty-five years, as a copy editor on the newspapers and then as books editor at The Irish Times. I can't complain about that, because a day job gives you freedom.
INTERVIEWER
Where do you think your discipline came from?
BANVILLE
I am essentially a religious type. In my teens I gave up Catholicism, and at the same time I started writing. Writing keeps me at my desk, constantly trying to write a perfect sentence. It is a great privilege to make one's living from writing sentences. The sentence is the greatest invention of civilization. To sit all day long assembling these extraordinary strings of words is a marvelous thing. I couldn't ask for anything better. It's as near to godliness as I can get.
INTERVIEWER
Do you revise?
BANVILLE
When I finish a sentence, after much labor, it's finished. A certain point comes at which you can't do any more work on it because you know it will kill the sentence. The rhythm is set. The meaning is set.
Occasionally I will leave behind a sentence that I know is missing a word, and I'll go back to it later. I wrote a sentence like that yesterday. A man is talking about his wife, who's a singer. She has just woken up in the morning, and he says, "Even half asleep like this, she sounded a true, dark note, a thrilling . . ." I put in "cadence," but I know it's not the right word—so the sentence is just sitting there, waiting for me to find the right, the exact, the only word.
INTERVIEWER
Is rhythm as important as word choice to you?
BANVILLE
It all starts with rhythm for me. I love Nabokov's work, and I love his style. But I always thought there was something odd about it that I couldn't quite put my finger on. Then I read an interview in which he admitted he was tone deaf. And I thought, that's it—there's no music in Nabokov, it's all pictorial, it's all image-based. It's not any worse for that, but the prose doesn't sing. For me, a line has to sing before it does anything else. The great thrill is when a sentence that starts out being completely plain suddenly begins to sing, rising far above itself and above any expectation I might have had for it. That's what keeps me going on those dark December days when I think about how I could be living instead of writing.
INTERVIEWER
How tied are your books to the time in which you wrote them?
BANVILLE
Long Lankin came from the early sixties. But Ireland in the sixties wasn't the sixties as Americans think of it. When I look back now to the sixties here it's like looking back to the Middle Ages. It was a primitive world. But it's good for a novelist to cross periods in history in one lifetime. When I was writing Kepler and Doctor Copernicus, looking back to Europe in the Renaissance, I only had to think back to Wexford when I was growing up there to get a feel for what a primitive world was like.
INTERVIEWER
What drew you to Renaissance Europe?
BANVILLE
Oh, I wanted to get away, to do something different. When I did Birchwood, which I regard as my "Irish" novel, I couldn't think where to go afterwards because I didn't want to be labeled as an Irish novelist. I thought that I might give up fiction and do something else altogether. Then I started to write a book about the Norman invasion of Ireland in the twelfth century, and that somehow turned into a novel about Copernicus. Don't ask me how—I don't know. Fiction is a strange business.
INTERVIEWER
What was your idea of an Irish novel?
BANVILLE
One written with a brogue. One of which reviewers could comfortably say, Well, here's the latest novel from Ireland. The usual charm of the Irish. And the charm of the Irish is, as we know, entirely fake.
INTERVIEWER
Who are the chief offenders?
BANVILLE
Good writers, but they were and are nothing more than good writers, and anybody can be that. It's not enough—you have to be more than that. Doing what you do well is death. Your duty is to keep trying to do things that you don't do well, in the hope of learning. So I decided, with no cosmopolitan experience, to turn myself into a European novelist of ideas: Banville, the modern European master. I was young. I was reckless. There are people who tell me they think Doctor Copernicus and Kepler were my best books, but I feel now that in those novels I took a wrong direction, that I should have done something else.
INTERVIEWER
What made you change tack?
BANVILLE
Mefisto. That novel was originally intended to be the fourth book in the series that included Copernicus, Kepler, and The Newton Letter. My wife says I had a nervous breakdown during the writing of Mefisto. Maybe I did, but what's a nervous breakdown for a writer? For a writer every day is a nervous breakdown. Still, Mefisto was a big shift for me. I began to write in a different way. I began to trust my instincts, to lose control, deliberately. It was exciting and it was frightening. The writer who wrote Mefisto was a writer in deep trouble. He didn't know what he was doing. He was striking out into new territory—new for him, at least. It was painful at the time, and it was hideous in many ways. When the book was finally published, it was completely ignored. In those days they used to review four or five novels in one go and in one or two of those my book was dismissed in a half inch at the end of the column—this was the only review attention it got. Commercially it failed miserably. That was a traumatic time for me. The book came out in the spring, and I remember I spent that following summer digging my garden—Voltaire would have been proud. I made a wonderful garden. Grew beans, lettuces. I was healing myself from some kind of traumatic process that I don't pretend to understand. All right, let's agree with my wife and call it a nervous breakdown.
INTERVIEWER
Where does the comedy in your work come from?
BANVILLE
The world is a dark place, and I find it endlessly funny.
INTERVIEWER
This seems the right time to turn to Beckett. When did Beckett become important to you and why?
BANVILLE
Very early on I read Molloy. Like Dubliners, it was a great revelation to me—the idea that a writer could speak in such a completely self-absorbed way, not dealing with characters or human interests—the usual stock-in-trade of the novelist. It was great to discover that linguistic beauty could be pursued as an end in itself. Beauty is a word that we haven't mentioned yet, but it's crucial to me. It's what I'm after constantly. Beauty is an almost nonhuman pursuit. Readers ask me, Why are you always telling us about the weather and how things look? I say, Because how things look and the beauty of how they look is just as important to me as the people who are in the foreground. I don't see human beings as essential to the universe. Human beings in my work are figures in a landscape, and the landscape is just as important as the figures.
INTERVIEWER
But human beings—characters—are still the business of fiction, aren't they?
BANVILLE
When I was young, art for me was a new religion. Now I see the aims and ends of art as less grand. If I can catch the play of light on a wall, and catch it just so, that is enough for me. I don't want to write about human behavior. Art now seems to me in many ways the absolute opposite of psychology. It's simply saying, This is how it is. This is how it looks, how it feels. To describe things well is far more worthwhile than the kind of cheap psychologizing, or even expensive psychologizing, that the novel so often indulges in. One of my favorite entries from Kafka's diaries: "Never again psychology!" Of course, my books are about life—what other subject is there?—but life is so much more than psychologizing. Even so, my books seem to me to heave with the most embarrassing emotionalism and sentimentality, yet many readers consider them cold and distanced from human beings. I often wonder what world people live in if they think that my writing is not about life. To me, my books are completely realistic. They're the world as I see it.
INTERVIEWER
When you were writing the science trilogy, did you feel that you might have been weighed down by all your research?
BANVILLE
Copernicus stuck very closely to the facts, but in Kepler I invented freely, and it's a much better book because of that. I doubt that I will ever do another book based on a real person. I think that I've moved into another area—pure invention. I now think that research deadens fiction. Flaubert is a case in point. Flaubert read too many books, and in consequence some of his own books stagger under the weight of his erudition. He said he'd read some preposterous number of books to prepare for the writing of Salammbô, and you can feel them dragging the novel down. It would have been much better if he'd made it all up.
After all, who knows what the distant past was like? About Kepler and Copernicus, people often say, You captured the period so well! I always want to ask, How do you know? You weren't there either.
INTERVIEWER
Who are the philosophers that matter to you? In many of your reviews you mention Nietzsche.
BANVILLE
As a young man I considered myself a Wittgensteinian, but for the little that I read of Wittgenstein, I understood even less. I read Nietzsche when I was a teenager and then I went back to reading him when I was in my thirties, and his voice spoke directly to me. Nietzsche is such a superb literary artist. One of my favorite Nietzsche aphorisms is—and I always trot this out when people ask me about some other writer who's having a huge success for some cheap thing—"You will never get the crowd to cry hosanna until you ride into town on an ass." Even in English that's wonderful.
In the last four or five years, I've begun to read the indigenous American philosophers—Emerson, Thoreau, William James, John Dewey—and I have found in them a very congenial view of the world, skeptical but not despairing. I especially love Emerson. Each of his essays is a collection of impassioned sentences. It seems as if there's a sense of order in the usual sense, but in fact there are just wonderfully rich congeries of sentences. I am inclined to think that the value of a philosopher's thought is always reflected in his style—mind you, where does that leave Kant and Hegel?
INTERVIEWER
You said earlier that you hate your novels. Is that true of your book criticism—which you insist on calling "book reviews"?
BANVILLE
It's not criticism. Critics do a different thing. The job of the critic is to place a work within the tradition, the job of the book reviewer is to introduce new work to the reading public. It's a much lowlier occupation, but it's a decent one. It's an honorable craft, if it's done honorably, and it's probably the form of writing that I get the most satisfaction from. I love rounding off a review and being able to say, Yes, I've written a good, solid, carpentered piece of work. At least it's finished, as a piece of fiction never is, and I've done the best that I could. But even in this kind of work I lack confidence, and when I send in a review I wait on tenterhooks until the editor writes to say he will accept it.
INTERVIEWER
How do you make the decision to accept or reject a book for review?
BANVILLE
I will only turn down a book if I know I won't be able to muster enough interest to read the bloody thing. Or if I realize that I despise the author, and that I'm just going to become hysterical in my dispraise. A couple of times in my life I've disobeyed my own rule, and later regretted it.
INTERVIEWER
Are you referring to Ian McEwan's novel, Saturday, which you called "a dismayingly bad book"?
BANVILLE
Let's just say that a couple of times in my life I've taken a flying kick at a book, and I shouldn't have done it. It's a delicate business. All too often, if one writes a favorable notice, it's seen as a product of the old-boy network, and if one dispraises a book, it's seen as envy. Nobody seems able to accept that I review books as a book reviewer, not as a competing novelist. When I review, I'm being as honest as I can. And I'm saying to the reading public—the minuscule segment of the reading public that reads reviews—that this is my judgment. You must understand, and I always assume that readers of book reviews do understand, that a review is an early, provisional reaction to a book. I've reviewed books favorably that a year later I've said to myself, My God, how could I ever have thought that rubbish was any good? And I've given bad reviews to books that later I've regretted. That's why book reviewing is so different from criticism, which provides, or seeks to provide, the long view. That's the reason I refuse to bring out a collection of my book reviews.
INTERVIEWER
If you don't want your book reviews to be remembered, is there a single novel that you would like to be remembered for, more than the others?
BANVILLE
Perhaps Shroud. It's a dark, hard, cruel book. It's the novel in which I got closest to doing what I aimed to do at the start of writing it. That had only happened once before, with The Newton Letter. Everybody hated Shroud—even, I think, the people who admired it. It was favorably reviewed, but it was not and is not a book a reader could readily love. Shroud is my monstrous child whom I cherish but who horrifies others. The odd thing is that, for all its harshness, it's a love story of sorts. I never thought I'd write a love story—what an idea! In my romance an old man and a young woman, both damaged, meet and develop a strange, violent, destructive rapport. And what is love if not strange, violent, and destructive? In love the loved one is the gilded mirror in which the lover admires himself. In the early stages there is tenderness and gaiety and fun, but these rapidly fade and we go into possession mode, trying to grasp the mirror and frequently smashing it.
INTERVIEWER
In your next novel, The Sea, you returned to your childhood. Did you decide to do this beforehand?
BANVILLE
Yes. Shroud was the latest in a series of novels of mine in the first person, all of them about men in trouble. I knew I had to find a new direction. So I started to write The Sea in the third person. It was going to be very short, seventy pages or so, and solely about childhood holidays at the seaside—very bare. I worked on it for about eighteen months, but I couldn't get it to work. And then, out of nowhere, the first-person narrative voice made itself heard again. I suspect that the reason I don't really believe in the third-person mode is due to the fact that I'm such an egomaniac. Unless it's me speaking, it's not convincing—to me, that is.
INTERVIEWER
Many of your readers found Max, the narrator of The Sea, much more sympathetic than your previous narrators. Did that surprise you?
BANVILLE
I didn't think that Max was more warmhearted or approachable than any of my other narrators. He is weaker, and in a more devastated position in his life. Very many readers of The Sea cite to me the line, "The past beats inside me like a second heart." I wonder why it has such appeal. I've written better sentences, but this one seems emblematic of whatever it is in the book that caught people's imaginations and—dare I say it?—needs. I think what affects readers most immediately in the book is the theme of childhood. Most of the people who talk to me about the book dwell on the childhood sequences—I suspect they race through the grown-up sections in order to get to the next bit about the seaside. It's understandable. Those childhood loves that we experienced when we were ten or eleven were entirely pure, in every sense of the word. When we were at that age, the emotions we felt were pure because we were experiencing them for the first time. We didn't know how to do sex, we didn't know what to do with our bodies, but we thought there was some great secret that we might crack in about five years' time. As we find out, of course, the secret never gets cracked. But that's another story—another novel.
INTERVIEWER
After you won the Booker Prize for The Sea, you said it was nice to see a work of art win the Booker Prize. It was a controversial statement.
BANVILLE
Let's give it its full title, the Man Booker Prize—after all, the Man people are the ones who put up the cash. The first thought that occurred to me, that night when I heard the chairman of the jury announce my name, was, Just think how many people hate me at this moment. Naturally, I wanted to annoy those people even further by being arrogant. But I did also mean what I said. Whether The Sea is a successful work of art is not for me to say, but a work of art is what I set out to make. The kind of novels that I write very rarely win the Man Booker Prize, which in general promotes good, middlebrow fiction. The prize sells more books than the Nobel does, and these huge sales benefit not only the winner, but all of us in the trade. I understand why some people were upset when The Sea got the prize. I won in a year rich in strong, attractive, middlebrow novels, all of which had their advocates. I don't think a book like mine should win every time, God forbid. The prize would die, and it's a very important prize—to publishers, to authors, to editors. But every now and then, it's also important that a book like mine should win because, for instance, my editor can go to the money people at his publishing house and say, Nobody thought Banville was going to sell, or win the prize, but look, he's won, and now I happen to have a book by a twenty-four-year-old kid, kind of like Banville. A good editor needs all the help he can get, in the current publishing climate.
INTERVIEWER
When did you begin to write your Benjamin Black books?
BANVILLE
I finished The Sea in September 2004, and it was published in April 2005. I started writing Christine Falls in March 2005, and it went very quickly. I was staying at the house of a friend in Italy. I sat down at nine o'clock on a Monday morning, and by lunchtime I had written more than fifteen hundred words. It was a scandal! I thought, John Banville, you slut. But then I remembered it was Black, not Banville, who was writing. I had fun doing it and I thought, if this has to be my day job, if Benjamin Black is going to earn some money so that John Banville can have freedom, then this is no more difficult than working in the newspapers.
On the day The Sea was short-listed for the Man Booker, my agent handed my publisher the manuscript of Christine Falls. No one knew it was coming—I hadn't announced my new project to anybody. My publisher was just beside himself with glee. Of course, everyone tried to persuade me not to use the pseudonym, but I wanted people to realize that this wasn't an elaborate postmodernist literary joke, but the genuine article, a noir novel from Banville's dark brother Benjamin Black. It was pure play when I invented Benjamin Black. It was a frolic of my own.
INTERVIEWER
Do you read thrillers?
BANVILLE
The impetus for Black came from my having begun to read Georges Simenon for the first time—not the Maigret books, which I think are slapdash, but what he called his romans dur, his hard novels: Dirty Snow, Monsieur Monde Vanishes, Tropic Moon, The Man Who Watched Trains Go By. I think they are extraordinary, masterpieces of twentieth-century—I hesitate to use the word, but I will—existentialist literature. Better than Sartre, even better than Camus. I thought, My God, look what you can do with a small vocabulary and a lean, straightforward style. I wanted to try it, and try it I did. Of course, I would never be able to achieve the kind of economy that Simenon does.
I had been reading other thrillers all my life. When I was a boy I read Agatha Christie, Josephine Tey, Dorothy Sayers, Margery Allingham—all of those polite British ladies with murder in their hearts. I moved on from them to Raymond Chandler, Richard Stark, and James M. Cain. High art can happen in any medium. I think that Simenon's Dirty Snow, for instance, is high art.
INTERVIEWER
Where did Quirke, your amateur sleuth hero, come from?
BANVILLE
First of all, I wanted somebody who would be my physical opposite. Quirke is a huge fellow, blond, broad-shouldered, irresistible to women. He's like me only in that he doesn't have much of a personality. He's mainly interesting as the center of something.
INTERVIEWER
I find him a complex character.
BANVILLE
Really? But don't you think the complexities of Quirke's character are rather clichéd?
INTERVIEWER
They have to be for the book to work.
BANVILLE
Yes, that's one of the many things I hate about life, that it's a hideously clichéd business. And Benjamin Black is bent on being as true to life as possible. Quirke—he has no first name, by the way, which is to say his first name is not known to us—is consciously crafted, whereas John Banville's characters sort of drift out of me, as if out of my dreams. It was interesting for me to discover the possibilities, and the limits, of this kind of fiction. For Black, character matters, plot matters, dialogue matters to a much greater degree than they do in my Banville books. One can, with skill and perseverance, give a sense of life's richness and complexity in noir fiction.
As to the limits, it troubles me that humor is so hard to do in a crime book. I don't know why this is so, but it is. And Benjamin Black can't do the kind of subtle, skewed humor that John Banville does. If you try humor in crime fiction, it comes out as smart-alecky. Most of the thrillers that I pick up, after three pages I throw them at the wall because the wise-guy tone grates on my nerves. Every hero in crime fiction knows everything about everything. Nothing surprises or baffles him. What I like about Quirke is that he's rather stupid, like the rest of us. He misses the point of things, he stumbles over clues, misreads people. He's far too dim to be a Philip Marlowe. But this is what I treasure in him—his human frailty, and the curious kind of dogged honor he can sometimes display.
INTERVIEWER
Were you surprised by how much you enjoyed being Benjamin Black?
BANVILLE
I really didn't think it would be so easy to write mainstream fiction. I thought that when other writers talked about the difficulties of their lives, that they were telling the truth. Obviously they were all lying. It's so bloody easy.
I'm being slightly facetious. If it's easy it's easy because I've been practicing my craft for forty or fifty years, and I'm now using that craft to make different kinds of books—books I am much more proud of than I am of my hated Banville books. Isn't that odd?
INTERVIEWER
Is Benjamin Black's process really so different from John Banville's?
BANVILLE
If I'm Benjamin Black, I can write up to two and a half thousand words a day. As John Banville, if I write two hundred words a day I am very, very happy. A Banville novel will take me up to five years to write. When I'd finished The Lemur, the third Benjamin Black book, and sat down to become John Banville again, I worked one Friday for six hours straight, and I ended up with one sentence. Not a particularly good sentence, either. But I was thrilled to be back working in that strange, deep level of concentration. That's the distinction—what you get in Banville is concentration, what you get from Black is spontaneity. I know there are readers who consider Black a better writer, certainly a better novelist, than Banville, and perhaps they're right.
INTERVIEWER
Do you worry you might never be able to get back?
BANVILLE
I've spent my life being a journalist, a copy editor—in other words, a technician. I have always been two people, professionally. Going back and forth between John Banville and Benjamin Black is just an extension of that.
INTERVIEWER
Do you have sympathy for the characters you create?
BANVILLE
I suppose it's possible that a writer would have feeling for his characters, but I can't see how, because writing is such a meticulous, intricate, technical business. I wish I could say that I love my characters and that frequently they take over the book and run away with the plot and so on. But they don't exist. They're manikins made of words and they carry my rhythms. They have no autonomous life—surely that's obvious? I distrust those writers who claim to have feeling for their characters. They're liars or fools.
INTERVIEWER
It makes you sound arrogant to call novelists liars and fools.
BANVILLE
I am arrogant, and I'm also intemperate. I'm trying to be honest here. I'm not going to pose as a caring novelist. Art is a hard business. It's a matter of sentiment, but not sentimentality. I do it for myself. The coincidence is that what I do for myself chimes sometimes with the experiences and emotions and desires of other people. This is a kind of miracle, but I don't intend for it to happen—it just does. Art is like sex: when you're doing it, nothing else matters. Away from his desk the novelist can care deeply about the social, political, moral aspects of what he is writing but when he sits down to write, all those concerns fall away and nothing matters except the putting down of one carefully chosen word after another carefully chosen word, until a sentence is finished, then a paragraph, then a page, then a chapter, then a book. When I'm working I don't care about anything, not even myself. All my concentration is directed towards the making of the thing on the page. The rest is just stuff—even though it is the stuff of life.