Interviewed by Christopher Cox
Issue 188, Spring 2009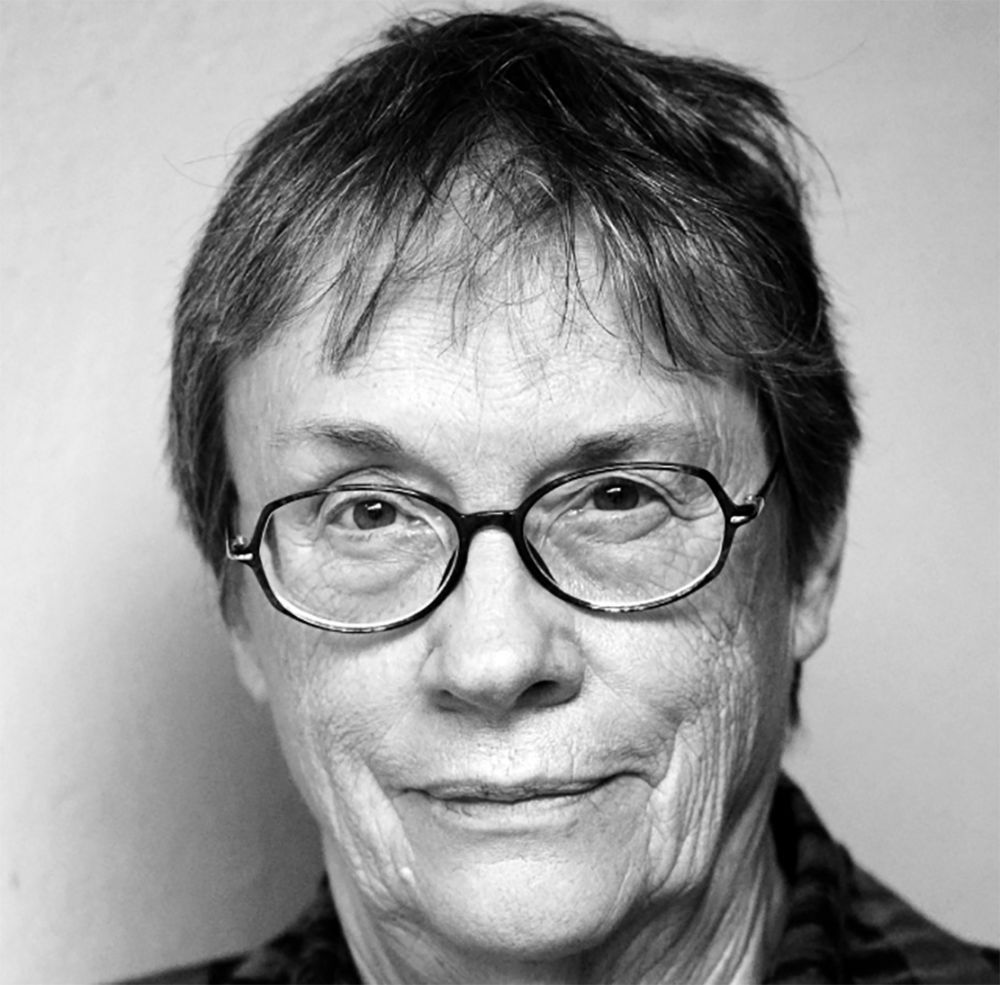 Annie Proulx in 2008.
"It isn't easy to get here," Annie Proulx e-mailed from Bird Cloud, her six-hundred-forty-acre Wyoming ranch. In case that was too subtle a warning, she added, "I loathe interviews and getting me to sit still for a whole day is unprecedented." Even after Proulx agreed to the procedure, she advised that "the directions to this place baffle most people." She sent a map showing the turnoff to Bird Cloud, just west of the Medicine Bow range in southern Wyoming, but she decided it would be best if she picked me up on the first day in Saratoga, the nearest town. On the drive to the ranch, we passed a fox, a golden eagle, and a coyote darting through the sagebrush. On the drive the next day, there was another coyote, this one shot dead and recently mounted on a fencepost, its matted, fly-covered fur a rancher's promise to the rest of its kind.
Proulx's house is newly built: its roof is lined with solar panels and a well-stocked greenhouse sits to one side. It was late summer and the kitchen counter was covered with just-picked tomatoes that the author planned to make into a winter's worth of sauce. Past the kitchen, a dining-room table and sitting area give way to a large room with a writing desk and hundreds of books arranged on metal shelves. Proulx takes great pride in her library, and the books are separated by category, providing a quick summary of Proulx's particular interests: water, fire, fur trade, maritime, river travel, gates, textiles, rodeo, livestock, death, outdoors, indian wars. A section devoted to her own work is labeled oeuvre.
Proulx was in her fifties when she published her first short-story collection, Heart Songs (1988), but since then she has worked steadily, publishing four novels and three more story collections. She often takes as her subject the dissolution of North American rural life: farmers, laborers, and ranchers whose livelihood is destroyed both by changes in society and their own purblind stubbornness. Proulx tackles these bleak themes with a sharp sense of humor and a master stylist's sense of language—the pill is never wholly bitter. Her first novel, Postcards (1992), like Heart Songs, begins in Vermont, but it eventually comes to cover the entire country, following its central character, Loyal Blood, through a lifetime of odd jobs after he flees his family's dairy farm. The novel won the PEN/Faulkner award. She won both the Pulitzer Prize and the National Book Award for her next novel, The Shipping News (1993), an offbeat look at Newfoundland and the men and women cast adrift by the collapse of the fishing industry there. Accordion Crimes (1996) is something of an anomaly among her novels: it has several sections set in urban areas and it jumps from character to character, from a Sicilian just off the boat in New Orleans to third-generation Norwegian-Americans in Minnesota. Her most recent novel, That Old Ace in the Hole (2002), returns to a single protagonist with Bob Dollar, a scout for a hog-farming corporation, as he navigates the dying ranches of the Texas panhandle.
Proulx considers her short stories to be a greater accomplishment than her novels, particularly her three volumes of Wyoming stories—Close Range (1999), Bad Dirt (2004), and Fine Just the Way It Is (2008)—which cover broad swaths of Wyoming history, from the earliest trappers and settlers to the ranchers and game wardens and oil men who populate the state today. Her long story "Brokeback Mountain," from Close Range, was named an O. Henry Prize Story and won a National Magazine Award, and pieces from all three collections have been anthologized. "The Wamsutter Wolf," which appeared in the Fall 2004 issue of The Paris Review, received the magazine's Aga Khan Prize for fiction and was collected in Bad Dirt. Both The Shipping News and "Brokeback Mountain" were made into movies.
Since 1975, when she left a Ph.D. program in history at Concordia University, Proulx has been writing full time, which has allowed her to move frequently—she rarely lives in the same place for more than a few years. She has been married, she says, "too many times," and has four grown children. Proulx now spends her winters in New Mexico and the rest of the year in Wyoming, where she lives alone and enjoys a constant stream of visitors: just after I left she was hosting a team of archaeologists who were investigating a series of pre-Columbian fire pits on her property. She keeps a pair of binoculars at the ready in the kitchen, and when a number of magpies flew right up to the living-room windows and peered in, she explained, "They probably notice that you're not a familiar face. They're just checking you out." When our interview was complete, Proulx drove me up to the top of the sandstone bluff that looms over her house and the North Platte River to get a closer look at the golden eagles that make the cliffside their home. The skeletal remains of a raccoon's hand slid from side to side on her dash while we navigated the bumpy roads. We passed only one other truck on the drive, and as we did Proulx remarked, "Heavy traffic today."
INTERVIEWER
Your characters have memorable names—Wavey Prowse, Leetil Bewd, Flyby Amendinger, Beaufield Nutbeem. Where do these names comes from? Do you have them in mind when you start a story?
ANNIE PROULX
Sometimes they come halfway along, sometimes names get changed six or seven times. I keep a book full of names and keep adding to it. At one point the singer Jim White, who had an album I like called Wrong-Eyed Jesus, made me a list from the newspaper and there were some fascinating names there. But I don't think I've used any of them. They were a little over-the-top whereas mine are quite common and modest.
INTERVIEWER
Ribeye Cluke is a common name?
PROULX
Well, it depends on where you hang. You've been going around with the wrong people. I wouldn't be a bit surprised if there were four or five Ribeye Clukes from your state.
INTERVIEWER
Do you ever feel like you should go the opposite way and have a few John Smiths in there?
PROULX
No, the reason I put out-of-the-ordinary names on characters is because the John Smiths of the literary world make me sick—Bob and Bill and Joe and Nancy and Sandy and Fanny and so forth. I started using distinctive names as a mnemonic device for readers.
INTERVIEWER
You've had several names yourself. Your first stories are credited to E. A. Proulx, but now it's just Annie Proulx. Why did your name change?
PROULX
When I first started writing stories and trying to place them in the outdoor magazines, they insisted that it be E. A. Proulx so the guys who read these magazines wouldn't think it was a woman writing them. Sexist editors. The ones who suggested it were from a small Vermont publication, and I got back this awful letter, full of bad spelling and clumsy syntax, suggesting that I should change my name to initials. Very tiresome. I went along with it, and then it became E. Annie, and then finally I got sick of writing E so it just got dropped.
INTERVIEWER
The earliest of the Vermont stories that ended up in your first collection, Heart Songs, appeared in Gray's Sporting Journal. How did you start writing for them?
PROULX
Well, in those days I was an ardent fisherperson and bird hunter. And any stories to do with blood sports or the outdoors—hook-and-bullet stories—went in men's magazines. Stories like, "I Was Attacked by Eighteen Lynxes," or whatever. So when Gray's came along everybody who was even faintly literate and involved in outdoor stuff was thrilled. It was beautifully produced, the illustrations were top-notch, and there was good writing in it. After the magazine first appeared I bought an issue or two and finally subscribed to it. One of the writers that I knew suggested that this was something I could do. I wrote something, sent it to them, and they published it.
For the late eighties they paid magnificent sums of money. They paid a thousand dollars for a short story, which was big bucks then. But there was a group of us who wrote for them and hardly ever got paid because they kept running out of money. I swapped a story for a canoe at one point. It was a three-way deal where Gray's ran an ad for Mad River Canoes, I got a canoe, and they erased the cost of one story. It worked out pretty well—I think the canoe was eleven hundred dollars. I named it Stone City after one of the stories Gray's published.
INTERVIEWER
You seem to have spent a great deal of time outdoors.
PROULX
All my life I've lived in rural places. My mother was a painter and very much involved with outdoor walks and sketching and so forth. But it was only when I was an adult that the outdoor world became intensely important to me.
INTERVIEWER
What did your father do?
PROULX
My father, of French-Canadian lineage, left school at fourteen to work as a bobbin boy in the cotton mills of Rhode Island and Connecticut. He was ambitious, worked his way up the ladder to become a vice president of a textile mill.
I had four sisters and all of us ended up liking the outdoors. We went on a big vacation every year, camping in Maine, usually along the beach at Reid State Park in Georgetown. What I remember is a vast expanse of water, and when we were kids we always used to go early in the spring, just as early as possible. It would always be freezing cold—March on the seashore, and of course you had to go in the water, even though it was like the Arctic.
My family is all from the East. I don't see them much now, but I did go to a big family reunion this summer in Litchfield, Connecticut, and saw people I haven't seen in decades. My family has had property in Connecticut since 1635. They are so wedded to that past, and it's so important to them in a way that it's not important to me. This whole question of memory and history and the tangle of one into the other.
INTERVIEWER
In one of your stories there's a character who returns to New England from Wyoming, and he finds it "stifling." Do you feel that way when you return to the East?
PROULX
I would say yes. It's small and once you've gotten used to wide plains and long sightlines, it's annoying to have everything folded in on you. Boxlike shrubbery and cloistering trees. Clawing, leafy, shade-producing, sight-obliterating things that are everywhere. It makes me uneasy.
INTERVIEWER
Did you grow up wanting to be a writer?
PROULX
No. I never thought of myself as a writer. I only backed into it through having to make a living. And then I discovered that I could actually do it. I thought there was some arcane fellowship that you knew at birth that you had to belong to in order to be a writer.
INTERVIEWER
Some of your earliest stories appeared in magazines like Seventeen. Why have you never included those stories in any of your collections?
PROULX
I haven't read them and I don't think anything about them. That was many years ago. I didn't really know how to write. I was fooling around trying to see. I didn't think of myself as a writer. There are still times that I don't think of myself as a writer. I'm basically a reader, which is the best way to learn to write. I think the study of history and the marshaling of facts, the comparison of societies and movements and power structures, is far more important to my writing. The fringe edges of dissolution and construction of societies. For me, mostly dissolution. Change. How the shape-shifting happens.
INTERVIEWER
Is it hard to find a balance between writing about these social changes and creating an entertaining story?
PROULX
Storytelling trumps social issues. As I said, I'm primarily a reader, so of course I try to make the stories I write interesting and entertaining. I don't write to inspire social change, but I do like situations of massive economic or cultural change as a background. We think of change as benign, but it chews some people up and spits them out. And fiction can bring about change. A prime example is probably the muckrakers of the early twentieth century where "realist" writers reamed out abuses in child labor, vile food, poverty, corruption, big railroads, and oil companies—and took heat for it.
INTERVIEWER
You sound like someone who's happiest in the library. Do you ever regret not finishing your Ph.D.?
PROULX
I finished everything except the thesis. I did the orals and so forth. But I did not want to be involved in office politics. I am not a person who works well with others. Having to get along with people you don't respect very much, having to deal with a bureaucracy, just that whole weight of idiots turned me off. The writing life is a perfect life for me. I can do my own thing and I can work at three a.m. if I want to.
INTERVIEWER
Who are some of the writers who influenced you?
PROULX
I can't answer that question. I have been an omnivorous reader since early childhood and I suppose the work of all the writers I've read has flowed through my brain, and that some of it stuck. S. J. Perelman, Nordhoff and Hall, Marjorie Kinnan Rawlings, Jack London, Faulkner, Hemingway, Dante, Dorothy Canfield Fisher, lots of science fiction, Vardis Fisher, Graham Greene, Jaroslav Hašek . . . why go on? Almost every book I've read has left its mark. And I think it silly to look for influences.
INTERVIEWER
You were in your forties when you wrote the first of the stories from Heart Songs. Do you think you had a late start when it comes to writing fiction?
PROULX
Well, I did, yeah. But so what? Why should it bother anybody when somebody starts to write?
INTERVIEWER
It's fewer years writing the stories that you seem to enjoy writing.
PROULX
Oh, yeah, I suppose, but that's OK too. The world is spared lots of crap.
INTERVIEWER
Had you attempted to write a novel before your first one, Postcards?
PROULX
Yes and no. Years and years before, a friend and I had sort of cowritten a novel, but I can't remember what it was called. It's destroyed now. Then, when I got my contract for Heart Songs from Scribner, it included a blank for another book called "Novel." No title in mind, no subject, no nothing. And that's where it began.
INTERVIEWER
Postcards was an ambitious first novel. Did you know when you started that it would span across decades and across the whole country?
PROULX
It never crossed my mind that it was ambitious. All the novels are about edgy social situations and that one was about dispossessed people on Vermont hill farms. I had read some fire-marshal reports from Vermont from the 1930s—they were very dry and spare, which was a good thing—about farmers who suddenly had these terrible fires, and it got me thinking about what these hill farms did during the Depression in Vermont. Also a lot of the milk trucks in the fifties and sixties would no longer come up these inclines, so it put these hill farms out of business. This kind of shifting economic situation seemed very rich for a novel, to poke around and trace the members of the family and throw them all together and deal with some of these issues.
INTERVIEWER
Had you spent time on a dairy farm before?
PROULX
Well, I'd lived in the midst of them. I didn't have direct experience of them, but they were everywhere and I'm a good observer.
INTERVIEWER
Did you go and interview your neighbors?
PROULX
Oh, Jesus, no! That isn't what it's about. That is not what fiction is about. That's journalism and I've done plenty of it but I would never, never, never do interviews with people to find out how things work. I'd come at it in an entirely different way. I'd never ask direct questions. I'd invent it instead.
INTERVIEWER
You give your protagonist Loyal an astonishing number of jobs in a great many places. How did you know about all those different ways of life?
PROULX
I more or less followed his route across the country. That's how I ended up in Wyoming, working on that book. I needed a western setting for him for one phase of his life, starting when he was a uranium prospector. I went out to Ucross in northern Wyoming. I liked the long sightlines, I liked being about to walk for long distances and work out plot vagaries. I wrote The Shipping News there too.
INTERVIEWER
How did you learn about fur trapping for the book?
PROULX
I collect books on work and occupations. I put a lot of research and effort into getting those things right. During one period of my life I'd done some hunting and trapping too, so I knew something about it. It's not quite a lost art—I used to go to the big trapper fur sales in Vermont.
Just the other day I saw an enormous bear trap on display. Some poor old prospector or miner up in the Sierra Madre, where there were big copper mines in the late nineteenth century, managed to trip and fall and get both his hands caught in this bear trap. He lost his hands and other parts of his body due to frostbite. Those accidents happen, they do.
INTERVIEWER
Do you still hunt?
PROULX
I used to hunt birds, but I have no interest in it now. It's been about twenty years. I have a bad habit of being intensely interested in things for a while and then dropping them. I have a nice collection of books on rodeo, which I was very interested in for some time. But I wouldn't cross the street to go to the rodeo now.
The last rodeo I went to was in Oklahoma. Boise City, or as they call it, "Boys City." The announcer was completely drunk, the contestants were all drunk. It was insanely hot. Real characters there. There was one guy with hair that came down to his ass who carried a pint of Jack Daniel's in one back pocket and a pistol in the other. I based the rodeo in That Old Ace in the Hole on that rodeo.
INTERVIEWER
Have you seen a lot of alcoholism in the rural areas you write about?
PROULX
I don't see it everywhere, thank God. It exists. In fact, most of the people I know in Wyoming are very light drinkers if they drink anything. Their drink is Mountain Dew. They're into caffeine rushes instead of stupors. I think it's because the habit of work here is extremely powerful. People work and it's considered the highest virtue.
Bars are social places here. They're not so much for drinking as they are for hanging out. It's the only place—there are no community centers, no movie theaters, no restaurants. You go to the bar and you have a few with your pals. There used to be a beautiful bar up in Ucross and there'd be cowboys at the end of the day in there; there'd be old ladies with their knitting; there'd be somebody repairing small motors over in the corner. It was very much a social center.
INTERVIEWER
But there are a lot of drunks in your stories. Ben from Postcards is one of the most spectacular.
PROULX
I'd forgotten all about Ben until you just mentioned him. He had all the alcohol problems rolled into one. I have known several alcoholics. My first father-in-law was a heavy drinker. He was mired in the twenties. And I lived with somebody who was a boozer so I've had considerable experience with heavy drinkers and they're a tedious bunch. Ben was in the grip of a vile disease. It was necessary for him to be that way.
INTERVIEWER
Postcards won the PEN/Faulkner award, and Shipping News won the Pulitzer. Did the awards change things for you?
PROULX
This is a country where awards are invented every day because that's how readers and publishers and others keep a list of what one should and shouldn't read. People don't choose books by covers, they choose them by the gold thing that says, winner of the blue shark award, or whatever. So the awards did a great deal, especially the PEN/Faulkner, because I was the first woman to get a PEN/Faulkner. And then I guess the thrill of awards, like the thrill of traveling, sort of fell away. I've moved into a different category of people who have won awards but don't necessarily have to win one now. Which is all right with me.
INTERVIEWER
Were you surprised at the popularity of The Shipping News?
PROULX
Yes of course—your second novel is supposed to be an absolute dud. I was sort of counting on that. Most of the novels have been enjoyable to write either because of the subject or the research. I wrote that one because I was madly in love with Newfoundland, so for me it was a joy. I bought a place in Newfoundland and used to go up there every summer for years.
INTERVIEWER
The people in the fictional town of Killick-Claw get an encyclopedia and they're shocked to see Newfoundland in it. Were your neighbors in Newfoundland shocked that you'd written about them?
PROULX
Most rural people are angry when I write about their places because they're not presented in great glowing hosannas. I don't say that they're the greatest places on earth. They can't bear any kind of criticism. They know they're in the best place in the world, but I don't seem to realize that. It infuriates them. There were lots of people in Newfoundland who hated the book because it wasn't all sweetness and light. The same way the Wyoming stories infuriated people because it wasn't all about wonderful things. If you want to write about bad things you have to write murder mysteries. But I don't. People come up to me and tell me what they think. But there are lots of people here who like the books very much. It balances out.
INTERVIEWER
Did you have to read a lot of small-town newspapers before writing The Shipping News?
PROULX
It was mostly a work of imagination, but I did work briefly for a paper in Vermont, where I learned about small-town politics and dangerously secretive selectmen's meetings, how big-frog-in-a-small-puddle power works. I could shift that over to poor old Quoyle without any problem.
INTERVIEWER
Accordion Crimes is your only novel that has large sections set in urban areas. How do you see that book relating to the rest of your work?
PROULX
Accordion Crimes is probably the best book I've written. I like the big sweep of it, and I liked being able to deal with many groups and time periods in this country's history. Immigration has always interested me. Those who leave their home country—and how many people just stay put. I'm fascinated by those French people whose genes have been connected to scraps of bone that date back to prehistoric times, and they're still in the same area. To me that's fascinating, never having been one to stay in the same place. Why people shift around, why they move. Is it economics? Why do they stay even when things are tough? Why do people stick it out? And it leads directly to why people follow other people and then you start thinking about clans, which still dominate in rural life. I suspect that clans might be very basic to human society. That first generation that came to this country lost everything: their language, their culture, everything. It was only the second generation that began to succeed and then the third one was fully part of the new culture. But the first ones to arrive are the most interesting to me.
INTERVIEWER
The accordion itself is a kind of character in the novel. How would you describe the function of accordion music in the book?
PROULX
I needed a portmanteau that each of the characters could carry so I could move through their lives. A device to take me into all of the ethnic groups. With the accordion came a host of memories and fragments of many different cultures. So it was the ideal instrument. That's what made that book so much fun to work on because I got to talk to accordion builders and repairpersons and musicians and people at accordion festivals. Accordion people from all over the world. The one thing I didn't have in that novel was klezmer music. Well, there was a lot that wasn't in it.
INTERVIEWER
In That Old Ace in the Hole you write about hog farms. What drew you to that subject?
PROULX
I did a lot of driving at one point. Every year I used to traverse the country from coast to coast and from the Canadian border to the Mexican border. Whenever I went through the Texas panhandle, which was a golden color because of the grass, I saw so many old farm and ranch houses, empty, decrepit, abandoned. I got interested in the old houses. The book was going to be about the old windmills on these ranches, but I realized that the windmills were largely replaced by diesel pumps. At the same time, I saw that hog farms were moving in. People were upset when a hog farm moved next to them, and if you've ever been downwind you know why. I couldn't set it in a time when the windmills were triumphant—the hog farms seemed to have more immediacy. But there are still whole chapters about windmills in That Old Ace in the Hole.
INTERVIEWER
How does one get connected to Texas panhandle windmill repairmen?
PROULX
Well, call them up and ask them. Go around to where they start out in the morning and see if you can go along.
INTERVIEWER
Do you tell them, I'm working on a novel—can I see what you do?
PROULX
Not usually. Most people who do the kind of things I'm interested in are used to being ignored. There aren't many people who want to see what they do. So usually they're pretty forthcoming and willing and maybe even eager to share the difficulties and strains of their trade.
INTERVIEWER
Fur trapping, hog farms, accordions, windmills—do you also go to the library to research these subjects?
PROULX
Thank God for the Internet. I used to go down to Larry McMurtry's store in Archer City and look for a lot of things, and I found a lot of things too. Three volumes of Cactus, the newsletter of an asphalt-roofing firm in the 1940s. He had more, but I only bought three. And those were invaluable for the letters that one of the characters in That Old Ace in the Hole writes.
In the old days, when libraries had card catalogs instead of databases, you'd be looking through a card catalog for something in particular, but your eye would be caught by a history of slave chains or measurements of crocodile jaws or whatever. And then pretty soon you'd be off way in left field, but it was a fascinating left field. And I miss that. I used the Dartmouth library card catalogues a great deal and it was a sad day when they left card catalogues for computers.
INTERVIEWER
Do you read more nonfiction than fiction?
PROULX
I rarely read fiction. I'm mostly interested in history or natural history or science. I'm tied to earthly concerns. Recently me and about ten other people got together to work on a book about Wyoming's Red Desert. It's close to nine thousand square miles in the southern part of the state. A couple of years ago, I was writing a forward to a book of photographs about the Red Desert. I went to the University of Wyoming's library and intended to come out with an armful of books about the Red Desert but there was not a single book about it. So I realized that I'd have to do it myself. I started making trips into the desert with a prospector friend. And after a while I realized that it was a big project. An archaeologist friend was invited to become part of the exploration, and we began pulling in scientists because so little was known. We had an entomologist, a geologist, a vertebrate specialist, an expert in cryptobiotic crusts—the desert is very fragile and what's holding it together is this almost unnoticeable little gray crust and it's being destroyed. The gas extraction gangs and the thumper trucks are moving in and the desert is getting wrecked.
Once we got caught out in the desert and a terrific wind came up and drove us out. It was extremely painful because the wind was laden with dust, this roiling crazed mess of stuff in the air. You couldn't see anything through it. When we got back, our eyes, our ears, our hair, our clothes were all filled with this dust, and I looked at some of it under a microscope and it was like tiny squares of glass and it's just lying out there and it's all right as long as the crust holds it all down. But it was not breathable.
Even today you can get into trouble easily out in the Red Desert. Marooned with a broken car or run over by a motorcycle or drowned in the river. People still get lost out there. There are lots of Halliburton trucks around, but Halliburton trucks are not inclined to help you out if you're stranded on the side of the road. Wyoming people will always do that, always. When someone's having a problem it's almost a race to see who can help first.
Anyway, we worked on this thing for years. It was divided into human and natural history. I wrote some of the sections. It's called Red Desert: History of a Place. It's the only book on the subject so far, but we're hoping that lots of other people will be interested in it, mostly because it's being destroyed so fast.
INTERVIEWER
Did writing the Red Desert book feel like a return to your earlier nonfiction books, the books you wrote on gardening and cider making?
PROULX
No. Those were just for-hire books. I don't even count them as writing. I would disown them if I could. It was simply a matter of putting food on the table. I was living in Vermont's Northeast Kingdom then. We had absolutely no money, no electricity, nothing but an ancient Chevy truck—we had to make our own inspection tags. There were no jobs, there was no nothing. And I figured that I would try my hand at writing. And the easiest thing to do were those how-to books. I started doing those and writing for a horticulture magazine. It was a way to make a living without becoming truly involved in the subject matter. I worked on assignment.
But this time I liked the switch back and forth between fiction and nonfiction. There are times when there's a certain amount of comfort in obscure subjects. There's something about it that's pleasing to do—that kind of small careful tedious work that can lead to little surprises.
INTERVIEWER
What was it like to write nonfiction again after so many years?
PROULX
It made me put on the brakes. You're bound to what is authentic and what is provable. You don't have the indulgences of fiction. But it's very tempting and a lot of people have succumbed to that temptation. If I want to do that kind of thing I can write fiction no problem. But if I'm writing history I'm not going to mess around with inventing characters and plausible but false situations.
INTERVIEWER
Are you going to write any fiction set in the Red Desert?
PROULX
I'm all done with writing Wyoming stories at this point. I don't know what I'll write about next. I've already got two other books under contract that I've got to finish. One is a history of putting this property together—part autobiography and part survey of the land that Bird Cloud is on. And there's a novel about logging and lumbering from Prince Edward Island to New Zealand that I've got to get to. I've been collecting materials for years, trying to figure out where I want to hit. It started about twenty-five years ago when I was driving through Michigan's Upper Peninsula and I came up to a sign that said on this site stood the greatest pine forest the world has ever known and now there's absolutely nothing left of it. So that got me thinking. The story will span from the northeast corner of North America down to the Pacific. But Wyoming won't be included in the book. Even if I keep living here I won't want to write about Wyoming. I want to write about something else. I have a short attention span.
INTERVIEWER
When you started writing the Wyoming stories, did you feel any need to get acquainted with the tradition of writing about the American West?
PROULX
Why the hell would I do that? That's not a tradition. No, I didn't do anything like that. Writing about the American West is just like writing about the American East or wherever. It's good to keep shifting around. I'd written about New England, and then it was enough.
INTERVIEWER
Is rural life in Wyoming similar to rural life in Vermont?
PROULX
The biggest difference between rural life in Wyoming and Vermont is the difference between liberals and conservatives. There are armfuls of liberal minds and ideas in Vermont, only scant handfuls in Wyoming. And Vermont is small, within a day's drive of Montreal, New York, Boston, and those nearby urban centers very much affect rural people, especially the rising tide or urbanites who mythologize Vermont as a rural paradise and change population and house-construction densities. Wyoming is huge and sparsely populated. The drives to Salt Lake City or Denver are long. Newcomers from Colorado's Front Range are beginning to enter the state, but Wyoming likes its isolation and clings to the idea of the rugged individualism of the nineteenth century as its basic characteristic. That idea used to exist in Vermont and Newfoundland when both were more rural, but today I think Wyoming, and probably Alaska, are the remaining tough rural places.
INTERVIEWER
Your Wyoming stories are often funny despite being bleak. How do you write humor into these stories?
PROULX
That's a nice thing about writing about Wyoming. It is a place with dark humor, and dark humor fits here even though Wyoming people like to think that they're jolly and happy and living the perfect life. There are plenty of real-life ironies and twists of fate that just knock your socks off. So every day is kind of a revelation of putting up with untenable situations and making a joke out of it. And I think that might be why people laugh so much here. If you go down to the post office and just stand there for a few minutes, you'll hear people greeting each other with bursts of laughter and mentioning the weather and laughing so hard. Getting their mail and laughing and laughing. No joke is being told! It's conversation. Laughter is part of the conversation.
INTERVIEWER
One of your Wyoming stories, "The Half-Skinned Steer," was selected by John Updike as one of the best stories of the century. Do you think of it as one of your finest stories?
PROULX
No. I think he had to include something. He said later that he found it a depressing story, and so he had to include it. But with these collections, there's usually somebody behind the name that's on the cover that's doing a big general selection and then the person that's on the cover narrows that down.
INTERVIEWER
Is there one short story that you're proudest of?
PROULX
I don't have a favorite, but I think "Tits-Up in a Ditch" is probably my strongest story.
INTERVIEWER
The protagonist of "Tits-Up in a Ditch" is a woman, but most of your stories are about men. Why aren't there more women in your stories?
PROULX
In Fine Just the Way It Is they're the center of just about every story. But in earlier collections they weren't in the center of the story because the major work, whether it's fishing or ranching or whatever, was done by men. It naturally falls that men are going to have central positions in stories about Wyoming. It's a geography thing more than something based on gender.
INTERVIEWER
A couple of the stories in Fine Just the Way It Is feature the devil talking to his secretary. Did anyone object to your including those in a collection subtitled Wyoming Stories 3?
PROULX
No. And it never specifies exactly where hell is or isn't. It was my agent who encouraged me to include the devil stories in the Wyoming collections. She thought that those lighter stories would balance the intensity of some of the others. And I think it was a good move, though at the time I didn't much care for the idea.
INTERVIEWER
And there is that story "The Hellhole," where at least one portal to the underworld—
PROULX
Yes, definitely. Definitely Wyoming. You can get directly to hell from Wyoming.
INTERVIEWER
Do you start writing a story with the setting in mind?
PROULX
Always, yes. It's place that interests me, and the social and economic situation in a place—how people live, how they make their living, the culture—but the story comes from place. For other writers that's not the case. Almost every story I read these days is written in the first person, but for me it's an uncomfortable point of view. I really like retreating into the third person.
INTERVIEWER
You've said that the characters of Jack and Ennis from "Brokeback Mountain" were the first two characters that started to feel "very damn real" to you. Has it happened again since then?
PROULX
That was true of a number of the characters in Fine Just the Way It Is. But I think it happened with "Brokeback Mountain" because it took me so long to write that story. It took at least six weeks of steady work, which is not my usual pace. So yeah, they got a life of their own. And unfortunately, they got a life of their own for too many other people too.
INTERVIEWER
What do you mean?
PROULX
I wish I'd never written the story. It's just been the cause of hassle and problems and irritation since the film came out. Before the film it was all right.
INTERVIEWER
Did people object to the fact that gay characters were in the center of a story about Wyoming?
PROULX
Oh, yeah. In Wyoming they won't read it. A large section of the population is still outraged. But that's not where the problem was. I'm used to that response from people here, who generally do not like the way I write. But the problem has come since the film. So many people have completely misunderstood the story. I think it's important to leave spaces in a story for readers to fill in from their own experience, but unfortunately the audience that "Brokeback" reached most strongly have powerful fantasy lives. And one of the reasons we keep the gates locked here is that a lot of men have decided that the story should have had a happy ending. They can't bear the way it ends—they just can't stand it. So they rewrite the story, including all kinds of boyfriends and new lovers and so forth after Jack is killed. And it just drives me wild. They can't understand that the story isn't about Jack and Ennis. It's about homophobia; it's about a social situation; it's about a place and a particular mindset and morality. They just don't get it. I can't tell you how many of these things have been sent to me as though they're expecting me to say, Oh great, if only I'd had the sense to write it that way. And they all begin the same way—I'm not gay, but . . . The implication is that because they're men they understand much better than I how these people would have behaved. And maybe they do. But that's not the story I wrote. Those are not their characters. The characters belong to me by law.
INTERVIEWER
Did you get the same sort of reaction to your characters when The Shipping News was made into a film?
PROULX
No, I haven't had the same sort of problem with anything else I've ever written. Nothing else. People saw it as a story about two cowboys. It was never about two cowboys. You know you have to have characters to hang the story on but I guess they were too real. A lot of people have adopted them and put their names on their license plates. Sometimes the cart gets away from the horse—the characters outgrew the intent.
I'm trying to exorcise them now, because Charles Wuorinen is doing an opera of "Brokeback Mountain." And I'm working on the libretto, working on changes so I can finally get Jack and Ennis loose from my life.
INTERVIEWER
Were you tempted to say no to that project?
PROULX
I was, but then I figured that one of these idiots who loves happy endings would come along and start messing with it. I want to keep the story as it is. It's a strong story and it shouldn't be mangled into everybody lives happily ever after. Not that that could happen in an opera.
INTERVIEWER
Is there ever a point when you're writing a story in which you start to ask yourself if it could be a novella or a novel?
PROULX
Why would I? The whole point is to make it work in a story, not in a novella or a novel. I think the short story is a superior form. It's definitely more difficult than writing a novel, and a novella is an unwieldy length. The challenge is to make something that could be a novel but that works better as a short story, and to know the difference. So yeah, some stories could have been stretched out into a novel, but they would have been weaker and certainly not as interesting to write.
INTERVIEWER
Do you have a process for beginning a new novel?
PROULX
It starts with a lot of research, and an ending, which I write first. I write to the end.
INTERVIEWER
Is that the case for short stories as well?
PROULX
Sometimes. I always know where I'm going, even if I don't write the ending first for short stories. The map is there. I know exactly how it will end, so I don't have to write it. It is rarely a fleshed-out ending that I start with but a single sentence or paragraph that holds the idea firmly. But with novels, because of the extraneous characters and threads and so forth, it's helpful to have the ending in black-and-white before starting the beginning.
INTERVIEWER
How did you know that the story that became That Old Ace in the Hole was going to be a novel?
PROULX
Probably because of the windmills. I had wanted to write about windmills in rich and full detail, about the now lost art of windmill manufacture, maintenance, and repair. When the windmills had to become a subsidiary part and hog farms moved into the picture, there were already too many of the secondary good-size elements that wouldn't comfortably fit into a short story. Texas is incredibly rich in characters, strange events, extraordinary barbeque signs (you don't need no teeth to eat bob's meat), and strong music. Somewhere in my box of notes there are dozens of unused story elements. I couldn't have both hog farms and the windmills in a short story. I didn't even think about it.
In a rough way the short story writer is to the novelist as a cabinetmaker is to a house carpenter. Although I said that the short story is a superior literary form, there are plenty of exceptions of great novels that could only be novels. All the same, the short story deserves more honor and attention than it gets. It can be a powerful reading experience. One can go back to a good one over and over and always learn something new about technique. I sometimes think it would be better in creative-writing programs if students cut their writing teeth on novels instead of short stories. Short stories are often very difficult and demanding, drawing on deep knowledge of human nature and the particulars of pivotal events. Every single word counts heavily. The punctuation is critical. Finding the right words and making honorable sentences takes time. The general reading public has no idea of what goes into a short story because it is literally short and can give the impression that the writer sat down and rattled the thing out in an hour or two.
INTERVIEWER
What is the best time of day for you to write?
PROULX
I don't have a routine. I struggle to find time to write. This ranch is part of the problem. Yesterday I had a lot of writing to do and I couldn't do it because a neighboring ranch called to say they were going to put bulls out in the pasture there. So I had to get over to the bridge over Jack Crick and let down the panels across the stream to stop the bulls from coming through onto my property. And that's what happened to the afternoon.
So I don't have a set schedule for writing. When I was doing those Fine Just the Way It Is stories last summer, I think it was a two- or three-month stint to do all of the stories, and I could just work on it constantly from first light till late at night. When I'm in the groove, believe me, I'm in the groove. Nothing gets in the way. I do it.
INTERVIEWER
Do you write longhand?
PROULX
Yes. Then after a certain amount is done, I put it on the computer because it's so easy to switch things around. And then I start printing out drafts and adding in emendations and constructions and marginal notations and drawings and arrows and x's and scribbles and that sort of thing.
INTERVIEWER
Do you have more stories in your mind that you're ready to write?
PROULX
Oh, God. Several lives' worth. They're not set anywhere at the moment. But I have to sort out the place I want to write about first. They are germs of stories that would fit in a number of places. Story comes from place, but one has only to read the One Thousand and One Nights or The Decameron or the Grimm Brothers' collection of folk tales to see that there are old, old stories that humans constantly reuse. So a writer may carry hundreds of story ideas in the back of the mind, and when certain shapes and topographies present themselves a possible story creeps forward and is either worked up or abandoned.
You could say that the place provides the architecture and the content is provided by the characters and the events that happen to them. For instance, could "Brokeback" have been set in a different place? Absolutely. It could have been Saskatchewan or Kentucky, or it could have been a lot of places that it wasn't. As long as it was a rural place it would have worked because homophobia is a very strong rural characteristic.
INTERVIEWER
How do you know when a story is finished?
PROULX
It is impossible to answer. You just know. I suppose it's the thing Hemingway referred to as the built-in shit detector. I think one develops a built-in shit detector through wide reading of other people's work. And if you can't see the ghastly bits in your own writing you shouldn't be a writer. It's a pity that his shit detector failed him in later years.
I once heard Ha Jin say that it was not uncommon for him to do more than thirty drafts. I do not usually do so many—for a story like "Tits-Up in a Ditch" it was probably fifteen or sixteen drafts, with some paragraphs going through sixty drafts before they got right. Even then, when the story is apparently finished I see changes that must be made. For example, I added the last sentence to "Brokeback Mountain" after I had sent the story to my agent and I was in a fever of anxiety until the fresh page reached her. With novels it's a couple of drafts. Maybe four or five within certain sections, and certain paragraphs need reworking again and again and again to make things move in the right direction.
INTERVIEWER
Do you think of yourself as having a style that evolves from book to book?
PROULX
I don't think about it. If I have a style, that's fine. But I couldn't say what it is. I don't consciously cultivate a style. It's just an outgrowth of who I am. If I could write sentences like Aidan Higgins, I would be a happy person. My God, he's a stylist master. Absolutely exquisite sentences. But what he doesn't have is structure, and he doesn't want it. To me architecture in a story is very important.
I've always felt very sorry for writers who don't read anything because they're afraid of hurting their style. I know quite a few of them. Many writers are extremely poor readers. They haven't read much and they teach, so what they do read are the stories that their students have written and their own work begins to seem finer and better and more exalted and precious to them in comparison with the clumsy first efforts of kids. Slowly they go through a melting-down process. I think that's one of the reasons I never wanted to teach.
You should write because you love the shape of stories and sentences and the creation of different worlds on a page. Writing comes from reading, and reading is the finest teacher of how to write. I read omnivorously—technical manuals, history, all sorts of things. It's a relief to get away from your own stuff.
INTERVIEWER
Do you write when you're traveling?
PROULX
Sure I do. If you've got a knotty situation or a character that isn't playing the game right, sometimes walking or driving for a couple of days will straighten it out, or some possible scenarios will float through your mind and one or two of them will mesh into something that works. I carry it in my head and then write it down later, or scribble at most a couple of key words.
A lot of the work I do is taking the bare sentence that says what you sort of want to say—which is where a lot of writers stop—and making it into an arching kind of thing that has both strength and beauty. And that is where the sweat comes in. That can take a long time and many revisions. A single sentence, particularly a long, involved one, can carry a story forward. I put a lot of time into them. Carefully constructed sentences cast a tint of indefinable substance over a story.
INTERVIEWER
The hard works pays off.
PROULX
There is difficulty involved in going from the basic sentence that's headed in the right direction to making a fine sentence. But it's a joyous task. It's hard, but it's joyous. Being raised rural, I think work is its own satisfaction. It's not seen as onerous, or a dreadful fate. It's like building a mill or a bridge or sewing a fine garment or chopping wood—there's a pleasure in constructing something that really works.