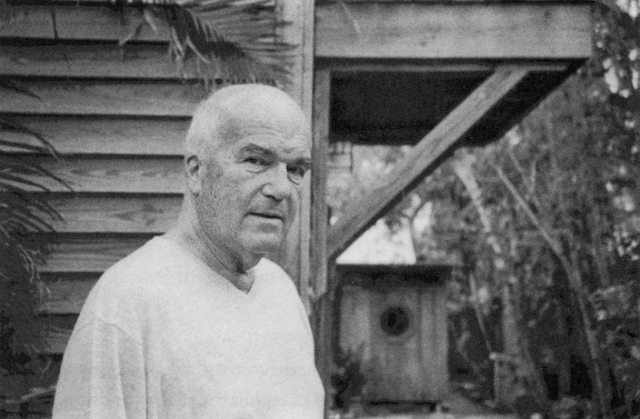 Mathews in Key West, Florida, 2006.
In 1962 Random House published a first novel by a thirty-two-year-old American living in Paris named Harry Mathews. The Conversions is an adventure story about a man trying to decipher the meaning of carvings on an ancient weapon, and it unfolds in a succession of bizarre anecdotes and obscure quotations, with an appendix in German. One particularly trying passage is written in a language once popular with schoolchildren that involves adding arag before most vowels. Furthermore is faragurtharaggermaragore and indulgences is araggindaragulgearaggencearagges.
The book was considered groundbreaking by a certain literary set. Terry Southern called it a "startling piece of work," and George Plimpton published a seventy-page excerpt in The Paris Review. Mathews's agent Maxine Groffsky, then in her first job after college in the editorial department at Random House, says that reading The Conversions was like "seeing Merce Cunningham for the first time." But it baffled most of the reading public, including the poor Time critic who complained that the symbolism "spreads through the novel like crab grass."
Mathews is one of American literature's great idiosyncratic figures. His friend Georges Perec, who once wrote a novel without using the letter e, has accused him of following "rules from another planet." He is usually identified as the sole American member of the Oulipo, a French writers' group whose stated purpose is to devise mathematical structures that can be used to create literature. He has also been associated with the New York School of avant-garde writers, which included his friends John Ashbery and Kenneth Koch. After forty-five years of congenital allergy to convention, he rightfully belongs to the experimentalist tradition of Kafka, Beckett, and Joyce, even though his classical, witty style has won him comparisons to Nabokov, Jane Austen, and Evelyn Waugh. Yet while he enjoys the attention of thousands of cultishly enthusiastic French readers, Mathews remains relatively unknown in his native land and language. "When I go into an English bookstore, I always ask the same question," a Frenchman told me with the sly smile that infects all Mathews fans. "'Do you have Tlooth?'"
Tlooth, Mathews's second novel, came out in 1966. It begins with a baseball game at a Siberian prison camp. His next book, The Sinking of the Odradek Stadium (1975), is considered by many to be his masterpiece. Twenty-five publishers rejected it, which isn't entirely surprising given that half of it is written in an invented pidgin English. Mathews used an Oulipian mathematical scheme to create the plot of his fourth novel, Cigarettes (1987). His last two novels are deceptively straightforward. The Journalist (1994) is the diary of a man obsessed by his diary. My Life in CIA (2005), an "autobiographical novel," begins reassuringly as a memoir only to devolve into the preposterous, ending with the protagonist Harry Mathews tending sheep in the Alps after attempting murder by ski pole.
In reality, the self-described refugee from the Upper East Side has lived in Paris on and off since the fifties, though he does spend summers in the Alps and he says "there are sheep nearby." Mathews was born in Manhattan in 1930, the only child of an architect and a cold-water-flats heiress. After dutifully attending Princeton for two years, he dropped out and joined the navy, then eloped at nineteen with the artist Niki de Saint Phalle. He finished his studies at Harvard, majoring in music, and in 1952 moved to Paris where he briefly studied conducting before deciding to write poetry full time. In 1956 Mathews met Ashbery, who was in France on a Fulbright scholarship. The poet introduced him to the works of Raymond Roussel, the early-twentieth-century French avant-gardist. After reading Roussel, Mathews turned to prose.
A novelist, poet, essayist, and translator, Mathews is also the author of many short works, including Twenty Lines a Day (1988), the result of more than a year spent following Stendhal's dictum to write "twenty lines a day, genius or not," and Singular Pleasures (1983), a series of sixty-one vignettes describing masturbation scenes. A volume of his collected short stories, The Human Country, was published in 2002.
Mathews and his second wife, the French writer Marie Chaix, split their time between France, New York City, and Key West, Florida. This interview took place over several afternoons in the pleasantly worn living room of Mathews's apartment on the rue de Grenelle in Paris. A ceramic sculpture by Saint Phalle sat on the mantelpiece next to smoky mirrored walls. Tall, courteous, cigar-smoking, Mathews wore an unusual vest, faintly Indian. A long silver chain hung from his velvet pants, suggesting a pocket watch, though it was later revealed to be an enormous key ring. Mathews speaks with the nearly extinct mid-Atlantic accent that can carry off rather and alas. Then again, as an adult of the seventies, he will occasionally talk about sex ("fucking") in a casual way that might surprise younger generations.
At one point we were interrupted by deafening honks. Mathews chuckled and said, "I can tell you exactly what that's about." He pointed out the window to a bus that was unable to make the turn onto the narrow street because of an illegally parked car. "See the no-parking sign in front of the car? It says zone de giration de bus. Where they came up with that, I have no idea. Bus gyration zone. Never has that formulation been used on earth before!"
INTERVIEWER
Do you have an audience in mind when you're writing?
HARRY MATHEWS
I've always said that my ideal reader would be someone who after finishing one of my novels would throw it out the window, presumably from an upper floor of an apartment building in New York, and by the time it had landed would be taking the elevator down to retrieve it.
I suppose I must have had dreams of greater recognition, but I've always had the audience I wanted, and that was the audience that reads poetry. What I want is enthusiasm among friends and their friends, people who I know are serious readers.
INTERVIEWER
When did you start writing?
MATHEWS
My first serious work was a poem I wrote at the age of eleven. I went to a boys' school in New York called St. Bernard's. I had a wonderful English teacher who created a special class in Latin and in English poetry for me and a few other pupils. One day in class I wrote my first poem. He read it and gazed out of the window with an expression that, to me, said, What have I done? WASP private schools weren't meant to produce poets, but doctors, lawyers, businessmen, and so forth. He could clearly see that I was hooked.
INTERVIEWER
Do you remember the poem?
MATHEWS
"It was a sad autumnal morn, / The earth was but a mass of clay; / Of foliage the trees were shorn, / Leaving their branches dull and gray."
When I got to boarding school, I was addicted to poetry. I remember one week I wrote something like eight poems in eight different styles imitating Wordsworth, Swinburne, and Tennyson, among others. I incurred the total disapproval of my teachers and classmates. I was roundly condemned.
INTERVIEWER
Why?
MATHEWS
Because of the idiotic thing that aspiring young writers are usually told: write about yourself. Don't imitate literary models. Of course, imitating literary models is the best thing one can do. Like painters—they make copies of classical masterpieces. I was cowed, so I wrote a couple of poems about my own experiences, which were close to doggerel. Then I started sneaking back toward more literary, more derivative work. There was a generous, brilliant man who taught at Groton named John Pick, and we became friends. He had written one of the first books on Gerard Manley Hopkins. I went to his study one evening, and he read me "The Love Song of J. Alfred Prufrock" and my life was never the same after that. There was no attempt to make a visible, logical sequence in the poem. By the time I was thirteen, I knew the work of Stravinsky and Bartók. They too had abandoned what passed for logic in music, which was harmonic organization of the work. It had never occurred to me that that could happen in writing.
Actually my first great aesthetic excitement came from classical music, starting with Wagner. I suppose Wagner is an artist as unlike me as you could imagine. And nevertheless, the obsessive romantic passion that those operas inspired in me is something that is behind all my writing, even though it's totally suppressed and censored. Can I tell you a joke? What is the question to which the answer is 9 W?
INTERVIEWER
I give up.
MATHEWS
Mr. Wagner, do you write your name with a V?
INTERVIEWER
What did you like to read as a child?
MATHEWS
At first I was read to. My grandfather had taught Greek and Latin at Columbia, and he read to me from a book that had abbreviated versions of The Odyssey and The Iliad—plus a lot of classic fairy tales, which, as you know, are extremely disturbing. Then I began reading on my own. I read mostly Westerns. My parents approved of that, because at least they were books. But when I got into comic books, they disapproved. I would read them by flashlight under the covers. No one realized in those days that 1930s Action Comics and DC Comics, Superman and Batman, would become legendary in American culture. They taught me a great deal about narrative—lots of invention and no pretense of realism.
INTERVIEWER
You were an only child?
MATHEWS
Yes. My mother despised children, except for me, to whom she was passionately devoted. She was self-centered and domineering, but we shared many common enthusiasms—painting, music, poetry. My father was an architect. He came from old Pennsylvania and Southern WASP stock, but he grew up in genteel poverty, living for years in boarding houses. His father died when he was nine, having squandered what money he had. I gather he was also a ladies' man, which caused my grandmother much grief. She was a violinist, a former child prodigy. She supported the family through violin lessons until she got tendonitis. She made enormous sacrifices so that my father could have a gentleman's life. But he decided not to go to college, which was a great disappointment to her. He went straight to the Yale School of Architecture. Then instead of following an artistic vocation like Le Corbusier or Frank Lloyd Wright, he became a successful professional architect, and I think this brought him regret and even bitterness. My guess is that he didn't want to disappoint his mother again. Where I was concerned, he seemed to feel that he had failed to prepare me properly for "success." As a teenager, I was a klutz, terrible at sports. I couldn't hammer a nail until I was seventeen. I spent all my time in dreamland, listening to obscure music and reading Henry James.
INTERVIEWER
At Princeton you were taught by Eugene O'Neill Jr., son of the playwright. What was that like?
MATHEWS
He was sensational. The first play we read was Sophocles' Oedipus Rex. He devoted our first class, which was three hours long, to the two opening lines and showed how the whole play was implicit in them. He was doing the kind of reading that didn't really become current until the poststructuralists. It enthralled me—how a writer could encrypt the things that he wasn't overtly stating. It's something I've relentlessly tried to do.
But I couldn't stand Princeton. In those days, it was too Southern genteel. I have nothing against the South—my father's mother was from Louisville—but I felt claustrophobic there. I came into Princeton an enthusiastic poet, then I wrote less and less, and soon my desire to write was gone. I didn't think to blame it on Princeton at the time, but John Ashbery assures me that Ivy League colleges are the worst places for aspiring writers. I left after the first semester of my sophomore year, in December of 1948, and joined the navy.
INTERVIEWER
Why did you do that?
MATHEWS
It seemed an exciting prospect. I went to boot camp in Great Lakes, Illinois. I got physically strong. I didn't fuck up too often. I met new kinds of people. It was the first time I had ever known a black man outside of waiters in restaurants. That's the way things were then. I bunked with a black man whose name was, of course, Jimmy White. I had a terrible experience with him, one that fills me with shame to this day. I'd given him my address in Manhattan, which was One Beekman Place. He showed up without calling and got chucked out.
I was supposed to ship out to the Mediterranean that summer. Fabulous prospect! But my whole plan for the year fell apart because I eloped with Niki, my first wife. I'd bumped into her on a train during my last term at Princeton and we eloped eight months later when I was already in the navy. My father wanted me home to get the marriage annulled. He had become a commander in the Navy Reserve at the end of the war, so he pulled rank and called up the director of the Norfolk, Virginia, receiving station. He succeeded in having me kept there for the entire summer—pure misery.
Finally, in September, I shipped over on a transport ship. I'd gone through a great deal of strain from parental harassment and physical exhaustion as well, mainly from spending day after day tending a gigantic dishwasher in hundred-and-two-degree weather. By the end of the summer, I came down with a feverless flu. My head ached, my legs ached, my feet ached. I felt horrible all over. I was the last one to get on board my transport ship, so the only place left where I could set up a cot was all the way in the bow of the ship next to where the anchor chains were lodged, which meant that every time the ship rolled, a ton of chains would slide across the floor and bang up against the bulkhead and then slide back again. So I didn't get any sleep. I went to the pharmacist and he gave me aspirin. But when I asked for something stronger, he accused me of being a goldbrick, a slacker, and told the other officers. As punishment I was given the job of chipping paint with a mechanical chipper. It was nine days of pure hell.
We reached Plymouth in a parody of English weather—fog, rain, darkness. I was assigned to the deck force of the USS Columbus, the flagship of the sixth fleet in the Mediterranean. I had to get up at four-thirty in the morning and scrub down the decks in bare feet. This went on for about a month. Finally I developed a fever of one hundred and four, which was my salvation. I was able to go to sick bay. I recovered in time to mount my first watch on the bow of the ship as it sailed into the harbor of  Villefranche-sur-Mer. There was the Riviera coast under a cloudless October sky. I had three nights of glorious liberty. You know what liberty is? A furlough.
INTERVIEWER
You got married at nineteen and had a child at twenty-one. Those are pretty radical acts.
MATHEWS
Our marriage was a way for Niki and me to get out of the Upper East Side. We were both going crazy in that world, which was much stuffier than it is now. I knew that all hell was going to break loose when we got married, and it did. It led to an estrangement from my parents that took twenty years to resolve. My parents had made a considerable sacrifice to send me to the best schools and colleges available. The whole idea was for me to become a respectable gent with an office job in New York. The last token of satisfaction that I gave them was finishing Harvard, where I transferred after my year in the navy.
INTERVIEWER
What did you study there?
MATHEWS
I majored in music. Literature was my great love, and I was determined to keep it unsullied by academia. As a result, I'm unevenly read in the classics of English literature, or any literature for that matter.
INTERVIEWER
Given your later interests, were you interested in the formal, mathematical side of music?
MATHEWS
Yes. A prime example is a school of fourteenth-century music called ars nova, where elaborate formal demands run the show. The practice was invented by Philipe de Vitry and continued by the great Guillaume de Machaut. It was a period much like the twelve-tone school, in that these great composers were followed by a whole slew of disciples who took their methods to insane lengths. They would create music in which thirteen notes would be played against nine notes which would be played against five notes—things that are hard to figure out even on the page. Studying ars nova was an immersion in a nonromantic and nondramatic way of creating music.
INTERVIEWER
If it's nonromantic and nondramatic, what is it?
MATHEWS
At its best, it's gorgeous. The music is often lyrical—what I meant by nondramatic is that the formal structures used weren't created to produce a specific effect on the listener. Like stanza forms, they were tools used by the composers to construct their music, and this in fact is what poets have always done, until free verse came along. What is interesting about a complicated stanza form? It has no inherent dramatic or emotional value. Its main use is to construct the poem.
INTERVIEWER
Did you try to do anything with your music degree?
MATHEWS
I was supposed to study conducting for a full academic year at the École Normale de Musique in Paris, but I dropped out after three months. It didn't feel right, perhaps because I knew my ear was hopeless. The following summer Niki had a serious nervous breakdown. She was put in a clinic and had electric shock treatment. In the clinic she started doing little collages with grass, stones, twigs, and so forth. A friend of ours bought her a box of gouaches. She started painting, and gave up a very promising acting career. She worked with an ardor that delighted me because it meant she was better. It also filled me with envy. I said, My God, being able to work the way you do must be heaven. She said, Are you crazy? You're a wonderful poet. Start writing. So I did and that was that.
Then I got a depressing letter from my father. I had written him at great length explaining why I'd switched from music to writing, and his response was, You've gone from bad to worse. When I think of him reading my first novel, The Conversions . . . Fortunately there were some reviews—in America, two that I saw. One was in Time magazine, if you can imagine such a thing, and the other was an exuberant article by Terry Southern in The Nation. But the English edition was reviewed glowingly in almost every major paper. And because my father was a snobbish Anglophile, he said, If the English like it, it must be good. At that point, he relaxed. I hadn't totally screwed up my life.
INTERVIEWER
You met John Ashbery in Paris. What was his influence on you?
MATHEWS
What I think of as my writing life began when I met him. He had already published his first book. But he never spoke much about poetry. He was very proper, though he led another life at night, when he drank and carried on. He told me about modern French poets like Pierre Reverdy and Henri Michaux. I hadn't read any of them. A couple of weeks later, I gave him a poem. He read it and said, I see you read all those poets that I recommended to you. But I hadn't. His mentioning them and briefly describing them were enough to transform my writing. That's the way things work. I've always said that I was greatly influenced by Hawthorne's Twice-Told Tales, although I've never read them.
There was another very important thing he did. When I asked him, Is it OK to do this or that in a poem, he told me I could do anything I wanted. And that was bye-bye New Yorker models—or any other models, for that matter. In my life, that was a radical shift. I'd always been anxious about getting things right.
INTERVIEWER
Did Ashbery introduce you to any writers whose work you did read?
MATHEWS
Yes, thanks to John I began reading Raymond Roussel. Roussel had methodical approaches to writing fiction that completely excluded psychology. In the American novel, what else is there? If you don't have psychology, people don't see the words on the page. What was really holding me up was this idea that you had to have character development, relationships, and that this was the substance of the novel. Indeed, it is the substance of many novels, including extraordinary ones. But I had tried writing works involving psychology and characters and all that, and the results were terrible. In Roussel I discovered you could write prose the way you do poetry. You don't approach it from the idea that what you have to say is inside you. It's a materialist approach, for want of a better word. You make something. You give up expressing and start inventing.
INTERVIEWER
Which of Roussel's methods interested you?
MATHEWS
One method he used for short stories involved making the first and last sentence identical except for one letter. Each word has one meaning in the first sentence and a different one in the last. A word like train might be a choo-choo to start with and a trailing skirt-end afterward. In the longer works, he would take fragments of nursery rhymes and parrot them phonetically and then use the new words to construct a story. For instance, the song "J'ai du bon tabac" becomes "Jade tube onde aubade."
INTERVIEWER
What is the point of such a method? What does it achieve?
MATHEWS
It's very liberating. It allows you to make up something that you never would have if you didn't have this nasty problem to solve. For example, in Selected Declarations of Dependence I gave myself the task of writing a story using the one hundred and eighty-five words that were found in forty-six proverbs. This is a forbiddingly small vocabulary. It was hard to know what to do with them. Then I started putting words together and a few words would lead to a sentence and then eventually it became this sweet love story. It was as though you were wandering through a jungle and suddenly you came into a clearing that is a beautifully composed garden. It's extraordinary, the feeling it gives you.
INTERVIEWER
So Roussel provided a model for The Conversions?
MATHEWS
I didn't use his methods specifically, but mine were similar in that they were based on relationships between words, often puns. The whole thing is based on misunderstanding language. Arriving at a party, the narrator is told that a song being sung is "The Sheik of Araby," but what he hears is "the cheek of our Bea," Bea being the daughter of the house. That kind of thing goes on throughout the book.
INTERVIEWER
How did people react to it?
MATHEWS
Kenneth Koch had put the manuscript in Jason Epstein's hands at Random House, and his reaction was, Well, I can't not publish it. But when it came out, except for a handful of readers, nobody could see what was there. They kept trying to read through the text rather than just reading it. When Dwight Macdonald saw me, he said, I didn't imagine you looked like that. I think he was expecting a gnome. I had a surprising encounter with Bennett Cerf, who was head of Random House at the time. This was the man who published Ulysses. One day I was called in to his office. He said, Mr. Mathews, I don't know what the hell you're up to and I think you owe it to Random House readers to explain!
INTERVIEWER
What did you say?
MATHEWS
I hope I had the sense to say I hadn't the faintest idea.
INTERVIEWER
Around that time, you, John Ashbery, Kenneth Koch, and James Schuyler started a magazine, Locus Solus. How did that come about?
MATHEWS
My grandfather died in 1959 and left me twenty thousand dollars, which is like a hundred and forty thousand now. John said, Why don't you use some of the money to do a magazine? So I agreed to put five thousand into Locus Solus, little knowing what I was getting into. This was just the point when my marriage to Niki was breaking up and it gave me something to do while trying to get through it.
INTERVIEWER
How did you conceive of the magazine?
MATHEWS
I didn't know much about new writing. I'd been reading people like Theodore Roethke and Robert Lowell. My passions had been Eliot and Pound. I'd barely read anything of  Wallace Stevens. So I left the decision of what Locus Solus was going to be to the others. Like the others I had veto power, but I was so ignorant I rarely dared exercise it. Their idea was to publish their own work and that of their friends. Of course, it turned out this little circle had three future Pulitzer Prize winners. Don't look at me!
INTERVIEWER
Did you feel that you were part of some sort of movement?
MATHEWS
We were all categorized as belonging to the New York School, but there was no school. There was little in common between the writing of John, Kenneth, Jimmy, and me. But I do think that what Mallarmé invented—deliberately putting the locus of meaning in the effect rather than in the sense of words—is a notion that we all would have subscribed to. And there was a kind of unavowed doctrine amounting to: no aesthetic bullshit. Stay clear of cute embellishments, like the onomatopoeia of "the moan of doves in immemorial elms, / And murmur of innumerable bees." By extension, pay no respect to traditional rules. John and Jimmy wrote a novel called A Nest of Ninnies in which they violated much received opinion. For instance, Auden had once said that it's impossible to describe meals in contemporary fiction. So there is an endless number of meals in the book. They also decided that there would be absolutely no character development, which of course is realistic enough since there is rarely any character development in life.
INTERVIEWER
Why did Locus Solus only last four issues?
MATHEWS
The five thousand dollars were gone.
INTERVIEWER
Your second novel is called Tlooth. Where on earth did you come up with the word tlooth?
MATHEWS
It's obvious, isn't it? There are a lot of teeth in the book and tlooth is the way many Chinese would pronounce truth.
Seriously, the title does matter. With each of my books, you don't really know what the title means at the beginning. It undermines any initial hope of certainty that there may be in reading the text. In the case of Tlooth, I thought it was a rather clever effect: you had completely forgotten about the strange title and then this person plunges a leg into the mud of a Venetian swamp and when he pulls it out, "Tlooth!" utters the swamp. Suddenly you remember, you look at the top of the page, and there is the title, floating over it.
INTERVIEWER
You've said that seeing the word suddenly shocks readers into the realization that they are reading.
MATHEWS
Yes. The ends of my books are also designed in a way that subverts any illusion that what you have become involved in is anything but the book itself. In The Conversions, as you approach the end of the book, you get to a part where the narrator doesn't understand the last of three riddles. The whole quest falls apart. What happens next? You turn the page and are greeted with nine pages of German. This infuriated people. At the end of Tlooth there's a description of fireworks out of nowhere. This is the conclusion of the book, except apparently nothing is concluded. "The labyrinth of their colors sets a dense clarity against the blankness of the night." If that doesn't leave you groping . . .
INTERVIEWER
Which obviously delights you.
MATHEWS
No. For me, it's the honest thing to do. The expectation is that books are supposed to reach conclusions that bring all the things that have been going on to an end so the reader can stop thinking about them. I avoid conclusions, not just to frustrate readers but to make them realize that they're going to have to take the book for what it is—a piece of writing that exists on its own and whose essential interest is its process. Isn't that the way life is, after all? No conclusions, no escape, until the very end.
INTERVIEWER
The Sinking of the Odradek Stadium is an exchange of letters between a husband and wife who are trying to locate a lost medieval treasure. The husband writes in eloquent, engaging English, but the wife, who is from a country in Indochina, speaks a nearly incomprehensible pidgin English. What methods did you use there?
MATHEWS
A lot of the devices of the first two novels, with more piled on. Each letter from Twang, the wife, includes an excerpt from a Buddhist meditative text and each letter from Zachary, the husband, contains an excerpt from that week's proper of the Roman Catholic mass. Then there are two languages, the one that the wife Twang speaks, which is called Pan, and the jargon of con artists, which her husband Zachary learns gradually. I wanted to introduce the most important words often enough so that at the end, both write a letter exclusively using the vocabulary of these two languages, Pan and the jargon of the big con.
INTERVIEWER
Where did you find the con man vocabulary?
MATHEWS
There's an excellent book first published in the forties called The Big Con: The Story of the Confidence Man and the Confidence Game written by David Maurer, a professor of linguistics. The movie The Sting must have been based on this book. Maurer wanted to investigate the language of con artists, so he befriended some, managing to convince them that he wasn't an FBI mole. He tells fascinating stories of con art. For example, "finding the leather." First, a mark accompanied by a con man finds a wallet stuffed with bills that's been planted in full view. The mark returns the wallet to its owner, a wealthy man—also in on the con—who offers to take both men into his business. It sets up the mark for a bigger con. I used a lot of vocabulary from that book.
Another device: I used a quotation from a real letter I had received in every letter in the book.
INTERVIEWER
In a book like that, do you ever find that certain devices are incompatible with other ones?
MATHEWS
Yes, coordinating all this stuff often turned out logically impossible, but I'd put it down on the page anyway, which naturally led to a certain strange density. It was the most overdetermined book that I could imagine writing. I felt I'd reached an outer limit. I said, I'm not going to write any more novels of this kind.
What interests me most is the love story. I think Twang's last letter is an authentic explosion of amorous ecstasy. And you don't know whether it ever reaches Zachary. It's heartbreaking. Of course, it's about communication and noncommunication, the impossibility of writing.
INTERVIEWER
The Sinking of the Odradek Stadium was rejected twenty-five times. How did you survive?
MATHEWS
I was in despair, but a couple of people read it and liked it. Tom Disch, at the time a sci-fi writer, had a high opinion of it. And then my girlfriend Maxine Groffsky, who was an editor at The Paris Review at the time, came to my rescue. On her own initiative, she published the whole thing in four consecutive issues, which led to conversations in the New York office along the lines of, My God, is that ship still going down?
INTERVIEWER
At the end of the novel, there is an index. Why?
MATHEWS
Just because it's a novel, should it not have an index? My thought was that an index is a traditional form that could conceivably be put to narrative use. There are certain facts of the story—minor ones, I admit—that are only to be found in the index, and there are also some jokes. Look up "Stephen Spender."
INTERVIEWER
That sounds like something Georges Perec might have done. How did you encounter him?
MATHEWS
Georges was going through a rather dark spell and wasn't sure what he would write next. His editor suggested that he translate my next book. He didn't know anything about me, but when he read the French proofs of The Conversions he wrote me a letter saying he had had a moment de jubilation. We made a date and met at the downstairs bar at the Pont Royal. We had five vodkas, and then we went off to a restaurant and drank a lot more and were bosom pals by the end of the evening and remained that way for the rest of his life.
INTERVIEWER
Is that when you found out about the Oulipo?
MATHEWS
I had first heard about the Oulipo from a friend who mentioned Georges's novel A Void, which is written without the letter e. The idea of not using the letter e made no sense to me. I was not intrigued, I was horrified.
After Georges and I became friends, he asked me if I'd be interested in joining. After all, he said, I had unwittingly written some purely Oulipian pieces. One of them was excruciatingly hard to do: I took two texts, Keats's "La Belle Dame Sans Merci" and a cauliflower recipe from a Julia Child cookbook. I made a list of the vocabularies in each piece and I rewrote the poem using the vocabulary of the recipe and vice versa. It was agony. But I discovered something very important, which is that once you start on a project like that, no matter how insane it is, you rapidly become convinced that there's a solution, which is, of course, nonsense. You have to make it happen. When I first visited the Oulipo, I told them about this. And what I had thought had been a shameful, secret habit was, to them, perfectly fine. I won the approval of these august people and I was elected in 1973, around the same time as Italo Calvino.
INTERVIEWER
What exactly happens at an Oulipo meeting?
MATHEWS
We have a very strict agenda. First there's "creation." A member will propose a new method and supply a description and an example. There has to be at least one new creation per meeting. Then comes "rumination," which means possible creations that you have not yet fully worked out. Then "erudition," which is discussion of Oulipian works by writers who are not members of the group. Then "action, past and future," which describes Oulipian activities around the globe—a brief report on, say, a presentation of Oulipian texts in Warsaw. And then "small talk." At the last meeting, during small talk, I pulled out my old Florida license plate, which read oulipo and which I donated to the archives, and they were thrilled with that. And then I told them about somebody I know in Scotland who always buys houses for palindromic sums. He claims that he gets good deals that way. Say it's £30,003—although these days that's probably not enough for a crofter's hut in the Orkneys.
INTERVIEWER
The meetings are once a month?
MATHEWS
Yes, dinners. Now we meet at six because Jacques Roubaud likes to go to bed early and Ian Monk has a train to catch.
INTERVIEWER
Is there drinking?
MATHEWS
Ha! Yes. Especially by me. I'll never learn. I'm still very nervous about confronting all these utterly brilliant people. They all have their agrégations and elephantine memories, and I can hardly remember whether the sun was out yesterday. We try to get through creation and rumination before drinking. Because once we sit down to dinner things can get rather disorderly.
INTERVIEWER
Why are you the only American?
MATHEWS
Because I was the only American friend of an Oulipian, I suppose. Gilbert Sorrentino would have been elected if he'd lived a little longer.
INTERVIEWER
How many members are there now?
MATHEWS
It's hard to answer that because we don't discount the dead. There are about fourteen active members. You're not allowed to resign and you can't be thrown out.
INTERVIEWER
What do you remember about Italo Calvino?
MATHEWS
He was a lovely man. Stuttering and shy. The absolute opposite of his written work. He had a very hard time speaking in a group.
INTERVIEWER
Can you recall a creation that he came up with?
MATHEWS
I remember one. When singers practice, they will take a consonant and follow it with a series of vowels, as in ba be bi bo bu. He would take those sounds and phonetically redivide them so that they made words, which then formed a sentence. And then he would supply a story to make sense of this rather enigmatic sentence.
INTERVIEWER
What about your own invention, Mathews's Algorithm?
MATHEWS
It's too complicated.
INTERVIEWER
Thank you for saying that.
MATHEWS
Well, OK. The idea is based on simple circular permutations. For example, there are four lines of four words each. You permutate each word one, two, or three positions to the left or right and then, lo and behold, you have a new sentence. The system can be applied to any kind of linguistic entity.
INTERVIEWER
You also invented something called a perverb. What's that?
MATHEWS
A perverb—Maxine Groffsky coined the word—is a result of crossing two proverbs that can be divided easily into halves. For example, "All roads lead to Rome" and "A rolling stone gathers no moss" yield two perverbs: "A rolling stone leads to Rome" and "All roads gather no moss."
INTERVIEWER
And a chronogram?
MATHEWS
I didn't invent chronograms, but if you know somebody at the Guinness Book of Records, I have definitely written the longest chronogram ever. A chronogram is a text in which all the letters that correspond to Roman numerals add up to a chosen date. Usually they are very short because M is already a thousand. For example, the word mace is 1500, because M is a thousand and C is five hundred. I decided to write a chronogram for the year 2000 in which the only letter corresponding to a Roman numeral would be I, which counts for 1. This means that the chronogram also becomes a lipogram, a piece of writing from which letters have been excluded—in this case, C, D, L, M, V, and X. So in my chronogram, there are two thousand Is, and no C, D, L, M, V, or Xs. It was hard work, but fun.
INTERVIEWER
That would seem to describe the Oulipo mind-set in general.
MATHEWS
There is that side—the pleasures of the virtuoso use of language, language as a field for acrobatics. But it's important to emphasize that what distinguishes the Oulipo from language game enthusiasts is that its methods have to be capable of producing valid literary results.
The idea of rules that I learned in the Oulipo only confirmed the original direction I had taken. In most of the reviews I've gotten in the last few years, everyone, rather irritatingly, fills up space with a history of the Oulipo. I now insist on the fact that I'm a member of the Oulipo and I'm a writer, but I'm not an Oulipian writer, except on occasion. My Oulipian prose works are very few. There are seven or eight stories and my novel Cigarettes.
Cigarettes proved gruelingly difficult—I finally had to learn how to handle conventional psychology—and it took me eight years to finish the book. But before that, in the early seventies, I started running short of money, so I began translating to earn a little. That's how I met my second wife. I'd given Maxine, who was and remains my agent, some chapters of Georges Perec's book W, or The Memory of Childhood. She passed them around in New York, and naturally nobody wanted them. But one editor was very impressed with the translation and asked if I was interested in doing another book, a memoir by Marie Chaix that was a best seller in France. It wasn't great pay, but at least I could do it at home, so I accepted. There was a picture of Marie on the back of the book. She was very comely. I was a—what do you call it?—coureur.
INTERVIEWER
Ladies' man.
MATHEWS
Marie looked very attractive. I was then living in Venice. I wrote her a four-page handwritten letter using every writer's wile I could muster. I was about to mail this letter and then I thought, I can't do it. Her book was unbelievably moving. It was about her father, who was a collaborator—he spent nine years in jail—and the family life that this entailed, in which her marvelous mother was a vivid presence. I thought, This is too heartrending a book to use as a pretext for seduction. So I threw out the letter, and I wrote her another one, ten lines in the simple neutral style only French can attain. Madame, J'ai l'honneur de vous dire que je suis votre traducteur . . . And it was typed, not handwritten.
Marie later told me that when she read my letter, she almost got on the next train to Venice. The original handwritten version had been crystallized in this cool, stylized form. For me, this proved definitively that classicism is far superior to expressionism as a way of getting results.
Soon after that, I called her up because I had questions about the book, and we talked for two hours. She mentioned that she would soon be in Paris for the publication of a new book. I asked her what it was about. She said, It's about my mother's life seen from the moment that she died. She had never mentioned in her first book that her mother had died. I had in fact been counting on meeting her mother. The conversation came to an end. Five minutes later, I developed the only really awful migraine I've ever had in my life. This was shades down, total darkness for five hours. Eventually I realized I was suppressing mourning for someone I had never met. The minute I understood that, the migraine vanished. So I was already very much involved with Marie before we met. She decided to have an affair with me. That was thirty years ago.
INTERVIEWER
We always hear about Paris in the thirties, Paris in the fifties. What was Paris like in the seventies?
MATHEWS
I'll tell you one thing that was nice. In the seventies, a new style of elegant dress came in. I had an Edwardian three-piece suit, gray houndstooth check with tapered trousers and a jacket with a long, double-vented skirt. Stamped-velvet slacks. Jackets with cavalier collars. My parents were absolutely horrified by the way I dressed because they had this perpetual anxiety that I was gay.
INTERVIEWER
You were wearing these clothes to parties?
MATHEWS
Paris has far fewer parties than New York. But there was lots of dining out and a few good clubs.
INTERVIEWER
What do all the writers do?
MATHEWS
They stay away from one another. I once asked all the French writers I knew for an evening at my place, and it was one of the most dismal experiences I've ever had. They barely talked to one another.
INTERVIEWER
Is that why you returned to the States?
MATHEWS
I went back to the States in 1976 to teach at Bennington. During this time, I decided to write an Oulipian novel. And I created this abstract scheme of permutations of situations in which A meets B, B meets C, and so forth. There's no point in looking for it now because no one will ever figure it out, including me. Anyway, I stared at this for a year, and in time people started appearing, then situations, then stories. And a surprising thing happened. I'd never been able to write about the world I grew up in, but Cigarettes allowed me to do it, with Saratoga Springs standing in for the Hamptons.
INTERVIEWER
Could you have done it without the method?
MATHEWS
No, I don't think so. That's the way I tell the truth. Oddly, the one novel I wrote using an Oulipian structure is the most conventional. And once I'd written it, I finally realized the truth of what John Ashbery said, that I could do any damned thing I pleased.
INTERVIEWER
Your novels and short stories contain many secondary stories or anecdotes, often preposterous. Do you keep an ongoing notebook of this kind of material?
MATHEWS
Not systematically. I do save some things. For instance, in The Journalist a whole passage is taken from a newspaper review of a Czech restaurant in Albany. It's not verbatim, but almost. As for the stories, many of them begin with a preposterous idea—for example, the ancient society in "Remarks of the Scholar Graduate" that uses a horizontal line as its only letter. I started with that and then wondered, What happens next?
INTERVIEWER
Do you not care whether your stories make sense?
MATHEWS
I don't say there is no sense or no meaning. There is, but it's not one that exists outside of the work. Robert Louis Stevenson—and he's not exactly considered a modernist writer—once wrote: "The novel, which is a work of art, exists, not by its resemblances to life, which are forced and material, as a shoe must consist of leather, but by its immeasurable difference from life, which is both designed and significant, and is both the method and the meaning of the work." For me, that's it. He's really my favorite prose writer of all. His pithiness and efficiency—he says an awful lot in that one sentence.
INTERVIEWER
What other writers do you admire?
MATHEWS
One book that I've long admired is Defoe's A Journal of the Plague Year, a masterpiece of noncommittal writing. It's written in a pseudo-objective style about what happened in London during the plague outbreak. It taught me that you could write passionately without being overtly passionate. Another person who does that is Joseph McElroy, in my opinion the best American novelist alive today. Ronald Firbank, who has rarely been taken seriously but who was probably the inventor of modernism in English. He perfected the disjunction between surface and substance, between what you're reading and what's actually going on. This is something that I've emulated—background reality is barely hinted at. In The Conversions there's only one reference to the narrator's private life in the course of the book—we learn that he's married. Then, at the end, you find out his wife is divorcing him. Underneath all the other apparently irrelevant stuff is this personal panic.
INTERVIEWER
So it's all about psychology after all?
MATHEWS
Sure. But the psychology is not overt. That's important. For me the classical approach is a better way of revealing psychological events than the descriptive approach. Henry James was important to me—I read him very young—and one of James's greatest themes is the lust to know. In The Aspern Papers, the narrator gives up love and life to get a hold of a dead poet's papers. In The Conversions, Tlooth, and The Sinking of the Odradek Stadium, the narrators are all trying to solve some riddle or mystery and are overcome by an obsessive conviction that they will be able to find a definitive answer, but it all 
falls apart.
In the Oulipo, there are two schools of thought. People like Calvino and Perec said that the author should acknowledge the methods he's been using. And the other clan, which included Raymond Queneau and myself, thinks it's much better not to let on, because this will keep the reader straining to find out.
INTERVIEWER
How did you come up with the premise for your best-known short story, "Country Cooking from Central France: Roast Boned Rolled Stuffed Shoulder of Lamb (Farce Double)"?
MATHEWS
Daniel Halpern, the editor of Antaeus, announced a travel writing issue and asked if I would like to be included. Travel per se didn't inspire me, but then I thought, how about a foreign recipe—a recipe using every ingredient and technique known to European cooks, excluding sugar and baking? That was the pretext. During the writing, scenes and incidents came up by themselves that suggested a subject that had nothing to do with cooking. Hint: the last line of the story is "Serves thirteen." Now, what does that suggest?
INTERVIEWER
Judas?
MATHEWS
Exactly—the last supper. You might want to read it with that in mind. Even the seemingly irrelevant refrain in the interpolated song, "she does for him what mother never did for her son," fits in. Mary did fuck her son, even though he wasn't her son yet.
INTERVIEWER
What was the inspiration for Singular Pleasures, a series of sixty-one vignettes describing people of all stripes masturbating?
MATHEWS
I had just come back from Europe, and I had jet lag. I woke up at four in the morning, and the first six incidents were dictated to me by an angel.
INTERVIEWER
But why masturbation?
MATHEWS
Because it's the universal form of sexual activity, and it's hardly ever been written about.
INTERVIEWER
In it you mention an organization called Masturbation and Its Discontents, or MAID, which invents obstacles to overcome while masturbating. Did this group ever exist?
MATHEWS
No!
INTERVIEWER
Could your writing be called conceptual or abstract in the way that painting or sculpture is?
MATHEWS
For me, the best analogy is music. Do you know the French writer Jean Echenoz? I was once asked to join a discussion panel about his work. He was there himself, and somebody asked, What is the meaning of what you write? The people on the panel were well-educated French intellectuals, and believe me, that's well educated. But they were taken aback and came up with complicated, unsatisfactory answers. We went on to other questions. Twenty minutes later, Jean said, I want to go back to that question: what is the meaning of what I write? The meaning is the sound.
I was absolutely flabbergasted. I realized that he'd hit the bull's-eye. I think what good writers do is rework sentences and paragraphs so that their prose works exactly the way they want it to work, whatever it may be saying. And for me that is a musical phenomenon.
INTERVIEWER
What does poetry satisfy in you that fiction doesn't?
MATHEWS
One thing is that I can get it done quickly. My longest poem is maybe ten pages. When I sit down to write a novel, I know I'm in for a long haul. I always think of what William Gaddis once said to me—that an unfinished novel is like having a sick guest in the house. I dream of the day when it'll be over. Of course it's a day of great disappointment when the final draft is done. The only thing worse than that is publication day.
INTERVIEWER
Does being misinterpreted bother you?
MATHEWS
I don't think there is such a thing as misinterpretation. My prose aspires to be like poetry. There are poems that no one has ever satisfactorily explained, like Blake's, "O Rose thou art sick! / The invisible worm, / That flies in the night / In the howling storm, / Has found out thy bed / Of crimson joy; / And his dark secret love / Does thy life destroy." A breathtaking poem, but the interpretations extend from goulash to syphilis.
INTERVIEWER
So it doesn't matter?
MATHEWS
It does matter, but the meaning of the poem is in the reading of the poem. Doesn't the Blake affect you? It affects me. Obviously something is happening there, but to say why it's happening or what it means in terms of paraphrase doesn't matter. There are many things I've written that I didn't really understand until a long time later.
INTERVIEWER
What are your own writing habits?
MATHEWS
I used to get up and be at my desk at nine in the morning. Now I'm lucky if I start at eleven. What with e-mail and the Internet, I do most of my work in the afternoon. I write first in longhand. I copy the work on my computer, print it out, correct it in longhand, and so forth.
INTERVIEWER
Do you edit much?
MATHEWS
Endlessly. I always set out to write a three-hundred-page novel, but whatever the length of the first draft, by the time I finish cutting out the deadwood it has dwindled to two-hundred-and-some pages. Except in French. Everything comes out longer in French.
INTERVIEWER
Despite your popularity in France, you've said that only Americans can truly understand your work.
MATHEWS
It's hard for any reader who doesn't share the writer's native language to understand what a writer is doing. There's also an element of personal dramatization in everything that I write, and that is typically American. "Country Cooking" isn't just a story in the form of a recipe: the narrator, who's disdainful and rather sour, gives the piece a decidedly dramatic coloring.
INTERVIEWER
Personal dramatization is American?
MATHEWS
Yes. I remember once I attended a lecture by an Italian journalist on pornographic movies. He said American porn is always dramatic, whereas in, say, French porn, you just have sex going on, with minimal justification of the events. I feel that's true about American writing too. There always seems to be a moral issue involved in everything we do.
INTERVIEWER
Your most recent work, My Life in CIA, is a supposed memoir of the period in Paris during the seventies when people suspected you were a CIA agent because you were American and appeared to have no real job. Why did you decide to write a fictionalized memoir?
MATHEWS
A whole lot of things went into the genesis of the book. One was the historical fact of my being considered a CIA agent. Another factor was that I was getting sick of the flood of memoirs that were fashionable in recent decades. It seemed to me serious mistakes were being made in the way people evaluated these books. At a talk I gave at the University of Pennsylvania, a stern lady who taught creative writing warned me, You must realize that the writer has the responsibility of telling the truth when he writes about his personal life. And I thought, This is nonsense. I didn't want to get into an argument, but I said, What about Marcel Proust? Is it better to have an account of what he actually did or this incredible reinvention of a life where the protagonist was someone called Marcel?
So I became interested in using part of my life as material for a memoir. In the end, I was persuaded to publish it as fiction. My publisher told me quite rightly, Harry, if it's published as a memoir, it will be off in the biography section. Borders and Barnes and Noble will order a tenth of the number of copies that they would if it were a novel. So it became a novel.
INTERVIEWER
If it had been published as a memoir wouldn't you have gotten into trouble?
MATHEWS
Do you think anyone would have bothered? And how could they prove anything? When I'm asked about the CIA book, my answer is that it's all true and it's all false, like any book. I don't mind talking about it, but facts are not the truth. Realism is a matter of conventions.
Henry James once said that the Venetian painter Tintoretto never drew an immoral line. That seems madness, because Tintoretto was squiggling all over the place. I came to the conclusion that what James meant was that the moral responsibility of the artist is to make something real happen, whatever it takes. And for me, that is the moral responsibility of a writer: to make something real happen on the page. Its relation to fact is irrelevant.
Something I've said again and again, which I try to make sure is evident in all my books, is that the experience of reading is the experience of reading. In America there's a tradition that says that what literature should do is give you the real thing. But for me, the only real thing is the writing.