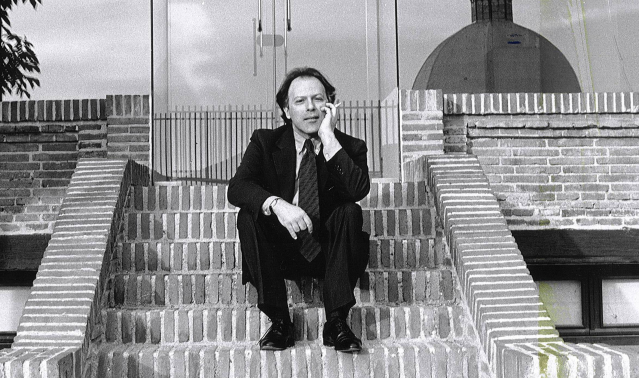 Marías in Madrid, around 2000.
A waiter at a restaurant in Madrid gasped when I mentioned that I was in town to interview Javier Marías. "You know him?" he asked, as if I'd named a president or a movie star. "Sometimes we see him walking down the street."
Although Marías is not yet well known to readers in the United States, in Europe he is a literary and intellectual sensation—the author of eleven novels, two books of short stories, a collection of biographical essays, and a column on politics, literature, film, sports, and social issues for the Madrid newspaper El Pais's weekly magazine. He is also one of Spain's leading translators from English. His own books have been published in more than thirty languages and have sold over five million copies worldwide, and he is often mentioned in the European press as a contender for the Nobel Prize. Critics and admiring colleagues (J. M. Coetzee, Salman Rushdie, and the late W. G. Sebald) have praised the way he pits Spanish black humor against English grandiloquence to produce novels that are simultaneously fast-paced and meticulous, speculative and clinical, stylish and classical.
In person, too, Marías presents a fine balance of opposing qualities—alternately a grandee and a recluse, gregarious and reticent, punctilious and totally laid-back. Like the ghostly narrators in his novels, he is a little hard to pin down. He tends to perch rather than sit on his couch and to overenunciate when he speaks in English. He habitually drinks Coca-Cola, subsists on a diet of serrano ham and Manchego cheese, and will not wear a tie unless it is pressed upon him. Marías has a blog but has never seen it and refers to it only as "the Web that wears my name." It is managed by an assistant, who posts his newspaper columns and writings. He does not own a computer or mobile phone. He rents two nearly identical apartments just off of Madrid's famed Plaza Mayor. In one, the furniture is dark; in the other, the same furniture is white. Not far from the floor-to-ceiling bookshelf that houses his Greek, Latin, and Byzantine books is an entire room of DVDs stocked with Jerry Lewis and Dean Martin movies as well as episodes of Bonanza, Maverick, and Friends. Despite the fact that his living space is cluttered with toy soldiers, literary memorabilia—Dashiell Hammett and Joseph Conrad letters, a bust of Laurence Sterne, photographs of various writers—and fan mail, Marías insists that he is orderly. "It's just that I have no time to put things in order," he says.
Marías is forever redrawing the thin line that separates illusion from reality, and they are central elements of his work. It is not only his narrators who are unreliable; the entire world of his novels is unreliable. His books enact the Nabokovian principle that memory is ultimately false, which gives his stories a sense of timelessness.
Marías was born in Madrid in 1951, twelve years after Franco took power throughout Spain. His father, Julián Marías, a renowned philosopher, was imprisoned and later prohibited from teaching in Spain for opposing the Franco regime, and Marías spent brief periods of his childhood in the United States. He completed two novels before the age of twenty-one, both of which were published: Los dominios del lobo (The Dominions of the Wolf, 1971) and Voyage along the Horizon (1973). He studied English at Complutense University in Madrid, and after his graduation did not write another novel for six years, working instead on translations of American and English writers as diverse as Sir Thomas Browne, Sterne, William Faulkner, Wallace Stevens, and John Ashbery. He taught translation theory at the University of Oxford, where his sixth novel, All Souls (1989), is set. In that novel, Marías lampoons life among the Oxford dons and sympathetically portrays the writer John Gawsworth, who inherited the title of king of Redonda, a small island off of Antigua. The publication of All Souls led to Marías being named the new king of Redonda, a title he still holds today. Marías's seventh novel, A Heart So White (1992), won the IMPAC Award, and he has since published four more novels, including Tomorrow in the Battle Think on Me (1994) and Dark Back of Time (1998).
This interview took place over six spring evenings in Marías's apartment—the one with the dark furniture. His father had died a few months earlier, and Marías's eyes were set in deep shadows. "I sleep badly," he confessed. He chain-smoked guiltlessly, often ambidextrously, while the nearby fax machine overflowed with proofs of book jackets awaiting his approval and details concerning an award Marías had just given under his publishing imprint, Reino de Redonda. Marías speaks in winding sentences, full of dependent clauses and parenthetical statements, that suggest what it might have been like to talk to Henry James, who, as Marías notes approvingly in his book Written Lives (1992), spoke as digressively and obliquely as he wrote and once referred to a dog as "something black, something canine."
INTERVIEWER
In addition to being a Spanish citizen, you are the king of the island of Redonda, a micronation in the West Indies. I believe you are the first monarch The Paris Review has interviewed. How did you come by your crown?
JAVIER MARÍAS
There was a shipping magnate in the nineteenth century by the name of Shiel, who lived in the Caribbean, and he had eight or nine daughters but no son. Finally, he had a male baby, Matthew Phipps Shiel, who became a writer. To celebrate his son's fifteenth birthday in 1880, Shiel claimed ownership of the uninhabited island of Redonda, which is close to Montserrat and not far from Antigua. He organized a coronation with a Methodist minister from Antigua, and M. P. Shiel was crowned king of that island. Recently, I learned that Redonda is the equivalent to Transylvania in Europe, which is appropriate for a literary legend. It's a very rocky place with limited access. It was used as a harbor for smugglers, and there were legends of terrible beasts and horrific events that happened there. Shortly after Shiel's coronation the British decided to annex the island because aluminum phosphate was found. The Shiels disputed the British for years, and finally the colonial office said they were not going to give the island back to anyone, let alone a crazy ship owner and a writer, but they had no objection to Shiel using the title of king of Redonda as long as it was, as they said, void of content.
Eventually, Shiel settled in Britain, where a younger writer named John Gawsworth helped him in his old age. When Shiel died in 1947, Gawsworth became his literary executor and heir to his estate. Gawsworth activated an intellectual aristocracy, as it was called, and named dukes and duchesses, including Lawrence Durrell, Henry Miller, and Dylan Thomas. Gawsworth had been a very promising figure, publishing books at nineteen. He fought in India, Algeria, and Egypt during the war. Amazingly, he published small booklets of poetry everywhere, even in Calcutta. I don't know how he managed to do that during the war. He was one of the youngest members of the Royal Society of Literature and was in touch with many of the major literary figures of the time, from Thomas Hardy to T. E. Lawrence. But Gawsworth became a drunkard and was soon penniless. He had a lot of debts with his landlord and bartenders and started to sell titles to these people. He even put an ad in the Times to sell the title of king of Redonda. A lot of people were interested. I reproduced a telegram in one of the books I published under my Reino de Redonda imprint. I have it here. Carl Werner Skogholm of Denmark wrote:
Your Royal Highness, King John Gawsworth of Redonda,
Regarding your advertisement I beg to send you the following questions which I hope you will kindly answer:
1) What is the King's duties?
2) What is the King's rights?
3) Is the Isle of Redonda a good place to live in?
4) Is it possible for the King to contact Diana Dors?
5) I have two daughters. Is it possible for girls to inherit the throne?
It would be wonderful to become a king suddenly. I hope to be able to—if you are still willing to sell.
INTERVIEWER
"It would be wonderful to become a king suddenly"—that's what happened to you.
MARÍAS
Yes. But for me, except for the fun of the legend, it has not been particularly wonderful. It seems that during the worst years of his life Gawsworth did sell it—he issued documents to different people—so there is some controversy regarding the title. Some of the heirs to those bartenders who claim they are inheritors to the throne are very angry with me. One said, It was so difficult to overthrow the Spaniards, and now you're giving it back to them! That makes me laugh. I have never said that I am the king of Redonda or signed anything other than my name, Javier Marías. I have never been monarchic. I am rather a republican.
INTERVIEWER
But how did you become this reluctant king?
MARÍAS
These "pretenders," as they are called, say that I bought the title at an auction, which I did not. In 1997, after I included one of Gawsworth's stories in an anthology and mentioned his story in my novel All Souls, Jon Wynne-Tyson, who had become king after Gawsworth, wrote to me and said he wanted to abdicate because the pretenders had been writing to him for years. He is an extremely nice person, I must say. Since I had an understanding of Redonda and made it more famous than it ever was, he asked who I thought would be a good successor. He mentioned Seamus Heaney because Shiel was of Irish descent, and because he is such a great writer. I said, Yes, I thought it should be a "real" writer—the throne should be inherited not by blood but by letters. We had very British conversations with a lot of understatements—If you are saying what I think you are saying, but I would not dare to think that you are really saying what it seems you say—until he openly said, I think you would be a good choice. I said that if something this novelistic intrudes in my life and I don't accept it, I should not be considered a novelist. So I accepted.
It is only a title. The island was recovered by Antigua, it belongs to Antigua, and I am not going to have dynastic disputes about anything that is more fictional than real. In my opinion, Jon Wynne-Tyson made the mistake of answering to the pretenders, and he was disputing with them all of the time, probably more privately than publicly. I decided never to reply to anyone. And that is what I have done. I have said, tongue in cheek, that this is the only kingly thing to do: not reply at all. What would the king of England or the king of Spain do? They would not reply.
INTERVIEWER
Given the way you weave fiction and truth in your novels, some people have wondered if the island is completely fabricated.
MARÍAS
But there are maps. The island is there.
INTERVIEWER
Have you seen it?
MARÍAS
No, not personally. Jon Wynne-Tyson did. But visiting it is not very important in my opinion either.
INTERVIEWER
You've continued the tradition of granting titles to writers and artists, such as Pedro Almodóvar (Duke of Trémula), John Ashbery (Duke of Convexo), Francis Ford Coppola (Duke of Megalópolis), among others. What are their duties?
MARÍAS
There are no duties whatsoever, not even that of loyalty. All of the dukes and duchesses have names—funny names—which is a tradition started in the 1930s. Otherwise, I have tried to keep a low profile.
INTERVIEWER
Each year, you also give an award in the name of the island.
MARÍAS
Yes. The problem is that when I write to the winners, it helps if they know who I am, but if they don't I have to explain the whole legend of Redonda and it sounds crazy. Doesn't it? I have to ask them not to take the whole kingdom thing seriously just so they won't think that I am a madman or something. It's a bit complicated. So far, it's been OK. This year the winner is Ray Bradbury. We have to see if he understands the joke, because if he doesn't I will have to go to Jean-Luc Godard—who came in second—and explain the whole thing again, this time in French. Mr. Bradbury will need to decide what title he would like to have as a duke of Redonda. I suggested a few: Duke of Diente de León—Dandelion; or Duke of Carnaval Oscuro—Dark Carnival. But of course he may choose anything.
INTERVIEWER
In your book of biographical essays, Written Lives, you portray twenty-six writers, including William Faulkner, Yukio Mishima, James Joyce, and Isak Dinesen. Most of the writers you chose had disastrous personal lives. They failed at love and relationships.
MARÍAS
They were rather calamitous, yes.
INTERVIEWER
Are you a disastrous individual?
MARÍAS
Yes, but not as blatantly as some of them. I have not tried to kill my wife—I do not have a wife at the moment, nor do I think I will have a wife—the way Malcolm Lowry did. But I suppose I have been modestly calamitous in my life.
INTERVIEWER
How so?
MARÍAS
Well, from my parents' point of view, I suppose I oscillated too much. I didn't establish myself professionally. For years, it was not clear if I could make a real living. Certainly translating doesn't allow you to make a living. I had periods of great distress and restlessness. I lived in other countries. I did not marry. I had different girlfriends—some were married, and some wouldn't marry me or maybe I wouldn't marry them, some were foreign and lived somewhere else. There was always some kind of difficulty. I remember my mother, who died twenty-nine years ago, said that of her five sons I was the one who put myself in danger. She worried about me the most. I crossed the street when the light wasn't red—things like that.
It might have been much worse if I had not been successful as a writer. That is something that could very easily have happened. I never forget that. I don't think my books are easy—they aren't too difficult either—but if my novels had sold only ten thousand copies, that would not have been strange. There are many writers who sell much less than that. I have been very lucky, and it was gradual. I was not the kind of writer who wrote one book and became an instant success. The Man of Feeling was more successful than all of the previous novels, and All Souls more successful than that, and then A Heart So White was much more successful than all of the others. I have come to have loyal readers, but it might not have been that way at all.
INTERVIEWER
Another common quality among the writers you profile is that they didn't take themselves too seriously. The notable exceptions are Thomas Mann, Joyce, and Mishima. How do you avoid taking yourself too seriously?
MARÍAS
It's not a matter of avoiding it. Either you have a feeling that you are important and that you are going to be remembered, or you do not. Those three seemed to consider themselves very important and to think very much of their posterity. There is a poem by Stevenson that I translated many years ago in which he calls writing "this childish task." In the poem he addresses his ancestors, all of whom built lighthouses. He apologizes for not having followed the tradition and for staying at home and playing with paper like a child.
To think of posterity nowadays is ludicrous because things do not last. Books seem to last more than films or records but even they do not last very long. Now more than ever, we depend on the mercy of the living. When writers and filmmakers die there are three or five days during which, with any luck, the newspapers and the TV devote pages and programs. There is a big fuss, but then you have to wait ten years until there is a commemoration. The moment you are not here to defend your work in interviews, you literally do not exist. There is a penalty.
Of course, some people are lucky with posterity, or they deserve it. Elvis Presley has been lucky. He is on the minds of many people, including my own, very often. I think Elvis Presley deserves to be remembered very often. But for most, it is not like that. On Faulkner's centenary, I made a small volume, a tribute to him, with a few texts I had written, the poems I had translated, and a text by someone else. The booklet made people from the press take an interest in Faulkner. When they called and asked me about him, I had the feeling that a mediocre writer like myself was doing Faulkner the favor of talking about him. I am not trying to be falsely modest—you always have your heroes and you never will surpass them, never. So, from my point of view, thanks to a mediocre Spanish writer—me—and because of the accidental fact that I was alive and well known, people in Spain read Faulkner. But Faulkner should not need favors from anyone.
INTERVIEWER
In the first volume of Your Face Tomorrow, which you published in 2002, you tell a version of your own father's story, creating a kind of posterity for him. Why did you decide to publish that book in three separate volumes?
MARÍAS
This book, especially the first volume, Fever and Spear, was partly inspired by my father, whose story of having been betrayed by one of his best friends immediately after the Spanish Civil War is attributed to the narrator's father. I feared that if I went on and on and didn't publish it until it was totally finished—and I saw very clearly that the book was getting quite long—it might not be in print in time for him to read it. Old men live with fewer things—they are thrilled by fewer things—and I saw that my father was very curious to see how his story was told. I read part of it to him to see if he would object. The only thing he said was that, unlike my narrator, he never revealed the name of the man who reported about him to Franco's police. But I said, I am telling the story now, and he accepted it. He wanted to see how he was portrayed in fiction. His eyesight was too poor to read by himself in his last years, but I read those parts of it to him. He could listen to it.
INTERVIEWER
Your father was a disciple of the philosopher José Ortega y Gasset and a well-known public intellectual in Spain until he was driven out by Franco. Did his exile have an effect on you, or were you too young?
MARÍAS
Exile is not the right word. He belonged to the "inner exile," those who were against Franco but who stayed in Spain and did what they could. He went to prison for a few months. He might easily have gone before the firing squad, but he escaped death. Like many who were not permitted to practice their professions, he was prevented from teaching and left to live on I don't know what. He was not even allowed to write for the newspapers for a decade. So he went to the States.
My very first memories are of New Haven, where we lived for a year. There is an image in Tomorrow in the Battle Think on Me that comes from that time. We stayed in a furnished house that belonged to a professor who was on leave. I slept in a room that belonged to another boy and would belong to that boy again when he returned. A mobile of toy airplanes hung from the ceiling.
INTERVIEWER
Did you speak English as a child?
MARÍAS
A little. When I was in New Haven—it must have been 1955 or 1956—we did not go to school because there was polio and my mother thought it was better if we didn't go. My father and mother taught us at home, but we did not speak English. We had a great time. It was a novelty. There was the snow and there were squirrels. We had a back garden.
My father had offers to stay in the States—he taught at Wellesley, Indiana, UCLA, and Yale, among other places—but he didn't want to. He said that even if things were horrible in Spain, and horrible for him in particular, he felt that he should not leave the country permanently. He said, If I had stayed in the United States I would have had American sons. I don't mind having American grandchildren but a son is too close. He was also aware that as a writer—not a literary writer, he wrote philosophical essays, a book on Don Quixote, a memoir—you must be in touch with your own language.
So it was not an exile. He went now and then for three months but then came back. In the sixties, he mainly taught American students here in Spain on their junior year abroad. When I was a boy, I was very much in touch with Americans. I remember when I was eleven I fell in love with a Tulane student who was probably eighteen or nineteen. I liked her very much. Her name was Ieva. I think she was of Lithuanian origin.
INTERVIEWER
Was it difficult for you to have such a visible public figure for a father?
MARÍAS
Not really. When I started publishing I was "rebellious." I felt rather independent. I felt my writing had not much to do with my father's, and I certainly did not want to be—or take advantage of being—Julián Marías's son. In fact, I could not have taken advantage, as he loathed nepotism. Other people did make me feel I was a writer's son, and therefore looked upon my books with diffidence, or even worse than that. It is funny: a writer may be an architect's or a shoemaker's son and no one will care about it. But if your father is a writer, even of a very different kind, you are very easily dismissed as something like an intruder. That kind of misgiving was, at times, more difficult than anything else. For years, I was asked, Do you have anything to do with Julián Marías? 
I started replying, Yes, I am his father.
INTERVIEWER
What did your grandparents do?
MARÍAS
My father's father, Julián as well, had been the director of a bank. He was apparently a very funny and crazy man who laughed a lot. During World War II he put all his money in Deutschmarks, so he went bankrupt. My mother's father, Emilio, was a military doctor. His wife, Lola, was born in Havana, Cuba, and came to Spain in 1898, when she was about seven or eight. She kept her accent. She is portrayed as the narrator's grandmother in A Heart So White. She had eleven children—two of them died when they were still babies. She could hardly do anything besides raise them, I suppose.
INTERVIEWER
What was your mother like?
MARÍAS
Whenever I see photographs of her, she always seems a little melancholy. However, she did laugh a lot and had a very strong character. Her opinion was very important to my father. Sure of himself as he was, he never sent an article to the press without first having read it aloud to her. She was indeed very motherly, she was always afraid something might happen to us—no wonder, as she had lost her first-born when he was only three and a half years old. Maybe her melancholy—in the eyes mainly—came from the war, from the fact that her younger brother, at only seventeen, was killed for nothing during it.
After my mother died in 1977, my father kept all of her clothes. My brothers and sisters-in-law and I asked him what he wanted us to do with them, and he said, Just leave them. Leave them as they are for the moment. Of course, no one bothered him again about it, and they stayed there for more than twenty-eight years until he died last year. He was not a morbid person—he just wanted things to be left alone as they were. I don't think I would do that myself, but I understand that.
INTERVIEWER
Your brothers are writers too, aren't they?
MARÍAS
In a way. My eldest brother, Miguel, is an economist but he has also been a cinema critic for years. He has written three books, including one on Leo McCarey, who directed Going My Way, The Bells of St. Mary's, and An Affair to Remember. My second brother, Fernando—not to be confused with Fernando Marías the novelist, whom I haven't read—is an art historian, and yes, he's written quite a few books. He also taught at Harvard for a period. My younger brother, Álvaro, is a musician. He plays the flute and the recorder, and he has a few CDs—baroque music. Now and then he writes music reviews, but no books. Yes, I suppose we all write in a way.
That is the immediate family, but there are two filmmakers—a cousin of mine who died a few years ago and one of my uncles, my mother's brother, who went by the name Jess Franco. He has made hundreds of films—all kinds, all very bad, from horror films to Fu Manchu films, Dracula films, porno films, or almost-porno films. He worked with actors past their prime, like George Sanders and Jack Palance. In recent years he has become a cult director. A few years ago, I called a bookseller in London to order a few books and I gave the clerk my full name, the name on my credit card, Javier Marías Franco. Officially we have two surnames in Spain. The first one, which is the one that matters, is the father's name, and the one that follows is the mother's name. My mother's name was Franco—no relation to the dictator. It's not an uncommon name. When I told the clerk my full name, he said, Can you spell it? I said, Yes, like the dictator. And he said, The dictator? He was a young man and didn't know who Franco was. Then he said, Like Jess Franco? I said, Yes, he's my uncle. The clerk was very impressed.
INTERVIEWER
Who in your family had the most influence on you?
MARÍAS
Maybe my mother, but also Miguel. He was older and we have a confluence of interests. There was also the other brother, who died. I write about him in Dark Back of Time. But my mother read a lot to us and told us stories. I have been told by my father that my mother used to lull us to sleep by reading us The Iliad. I hope that was an exaggeration on his part, because it sounds very pedantic.
INTERVIEWER
Your mother published a literary anthology of writings about Spain, but she stopped writing to raise you and your brothers.
MARÍAS
I recently discovered a book she translated into Spanish from French when she was in her late twenties—some letters by Napoleon, with a short and very good prologue by her. She knew people and the world better than my father did, I would say. She was very respectful, even with her children. She could keep a secret. People tended to tell her their stories and problems, she never passed them on, not even to my father. She graduated with a degree in philosophy and letters at a time when not many women went to university.
INTERVIEWER
In Dark Back of Time there is a line spoken by the narrator's mother. She says to him, "I don't understand, but I understand that I don't understand." Did your mother say this?
MARÍAS
Yes, she told me that in a letter. I went to live with a woman in a different city when I was twenty-three, and that woman was married and had a small boy. Divorce did not come to Spain until after Franco's death. My parents were rather open and liberal for the time, but they were both Catholic and they didn't like that sort of thing. My mother worried. Three years later, my relationship with the woman was over, and my mother could not understand how that had happened. She could not accept the fact that it did not last. That was when she said that.
INTERVIEWER
Is it difficult for you to look back on your early work?
MARÍAS
Very difficult. Sometimes I have the feeling that I have started writing three different times. My first two books are much different from what came after. The good thing about them is that I'm not ashamed of them. They don't make me blush. I was lucky enough to see them published, but that is unusual. These novels are still in print thanks to a few things: they are not autobiographical, they are not pretentious, they don't want to do something unheard of or new, and it seems that they are readable and fun. They are imitations, parodies. When you are very young, you are really writing exercises. The first novel, Los dominios del lobo, parodies American cinema. It takes place in the United States. The first one is fun. The second, Voyage along the Horizon, is more literary.
INTERVIEWER
When you were younger, you were criticized for not being Spanish enough. What was the substance of that complaint?
MARÍAS
In order to diminish what I did, they said that many of my novels do not take place in Spain. But most of my characters are Spanish and my country is present in my novels, even though they are not typically Spanish novels. I didn't write the kind of folklore, for instance, that some people have profited from. People expect Spanish literature, theater, films, and painting to be folkloric. But the Spain I've known is a rather normal country, even during the dictatorship, in the sense that our cities are not very different from other European cities. There are cultivated people in Spain who have not been portrayed in the Spanish novel. There has been a tendency toward rural passions and crimes and women with knives in their garters. My books did not match the cliché.
For years, they said that I wrote as if it were a translation, which for me was praise. You know how important I think translation is. After a time, when they couldn't say that anymore, they said my books were too cold, too brainy. Then when I published a novel that was, I guess, not so cold, when the cold wore off, they said that I wrote for women. This was a bad thing. Like most writers, I have a lot of women readers. Women read more, and I find that women are better readers precisely because they read more.
INTERVIEWER
Do you find it easy to write about women?
MARÍAS
No, it is not very easy for me. I would say that my female characters are a bit in the shade. I dare not portray them in full. Often I am amazed, and not necessarily in a positive way, at a woman who decides to write a whole novel from the male point of view. The idea of a male writing a female narrator and a female writing a male seems absurd. I know many people have done it well—Flaubert did it very well. I find books like that a little unbelievable. Only once have I written from a female perspective and that was in a short story. I would not be able to sustain it for a whole novel. My latest novels have been in the first person, and the female characters are always seen through the eyes of a male. That's the way it is and that's the way it should be in a novel for the sake of plausibility: for the story and the point of view. There is something called subjectivity. I see the world from my manhood, and that's the way I see women in my novels.
INTERVIEWER
You have a reputation for being a ladies' man—
MARÍAS
That's a falsehood.
INTERVIEWER
People tend to equate you with your narrators, and your narrators often think of themselves as great seducers.
MARÍAS
That's not true. Because I taught in Oxford for a number of years like the narrator of All Souls, there has been a tendency on the part of my readers to identify my narrators with myself, more than usual. Critics sometimes mention the narrator's beautiful wife, Luisa. I have never said that any of the women in my books are beautiful. I am very careful not to say openly that she was marvelous or she was splendid. In All Souls, there is a moment when the narrator talks about the woman who would become his lover, Clare Bayes, about her décolletage, and he says he won't say any more about her looks because given the fact that she becomes his lover it would seem presumptuous to say, You see, I did conquer that beauty. I would dislike it very much if my narrators were like that. Who doesn't have an affair now and then? That doesn't mean that he is a ladies' man. My narrators don't boast.
INTERVIEWER
Do you think of your narrators as heroes?
MARÍAS
I would not call them heroes if by "hero" you mean someone who is active and who fights against the development of things or the situation. They all renounce their own voices, which is funny because they talk and talk and reflect and then digress and narrate all of the time. The narrator of The Man of Feeling is an opera singer, who reproduces words he didn't write; the narrator of All Souls is a lecturer, someone who conveys knowledge that is not his own, it is inherited; in A Heart So White you have an interpreter who translates what other people say to the point that he has the habit of interpreting gestures, he converts gestures into words when there are no words; in Tomorrow in the Battle Think on Me you have a ghostwriter who gives his own voice to others. Dark Back of Time is a different case because the narrator is someone called Javier Marías. And in Your Face Tomorrow you have someone who has the capacity to see what we don't accept we see, for instance when we see something we don't like in someone we love. One must have courage to see what one does see and not to deny it for convenience. So they are interpreters as well, though they are not indifferent to what happens or to what they see.
One of the best possible perspectives from which to tell a story is that of a ghost, someone who is dead but can still witness. It's not that I believe in ghosts, but a ghost is someone to whom everything has already happened, someone who cannot really intervene—or only slightly. At the same time, it is someone who still cares about what he left behind, so much so that he comes back. You could say that my narrators are ghosts in that particular sense. They are passive, but they are still curious, they are observant.
INTERVIEWER
The wives and girlfriends of your narrators are often called Luisa. Why is that?
MARÍAS
There has not been an important Luisa in my life, but names are very important to me, and I am uncomfortable with most of them. Some I find too literary, others too common, which is like not naming in a way.
I often use my own surnames. In Spain, we have our two official surnames, but unofficially we have sixteen secondary surnames. My third surname would be my father's mother's surname, my fourth surname would be my mother's mother's surname, and so on. I use those for characters, usually for the meanest characters. For instance, Custardoy in A Heart So White is a bit sinister—that's one of my secondary surnames. Ruibérriz de Torres in Tomorrow in the Battle Think on Me is not exactly a commendable man—that is another of my surnames.
INTERVIEWER
What about Villalobos?
MARÍAS
That comes from a teacher at school. I use names I am accustomed to. Sometimes I use the names of old football players.
INTERVIEWER
You've written nonfiction books on film and on football—two of your pastimes. What else absorbs you when you are not writing?
MARÍAS
I listen to music often. I probably consider music the highest art. In a way, I would like to make something like it with words, but that is not possible. The problem with words is that they cannot not have meaning, whereas music is so blessed: it can not have meaning. And yet there are some notes that immediately make you feel melancholic. Why is that? With words, you are telling something awful or sad—of course it would make the reader feel that—but with music it's quite mysterious.
INTERVIEWER
The narrator in Dark Back of Time is a writer by the name of Javier Marías, who has published a novel called All Souls. Is Dark Back of Time a novel or a memoir, or is the lack of distinction, our inability to answer this question, the point?
MARÍAS
I call it a false novel. I use the term because I can't accept it as a novel. It is telling something that is true, something that did actually happen to someone with the same name as me, the author. At the same time, I can't say that it is an autobiography. Even with my digressions, it is more narrative than anything else. As a memoir, it would be rather odd, not to say poor: most of the facts are true, but some I invented for the sake of a particular page, and there are pages and pages in which the narrator, the author, is not present at all. That is why I called it a false novel. It is as readable as a novel, but it cannot be a novel—to me—because what I tell actually happened.
INTERVIEWER
In America, writers are criticized for publishing memoirs that greatly exaggerate, embellish, or distort the truth.
MARÍAS
In the past the only people who wrote autobiographies or memoirs were very important, those who had a crucial role in the history of their own country—Napoleon, Goethe—or were witness to major events or people who had singular, adventurous lives. Otherwise, it is ridiculous to write your autobiography. Everyone does it, but I can't see the interest. Some writers are capturing things all of the time. The moment something is said or happens, they think, Oh, I could use this for a book. If I take something from reality, it is always a posteriori. People think I am a very good observer, but I am rather absentminded and distracted. I am rather the kind of person who, if you turned around and asked me the color of your eyes, I would not know. Though maybe I can do it afterward—I can recover things I didn't realize I had noticed. What I present to the reader comes from my experience and from what I have invented, but it has all been filtered by literature. That is what matters: the filter.
When you look at a novel, at the cover art, the blurb, the title, the dedication, the curtain is still down. But after a certain page, the curtain rises and you say, OK, I am going to read this in a different way than I have read everything else so far. From this moment until the end of the novel I am going to try to believe this. It doesn't really matter if this comes from real life and that doesn't. In Your Face Tomorrow it doesn't really matter if the story of the narrator's father is my own father's story or not. It only matters because I am alive and because my father was well-known in Spain, but in Hungary they won't know that. They will read it as a novel, and they are going to make the effort to believe what has been invented.
If, on the contrary, someone publishes something claiming that it is his autobiography or memoir, then the reader is not going to distrust the author. The author is supposed to be telling the truth. If he says, This is my autobiography, yet everything is invented, then he's just lying. Nowadays, fakes are very much appreciated. The book may be great, but he is lying to the reader. I'm not condemning a whole genre, but I wouldn't write one myself. I don't consider that what I have done or what I have seen would be of interest to anyone.
INTERVIEWER
But don't you document your life in your fiction?
MARÍAS
I'm passing my life through a filter. That is the important thing for me. In fact, my wish is that the reader doesn't notice the different origins of the material but reads everything as what it is—as part of a novel.
INTERVIEWER
You sometimes use actual photographs in your novels.
MARÍAS
Yes, because when I read about an image I like to see it at the same time, be it a painting or a photograph. But you must be very careful with putting actual things in a novel. In the first volume of Your Face Tomorrow, there is a moment when the narrator recalls the story of his uncle, who was killed during the war, and how his mother had to look for him because he didn't come home, and she eventually found a photograph of her brother dead. That is a real story—it happened to my uncle. He was killed in the war when he was seventeen. I did reproduce one photograph, but I knew I could not put in the other one of him dead. Just as it is told in the book, the photograph was inside this box, wrapped in red cloth. It is quite a terrible photograph. I did not dare make it part of a fiction. You can't expose the dead too much.
The first time I used photographs was in All Souls, in 1989. I doubted whether I should use them because it was not something people usually did in a novel. The two photographs I used are of John Gawsworth. I told part of his story—his real story—and most people thought that part was absolutely invented. I said, But there are two photographs, one of him as an officer, and they said, It could be a photograph of any soldier. A novel, any artistic artifact, accepts less than reality does. Things do happen, but sometimes if you put them in a novel they aren't believable. Life is a very bad novelist. It is chaotic and ludicrous.
INTERVIEWER
You use time in an unusual way in your novels: your narrators think and consider for pages. They go off on long tangents. Something very minor—an object or incident or glimpse—usually sets them off.
MARÍAS
That happens to everyone, doesn't it? But I think the tangents are rather controlled. They always come back to where they should.
INTERVIEWER
Do you do this in order to teach the reader to have patience?
MARÍAS
Patience?
INTERVIEWER
When I first started reading your novels, the narrator's digressions made me anxious to get to the point.
MARÍAS
Yes, I think I am forcing that. In the second volume of Your Face Tomorrow, there is a scene in which a man draws a sword. The scene takes place at a disco, and the man is about to cut someone's throat. The narrator is a witness to this, and he tells it, and he is startled, of course, and horrified—it is something very odd to see in contemporary London—but then what comes immediately after is a reflection on the sword: what a sword means, what a sword has meant in history, what it means nowadays and how anachronistic it is, and how, precisely because of this, it is feared maybe even more than a gun because a gun—the possibility of its being drawn—is something that you would expect if you are attacked. There is a long reflection for many, many pages. No one knows what has happened to that sword that has just been drawn. If someone would skip those pages to find out whether the man is going to be beheaded, they are free to do that, but my intention—my wishful thinking—is that all digressions in my books should be interesting enough in themselves to make the reader wait, not just for the sake of waiting, but to say, OK, this writer has interrupted this and I would like to know what happens with the sword, but what he is telling me next instead of what happened with the sword is something that I am interested in too. I try the reader's patience on purpose but not gratuitously.
INTERVIEWER
The sentences in your novels are long and winding, full of parenthetical and dependent clauses and phrases. They make Faulkner's sentences seem brief. Are you conscious of this when you're writing?
MARÍAS
Both Faulkner and James were very strong influences in this sense. The difference between James and Faulkner is that Faulkner sometimes seems to lose sight of where he started. Faulkner seems not to find where the period should be. This is not bad. From a literary point of view it is very energetic and powerful—like a geyser. Whereas James never forgets where he started. He always closes the sentence. He always finds the period. Juan Benet and Sir Thomas Browne are also important influences.
My sentences are often very long—there are many dependent clauses—but my prose should be read quickly, not with heaviness. There should be a linking of phrases and sentences. You'll notice that sometimes I use commas in an odd way, but it is not as if I don't use periods. I do. In fact, I hate books that don't use them. To my mind, there is a kind of enjambment that occurs as a result of my use of commas instead of periods or even instead of real parentheses. Maybe those enjambments are more Faulkner-like. My hope is that it helps to make it lively.
INTERVIEWER
Vladimir Nabokov said that there were certain writers who didn't exist for him: Faulkner was one, also Albert Camus and D. H. Lawrence. Are there any writers of note who simply do not exist for you?
MARÍAS
Dostoevsky does not exist for me. Virginia Woolf does not exist for me. Her essays are quite good, but her novels are not of much interest for me. And Joyce. His stories are wonderful, but his novels are too artificial, even pompous. I have heard some writers say, When I read Kafka or Flaubert or Dostoevsky, I think, why should I write? He is so good. For me, writers like Kafka are so closed they don't allow you to follow them, whereas someone like Shakespeare leaves many paths unexplored, many things just announced, strong images unexplained—these invite you not to follow him but to be inspired. He inspires me.
INTERVIEWER
Does a reader need to read all of your books to fully understand your work?
MARÍAS
No, my books are linked in many aspects, but they are separate books. But I don't understand what is meant by being "fully understood." You don't write books to be understood, do you? That is not the reason for doing it.
INTERVIEWER
What is the reason for doing it?
MARÍAS
I have never had a literary project or a plan. I don't want to compose a fresco of my time or anything of the sort, nor would I like to renovate the genre. I am not even concerned with being original. Trying to be original is very dangerous. If you say, I'm going to turn literature upside down, most often the result is ludicrous. Maybe I write because it is a way of thinking that has no possible match. It is a very active way of thinking. You think more clearly when you have to put something down in words. Even people who are not professional writers clear their minds while writing a letter or keeping a diary.
Some have said that writing is a unique way of knowing, but it is a unique way of recognizing. This happens very often in Proust in particular. You read something and you say, Yes, this is true, this is something I have experienced, this is something I have seen, I have felt this, but I wouldn't have been able to express it the way he has. Now I really know it. That is what the novel does better than any other genre or any other art, in my opinion. I wouldn't say that I think best when I am writing. But I think differently.
INTERVIEWER
Is that what you mean when you've written of pensamiento literario—literary thinking?
MARÍAS
The term is not new, of course. As a reader—and I am more of a reader than a writer, we all are, I suppose—I can enjoy a good story, but in a novel, which takes time to read, a good story is not enough for me. If I close a book and there are no echoes, that is very frustrating. I like books that aren't only witty or ingenious. I prefer something that leaves a resonance, an atmosphere behind. That is what happens to me when I read Shakespeare and Proust. There are certain illuminations or flashes of things that convey a completely different way of thinking. I'm using words that have to do with light because sometimes, as I believe Faulkner said, striking a match in the middle of the night in the middle of a field doesn't permit you to see anything more clearly, but to see more clearly the darkness that surrounds you. Literature does that more than anything else. It doesn't properly illuminate things, but like the match it lets you see how much darkness there is.
INTERVIEWER
It's interesting that you mention light and darkness because the characters in your novels often entertain powerful illusions, and self-delusions.
MARÍAS
Illusions are important. What you foresee or what you remember can be as important as what really happens. We usually tend to tell our own story by mentioning only the positive things, but there is also a negative part of your life that forms you: what you didn't do, what you renounced, what you didn't dare to do, what you doubted and discarded, what you dreamt of, what you expected, what you left aside, what you didn't study but thought you would, the job you didn't take, the job they didn't give you even though you wanted it. The things you're not are a part of you as well. We avoid talking about these things, even to ourselves, as if they don't count. In my novels, I want them to count.
INTERVIEWER
Violent things occur throughout your books. Do you consider your novels to be violent?
MARÍAS
If there is violence, I think it is rather austere or sober. I don't think I am ever truculent. To give you an example: I am about to write a scene in the third volume of Your Face Tomorrow that is to be seen in a video, it's going to be something taped, in which—I probably should not be telling you this because I haven't even written it yet—one man is going to do something to another man. It is possible that he will take the other man's eyes out. I don't know exactly how it will be told, but if that happens his eyes will not be mentioned at all. I may use a simile: He took them out with the same gesture with which you pull a pit from a peach. To tell it directly is too easy. In fact, I hate the kind of novel that has one brutality after another only to shock. It's very easy to impress a reader with that. It's more horrifying when something is insinuated.
INTERVIEWER
Do you work from notes when writing your novels?
MARÍAS
A sheet of paper is all I have by way of notes, if you can call it that, for all three volumes of Your Face Tomorrow. These aren't really notes toward something in the future. They are really just reminders. In my novels there is what I call a system of echoes or resonances. A sentence reappears, sometimes with a variation. I try not to make it just a repetition but an illumination of the previous occasion in which it appeared. If I foresee that something will be used again in the book, then I write the page where it appeared. I have a good memory in general, but with a large book it is not so easy to know: Did I say this? When did I say this? Did I say it in the first volume or the second? I have never had one in my hands, but I am told that a computer would make my life much easier. It seems I could know exactly when I used a word here or there.
INTERVIEWER
You've said that your writing method forces you to lose an infinite amount of time.
MARÍAS
I lose time in the sense that I very rarely write more than one page per day, sometimes two, which means that I don't advance very quickly. Until I have finished one page the best possible way and have rewritten it as many times as necessary, I don't move on to the next. Many writers I know write a first draft and then revise again and again. On page two hundred they realize that it would be better if they had said something different on page one or two. They change page one or page two, but that is precisely what I never do. Even if it would make things easier if I hadn't said this or that on page five, I won't change it. If I wrote that something would happen or be said by a certain character, then on page two hundred I must stick to it.
This method is quite a risky one and I wouldn't recommend it to anyone because the final result can be disastrous. But I write my novels according to the same principle of knowledge that rules life: If you do something when you are fifteen or twenty, you can't change it. When you are forty you may wish you hadn't done this at fifteen or twenty, but you have and you can't change that. Some people try to change it, some people try to forge a past, some people become imposters, some people hide the things they did, but in fact you cannot undo what was done. You have to stick to what happened. Much of what I write in the beginning of a novel occurs by chance. Once I finish a page, it goes to the printer. Later, I force myself to make things match, to make necessary what was whimsical. If you come to think of it, it is quite absurd to do this in a novel, because in a novel you do have the chance to change everything—until it is published.
INTERVIEWER
Is it ever difficult to pick up the next day where you left off?
MARÍAS
It is best to have a few lines of the new page—something to depart from. When many writers start writing a book they already have a map. They know exactly what they are going to find on the journey: here, we'll find a river; there a desert; there, a cliff; there, a precipice. They have the whole story in their minds before writing the very first page. I work without a map. I work only with a compass, which means that I know more or less where I am going. It's not that I just wander nonsensically in a totally whimsical way. I probably find the same river and the same desert and the same cliffs and the same precipice that the other writers find, but I find them unexpectedly. I like not to know everything.
The verb to invent, or inventar in Spanish, comes from the Latin invenire, which means to discover, to find out. That is what I like to do in writing: find out what I am writing about as I write it. I decide on the spot. If I had decided the whole story from the start—how many characters there will be, what will happen to them, etcetera—I probably wouldn't write it. In a couple of short stories, I knew the whole story before I started writing and then I was a little bored. It seemed to me like I was making a report. I suppose you think the reader doesn't know the whole story and you try to write it in a way that moves him or her or interests or thrills or whatever, but then you're applying mere technicalities. You know the whole story and you try to use this or that for effect, but that effect is not coming along at the same time as the writing. If you write page five in preparation for page fifty, it is very likely that you're revealing too much without meaning to. Then the book can become predictable.
I started by saying that I would never recommend my way of writing to anyone because it is very risky. It is also absurdly self-imposing. Why can't I change what I wrote on page five? I can, and it is perfectly licit to do so, but my method has one benefit, which is that if I don't know the whole story and if I don't know what is going to happen, even in the next chapter, the reader may not know either, and then the book is unpredictable. That is a small advantage to this way of writing.
INTERVIEWER
It would seem that you couldn't interrupt the writing process or else you'd lose the thread.
MARÍAS
I do interrupt it, of course. One ridiculous thing nowadays—I suppose it happens to most writers—is that we have to fight to have time to do what we are supposed to do. There are too many distractions: they ask you to give lectures and interviews. I'm not a hermit, but sometimes it is not the right moment to stop the work.
INTERVIEWER
Given your writing method, do you ever have regrets when you're looking back on a finished novel?
MARÍAS
When a book is finished, you cannot possibly think that it could be different from what it is. When you read A Heart So White it seems like the quote from Macbeth that gives the book its title is the key, or as Nabokov said, "the first throb." But I know how that happened. I had written about eighty pages by the time I reached that scene. In those days, I never used to stay home at night, I went out, but for some reason that night I didn't go out. I stayed home and put on the TV. I was watching Orson Welles's version of Macbeth and I noticed the scene in which Lady Macbeth says to Macbeth after he has killed King Duncan: "My hands are of your color; but I shame / To wear a heart so white." I thought, What does Lady Macbeth mean? When I finished watching the film, I went to my annotated editions of Shakespeare and saw that there was not one note about that line, not one. That was odd. To me, it is not very clear what she says and why she says it and what exactly she means by white and the verb to wear? That scene, which is about four or five pages, became a motif in A Heart So White, but it was by chance that I included it in the book. If I had gone out that evening, as I did on other evenings, I would not have watched that film again and I wouldn't have noticed that sentence and it wouldn't have been in the book and the book would have been different. I know that when people read my books in years to come they will see it as indisputable that that scene exists in the novel, but it could very well not have been that way.
The older I am, the less I understand the process of writing. I write every page as if it were the only one. It seems very odd and strange to me that something comes out in the end and it's this many pages and I know that I have done it line by line.
INTERVIEWER
Have you ever been tempted to translate your own novels?
MARÍAS
No. Nabokov did that, and so did Beckett. For me it would be boring to go back to what I once did. But mainly, my English isn't good enough. To write in a different language is the most difficult thing to do. You can read it and understand it and give an interview or a lecture, but the language is not yours. I wouldn't feel sure enough. I would make mistakes. It would be a huge task. Borges once said that translation is one of the biggest mysteries. How is it possible that a text that has been stripped of the language in which it was conceived could still be the same text? But it is, and we accept that. You think you are reading Dickens in Spanish or Cervantes in English and not one word of what you are reading was written or chosen by the author.
INTERVIEWER
Do you keep regular writing hours?
MARÍAS
No, I can't.
INTERVIEWER
How many hours a day do you write?
MARÍAS
Not many—three, four.
INTERVIEWER
Every day?
MARÍAS
When I can. I usually write down in my date book when I begin a book, when I interrupt it, and when I resume. Every fifty pages I see how many days I worked and how many days elapsed. Sometimes the working days are steady—I write fifty pages in about thirty-five or forty-five days—but sometimes one hundred and twenty days elapse before I complete my fifty pages, which means I have only been able to sit down and really work thirty-five days out of one hundred and twenty.
INTERVIEWER
Do you work when you travel? Are you able to write when you are in other cities?
MARÍAS
Not the novels, no. But I have a rented apartment in a small town about two hundred and thirty kilometers from Madrid—and there, yes. It is the coldest place in Spain. It snows there in the winter. During my childhood we spent many of our summers there because it was fresh and cool in the summer and it had a river where we could bathe. I didn't go there for twenty or thirty years. Then I was invited to give a lecture there, and I saw that the flat belonging to a very good friend of my parents was for rent. He died years before. He was an extremely nice man, a widower. He had a son and lived with his two sisters. Whenever it rained and we could not go to the park or to the river we went to his place. He had a good library. I spent many evenings and afternoons playing cards and reading there. I've rented it for five years or so. I go there from time to time for eight or ten days. I work well there. No one has my telephone. There is no mail coming in. I like to take walks to the river, to the castle.
So in that country place I can write. I have another typewriter that is identical to this one. There, everything is double: my shaver, everything. That's like going home. But when I'm traveling, no.
INTERVIEWER
You've written a column on social and political issues for one or another of Spain's newspapers for eleven years. Do you ever get tired of giving your opinion?
MARÍAS
Sometimes I worry that I give my opinion on too many things. And sometimes it's difficult to find what to talk about. Astonishingly enough, many European writers seem to have very clear opinions on everything. When the first Gulf War was about to start in 1990, most writers on TV and radio had made up their minds about what was right and what was wrong, but it seemed to me that that war was not so easy. The second one, yes, that is easy—at least for me it is a farce—but that one was more difficult. And Kosovo, for example, also wasn't easy. Yet no one said, I don't know, I haven't thought about it enough or I haven't made an opinion as yet. As for me, I couldn't see it clearly for myself.
INTERVIEWER
What made you want to be a writer?
MARÍAS
I never knew that I wanted to be a writer. I don't even know that I want to be a writer now, but I have been publishing for most of my life, so I can't deny that I am one. But I am not the kind of writer who publishes a new novel every two years. I never thought of it as a career. I have never had the feeling that it's been three or four years since my last novel and I should write another one or else I will be forgotten. If something comes I'll do it, but I won't force myself to do it because it is my profession.
INTERVIEWER
Is there one quality that a novelist should have?
MARÍAS
Patience.
INTERVIEWER
Are you patient?
MARÍAS
I try to be.
INTERVIEWER
In Written Lives, you note that Joseph Conrad's natural state was "disquiet bordering on anxiety." What is your natural state?
MARÍAS
Indecision—but that doesn't mean I never decide. It means I take my time.
INTERVIEWER
If you don't have a clearly defined plot in mind when you write, how do you know when your novels are finished?
MARÍAS
I suppose I know it because there is nothing more to tell. All books could go on and on. Don Quixote ends because Don Quixote dies. That is the only thing preventing him from having more adventures. You know what Borges said about the concept of a definitive text: he didn't believe it existed. He thought the only reason we have what we consider to be the definitive text was the exhaustion of the author. With Your Face Tomorrow, perhaps I will know when it is finished because of the exhaustion. There will come a moment when I will think, Enough—enough of being in touch with these characters. It's not that I think they are living people. There is that feeling of great vividness that literary characters sometimes acquire when you have been submerged into an atmosphere with them. Still, there comes a moment when you are ready to return to the world.