Interviewed by Michael Millgate
Issue 17, Autumn-Winter 1957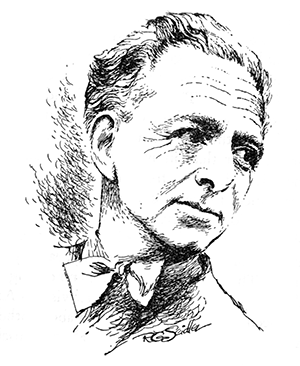 Sketch by Rosalie Seidler, 1957.
A London apartment in Dolphin Square, just downriver from Chelsea. Dolphin Square—and this came as something of a surprise—is a huge block of service apartments, with restaurant (where we ate lunch), indoor swimming pool, shops, bars, etc.—the layout and decor of this part strongly reminiscent of an ocean liner. The apartment itself, on the ground floor and looking out on the central court, was small, comfortable, tidy, uneccentric; there were books but not great heaps of them; the pictures included a pair of patriotic prints from the First World War ("The period fascinates me"). For Wilson it is just a place to stay when he has to be in London: his real home is a cottage in Suffolk, five miles from the nearest village ("I find I hate cities more and more. I used to need people, but now I can be much more alone"). The electric fire was on, although the late September day was fine and quite mild. Wilson explained that he had just got back from Asia—Japan (where he had been a guest of honor at the P.E.N. conference), the Philippines, Cambodia, Thailand—and found England cold.
Although one does not think of Wilson as a small man, he is rather below the average height. His face is mobile but somewhat plumper than in most of the published photographs, the hair white at the front shading to gray at the back, the forehead lined, the eyebrows rather prominent, the eyes pale gray and serious—but not solemn: Wilson's manner has a liveliness and warmth that is immediately engaging. He talks quickly, confidently yet unaffectedly, eagerly—obviously enjoying it. The conversation before and during lunch was mainly about Japan—it had been his first visit to Asia and he had clearly been impressed—and about other writers. Now, after lunch, Wilson agrees to talk about himself.
INTERVIEWER
When did you start writing?
ANGUS WILSON
I never wrote anything—except for the school magazine—until November 1946. Then I wrote a short story one weekend—"Raspberry Jam"—and followed that up by writing a short story every weekend for twelve weeks. I was then thirty-three. My writing started as a hobby: that seems a funny word to use—but, yes, hobby. During the war, when I was working at the Foreign Office, I had a bad nervous breakdown, and after the war I decided that simply to return to my job at the British Museum would be too depressing. Writing seemed a good way of diversifying my time. I was living in the country and commuting to London then and I could only do it on weekends. That's why I started with short stories: this was something I could finish, realize completely, in a weekend.
INTERVIEWER
Had you never thought of becoming a writer before that time?
WILSON
No, I never had any intention of becoming a writer. I'd always thought that far too many things were written, and working in the museum convinced me of it. But I showed some of my stories to Robin Ironside, the painter, and he asked if he could show them to Cyril Connolly, who took two for Horizon. Then a friend of mine at Secker and Warburg said, Let us have a look at them, and they said that if I gave them twelve stories they would publish them. This was The Wrong Set. They told me there wasn't much sale for short stories and so on, but the book was surprisingly successful both here and in America. After that I went on writing—reviews, broadcasts, more short stories. The thing grew and grew, and when I came to write Hemlock and After I had to do it in one of my leaves. I did it in four weeks. But when I wanted to write a play—that was a different matter. I knew it would take longer to write and that I'd have to revise it, attend rehearsals, and so on. And I was still a full-time civil servant at the British Museum. To resolve the conflict I resigned. It was rather ironic really. When I left school I wanted a permanent job, and I got it at the museum. Now at the age of forty-two I no longer wanted a permanent job. It meant giving up my pension, and that isn't easy at that age. But so far I haven't regretted it.
INTERVIEWER
Do you find writing comes easily to you?
WILSON
Yes. I write very easily. I told you Hemlock took four weeks. Anglo-Saxon Attitudes took four months, and an awful lot of that time was taken up just with thinking. The play—The Mulberry Bush, the only thing I've rewritten several times—was different again. My latest book of short stories, A Bit Off the Map, took longer too, and my new novel is proving a bit difficult. But I'm not unduly worried. When one starts writing it's natural for the stuff to come rolling off the stocks—is that the right image?—rather easily. And, of course, the fact that it comes harder doesn't necessarily mean that it's worse. When Dickens published his novels in serial form he always added in his letter to the reader: "I send you this labor of love." After Bleak House he couldn't; it hadn't been a labor of love. But the later Dickens novels are certainly none the worse for that.
INTERVIEWER
Do you work every day?
WILSON
Goodness, no. I did that when I was a civil servant and I don't propose to do so now. But when I'm writing a book I do work every day.
INTERVIEWER
To a schedule?
WILSON
Not really. No. I usually work from eight to two, but if it's going well I may go on to four. Only if I do I'm extremely exhausted. In fact, when the book is going well the only thing that stops me is sheer exhaustion. I wouldn't like to do what Elizabeth Bowen once told me she did—write something every day, whether I was working on a book or not.
INTERVIEWER
Do you usually work on one book at a time?
WILSON
Oh, yes. I've never worked on more than one book at a time, and I don't think it would be good.
INTERVIEWER
About how many words a day do you write?
WILSON
Oh—between one and two thousand. Sometimes more. But the average would be one or two thousand.
INTERVIEWER
Longhand, typewriter, or dictation?
WILSON
Longhand. I can't type. And I'm sure it wouldn't work for me to dictate, though I did think of it when I was doing the play; it might help with the dialogue. But the trouble is I'm too histrionic a person anyway, and even when I'm writing a novel I act out the scenes.
INTERVIEWER
Aloud?
WILSON
Very often. Especially dialogue.
INTERVIEWER
Do you make notes?
WILSON
Books of them. The gestatory period before I start to write is very important to me. That's when I'm persuading myself of the truth of what I want to say, and I don't think I could persuade my readers unless I'd persuaded myself first.
INTERVIEWER
What sort of notes?
WILSON
Oh, notes about the ages of the characters, where they live, little maps, facts about their lives before the book starts. Names are very important to me, too. Look at these notes for The Mulberry Bush, for example. There are statements of themes, like this: "James and Rose are the core of the tradition." And questions—I'm always asking myself questions—like, "What are Kurt's motives here?" I set myself problems and try to find ways out of them. Then the thing begins to take shape—this note, for example: "The first act ends in row between Ann and Simon." Then comes the first version of the first act. It's the same with the novels: I write notes like, "But this isn't what the book is really about. What it is about is . . ." and so on.
INTERVIEWER
Why do you feel the need for so many notes?
WILSON
Two reasons. To convince myself, as I said before. And to keep a kind of check on myself. Once one starts writing, the histrionic gifts—the divine passion or whatnot—are liable to take control and sweep you away. It's a matter of setting things on their right course. Then it's much easier to write as the spirit moves.
INTERVIEWER
Do you do careful or rapid first drafts?
WILSON
Oh, I only do one draft. I never do any other. I correct as I go along. And there is very little correction; the changes in the draft are mainly deletions. Occasionally a new paragraph goes in. Take the end of Hemlock, for example. It's rather a Dickens ending, accounting for all the characters. At the end I found Ron's mother, Mrs. Wrigley, wasn't accounted for, so I put in the paragraph about her. It's rather like Dickens at the end of Dombey and Son. After he'd sent the manuscript to his publishers he sent them a note: "Please put in a paragraph about Diogenes the dog: something on these lines . . . " I like to have everyone accounted for, too.
INTERVIEWER
What is the difference for you between a short story and a novel?
WILSON
Short stories and plays go together in my mind. You take a point in time and develop it from there; there is no room for development backwards. In a novel I also take a point in time, but feel every room for development backwards. All fiction for me is a kind of magic and trickery—a confidence trick, trying to make people believe something is true that isn't. And the novelist, in particular, is trying to convince the reader that he is seeing society as a whole.
This is why I use such a lot of minor characters and subplots, of course. It isn't willful love of subplots for their own sake, willful Victorianism, but because they enable me to suggest the existence of a wider society, the ripples of a society outside. And more important is this thing about fiction as trickery. The natural habit of any good and critical reader is to disbelieve what you are telling him and try to escape out of the world you are picturing. Some novelists try to make the magic work by taking you deep down inside one person. I try to multiply the worlds I put into the books—so that, like the ripples of the stone thrown into the brook, you feel the repercussions going farther and farther out, and at the same time bringing more in. The reader is more inclined to believe in Gerald and Ingeborg because someone so different as Mrs. Salad is affected by them. I've always thought this had something to do with the endings of Shakespeare's tragedies. An entirely new lot of people come in—Fortinbras in Hamlet, for example, and it's the same with Macbeth and Lear. You believe in the tragedies more because these others from outside confirm them. The worst kind of nightmare is the one where you dream you've woken up and it's still going on. The third reason for all the characters is the Proustian one, which seems to me very good, that the strangest and most unlikely lives are in fact interdependent. This is especially true in times like our own when the old boundaries and demarcations are becoming blurred.
INTERVIEWER
What about short stories?
WILSON
You can't do this sort of thing with short stories. They have a kind of immediate ethical text. Many of mine have punning titles. I take a platitude—"the wrong set," for example: the point is that no one knows what the wrong set is, and one person's wrong set is another's right set. And you get the payoff, which is something I like. A play is rather like this, but has more depth. And plays and short stories are similar in that both start when all but the action has finished.
INTERVIEWER
I think you've seen what Frank O'Connor said about Anglo-Saxon Attitudes when he was interviewed for this series. He criticizes your exploitation of "every known form of technique in the modern novel"—techniques taken, he says, from the cinema and from Point Counter Point—and the whole modern tendency to concentrate the action of a novel around the actual moment of crisis instead of covering a longer period and demonstrating the hero in all his phases. Anglo-Saxon Attitudes, he says, "would have been a good novel if it had begun twenty years earlier." I'm sure you will have something to say to this.
WILSON
Yes, indeed. I thought his remarks very curious. He implies that I'm in the twentieth-century experimental tradition. It's very flattering, of course—"every known form of technique in the modern novel"—but I wasn't aware of using any techniques, except that the book was concerned with echoes of memory. I think the reader should be unaware of techniques, though it's the critic's job to see them, of course. O'Connor seems not to have noticed that the techniques used in Anglo-Saxon Attitudes are not just flashbacks as in the cinema, nor just episodic as in Point Counter Point—I've recently reread that and can see no shape in it at all. If you examine the flashbacks in Anglo-Saxon Attitudes— and they took me a lot of trouble, I may say—you'll see that it is an ironic picking up of phrases. Marie Hélène says, "Life consists, I believe, in accepting one's duty, and that means often to accept the second best." This leads Gerald to remember his courtship of Ingeborg: he accepted the second best then, and it has ruined both his life and hers. This is an ironic comment on the cynical realism of Marie Hélène. It's not just cinema, you see, it's very carefully planned, though I say it myself.
INTERVIEWER
What about O'Connor's remark that it should have started twenty years earlier?
WILSON
If it had started twenty years earlier it would have been a simply enormous book—a kind of chronicle novel, I suppose: The Story of a Disappointed Man. Where O'Connor goes wrong is in thinking that I'm concerned at all with the hero as such. I'm only concerned with the hero as an illustration of the inevitability of decline if life is denied. After all, there's a definite statement in the book: Gerald's life goes wrong in two ways—with the historical fraud, and with his wife and children. And when he tries to "face the truth"—in the conventional phrase—he can do this in relation to the fraud all right, but he can't remake his life with his wife and children. This shows up the platitude of "facing the truth." Gerald is only freed in that he faces the result of his not having faced the truth—he accepts his loneliness. A matter of theoretical morality can be put right, but this can't be done where human beings are involved.
INTERVIEWER
Other people besides O'Connor have commented on certain technical similarities between your work and Huxley's. I gather you don't feel you owe him any particular debt?
WILSON
Consciously, of course, I'm in great reaction against Huxley—and against Virginia Woolf. But I read them a great deal when young, and what you read in adolescence can go very deep. I've been much more influenced by Dickens, Proust, Zola. And the ceremony in Hemlock is obviously influenced by that scene in The Possessed where the poet, who is Turgenev, comes in and makes a fool of himself. Zola has certainly influenced me a great deal in the form and shape of my novels. From Proust I get the feeling about paradox and the truth of improbability—especially the latter.
INTERVIEWER
Are your characters based on observation?
WILSON
Oh, yes. I don't see how else you can do it. But not taken from life. Every character is a mixture of people you've known. Characters come to me—and I think this is behind the madeleine business in Proust—when people are talking to me. I feel I have heard this, this tone of voice, in other circumstances. And, at the risk of seeming rude, I have to hold on to this and chase it back until it clicks with someone I've met before. The second secretary at the embassy in Bangkok may remind me of the chemistry assistant at Oxford. And I ask myself, what have they in common? Out of such mixtures I can create characters. All my life I've always known a lot of people. Some say my novels are narrow, but I really can't see what they mean. I thought they were pretty wide myself.
INTERVIEWER
Some people think you have an unnecessarily large number of vicious characters.
WILSON
I really don't know why people find my characters unpleasant. I believe—perhaps it would be different if I were religious—that life is very difficult for most people and that most people make a fair job of it. The opportunities for heroism are limited in this kind of world: the most people can do is sometimes not to be as weak as they've been at other times. When Evelyn Waugh reviewed Hemlock and After he was very percipient about techniques, but described the characters as "young cad," "mother's darling," and so on—terms it would never occur to me to use. I told him I thought the people he described in those terms had behaved rather well. Terence—the "young cad"—is on the make, certainly, but he behaves rather well in spite of that. And Eric does half break away from his mother—which is quite an achievement in the circumstances.
Of course, all my characters are very self-conscious, aware of what they are doing and what they are like. There's heroism in going on at all while knowing how we are made. Simple, naive people I'm impatient of, because they haven't faced up to the main responsibility of civilized man—that of facing up to what he is and to the Freudian motivations of his actions. Most of my characters have a Calvinist conscience, and this is something which in itself makes action difficult. The heroism of my people, again, is in their success in making a relationship with other human beings, in a humanistic way, and their willingness to accept some sort of pleasure principle in life as against the gnawings of a Calvinist conscience and the awareness of Freudian motivations. These people are fully self-conscious, and the only ones who are at all evil—apart from Mrs. Curry, who is something quite different, a kind of embodiment of evil—are those like Marie Hélène and Ingeborg who substitute for self-awareness and self-criticism a simple way of living, Marie Hélène's hard and practical, Ingeborg's soft and cozy. They accept a pattern of behavior and morality instead of self-awareness. Characters can be heroic even though they can squeeze only a minimum of action out of the situation. That is how I see it, anyway, though I realize some people might find my characters rather inactive.
INTERVIEWER
I noticed earlier that you sometimes seem to speak of your characters as existing outside the novel—the kind of thing the Leavisians so object to. And Elizabeth Sands makes a brief appearance in Anglo-Saxon Attitudes.
WILSON
Yes, my friends have criticized my putting Elizabeth Sands in there—"Hugh Walpole," they say. I told E.M. Forster this and he said, Ah yes—but Balzac too, you know. I'm on Leavis's side really, but he always writes as a critic, never as a creator. And the writer can't visualize his characters within a framework, although the creation of a work of art demands putting them within a framework. The use of a character for artistic creation is one thing; the author's knowledge of that character is another. Otherwise you'd remove the element of choice, which is the essence of the creative act. What if George Eliot had seen Middlemarch whole, in a lump? There'd be no choice. At some point she must have imagined what Mr. Casaubon's housekeeper was like and decided to leave her out. It's not instantaneous vision, and I don't think Leavis himself would expect it to be. Of course it was self-indulgence to bring Elizabeth Sands into Anglo-Saxon Attitudes: I felt that many people would like Anglo-Saxon Attitudes better than Hemlock and After—and for the wrong reasons—and I wanted to show them that the worlds of the two books were the same.
INTERVIEWER
You think Hemlock and After has been underrated?
WILSON
Yes. I think that in the long run Hemlock and After is a better book than Anglo-Saxon Attitudes, if not so competently carried out. Hemlock is both a more violent and a more compassionate book. I know this is a sentimental cliché, but I do feel toward my books very much as a parent must toward his children. As soon as someone says, I did like your short stories, but I don't like your novels, or, Of course you only really came into your own with Anglo-Saxon Attitudes—then immediately I want to defend all my other books. I feel this especially about Hemlock and After and Anglo-Saxon Attitudes—one child a bit odd but exciting, the other competent but not really so interesting. If people say they like one book and not the other, then I feel they can't have understood the one they don't like.
INTERVIEWER
The publisher's blurb for your new volume of short stories, A Bit Off the Map, begins: "Pin-pointed against the background of an England where the lines of class and caste are becoming blurred as traditional values lose much of their force, the characters in these tales seek—sometimes cheerfully, sometimes desperately—to get their true bearings on the map of society." Wouldn't this comment apply pretty much to all your books?
WILSON
Yes, I suppose it would. But you'll realize when they appear that each of these stories is designed to show a specific example of such blurrings of the class lines and of the false answers people provide today to get back some sense of position in society. These new stories are all satirical of the old philosophies which have now become fashionable again—neo-Toryism, Colin Wilson's Nietzscheanism, and so on—of people seeking after values which now no longer apply.
INTERVIEWER
Do you think of yourself primarily as a satirist?
WILSON
No, I don't. Satire for me is something more abstract—Animal Farm, Erewhon, that sort of thing. I'm much more traditional than that—which is why I was so surprised at Frank O'Connor's putting me with the experimental writers. I've deliberately tried to get back to the Dickens tradition. I use irony as one main approach, perhaps overdoing it. It's been said that too much irony is one of the great dangers of the English tradition, and perhaps I've fallen into that trap. I don't think of Point Counter Point as satire: it's a comedy of manners—and you could call my work that. But satire implies an abstract philosophy that I don't have; there's nothing I want to say in the way that Butler wanted to say something about machines, for example.
INTERVIEWER
In writing about Anglo-Saxon attitudes, then, you aren't seeking to change them?
WILSON
Oh, no. I don't think it's the novelist's job to give answers. He's only concerned with exposing the human situation, and if his books do good incidentally that's all well and good. It's rather like sermons.
INTERVIEWER
Isn't a sermon intended to do good?
WILSON
Only to the individual, not to society. It's designed to touch the heart—and I hope my books touch the heart now and again.
INTERVIEWER
But you definitely don't think a novelist should have a social purpose?
WILSON
I don't think a writer should have anything. I have certain social and political views, and I suppose these may appear in my work. But as a novelist I'm concerned solely with what I've discovered about human emotions. I attack not specific things, but only people who are set in one way of thinking. The people in my books who come out well may be more foolish, but they have retained an immediacy toward life, not a set of rules applied to life in advance.
INTERVIEWER
What do you think, then, of the "angry young men"?
WILSON
Of course they don't really belong together—though it's largely their own fault that they have been lumped together. They thought popular journalism was a good way to propagate their ideas, and the popular journalists themselves have naturally written of them as a group. The only thing I have against them—while knowing and liking them personally—is the element of strong self-pity, which I do think is a very ruinous element in art. Whatever they write about—when Osborne writes about his feeling for the underprivileged, for example—you get the feeling that they are really complaining about the way they have been treated. And, apart from Colin Wilson, they are so concerned to say that they won't be taken in—we'll be honest and not lay claim to any higher feelings than those we're quite sure we have—that one sometimes wishes they'd be a bit more hypocritical. After all, if you think of yourself in that way you come to think of everyone else in that way and reduce everything to the level of a commercial traveler talking in a bar, knowing life only too well—and in fact people are often better than they make themselves out to be. Their point of view is Iago's, and Iago disguised a very black heart—I don't accuse the angry young men of being black-hearted, of course—beneath his guise of a cynical plain man's point of view. It isn't quite good enough for serious artists.
INTERVIEWER
What do you feel about writing for the stage? Do you feel the novelist has anything to learn from it?
WILSON
Yes. One learns a great deal about what can be omitted, even from a novel, because the play is such a compact form. The best modern plays—by Tennessee Williams, John Osborne, and so on—have tremendous and wonderful power. But the play of ideas—Ibsen and so on—is a little too much at a discount these days.
INTERVIEWER
Do you intend to write for the stage again?
WILSON
Certainly. I want to try to produce more purely theatrical emotion. And I hope to do that and still try for the ideas and the wit of dialogue that I think I got in The Mulberry Bush, which seemed a little untheatrical to some people. I want to get more theatrical power, not to write like Williams, but to bring back something of the Ibsen and Shaw tradition.
INTERVIEWER
What about the cinema?
WILSON
I should be only too pleased if my books were turned into films, but I can't imagine myself writing original film scripts—I don't know the necessary techniques, and I rarely even go to the cinema these days. When writing a play you have to realize that the final production won't be only your own work. You have to cooperate with the producer, the actors, and so on. And I'm prepared for that. But in the cinema the writer is quite anonymous, and I feel—for good reasons or bad—that I must be responsible for what I've written and collect the praise or blame for it. Once a book is done I don't care what other people do with it. The Mulberry Bush is being televised soon, and the producer rang me up to say it would have to be cut to ninety minutes. I told him to go ahead and do what he wanted: he knows television and I don't. But I couldn't have made a sketch of The Mulberry Bush and let it be played about with, if you see the difference.
INTERVIEWER
What plans do you have for the future?
WILSON
I'm in the course of writing another novel. And, as I've just said, I want to do another play. Then I want to do a book of literary essays on nineteenth-century writers, about whom I have a lot to say that I think hasn't been said. And I want to do a book—not fiction—about the home front during the 1914 war. Of all the terrible things that have happened in my lifetime I still think of the trench warfare of the 1914 war as the worst. And the home front was in the strange position of being concerned and yet unconcerned at the same time. The predicament of these people seems likely to connect closely with the predicament of many of the characters in my novels: Bernard Sands and Gerald Middleton, for example, are both concerned with tragedy yet become observers of it by their withdrawal.
INTERVIEWER
Would you say something more about your new novel?
WILSON
I'm sorry, but I don't like to talk about my books in advance. It isn't just that any short account of a novel seems ridiculous by the side of the real thing. But, as I've said before, fiction writing is a kind of magic, and I don't care to talk about a novel I'm doing because if I communicate the magic spell, even in an abbreviated form, it loses its force for me. And so many people have talked out to me books they would otherwise have written. Once you have talked, the act of communication has been made.