Interviewed by Kurt Vonnegut
Issue 160, Winter 2001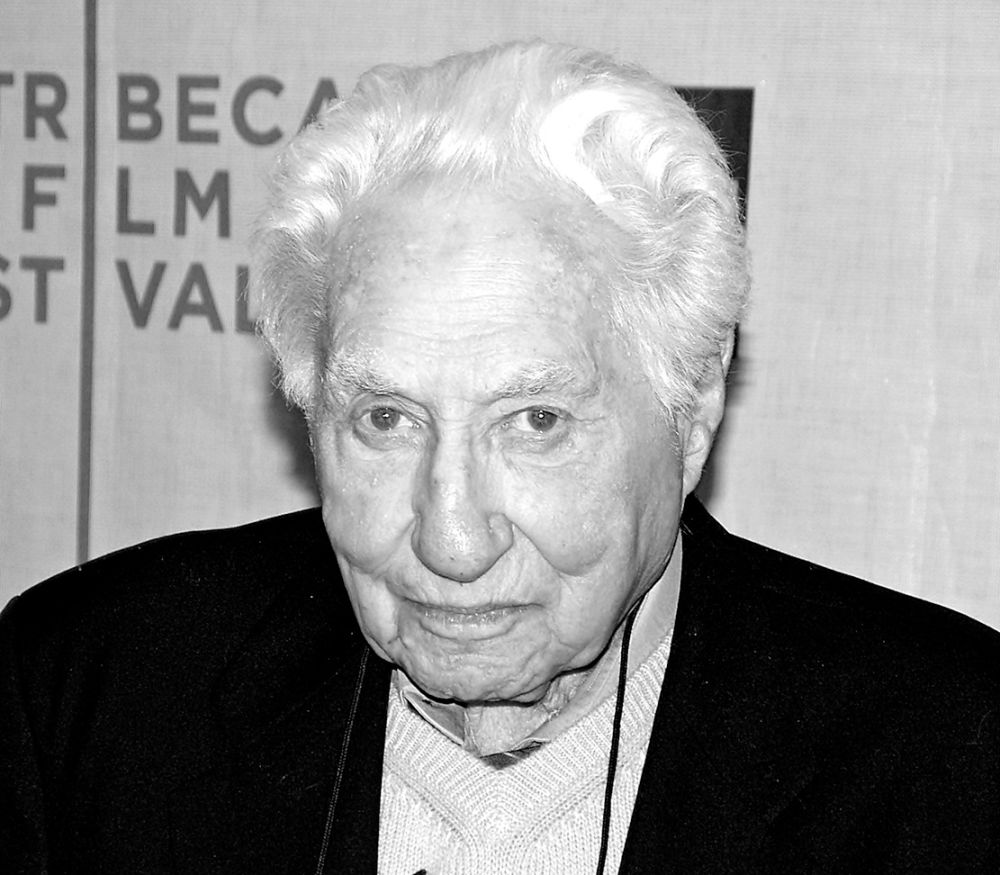 Budd Schulberg, ca. 2012. Photograph by David Shankbone
Budd Schulberg granted this interview on a salubrious July 21, 2001, at his most agreeable home and workplace in Quogue, New York, a peaceful "un-Hampton," if you like, one seashore village west of the tumultuous real Hamptons, on the South Fork of Long Island. His property, Brookside, named in memory of his wife Geraldine Brooks, who died in 1977, fronts on Aspatuck Creek, not far from where it empties into the open Atlantic. So the water becomes brackish when the tide comes in, and attracts a sizeable population of waterfowl, by far the most spectacular of these being swans. Schulberg has evidently earned the trust of swans, getting some to take corn and bread from his extended palms, not an easy thing to do. One might even say it was a quixotic thing to even try to do.
Before the interview began, Schulberg and the interviewer, down by the creek with his present wife, the former actress and journalist Betsy Langman, talked some about the success of yet another of his improbable enterprises, which he himself acknowledged as quixotic. Back in August 1965, African-Americans in the Watts section of Los Angeles rioted, causing enormous destruction to their own neighborhood. Schulberg, knowing no one went there, went all alone to Watts, and offered to teach anyone how to write stories or novels or poems or screenplays as a way to elevate self-respect and attract favorable attention.
"Growing up," he said, "the only African-American I knew at all was Oscar the Bootblack, the shoeshine man at Paramount Studios." Needless to say, this is no longer the case, not only with the writing school still operating in Watts, but with his having since founded in New York City the Frederick Douglass Creative Arts Center up on West Ninety-sixth Street, which now has a faculty of fourteen, a student body at any given time of about three hundred, all studying writing, and is supported by the New York State Council for the Arts and the National Endowment for the Arts, along with Schulberg and other private donors he solicits. Of the gifted writers he discovered in Watts so long ago now, he reflected, "I used to say I'd like to pit my writing team against one from Beverly Hills High School. We'd win! We'd win!"
He and the interviewer then repaired to his office, on the second floor of the building separate from his residence, and turned on the tape recorder and cleared their throats, and:
INTERVIEWER
I was honored to be invited to your birthday party a while ago and I was so touched that there were so many boxers there and that they loved you.
BUDD SCHULBERG
Well, from about the age of ten on, I've had fighters as friends. I guess it sort of came naturally from my early Los Angeles days with my father when I went to the fights twice a week. Hollywood Legion was really the social center of the town in those days. And since my father was a big shot and running a studio, the fighters would come out to visit. So very early on I got to know them; and I've always been attracted to them. There's something special about boxing to me. Fidel La Barba, the great little flyweight champion, was one of my really close friends and was the best man at my first wedding.
INTERVIEWER
What boxers were at your birthday party, because I don't know boxers that well?
SCHULBERG
Well, let's see. There was my old fighter that I had managed, Archie McBride. He was a pretty good heavyweight back in the 1950s. He fought all the top-ten fighters. Johannson and Patterson and all the rest. I hadn't seen Archie in a long time, a very sweet man, a very dear man. Another good friend who was there is José Torres, the ex-light-heavyweight champ, who's written books on Ali and Tyson. And then there was Roger Donaghue, another lifetime friend. Roger was a pretty good middleweight in the fifties also. When we were doing On the Waterfront I talked to Elia Kazan about the definite body language every fighter has, a special way they walk, a way they move. And so Kazan encouraged me to bring Roger Donaghue in to teach Marlon Brando how to be more believable as an ex-pug. Roger took Marlon to Stillman's Gym to give him boxing lessons and ran back to me all excited, "I c'n make a helluva middleweight outta this kid!" "Thanks, Roger," I said. "Just let him get through our movie first."
INTERVIEWER
The question I've been dying to ask you for a long time: Do you box?
SCHULBERG
I did box. Very poorly—very, very poorly. I was a very sub-mediocre boxer in my youth. I had one terrible flaw as a boxer: I could not stand being punched in the nose! Secondly, I could never find any defense against being punched in the nose. It doesn't hurt so much, but it humiliates you. I remember Archie had graduated from the little fights we'd started with out in Trenton, and I was trying to get him a main event in Madison Square Garden. We were talking about taking on a big strong heavyweight at the time, Bob Baker, whom I thought Archie could beat. The matchmaker said, "No, how about Floyd Patterson?" And I thought to myself, Oh, God. Archie can't deal with Floyd. It's too much. I got terribly nervous. I was worried that something might happen to Archie, that he might get hurt. The Sunday before the fight in the Garden, about five days before, our sparring partner didn't show up. Roosevelt LaBoard—I'll never forget that name. So I said, "Archie, I'll go in and spar with you."
By this time I guess I'm in my forties. I said, "Only for Christ's sake, Archie, please, please don't hurt me." He said, "Mr. Schulherg, would I hurt you?" He was really offended. About one minute into it he jabbed me in my nose, and he broke it so badly, I was a mess. That next day I spoke at an author's luncheon in Philadelphia with plaster from one cheekbone to the other. That was my last fight.
INTERVIEWER
Well, you did stick with literature, however!
SCHULBERG
Yes, it was the only thing I could do.
INTERVIEWER
Incidentally, how did Archie McBride do?
SCHULBERG
He held his own with Patterson for six rounds. But in the seventh, he got caught in a whirring blender of punches and went down. In the dressing room he cried, he felt he had let me down. "I'm not hurt at all, just felt dizzy for a moment—so many quick punches." But Archie went on to an honorable career.
INTERVIEWER
If you could get credit for any book that's ever been written, not Decline and Fall of the Roman Empire or anything huge like that, what would you pick?
SCHULBERG
Well, there are some pretty good books out there, as you know. I wouldn't mind having it with Crime and Punish­ment first.
INTERVIEWER
Were Russian writers extremely influential?
SCHULBERG
Very. In my household we sort of started with them. My father, who was running a big studio, had come out of a writing background. He won a short-story contest in high school, which got him a job on a newspaper in New York City. And then very early he got a job writing movies. They were called photoplays in those days. By the age of twenty he had written a textbook on how to write photoplays. He was a twenty-year-old expert! So he was very book influenced, literary influenced. Every Sunday morning we used to read for two to three hours. He would read aloud. We went through Dickens, novel after novel. And we went through Melville, not just Moby-Dick—I mean Omoo and Typee. Then we finally graduated to the Russians, and I began to fall under the influence of Russian classics. By the time I was fourteen, 1 was trying to write in the style of the dark, dark short stories of the Russians. Like the ones that come from the Russian soul. I was very influenced early on by the Russian novels, by Tolstoy and Dostoyevsky.
INTERVIEWER
Did your mother teach you, too?
SCHULBERG
Well, she was a would-be, wanna-be librarian, and she also was very interested in books. So I was getting it from both sides. I learned much more right at home than certainly I learned at Los Angeles High School, and maybe even at Dartmouth.
INTERVIEWER
Did your father want you to be a writer?
SCHULBERG
Yes, it was a very heavy obligation. Sometimes I used to worry about it because by the time I was about seventeen or eighteen my feeling was not whether I would do it, but what if I couldn't do it? I mean, they had already sort of programmed me to be one. When I was fifteen or sixteen I was already a writer in their minds. I was writing a lot stuff, but I was feeling nervous about the pressure it was putting on me. My mother, by the time I was nineteen, was saying, "Buddy is really a great writer." It was an obligation pressing on me all the way. There was nothing else I could do. Sonya, my youngest sister, said in our house the typewriter stood where a piano might be in other homes. We'd just sit down at the typewriter and run off a couple of scales—stories. When she was eighteen, Sonya published a novel, They Cried a Little, working with Max Perkins at Scribners; Perkins thought he had another first rate novelist in tow. My younger brother, Stuart, produced The Today Show at NBC for ten years but also had two short stories in the O. Henry best short stories collections. When I worked for David Selznick after the war, he thought my producer's blood would assert itself; but it was really writer's blood.
INTERVIEWER
How old were you when you wrote What Makes Sammy Run?
SCHULBERG
I started writing it when I was about twenty-four.
INTERVIEWER
That'd be two years out of college. Were they able to teach you something at Dartmouth?
SCHULBERG
They did have one remarkable teacher. His name was Sidney Cox. He died maybe fifteen years ago. He was very intense, a little bit of a wild man. He had been kicked out of the University of Montana, I think it was—he had been the sponsor of some student publication there that had some bad language in it; he had supported the writer and got kicked out. The Dartmouth English department was afraid of him. He was eccentric, and they were all pretty tame. He couldn't teach writing—as you know, nobody can really teach you to write. But he was so intense that when you came out of that classroom, you couldn't wait to get back to your desk and write—to go deeper and deeper into yourself. "Is that what you really feel? Is that honest?" He drove his students kind of crazy. One kid, who was a mediocre writer—he didn't really have it—jumped in the Connecticut River and committed suicide.
INTERVIEWER
Oh my God, because of Mr. Cox?
SCHULBERG
Well, the department blamed it on Sidney. I'm sure there were many, many other reasons. But they blamed it on Sidney—that he drove these young people to such extremes, that they were so frustrated not to be able to live up to his high standards.
INTERVIEWER
Was he himself a good writer?
SCHULBERG
Sidney wrote a book called Walks and Talks with Robert Frost that's quite nice; he worshipped Robert Frost. As you know, Frost was associated with Dartmouth, and he would show up once in a while and come to our class. Then Sidney wrote a very interesting book about writing called Indirections, but as a teacher he was inspirational. I worked harder than I ever had before. He said I was the best student he had ever had. Sidney was really very important to me, more than anybody else in the college. Actually, the best class we had at Dartmouth was not a part of the curriculum. Friday night all of the would-be writers or the writers of some talent would assemble and read their stuff. It was kind of a workshop, an informal workshop. That was really the best thing that I attended at school in terms of any writing help.
When I came back to Dartmouth after about three years in Hollywood—after some bad experiences, fed up with the way writers were treated out there—and started to write What Makes Sammy Run? I'd still meet Sidney all the time. We'd meet every Friday night, and talk. I considered him my mentor, really.
INTERVIEWER
He electrified you.
SCHULBERG
He made me want to write better. He made me feel I could do that but only if I worked very hard and went deep into myself as to what I really wanted to say and not look for—oddly enough, ironically—instant success. Don't worry about being popular. That was his theme: Don't worry about best-sellers, just write what you really feel. Don't write to please people, really just to please yourself.
INTERVIEWER
But he himself, in his own eyes, was not successful. Isn't that so?
SCHULBERG
No, he wasn't. A strange thing happened: At the same time that I gave him my manuscript of What Makes Sammy Run? he gave me his—a novel he'd been working on for years. Then he wrote a review of my novel in the Dartmouth alumni magazine, which was the most vicious attack I've ever had in my life! He hated the book. He identified the subject matter—Hollywood—with the book itself. He thought it was cheap, vulgar. Meanwhile Sidney's book was absolutely the opposite of everything he'd preached. There was no life in the book. It was absolutely dead. It was boring.
INTERVIEWER
Has he figured in any of your novels?
SCHULBERG
No, he hasn't. After that we had a very strained relationship. Very strained. We tried not to make it personal, but you can't overcome such things. I was sore at him, and I was sort of fed up with his teaching all of a sudden, because he so obviously could not do what he taught. I wondered how he could criticize me, and not see how stillborn his own work was. Just the same, I have an enormous, deep feeling for him. I loved Sidney but what he did was unforgivable really; he just shouldn't have tried to practice what he was preaching, he shouldn't have tried.
INTERVIEWER
What did your parents make of Sammy?
SCHULBERG
I have a letter here from my father. He wrote, in part:
Dear Budd,
I think the writing is swell, really fresh and vigorous ... but I am terribly and literally frightened ... I think it is terrific writing and just what someone should someday do. BUT I really think you've got to be a Hemingway and say to hell with Hollywood for all time to get away with it. I think honest and vigorous as the writing is here, that it is too honest and that it means the end of you in Hollywood. I think this should really give you pause. I am so afraid of the results it might have on you, and in fact everyone of us, including mother just starting out in the agency business, that I would like to emphasize my fear in such a way as to advise your even destroying this letter after you get it.
He was really worried about me. He advised me to put the book away and try to write another. Then, if along the line I should hit and be successful, so that 1 didn't have to depend on Hollywood for a living, for movie writing, then maybe I could go back and publish the first book.
I wrote him back, thanking him for praising the book but saying that if I didn't publish the book I would give up. It would mean that I was afraid to stand up to Hollywood. They expected me to come out, be a good boy, take my money, do executive work and probably wind up running a studio like my old man. That's the way they saw me.
Of course, what my father didn't anticipate, what nobody did, was the impact of the book. But he was right in terms of the Hollywood reaction to the book. It was unbelievably extreme.
INTERVIEWER
What was the reaction?
SCHULBERG
Before the book came out I was working for Sam Goldwyn, doing an adaptation of a sequel to Stagecoach. It was a good Western called "Stage Station." I wrote a long treatment and I came in to see Mr. Goldwyn—he actually opened the door for me and practically bowed me in­. He said, "Young man, you are a genius! This is the best treatment I think I've ever read," and so forth. Then he said, "This is what I want you to do. I want you to go away and write." His story editor was Eddie Knopf but Goldwyn said, "Don't listen to him! Don't listen to anybody here in the company. They'll just confuse you. Just go away and do it!" So I did. I happily jumped in my car and raced down to Encinada, I got a great little cottage on the beach; I was happy as a clam. I wrote this screenplay, "Stage Station," for about ten weeks.
In the meantime, What Makes Sammy Run? came out. I called Mr. Goldwyn and left word, "I'm back, and I've got the screenplay with me, and I'm ready to meet," and so on. I sent it to him. No response. I sat there all week. I called him every day. He never called me back. Until finally late that Friday he called me in. He was sitting behind his desk, and he really had turned purple. I'd never believed that somebody could be so mad they would turn black or purple, but he was purple! He had a jutting jaw that he could sort of push out. He put that jaw out at me, and he raised his voice. "What have you done! What have you done!" Really innocently, I said, "Done, Mr. Goldwyn? What I've done is simply filled out my treatment into a screenplay. I followed very faithfully what you thought was so great." He said, "I'm not talking about that screenplay. I am talking about that horrible book you wrote!" And then he screamed, "How could you write it! You're a traitor to this community, to your family. This is the work of a traitor!" He kept screaming "traitor" at me. Then he said, "And the ending! That ending! What kind of an ending is that?"
I thought he was still talking about the book so I tried to defend the ending. But then he interrupted, "I'm not talking about your terrible book, I'm talking about your screenplay." I swear to God, for about forty-five minutes I got screamed at for both. The bottom line was that I was fired. Out of there!
INTERVIEWER
I didn't grow up in Hollywood. I grew up in Indianapolis. But when you wrote this book, I said, "This guy's got to be crazy. Putting himself in such terrible danger." Didn't you realize it was a dangerous thing to do?
SCHULBERG
Well, yes I did. Of course, with the warnings that my father gave me, I realized it was dangerous, but I couldn't help it. I wrote it, and I wanted to write it. I was doing what Sidney had told me to do—to write what you feel, what you want, what you know. I had to do it. I should also add that before I saw Goldwyn, just after I got back, I went into Chasen's Restaurant, which was the place, the in place, where all the big shots hung out. I knew so many of them, so many familiar faces, and they literally turned away from me. They turned away so they wouldn't have to look at me and say hello.
I heard that at a meeting of the producers' association presided over by Louis B. Mayer and the head of MGM, Mayer had looked down the long table at my father and said, "B.P., I blame you for this. Why didn't you stop him? You should have stopped him!" My father said, "Well, as a matter of fact, Louie, I did write to him—" Mayer said, "Well, you know what I think we should do with him? I think we should deport him." He really meant it. In Mayer's mind he was the king of a country. Hollywood was like Liechtenstein or Luxembourg. The district attorney was on the studio payroll; you could and did commit murder, and it wouldn't be in the paper. That was the kind of power that he wielded. My father—who was much more intelligent than Louie, but not nearly as street smart or studio smart, whatever—said, "Louie, he's one of ours, for God's sake. He may be the only novelist who came from Hollywood instead of to Hollywood!" Then he said, "Well, where do you think his St. Helena should be? Maybe Catalina Island?" My father reported that rather proudly because he was sort of proud of the joke. He was proud of the jokes that often got him in a lot of trouble.
That's the kind of thing that he got on their shit list for. Because Mayer wasn't kidding. Anyway, it was at that point I quit. I didn't want to stay there any longer and, of course, if I had wanted to, I couldn't, and that was it.
INTERVIEWER
When did your father die?
SCHULBERG
He died in 1957. He was only sixty-five.
INTERVIEWER
Did that make any difference in your writing?
SCHULBERG
No, I don't think so, It may have affected me in the writing of The Disenchanted. Everyone assumed I was writing about Scott Fitzgerald, but to a larger extent I was writing about a lot of Hollywood people I knew, including my father, who had run up so high and then had fallen so far. In the Depression years he was making $11,000 a week and by the time I was writing The Disenchanted he was broke, just dead broke. He had squandered his money drinking and gambling­ $14,000, $15,000 in a night. One night, when I was in high school, they were playing when I went up to bed. When I came down in the morning they were just finishing. My father was writing out a check for about $20,000. He was an addict, just as much as Dostoyevsky in The Gambler. When I read that book I thought of my father.
INTERVIEWER
When you were young, did you meet any great writers? Did you meet Hemingway?
SCHULBERG
I met Hemingway in Paris, at the Hôtel Scribe, during the war but I didn't really get to know him until after the war. I made a lot of money with The Harder They Fall and with that money I went down to Key West where Ernest was. I met him there in 1947. Toby Bruce was a great friend of mine, and Toby worked for Ernest. He was really his man Friday—half companion, half secretary. So Toby said, "I've got to get you guys together. You've so many things in common: You're both interested in boxing, and you both like deep-sea fishing." He went on with this whole list of things that we both liked. So he gave a party, and this was really the first time I met Ernest. He was there on the patio, coming at me like a mad bull. He was almost bare-chested, and was wearing ragged shorts that looked as if they had been torn out of jeans. Anyway, he came at me, and the first words I ever heard from him were: "You're Schulberg the book writer?" I didn't like the question but I said, "I've written a few books." And then he said, "What the fuck do you know about prizefighting, for Christ's sake?" That was the first thing I heard from this great literary figure. Then he put me through a fistic catechism. He asked me if I'd ever heard of this fighter and that fighter, Leo Lomski, Leo Houck, and I'd say, "Yes, yes. But, Ernest, the fighters that you're asking about are all very well-known." I said that about two or three times, and he just wouldn't stop. And he pushed me. Every time he asked me a name he'd push me. He didn't punch me, just hit me hard enough in the shoulder to make me take a step hack. It was cocktail time, except his cocktail time had started at about 9:00 A.M. He kept after me with these stupid questions about fighters I knew, and I was starting to get a little bit testy. Finally, after about five more names, he got to Pinkie Mitchell and he hit me hard. I took a deep breath, as I had with each one, and told him how, when Pinkie Mitchell was a junior welterweight champion, he came out and he fought our friend Mushy Callahan in Vernon, California. Mushy Callahan won the championship from Pinkie Mitchell and after the fight Mushy gave me the gloves he won with—when I was growing up I had them on the wall behind my bed. I thought that would do it, but instead of saying, as any normal person would, "Hey, you really knew Mushy Callahan," he hit me harder. By this time I was ready to kill him. I said, "Ernest, you're asking me the names of famous fighters for Christ's sake. Like Pete Latzo. Pete Latzo beat Mickey Walker, a great fighter, the champion of the world. Latzo comes from Scranton, Pennsylvania. After he retired he went back to Scranton, Pennsylvania. Right now he's an organizer there for the Teamsters. If you're so interested why the hell don't you go and find him?" And I just sort of hit him back the same way he had been hitting me. He looked at me, and he spun around and walked away. Didn't say a word. I was leaning back against that white stucco wall of their terrace, just seething. I'd been too nice to him. He really deserved to be punched in the goddamn nose. While I'm seething, little Toby Bruce comes hurrying back to me, and brings me a drink. He says, "Budd, Papa's in the kitchen, and he says he likes you." I said, "Toby, tell Papa I admire him but from now on I plan to admire him from as far away as I can get."
When I told this story to Irwin Shaw he said, "I'll be damned. I had almost exactly the same experience. I was in the 21 Club and Hemingway came in and he stopped at my table, and he said to me just what he said to you except in different terms. He said, 'What the fuck do you know about war for Christ's sweet sakes?'" The same thing, except instead of boxing, it was war. Whatever field he had worked in was just his. He really felt that you were stealing his material, that he owned it. He owned boxing. He owned war. He owned bullfighting. He owned Cuba. Whatever it was, he owned it. I've never been able to understand how he got that way. As good as he was at his best and as recognized as he was, how could he be that pathetic, how could he be that insecure?
My life with him was just up and down with mood swings. Ten years with him—every time—I was in, I was out, I was in and so on. He was really kind of a madman.
INTERVIEWER
You were raised in affluence in Hollywood, not in poverty on the Lower East Side of New York. And yet in Sammy you seem to be writing from experience when you describe Sammy's background in the New York ghetto.
SCHULBERG
It wasn't a personal thing. I was affected by the whole social, meteoric rise of these people like my father and so many others who came out of the Lower East Side. My father's family came from somewhere like Lithuania, and my mother was from what is now Latvia. My mother's parents could barely speak English. My father's parents were pretty much the same way. And out of this came young Jewish children who were sort of instant Americans! They not only spoke English, they were literary. They loved the English language. Melville ... Galsworthy ... you couldn't see any connection with their parents, with whom they could barely talk. They had moved on into another world.
We literally spoke two different languages. So we barely knew them and behind them is total darkness. 1 have no idea what my great-grandfather or great-grandmother on either side did. And my parents didn't seem to have much idea either. They were in a new world. It was as if the other world didn't exist.
INTERVIEWER
Are you religious?
SCHULBERG
No, I'm not, My mother went to synagogue on the High Holidays. She observed it to some extent but not very much. She was pretty much a free thinker. Her gods were Freud and Brill. And my father didn't seem to care much about it, or he never talked about it. So when I was expelled from B'nai B'rith Sunday school, my father didn't care at all. My mother felt a little badly about it but it wasn't any big wrench in our house.
INTERVIEWER
Your mother knew what you'd done?
SCHULBERG
Yes.
INTERVIEWER
You don't have to confess here.
SCHULBERG
I don't know how to confess. I don't remember.
INTERVIEWER
You were somehow involved in the war crimes trials in Nuremberg. Tell me about that.
SCHULBERG
Well, I was in a navy outfit, and at the beginning of the war we were assigned to OSS and we did intelligence won of various kinds. We would help to prepare agents who were being dropped behind the lines. It was almost like a play because there was a prop man who gave them all the props they would need, the IDs and the money. There was a morale officer, too. And then there was someone who would work on cover stories with them—who they would say they were.
INTERVIEWER
Poor bastards!
SCHULBERG
Then at the end of the war, Wild Bill Donovan, the head of OSS, got the assignment to prepare the photographic evidence for the war crimes trial at Nuremberg. John Ford gave me the assignment of being in charge of preparing the film that we would show at the trial. We had about three months to get it together. We had a couple of interesting prisoners of war who had worked as film editors in the SS—Kurt von Molo and Walter Rode. The SS had filmed what we would call atrocities. Von Molo and Rode told us where they thought the films were. They told me that these films that they made were called desserts because Goebbels and the other top Nazis would show them to their guests after dinner.
Von Molo and Rode hated each other. Each one told me that he himself was forced to do this but the other was really a Nazi. Von Molo told me that while he was working for the SS, a Jewish friend of his had hidden in his house through the war until the end, when he got caught and taken to a concentration camp. I was fed up with his story because—we used to laugh about it—we did not meet a single German who didn't have a Jew in the attic, not one. So one day I said to von Molo, "I've got to tell you the truth, Kurt. I am sick to death of hearing these goddamn stories about Jews in the attic!" Von Molo said, "Well, the grapevine says that my friend is back in Berlin." I said. "Well, Kurt, let's take this whole day off. Let's start in the morning, early in the morning, and look for your friend."
Sounds crazy, but we did. This guy's girlfriend was a ballet dancer. Kurt thought he could find her. After hours and hours driving through the rubble of Berlin we finally did. She said, "Yes, he's back. He has come back; he's survived." She told us where to look. Finally, after spending most of the day in destroyed Berlin—there was barely a rooftop left, God, what a mess it was—I swear to God we found this man. It was an unbelievable goddamn scene. There he was, still in his concentration camp uniform or pajamas, whatever stinking thing it was. We found him! And they embraced. Like a bad movie scene they embraced, and the poor guy said to me, "This man saved my life." After that I decided that Rode must be the Nazi!
But, anyway, we did finally get the film together. By this time we were terribly under the gun. They were calling us from Nuremberg constantly and saying, "Have you got the film ready?" We had ten hours of footage that would make you absolutely sick to your stomach. On the opening day of the trial we showed it in the courtroom. I asked if I could sit closest to the box where the war criminals were sitting. I wanted to watch their faces while we showed the movie. It went on hour after hour after hour. They all reacted differently. The older ones curled up—military people, army and navy, Keitel and Jodl, field marshals—they turned their backs to the screen. Others looked dismayed. I think Göering took some notes. When the lights came on at the end of it, Hans Franck, the gauleiter for Poland, had passed out. His head was actually on the table. They say a picture speaks a thousand words—God knows these did.
INTERVIEWER
And when the war was over did you think you'd be able to make a living?
SCHULBERG
Yes. I did, I certainly hoped so. What Makes Sammy Run? had been an unexpected commercial success, so Bennett Cerf, the head of Random House, was very kindly disposed to me. When I came our of the navy, I got a farm in Bucks County, Pennsylvania, and I sat down with Bennett and he offered me what seemed like a lot of money. He paid me by the month, $l,000 a month. That's how I wrote the novel The Harder They Fall. I certainly didn't want to go back to Hollywood. Louis B. Mayer was still powerful, so I still had opposition out there. My father, when I got out of the war, was still out there, but struggling. He couldn't help me very much, even if I had wanted him to.
INTERVIEWER
Are you really the only novelist to have come out of Hollywood?
SCHULBERG
Well, at that time I was.
INTERVIEWER
And Elia Kazan pulled you out of the novel business?
SCHULBERG
He came out to visit me on my farm in Pennsylvania and asked me to write a movie with him and I told him the whole sad story—"I've quit movie writing. They treat the writer so shittily. I don't do that anymore. Now I just write for myself."
Kazan said, "Budd, if you'll do this I promise to treat it with the same respect I would give to a Tennessee Williams play or an Arthur Miller play or a Bill Inge play. I'll advise or argue with you, but I won't change anything. It'll be your play. I won't change a line of dialogue unless you agree."
That, plus my fascination with the waterfront situation—with the racketeers and the rebel longshoremen—that I was following in the paper, flung me back into writing a movie again. This was around 1951 or 1952. So when On the Waterfront succeeded beyond our most optimistic dreams, we went on and did another one, and by this time I began to feel, Jesus, you can do the same thing in film that you can do in a book. You can really write what you want to write without any studio interference. So I didn't feel I was in any way selling out by writing movies. I went on to do Wind Across the Everglades, which also is something that concerned me very much, about saving the birds in the Everglades from the plume hunters. I began to feel that it was like writing a novel.
Scott Fitzgerald often wished that after Gatsby he had never done anything but just stuck to his last. Sometimes at night I feel that way. I have a little bit of that feeling, that I probably would be more respected as a novelist if I had just stayed on that track. Instead, I have this sort of fatal problem of versatility. Because I was raised in such a writing atmosphere, it got so I could write anything. I could write a movie; I could write a novel; I could write a play, I could even write lyrics, which I did for A Face in the Crowd. Always there were these different strings, so many different ones. I was sort of cursed with versatility. My problem is that I'm just not going to live long enough to do all the different things I want to do. My time is beginning to run out a little bit.